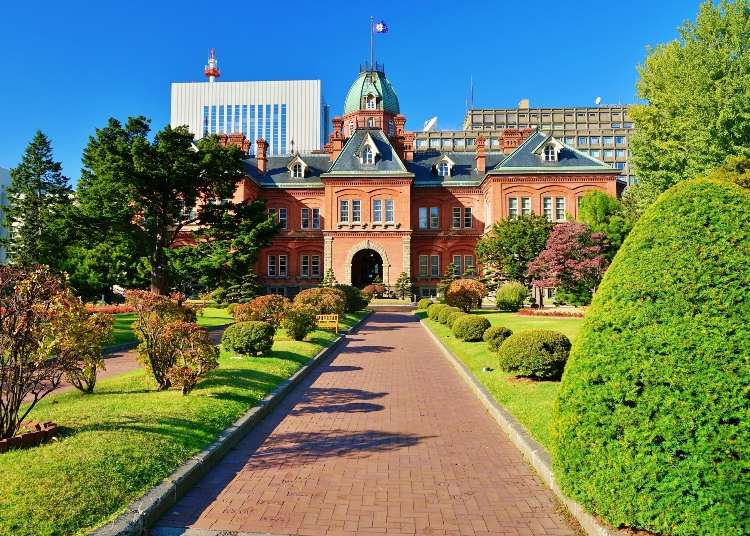 Hokkaido is a popular vacation destination. In fact, it has been selected as the most attractive prefecture for 9 running years—and 4 Hokkaido cities are in the top 10 must-visit places in Japan!

The number of foreign tourists has been increasing year by year, and 2017 saw 2.8 million tourists visit the northern island. Despite the number of tourists visiting Hokkaido, the best tip for your trip to Hokkaido is about how to get around.

There are several ways to see Hokkaido cities and popular places to visit including train, bus, and car rental. Here we'll share the best spots in the four areas of Hokkaido (Eastern, Northern, Southern and Central areas) based on JR Hokkaido's route map.
The Gate of Hokkaido: Central Area, based around Sapporo
The Central Area is where the most important means of transportation are: JR Hokkaido Station, Port Tomakomai, and the New Chitose Airport.

Sapporo City accounts for 30% of Hokkaido's sightseeing spots, including: Sapporo, Ishikari, Sorachi, Shiribeshi, Iburi, and Hidaka, assuring many and diverse touristic opportunities.
・Around JR Sapporo Station
Sapporo is a treasure trove of fresh food coming from all over Hokkaido. It is a hotspot that should be at the top of your list of places to visit in Hokkaido, with many famous restaurants for miso ramen, soup curry, lamb, etc. There is the Sapporo Outer Market where you can enjoy going shopping and eating around with a lot of tourists next to the Sapporo Central Wholesale Market.

There are also other must-visit landmarks such as Sapporo's Clock Tower, also known as the symbol of Sapporo; Odori Park; and Susukino, which is a nightlife district.

・JR Otaru Station Area (About 30 min. from JR Sapporo Station by JR Hakodate Line.)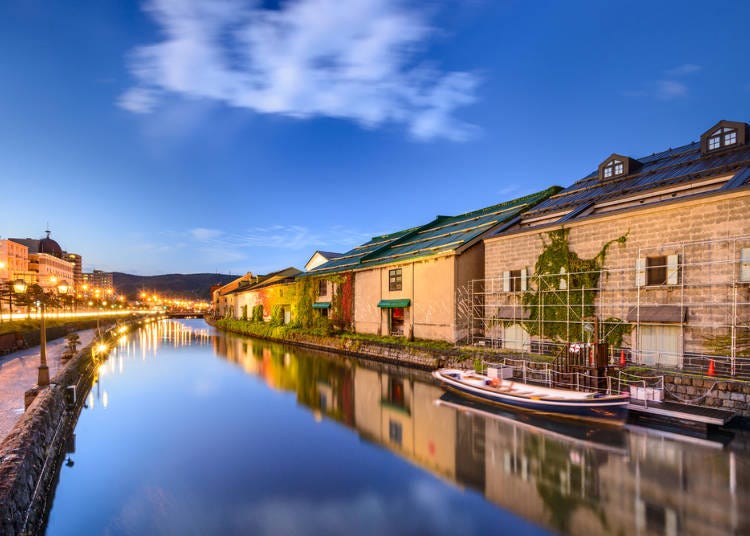 Otaru is located 40km west of Sapporo, and a lot of historical buildings are there including the Otaru Canal. The Sakaicho-street where you can find glass blowing shops, confectioneries, the Otaru Music Box Museum and so forth, used to be called "Wall Street of the North". Otaru is located in the middle between Yoichi, famous for Nikka Whisky Distillery and Niseko which is a popular place to visit in Hokkaido for skiing.

・JR New Chitose Airport Area (About 40 min. from JR Sapporo Station by JR Chitose Line.)
The gate of Hokkaido, New Chitose Airport has some unique facilities such as theme parks and movie theaters. The airport has also a hot spring place "New Chitose Airport Hot Spring" and if you have a red-eye flight, you can use it in the midnight.
Northern Area: Surrounded by untamed nature
The Northern Area is sandwiched between the Sea of Japan and the Sea of Okhotsk, and has many tourist spots which can represent Hokkaido such as Asahikawa, Furano and Biei. Of the places to visit in Hokkaido, it is filled with incredible natural scenery. You can enjoy hiking around Cape Soya located at the northernmost of Japan; the largest national park in Japan, Daisetsuzan National Park; and the northernmost national park, Rishiri-Rebun-Sarobetsu National Park.
・JR Asahikawa Station Area
Asahikawa has the Asahikawa Airport and the second biggest population in Hokkaido. It's among the most popular places to visit in Hokkaido. The Asahikawa Airport is considered the "gate" for Furano and Biei, classic touristic areas not only for domestic but also for international tourists especially in summer. The northernmost zoo, "Asahikawa Zoo" is famous for its unique exhibitions. Also, Asahikawa Ramen which is one of the 3 major ramen styles has its pork, chicken and seafood stocks in its soup with soy sauce flavor. It is a must-eat local food when you visit Asahikawa.

・JR Furano Station Area (About 75 min. from JR Asahikawa Station by JR Furano Line.)
Mt. Tokachi-dake is a famous mountain full of lavender in Furano. The lavender farms are crowded with many tourists around June to August. In addition, you can enjoy having local popular specialty food, "Furano Omucurry (omelet and curry)", Furano Wine, and Furano Cheese. Those are really famous and popular to take them with you as souvenirs for yourself, your family and friends. You can enjoy the beautiful sceneries: Patchwork Hill and Blue Pond in Biei. You can get there from Asahikawa Station to Biei Station by the JR Furano Line in about 30 minutes.

・JR Wakkanai Station Area (About 3h 40min. from JR Asahikawa Station by Soya Line.)
Wakkanai City, the northernmost city in Japan is a popular place from which to visit Rishirito Island and Rebun Island. The city has its own beef brand named Soya Beef and Octopus Shabushabu, Wakkanai's famous food. After you've had such delicious food, take a time to rest and enjoy the landscapes at the scenic points in "Cape Noshappu", which is in Ainu language, or the northernmost cape of Japan, "Soya Cape".
Eastern Area: Majestic natural scenery; Kushiro-Shitsugen Wetland and Shiretoko
This area's main points of interest are Abashiri, Tokachi, Kushiro, and Nemuro, and it also has two untouched World Natural Heritage Sites. Its population accounts for 20% of Hokkaido, but it accounts for 40% of Hokkaido's surface. It is bigger than that of Sapporo City. This area is highly recommended for the people who love to feel nature.
・JR Kushiro Station Area
Kushiro City has the largest population in the Eastern Area. There are Kushiro Shitsugen National Park and Akan-Mashu National Park, where the ancient nature remains in the city. Also, some native animals and plants such as red-crowned cranes and moss balls are living nowadays. Besides that, Robatayaki (fireside-cooking) and Kushiro Zangi (fried chicken) with special sauce are the popular cuisines.
*Actual product may vary.
Kushiro Wasyo Market is famous for its "Katte Don" in which you can choose and purchase any seafood you want in the store and eat it with rice in the spot.

・JR Obihiro Station Area (About 90 min. from JR Kushiro Station by Nemuro Line.)
Gourmet Town, Obihiro City has Tokachi Plain which is called Japan's Food Base. Since the sunlight hours are longer and the temperature difference between days and nights are big, the weather is suitable to forage many sweet and delicious crops. "Buta Don", pork with sweet-spicy sauce spread on rice is a must-eat food in Obihiro. "Banei Keiba" is known as one of the world's most famous horse racing tracks, here you can see the racing of horses weighing more than a ton carrying an iron sled.

・JR Abashiri Station Area (About 3 hours from JR Kushiro Station by Kushiro Line.)
Abashiri City is famous for its cold, coming from the drifting ice on the Sea of Okhotsk. Abashiri Prison Museum is registered as one of the Important Cultural Property and a must-visit spot once in your life if you visit Abashiri City. In Hokkaido Museum of Northern People, you can learn about the culture of indigenous people of Japan known as the Ainu people. This museum is located 40 minutes away from Memanbetsu Airport. It takes about 45 minutes by JR Kushiro Line to go to Shiretoko-Shari Station, the entrance to the World's Nature Heritage Site the Shiretoko Peninsula.
Southern Area: Hakodate, Onuma and Matsuzen close to the Main Island of Japan
This is the closest area to the Main Island of Japan in Hokkaido with Hakodate, Onuma, and Matsumae which acts as one of the gateways to Hokkaido. This area was a center for international trading, along with Nagasaki and Yokohama, about 160 years ago. Hakodate is a popular city and has now many western-style buildings and churches which make you feel the exotic atmosphere, Hakodate is the central city of the Southern Area. This area is famous not only for the seafood but also the history of Hakodate and Matsumae areas where the development of Hokkaido began in the 1800s.
・JR Hakodate Station Area
Hakodate has rich sightseeing spots such as the night view from Mt. Hakodate, one of the three best World's night views, Fort Goryokaku, and Motomachi Area. The Hakodate Morning Market is called the "kitchen of the Southern Area", here more than 400 shops are gathered, and you can have fresh squids, Hakodate Shio (Salt) Ramen and much more food. The group of red brick warehouses in the Waterfront makes you feel the remnants of the period when the shipping industry was more popular and it's a recommended place for a walk.

・JR Onuma Koen Station Area (About 30 min. from JR Hakodate Station by the JR Hakodate Line.)
Onuma Quasi-National Park is located 20km north of Hakodate which is really close. It is one of the New Three Views of Japan and the only quasi-national park in the Southern Area. It lays over the central area of the Oshima Peninsula and three towns; Nanae Town, Shikabe Town, and Mori Town. You can enjoy riding a boat, cruising, Canadian canoes and so forth. Those activities are really popular for tourists and the view of Mt. Komagatake from the lake is breathtaking.

・JR Mori Station Area (About 45 min. from JR Hakodate Station by the JR Hakodate Line.)
Mori Station is famous for its "Squid Eki-ben Lunch Box" (called Ikameshi in Japanese) using squid from the southern area. The station has taken first place in the "Eki-ben Lunch Box Contest". There are several Ikameshi selling stores, but most people agree that the best one is "Ikameshi Abeshoten".
*This information is from the time of this article's publication.
*Prices and options mentioned are subject to change.
*Unless stated otherwise, all prices include tax.