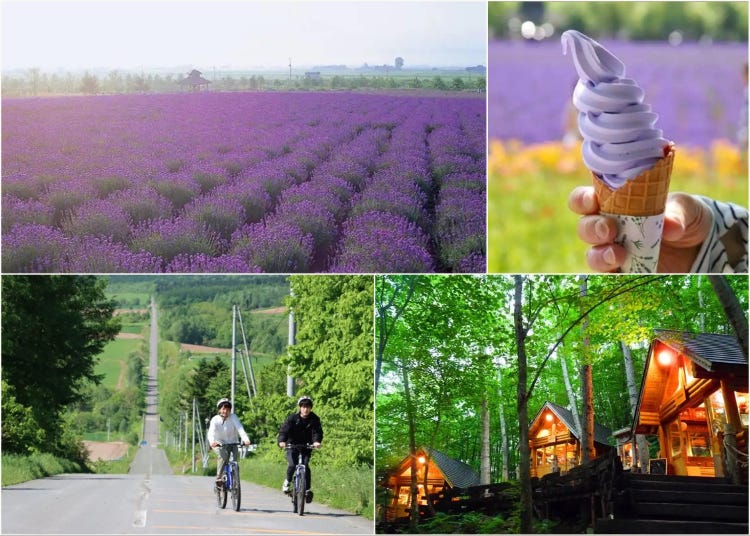 The Furano area is one of Hokkaido's top sightseeing destinations. Blooming flowers brilliantly blanket the earth and envelope the city in a sweet scent.

Agricultural, dairy, and livestock industries thrive, and you can relish the sights, smells, and tastes with locally grown fruit and dishes made using local ingredients.

In winter, pure white snow covers the region, and open-air hot springs warm cold bodies. Here are ten places in the Furano area you can appreciate throughout all four seasons.
1. The fresh tastes of Furano Marche
Furano Marche, located in central Furano, sells local produce and foods under the catchphrase "Make the town more cheerful and more fun!"

Furano is one of Hokkaido's top agricultural production areas, and the products sold at Furano Marche are inexpensive and fresh, with many bearing the label of with their grower. The specialties at Furano Marche shouldn't be passed up!
フラノマルシェ

Address

13-1 Saiwaicho, Furano-shi, Hokkaido, 076-0024

Phone Number

0167-22-1001

Hours: 10:00 - 19:00 (summer 9:00 - 19:00, winter 10:00 - 18:00), closed for maintenance in late November and December 31 – January 1
2. Forest shopping at Ningle Terrace
Ningle Terrace is a magical wooded shopping area. It's named for "Ningle," the forest-dwelling main character of Furano-based screenwriter So Kuramoto's book titled "Ningle."

The craftsmen of Ningle Terrace use their skills to create and sell original works and conduct craft workshops. Here you can take a break in a log cabin café and feel like Ningle as you walk through the forest.
Address

Nakagoryo, Furano-shi, Hokkaido, 076-8511
View Map

Nearest Station

Furano Station (Nemuro Main Line / Furano Line)
10 minutes by car


Phone Number

0167-22-1111
3. Aoike: The mysterious Blue Pond
The Blue Pond in Biei is a scenic spot that's gained popular in recent years. Dead larch trees rise from middle of the pond known as "Biei Blue," giving it a surreal atmosphere. The color changes depending on the season and weather. In spring, snowmelt gives the pond a green-blue tint and in early summer it can appear light blue. It's beautiful in any shade!
4. Let the scent of lavender wash over you at Farm Tomita
Farm Tomita is one of the best sightseeing spots in the Furano region. The dark purple "Noshi Hayazaki" variety of lavender begins to bloom in late June. The "Hanamoiwa" and "Okamurasaki" varieties bloom soon after, turning the fields a vibrant purple until early August. The best time to visit is mid-July, when all the types of lavender are in bloom.

The farm's café serves lavender-flavored drinks and ice cream. Also at Farm Tomita, you'll find the largest lavender field in Japan, "Lavender East" (open only in July).

Lavender-colored tractors pull wagons around the grounds, providing visitors with a relaxing way to immerse themselves in the breathtaking scenery and the rich lavender scent.
Address

15, Kisenkita, Nakafurano-cho, Hokkaido, 071-0704
View Map

Nearest Station

Naka-Furano Station (Furano Line)


Phone Number

0167-39-3939
5. Gorgeous scenery from the Patchwork Road
The fields of Nakafurano from Biei to Bibaushi are called the "Patchwork Road" because of the colorful pattern created by the crops grown there. The gently rolling hills are stunning, and you'll get wonderful photos no matter where you take them.

Since the scenery is similar to France's Champagne-Ardenne region, a French restaurant using local ingredients has opened in Biei. It's the perfect place to sit and relax while enjoying a great lunch or dinner.
Address

Hokuei, Biei-cho, Kamikawa-gun, Hokkaido, 071-0200
View Map

Nearest Station

Biei Station (Furano Line)
5 minutes by car


Phone Number

0166-92-4378
6. Handmade cheese at Furano Cheese Factory
At Furano Cheese Factory, not only can visitors buy fresh cheese, but they can also watch the cheese-making process and even make their own in the "handmade experience workshop."

Four hands-on activities include butter and ice cream making (900 yen each, tax included) and cheese and bread making (1,000 yen each, tax included). Bread making requires a reservation, but other activities do not as long as there are vacancies (English recipes available).

There's also a model cow to "milk," a section devoted to the history of cheese, and a photo area where both children and adults can "become" cheese craftsmen.

In addition, the Cheese Factory serves pizza made with local produce, freshly made cheese, and soft-serve ice cream, all of which are exceptional.
Address

Nakagoku, Furano-shi, Hokkaido, 076-0013
View Map

Nearest Station

Furano Station (Nemuro Main Line / Furano Line)
10 minutes by car


Phone Number

0167-23-1156
7. Enjoy wine and cheese fondue at the Furano Wine House
The Furano Wine House overlooks the city from Mt. Shimizu, and diners can enjoy a meal of local ingredients, a wine that suits their taste, and a magnificent view of the Tokachi mountain range.

The wine comes directly from the winery, and exclusive vintages available here can be sampled and purchased in the Wine House shop. Wine can also be shipped throughout Japan so that you can relive the memories of your trip with a glass of your favorite.
ふらのワインハウス

Address

Shimizuyama, Furano-shi, Hokkaido, 076-0048

Phone Number

0167-23-4155

Hours: 11:00 - 21:00, closed December 31 - January 1
8. Trademark "Santa's Beard" at Popura Farm
Photo provided by Furano Development Co., Ltd.
Popura Farm is a soft serve ice cream shop in Nakafurano. "Santa's Beard" (small 800 yen, large 1,400 yen), is the shop's trademarked signature menu item – half a melon topped with ice cream made with fresh milk.

Other ice cream topped yubari melon (cantaloupe) desserts include "Santa de Mix" which combines milk and melon-flavored ice cream, "Santa de Melon" with melon ice cream only, and "Santa's Belly Button" topped with Tokachi red beans (small 850 yen, large 1,500 yen for each). Limited-time offerings like "Bali Bali Santa" are also available.
Popura Farm Nakafurano Main Store

ポプラファーム 中富良野本店

Address

Kita 18, Higashi 1-senkita, Nakafurano-cho, Sorachi-gun, Hokkaido, 071-0771

Phone Number

0167-44-2033

Hours: 9:00 - 17:00 (last order 16:30) April – October, 10:30 - 15:30 November – March; open Friday – Monday, November - March
9. A panoramic view from Kitoushi Observatory
Kitoushi Observatory is a castle-shaped observation building in the mountains of Higashikawa-cho, adjacent to Asahikawa City. Green rice paddies fill the lush panorama in spring and summer, then turn a bright golden hue for the autumn harvest. Nearby Kitoushi Forest Park is a popular spot for barbecues and "park golf."
キトウシ展望閣

Address

Nishi 4-gokita, Higashikawa-cho, Kamikawa-gun, Hokkaido 071-1404
10. Warm up at Fukiage Hot Spring
Fukiage Hot Spring Health Center is an inn known for its open-air baths. Located on a hillside in the Tokachi mountain range Daisetsuzan National Park, it still has beautiful snow in spring and is a popular base for mountaineering in summer and skiing in winter. The open-air baths make it possible to enjoy the forest and a hot, relaxing bath simultaneously.
There's plenty for children and adults to enjoy, like the slide in the "mixed open-air bath for men and women" (bathing suits required). With 48 bunk beds, 4 Japanese-style rooms, and meals, it offers attractive accommodation (adults 3,100 yen for one night, including bathing; additional heating charge of 150 yen per night from November 1 to April 30).
Fukiage Hot Spring Health Center

吹上温泉保養センター白銀荘

Address

Fukiage Onsen, Kamifurano-cho, Sorachi-gun, Hokkaido 071-0579

Phone Number

0167-45-4126

Hours: 10:00 - 22:00 (Last entry 21:00), open daily
Admission: 700 yen for adults
While enjoying the beautiful scenery of Furano...
Although people visit Furano for its beautiful scenery, trespassing has harmed the area's tranquility. In 2016 the famous "Philosophy Tree" was cut down, partially due to the continued bad manners of sightseers.

Because the fields that comprise Furano's lovely vistas are actively used for farming, be sure to respect local rules and customs to avoid future sad situations like that of the now lost Philosophy Tree, and to maintain the beauty of Furano and Biei.

Text by: Masakazu
▼Early-bird lift tickets are recommended for winter skiing in Japan▼
*This information is from the time of this article's publication.
*Prices and options mentioned are subject to change.
*Unless stated otherwise, all prices include tax.
Limited time offer: 10% discount coupons available now!