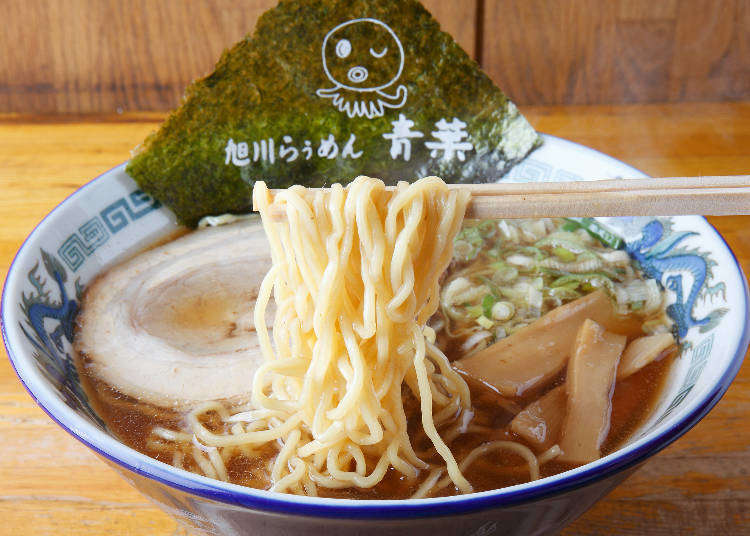 Hokkaido ramen noodles are one of those comfort foods that tantalize the senses. And there's nothing quite like slurping down the Japanese originals. But in fact, the varieties of ramen in Japan spread wide - even up to its wild northern island of Hokkaido, which is home to a staggering variety of local flavors many in the West likely have never experienced.

For example, order up your Hokkaido noodle bowl in the city of Hakodate and you'll be presented with salt ramen with a light taste while asking for ramen in Asahikawa will give you a bolder, fuller-flavored ramen using plenty of soy sauce.

Here we introduce 5 different Hokkaido ramen options to really tease your tastebuds.
1. Sapporo Ramen: Soy sauce, salt, or miso?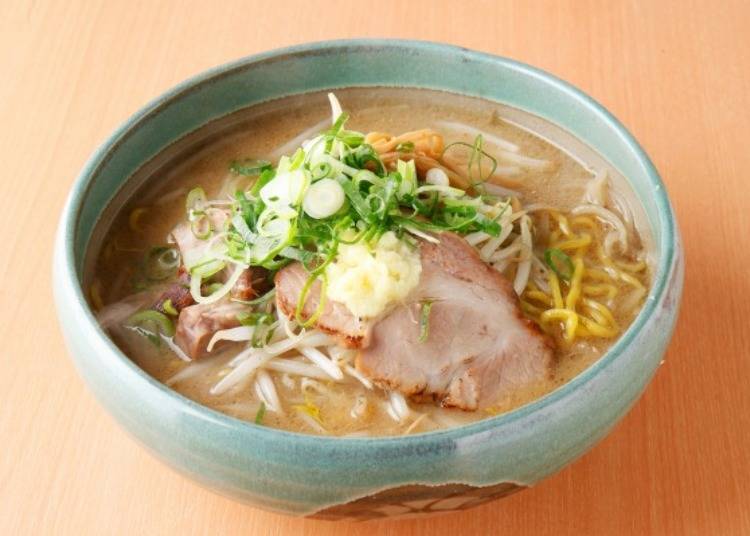 Sapporo ramen is one of the most representative types of Hokkaido. Not only in Sapporo but in the neighboring areas as well where you will find many Sapporo ramen shops. This Sapporo ramen is a well-known ramen dish throughout Japan. Sapporo Ramen is often said to be miso, but don't be surprised to find spots with soy sauce and salt ramen as well.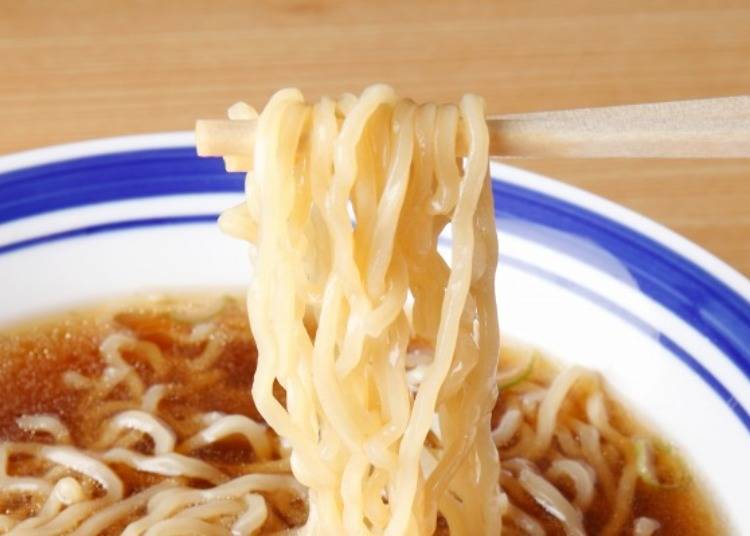 Sapporo soy sauce ramen
The basic style of this soup contains plenty of fat with a rich taste. These Hokkaido noodles are medium thick and waving that features plenty of vegetables such as bean sprouts and green onions.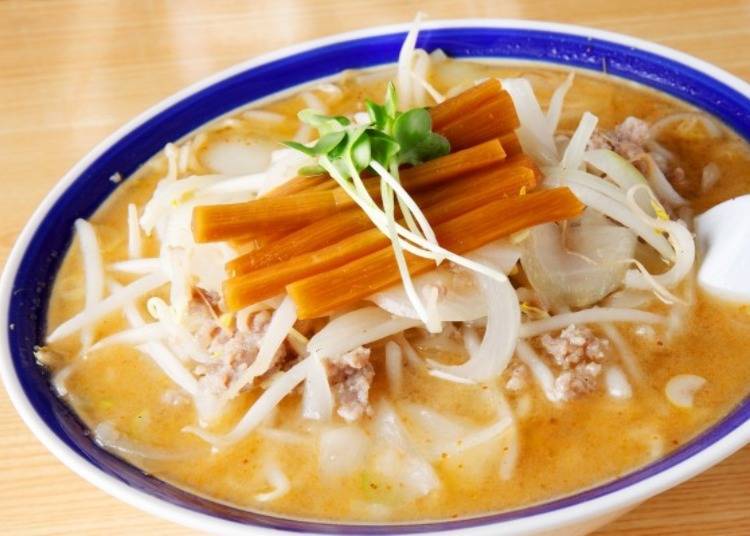 Some shops may surprise you with minced meat instead of a roast pork fillet, a common staple of ramen
Although Sapporo ramen was originally a combination of soy sauce and salt, in the 1950s a noodle shop in Sapporo City devised a new dish. This ramen was miso flavored with plenty of vegetables using miso soup to make a nutritious ramen. This new taste became a hot topic, becoming known to various parts of Japan as well as in Sapporo city, and so the image of this miso taste became established as what we call Sapporo ramen.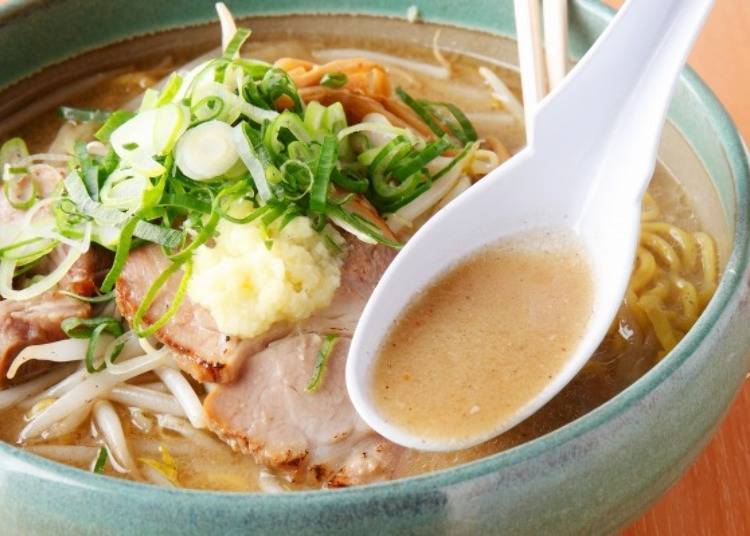 Sapporo Ramen comes in various styles, the base of the miso ramen soup is made with pig bone soup, and uses a method called "double soup" which combines multiple soup bases including pig bones and chicken bits, or pig broth and seafood, with many other options as well. There are also many shops that use soy sauce and salt as their signature rather than the miso taste more associated with Hokkaido ramen. There are now even some options such as shrimp salt and spicy miso with new combinations appearing all the time.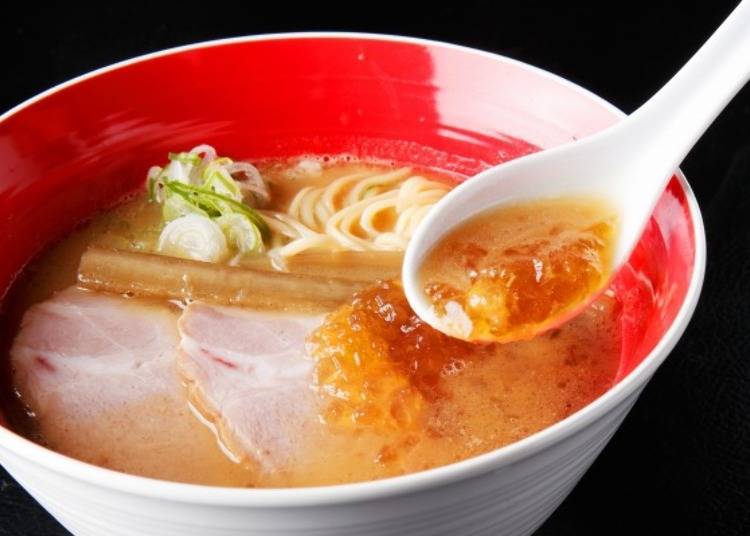 Sapporo ramen with a new take by using a soy sauce collagen
Although there are various tastes, the representative of Sapporo ramen is miso ramen. There are ramen shops everywhere in Sapporo city, and you can enjoy miso ramen in many of them. In many shops where tourists visit, there are many preferred toppings such as corn, butter, crab and scallops.

The taste of Sapporo Ramen is not limited to miso. You may choose your favorite flavoring, customize your toppings, and enjoy. Even when trying these types of Hokkaido ramen with friends you can vary your choices for each person's taste or for a variety of sampling to be done. So, do not be shy and pick your favorite type of Sapporo Ramen!
2. Asahikawa Ramen: Filled with wavy Hokkaido noodles, soy sauce, and lard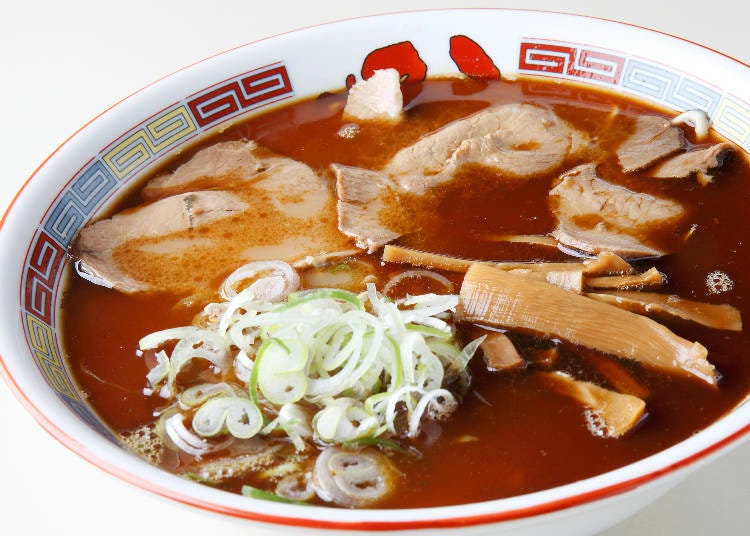 The second local Hokkaido ramen variety is Asahikawa ramen. Asahikawa city is known as a spot for tourism. This location gives you the ability to taste the ramen of Asahikawa city and visit the local zoo. Now a distinguished style of ramen known in Sapporo and Tokyo, is even spreading in popularity overseas.

Asahikawa ramen's traditional style is a soup flavored with soy sauce, wavy noodles, and plenty of lard. The base of the soup is known as a double soup as it is a combination of a seafood soup with a stock made from pig bones and chicken bits.

Asahikawa city is a cold district where the temperature may fall to 30 degrees below in the middle of winter and is said that is why this ramen style, which has the lard layered on top, creating a kind of insulating layer meant to keep the ramen from cooling in the cold winter days.
This soup can be characterized as mellow and refreshing. The mellow taste of the soy sauce spreads throughout your senses while the seafood flavors come up and tickle your nose. The seafood soup forms the base for the mellow taste, and while lard floats up on the top, the flavor may not be as surprising as you think.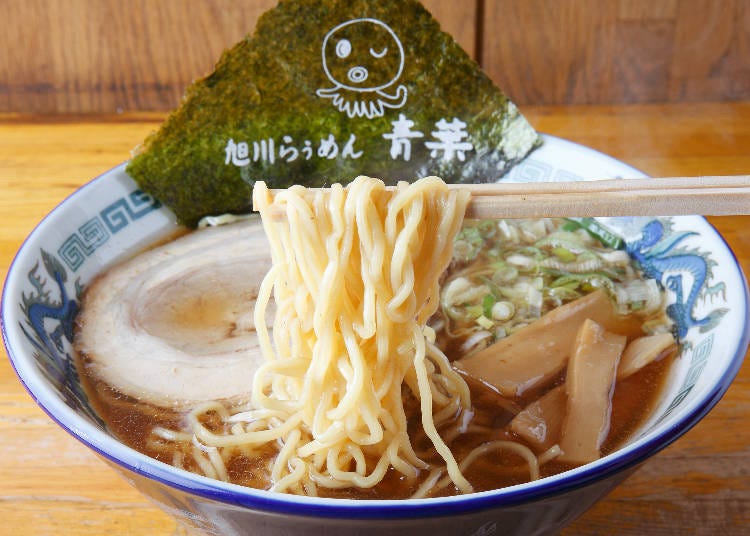 A rich soup to entice your taste buds!
The Hokkaido noodles used in these ramen options are the same thick wavy style whether it is in Sapporo ramen or Asahikawa ramen. The difference is how water is retained in the noodles: Sapporo ramen takes on a yellowish hue while Asahikawa ramen has a whitish colored noodle. These wavy shaped noodles are picked and utilized to help enhance the experience of slurping them up.
The ingredients are roasted pork fillet, bamboo, and leek. Seaweed and other toppings may vary based on the store. This topping style may be rather simple compared to Sapporo ramen, but there are many stores offering vegetable ramen with a vegetable stir-fry topping.

Increasing your toppings is an option for many stores so be sure to ask if that is your preference. There are many ramen shops in Asahikawa city with many shops forming lines out the door. Many stores offer salt and miso options in addition to the traditional Asahikawa taste.

When traveling in this area you may be unsure which flavor to try out, but for your first experience, be sure to try the traditional Asahikawa Ramen.
3. Hakodate Ramen: Salty and satisfying
Hakodate ramen is another famous Hokkaido ramen variety. It is a ramen widely famous around Hakodate City, a place known for its wonderful night view. The base of Hakodate ramen is salt. Hakodate ramen's classic style uses straight noodles placed inside a clear soup. The soup stock is often made with pig bones, chicken bits, kelp, and vegetables.

This ramen is characterized not by immense flavor, but by its umami. As the ingredients are relatively simple, it is easy to create the elegant taste along with the pork fillet, green onions, bamboo. Depending on the shop, you may also try this dish with dried noodles.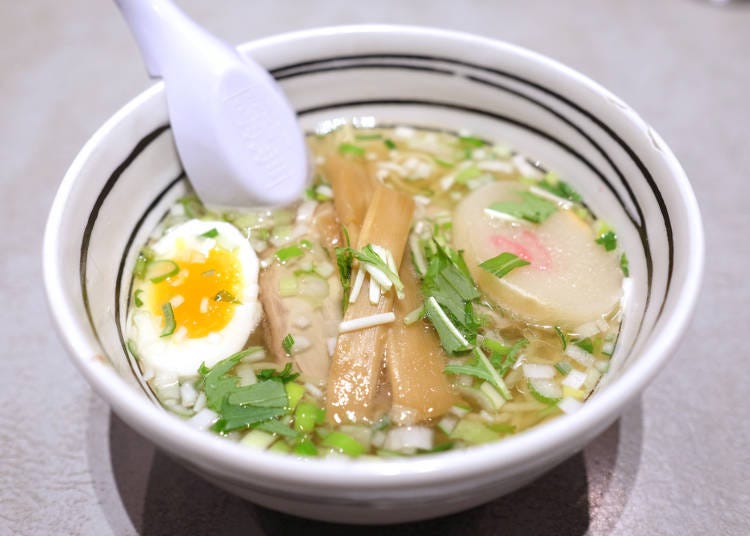 The warmth that fills your mouth with each bite is exceptional!
It is said that ramen appeared in Hakodate around 1884, and there is the theory that Hakodate ramen was the first ramen dish in Japan. Because salt ramen has been popular among Hakodate citizens for so long, even the name of the city, Hakodate, means salt ramen. Many shops prepare soy sauce flavor and miso flavor, but in Hakodate the ramen representative is their salt ramen.
4. Kushiro ramen: Mellow soy sauce flavor only available in Kushiro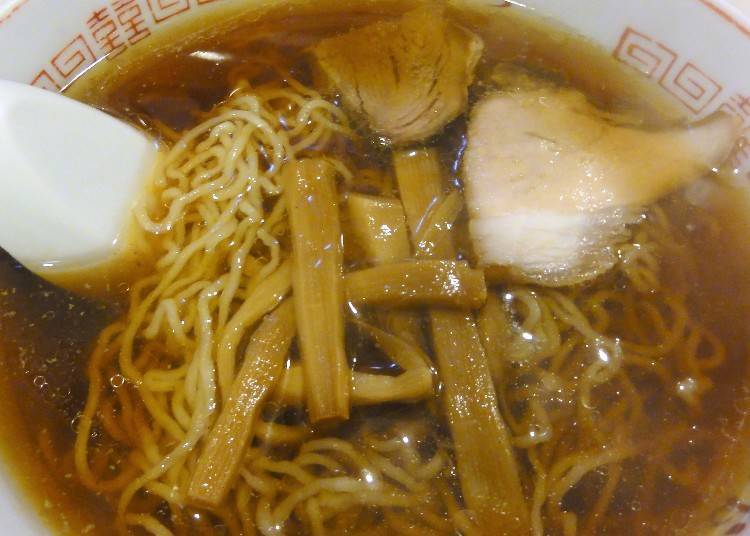 Kushiro ramen is a variety that can be eaten in this port town in eastern Hokkaido. This soup is flavored with soy sauce and uses thin wavy noodles. Since these Hokkaido noodles have a high moisture content, they are soft, elastic, and spread into the soup well.

This type of Hokkaido ramen is also known for never using additives or preservatives in noodles. Because of this the dish must be eaten locally as a trip of any length would cause it to spoil. While people want to take this as a souvenir, this ramen is only available in Kushiro.

The soup is a collaboration of seafood such as bonito, kelp, chicken bits, vegetables, and pork bones. While this double soup approach is similar to Asahikawa ramen, the taste is quite different. We recommended this dish after enjoying some drinks! There are several shops in Kushiro that offer this ramen dish.
5. Muroran Curry Ramen: A unique dish famous in the area!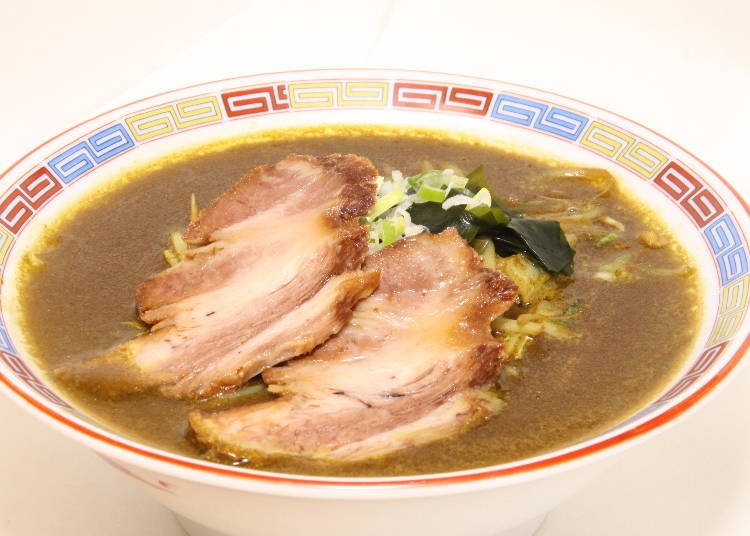 Muroran curry ramen is a local ramen that can be eaten at some ramen shops such as Noboribetsu Onsen, Lake Toya, and Chinese restaurants in the southwestern part of Hokkaido, especially Muroran City. As the name suggests, this curry-flavored dish uses noodles with curry flavor that are yellow and wavy like Sapporo ramen. The usually toppings include wakame seaweed with pork fillet and vegetables.

Curry soup is a staple of Muroran curry ramen with the curry paste made from vegetables, fruits, spices, and a pork bone soup. This soup is spicy and incredibly very thick! At first the umami and spiciness may spread softly through your senses followed by an aftertaste of sweetness. While it may be said that the soup appears to be thick like that of curry rice, it is more like ramen soup as it catches in the noodles and is easily slurped up.

So the next time you are exploring Japan's northern island, be sure to keep your eyes and taste buds peeled for these Hokkaido ramen! You're sure to enjoy.
Related Hokkaido Ramen Articles
Book an unforgettable foodie experience in Hokkaido!
Make your trip extra memorable by booking one of these recommended Dining Experiences!
*This information is from the time of this article's publication.
*Prices and options mentioned are subject to change.
*Unless stated otherwise, all prices include tax.
Limited time offer: 10% discount coupons available now!