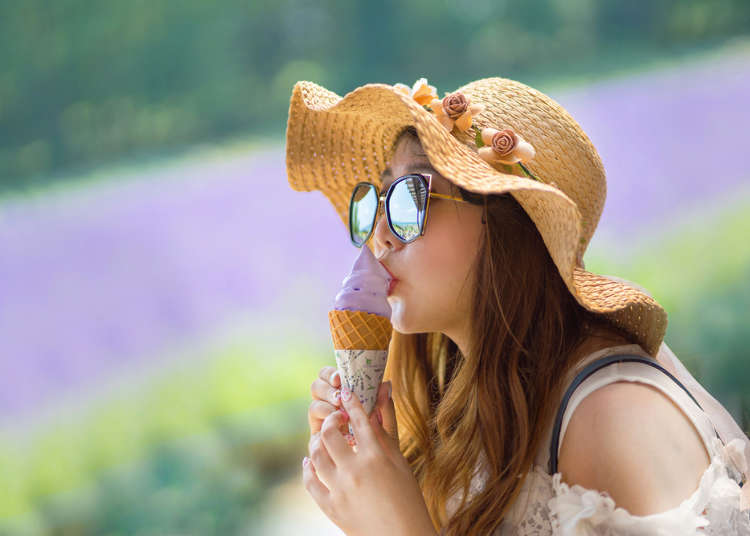 Visiting Hokkaido in summer is one of the best times of year to experience all the island has to offer. The weather is cool, there are plenty of attractions, and you can get incredible views of nature. However, it is good to know in advance about weather in Hokkaido in summer, the climate and how to be careful in the mountains.

Here are ten things you should know before exploring Hoddaido in summer.
1. Summer in Hokkaido is refreshing and it's easy to spend time there
Hokkaido is located in the northernmost part of Japan. Almost the entire region belongs to the subarctic climate, and the temperature is low throughout the year. There are only a few hot days when the maximum temperature is 35°C or higher, and midsummer days when the temperature is 30°C or higher, and there are almost no hot and humid nights.

It usually doesn't feel as hot and humid as in other areas in Japan, such as Tokyo and Osaka, but the humidity in Sapporo is actually higher. Since the temperature is lower than these areas, it isn't as uncomfortable to deal with. There is also plenty of greenery in the area. In rural areas, it is not uncommon for homes to not have air conditioning.
2. Visiting Hokkaido in Summer? You'll love the beautiful wildflowers
Hokkaido has a long winter and is covered with snow and ice for about half a year, and spring and summer pass by quickly. Starting with the cherry blossoms from April to May, various flowers bloom in different places.

The vast lavender fields in the Furano area and the hills full of colorful flowers in Biei are the most famous flower fields in Hokkaido. Many tourists come from Japan and other countries in July when they are in full bloom.

Those who love flowers will really enjoy the boglands and sand dunes where native flowers of Hokkaido flourish. These areas are said to be the natural flower gardens. In the south of Honshu, alpine plants that bloom only in the cool mountains can be seen on flat land in Hokkaido because of its high latitude.
3. Did you know that Hokkaido in summer is a soft-serve ice cream kingdom!?
Hokkaido is Japan's dairy kingdom, and the must-try summer treat is soft ice cream! On farms, you can taste the soft-serve ice cream made from the fresh milk collected there. It is popular with families on summer weekends and holidays.

There are lots to check out, such as soft ice creams made by standard Hokkaido souvenir makers, as well as soft ice cream with specialty flavors of Hokkaido such as melons and lotus cups. You can find it at roadside stations, service areas on highways, airports, etc., so it's recommended that you try out different soft-serve ice creams.
4. The nighttime sky is full of shining stars
Hokkaido is home to some of Japan's darkest skies. It is a perfect environment for seeing stars because the air is clear. In the places away from the cities where there are few streetlights, even the small stars can be seen with the naked eye.

In the summer night sky, you can see the Milky Way extending north and south and the "summer triangle" formed by connecting Vega-Deneb-Altair.

In addition, there are nine public observatories in eight municipalities including Sapporo, so you can enjoy seeing the nebula and planets in addition to the stars.
5. It is good to carry an umbrella in Hokkaido in June
seaonweb / Shutterstock.com
For the first half of the summer in Japan, there is a troublesome feature called "rainy season." The damp warm air from the south and the cold air in the north collide over Japan, causing rain for more than a month, resulting in a hot, humid and unpleasant climate.

Because Hokkaido is under the influence of cold air, the rainy season is a bit different here. There is an "ezo rainy season" similar to the rainy season, which is rain for about two weeks from moist and cold air, and it causes chilly days to extend later in the year. It often occurs in June, so if you travel during this time, it is safe to have a folding umbrella. Fun fact, "Ezo" is the old name of Hokkaido.
6. Nights in Hokkaido in summer can be chilly! Be sure to bring a jacket
From midnight to early morning, the temperature is low. The daily minimum temperature in Tokyo in July and August is around 23℃, but the daily minimum temperature in Hokkaido and Sapporo often does not reach 20℃. When the temperature starts to drop in the evening, you may feel a little chilly at night.

We recommend that you have clothing for this time of the day such as a light jacket. Light hoodies and cardigans should be carried around on the shoulder or in a bag during the day. A jacket not only keeps you warm but also protects your skin from the sunlight in the summer, so it is useful both day and night. These items are also useful to keep you cool on hot days.
7. Be careful about wild animals!
Many wild animals live in Hokkaido, which has a lot of nature. Among them, the male brown bear is about 2 meters long, weighs 150-400 kilograms, and if attacked, it won't hesitate to defend.

Waking up from hibernation, the brown bears roam actively in the mountains from spring to autumn, but this is also the time humans enjoy outdoor activities such as mountaineering and mountain stream fishing.

When entering a mountain or forest, be sure to check your surroundings for signs of wildlife. Take care to be loud and announce your presence so you don't startle wildlife and it knows to avoid you. Be sure to check the rules in the area for protecting nature, such as not feeding wildlife and packing out your garbage and leftover food.
8. What is the best clothing for exploring the woods of Hokkaido in summer?
rayints / Shutterstock.com
The woods can be quite hot, so it is best to not walk around in short sleeves and shorts. In addition to protecting against the sun, it helps with avoiding being bitten by insects. Quick-drying fabric is recommended because it does not easily get saturated even if you sweat.

The weather in the mountains can change during the day, so make sure you have outerwear that is waterproof and warm. But be careful with the color. Black increases the chances of being attacked by wasps, and it is hard to see if you have picked up ticks, so you should wear white or bright clothes.
9. Be sure to drop by a directly-managed farm in Hokkaido!
From early summer to the beginning of autumn when vegetables are harvested, vegetable direct sales outlets directly managed by farmers will be opened all over Hokkaido. You can find freshly harvested vegetables and fruits such as morning tomato and melon at a great price!

Depending on the direct sales outlet, you may find vegetables unique to Hokkaido and high-quality vegetables that can be found in restaurants. There are also gourmet foods that you can enjoy on the spot, such as corn that was boiled with salt at the storefront and snacks and dishes made by the mother of a farmer. The direct sale place is popular with the people of Hokkaido as a fun drive.
10. When does summer in Hokkaido end?
Tanya Jones / Shutterstock.com
After mid-August, the temperature gradually drops in Hokkaido, and you need your thin jacket in the morning and evening. In Japan, there is an event called "Obon" in the middle of August, when the spirits of ancestors are greeted and memorial services are held. In Hokkaido, "Obon ends when autumn begins."

Asahi-dake trees with an altitude of 2,291 meters, which are the fastest in Japan to turn red, will begin to color from late August. In the flatlands, summer flowers are at their peak, and many dragonflies are flying around in a row to create autumn scenery.

Text by Minna no Kotobasha
*This information is from the time of this article's publication.
*Prices and options mentioned are subject to change.
*Unless stated otherwise, all prices include tax.