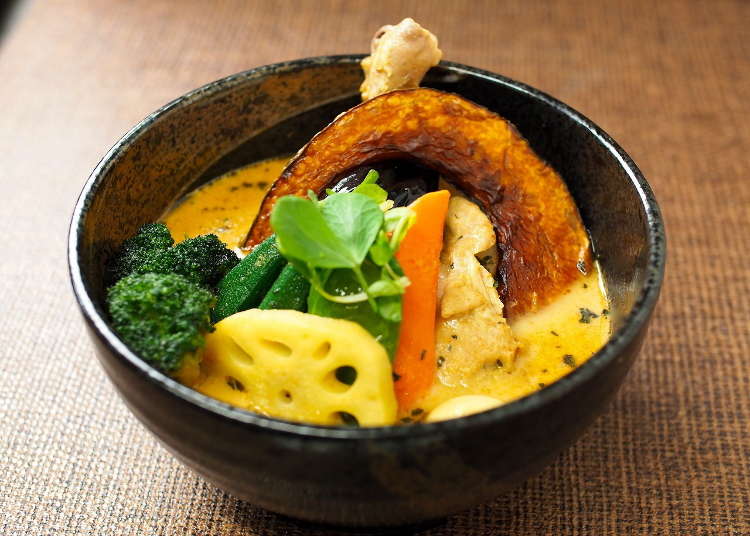 If you think of Japanese food, you might first think of sushi and ramen. But Japan is so much more than that! Around the country, different regions are known for their own particular dishes. In Sappro, along with ramen, soup curry is the latest to be considered a "soul food" of the area.

This rich curry soup is seasoned with plenty of spices and generous chunks tender meat and fresh vegetables. Hundreds of these specialty shops dot the city, each offering their own variety of unique arrangements and original flavors. Here are three of the most popular of these specialty restaurants.
Soup Curry Yellow: Pioneers of Soup Curry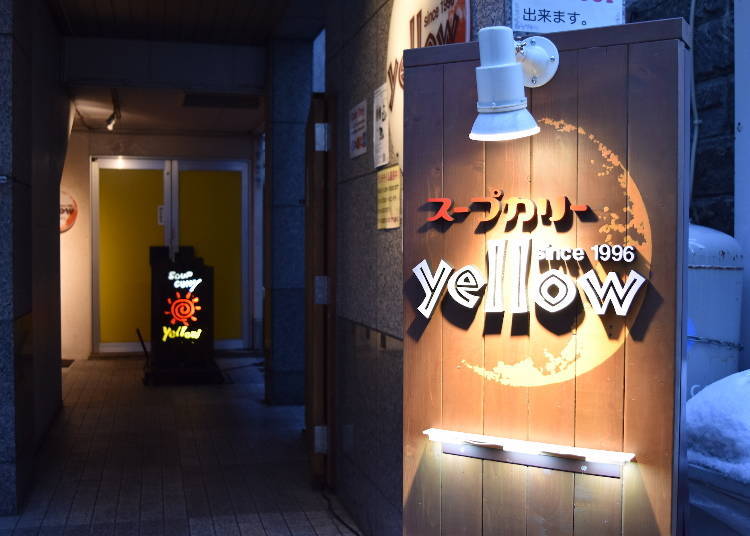 The history of soup curry was said to have first began in Sapporo restaurants in around 1970. The number of these specialty shops gradually increased until the boom in the 2000s, which lead to a burst in popularity that spread throughout the country. "I was shocked by how delicious it was the first time I tried it," recounts Takahashi, the owner of Soup Curry Yellow. Takahashi studied cooking at a friend's restaurant for three years before opening this shop in 1996.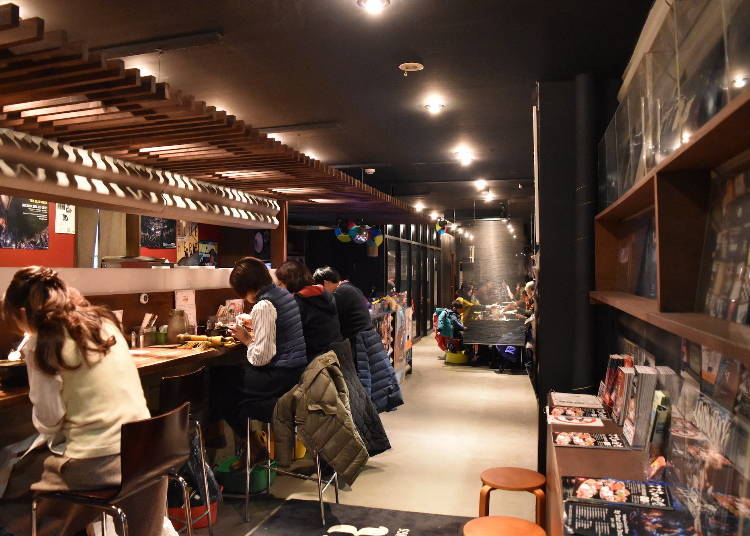 There are nine varieties of curry available on the regular menu. The curry is said to have undergone many trials and errors before at last reaching its present, delicious taste. The store interior has LP records on display, as well as a DJ booth.

They even have their own specialty drink menu, which includes homemade lassi and original white grape squash. Yellow is also the only place that offers the Hokkaido craft beer Pirikawakka (Chitose City) on draft.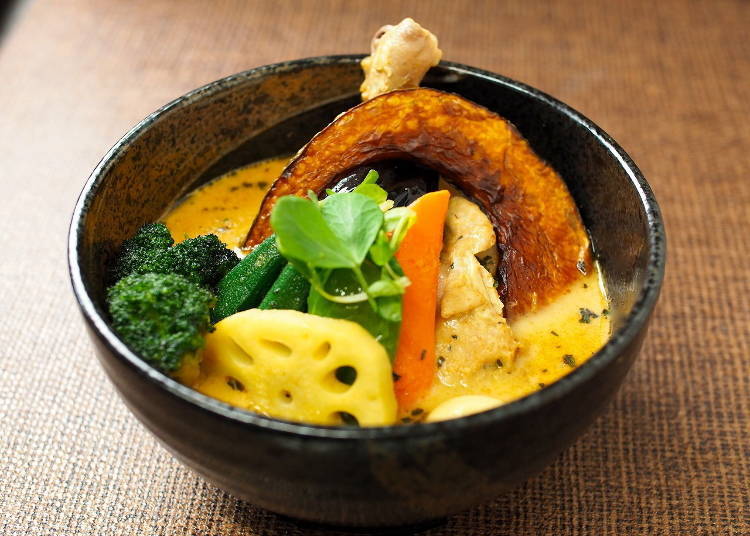 Chicken Vegetable Curry: 1,300 yen (tax included)
One of their most popular dishes is the Chicken Vegetable Curry, a dish which comes with a juicy piece of bone-in chicken thigh. The soup stock, made from pork bone, chicken skin, seasoned vegetables, and seafood dashi, is prepared separately from the spices, which are mixed in right before serving. Despite being a soup curry classic, you can really taste the savory deliciousness of the effort that goes into it.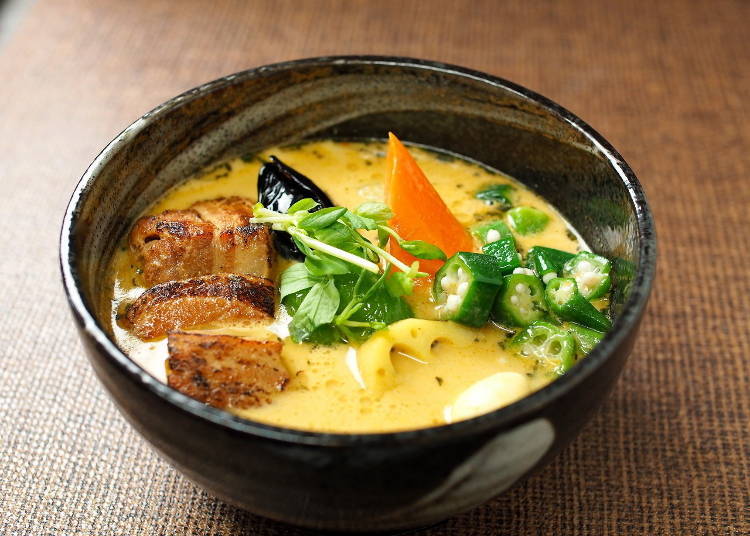 Broiled Char Siu and Okra Curry: 1,250 yen (tax included)
One of shop owner Takahashi's hobbies is walking around and trying different foods, which happens to be when new curry-making inspirations hit. Broiled Char Siu and Okra Curry is a unique curry combination using okra, and is another popular Yellow dish said to be on par with their Vegetable Chicken Curry.

Each of the curries are available in 20 levels of spiciness, so you can choose your favorite. Levels 1 through 4 are not spicy and free to order, while levels 5 and up are spicy and cost a little extra. Anything above level 5 is only recommended if you are sure you can handle the heat! Level 3 is the recommended option if you want to taste the curry at its best flavor.
スープカリーイエロー

Address

Elm Building 1F, 1-12-19 Minami 3-jonishi, Chuo-ku, Sapporo City, Hokkaido, 〒060-0063

Phone Number

011-242-7333

Hours: 11:30AM - 10:00PM (open until sold out, L.O. 9:30PM) *Closed when products have sold out
Regular Holidays: Open year-round
Curry SAVOY: Revival of a Local Favorite!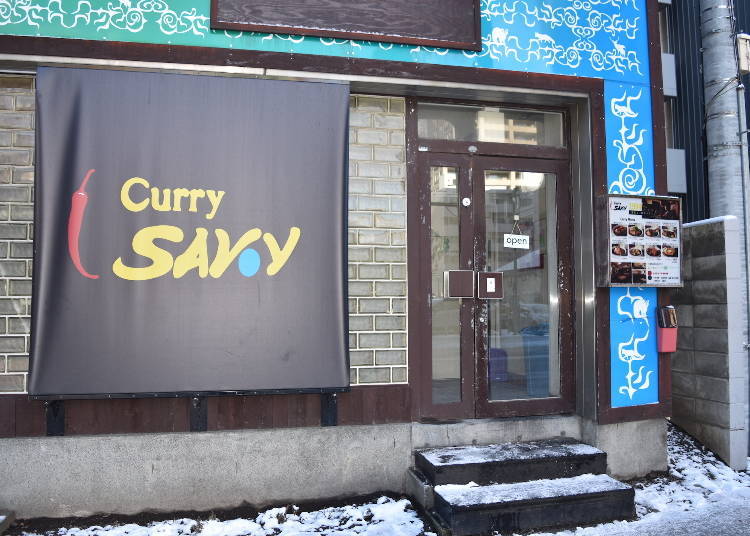 Curry SAVOY was a shop much loved by the locals of Horohira-Bashi and Minami-Ichijo Street for about 23 years, before it closed down in October 2017. However, in November 2018, it was re-opened at the north exit of Sapporo Station by the owner of a popular hot-pot shop, who intends to "continue serving the taste of SAVOY." So far, it has proven to be popular with the shop's familiar fans.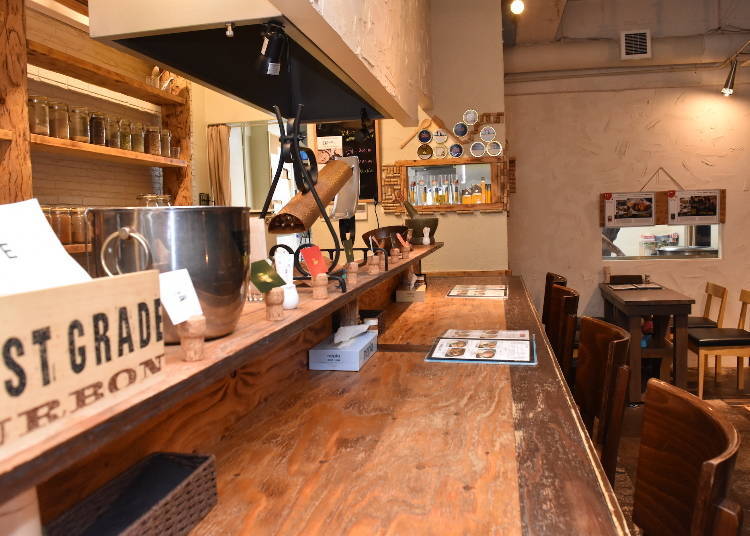 The soup, made with beef bone, chicken skin, and a variety of vegetables, is stewed in the pot over the course of a day. During that period, the heat is shut off only once, until the following day when it is heated once again for another 6 hours. Afterwards, it is carefully and precisely seasoned with spices, which takes about another 4 hours. Finally, it is set in the refrigerator to chill for just over a day. Once taken out, excess fat is removed. As you can see, it takes a tremendous amount of time and effort to complete this special curry.

Using this elaborately prepared soup as a base, it is then prepared in a wide variety of flavors, making for a diverse menu of curries, including meat and seafood dishes.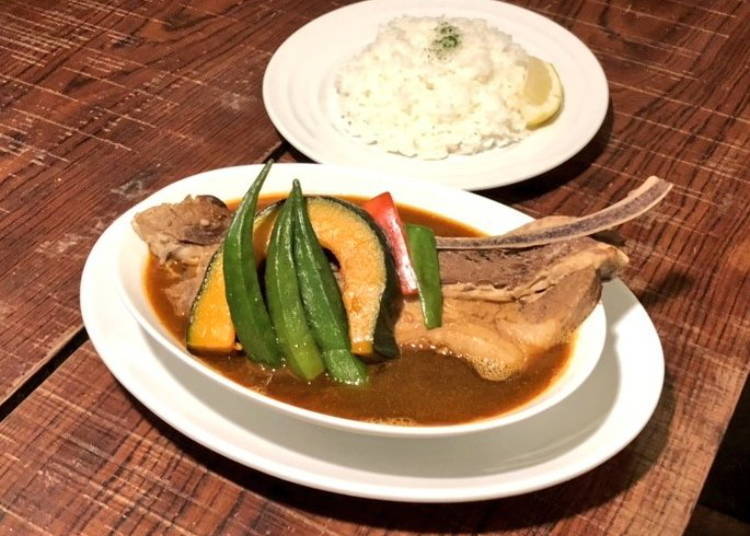 Spare Rib Curry (Regular Size): 1,380 yen (tax included)
This popular menu item is made with Hokkaido spare ribs (150g, bone-in). It includes lotus root, broccoli, eggplant, potatoes, carrots, and peppers. Not enough? You can upgrade to a large size (280g).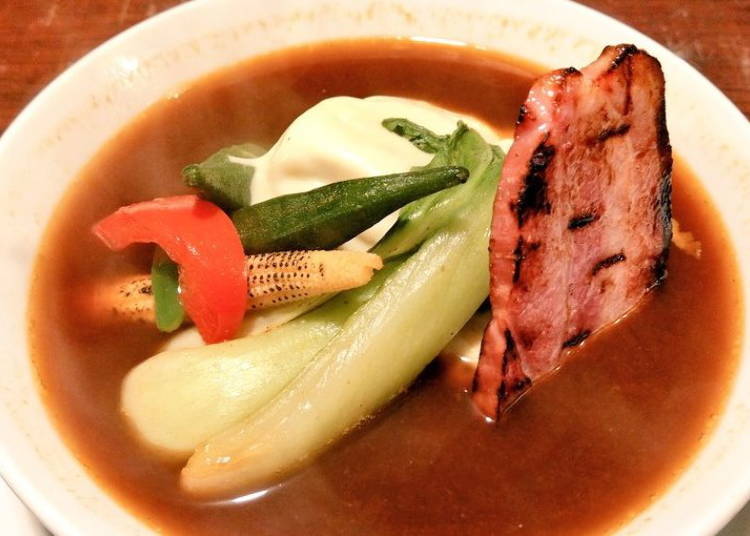 Cabbage Mille-feuille Bacon Curry: 1,380 yen (tax included)
This curry contains the perfect balance of meat and vegetables, including cabbage, chicken, cheese, thick sliced bacon, greens, okra, potatoes, and carrots. The aroma of the thick, sliced bacon will be sure to stir your appetite.

You can choose from six levels of spiciness, with 0 being not spicy at all to level 6, which is seasoned with chopped Thai chili peppers. You can also fine-tune the curry itself with various extra toppings, including cheese and boiled eggs.
Curry SAVOY

Address

Inazu Building B1F, 4-chome Kita 8-jonishi, Kita-ku, Sapporo City, Hokkaido 〒060-0808

Phone Number

050-5456-0383

Hours: 11:30AM - 10:00PM (L.O. 9:30PM)
Regular Holidays: Wednesdays
Soup Curry Okushiba Shoten Okushibachan: Japanese Homestyle Flavor, Just Like Grandma's!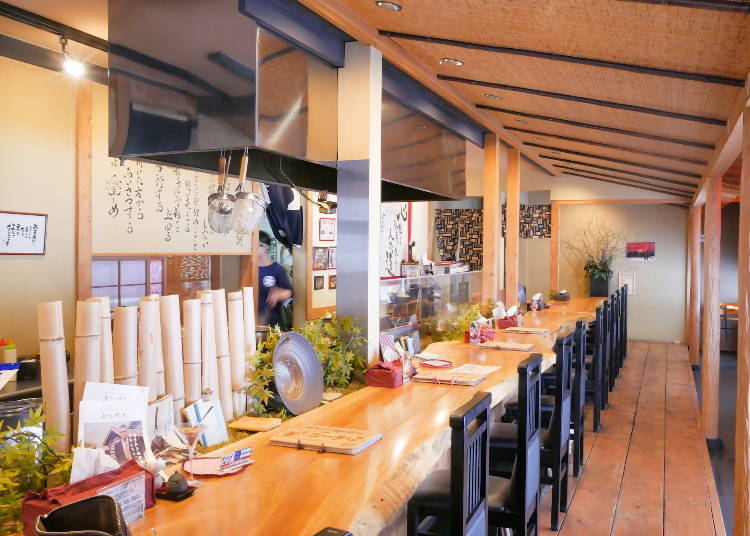 Soup Curry Okushiba Shoten Okushibachan is one of the "Okushiba Shoten" locations that played a role in the huge curry boom featuring shrimp soup. It is a renovated Japanese house in the Maruyama area of Sapporo, which employs working women at an average age of 64. These women working passionately, true to their image and concept of "Oba-chan (older women) as the spotlight."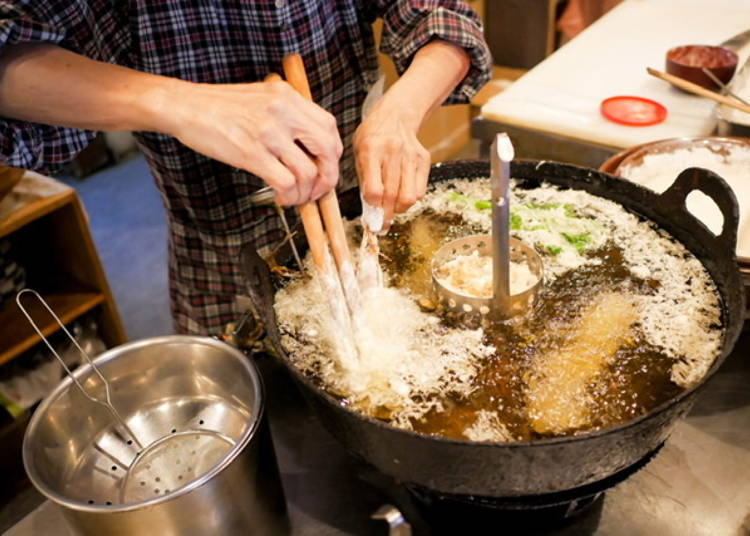 Once you've selected your curry from the menu, choose your favorite soup option from Boiled Chicken, Oku-oku Soup (Shrimp), and Nori-nori Soup (Oyster), an additional 200 yen.

Next, choose your level of spiciness from 12 levels (levels 6 and above cost an additional 50-200 yen and include Thai chili peppers). Level 12 is dubbed "happiness from spiciness" because of the similarity between the kanji characters for "spicy" (辛) and "happy" (幸).

You can also choose from white or brown rice, as well as "rice with egg" or "mixed rice" for an additional fee. In addition, you can select one of the following toppings, "Chiyo-chan's green onion miso" or "two kinds of seasonal vegetables," at no additional charge. As you can see, this menu offers a wide range of customizations.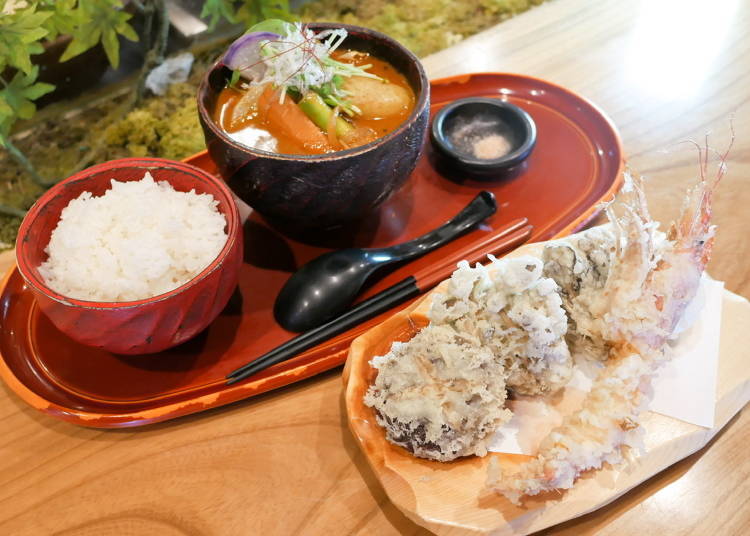 Oba no Yosayuki Tempura Curry: 1,680 yen (tax included)
Oba no Yosayuki Tempura Curry, the signboard menu item, is a concept that emphasizes the unusual compatibility between curry and tempura. There are three tempura dishes, organized by Japan's matsu-take-ume ranking system. Matsu (Rank 1) includes Ooebi King Prawns or Caciocavallo cheese. Take (Rank 2) includes chicken thigh or three varieties of Hokkaido mushrooms. Ume (Rank 3) includes soft-boiled egg or burdock root.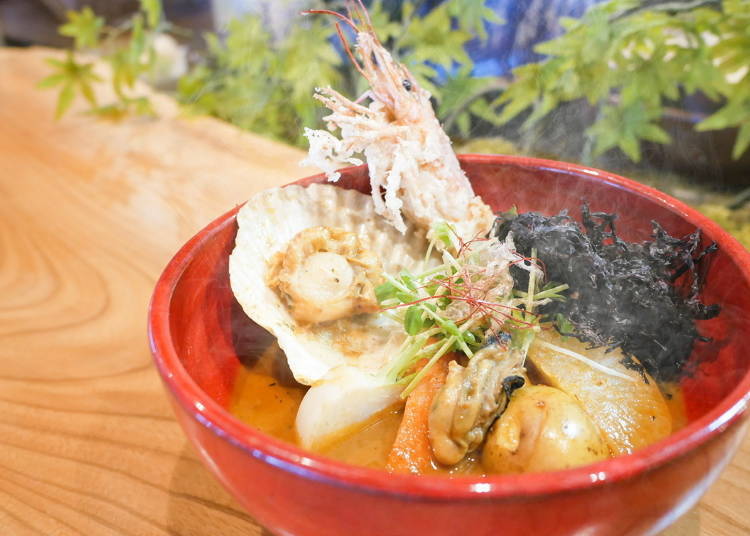 海の幸に感謝カリー1,600円円(税込) "Umi-no-Sachi ni Kansha" (Seafood Curry): 1,600 yen (tax included)
This gorgeous dish is a new style of curry with a generous helping of seafood ingredients. The large King Prawn in the center of the bowl will catch your eye first, followed by the scallops and mussels along the sides. With the seaside scent of the iwanori seaweed, the delicious aftertaste lingers even after you have finished eating.

Access to this fascinating curry shop is a bit complicated. Take the Tozai Subway Line to Maruyama-Koen Station, and transfer to the bus at the Maruyama Bus Center, also in the station. Ride the bus to "Miyanomori 1-jo 10-chome," about 3 minutes away. When you get off the bus, the shop is about 5 minutes on foot. There are no particular landmarks or signs in the residential area, so you can enjoy exploring this new town as you follow your map to the shop.
Soup Curry Okushiba Shoten Okushibachan

スープカレー 奥芝商店 おくしばぁちゃん

Address

10-7-20 Miyanomori 1-jo, Chuo-ku, Sapporo City, Hokkaido, 〒064-0951

Phone Number

011-688-6454

Hours: 11:00AM - 3:30PM(L.O.), 5:30PM~8:30PM(L.O.) ※Weekdays are open for lunch hours only
Regular Holidays: Thursdays (subject to change)
Flavors and Styles That Vary by Location
As you have probably noticed from these three shops, there is no real template for soup curry. It is no exaggeration to say that there are possibly as many curry flavors as there are shops. Many people in Sapporo have their own favorite locations, so you may want to ask the locals you meet for their recommendations. Then you can visit these various curry shops, and choose your favorite flavor for yourself.

Text by:minna no kotoba sha
*This information is from the time of this article's publication.
*Prices and options mentioned are subject to change.
*Unless stated otherwise, all prices include tax.