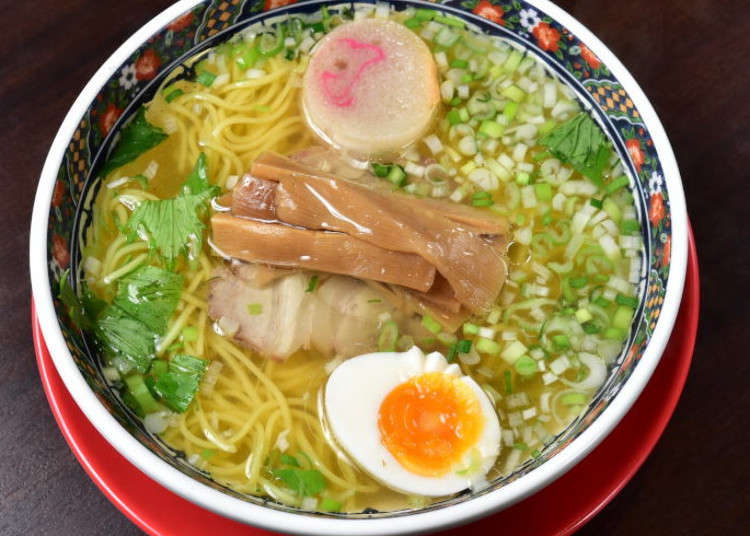 Ramen first made its appearance in Hakodate in 1884. Being a trading port, various food cultures made their way into the city, and ramen was one of these.

Now, Sapporo is famous for its miso (fermented soybean paste) ramen, Asahikawa for its tonkotsu (pork bone) and shoyu (soy sauce) ramen; together with Hakodate's shio (salt) ramen, they are called the three great ramen of Hokkaido.

What makes Hakodate shio ramen unique is its clear soup made from chicken bones and kelp, its straight noodles, and the simple ingredients. Here we'll introduce three of the best shio ramen shops in Hakodate!
1. Hakodate Ramen Horan: Popular shio ramen shop with locals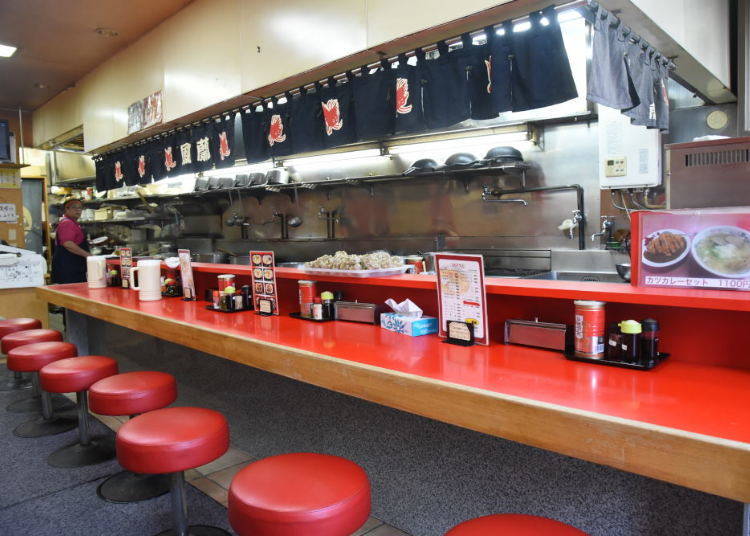 Go straight along the tramway from Hakodate Station and turn right at Sakae-dori.

Established in 1950, Hakodate Ramen Horan is one of Hakodate's oldest ramen shops. Inside, the atmosphere is as it was when it first began with its long, red counter and red stools as well as tables. Sitting at the counter one can watch as the ramen is prepared.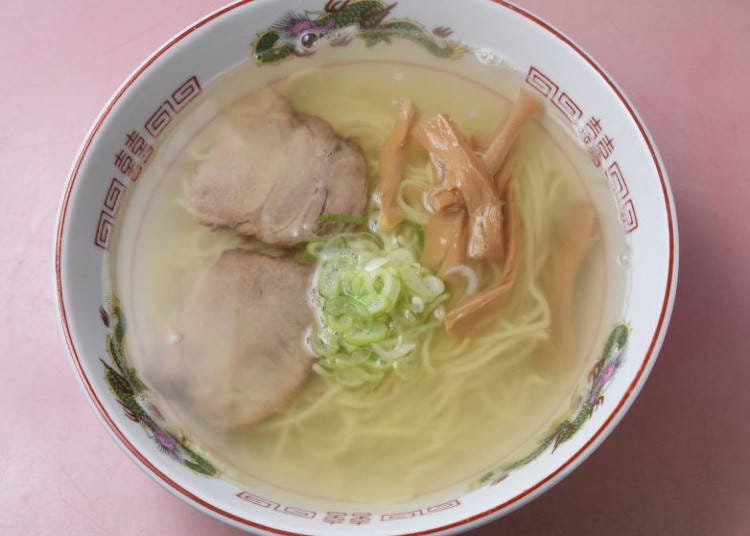 Shio ramen (600 yen) is the most popular and is noted for its straight noodles in a clear soup made from pork and chicken bones.

Salt is not added to the soup base after it is put into the bowl, but added beforehand to the specially prepared soup base before it is cooked. This imparts a deeper, smoother flavor.

The menu includes a number of other noodle dishes in addition to shio ramen, including such local favorites as gomoku-men (noodles with 5 ingredients) (900 yen), yakisoba (fried noodles) (900 yen), as well as rice dishes like chukahan (Chinese-style fried rice) (900 yen), and curry rice (650 yen).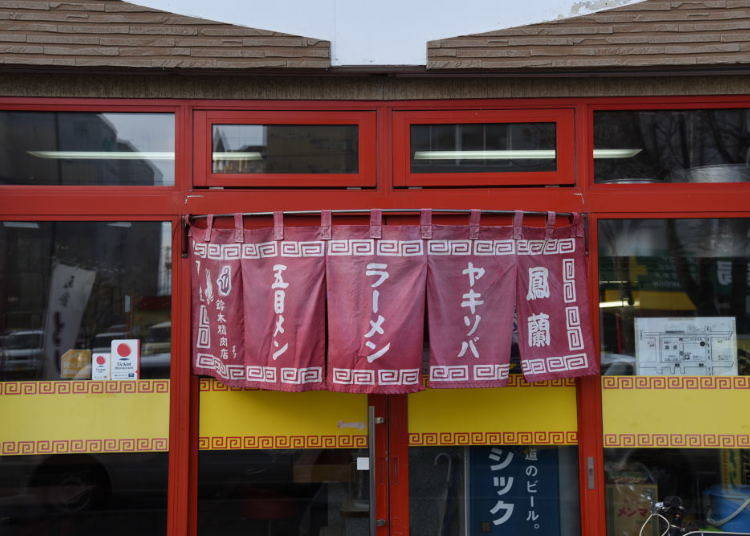 Shio ramen has been served since the shop opened and often can be bought in a set. The zariji and shumai set lunch (1,100 yen) and the curry and ramen set (850 yen) are among the popular sets offered.
函館ラーメン鳳蘭

Address

〒040-0035 北海道函館市松風町5-13/5-13 Matuskaze-cho, Hakodate-shi, Hokkaidō 040-0053

Phone Number

0138-22-8086

Open: 11:00 AM ~ 9:30 PM
Closed: Tuesdays
Access: 7-minute walk from JR Hakodate Station
2. Hakodate Menchubo Ajisai Main Shop: One of the most famous Hakodate shio ramen shops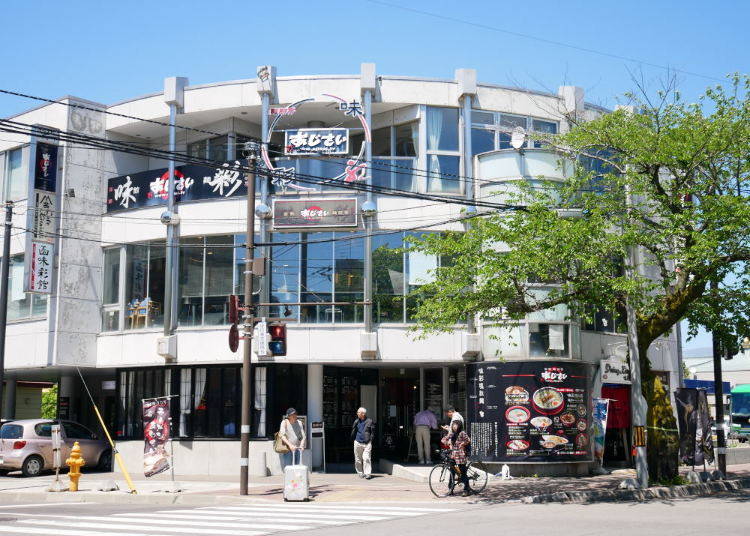 This old ramen shop is famous throughout the country and a popular tourist spot being located close to the Goryokaku Park.

The ramen of Ajisai has become a popular Hakodate souvenir. Ajisai also has shops conveniently located within Hakodate Station and the Bay Area.

The representative dish offered is Misai Shio Ramen, famous for its soup made from chicken and pork bones and generous amounts of donan-san kelp (a product of southern Hokkaido).
The especially-made straight noodles blend well with the clear soup. Since its inception, a soft-boiled egg has been a popular topping.

If you prefer the same shio ramen but with perhaps a heavier flavor, we recommend the Gokuaji Seabura Ramen (840 yen) that uses the fatty back part of pork in the soup. In addition to other unique ramen dishes, a homemade curry, Ajisai Curry (880 yen), is also served.

Hours: 11:00 AM ~ 8:30 PM (8:25 PM last order)
Closed: 4th Wednesday (following day if Wednesday falls on a holiday)
Access: 10-minute walk from the Goryokaku Park tram stop
Address

The second floor, 29-22, Goryokakucho, Hakodate-shi, Hokkaido, 040-0001
View Map

Nearest Station

Goryokaku-koen-mae Station (Hakodate Tram Line 2 / Hakodate Tram Line 5 )


Phone Number

0138-51-8373
3. Hakodate Menya Yuumin: A shop for shio ramen and Chinese cuisine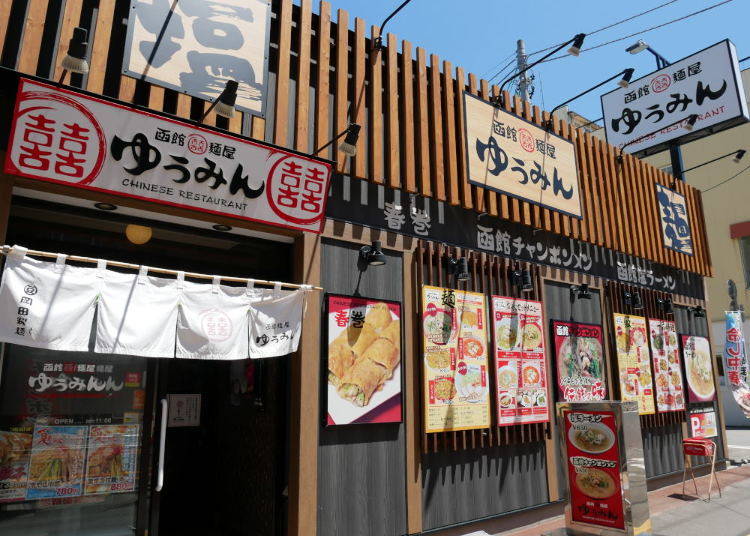 Located close to Hakodate Station, this shop famous for its Chinese cooking opened in 1946.

Its traditional Hakodate Shio Ramen (650 yen) is noted for its clear soup with a heavier flavor made with pork ribs and backbones as well as chicken bones cooked slowly for a long time. The noodles are slightly curly and mix well within the soup.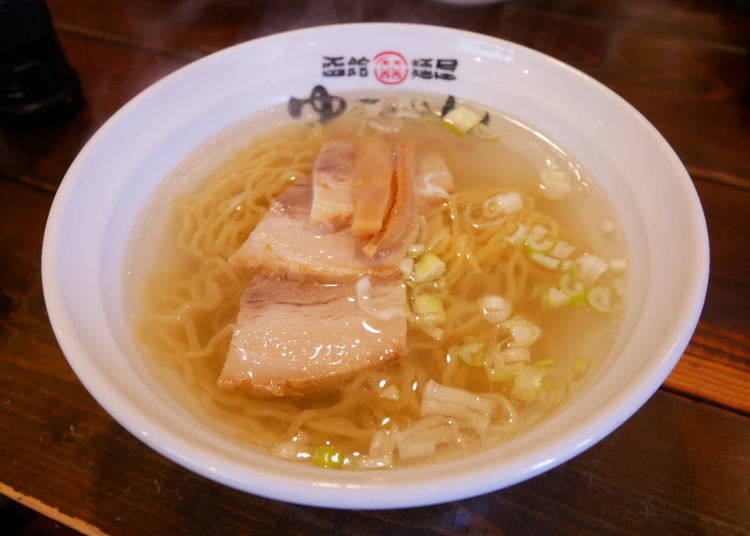 The slices of chashu (roasted pork) topping give the soup an added rich taste.

In addition to shio ramen, other types are also offered, such as rajan ramen (780 yen), noodles covered with a thick, starchy miso-based sauce; yuumin-men (830 yen), a spicy, thick, starchy sauce containing egg; and kara miso ramen (830 yen) which has a spicy miso soup. There are many other Chinese dishes offered as well.
函館麺屋ゆうみん

Address

〒040-0063 北海道函館市若松町19-1/19-1 Wakamatsu-cho, Hakodate-shi, Hokkaidō 040-0053

Phone Number

0138-22-6772

Open: 11:00 AM ~ 11:00 PM (last order 10:30 PM)
Closed: never
Access: 3-minute walk from JR Hakodate Station
*This information is from the time of this article's publication.
*Prices and options mentioned are subject to change.
*Unless stated otherwise, all prices include tax.
Limited time offer: 10% discount coupons available now!