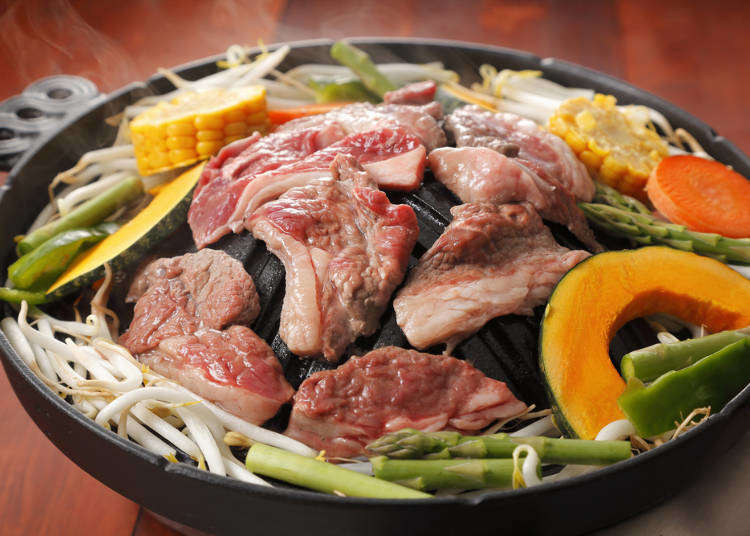 In Japan's northernmost island, you can find a wide selection of local Hokkaido food. From port towns offering fresh seafood to places inland where local-grown meat and vegetables are used in the dishes, Hokkaido food takes advantage of local ingredients.

Especially in the case of ramen, there are unique variances, with Hokkaido's major cities, each having a different delicious twist.

Here we'll introduce the major types of Hokkaido food so you can enjoy the same kinds of cuisine loved by locals during your travels around Japan's north.
1. Local Hokkaido cuisine: Sapporo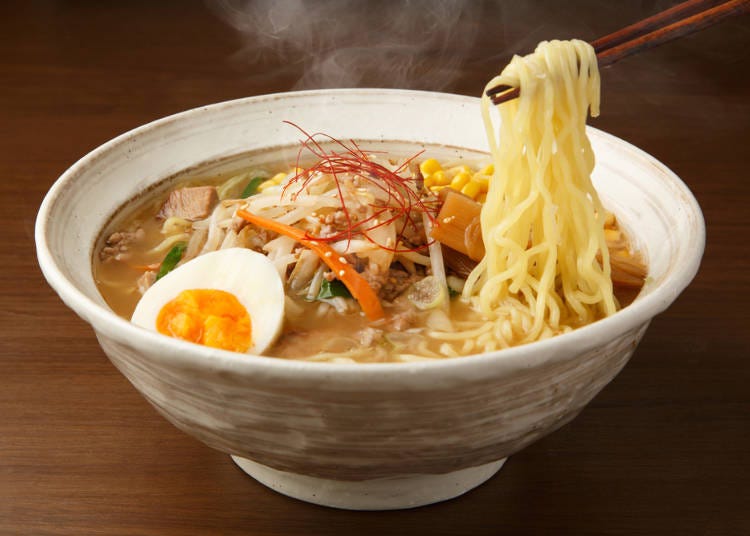 Sapporo is a city located in the central part of Hokkaido and is noted for its cuisine that utilizes local food products obtained from all over the prefecture.

Fresh marine products, as well as agricultural ones, are used in a wide variety of local specialties for you to try such as Sapporo ramen, soup curry, Jingisukan (Mongolian barbecue), and sweets.
Sapporo cuisine No. 1: Sapporo ramen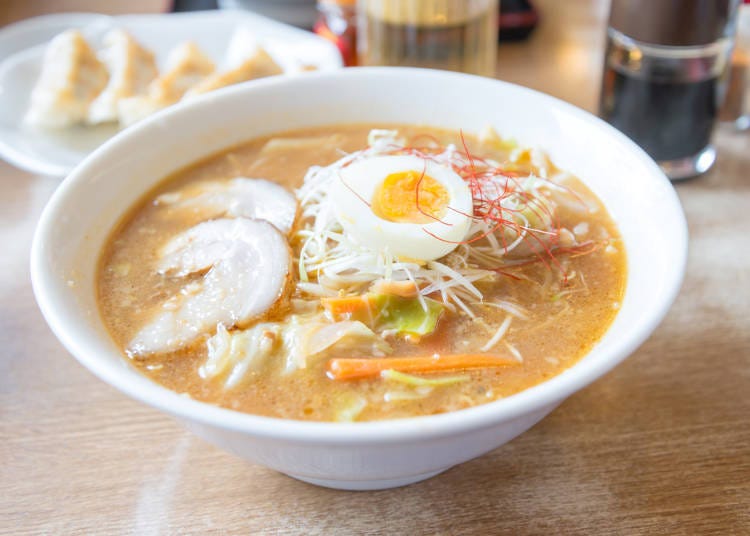 Ramen is king in Hokkaido and in Sapporo you will find many ramen shops battling it out for the crown. There are more than 15 such shops just in the Ganso Sapporo Ramen Alley located in the Susukino entertainment district.

The basic Sapporo ramen is miso ramen which, as its name suggests, has a soup made from miso or Japanese bean paste.

It, together with Hakodate Ramen and Asahikawa Ramen, make up the three great ramen styles of Hokkaido.

Almost all ramen shops offer miso ramen so you can explore them to see which one you prefer. Here can be found Aji no Sanpei which has used the same miso ramen recipe handed down through generations since it was founded.

Many ramen shops are located in the Susukino area not far from Sapporo Station and noted for its many sightseeing spots. Most shops open around 11:00 AM and in the Susukino district, several operate late into the night.
Sapporo cuisine No. 2: Soup curry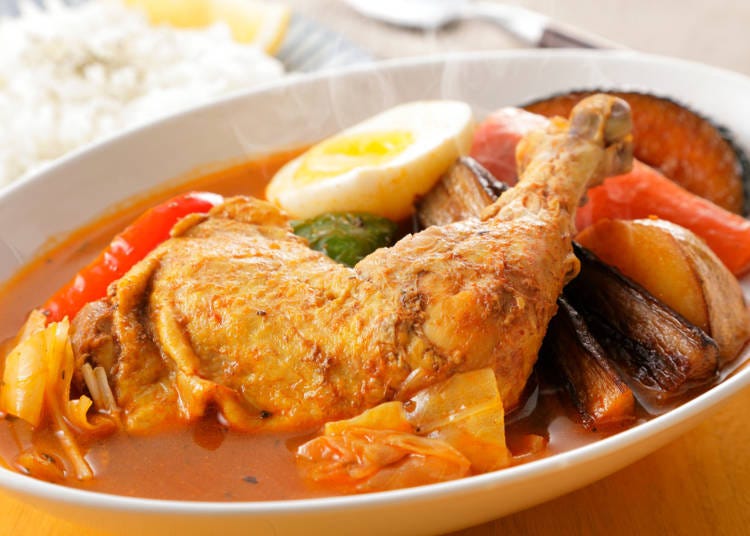 Soup curry is another popular Sapporo local specialty. Large cuts of vegetables and a whole chicken leg on the bone swim in a spicy curry soup.

There are about 10 shops in the central part of Sapporo offering this specialty. The curry is not like that used in other dishes, as it is in soup form, and the spiciness can be adjusted to suit your own taste.

When ordering this Hokkaido food tell the chef how spicy you would like him to make it. Some folks like to order a side dish of rice for either spooning the soup onto or else dumping the rice in the soup bowl.
Sapporo cuisine No. 3: Jingisukan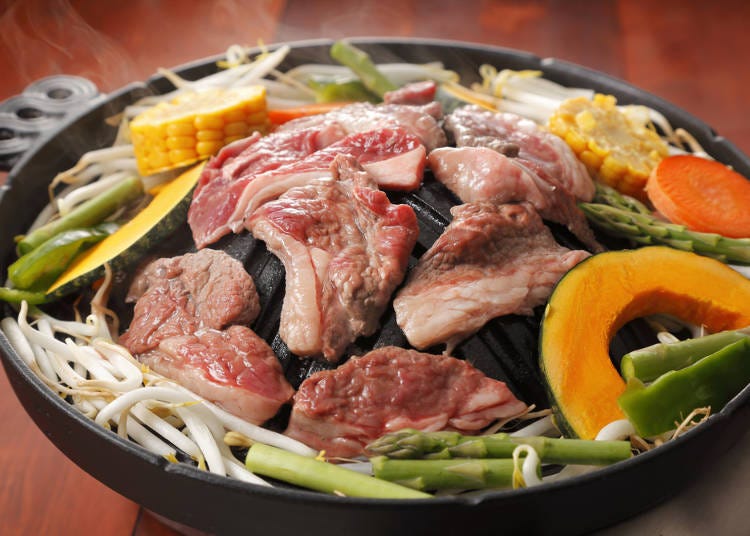 Jingisukan ("Genghis Khan") is a dish of lamb or mutton cooked on a special dome-shaped grill. Shops offering this special Hokkaido food take pride and care in their selection of meat and the sauces they use. Some even have all-you-can-eat courses.

The dish is prepared by first heating up the grill, then placing the meat in the center after which the vegetables are added. Juices run down grooves in the grill as the meat cooks and blend with the vegetables.

The meat used is primarily imported from New Zealand and Australia. Lamb is especially popular because it is more tender and succulent without the strong flavor found in mutton.
Sapporo cuisine No. 4: Seafood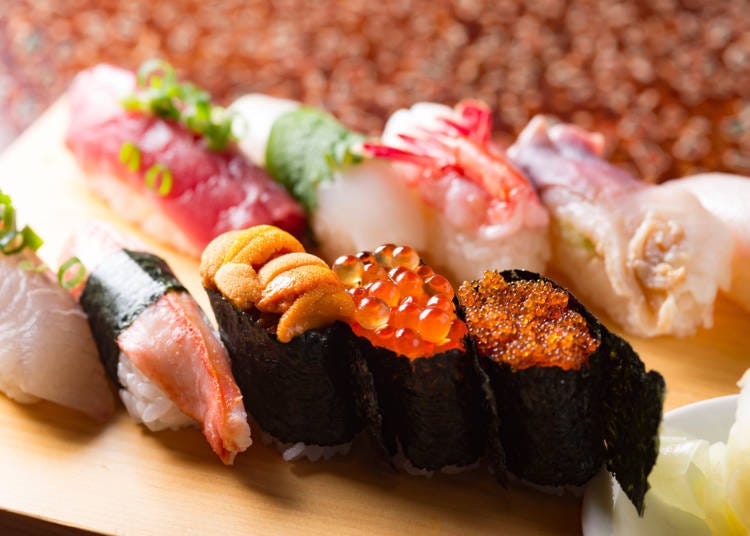 A variety of seafood dishes can be tasted in Sapporo where seasonal fish from various areas of the prefecture can be found.

In particular, the Susukino area has countless sushi shops and seafood pubs, as well as specialty shops offering crab dishes and seafood bowls. When speaking of Hokkaido, button shrimp, salmon, scallops, sea urchins, crabs and salmon roe come to mind! Sushi bars offer assorted nigiri using them in sets costing around 3,000 yen.

There are shops that specialize in seafood bowls where ingredients are heaped upon beds of rice and offer a broad selection to choose from. Such shops can typically be found at the Sapporo wholesale market.

Not all shops offer crab, so if you are looking for a place to eat it, we recommend going to shops that specialize in it. There are four major types of crab in Hokkaido: king crab, hairy crab, snow crab, and blue king crab. Apart from blue king crab, you can usually find all the other types of crab in these specialty shops.

Also, since hairy crab can be found in various parts of Hokkaido, depending on the season it can be eaten raw.
2. Local Hokkaido food: Otaru and Shakotan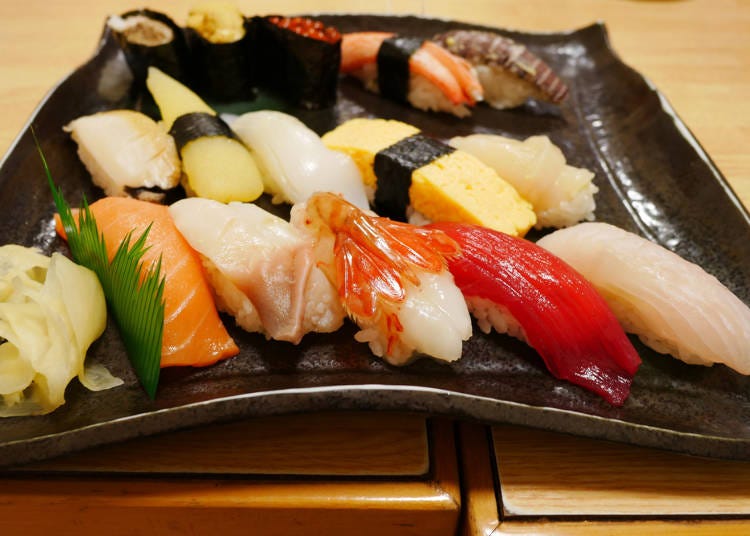 Otaru is a seaport town where you can casually enjoy seafood dishes. It is also famous for ankake yakisoba (fried noodles in a thick starchy sauce) and niwatori no hanmi-age (half a chicken deep-fried).

Here also is the LeTAO main store, a famous confectionery. Stop by here and get yourself some sweets to eat while you are walking about sightseeing.
Otaru cuisine No. 1: Sushi
There are more than a hundred sushi shops in the port town of Otaru you can choose from to enjoy a delicious serving of sushi or seafood bowl.

The sea near Otaru produces a wide variety of fish and shellfish, many being seasonal items, such as shako (mantis shrimp) in spring and autumn and sea urchin in the summer.

There are popular shops in the Central Market in front of Otaru Station offering seafood bowl dishes as well as sushi, especially along the Sushiya-dori.
Otaru cuisine No. 2: Ankake Yakisoba and Niwatori no Hanmi-age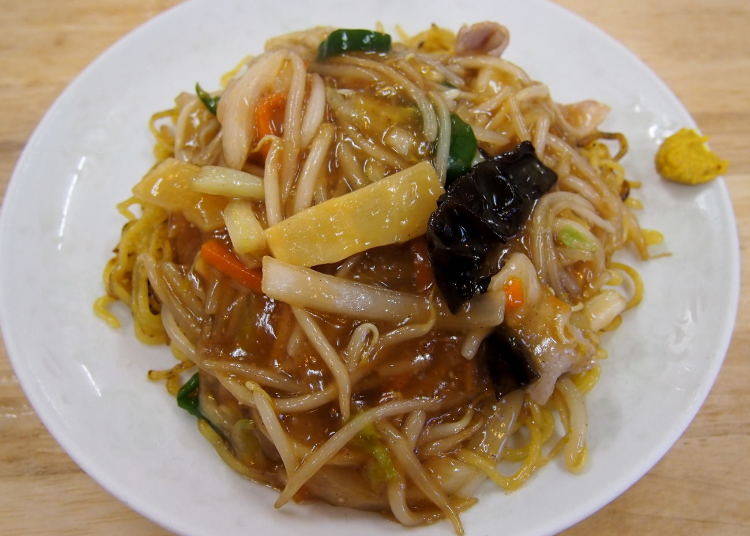 Two Hokkaido foods popular with Otaru residents are ankake yakisoba and niwatori no hanmi-age. Ankake yakisoba is a dish of fried noodles mixed with a generous portion of seafood ingredients and vegetables covered in an, a thick, starchy sauce. This dish has long been served in ramen and Chinese restaurants.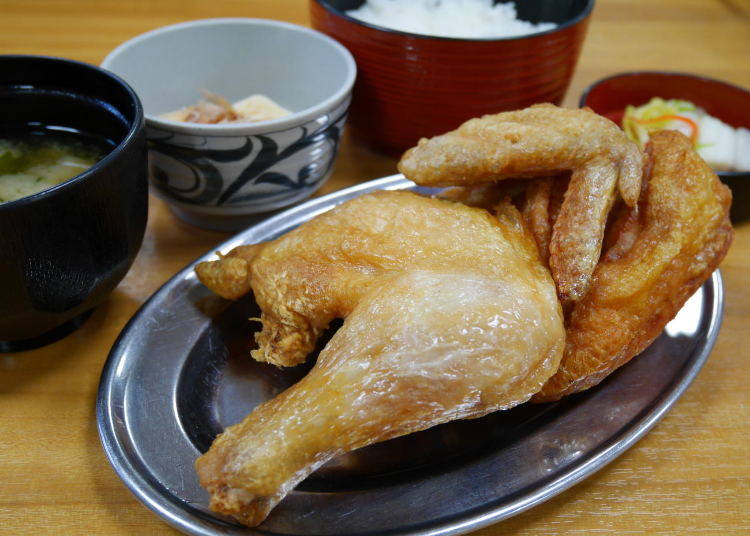 Another Otaru "soul food" is niwatori no hanmi-age - half of a chicken deep-fried until the skin is crisp and the meat juicy and tender. It may not look that appetizing, but once you sink your teeth into the crisp skin and savor the succulent meat, you won't be disappointed.

Naruto Honten, established in 1952, is where this dish originated. It can be ordered a la carte or in a set menu and takeout is also possible.
Otaru cuisine No. 3: Shakotan sea urchin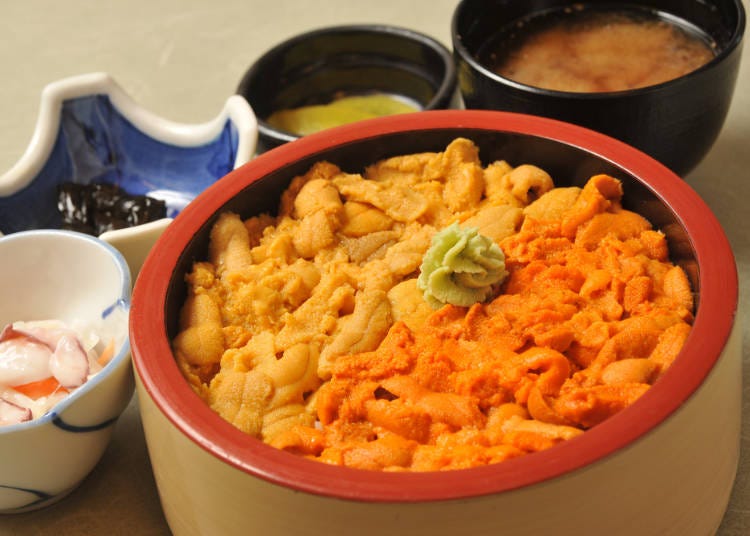 The Shakotan Peninsula offers scenic views of the ocean and is a popular course for taking a drive outside of Otaru. During the summer months, between June and August, famous Shakotan uni (Shakotan sea urchin) is in season drawing visitors far and wide seeking to enjoy this luxury dish.

There are two types of sea urchin at Shakotan: Ezomurasaki uni and Ezobafun uni, the latter being rare as the catches are small.

Shakotan sea urchin can only be eaten between June and August which means there is much demand for it then and shops that serve it tend to be crowded, so if you plan on trying it we recommend that you go early to enjoy this cherished Hokkaido food.
3. Local Hokkaido foods: Hakodate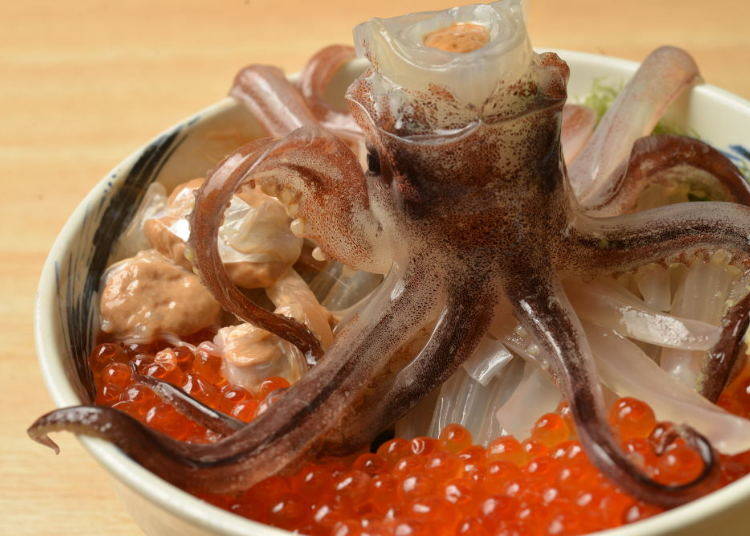 Hakodate is known as a "squid town" because it faces the Tsugaru Straits and is famous for its squid dishes. The city offers other unique dishes, too, such as Hakodate ramen.
Hakodate cuisine No. 1: Squid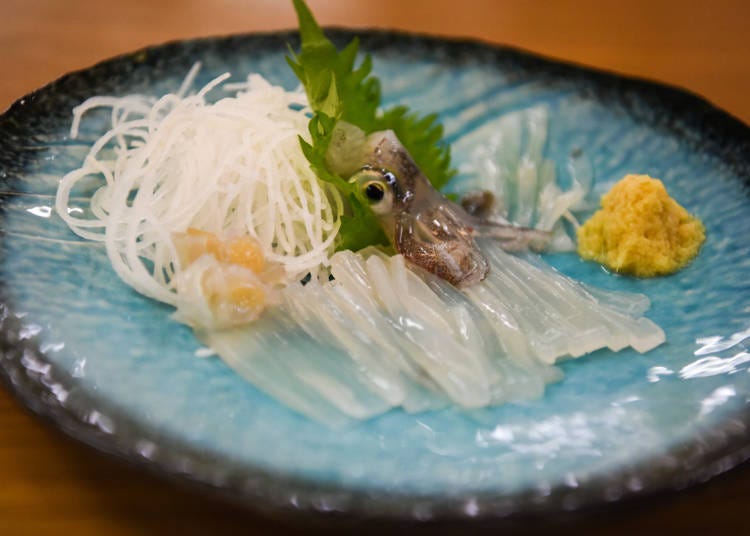 Hakodate squid is really fresh! Squid are taken from tanks and filleted alive to make a truly unique dining experience.

Fresh squid is translucent and the texture delivers much flavor when chewed. Squid is served at shops in the Donburi Yokocho in the Hakodate Morning Market and there are also places in the city where you can fish and catch your own squid to be prepared for your dining pleasure on the spot.

Many of the seafood pubs serve live squid dishes. Surume ika (Pacific flying squid) is available between June and December while yari ika (spear squid) is available between January and May.

Both the meat of the susume ika, which is thick, and the goro (internal organs) are used in a variety of squid dishes. Yari ika has a more refined taste due to its smaller size and lack of goro.
Hakodate cuisine No. 2: Shio ramen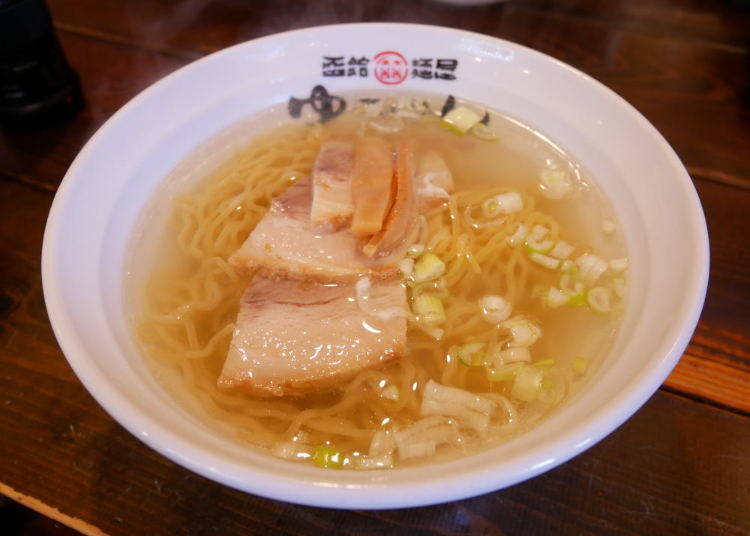 One of the three major types of Hokkaido ramen is Hakodate ramen noted for its light, clear, salt-based soup known as shio ramen. Hakodate is where shio ramen got its start and the town has several ramen shops with long histories of serving this dish.

The clear soup is made by slowly stewing pork and chicken bones over a low fire for a long time. The noodles are straight, Chinese style, and toppings generally are simple consisting of roast pork, menma (seasoned bamboo shoots), and green onions. The soup is light so just perfect when you are only a little bit hungry.

The Japanese hamburger chain Lucky Pierrot got its start in Hakodate and offers burgers you are not likely to find anywhere else. These gourmet burgers are hearty. The menu also includes many other items, so when you visit Hakodate be sure to stop by one of its many shops.
4. Local Hokkaido cuisine: Furano and Biei
The Furano region surrounded by mountains has an inland climate of sharp temperature differences which is ideal for agriculture and is famous for its potatoes, onions, carrots and other vegetables. These are all used in such popular local dishes as Furano curry which is also put on top of rice omelets, another local specialty. Each shop boasts its own unique curry blend.
Furano and Biei: Furano Curry and Biei Curry Udon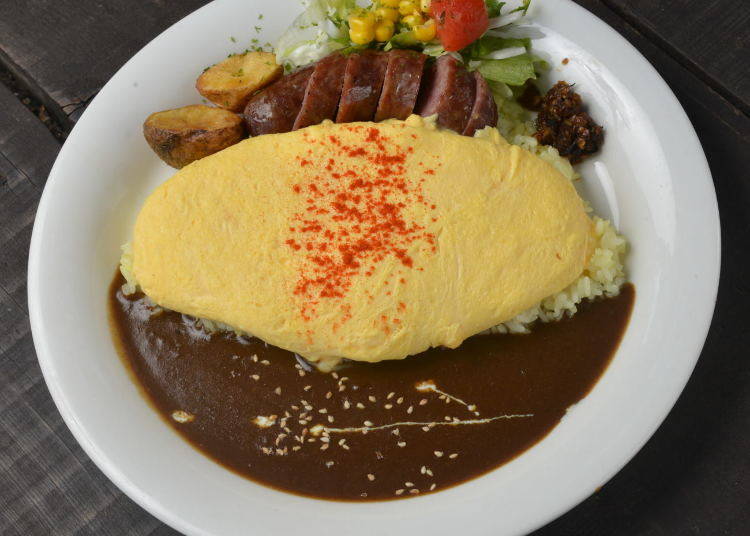 Furano Curry is a dish everyone should try. Yuiga Doxon is famous for its Furano curry loaded with locally grown onions and vegetables simmered in an original blend of spices. People line up to enjoy this gourmet delight.

The Furano Curry Omelet is a new addition to menus and to be called that six conditions must be met in its preparation which require the rice, eggs, and vegetables to all be from Furano and only Furano Milk used. About 10 shops offer this dish which is recognizable by a flag stuck in the middle of the rice omelet.

The photogenic hills are a special feature of Biei, an area famous for the wheat grown there. The wheat is used to make udon noodles which when served in a bowl of curry made with vegetables grown in Biei becomes Biei Curry Udon. Biei wheat is also used in bread and pasta made in the area.
5. Local Hokkaido cuisine: Asahikawa
Asahikawa is the second largest city in Hokkaido after Sapporo and is home to one of the three major Hokkaido ramen types, Asahikawa Ramen. Asahikawa is located inland where the weather is colder so the ramen served her is noted for its heavy richness.
Asahikawa: Asahikawa Ramen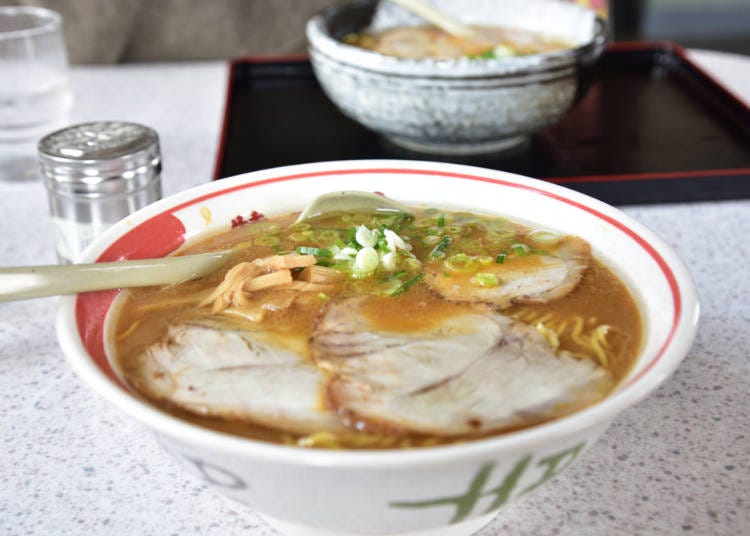 Asahikawa Ramen is a rich pork bone soy-based ramen, the soup made from slowly stewed pork bones to which seafood broth has been added and then flavored with soy sauce. The noodles are curly and yellow and the dish is topped with roast pork and thick slices of menma. There is a layer of lard on the surface to keep the soup from becoming cool. It is best enjoyed piping hot.
6. Local Hokkaido food: Kushiro
Kushiro cuisine No. 1: Robata-yaki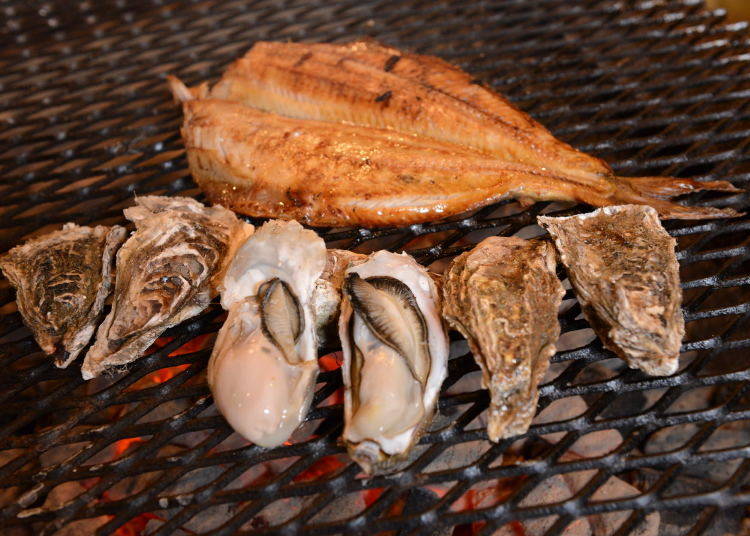 Kushiro is the largest port town in the eastern part of Hokkaido. It is a place famous for mackerel saury pike in the autumn and other fresh seafood products. When these are grilled over charcoal it is called robata-yaki, cooking over an open hearth.
Kushiro cuisine No. 2: Kushiro Ramen
Kushiro Ramen is noted for its clear soy-flavored soup and ultra-thin noodles and is considered the fourth most popular ramen style in Hokkaido.
Kushiro cuisine No. 3: Zangi (Kushiro-style deep-fried chicken) and Supakatsu (spaghetti pork cutlet)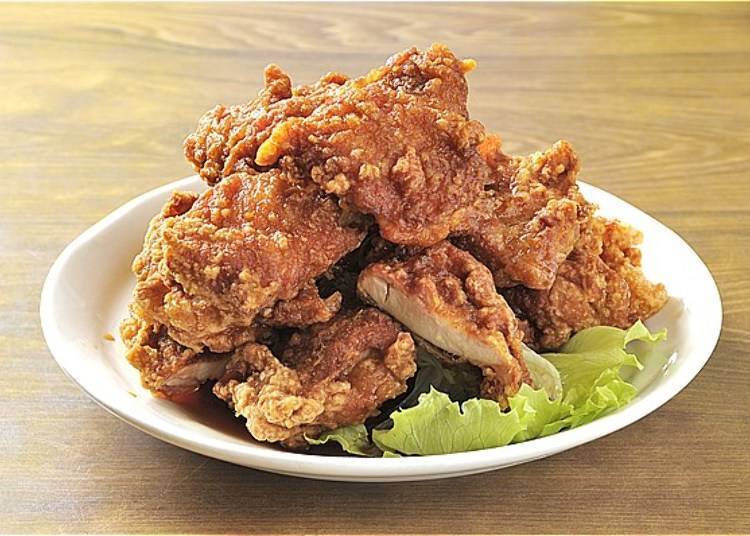 In Hokkaido deep-fried chicken is called zangi and it originated at a shop in Kushiro called Torimatsu. Zangi hot out of the pan it is especially tasty. Supakatsu (spaghetti meat sauce with a pork cutlet on top) is a "soul food" offered at any of the many branches of the Izumiya restaurant in the city.
7. Local Hokkaido cuisine: Obihiro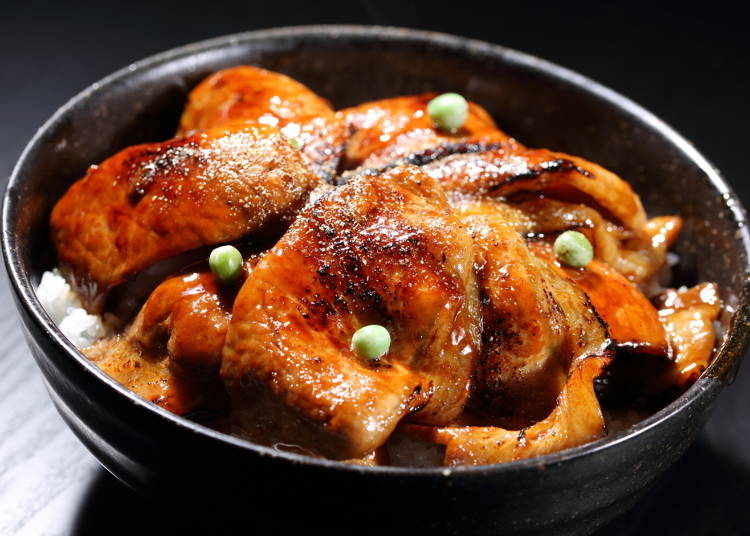 Obihiro cuisine No. 1: Buta-don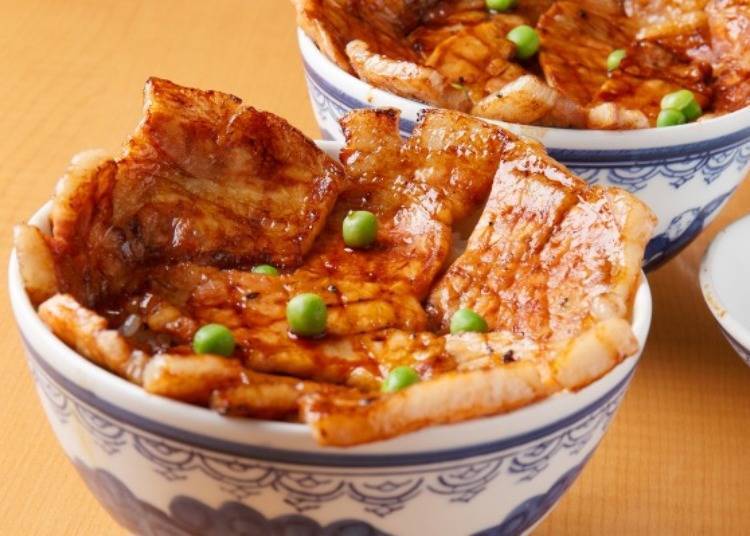 Obihiro is situated in the middle of the Tokachi Plain, an area that is home to many farms and dairies. The area produces many well-known brands of vegetables, meat, and dairy products. The representative Hokkaido food of this area is buta-don, a pork bowl. Slices of pork are fried, placed on top of a bowl of rice and covered with a soy-based sauce that is both sweet and spicy and goes really well with the rice.
Obihiro cuisine No. 2: Obihiro sweets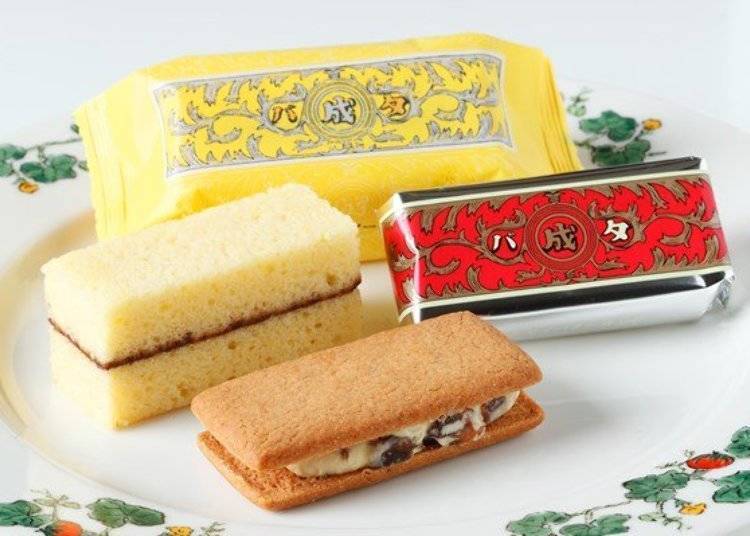 There are many shops in Obihiro selling cakes, soft ice cream, and other types of confections made from local milk, sugar, and wheat.
*This information is from the time of this article's publication.
*Prices and options mentioned are subject to change.
*Unless stated otherwise, all prices include tax.