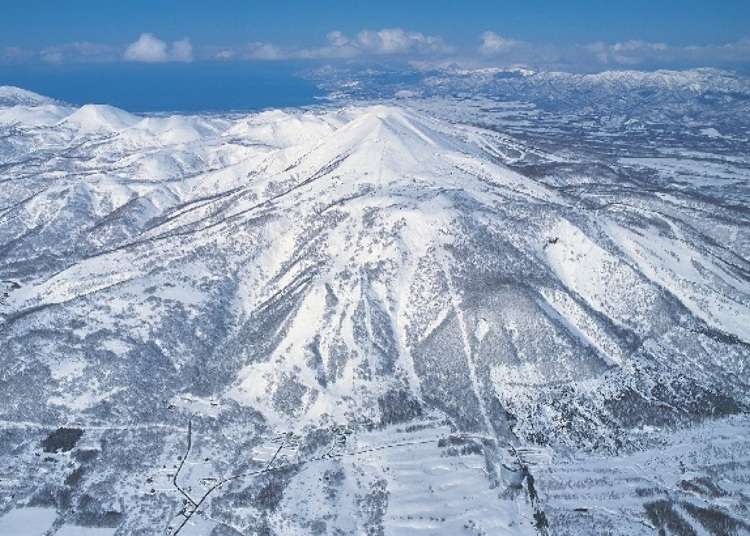 Niseko is located southwest of Sapporo City and about a 2-hour drive from New Chitose Airport. Tourists from all over the world visit it and during the high season, more than half the people there are from overseas, making this a unique place. It has some of the best powder snow (warmly nicknamed "Japow") found anywhere in the world and the resort area is as fashionable as any resort abroad, plus it offers delicious cuisine, hot springs, and a cheerful atmosphere making for an enjoyable and captivating stay—all of which accounts for the many repeat visitors. Japan can truly be proud of this ski resort that enjoys huge popularity throughout the world.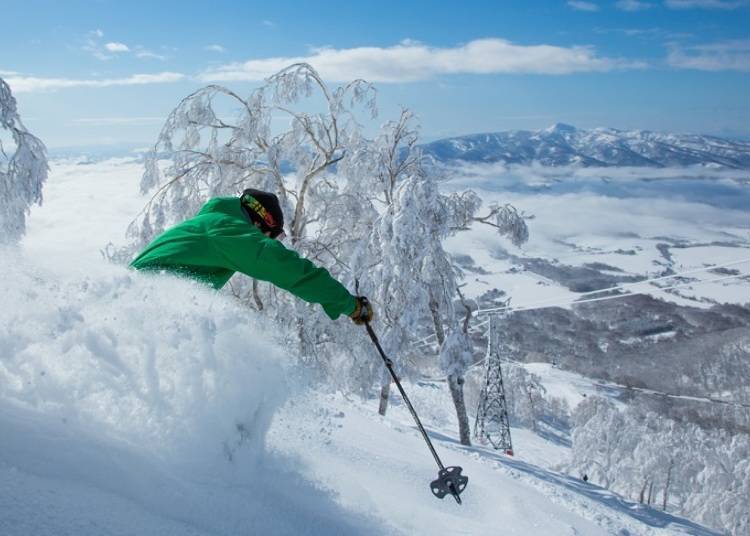 The burn is reset after one run! Luxurious days of abundant snowfalls allow for constantly changing conditions - each new day is different than the one before! The snow that falls here has more water content compared to other areas in eastern Hokkaido because of its proximity to the sea. So the snow not too light or too heavy, but has just the right quality best described as being an ultra-creamy powder that is a joy to ski. Niseko is the perfect place to enjoy slopes covered with such powder—and once you try them, you will definitely get hooked!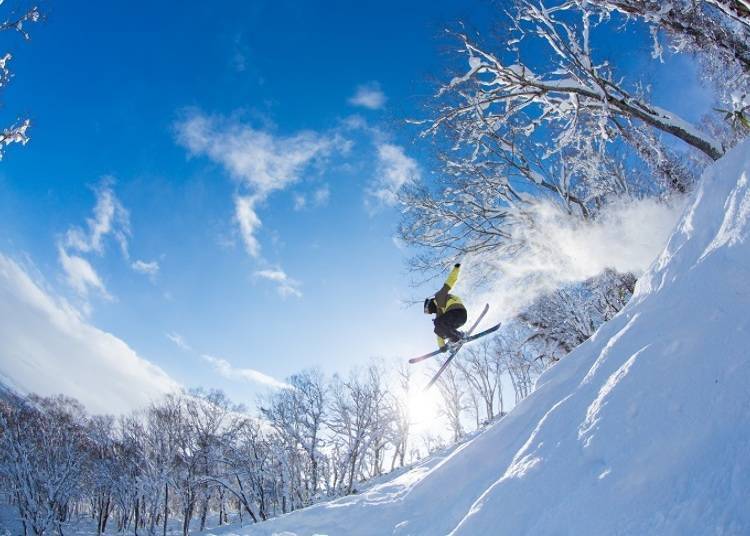 The earliest skiers who gave thought to how the great Niseko's natural environment could be safely enjoyed spent countless long hours with local municipalities constructing what became known as the Niseko Rules. Following them ensures being able to arrive at wonderful points by accessing them from the slopes, and if snow and weather conditions permit, the best runs ever!! The thrill of skiing these slopes will hook you like no other, but only if you remember to give top priority to following the Niseko Rules.
Four ski areas are spread over Niseko
In Niseko there is a large mountain with an elevation of 1,308 meters called Annupuri, upon which there are four interconnecting resorts spread across its width, the slopes being unique to the terrain of each. Collectively these are called Niseko United and have received the Best Snow Resorts award at the World Ski Awards held in Austria for three consecutive years. The unique features of each slope afford all levels of skiing for beginners to pros.
Of the four resorts, the Hanazono Resort, which is located on the far right in the above map, is positioned on the northernmost face of the mountain, and owing to this, is able to easily maintain the best snow quality. There are only three lifts, but the quality of the powder makes up for this shortage. The terrain parks are the largest in Hokkaido and highly recommended for those who enjoy parks. In recent years banked slalom competitions have been held here with skiers and snowboarders of various styles participating.
Address

328-36, Iwaobetsu, Kucchan-cho, Abuta-gun, Hokkaido, 044-0082
View Map

Nearest Station

Kutchan Station (Hakodate Main Line)
9 minutes by car


Phone Number

0136-23-0103
Niseko Mountain Resort Grand Hirafu
The Niseko Grand Hirafu, located to the south of Hanazono Resort, boasts some of Japan's largest slopes. Courses are varied and have well-equipped facilities offering enjoyable choices for anyone, beginner and expert alike. Also, at the foot of the mountain there are many restaurants, shops, and lodging accommodations just right for relaxing after a day on the slopes. It gets crowded during the high season, but if this is your first time to ski at Niseko and you are not sure where to begin, we recommend that you start at Grand Hirafu.
Address

Kutchan-cho, Abuta-gun, Hokkaido character Yamada 204, 044-0081
View Map

Nearest Station

Kutchan Station (Hakodate Main Line)


Phone Number

0136-22-0109
Niseko Village Ski Resort
Located even further to the left is the Niseko Village Ski Resort, your eye is drawn to the egg-shaped gondola lifts. There is a course for beginners here, but we would recommend the courses for average to advanced skiers that contain moguls, steep slopes, valleys, and even a 5-kilometer run, the longest in Niseko! And all of them are filled with perfect Japow. The courses have names unique to Hokkaido, such as Namara (Hokkaido dialect meaning "extreme") and Jagaimo (the word for "potato"). The Hilton Niseko Village, a world-class luxury hotel, is also located here and conveniently connected directly to the ski areas.
Address

Higashiyama, Niseko-cho, Abuta-gun, Hokkaido hot spring, 048-1592
View Map

Nearest Station

Niseko Station (Hakodate Main Line)


Phone Number

0136-44-2211
Niseko Annupuri International Ski Area
The Niseko Annupuri International Ski Area is located on the far left on the above map. These wide, gentle slopes provide safe fun for beginners and families. Located next to the Niseko Village Ski Resort it naturally affords good access to Niseko Grand Hirafu, and a number of gates posted with Niseko Rules would satisfy expert skiers. The number of visitors to the Niseko area has steadily increased over the years, however compared to the other three resorts, this one is recommended because it is relatively less crowded.
Address

485, Niseko, Niseko-cho, Abuta-gun, Hokkaido, 048-1511
View Map

Nearest Station

Niseko Station (Hakodate Main Line)


Phone Number

0136-58-2080
Due to its increasing popularity over the years, the Niseko area has become crowded, however, there are still some places that are still relatively undiscovered, such as the smaller-scale Moiwa Ski Resort adjacent the Annupuri International Ski Area, Although it has fewer lifts, it has other redeeming features, such as the high drifts of powder snow in the afternoons! Also, the Kutchan-cho Asahigaoka ski resort near Kutchan Station is a family-friendly place with plenty of local feeling, where even beginner families can relax and enjoy themselves. Furthermore, extending to the westernmost part of the Niseko federation, there are other international ski resorts not mentioned in Niseko, where you can get a view of the Sea of Japan. Snow cat tours are also offered here.
ニセコモイワスキーリゾート

Address

〒048-1511 北海道虻田郡ニセコ町字ニセコ448/448, Niseko, Niseko-cho Abuta-gun, Hokkaido, 048-1511, Japan
Kutchan Asahigaoka skiing area

倶知安町旭ヶ丘スキー場

Address

〒044-0083 北海道虻田郡倶知安町字旭/Asahi, Kutchan-cho Abuta-gun, Hokkaido, 044-0083, Japan
IWANAI RESORT(旧:ニセコいわない国際スキー場)

Address

〒045-0024 北海道岩内郡岩内町字野束350-4/350-4, Nozuka, Iwanai-cho Iwanai-gun, Hokkaido, 045-0024, Japan
Written by : Natsuko Matsumura
*This information is from the time of this article's publication.
*Prices and options mentioned are subject to change.
*Unless stated otherwise, all prices include tax.