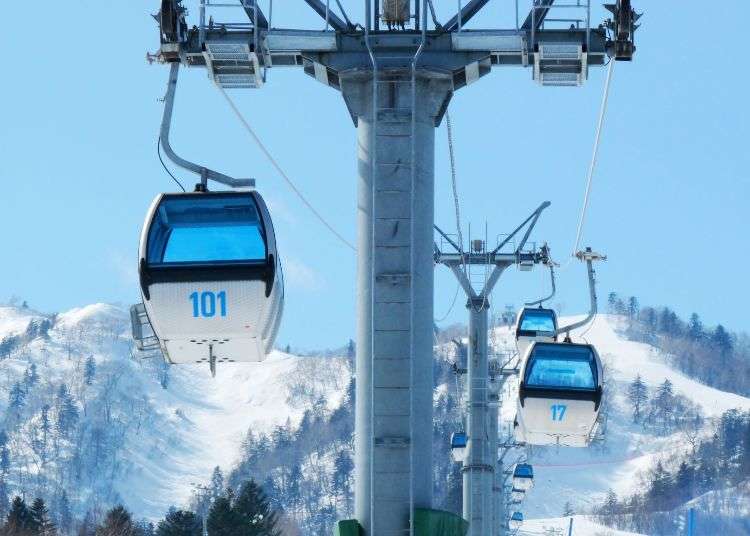 Furano Ski Resort is one of Hokkaido's premier snow resorts. Thanks to the cold, dry winter air, this area sees exceptional powder that skiers and snowboarders can't seem to get enough of!

From lift tickets and rentals to some of the popular activities, we'll share how you can enjoy yourself at Furano Ski Resort to the max!
What Is the Furano Ski Resort?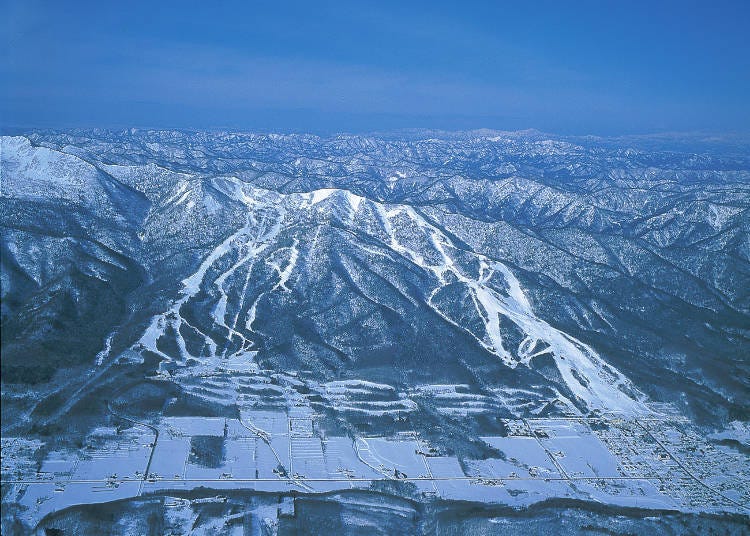 Furano Ski Resort opened in 1962 and is visited by 200,000 people (November 2019 to March 2020) every year. When the Alpine World Cup Furano Tournament was held in 1977, it became known worldwide.

The name was changed from Kitanomine Ski Area to Furano Ski Area to better showcase the Furano region as a ski destination. By 1995, the FIS Alpine Ski World Cup was held here ten times, and various events and events such as the FIS Snowboard World Cup and the All Japan Championships were hosted.
Furano Ski Resort Is Loved By Both Japanese and International Skiers!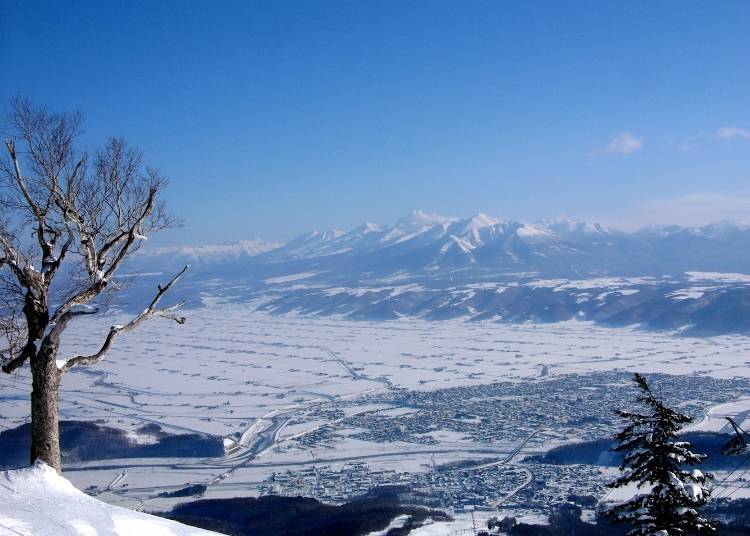 Furano Ski Resort is located inland area near the center of Hokkaido. When the weather is nice, you can enjoy a magnificent view of the Daisetsuzan mountain range. The snow conditions are stable, and it has been highly appraised overseas for having quality powder snow.
The Best Season to Visit Furano Ski Resort
The best season is from mid-December to late February. During this time, Furano is particularly cold, and it is not uncommon to see temperatures at and below freezing during the day and -10°C during the morning and evening. You will need to prepare for these temperatures.
Getting to the Furano Ski Area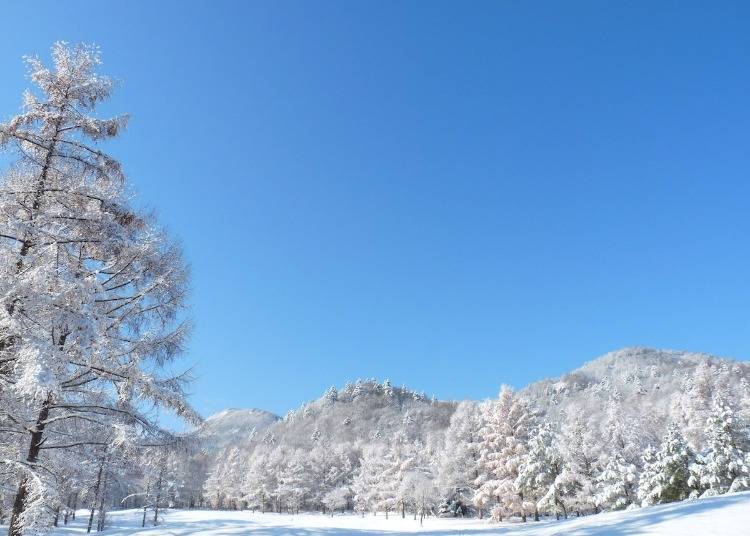 By Train
From Sapporo Station, take the train bound for Takikawa on the JR Hakodate Main Line. Get off at Takikawa Station and transfer to the JR Nemuro Main Line bound for Furano. When you get off at Furano Station, we recommend taking a taxi (10 minutes).

By Bus
From Asahikawa Airport, take the Furano Bus Lavender. It takes about 1 hour and 20 minutes.

By Car
Take the Hokkaido Expressway from Sapporo IC, get off at Takikawa IC, and then take Route 38. You will arrive in about 2 hours and 20 minutes. Alternatively, take the Hokkaido Expressway from Sapporo IC, get off at Mikasa IC, and proceed via the Bibai-Furano Line. This route takes about 2 hours.
Furano Ski Resort Course Overview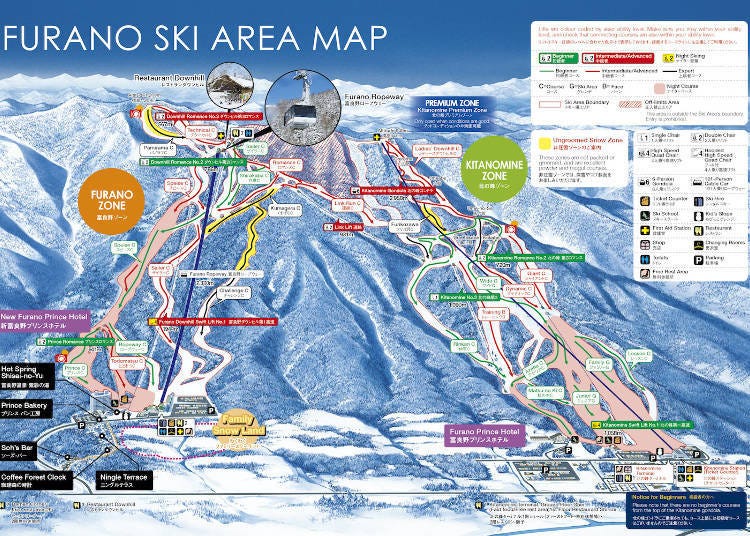 There is a ski slope map in English (Image above is from the 2019-2020 season)
The total area of the slopes is 194 hectares! It consists of two areas: Furano Zone and Kitanomine Zone. There are 28 courses in total, with the longest run at 4,000 meters.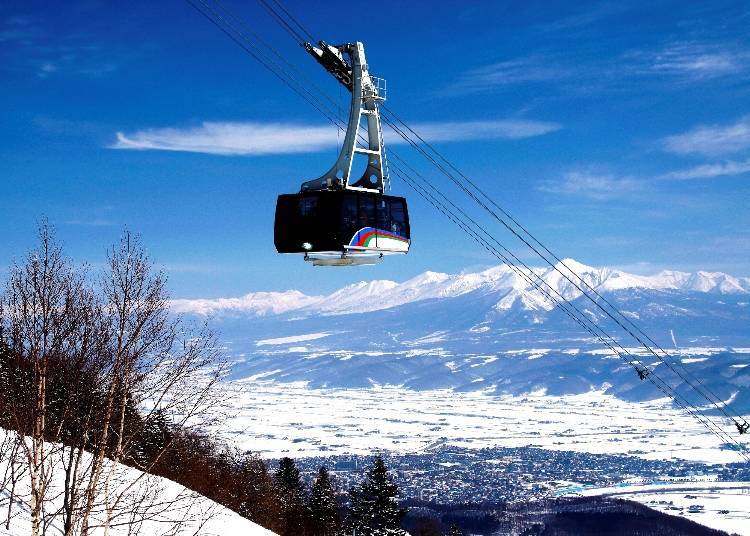 Furano Zone
The Furano Zone has the Furano Ropeway, which can hold up to 101 people, and you can climb to the summit all at once. Enjoy the spectacular panoramic view along the way. In the future, it will be operated with a limited number of people and ventilation to prevent the spread of Covid.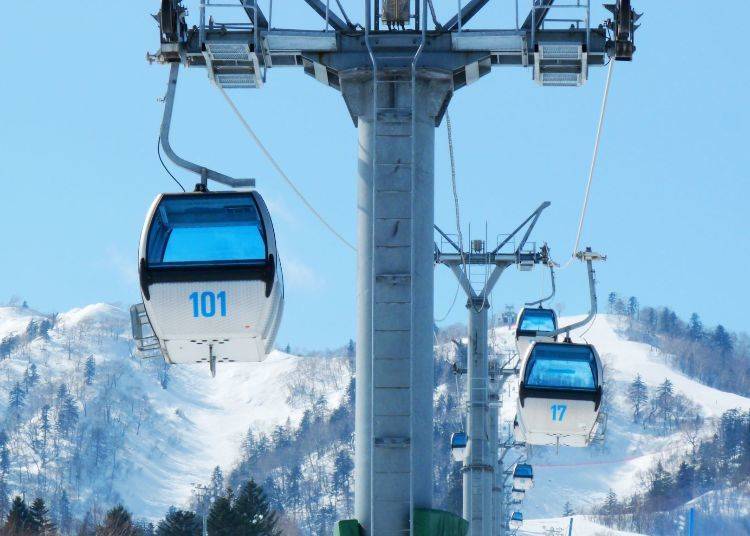 Kitanomine Zone
If you feel confident in skiing, then you want to try the Kitanomine Zone. There are slopes for beginners that are great for families. It is a wide course, suitable for practice. There is a giant course for intermediate users that is ideal for gaining additional skill and confidence.

The premium zone for advanced skiers is an uncompacted snow powder course that is open for a limited time. Because the snow conditions vary from day to day, it will only be open when the ski area decides it is safe.

The Kitanomine Zone has the Kitanomine Gondola that climbs to the top of the mountain, but please note that there is no beginner course available here.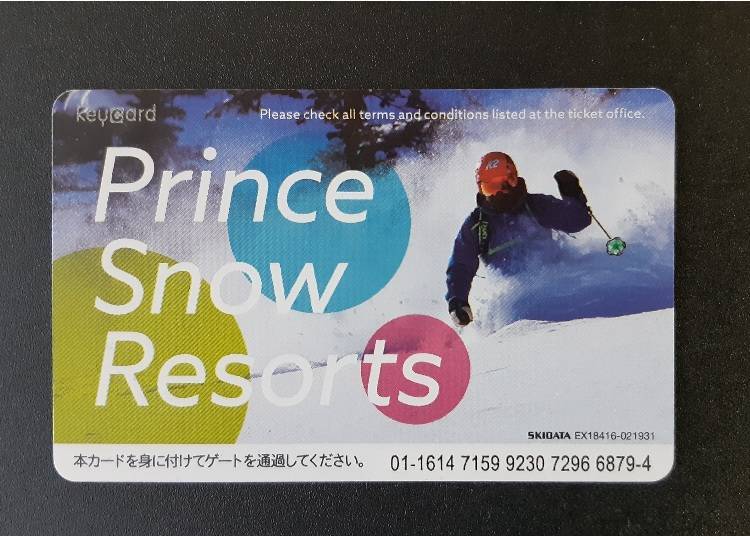 The best part of the lift tickets at Furano Ski Resort is the wide variety available! If you want to ski just for a short time, you can choose a lift ticket that suits your needs, such as a 3-hour or a 5-hour ticket.
Types of Lift Tickets (example)
● One-day Ticket
● 3-hour Ticket

・Adults: 4,400 yen
・Seniors: 3,800 yen
● 5-hour Ticket

・Adults: 5,200 yen
・Seniors: 4,600 yen
● Sunset & Night Ticket

・Adults: 5,200 yen
・Seniors: 4,600 yen
● Night Ticket

・Adults: 2,200 yen
・Seniors: 2,000 yen
How to Purchase a Lift Ticket
You can buy a lift ticket for the Furano Ski Resort in advance online or at the ticket counter on the day of purchase.

How to Purchase Online
Purchase from the "webket" online ticket app or website or the link below. It can be purchased until 11 pm the day before. You can only pay by credit card. At the first purchase, you will receive and use an IC card that will be redeemed as a lift ticket at the ticket counter.

If you charge the IC card, you can use it again. At the time of the first purchase, 500 yen will be added as a deposit for the IC card in addition to the lift ticket fee, but it will be refunded if you return the lift ticket. Please check the Furano Ski Resort official website (English available) for details.

There are also extra cheap discount lift tickets available below:
How to Purchase at the Ticket Counter
Lift tickets can also be purchased on the day at the lift ticket office inside the ski resort.

There are three lift ticket booths: one at the foot of the Furano Ropeway Station, a Kitanomine Daiichi Express Lift ticket booth, and a Kitanomine Ticket Center lift ticket booth. At the counters, a Pocketalk translator is installed for convenience.

At the Furano Ski Resort, lift tickets are free for elementary school students! You can pick up a free lift ticket at the ticket office. Preschool children are prohibited from using the lift, so be sure to have a guardian accompany them.
Total Number of Courses: 28
・Beginner:

11
・Intermediate:

10
・Expert:

7
・Longest Course:

4km
Slope Information:
Area:

194 hectares
Total Number of Lifts: 11
・101 Person Ropeway:

1
・6-person Gondola Lift:

1
・4-person High Speed Lift:

2
・2-person Lift:

5
・Snow Escalator:

2
About the Mountain:
・Height:

235m - 1,074m
・Difference in Elevation:

839m
Furano Ski Resort Rental Service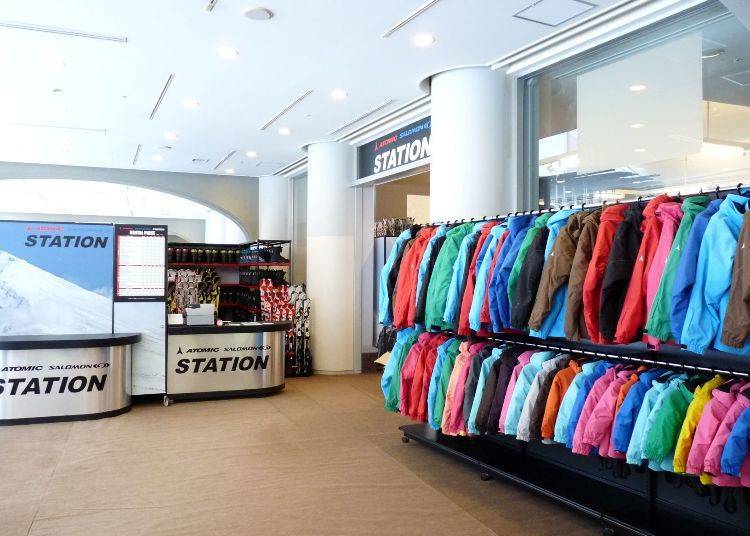 At the Furano Ski Resort, English-speaking staff are stationed at all four rental shops.

There are a variety of rental plans – you are bound to find the right one for you! The Full Set is a plan where you can rent a complete set of ski equipment such as a helmet, goggles, ski wear, boots, and skis or snowboard so that you can enjoy solo skiing. It is recommended for those who want to enjoy skiing while traveling or who want to travel with less luggage.

Skiwear and snowboard sets are recommended for those who want to rent only certain items, such as skis or boots, separately.

Each rental plan has a 3-hour plan or an option to rent for several days. Be sure to choose the best plan according to your needs.

Full Set Example
・3-Hour: Adults 8,800 yen; Children (before junior-high school age) 5,900 yen
・1-Day: Adults 9,800 yen; Children (before junior-high school age) 6,600 yen
・2-Day: Adults 16,800 yen; Children (before junior-high school age) 11,200~ yen

●Standard Ski Set and Snowboard Set Example
・3-Hour: Adults 5,400 yen; Children (before junior-high school age) 3,500 yen
・1-Day: Adults 5,800 yen; Children (before junior-high school age) 3,800 yen
・2-Day: Adults 9,800 yen; Children (before junior-high school age) 6,500~ yen

Please check the official website for details on rates and other rental plans.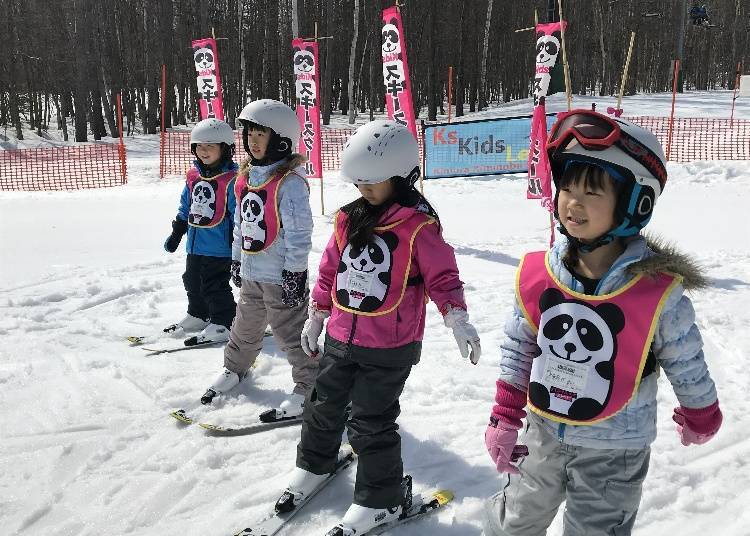 If you are new to skiing or want to improve your skills, why not join the ski school at Furano Ski Resort?

The Furano Kimura Kosen Ski School (group lesson for junior high school students and above, starting from 7,000 yen for 2 hours) is run by alpine skier Kiminori Kimura, who participated in the Olympic games four times.

This school is perfect for children who are skiing for the first time. The Furano Pandaruman Kids School (3 to 9 years old, group lesson, 2 hours 9,500 yen) has various lessons from group to private.

There are foreign staff at Furano Snow School and lessons in English are available. There is also the Oji Ski School that specializes in Chinese.

You can apply for day-of lessons if there is space available, but if you are counting on participating, be sure to make a reservation.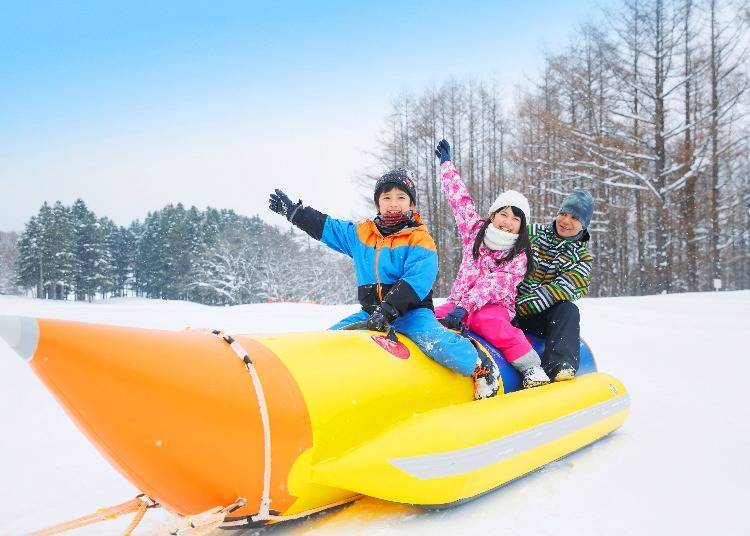 Waku Waku Family Snow Land is a great place for parents and children to play together! This is an area where you can enjoy activities other than skiing.

Snow activities such as snow rafting (1 time 800 yen), snowmobile (1 lap course 1,500 yen, forest course 4,000 yen), snow banana boat (short course 800 yen, long course 1,200 yen) are available for small children to enjoy.

They also offer walking skis, traditional Japanese kanjiki snowshoes, and sleigh rentals, so you can still enjoy the snow even when the weather is bad and you cannot ski.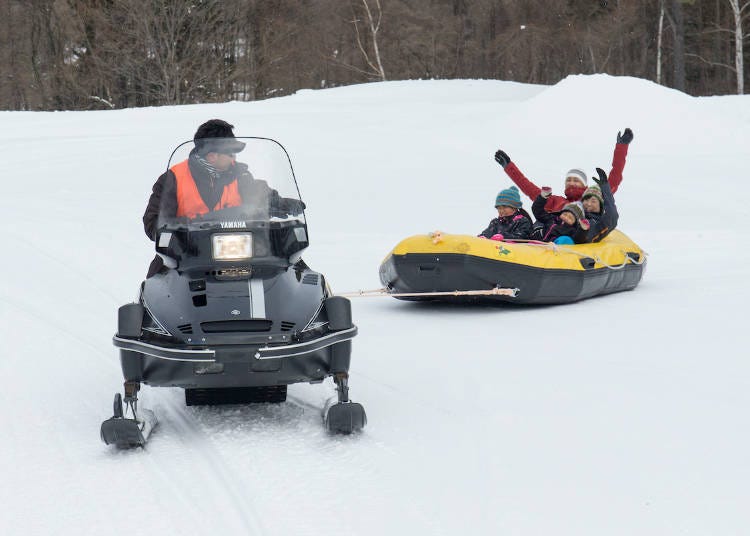 ・Place: Waku Waku Family Snow Land (2-minute walk from New Furano Prince Hotel)
・Business Period: December 11, 2021 - March 31, 2021 (Planned)
・Hours: 9am – 4pm
Furano Ski Resort Restaurants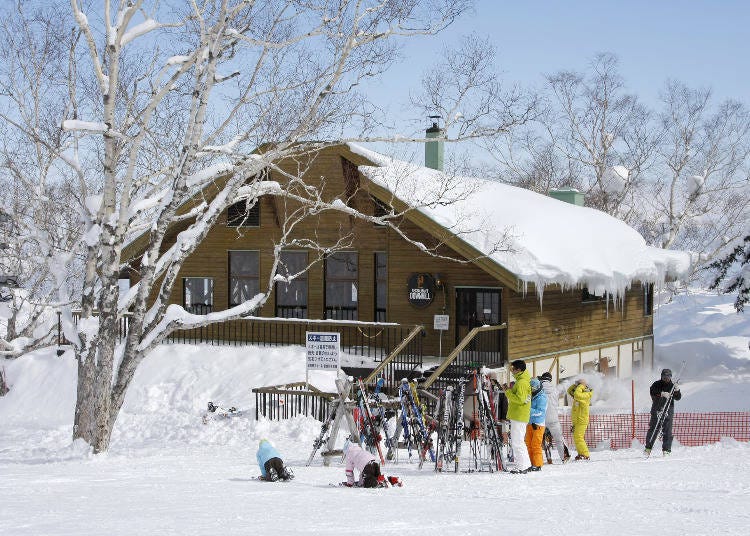 Restaurant Downhill
Stop in if you are hungry! There are restaurants in each area of Furano Zone and Kitanomine Zone. At the Furano Zone, there is a Ramen Corner where you can eat ramen made by Chinese cuisine chefs, and Restaurant Downhill.

Downhill has a menu of mainly Western food. The "Sanroku White Curry" (1,200 yen) is excellent. On sunny days, you can dine while enjoying spectacular views of the Furano Basin.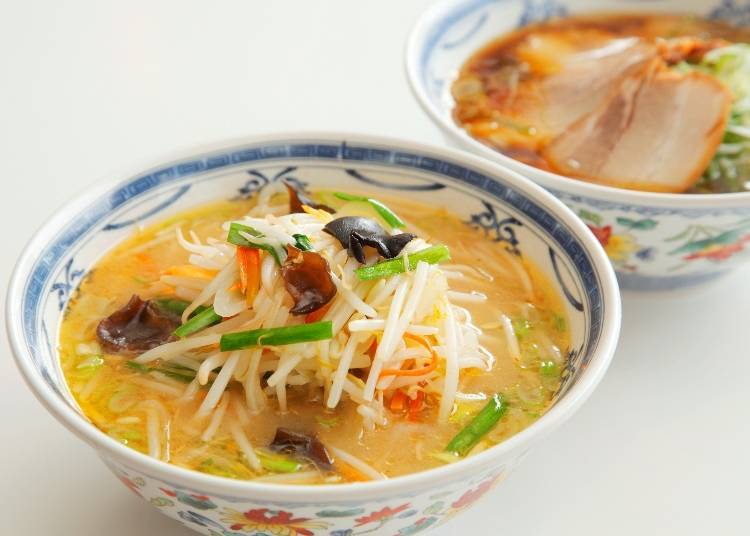 The recommended ramen corner entrees are Miso Vegetable Ramen (1,000 yen) and Soy Sauce Ramen (900 yen)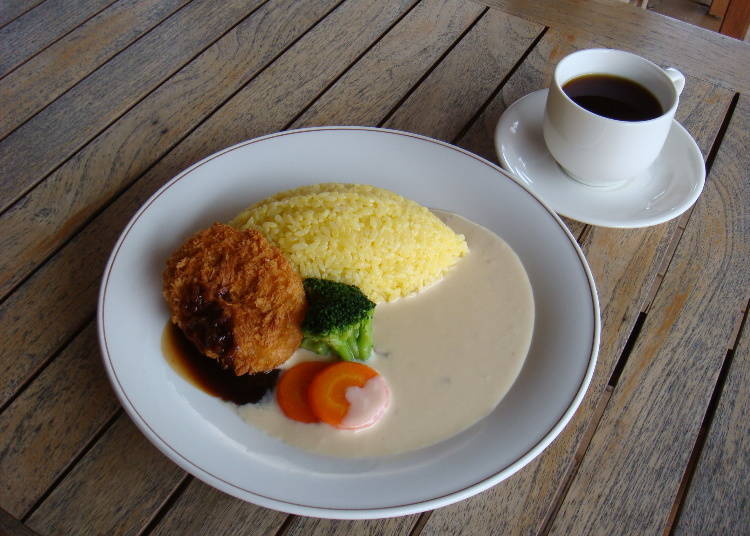 The white curry looks like cream stew
In the Kitanomine Zone, there is a building called Kitanomine Terminal. On the first floor, you can find Restaurant KITA YATAI, and on the second floor, there is Restaurant UMI YAMA KITA. Each shop offers a variety of fare such as curry and spaghetti, as well as standard items such as alcohol and snacks.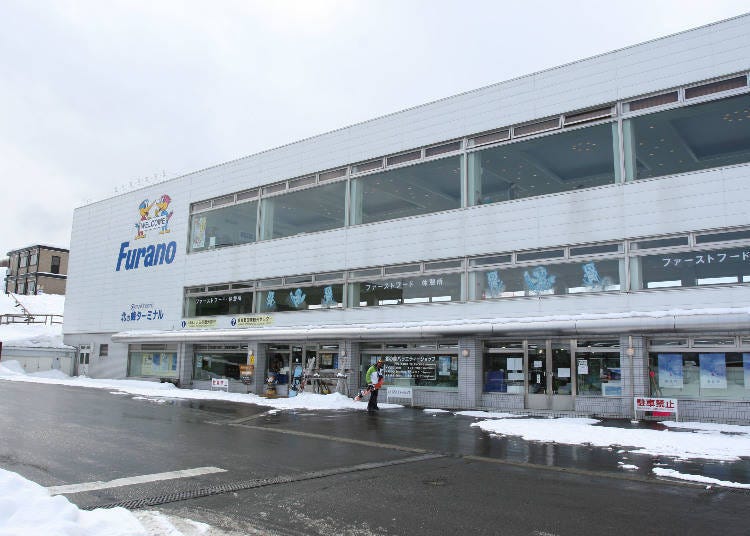 Kitanomine Terminal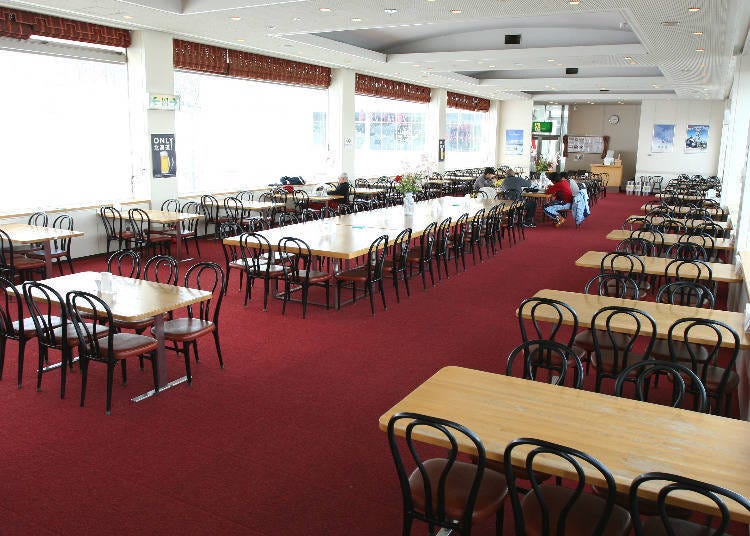 Restaurant UMI YAMA KITA on the second floor
Direct Access to the Slopes! Hotels Within the Furano Ski Resort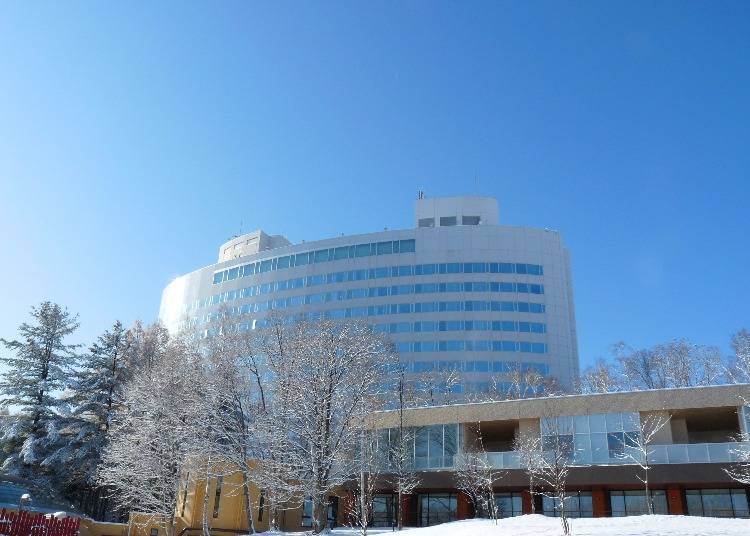 The Furano Ski Resort has two hotels: New Furano Prince Hotel and Furano Prince Hotel (currently closed in 2021).

We recommend the Shisai no Yu onsen at the New Furano Prince Hotel if you enjoy soaking in hot springs. Shisai no Yu is characterized by its smooth-textured water, which bubbles up from a source located 1,010 meters underground. In addition, there is the shopping area Ningle Terrace that consists of 15 log houses nearby where you can enjoy shopping for craftworks inspired by nature.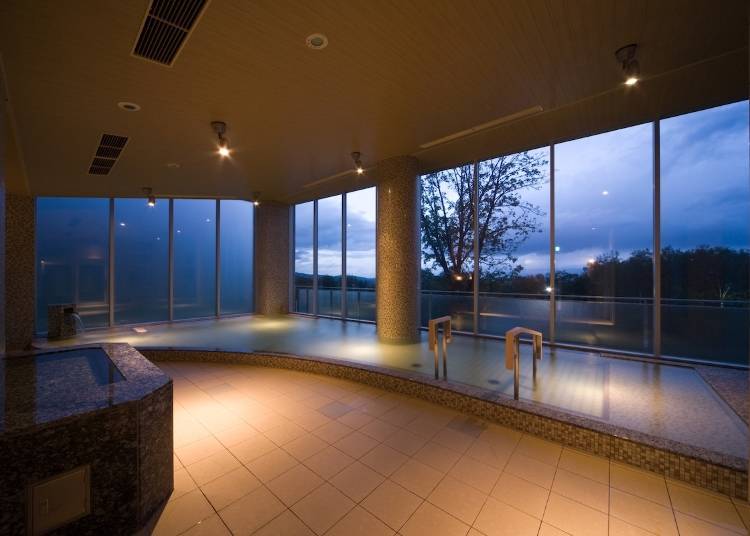 Shisai no Yu hot spring
Address

Nakagoryo, Furano, Hokkaido, 076-8511
View Map

Nearest Station

Furano Station (Nemuro Main Line / Furano Line)


Vacancy search, reservation

from

15,084JPY

1room, 2adults

Check with our partner site as the latest rates, rate details, and guest room requirements may vary.
Recommended Accommodation Around Furano Ski Resort
Indoor disinfection measures taken - Sanitizer installed - Disinfected after each guest leaves - Ventilation measures in place - Plastic partitions installed - Staff wear masks, gargle, wash hands regularly, and monitor body temperature - Limited capacity/increased space between seats - Restricted admission, reservation system in place - Entry declined to anyone who is feeling unwell - Masks required/temperature check enforced
Address

Nakagoryo, Furano-shi, Hokkaido, 076-8511, 076-8511
View Map

Nearest Station

Furano Station (Nemuro Main Line / Furano Line)


Phone Number

0167-22-1111
2021-22 Ski Information:
This Season's Opening Date: November 20, 2021
This Season's Closing Date: May 8, 2022

Text by: Minna no Kotobasha
* The information in this article is as of December 2021.
Check Out These Articles Too!
*This information is from the time of this article's publication.
*Prices and options mentioned are subject to change.
*Unless stated otherwise, all prices include tax.