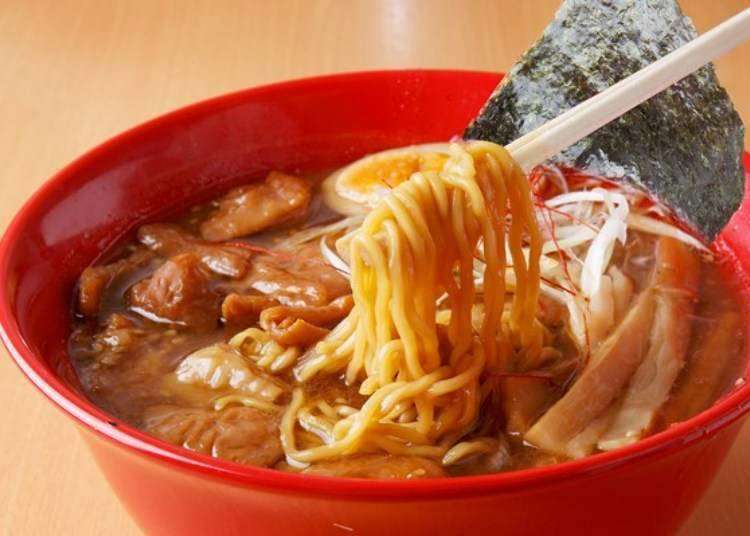 Asahikawa Ramen is the local ramen variety in Asahikawa City, Hokkaido. This ramen is flavored with soy sauce, uses thick wavy noodles, and is classically served with a broth using pork bones and chicken as well as fish broth giving this dish a complex flavor that is high in fat content.

Now there are many Asahikawa Ramen shops in the city, but we'd like to share three of our recommended favorites.
Founding of the Asahikawa Ramen Village
There are various ideas as to the origin of how or why Asahikawa Ramen was born, but the consensus is that it was created around the end of WW2.

In 1947, "Ramen house Aoba" which started as a small shop in the city center, along with "Hachiya" (The Bee House) a former ice cream shop started making this ramen in the same year, and now are long-established stores. It is from these humble times it is said the classic style of Asahikawa Ramen was born.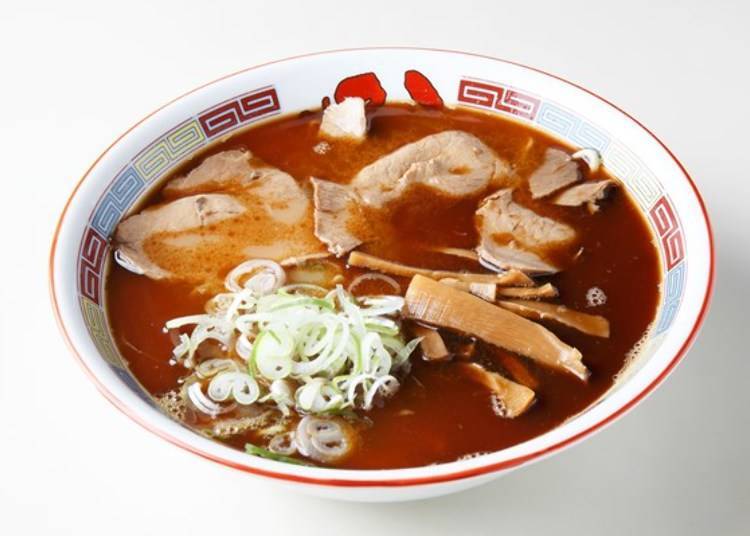 ▲ Soy sauce ramen of Hachiya. A distinguishing feature of this ramen is all the fat on the surface that keep this dish nice and hot.
Both ramen shops use thick wavy noodles and ample amounts of soy sauce for flavor. Plenty of grease and fat lay on top to make sure the soup is slow to cool even on cold days as this district is known to have days where the temperature can drop to under 30 below zero in the middle of winter.

Even though this basic idea of these ramen stores is the same, the taste is far from, as the ingredients and recipes are unique to each shop. We visited these two establishments as well as a newcomer that is making a name for himself.
1. Ramen House Aoba: The orthodox choice for Asahikawa Ramen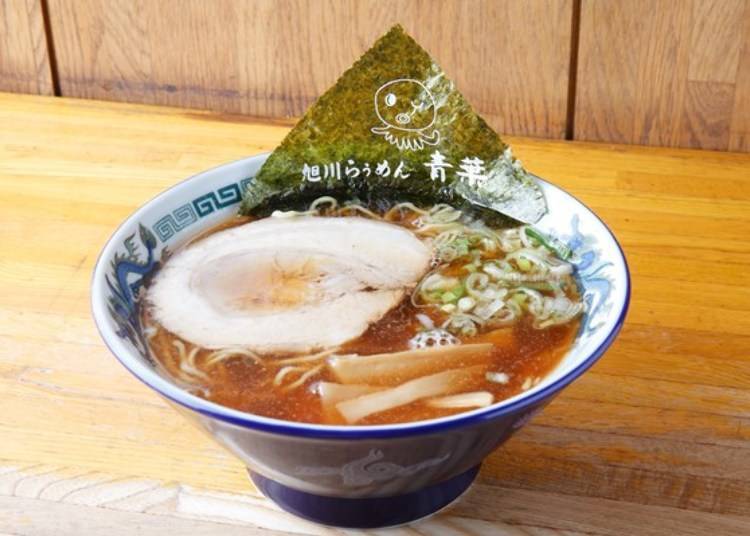 ▲ "Ramen House Aoba" soy sauce ramen (750 yen including tax). This is their signature dish with their very own seaweed. Notice their name written on next to an octopus giving this ramen dish a lasting image.
Ramen House Aoba currently has two locations. One is a 5-minute walk from Asahikawa Station with the newer location situated inside the Asahikawa Ramen Village closer to the suburbs. For this adventure, we visited their main location.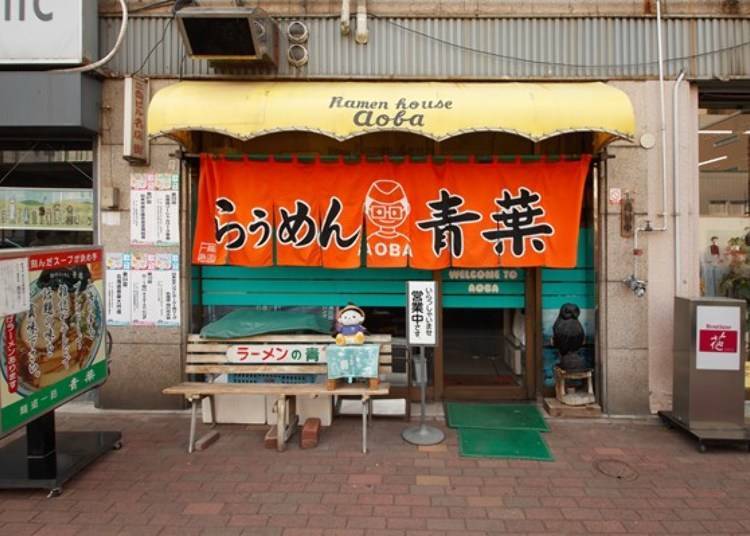 ▲ The orange colored sign is their landmark, where on some days the line may be out the door even on an extremely cold day.
At the end of the war, Mr. Kichiya Murayama (Kichiya) started this business and the store quickly grew in popularity. Soon after it caught on, he moved locations occasionally until in 1989, his son Toshihisa Murayama joined the business, and they moved to the present location.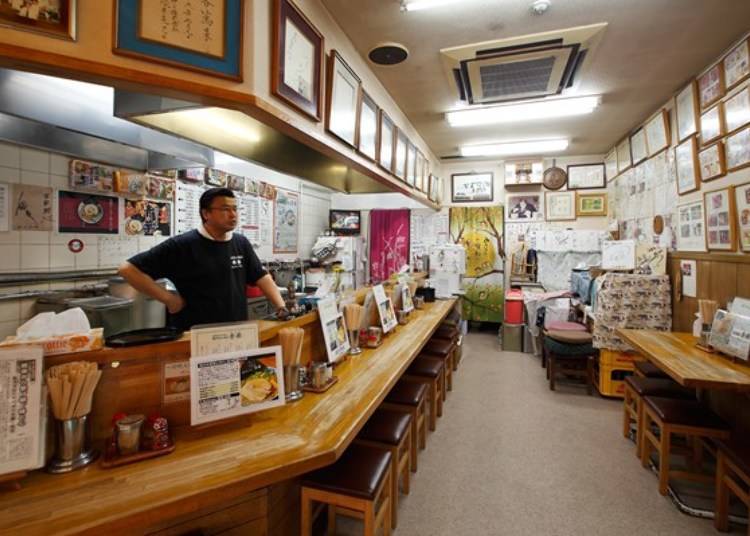 ▲ The inside of this store is a simple set up with counter seating surrounding the kitchen, and one small table seat on the opposite side.
Currently the founder's grandson, Yuichi Murayama, along with his father, are continuing the succession and integrity of the business.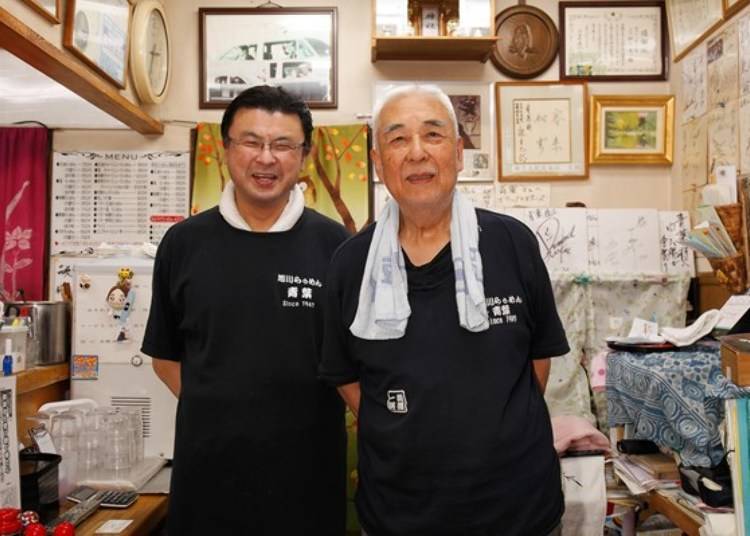 ▲ Second generation Toshihisa Murayama (right) and Yuichi Murayama of the third generation (left)
We inherited the taste created by the founder and over three generations, have continued to use the exact same soup recipe made in the very beginning.

This traditional soup recipe has lasted for nearly 70 years which mixes seafood and meat for a soup sensation packed with flavor. The soup is simmered slowly for hours, being watched carefully to make sure it never comes to a boil.
▲ He prepares the dish keeping a close eye on the temperature. Just look at his focus!
The classic Asahikawa Ramen noodles are thick and wavy. The thickness allows the soup to be easily absorbed into these noodles while the wavy shape is used for slurpability! Ramen House Aoba has used these noodles since its founding.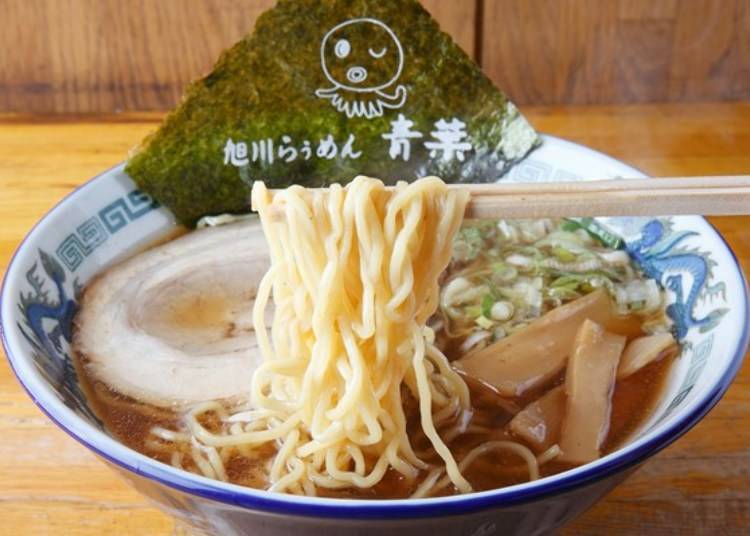 ▲ These carefully selected noodles put a wonderful finish on this soup.
When tasting this soup, the flavor of soy sauce is gentle and mellow, with the flavor of seafood just enough to tingle your nose. The grease loaded on top may give the impression this dish is rather heavy, but do not worry, they will adjust the soup to your liking.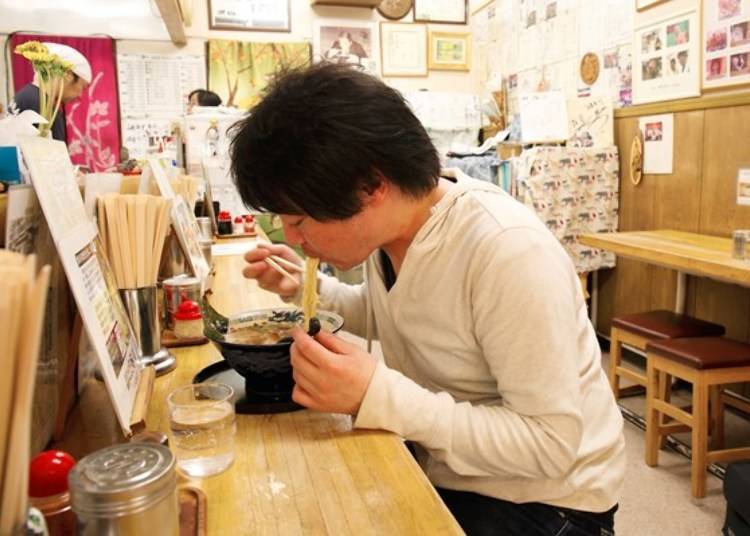 ▲Hot and tasty to the last drop!
This dish is so hot you may sweat, but so good you will not want to stop. This long-established store has kept its recipe since its foundation. Today it is still a very popular shop where many tourists from near and far come to eat.

Some locals claim that this is the only ramen shop for them. If you find yourself in the area be sure to stop in for their Asahikawa Ramen, Shoyu Ramen or one of their many other options
旭川らぅめん青葉

Address

〒070-0032 北海道旭川市2条通8丁目二条ビル1階/Nizyou Bld.1F, 2-jodori-8, Asahikawa-shi, Hokkaido, 070-0032, Japan

Phone Number

0166-23-2820

Hours of Operation: 9:30 ~ 14:00, 15:30 ~ 19:50 last order
(Sundays and National holidays 18:50 last order) ※ Summer time extensions available
Closed: Wednesdays (Thursdays when a national holiday falls on a Wednesday)
2. Hachiya: Authentic Ramen with Powerful Flavor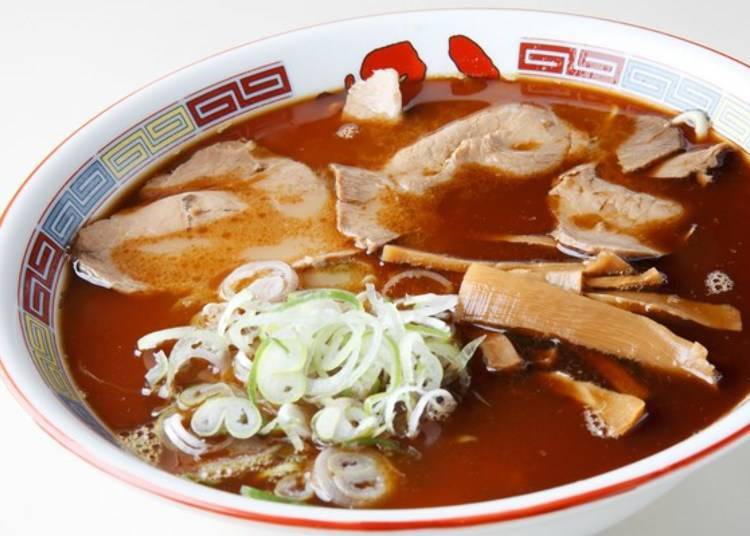 ▲ Hachiya soy sauce ramen (750 yen including tax).
This dish is characterized by its savory taste and rich appearance. Hachiya currently has two locations in the city. The main location is a ten minutes stroll from the Asahikawa Station with the second location five minutes away from the Asahikawa Shijo Station. Once again, we decide to visit the main location.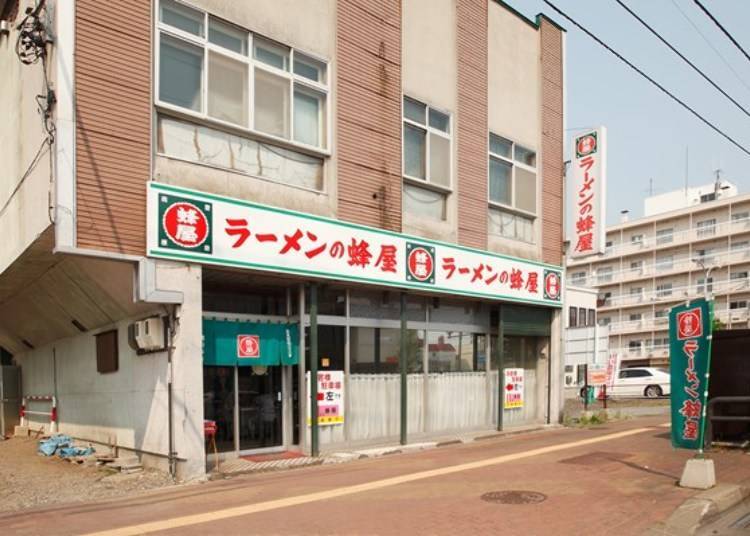 ▲ This store has a parking lot making it easily accessible while in the city,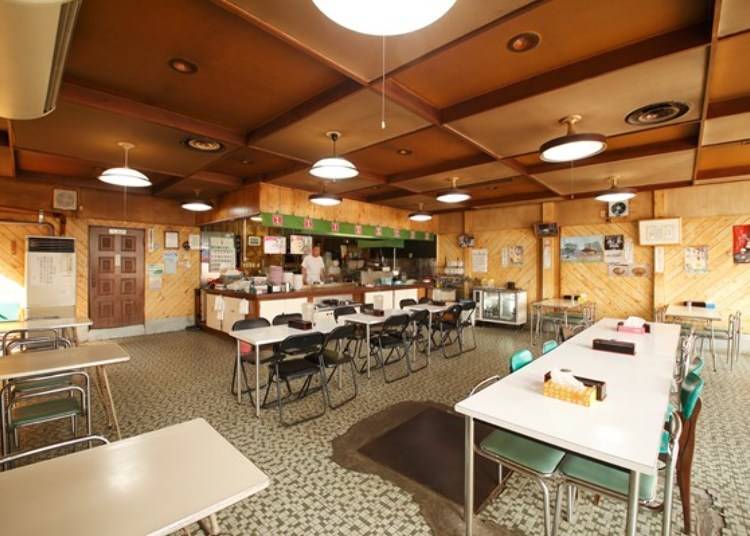 ▲ The inside of the shop has the nostalgic feel of an old public eatery,
Hachiya was founded in 1946. Mr. Enao Kato of the first generation opened it up initially as an ice cream shop. At that time, shortly after the end of the war he would sell ice cream using honey as it was hard to get sugar using the ration system after the war and that is where the name came from.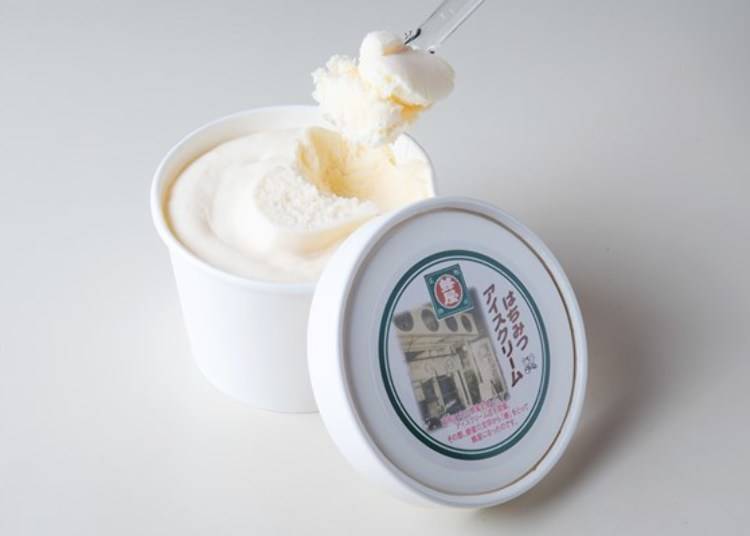 ▲ Honey ice cream is still sold inside the store (300 yen including tax). A perfect way to end the meal after some ramen.
Not long after the open of the ice cream shop a neighbor, originally from China, shared the art of making Chinese noodles. He was unable to copy his method but arrived at his own ramen recipe.

As pig farming was popular in Asahikawa, he would make the soup pork bones that I was able to get for free. The strong smell from these bones led to his trial production of adding fish into the mix. From there he tested all sorts of products like red snappers and mackerel, boiled them together and completed this soup.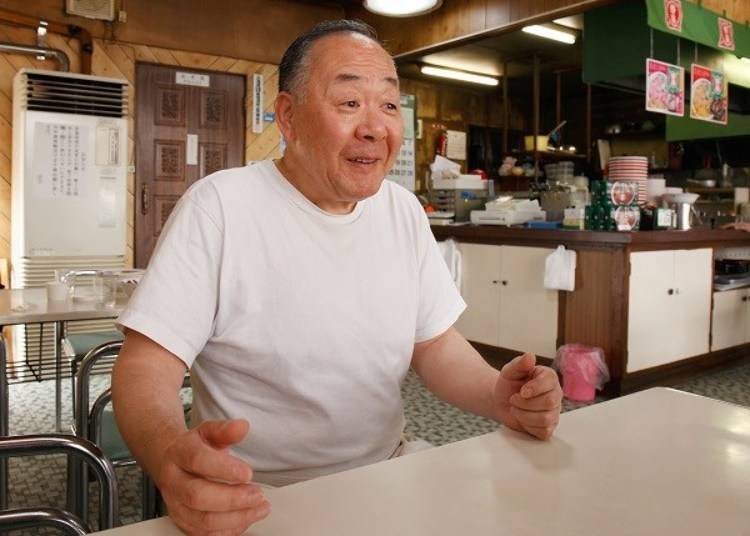 ▲ Naosumi Kato the second generation owner and son explained more about the current status of the store. He currently works at the main location of Hachiya
The basis of the soup is not just about throwing two soups together. Both the pork bone soup and fish broth are chilled overnight in a large tank and from there we must be sure to remove impurities.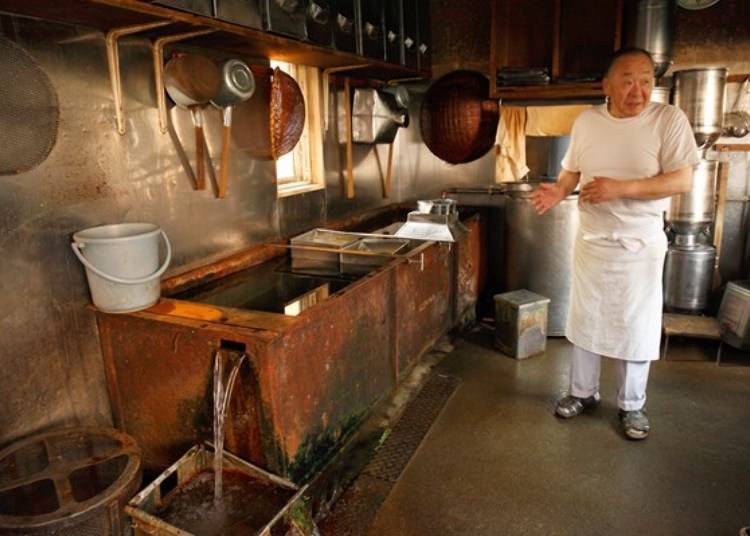 ▲ Here we see the tank used behind the store. Water is constantly poured in to cool the soup. Mineral water is used as it contains many nutrients and improves the flavor of the soup
After some time and multiple tests, I was still unsatisfied with the soup so I decided to add lard. However, as the lard was added, the appearance of the soup grew worse so I continued to tweak it.

This unique scorched lard is unique to Hachiya. Here they broil backfat until it looks almost like tar then this is added into the soup.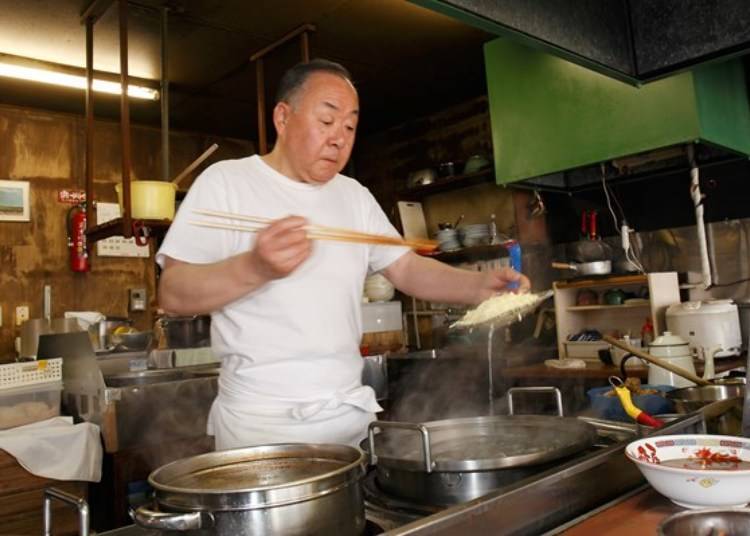 ▲ Here you will find their noodles are homemade too! Using no additives but using only wheat and brine. They only make the amount to be used each day at the factory behind the store
In 1947, as soon as this store began offering a unique ramen with scorched lard, it grew in popularity. Soon after they stopped selling ice cream and continued on as a single option ramen shop. Their signature ice cream has since been reintroduced to the menu and now it is a popular secret menu item.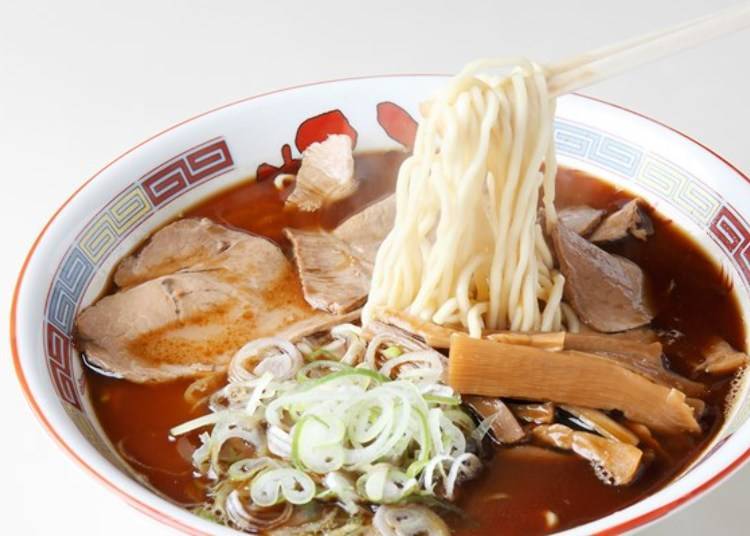 ▲ Look at these noodles shine out from this hearty soup!
The taste of the broiled lard can be tasted in the soup along with the taste of pork and fish. While it is rich and strong in flavor, it has a refreshing taste.

Each flavor is blended exquisitely and it has a sense of unity. As these noodles are the signature wavy noodles particular to Asahikawa Ramen, it collaborates well with this soup with the noodles gradually inheriting the taste.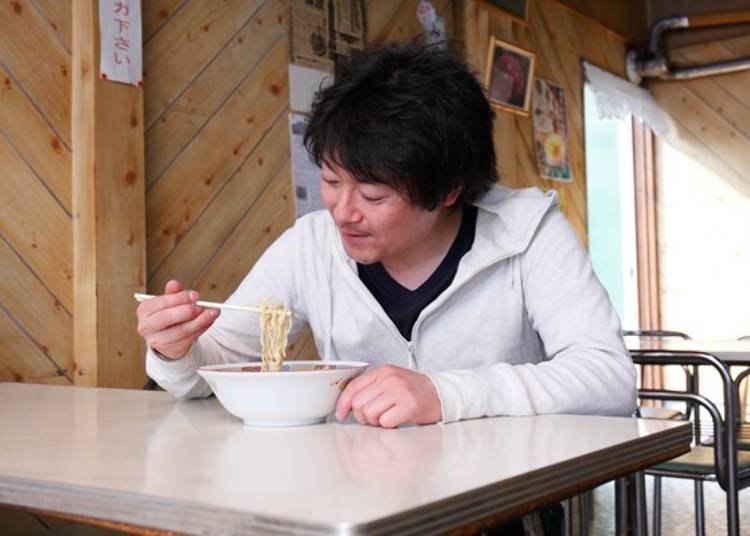 ▲ While it appears that the taste of the Hachiya dish seems to be the best or worst choice with a clear division by the locals, I am addicted! This powerful taste will surely have me come back for more!
This ramen, with its super strong taste and unique atmosphere, have left many fascinated.
蜂屋 旭川本店

Address

〒070-0033 北海道旭川市三条通15丁目左8/Hidari8, 3-jodori-15, Asahikawa-shi, Hokkaido, 070-0033, Japan

Phone Number

0166-23-3729

Hours of Operation: 10:30-16:00
Closed: Wednesdays
3. Asahikawa Ramen Ittetsuan: incorporating Elements of Japanese Cuisine
The last shop we visited was located in the "Asahikawa Ramen Village" about a 15-minute drive from Asahikawa Station in the same direction as the Asahikawa City Asahiyama Zoo.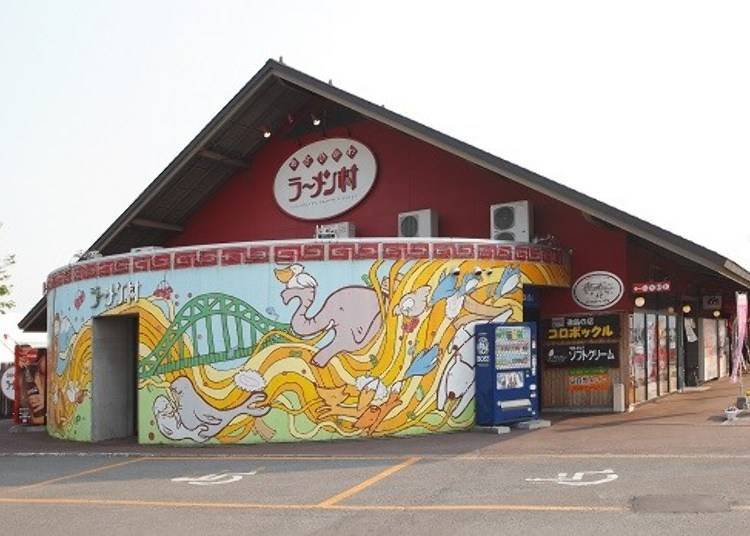 ▲ "Asahikawa Ramen Village" located in the shopping center "Powers"
Asahikawa Ramen Village includes eight Asahikawa ramen noodle stores, including ramen house Aoba. Here small servings of ramen can be purchased and sampled so you can find your favorite shop. When you're looking for things to do in Asahikawa, put this point of interest on your list!

At Asahikawa Ramen Village we decided to visit Asahikawa Ramen Ittetsuan.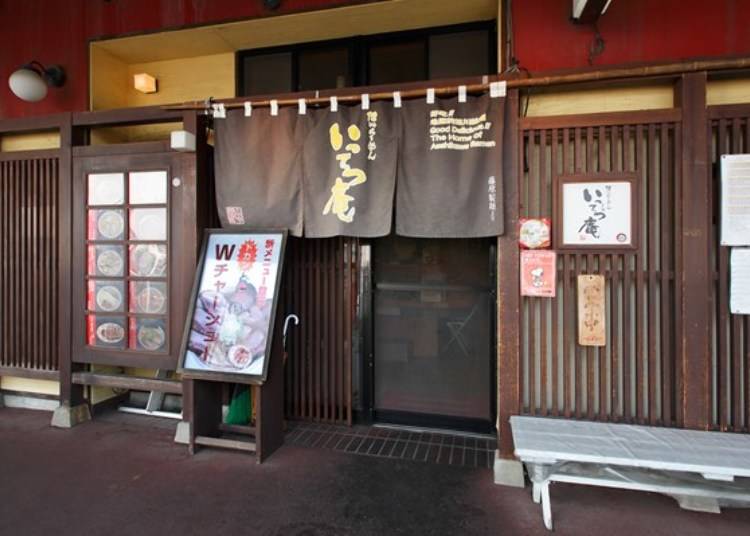 ▲ This establishment has been around since the opening of the ramen village in 1999.
This shop was formerly a Japanese restaurant offering ramen located near Asahikawa station. In 1999, they opened this ramen shop under the name "Muso Ren Matsuda," later changed to "Ichaturo Ann Matsuda," and in 2014 became an independently run shop using the name named "Asahikawa Ramen Ittetsuan. "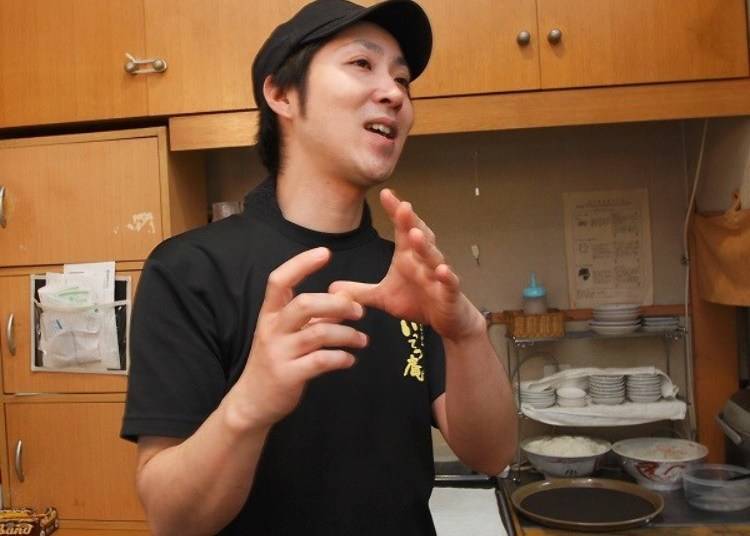 ▲ Noritada Yamanaka, the shop owner, says their version of Asahikawa Ramen is based in the roots of Japanese cuisine.
Along with their Royal Road Asahikawa Ramen, they are offering a new local ramen option. We decided to give them both a try.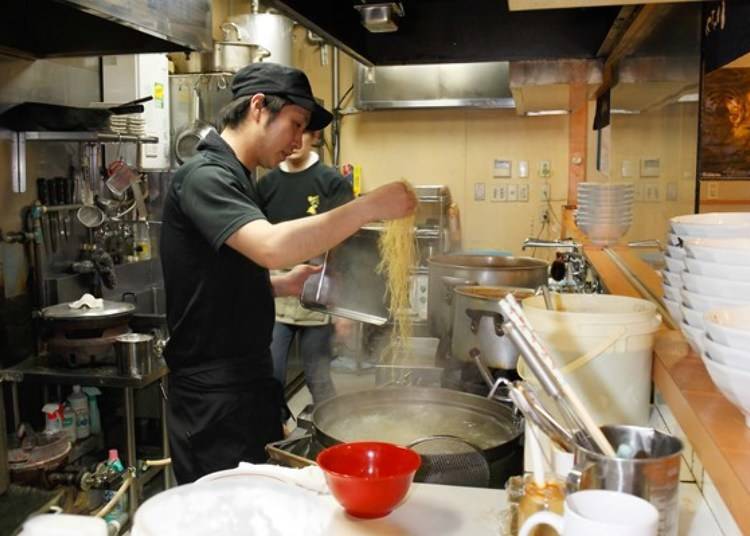 ▲ Here the noodles are low in moisture, which makes them easy to spread and tend to lose its elasticity, making them easier to boil.
While other shops generally use fish-based soup to relieve smells such as pig bones, this shop that was originally a Japanese-style restaurant, take a different approach.

Fish and soup stocks are prepared from mackerel, kelp, boiled fish, dried shiitake mushrooms and many other ingredients that are mixed in this soup that has been flavored with pig bones and chicken parts and are boiled for an entire day and night.

Although it is a double soup, a characteristic of Asahikawa Ramen, this soup has a strong Japanese fish flavor that differs from the rest.
▲ Asahikawa Ramen, Mini Ramen (Soy sauce flavor) (back, tax included 400 yen) and The New Asahikawa soy sauce Hormone ramen (front, tax included 850 yen)
"Mini-ramen (soy sauce)" is made using half the noodles of the Asahikawa Ramen (700 yen including tax). This simple dish is what we offer at Asahikawa Ramen Village for the customers eating comparison.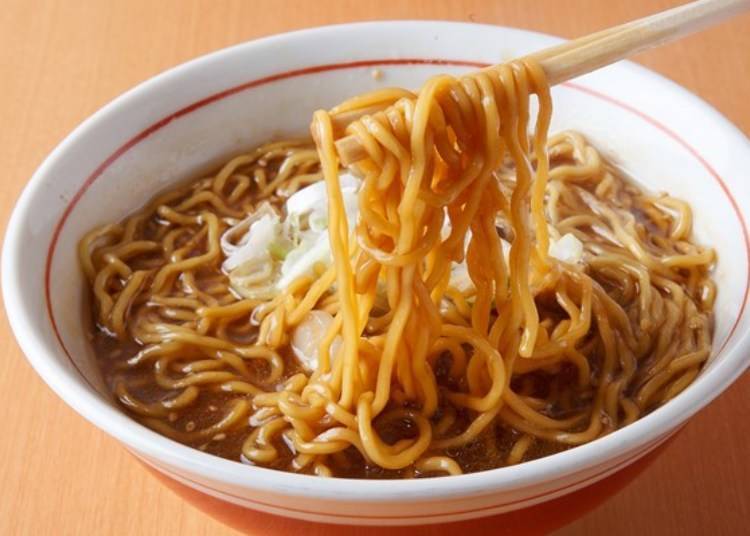 ▲ The mini ramen (soy sauce), toppings are kept simple with only a green onion topping
When you try this dish, the soft taste of soy sauce and the scent of seafood hit you just right. While you may pick up the flavor of pig bone, you will surely notice the mellow and delicate Japanese-style flavor.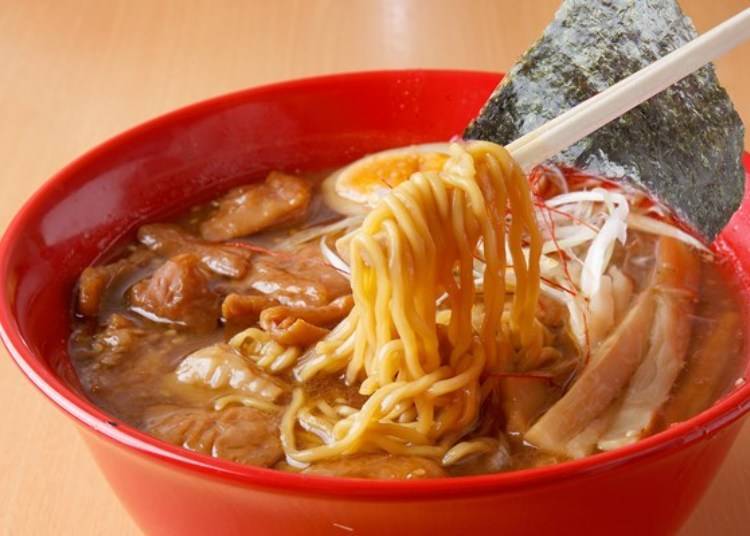 ▲ Asahikawa Soy Sauce Hormone Ramen. Is comparable to the mini soy sauce ramen but packs a complete different taste!
Asahikawa is a city synonymous with ramen, but because of the pig farming industry, the custom of eating grilled pork has taken root.

So, with 8 shops in this village providing this option of "Asahikawa Soy Sauce Hormone Ramen" along with Asahikawa Ramen are considered to be the soul foods of the area.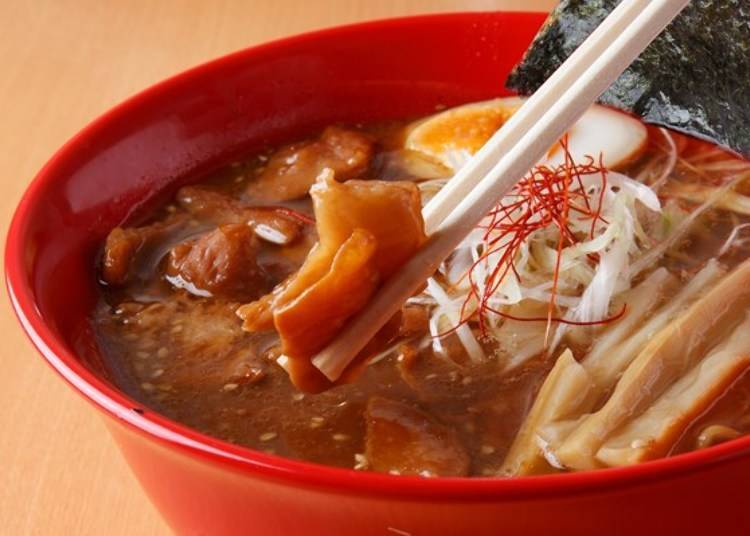 ▲ This pork based dish with the flavors of soy sauce are quite enticing to the eyes
The essence of the pork bits dissolves in the soup, giving the soy sauce a taste like miso ramen, it has a mellowness and a rich taste. These pork bits have no smell, and are soft and crispy are easy to eat.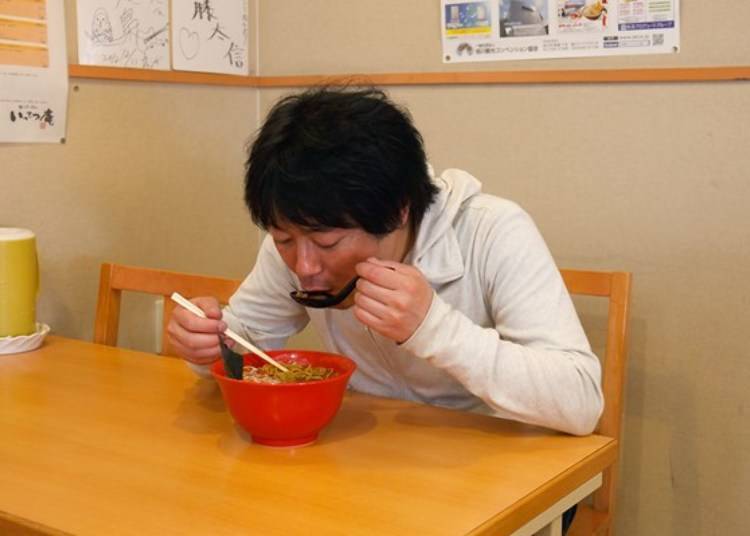 ▲ I wanted to savor the soup, the pork bits, and the noodles but while wondering where to start I slurped up the entire dish!
Asahikawa Ramen Ittetsuan

旭川らーめん いってつ庵

Address

〒 079-8421 北海道旭川市永山11条4丁目 あさひかわラーメン村/Asahikawara-menmura, Nagayama 11-jo-4, Asahikawa-shi, Hokkaido, 079-8421, Japan

Phone Number

0166-47-7855

Hours of Operation: 11: 00-20: 30 (L.O. 20: 00) * L.O times are tentative and may change
No set holidays
Asahikawa Ramen is known as the noodle dish with a double flavored soup, but the flavors vary widely depending on the shop. In addition to the stores we visited there are plenty more. We are certainly looking forward to visiting even more shops! We encourage you to find the cup of your choice!
Address

The power, 4, Nagayamajuuichijo, Asahikawa-shi, Hokkaido, 070-0000
View Map

Nearest Station

Minami-Nagayama Station (Sekihoku Main Line)


Phone Number

0166-48-2153
Written by : Nobuhiro Kawashima
*This information is from the time of this article's publication.
*Prices and options mentioned are subject to change.
*Unless stated otherwise, all prices include tax.