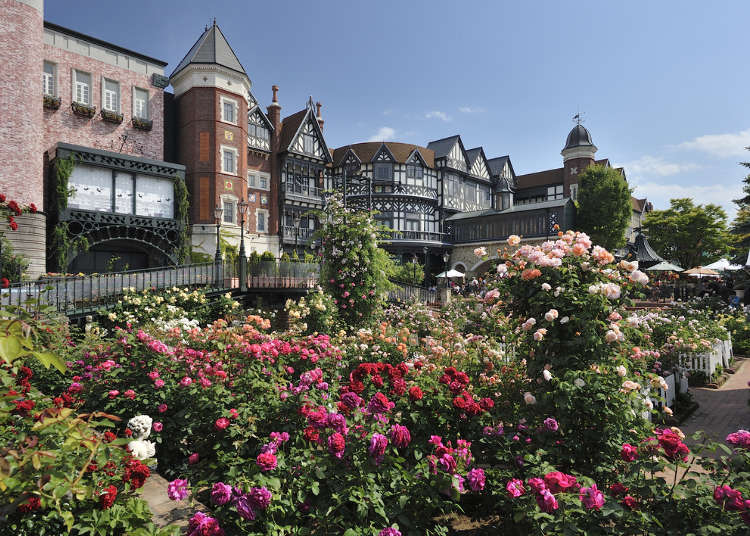 Yes, you heard it right. Japan has a chocolate theme park! Shiroi Koibito is a famous chocolate representative of the country's Hokkaido region.

Since its launch in 1976, these unique white chocolate sweets have grown in popularity. There have even been theme park attractions dedicated to these sweets that have opened in, where you can you the factory, learn about the sweets, and know the history of the chocolate.

This theme park is called Shiroi Koibito Park and has gained popularity not only amongst Japanese citizens but people from overseas. And following its recent renovation, it now features even more advanced, new ways to enjoy and experience this delicious white chocolate treat!
Time Traveling with the Professor of Chocolate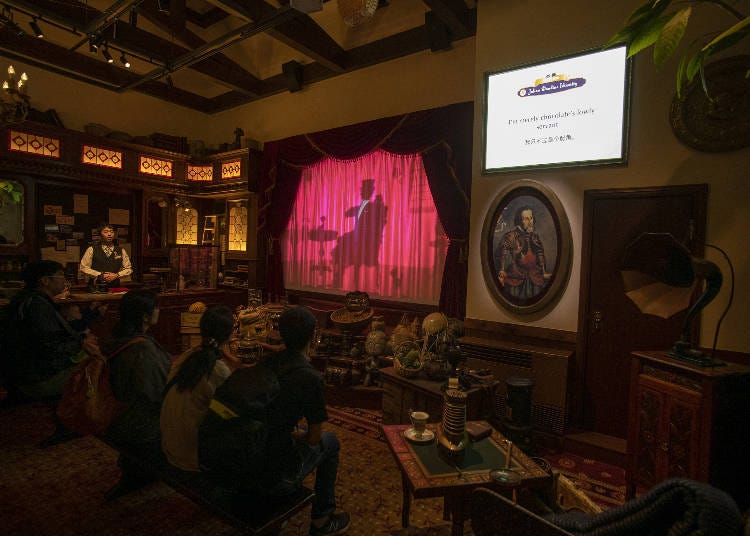 The Professor's Assistant navigates the journey!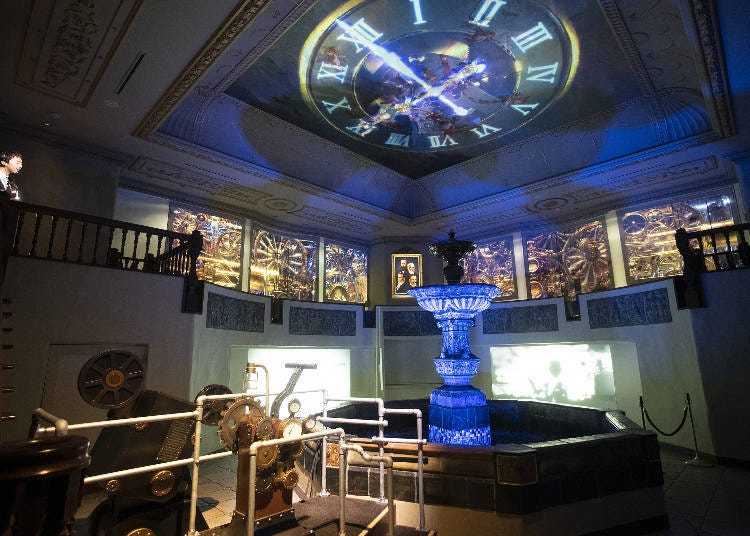 There are three types of tours available at Shiroi Koibito Park: the Tasting Course, Premium Factory Course, and Factory Course. Your experience will vary depending on which tour you choose, so you can select your favorite from the three.

This tour is one that is only available to participants of the Premium Factory Course. Go on a 30-minute journey with the chocolate-loving Professor of Chocolate, as you explore the secrets of the question, "Why does chocolate make people so happy?"

Professor Chocolate will teach you all kinds of various chocolate-related knowledge, and will even give you a quiz. Enjoy the world around you created by a beautiful and dynamic display using projection mapping. English and Chinese subtitles are also available.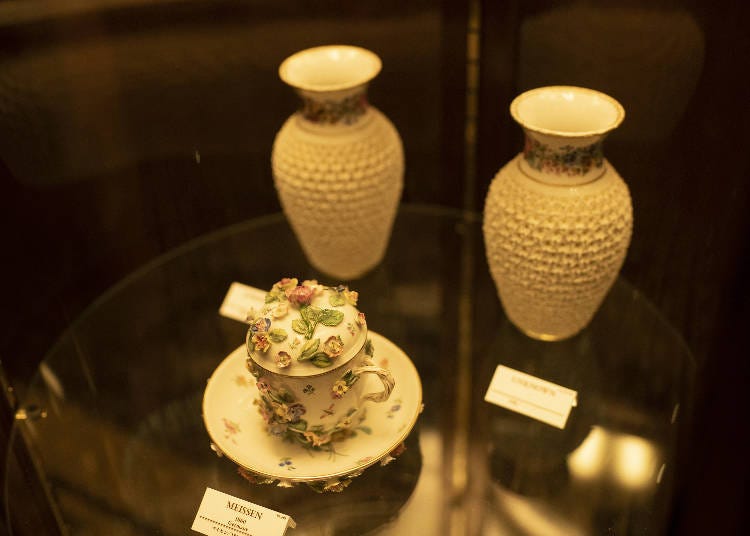 You can also see displays of chocolate-related valuables, including the flower-patterned Meissen Chocolate Cup
Chocotopia Factory: Factory Tour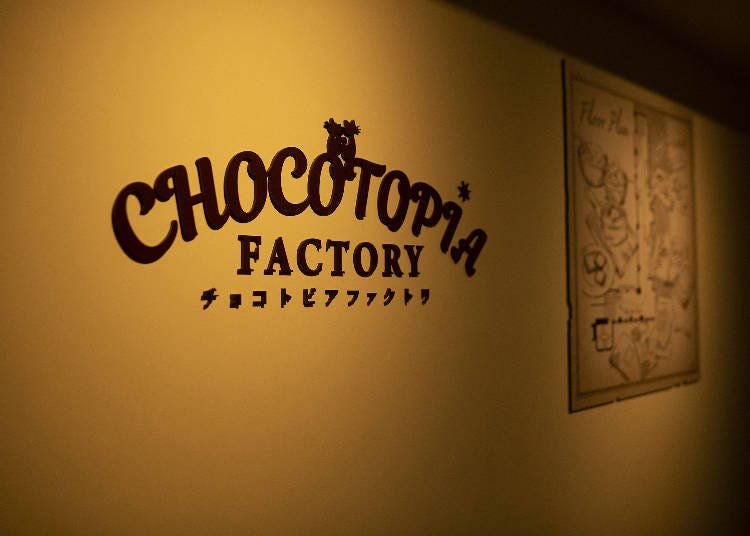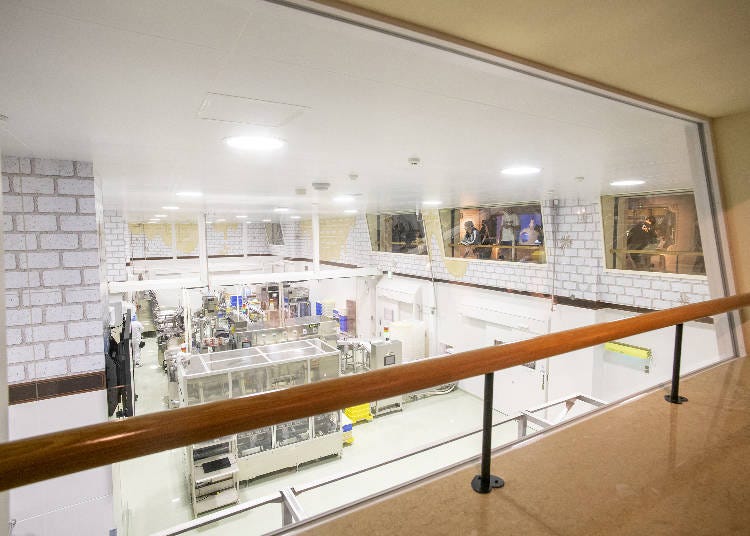 Chocotopia Factory is open to all participants of the Tasting Course, Factory Course, and Premium Factory Course. Here you can observe the Shiroi Koibito production line, and now, thanks to the renewal, the Baumkuchen production line as well.

The windows and halls have also been expanded during the renewal, making it easier to enjoy the production viewing more than ever before.

There are monitors in the factory displaying the number of Shiroi Koibito sweets and Baumkuchen being manufactured in real time, allowing you to watch as the numbers increase one by one.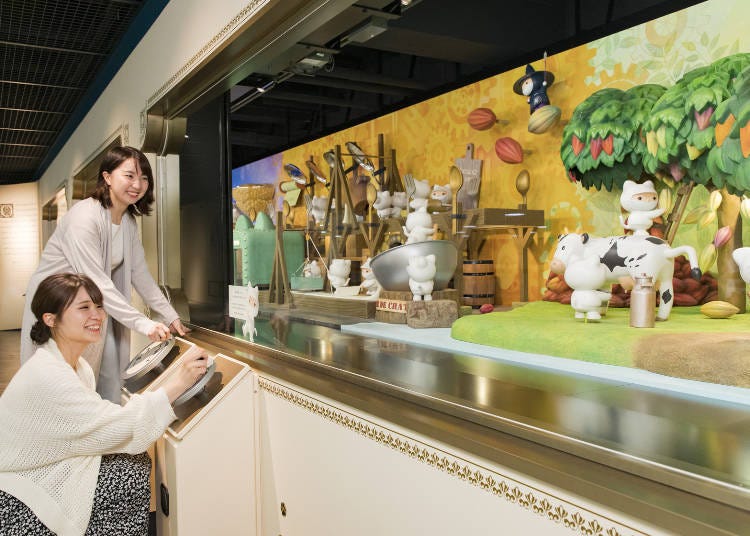 There is also a large-scale diorama featuring the "Shiroi Kobito," or "white chocolate little people," showing the entire process of "how Shiroi Koibito white chocolate is made." On the opposite side of the production line is a cute scene of the little people at work that everyone can enjoy, from family and friends to couples.
Food and Experiences! Chocotopia Market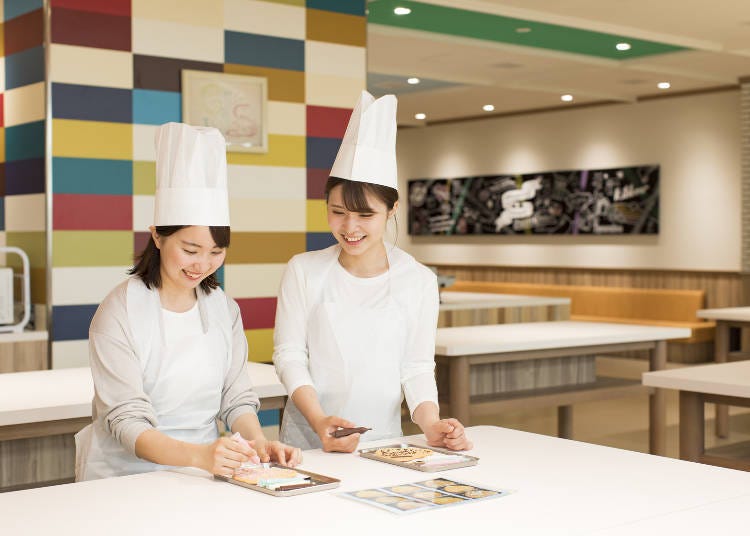 Chocotopia Market is a place that anyone can enjoy regardless of which tour you choose. Experience making sweets of your own in the "Sweets Workshop Dream Kitchen."

In addition to the original Sweets Room, where you can make Shiroi Koibito sweets and cookies, another area - the Chocolate Room - has been added with the renewal, where you can now also enjoy chocolate decoration, and making authentic chocolates from scratch with cacao nibs.

Why not try one of these and create a special chocolate souvenir for your friends, or even one for yourself?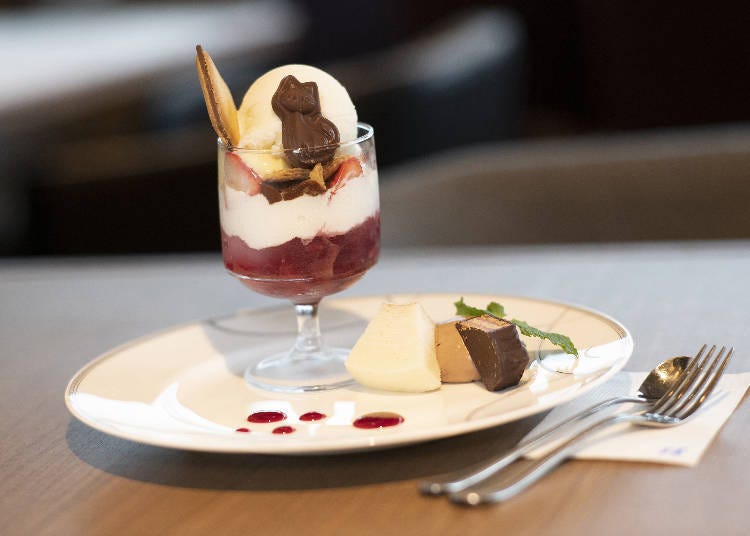 Just looking at these sweets makes you want to eat them! There is also a restaurant in the same spot called Chocolate Lounge Oxford, which has also been recently renewed.

Here you can enjoy an Afternoon Tea Set, and other sweets with chocolate as the main theme. There is also more seating now available, and the huge window offers a wide, open view of the Hokkaido Consadole Sapporo training hall and the Grand Meister Karakuri Clock Tower.

What you really want to try here is the Shiroi Koibito Parfait, a parfait made with delicious, popular ISHIYA products, including Shiroi Koibito, White Baum TSUMUGI, and Mifuyu chocolates.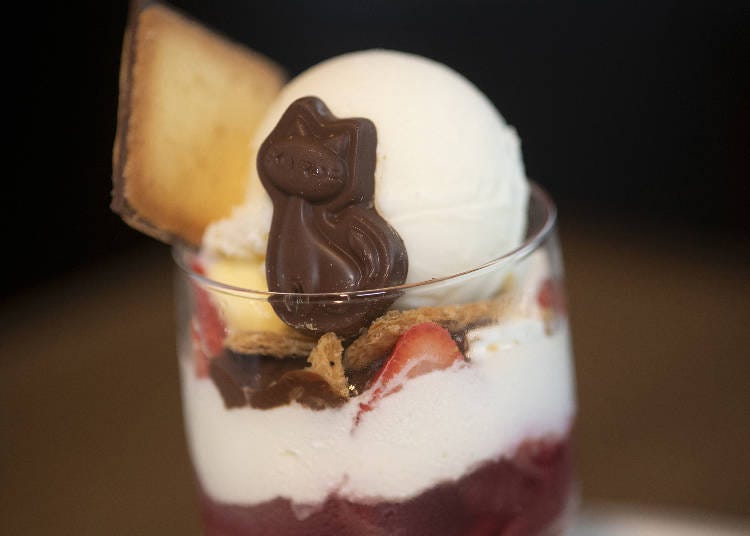 This ISHIYA Premium Ice Cream is topped with chocolates in the shape of Shiroi Koibito Park's mascot characters, Purumi and Ramuru. You can also buy these Purumi and Ramuru chocolates at the Park Shops.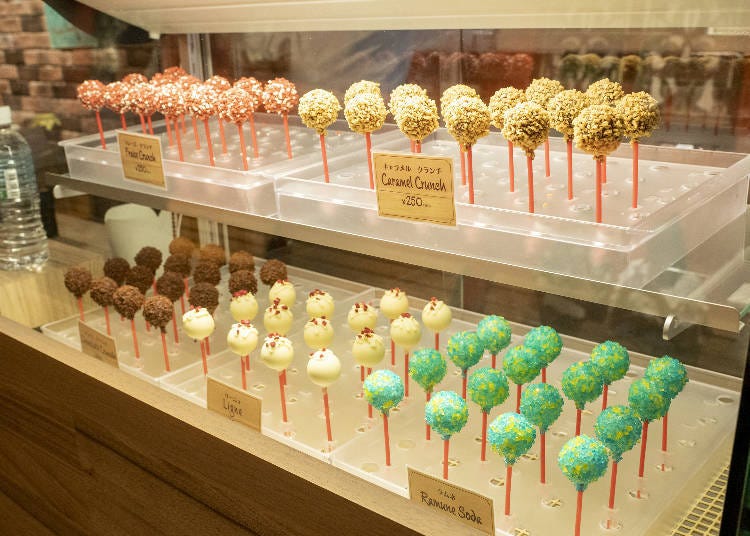 There is also a sweets shop where you can buy easy-to-eat treats in the Chocotopia Market called Trial Place Covent.
Commemorative Photos at Magical Marche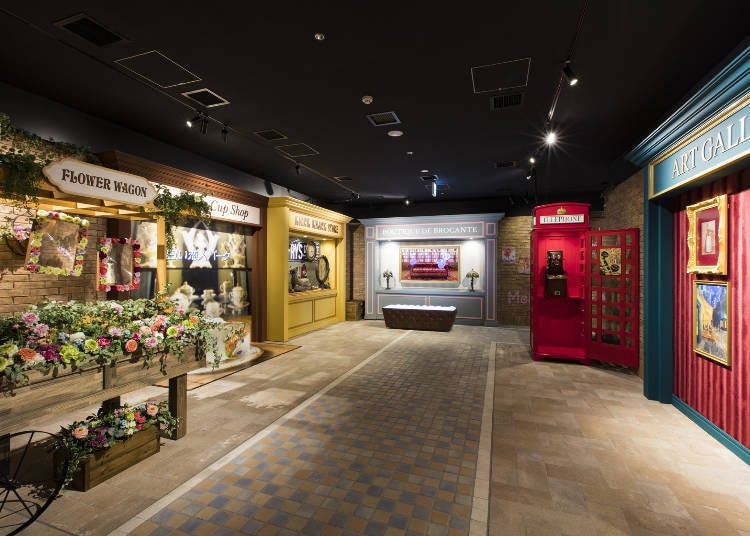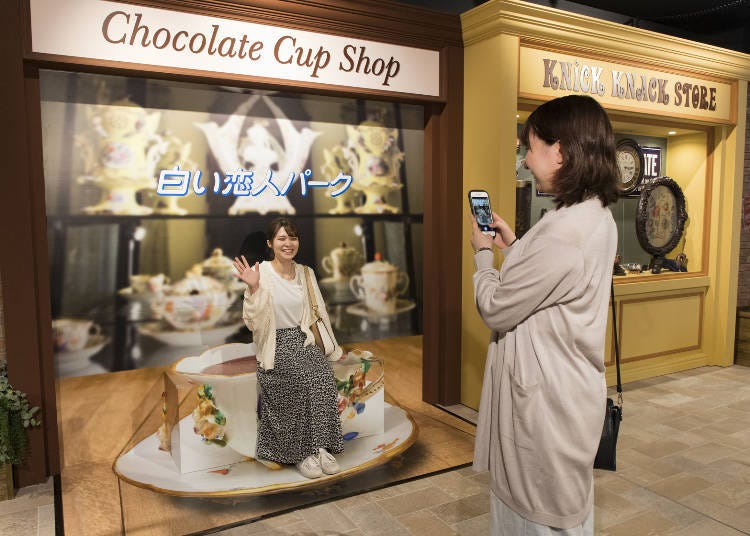 Magical Marche is another newly added space filled with cute and colorful areas that make great photo spots decorating the Chocotopia Market exit area.

Some of these great photo-op spots include a scene where you can get a shot sitting in a tea cup, and a couch for two with a large screen in which characters Purumi and Ramuru will appear as you approach and mimic your movements.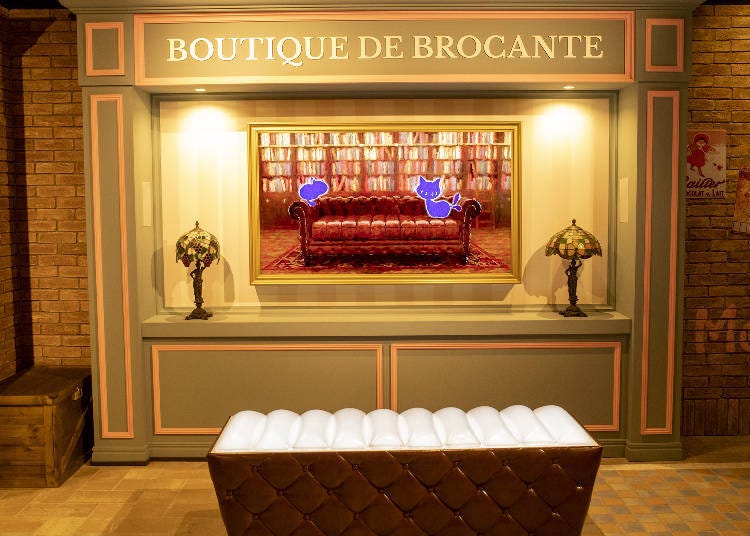 Making Memories at Shop Piccadilly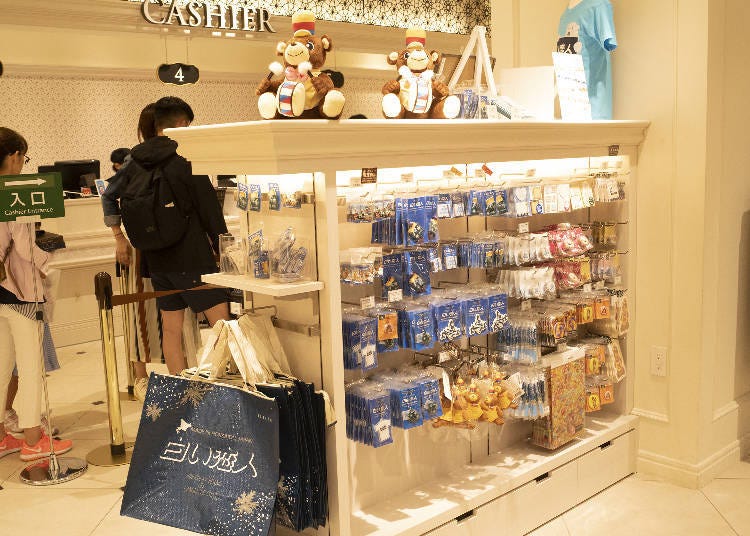 Shop Piccadilly is a souvenir shop open to everyone regardless of tour participation. It has been renewed to about 1.5 times larger than before, and you can now purchase classic ISHIYA sweets as well as Shiroi Koibito Park limited edition items. There are also four new products now available featuring "Purumi and Ramuru's Chocolate Story."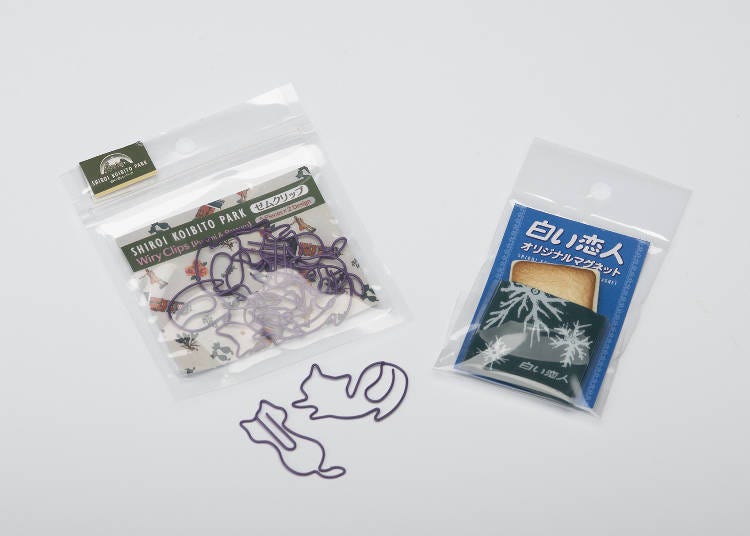 The original Shiroi Koibito Park items are also very popular, and the number of must-see items is gradually increasing. Candy-themed items such as the Shiroi Koibito Original Magnet and Shiroi Koibito Keychain make great souvenirs!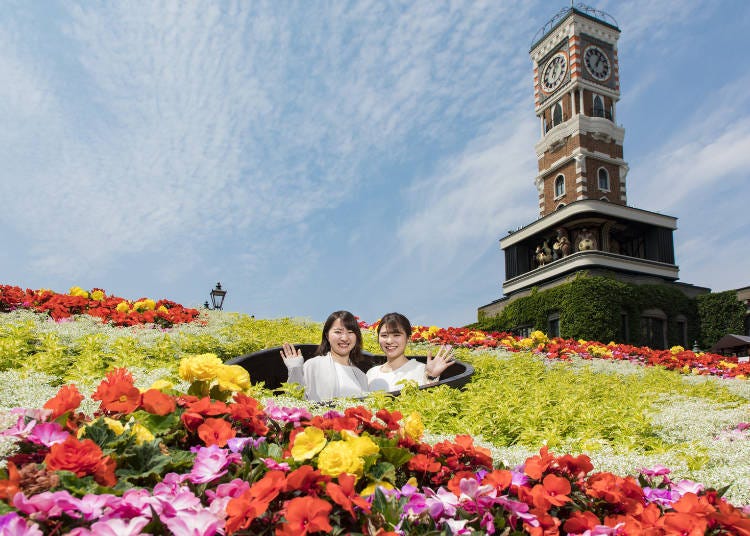 Cafe Butler's Wharf is another spot open to everyone, and is a great restaurant for families and children with snacks and sweets such as churros and original parfaits.

There are also plenty of photo spots around the outside and the courtyard. These spots offer great seasonal scenery, including flowers in the springtime and snowmen illuminations in the winter. It's also a nice place to stop by if you choose not to join a tour, or are simply short on time.
Foreign Language Speaking Staff Available
In recent years, the number of overseas visitors to Shiroi Koibito Park has also greatly increased, and so have the number of services available for tourists. In addition to the foreign-language subtitles and notations available throughout the facilities, there are now foreign language-speaking staff members available in each area. Staff members who can speak foreign languages are easily recognizable by their badges (English, Chinese, and Korean), so if you need help, feel free to reach out to someone in your language!
白い恋人パーク

Address

2-11-36 Miyanosawa 2 Jō, Nishi-ku, Sapporo, Hokkaido 〒063-0052

Phone Number

011-666-1481

Hours of Operation: 7:00AM~8:00PM (Reception closes at 5:00PM; some facilities may close at 7:00PM)
Winter Hours: 9:00AM~8:00PM (Last Entry 5:00PM) (11/30/2019~2/29/2020)
New Year's Holiday Hours: 9:00AM~5:00PM (12/31/2019~1/3/2020)
Admission Fees:
Premium Factory Course: 1,500 yen (high school & older); 1,200 yen (middle school & under); Free for children 3 & under
Factory Course: 600 yen (high school & older); 300 yen (middle school & under); Free for children 3 & under
Regular Holidays: None
*This information is from the time of this article's publication.
*Prices and options mentioned are subject to change.
*Unless stated otherwise, all prices include tax.