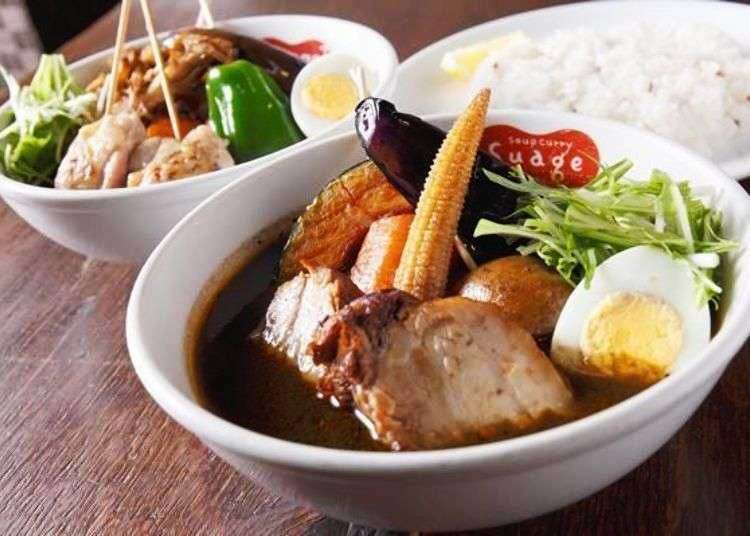 Japanese curry has been sweeping the world in recent years, with several brands opening up abroad. What many foodies aren't yet aware of is the broad range in types of curry that can be found in Japan - everything from Indian-inspired fare to delicious, thin "soup curry."

Sapporo is known as the birthplace of Hokkaido Soup Curry and has many restaurants throughout the city. There is a huge variety of shops with different flavors, atmosphere and probably something that matches your preference.

Our local writer, who is a soup curry connoisseur, recommends the following three shops. These popular shops have their own unique flavor and ingredients and come highly recommended!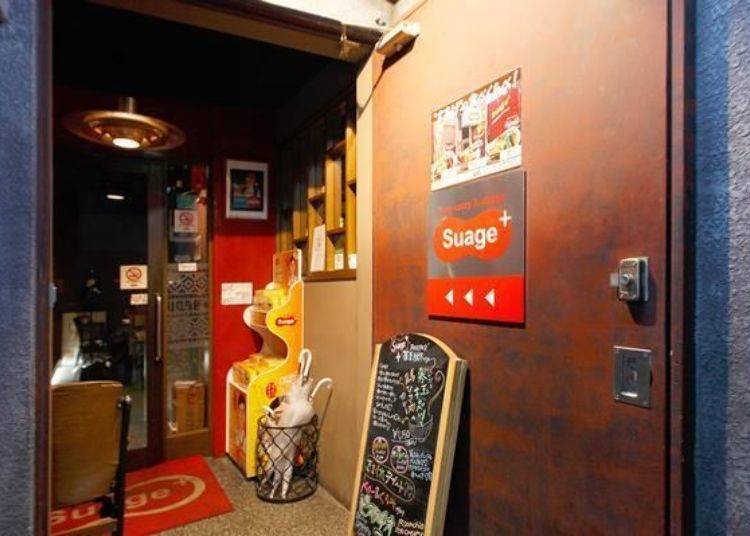 The first restaurant, Suage+, is located in the shopping district of Sapporo City. A three minute walk from Nanboku Subway Line Susukino Station. Store number two is located in the building next to the main store and the third store is located in Maruyama district in the outskirts.
▲A relaxing atmosphere filled with the delicious smell of soup curry.
The main features are the delicious soup, rice, and meat and vegetables fried without batter. Food deep fried without batter is called suage in Japanese, which reflects the store name.

The vegetables are chopped in big portions, also the store has their unique style of having some items skewered.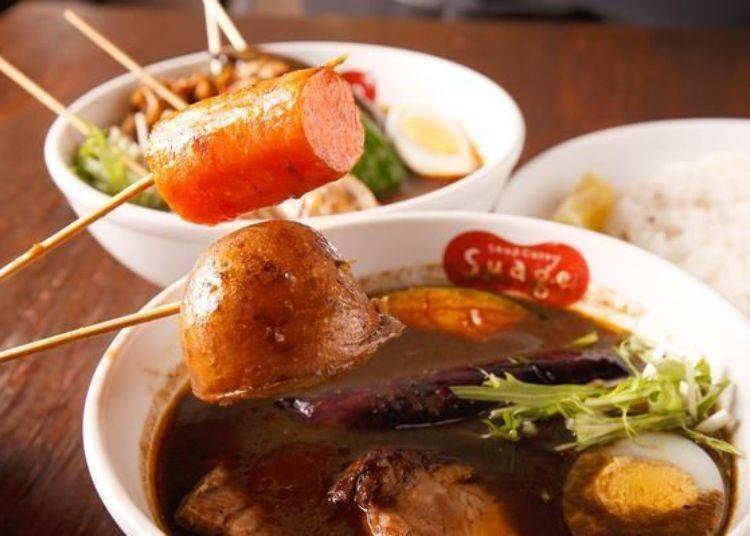 ▲Like eating a kushiage (deep fried skewered dish) or kushiyaki (grilled skewered food)
The store strongly focuses on using ingredients from Hokkaido. Excluding winter seasons with no harvest, all vegetables used are from Hokkaido. They also mainly use Hokkaido brand rice. To provide a delicious and nutritious balance, they blend white and brown rice milled at the store and a type of ancient red rice.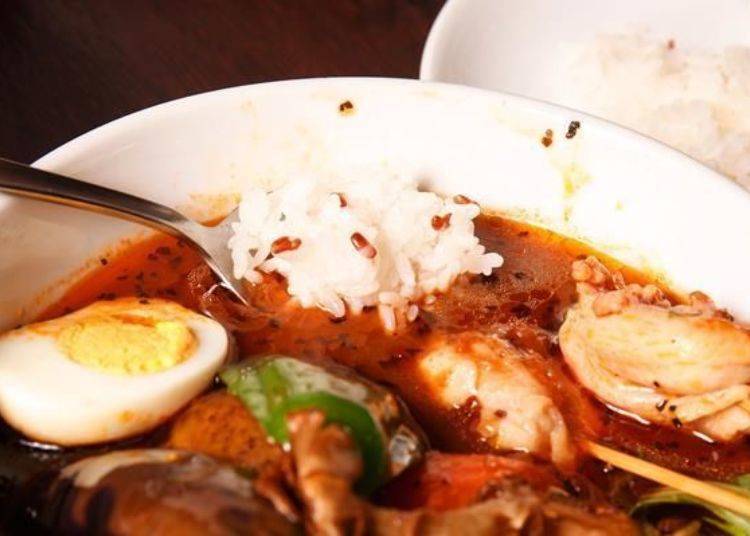 ▲You can see the red rice mixed in. Also there are no rules for eating Hokkaido soup curry. Most common way of eating is scooping the rice and dipping it in the soup.
How to order:
1: The menu has different selection of curry depending on the ingredients such as chicken and pork. Pick one.
2: Pick one of the two soup flavors, suage soup and squid ink based black soup
*The squid ink based black soup is only available at the main store. The second store offers shrimp based red soup and the third store offers coconuts based white soup.
3: Choose the rice volume and spiciness. You can also order additional toppings.

This time we orders the standard Paripari Shiretoko Chicken and Vegetable Curry with suage soup and the Braised Lavender Pork Curry with black soup. We picked the average spice level and normal rice portion.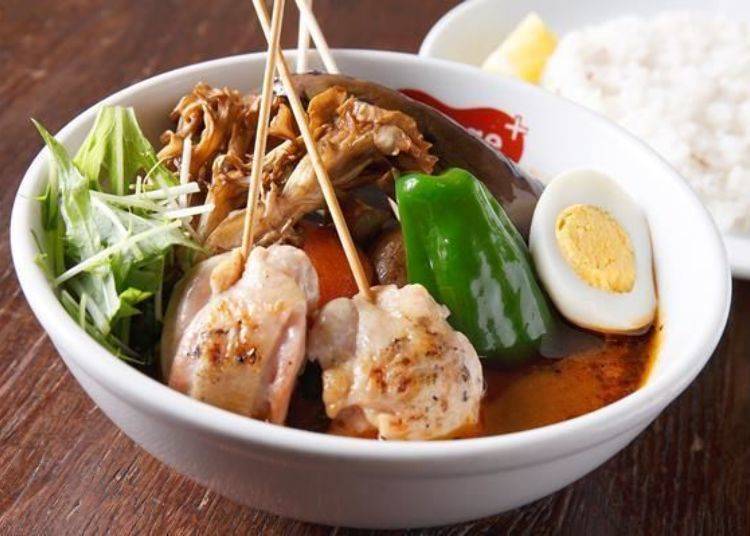 ▲Popular standard dish Paripari Shiretoko Chicken and Vegetable Curry (1,150 yen). Ingredients are grilled Shiretoko chicken, potato, carrots, pumpkin, eggplants and maitake (mushrooms)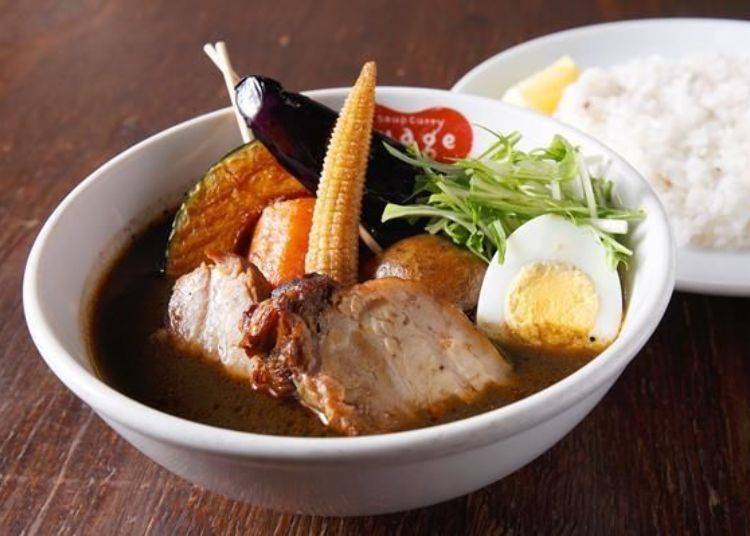 ▲Braised Lavender Pork Curry (1,150 yen). Main ingredients are braised lavender pork, potato, pumpkin, eggplant and young corn.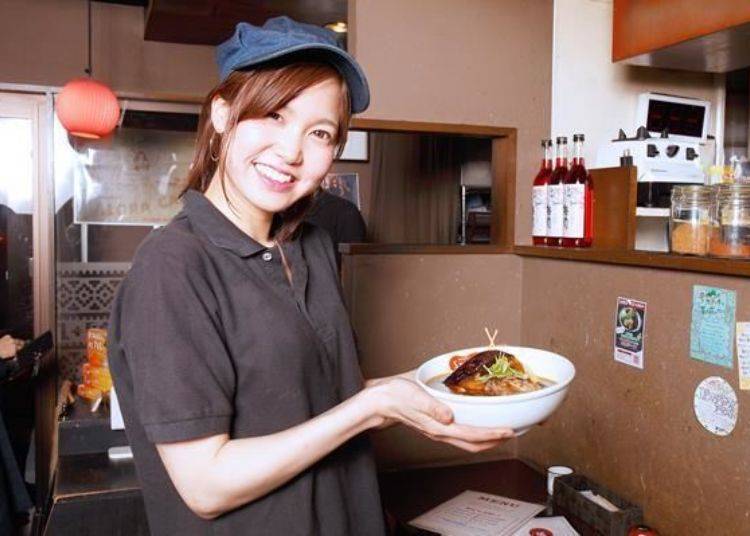 ▲Store manager Hisami Sasaki and the staff's recommendation is the squid ink based black soup.
The base soup at Suage+ is made with onions, tomato paste, bacon, carrots, and skimmed milk powder. Then it is crushed in a mixer and stewed with some original spices, after it is cooked, they will let it sit overnight.

The suage soup uses soup that was set out overnight so you can taste and feel the texture of the crushed vegetables.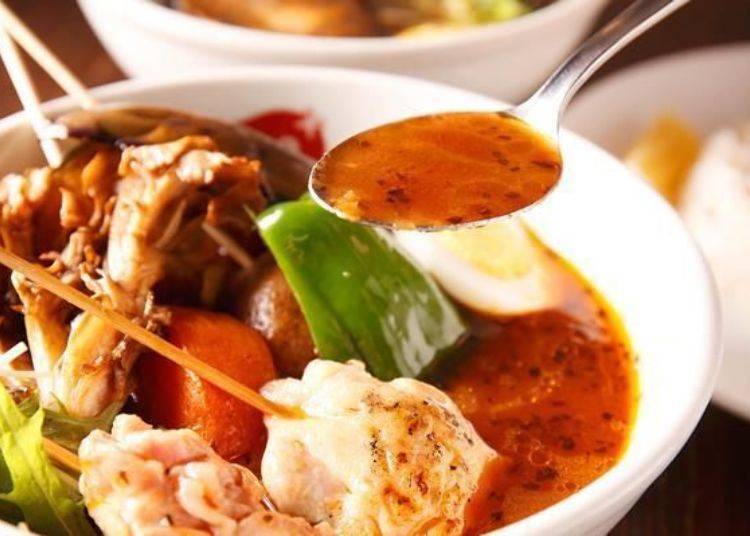 ▲The original suage soup has a slight red color to it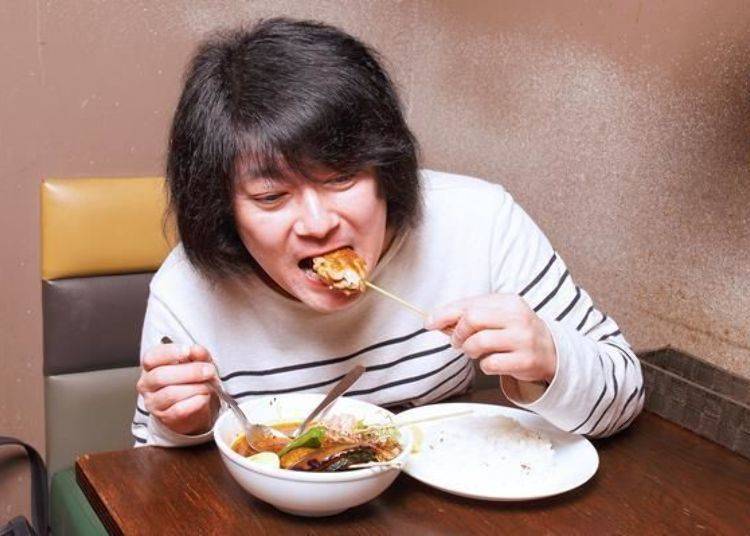 ▲Vegetables and meat mixes well with the thick soup. The Shiretoko chicken is grilled so the skin is crisp and the meat is soft and juicy!
The base soup is strained to make the black soup smoother, then butter and squid ink is added. The smooth texture brings out the deep rich flavor.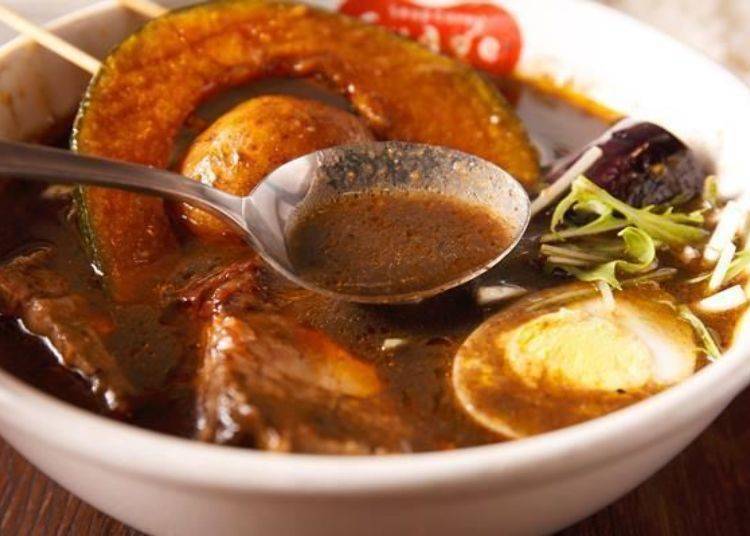 ▲The squid ink black soup only available at the main store. It has a blackish color just like its name.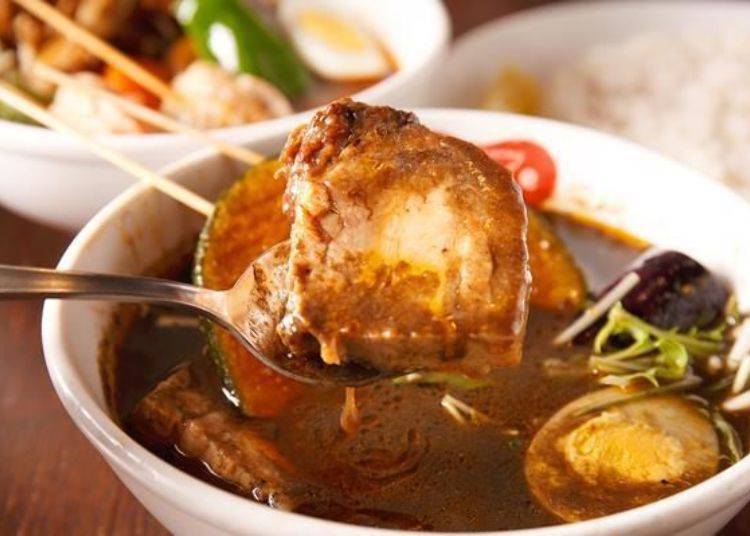 ▲The Kamifurano Lavender Pork is braised then grilled over charcoal fire. The delicious braised pork almost melts in the mouth.
Both soup are magnificent and it is hard to pick one! If you stop by with someone you might want to order different soups and share it.

Also, if you plan on coming here more than once, purchasing this sticker is worth it.
▲Suage+ sticker (300 yen). Showing this sticker when you enter the store, you can receive a free coffee or chai tea (1 drink per sticker). Also there is no expiration date on the sticker and you can use it at all three stores.
So delicious that you will want to come back over and over! A true Sapporo soup curry that really brings out the flavor of the ingredients.


Hours: 11:30 AM ~ 9:30 PM
Closed: December 31st ~ January 1st
Address

The second floor of Tsushi pine building, Minami four Jo Nishi 5, Chuo-ku, Sapporo, Hokkaido, 060-0061
View Map

Nearest Station

Odori Station (Namboku Line / Tozai Line / Toho Line)


Phone Number

011-233-2911
▲They were located in a different location for a long time, but they moved to the current location in the spring of 2017.
Next up is the long established Sapporo soup curry shop Ajanta Indian Curry (Ajanta Indo Kari Ten), located in the residential district 10 minutes away from the Sapporo Streetcar Ishiyama Dori Station.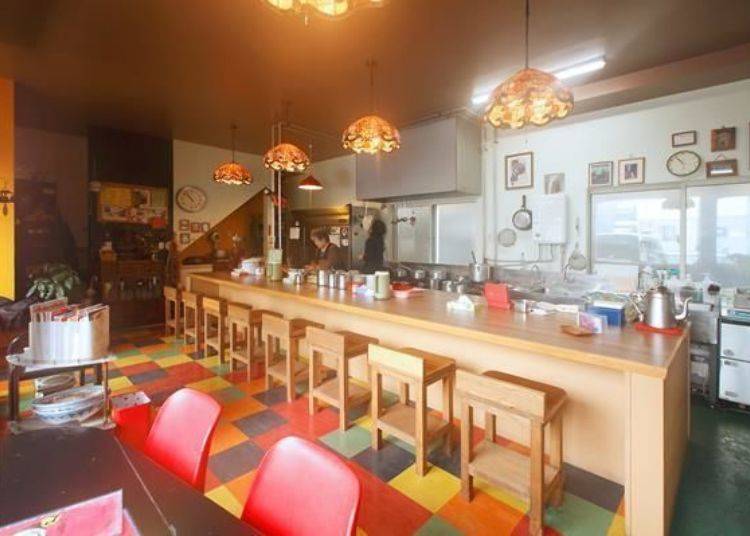 ▲With an open kitchen you can watch the cooking process if you sit at the counter
The reason why we recommend this place is because you can enjoy the original soup curry with spice and oil.

It is said that soup curry first made its debut as an herbal medicinal curry in the 1970s, after many creative adjustments were made to the taste and ingredients, it started to gain popularity. Ajanta has been pioneering the soup curry from its dawn. It is true to the original herbal medicinal curry style from 40 years ago.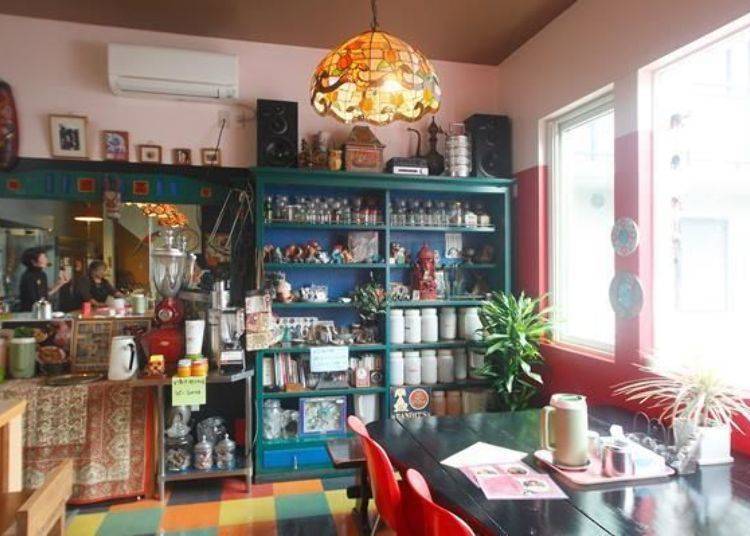 ▲The shelf at the back of the store with Indian sundries was on display at the previous store for a long time. It was added to the current store due to request by the repeating customers.
If this is your first time here, try the standard menu Torikari.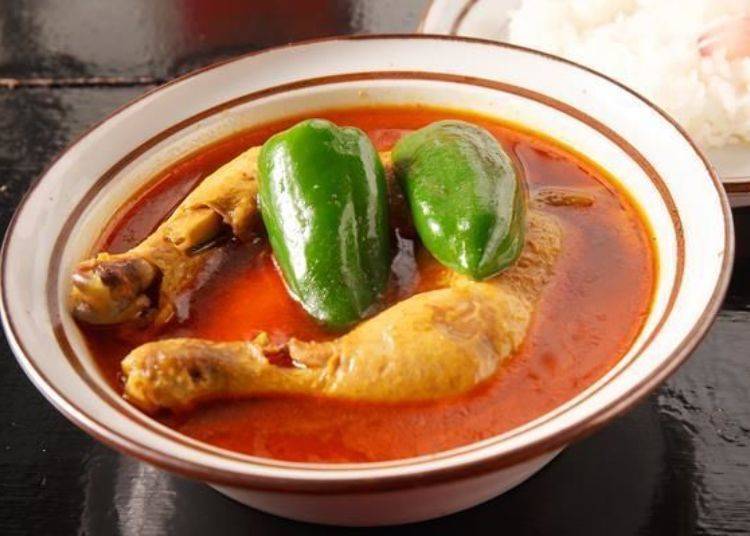 ▲Torikari (1,100 yen). Simple ingredients of chicken thigh, carrots and green peppers.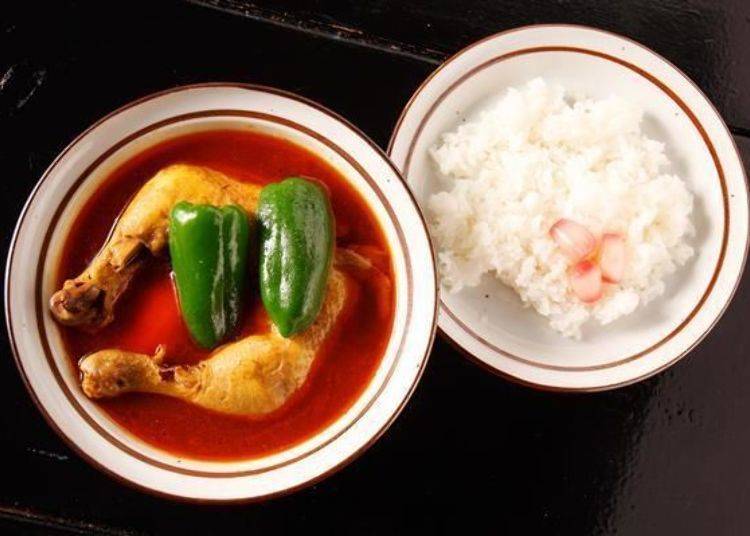 ▲Ajanta adds some rakkyo (pickled Japanese scallion) on the rice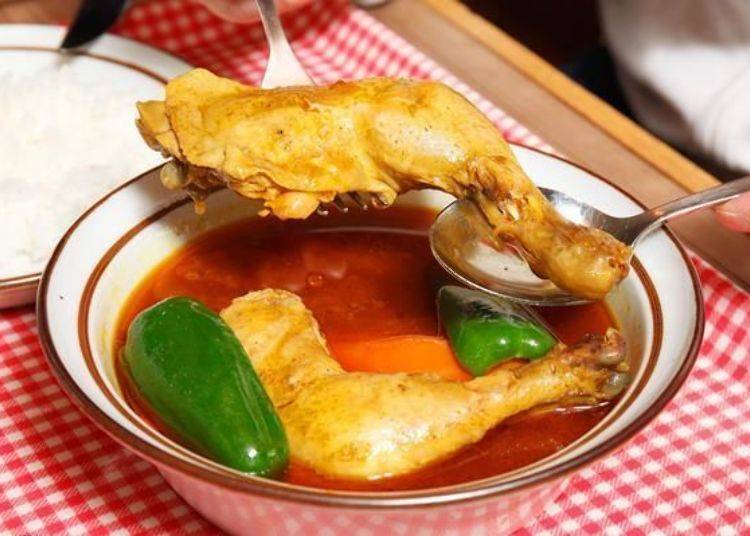 ▲Large pieces of chicken!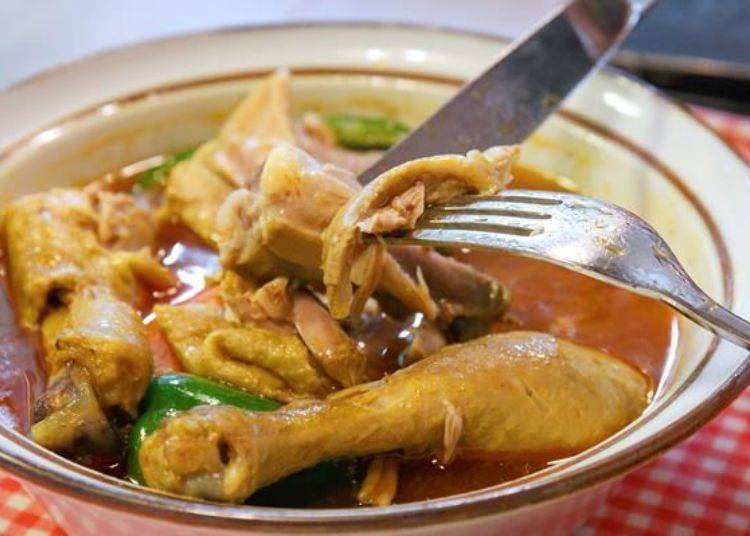 ▲You can bite into the chicken or use your fork and knife
The soup made with over 40 spices and herbs uses lots of oil, but is still smooth. The spiciness is just right and almost addicting!

A popular menu for repeating customers is the Lambkari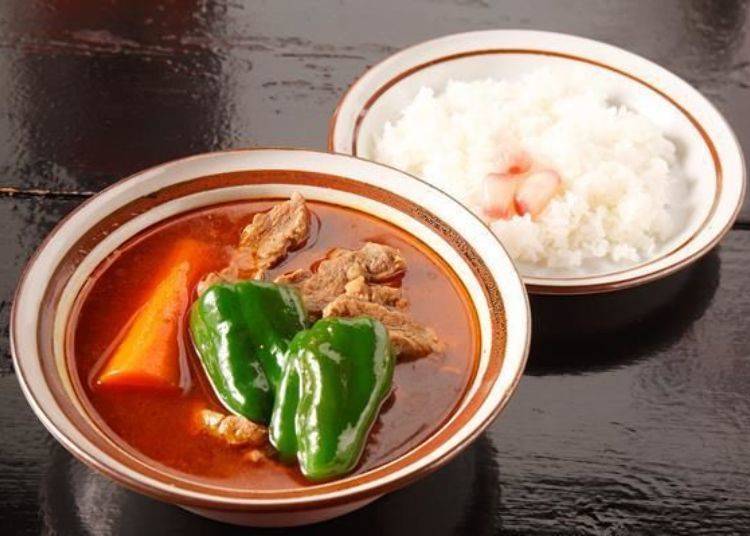 ▲Lambkari (1,200 yen). Ingredients are lamb, carrots and green peppers only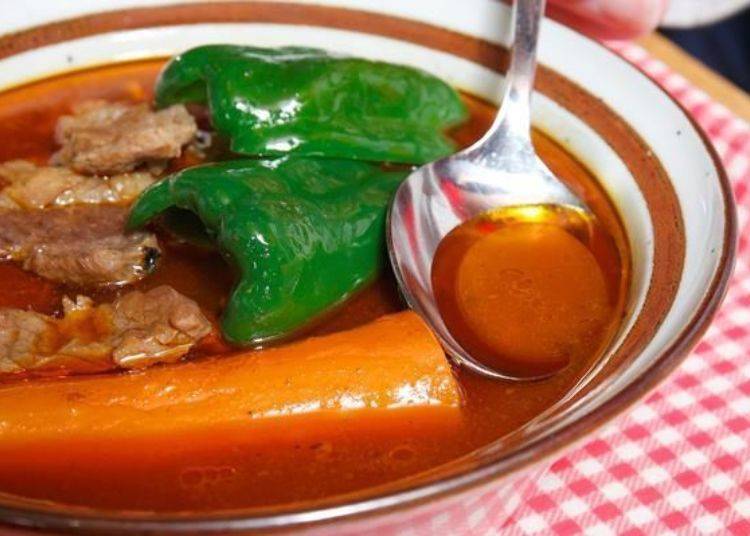 ▲Lots of oil with a deep flavor!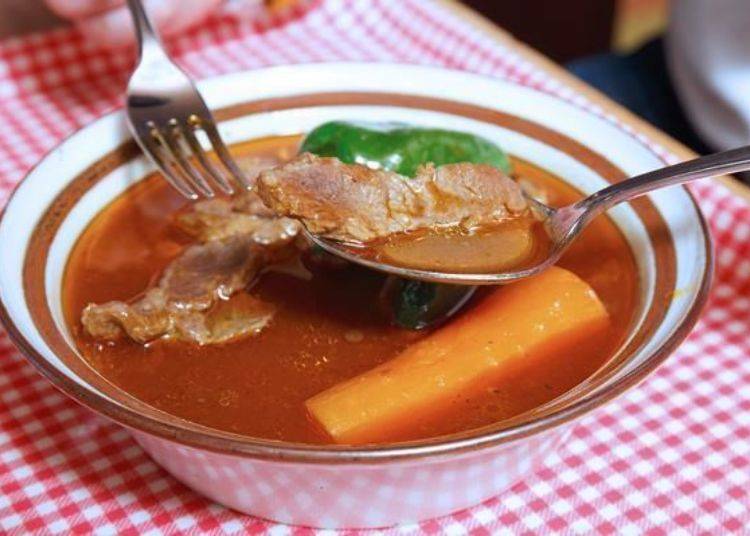 ▲Soft juicy bite size lamb. The distinct smell of lamb can't be smelled.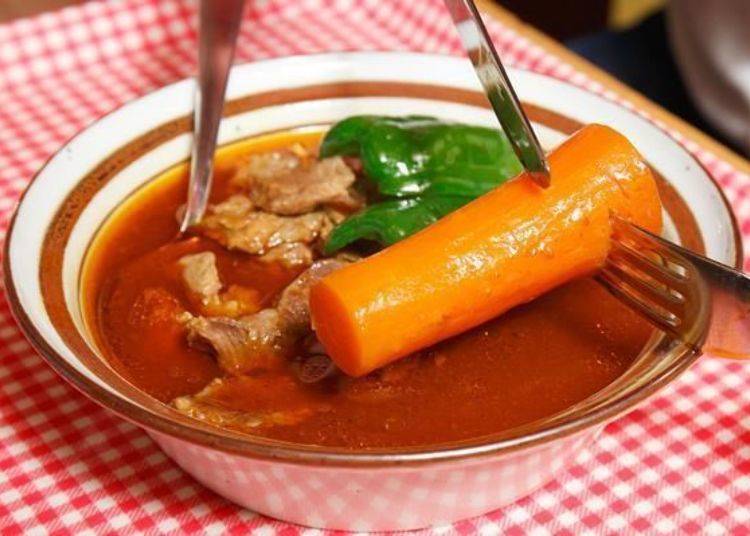 ▲Torikari and Lamkari uses a huge carrot.
Lamkari is stewed in the Torikari soup, however the lamb meat juice fuses with the soup and produces a completely different taste from Torikai. Still spicy but milder than Torikari.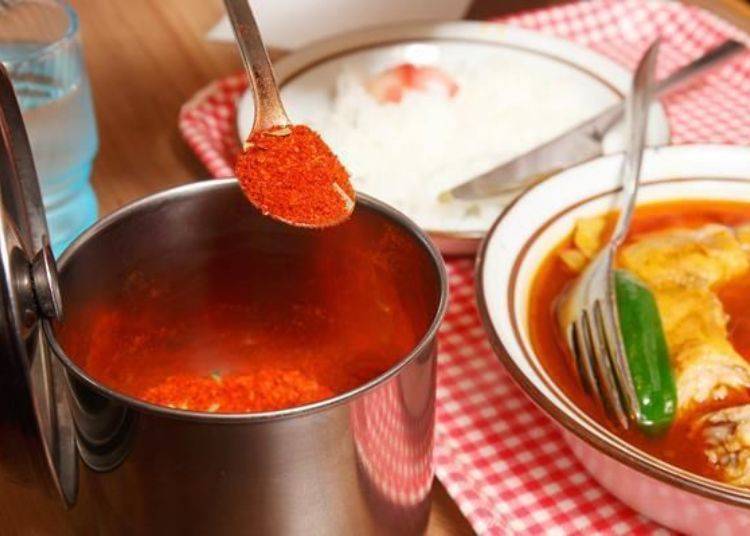 ▲You can adjust the spiciness of the curry with the masala powder on the table.
When you order you can make requests such as mild spiciness, less rice, more rice and others.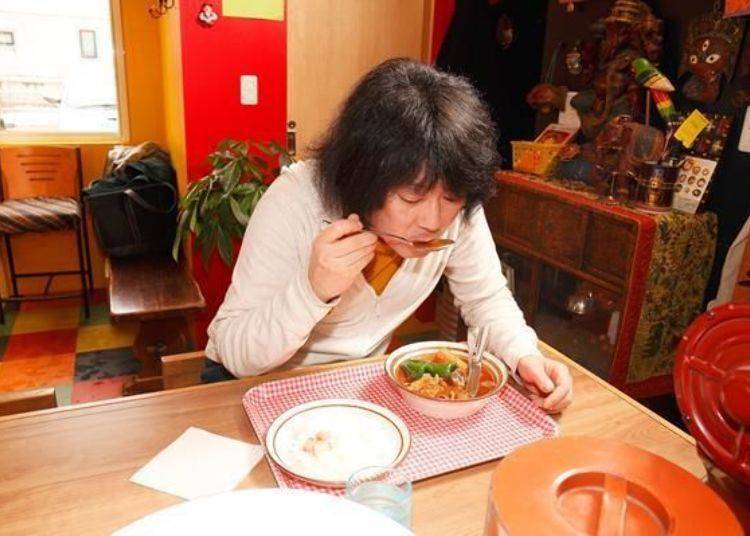 ▲The original soup curry is like eating (drinking!?) oil and spices!
Ajanta Indian Curry continuing the original taste. A traditional taste that is worth the visit.
アジャンタインドカリ店

Address

〒064-0929 北海道札幌市中央区南29条西10-6-5/10-6-5, Minami29-jonishi, Chuo-ku Sapporo-shi, Hokkaido, 064-0929, Japan

Phone Number

011-301-6070

Hours: 11:30 AM ~ 3 PM
Closed: Friday, Obon Season and End of the year to New Years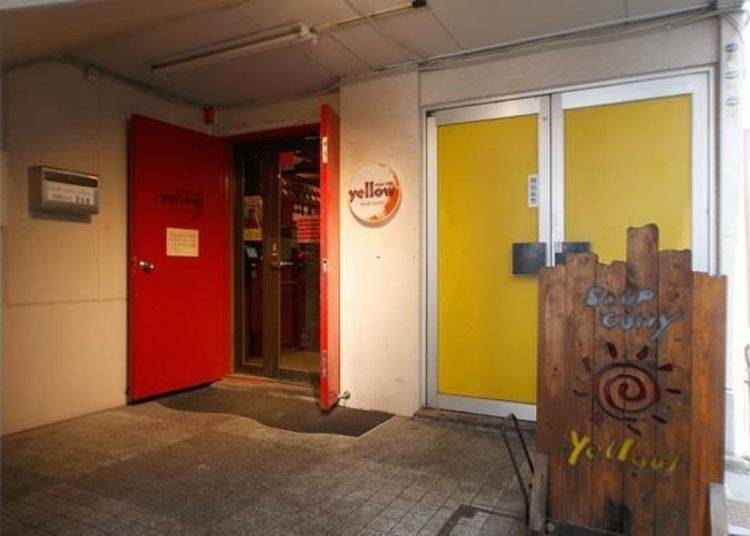 The final stop is Soup Curry yellow located in the shopping district. A one minute walk from Toho Subway Line Hosui-Susukino Station.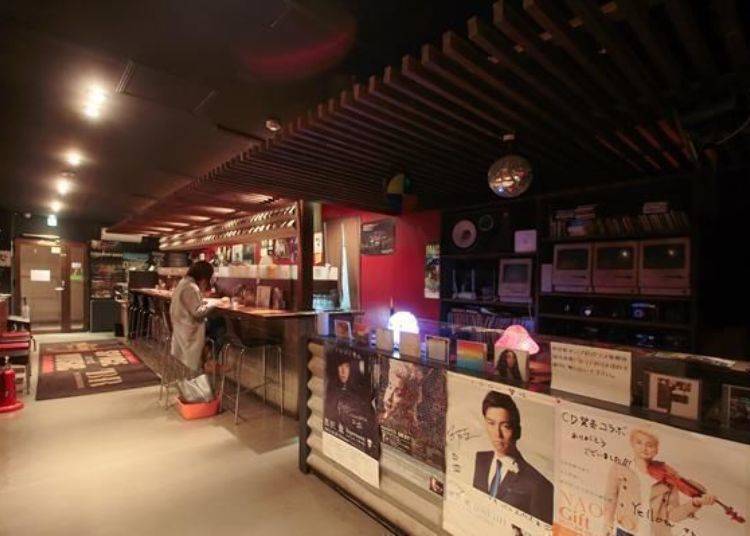 The shop has a unique atmosphere with a DJ booth and disco ball. They don't hold music events - it's just the manager's hobby. Although the sound quality of the music is awesome!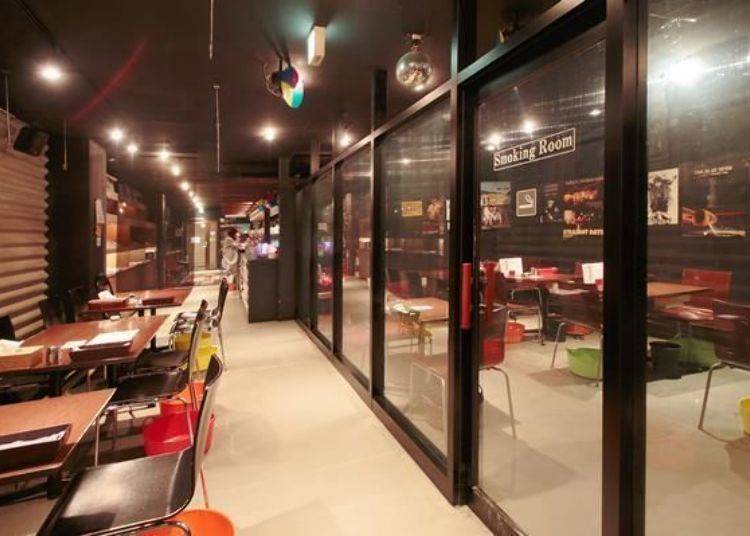 The reason why we recommend this shop is because you can enjoy the night life feeling and the creamy yellow soup filled that is rich and full of flavors.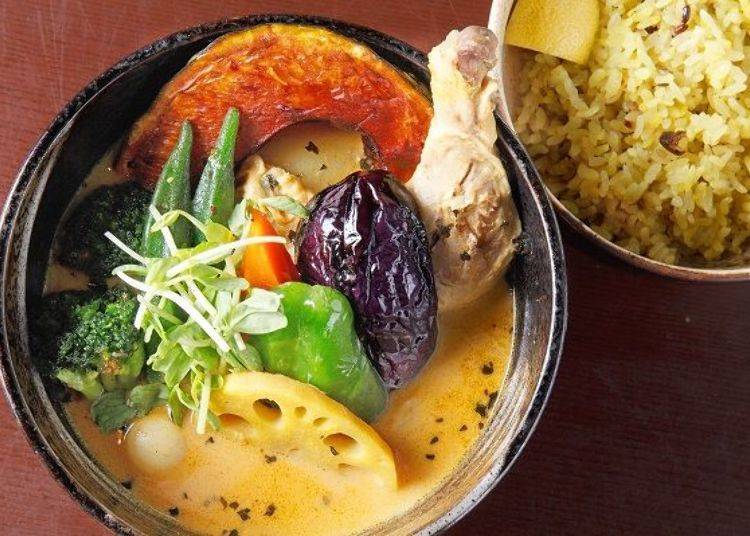 ▲The most popular dish is the Chicken Vegetable Curry (1,200 yen). The Soup and rice are both yellow
Pork bone, chicken bone and potherbs are cooked in the pressure cooker at 126 degrees and 3.2 atm. All the flavor is extracted from the bone and blended with some seafood broth. Then 13 different spices are added to create a unique yellow soup.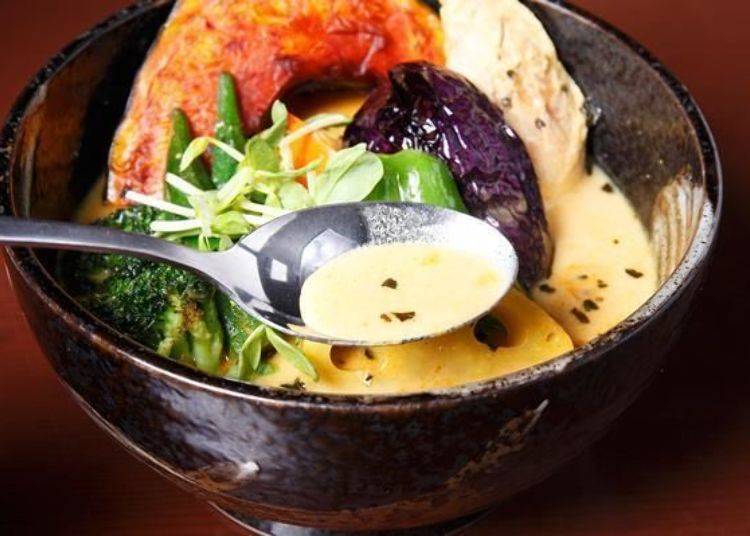 ▲When you scoop the soup it looks whitish
The rice is a 9-grain blend of white rice, barley, amaranth, turmeric and others. Squeezing some lemon on the rice and mixing it with the rich paitan soup (white soup), various textures and flavors expands in the mouth!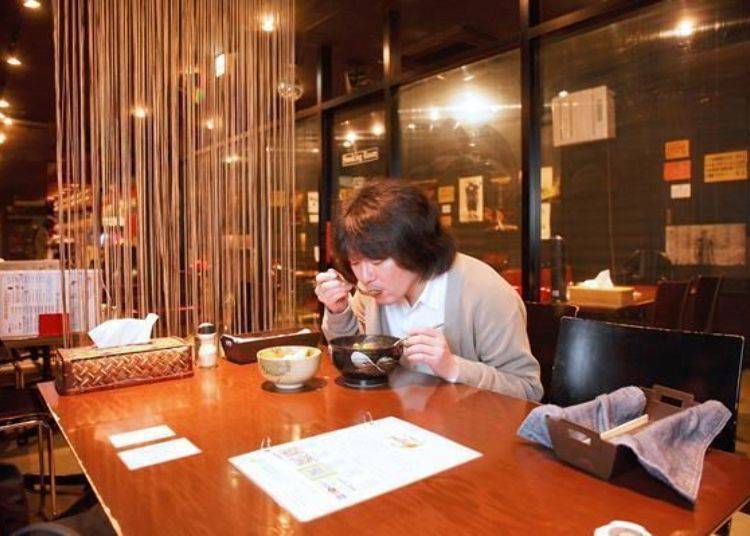 ▲Excellent soup packed with flavors! A comfortable atmosphere for a casual drink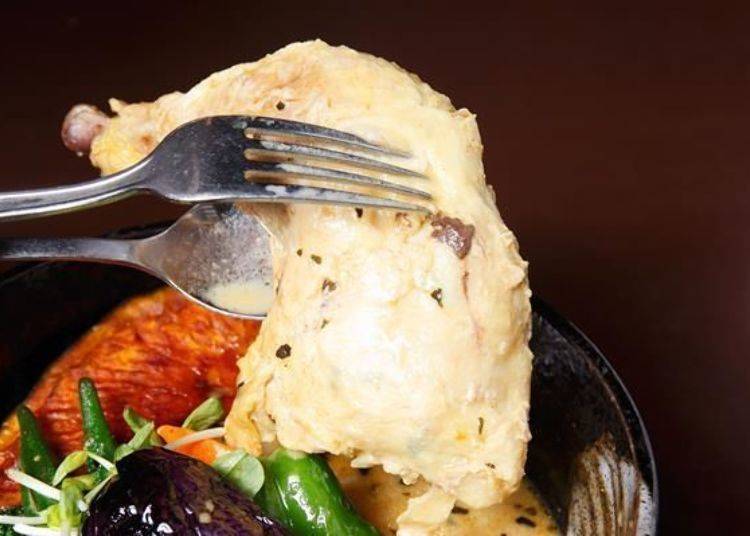 ▲A big piece of boned chicken thigh in the Chicken Vegetable Curry!
The menu offers various dishes such as braised pork, tofu and some motsunabe (beef or pork tripe hot pot) style curry. Here is one we strongly recommend!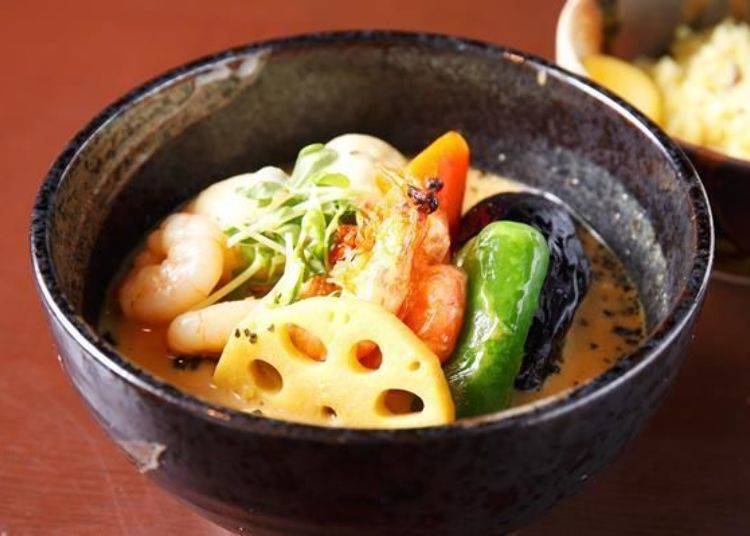 ▲Edible Shrimp Shell Curry (1,300 yen)
A shrimp filled Hokkaido soup curry with soft shell shrimp, peeled shrimp and shrimp dumpling. A dish that offers various shrimp at once.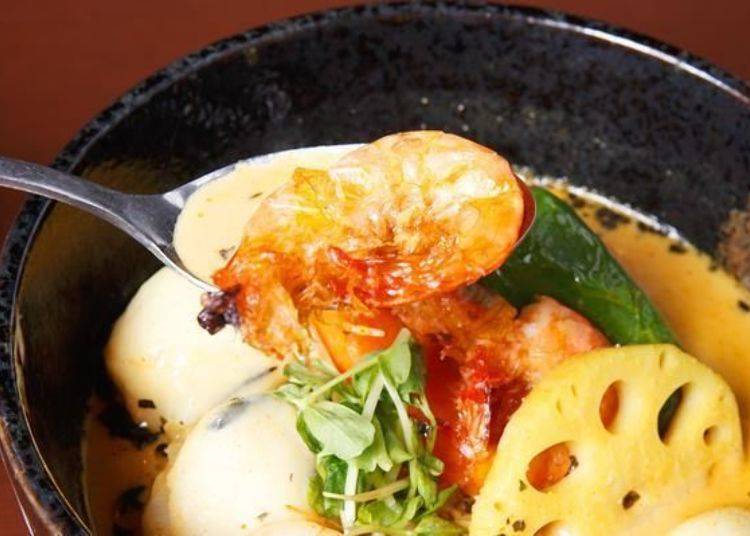 ▲The soft shell shrimp is frequently used in Thai and Vietnamese cooking, and just like the name you can eat the whole shrimp, including the head with its soft shell
At Soup Curry yellow, you can pick what ingredients you want in the rich soup. What would you pick?
スープカリー yellow

Address

〒060-0063 北海道札幌市中央区南3条西1-12-19 エルムビル1階/Erumu Bld.1F, 1-12-19, Minami3-jonishi, Chuo-ku Sapporo-shi, Hokkaido, 060-0063, Japan

Phone Number

011-242-7333

Hours: 11:30 AM ~ 10 PM (last order 9:30 PM)
Closed: End of the year and New Year's holidays
Just like ramen, depending on the person's preference each Sapporo soup curry shop has their own flavor. It's not about good or bad, but about the difference in flavor. The shops we recommended here are all based on the writer's preference. With so many soup curry shops, try a few and find which one matches your preference.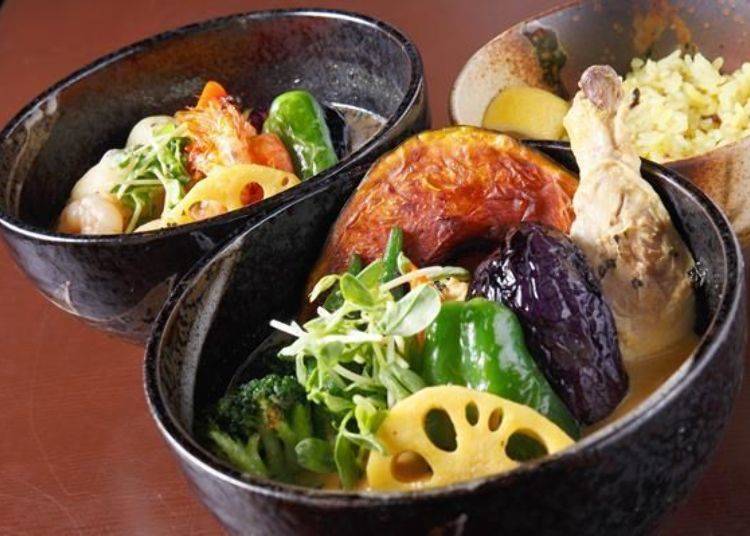 *All prices in the article include tax
Written by : Nobuhiro Kawashima
*This information is from the time of this article's publication.
*Prices and options mentioned are subject to change.
*Unless stated otherwise, all prices include tax.
Limited time offer: 10% discount coupons available now!