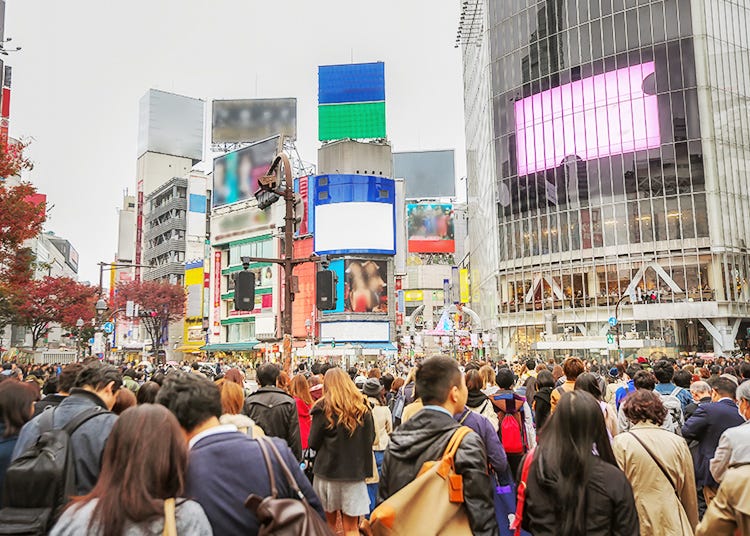 Shibuya
Shibuya:Overview & History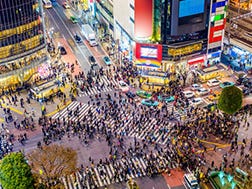 Famous for its dizzyingly busy scramble crossing and its shopping centers, Shibuya is a place where people of all ages can have fun day and night but only if they are willing to brave the agoraphobia-inducing crowds. Most first-time visitors will first stop and say hi to Hachiko, the dog whose love and devotion has been bringing people to tears for almost a century. From a village in the 19th century, Shibuya became one of the most famous Tokyo district. This is especially true among the youth who come to enjoy worldwide renowned fashion department stores, such as the Shibuya 109, located close to the Station. A little further away, along the Dogenzaka area, some of the best nightclubs, restaurants and bars in the city are always attract a diversified clientele.
Shibuya:Area Introduction
Shibuya Crossing Area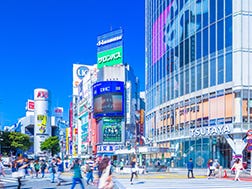 One of the most famous landmark in the area is the Hachiko statue, meeting point but also photo spot for tourists. Don't hesitate to take a moment to watch all the lights turn red at the same time and see the pedestrians surging into the intersection, a sight that never wearies.
Literally two minutes away from the crossing is the perfect place for those looking for a more traditional experience: Nonbei Yokocho. Meaning literally "drinkers alley", this Showa retro style street is filled with dozens of traditional taverns.
In the walkway within Mark City, a famous shopping facility in the area, is a masterpiece by Taro Okamoto, Myth of Tomorrow. This huge mural features the moment of an atomic bomb, and is a powerful artwork to see.
Center Gai Area
Located near the Shibuya crossing, Center Gai is like a never-ending concentration of restaurants, karaoke and bars. It's in the 1950s that the area started to be frequented by young people, after improvement works were done on the Udagawa River, responsible of several flood damage in the area.
Close to Center Gai, another street is worth the visit: Spain Zaka. Known for its unique Mediterranean atmosphere, it is full of small shops and restaurants.
Dogenzaka Area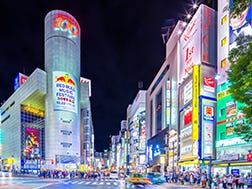 At the west of Shibuya station, Dogenzaka is an area where the crowd never seems to dies down, with its streets full of entertainment center, restaurants and shopping facilities.
At the corner of the street, a visit to the Shibuya 109 is a must-do for any first-timer in the area. More than a hundred stores are located inside this fashion sanctuary, and most of them changes on a yearly basis, a way to follow (and make!) the latest trends.
Another famous stop by is the Don Quijote discount store. Very popular with foreign tourists and locals alike, it is the perfect place to find souvenirs, clothes, electronics and much more.
Mid-September; Konno Hachimangu Shrine Festival
This ancient festival is held to pray for a prosperous harvest, the prosperity of the neighborhood, and protection from disaster and diseases. Look forward to the parade of 14 portable shrines right in front of Shibuya 109!
Access from Narita Airport to Shibuya
From Narita Airport Station (Terminal 1), take the JR Narita Line Narita Express 20 bound for Shinjuku. After about 1 hour and 3 minutes, get off at Shibuya Station.
Access from Haneda Airport to Shibuya
From Haneda Airport International Terminal Station (Keikyu), take the Keikyu Airport Line (Limited Express "Kaitoku") bound for Aoto. After about 13 minutes, get off at Shinagawa Station and transfer to JR Yamanote Line bound for Shibuya and Shinjuku. After about 12 minutes, get off at Harajuku Station.