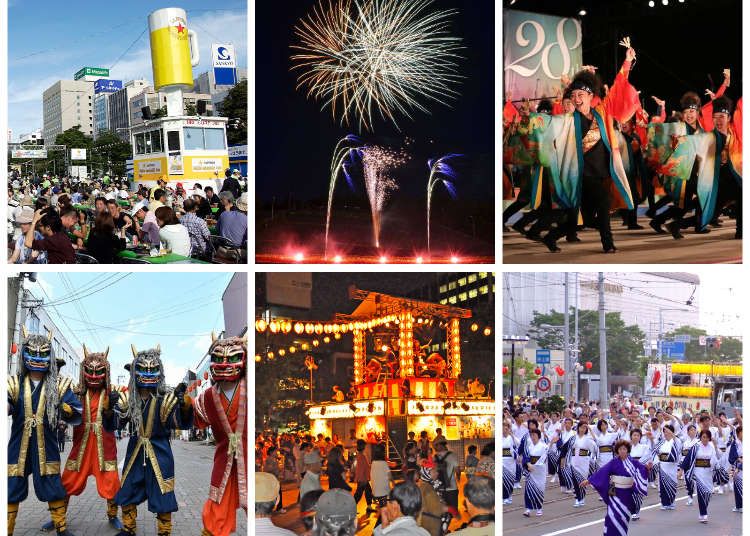 As spring and summer come to Hokkaido, towns and cities all over the region hold enjoyable events of all sorts and festivals to welcome and celebrate the season.

These can range from small celebrations to large-scale Japanese festivals, and the sheer variety available means that every demographic is catered to! Here's a carefully curated list of must-see spring and summer events and festivals in Hokkaido, compiled by a local writer in the know for your handy reference.

We're confident there will be something here that's just what you're looking for to experience in your next Hokkaido adventure!

*The events introduced here may be canceled or scaled down in the future in light of social conditions. Please check the official website for implementation and other information.

Main image credit: Goryokaku Tower
April / May: Sakura Night Illuminations at Goryokaku Park (Hakodate City)
A beautifully illuminated sakura avenue that turns into a fantastical sight at night (Photo credit: Goryokaku Tower)
Goryokaku in Hakodate City, about a 4-hour express train ride from Sapporo, or a 4.5-hour drive via expressway, is an unusual star-shaped fortress that was built towards the end of the Edo era (1600 to 1868).

Nowadays, it's also known as one of the best sakura viewing spots in Hokkaido, with approximately 1,600 sakura trees blooming beautifully every year here between late April to the middle of May.

Someiyoshino and yaezakura are but a couple of sakura species you can expect to see here. When surrounded by these pastel pink petals, the usually stern-looking fortress transforms into a friendly fort of flowers that is welcoming to all.

To get a view of the sakura and fortress from above, go up Goryokaku Tower. If possible, aim to go between 7:00 p.m. to 9:00 p.m., since this is the period of time when the sakura below will be lighted up. The result is a magical sight that draws onlookers into a fantasy world, completely different from the usual view during the day.

Because there are many species of sakura planted here, even if you miss the early-blooming Somei-Yoshino sakura trees, you can still drop by at another time to enjoy the late-blooming yaezakura. As long as it's sakura season, there's always a spectacular sight waiting to be discovered here!

・Event period: Late-April – Early-May
・Event hours: 7:00 p.m. – 9:00 p.m. (during 2019)
・2021 status: To be determined (as of March 20)
・Phone: 0138-40-3605 (Hakodate Housing and City Facilities Public Corporation)
Goryokaku Park Sakura Night Illuminations

五稜郭公園 夜桜ライトアップ

Address

44, Goryokaku-cho, Hakodate-shi, Hokkaido 040-0001

Nearest Station

Access: 15-minute walk from the Hakodate Transportation Bureau tram stop in front of Goryokaku Park


Hours: 8:45 a.m. – 5:00 p.m.
Closed: Weekends and holidays
May / June: Higashimokoto Shibazakura Festival (Ozora Town)
The brilliant contrast between the clear blue sky and shibazakura is a sight for sore eyes (Photo credit: Ozora Town Tourism Association)
Higashimokoto Shibazakura Park started with a handful of shibazakura (lawn cherry) seeds in 1977, planted by a neighborhood farmer who wanted to beautiful the vicinity with flowers.

Every year, more seeds were planted, expanding the flower field further until it now occupies an expansive 10 hectares of space. The best timing for catching the shibazakura in its full, vivid pink glory is between mid-May and early June.

Every year, a Shibazakura Festival is held during sakura season to bring even more life and gaiety to the area. Over the weekend, fun festivities like pop song performances and karaoke singing are enjoyed by people of all ages.

In addition, due to the large size of the park, there is an internal tour bus (round trip tickets cost 300 yen for adults and 150 yen for children) that will take visitors to places of interest within the park.

This allows everyone - young and old - to spend their energy enjoying the beautiful sights here instead of walking around - unless that's part of the fun for you, of course!

This year, a sakura night illumination event is scheduled to be held between May 20 to May 22, 2021, and fireworks will be set off during this time as well. It's hard not to be mesmerized by the brilliant lights from the fireworks casting an occasional dreamy glow over an illuminated field of shibazakura!

・Event period: May 3 – June 6
・2021 status: On May 3, only the opening ceremony for the event will be held. Weekend activities have been canceled. Illuminations are scheduled to go ahead and will light up between 7:00 p.m. to 9:00 p.m. from May 20 to May 22. Fireworks are scheduled to be set off at 8:30 p.m. during this period.
・Higashimokoto Shibazakura Park admission fee: Adults (Above 12) 500 yen; Minors (12 and below) 250 yen

Covid-19 Countermeasures:
All visitors are required to put on masks and face shields at all times
Address

393, Higashimokotosuehiro, Ozora-cho, Abashiri-gun, Hokkaido, 099-3232
View Map

Nearest Station

Bihoro Station (Sekihoku Main Line)
30 minutes by car


Phone Number

0152-66-3111
June: YOSAKOI Soran Festival (Sapporo City)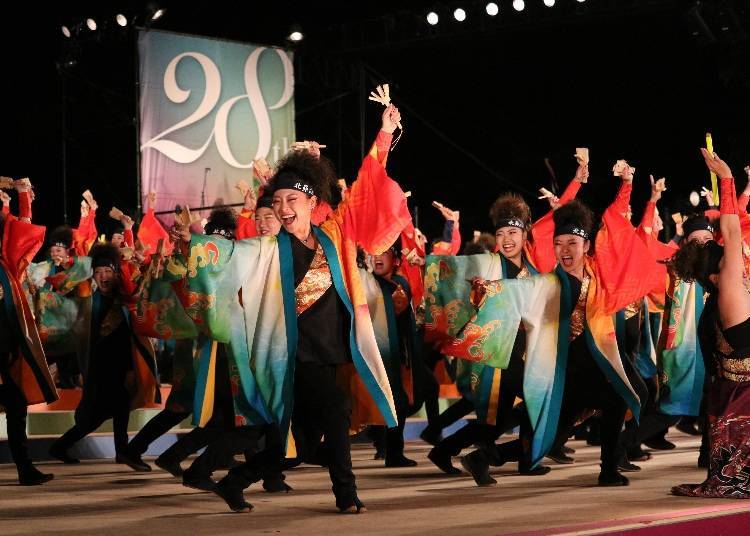 A day when Sapporo is filled with the fervor of enthusiastic dancers (Photo credit: YOSAKOI Soran Festival Organizing Committee)
If you've never attended a YOSAKOI Soran Festival before, boy, are you in for a treat! This is a traditional Sapporo seasonal event that is held every year in early summer.

It all started when some students from Hokkaido University saw the Kochi YOSAKOI Festival (a massive street performance event that runs for four consecutive days, drawing hundreds of teams and thousands of participants every year), and, moved by the intensity of the event, decided to bring it to Sapporo as well.

They combined the name "YOSAKOI Festival" with Soran Bushi, a well-known Hokkaido folk song, and started what we now know as the YOSAKOI Soran Festival in 1992.

The festival first began with 10 teams of performers dressed in unique costumes and dancing energetically with bird clappers in hand. Many spectators were captivated by the first event, and more teams joined in the next time it was held.

The festival has since grown into a large-scale event with about 280 teams of performers from Japan and around the world taking part every year! All teams will perform in Odori Park, the main venue of the event, and the ardent dancing will last five days, raising the heat in Sapporo before summer even begins in earnest!

・Event period: June 9 – June 13
・2021 status: The event has been canceled due to Covid-19

Covid-19 Countermeasures:
The event will comply with Covid-19 countermeasures stipulated by the government and local authorities.

・Phone: 011-231-4351 (YOSAKOI Soran Festival Organizing Committee)
・Hours: 9:00 a.m. – 5:30 p.m.
・Closed: Weekends and holidays

*The event has been postponed for 2021. Please check the official website for the latest information.
June: Hokkaido-Jingu Shrine Traditional Festival (Sapporo City)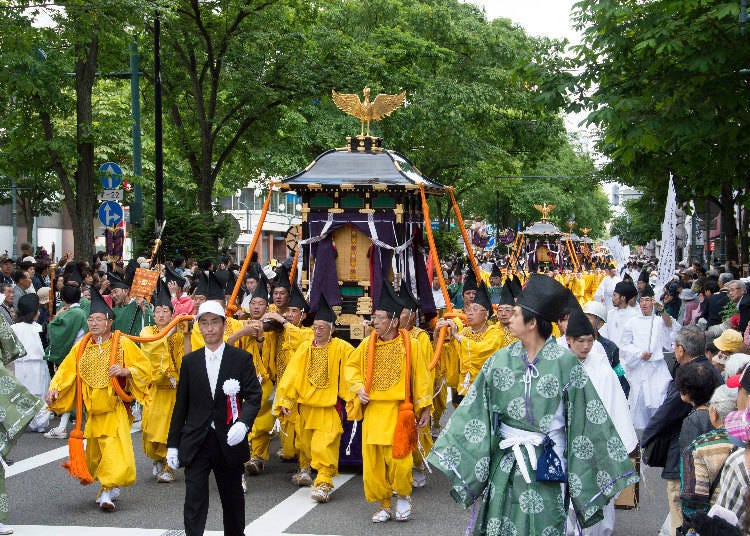 Mikoshi and floats being paraded through the city center (Photo credit: Hokkaido-Jingu Shrine)
There's yet another lively early summer event in Sapporo city that merits attention - a traditional festival known as Sapporo Matsuri, held by Hokkaido-Jingu Shrine every year between June 14 to June 16. It's been running for more than 100 years!

The mikoshi togyo (portable shrine transportation) parade on the 16th is an event where residents decked in garments straight out of Heian period (794 to 1185) picture scrolls escort nine parade floats and four mikoshi (portable shrine) throughout the city center.

The vividly colorful and majestic scene is more than simply a head-turner - it is rich in cultural significance as well and will add flavor to your Hokkaido trip for sure.

During the festival, the shrine also holds some traditional worship events that you can observe if you are curious about the rites. Otherwise, check out the countless food booths that will pop up on shrine premises and the nearby Nakajima Park to get into the festive mood.

Finally, to bring yourself back into the modern world after having your fill of traditional activities, drop by some of the temporary entertainment attractions that will be set up in the park as well, such as a haunted house, stage performances, and motorbike circus shows.

・Event period: June 9 – 13, 2021
・2021 status: The festival has been canceled due to social conditions

Covid-19 Countermeasures:
The event will comply with Covid-19 countermeasures stipulated by the government and local authorities.

・Phone: 011-621-0769 (Hokkaido-Jingu Shrine)
Address

474 Miyagaoka, Chuo-ku, Sapporo-shi, Hokkaido, 064-0959
View Map

Nearest Station

Maruyama koen Station (Tozai Line)
15 minutes on foot


Phone Number

011-611-0261
July: Toyohira River Fireworks Show (Sapporo City)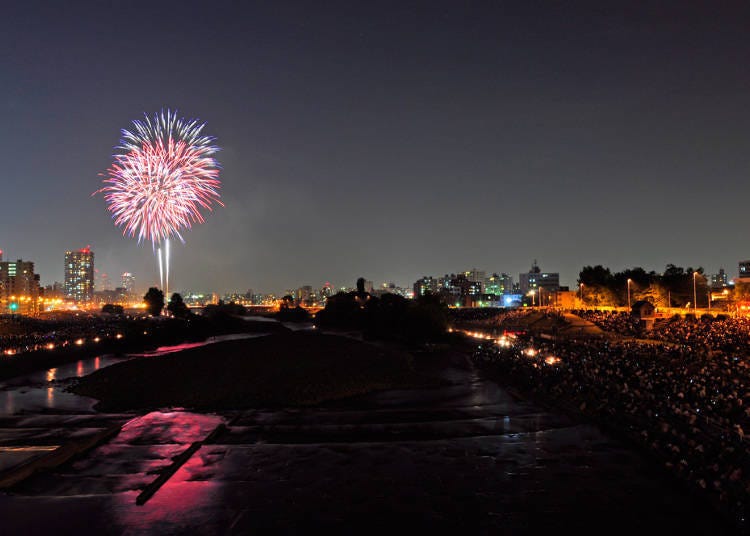 Fireworks lighting up Toyohiragawa with vibrant colors
Officially known as the Doshin UHB Fireworks Festival, this event is held in late July every year near the riverbed of Toyohira River, which cuts through the city center of Sapporo.

The show is split into three parts. In total, about 4,000 fireworks will be shot into the night sky. Patterns can range from mainstream favorites to unique novelty fireworks.

The wide star mine pattern where many fireworks are fired into the air in quick succession is a particular highlight that many flock to the event to see. If there's one scene you simply can't miss, it's the grand finale of the show where a seemingly endless stream of fireworks explodes in the air accompanied by the loud cheering of spectators. Talk about sensory overload!

Since the fireworks can be seen from quite a distance away, you don't have to view them from the riverbed if it turns out to be inconvenient. Try other spots like in front of the observatory in Nakajima Park, on Horohira Bridge, or even the Ferris wheel on top of NORBESA building. Look around for the perfect spot and enjoy the show!

・Event period: Last Friday of July
・2021 status: To be determined
・Phone: 011-210-5733 (The Hokkaido Shimbun Press Center)
Doshin UHB Fireworks Festival

道新・UHB花火大会

Address

Near Minami 13 West 1 in Chuo-ku, Sapporo, Hokkaido Toyohira River Riverbed Minami Ohashi-Horohirabashi 064-0913

Nearest Station

Access: 5-minute walk from Horohirabashi Station or Nakanoshima Station on the Sapporo Municipal Subway

July: Otaru Ushio Festival (Otaru City)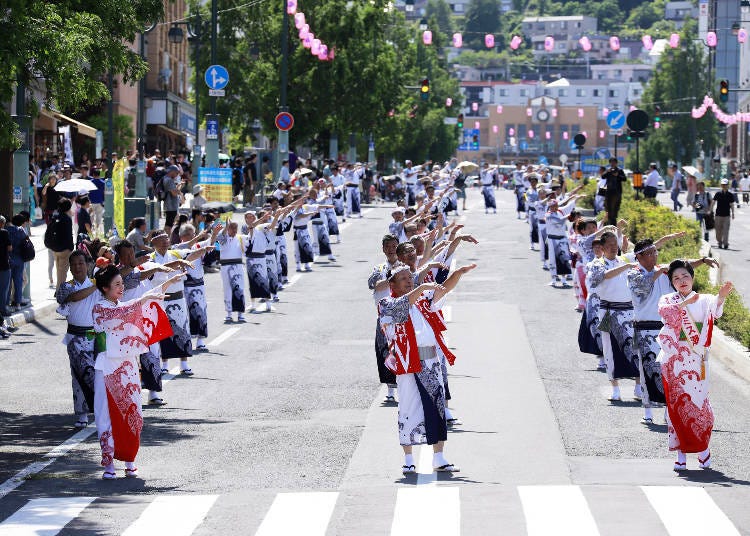 The festival pumps up the mood in the usually breezy seaport
The Otaru Ushio Festival is one of the city's most iconic summer festivals. It lasts for three days and is held on Wharf No. 3 of Otaru Port some time in late July every year.

The event was first held in 1967, and ever since then, it has settled in the minds and hearts of local residents as a festival that truly portrays what the spirit of Hokkaido and Otaru represents.

The main draw of this event is the ushionerikomi, where participants parade through the streets while dancing to a number of lively songs. The dancers are usually teams that have registered to do so, but the event is a free-for-all and everyone is welcome to jump in at any time to take part!

On the final day of the festival, a boat competition known as the Ushio Residents' Regatta will be held. A parade of fishing boats and houseboats will also be going through the port of Otaru, bringing the event to an exciting climax.

The festival then officially ends with a slew of fireworks being shot into the night sky. Even as you watch the sparks from the final few fireworks fizzle out in the sky, the exhilarating feelings the event has evoked in you will surely continue to stay with you for a long time to come!

Otaru City is a relatively short 50-minute drive from Sapporo via expressway, making it a convenient place to drop by to enjoy a day of festivities before heading back to base.

・Event period: Starts three days before the last Sunday of July
・2021 status: To be determined (as of March 20)
・Phone: 0134-32-4111 Ext. 266/267/450/451 (Otaru City Livelihood Harbor Department - Tourism Division)
Hours: 9:00 a.m. – 5:20 p.m.
おたる潮まつり

Address

Minatomachi, Otaru City, Hokkaido 047-0007
July: Nakafurano Lavender Festival (Nakafurano Town)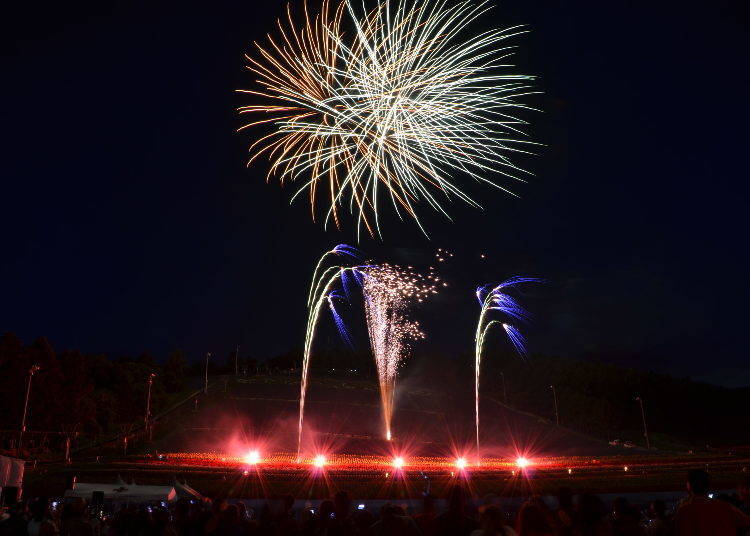 Lavender fields flourishing with a different sort of bloom (Photo credit: Nakafurano Tourism Association)
Flower season in Furano, an area about a 2-hour and 10-minute-drive from Sapporo via expressway, is between late June and early August.

When the lavender is in full bloom in July, they seem to cover the slopes here with a royal purple garment and fill nearby towns with an aromatic fragrance.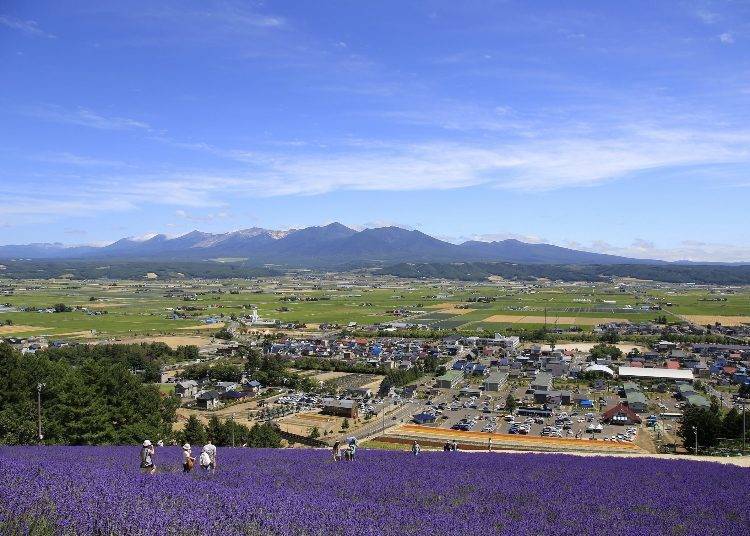 In the midst of this flowering season, the Nakafurano Lavender Festival is held every year at Hokuseiyama Lavender Garden - better known as simply the Furano Lavender Fields.

The rustic sight of this vast stretch of flowers against the backdrop of the Furano Basin landscape can be enjoyed from a vantage point if you take the 5-minute long sightseeing lift through the fields. There will also be a lavender-themed fireworks show at night, if you're looking for something more exciting!

・Event period: Saturday, mid-July
・2021 status: Discussions still being held to determine if the day festivities should be canceled (as of March 20)
Phone: 0167-39-3033 (Nakafurano Tourism Association)
Nakafurano Lavender Festival

なかふらのラベンダーまつり

Address

1-41 Miyamachi, Nakafurano-Town, Sorachi-gun, Hokkaido 071-0714

Nearest Station

Access: 10-minute walk from Nakafurano Station on the JR Furano Line

August: Mikasa Hokkai Bon Odori (Mikasa City)
In Japan, mid-August is known as Obon, and this is the period where the spirits of the dead are said to return to their former places of residence. Therefore, the bon odori (obon dance) is a ceremony that welcomes those spirits back in a lively manner.

In Hokkaido, this dance is performed to the tune of the Hokkaibonuta, a local folk song. Because this song originated from Mikasa City, a large-scale Bon Odori Tournament is held here every year during Obon.

A bon odori tower is set up at Mikasa Central Park for the festival and a staggering amount of people dance vigorously around it between August 13 to 15 every year. Anyone is allowed to participate, and the simple dance moves can be learned within five minutes.

The Noryo Fireworks Show will be held from 7 p.m. onwards on the last day of the event as well, because what's a proper large-scale summer festival without fireworks, right?

The city is a convenient half-hour drive from Sapporo via expressway, making it an excellent choice for a quick day trip of fun-filled festivities.

・Event period: August 13 – 15, every year
・2021 status: To be determined (as of March 20)
Phone: 01267-2-3997 (Mikasa City Hall Industry and Tourism Department)
三笠北海盆踊り

Address

21-1 Taga-cho, Mikasa-shi, Hokkaido 068-2153

Nearest Station

Access: 1-minute from the bus stop outside Mikasa City Hall on the Hokkaido Chuo Bus


Hours: 8:30 a.m. – 5:00 p.m.
Closed: Weekends and holidays
August: Noboribetsu Jigoku Festival (Noboribetsu City)
Fierce-looking ogres lighting up fireworks (Photo credit: Noboribetsu International Tourism & Convention Association Tourist Information Center)
Noboribetsu Onsen is about an hour and 50 minutes from Sapporo via expressway, and it is situated in Jigokudani, which literally means "Hell's Valley"!

This is an apt name for a place that looks as sparse and desolated as it is due to volcanic activities in the area. It is also the theme behind Noboribetsu Jigoku Festival, held every year on the last weekend of August.

Legend has it that King Enma, ruler of the underworld himself according to Japanese tradition, will open the gates of hell and visit the hot spring village along with his ogre followers during this time.

It's therefore not unusual to spot ogre-related events, such as young students dressed up as ogres while dancing, playing drums, or carrying portable ogre shrines around as the festival is ongoing. King Enma would be proud of his underlings!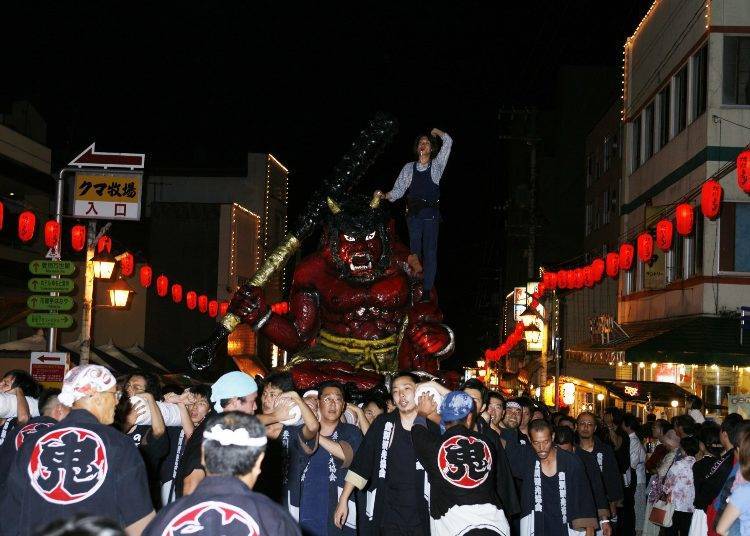 The red ogre used in the highlight of the festival, the mobile ogre shrine parade weighs about one tonne and is carried on the backs of about 100 brave and valiant young ones.

They snake their way through the streets along with loud yelling, and the intensity of the activity makes it an impressive scene to behold and experience. Finally, the festival is closed with an explosive fireworks show at Jigokudani that seemingly buries the valley for a time with the colorful bright sparks of falling fireworks.

・Event period: Last weekend of August, every year
・2021 status: To be determined (as of March 20)
・Phone: 0143-84-3311 (Noboribetsu International Tourism & Convention Association Tourist Information Center)
Noboribetsu Jigoku Matsuri

登別地獄まつり

Address

Noboribetsu Onsen Town, Noboribetsu City, Hokkaido 059-0551

Nearest Station

Access: Take a Donan Bus from Noboribetsu Station on the JR Muroran Main Line heading towards Noboribetsu Onsen. After about 15 minutes, get off at Noboribetsu Onsen Bus Terminal.
About a 10-minute drive from Noboribetsu Higashi IC on the Hokkaido Expressway.


Hours: 9:00 a.m. – 5:00 p.m.
Closed: Not fixed
August: Hakodate Port Festival (Hakodate City)
Wasshoi Hakodate, a walking dance held at the port town of Hakodate (Photo credit: Hakodate International Tourism and Convention Association)
The first Hakodate Port Festival was held in 1935 to comfort residents and revive the city after the Great Fire of Hakodate in 1934. Since then, the festival has continued on for more than 80 years and is recognized as one of Hokkaido's historical events.

Unconventionally, the festival kicks off with a five-part fireworks show instead of ending with one, and these fireworks are shot out from an offshore island, Midori no Shima, filling the night sky with dazzling colors.

As there are hardly any tall buildings in Hakodate, you can view the fireworks from nearly anywhere in the city. For a unique view, try going up to Mount Hakodate. Watching the fireworks from a height makes them seem closer, larger, and very much more impressive!

Hakodate is about a 4-hour express train ride from Sapporo, or a 4.5-hour drive via expressway, so definitely make some plans in advance if you wish to take part in the festivities!

Wasshoi Hakodate is the main event of the festival. About 20,000 residents will gather in costume and do the Hakodate Harbor Dance or Hakodate Squid Dance together - dances that every Hakodate resident is said to know by heart!

Non-residents are also welcome to take part as well, so if that's your intention, watch a video or two of these simple dances on the official homepage and practice a little before heading down.

The dance festival is technically a contest and the winners are announced on the last day of the event. Anyone can join by as long as they register, so don't be afraid to sign up and unleash the inner dancer within!

・Event period: August 1 – 5, every year
・2021 status: To be determined (as of March 20)
・Phone: 0138-23-5440 (Hakodate City Tourism Center)
函館港まつり

Address

12 Wakamatsu-cho, Hakodate City, Hokkaido 040-0063 (Hakodate Station venue)

Nearest Station

Access: Right next to Hakodate-ekimae tram stop on the Hakodate Transportation Bureau tram car


Hours: 9:00 a.m. – 7:00 p.m.
Closed: End of year and start of year holidays
Hokkaido's summer festivals reflect the fervor of local residents for this short but spirited season
In Hokkaido, warmth is said to be a rare commodity that starts rapidly fading away after mid-August. It's really no wonder then that residents of the region put their heart and soul into making the most of these summer festivals before the heat dissipates, both literally and figuratively!

Other than the major events being listed here, there are plenty of festivals being held in villages and settlements that are of a smaller scale or more food-focused as well, so do some exploration if you can and enjoy the splendor of summer in Hokkaido through these bustling events!

*Information in the article is accurate as of March 2021. For latest updates, please check the official websites of the respective events.

Text by: Masakazu
English translation by: Huimin Pan
*This information is from the time of this article's publication.
*Prices and options mentioned are subject to change.
*Unless stated otherwise, all prices include tax.
Limited time offer: 10% discount coupons available now!