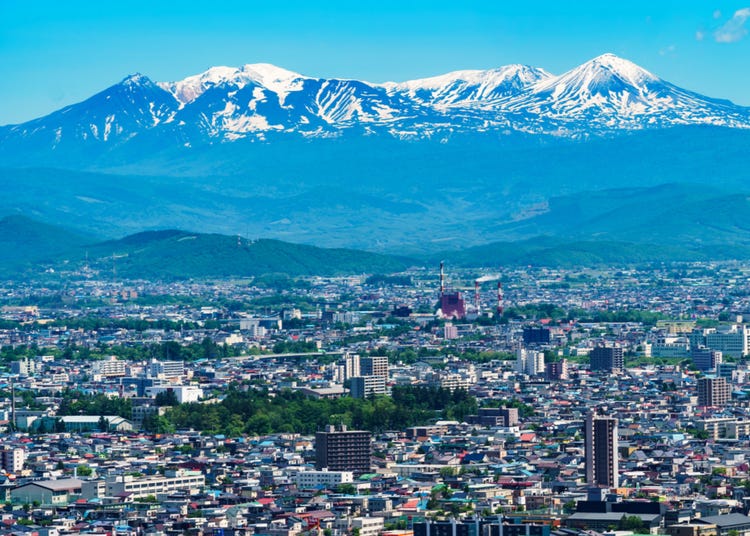 Ready to travel to Asahikawa? Located just around the center of Hokkaido is Asahikawa City, Hokkaido's second-largest city after Sapporo.
There are so many attractions in Asahikawa, including popular Asahikawa ramen shops and the Asahiyama Zoo, which has fans all over Japan. If you're into nature, the Daisetsuzan National Park nearby is home to an impressive mountain range. Plus, there's so much to enjoy on your way to Asahikawa and back, such as the sweet shops along the way when traveling from Sapporo.

Let's take a look at how we can enjoy the area with our five-day Asahikawa itinerary!
Day 1: Try Some Sweets at 'Sunagawa Sweet Road' on Your Way to Asahikawa
Rent a car when you arrive at Chitose Airport. The one-way option will suffice as public transport will be the mode of transportation back. The journey starts as soon as you rent the car! Head down the Hokkaido Expressway towards Ebetsu and Asahikawa.

Get off the expressway at the Naie-Sunagawa IC and head towards Sunagawa City. Sunagawa City was once a mining town where the coal miners often relied on sweets to relieve their fatigue. For that reason, the sweets industry flourished in Sunagawa. Now, Sunagawa has its own 'Sunagawa Sweet Road,' which is home to as many as 19 different sweet shops that offer a range of sweets, including cakes, Japanese sweets, bread, gelato, and donuts.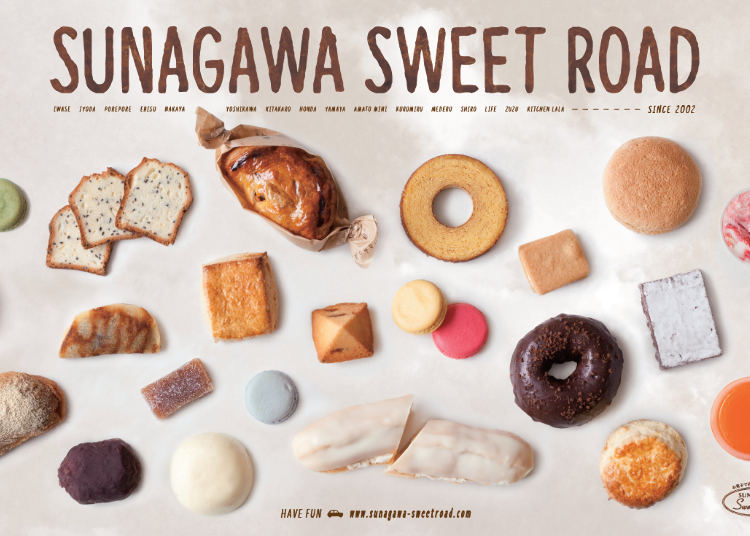 Scattered along National Route 12, the 19 stores of Sunagawa Sweet Road include a wide range from well-established confectionery shops to trendy cafes. Thus, in addition to the locals, many visitors from outside Hokkaido come here to buy sweets too. There are many different types of desserts available, so go around and visit the various stores to try them out!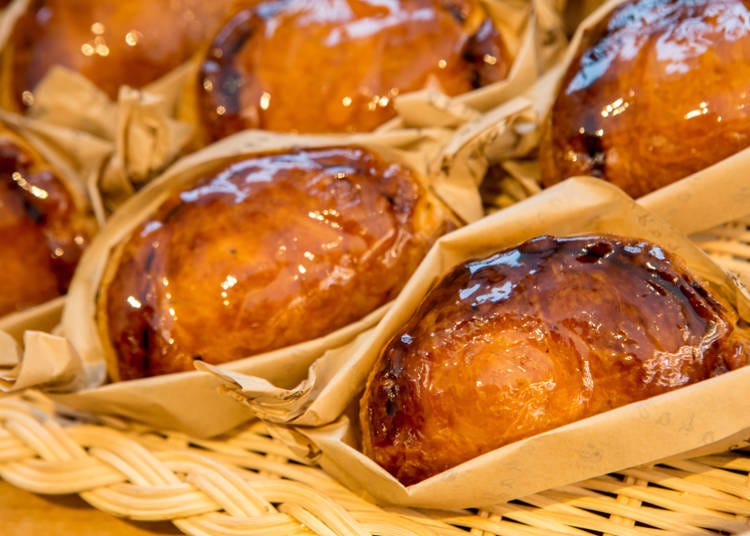 Apple pie from Nakaya Kashiten (367 yen; tax-inclusive).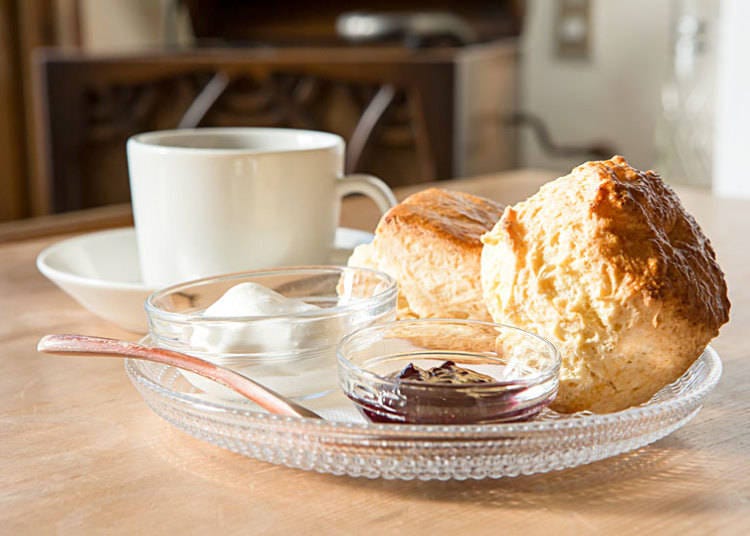 Coffee (takeaway: 400 yen; tax-inclusive) and scones (takeaway: 170 yen; tax-inclusive) from CAFÉ MEDERU *Only allowing take-outs as a measure against the spread of COVID-19 (as of 23 June 2020)
Sweet Road is home to the main store of the famous sweets shop, Kitakaro.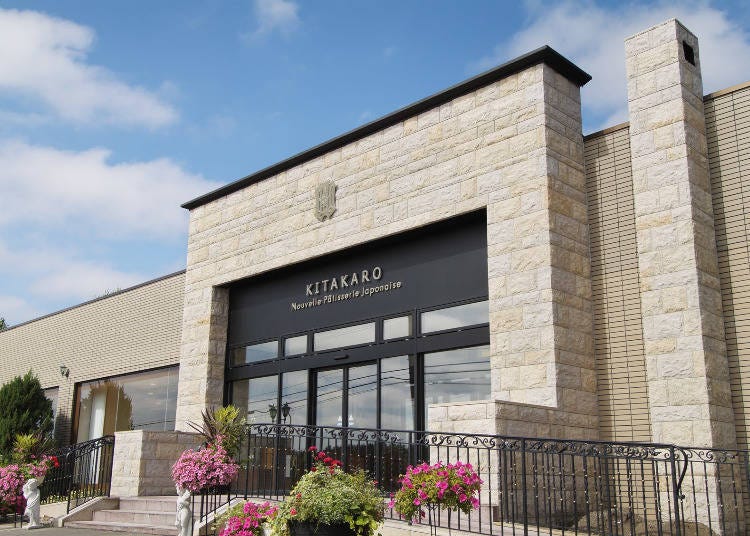 Established in 1991 in Sunagawa, Kitakaro now has shops in Chitose Airport and in Sapporo City. Its sweets are beloved by both locals and tourists alike.

The "Hokkaido Kaitaku Okaki" is a classic Hokkaido snack made using locally produced glutinous rice. It is meticulously made over seven days, by first polishing the rice, then steaming it, turning it into mochi, leaving it to age, and then dry, followed by frying and seasoning. The result of this arduous process is fragrant rice crackers with a unique, firm texture and rich flavor.

There is a variety of Hokkaido Kaitaku Okaki to choose from. The flavors include scallops from Esashi, autumn salmon from Shibetsu, hokkai shrimp from Notsuke Odaitō, and sweet shrimps from Mashike, all of which are Hokkaido produce. There are also seasonal flavors like sea urchin, so look out for those when you visit!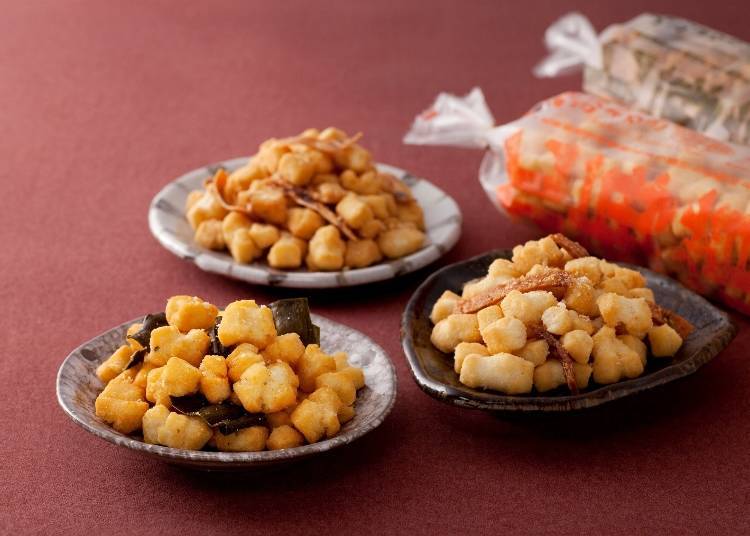 Individual packs (440 yen onwards; tax-inclusive) and assortments (1,339 yen onwards; tax-inclusive) of "Hokkaido Kaitaku Okaki"
Made with carefully selected ingredients produced in Hokkaido, the "Yōsei no Mori Baumkuchen" is one of the popular items here. This cake has a soft, spongy mouthfeel, delivers a refreshing sweetness, and simply melts in your mouth. To create its moist texture, the bakers bake one cake at a time carefully, while making necessary adjustments to the baking conditions, the thickness of the dough, the temperature of the kiln, and so on. This Baumkuchen is definitely something you should get when you stop by Kitakaro.
"Yōsei no Mori Baumkuchen" comes in a whole cake (1,296 yen onwards; tax-inclusive), a pack of five slices (810 yen; tax-inclusive) and individually packed slices (151 yen; tax-inclusive).
The Hokkaido Kaitaku Okaki tastes best when eaten within three weeks, and the Yōsei no Mori Baumkuchen within two, so do keep this in mind if you are purchasing them as souvenirs to bring back home.

Moreover, the store has measures to tackle the spread of COVID-19 by providing hand sanitizers and ensuring social distancing.

A café has been set up next to the Sunagawa main store so you can enjoy Kitakaro's sweets right away. You can even have lunch here as there are main course options like omurice and spaghetti available. (Currently, as a measure against the spread of COVID-19, the café is temporarily closed. Please visit Kitakaro's homepage to check on the café's reopening and hours before visiting.)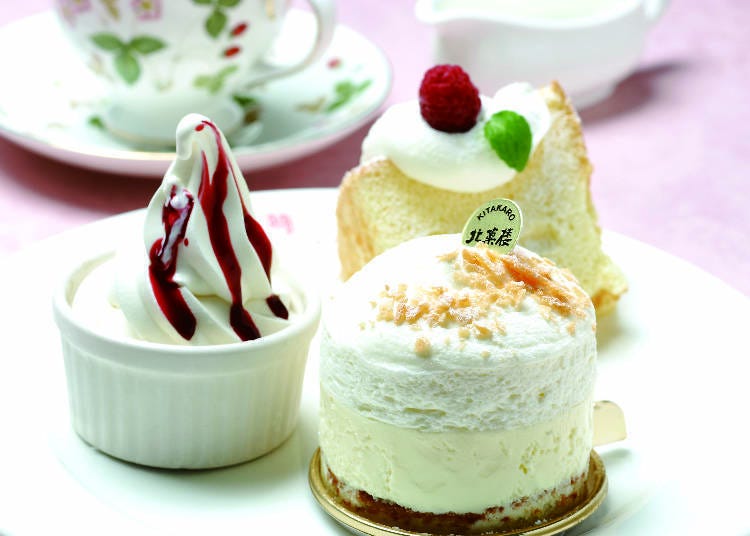 Cake set with a drink (770 yen; tax-inclusive)
Once you have had your fill of sweets, head back onto the Hokkaido Expressway for Asahikawa. As the rental car is to be used for only one day, make sure to return it before checking into the hotel.
すながわスイートロード

Address

Sunagawa Shi, Hokkaido

TEL::0125-54-2121
北菓楼 砂川本店

Address

19-2-1 Nishi 1-jō Kita, Sunagawa-shi, Hokkaido 073-0197

Phone Number

0125-53-1515

Opening Hours: 9:00 a.m. – 6:00 p.m.
*Due to COVID-19, the opening hours have been shortened. Please visit the home page for more details.
Closed: New Year's Day
Day 2: Spend A Full Day at Asahiyama Zoo!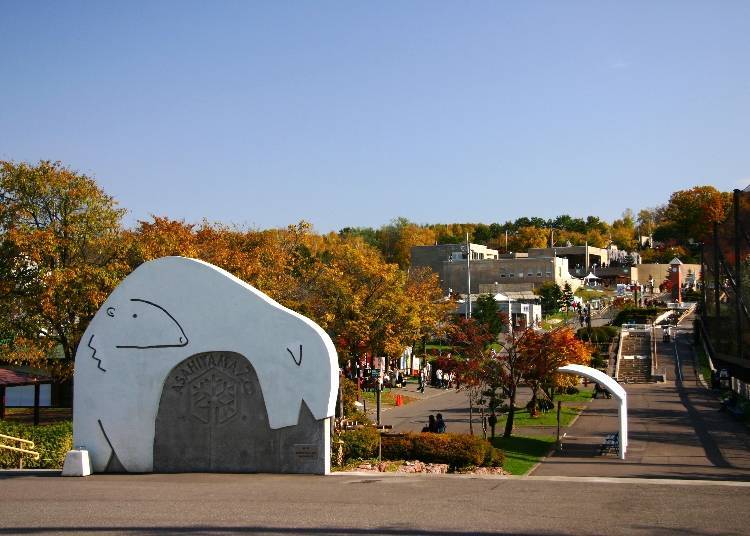 Take a direct bus from Asahikawa Station to "Asahiyama Zoo." As of 31 March 2020, there are 675 animals of 101 species exhibited in the zoo's compound of approximately 151,000 square meters.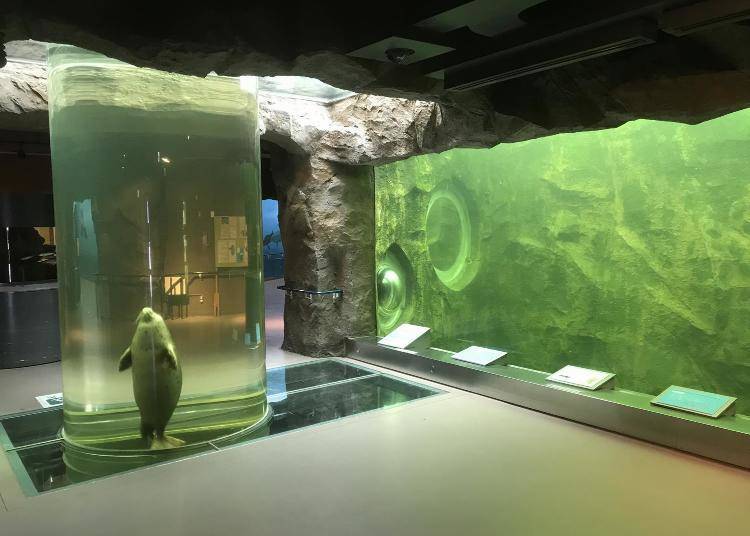 The column aquarium "Marine Way," where you can observe the earless seal's unique swimming style
Asahiyama Zoo gained its reputation for its interactive exhibits showcasing the animals' natural movements and unique abilities. Because the animals here are so lively, there is always something new to discover on every visit, which makes this zoo a beautiful place for both adults and children.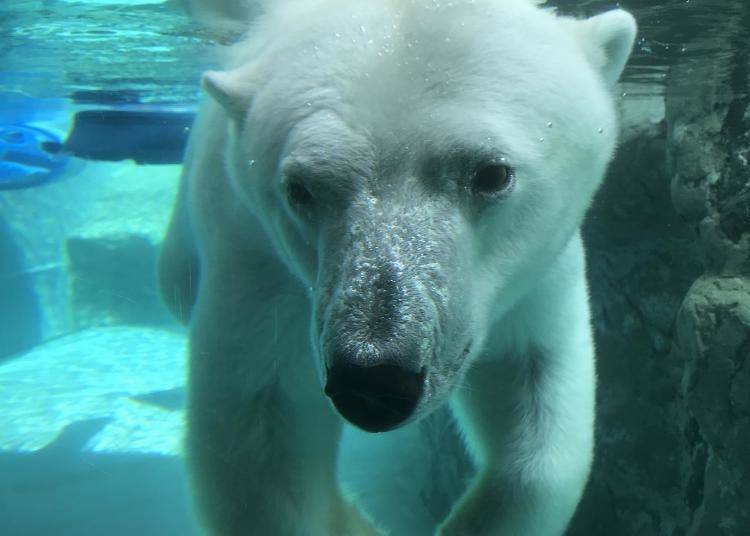 Here at the "Polar Bear Exhibit," you can watch polar bears dive into and swim in the pool.
The "Penguin Exhibit" is where penguins can be seen swimming in water panels above, almost as if they are flying!
Because there is so much to see around the wide compounds of the zoo, it is recommended that you leave an entire day for the visit. Plus, as there are also gift shops and restaurants on the zoo grounds, there is no need to worry about meals or souvenir shopping. Since the zoo is the only attraction for the day, you can take your time to explore and enjoy.

For more information on the zoo's measures in response to the spread of COVID-19, please visit their home page.
Asahikawa City Asahiyama Zoo

旭川市旭山動物園

Address

Kuranuma, Higashiasahikawa-chō, Asahikawa City, Hokkaido, 078-8205

Phone Number

0166-36-1104

Opening Hours: Hours change depending on the season so please refer to the home page
Admission Fee: 1,000 yen for adults (high school and older); free for children (middle school and younger); 900 yen for organization visits; 1,000 yen for 2D1N ticket; 1,400 yen for the zoo passport and 2,230 yen for dual admission to the science museum.
Closed: 4-10 November 2020 and 30 December 2020 – 1 January 2021
Day 3: Take A Stroll on Hokkaido's Famous Mountain Asahidake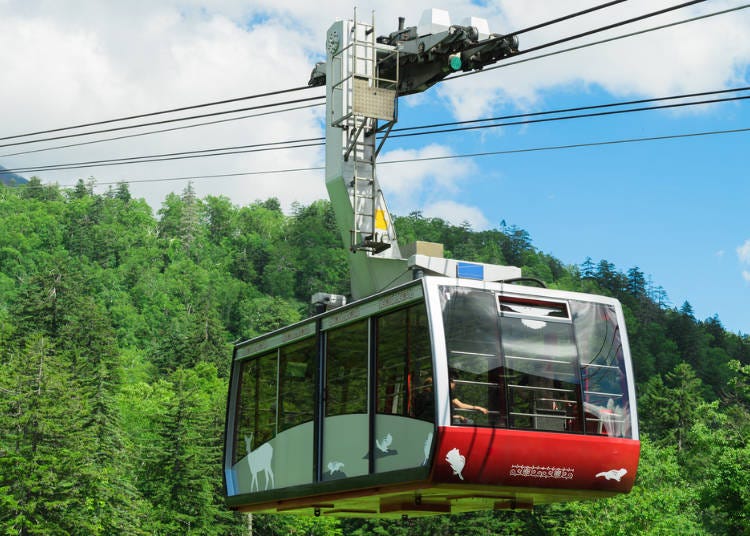 The third day of our Asahikawa itinerary will be for enjoying natural landscapes to your heart's content! In the Asahikawa area, there is a volcanic mountain range called Daisetsuzan. With mountains as tall as 2,000 meters and more, it is often referred to as "the roof of Hokkaido."

Home to the Daisetsuzan, the Daisetsuzan National Park is Japan's largest national park and was known to the Ainu people as "kamuy mintar," which means the playground of the gods.

Asahidake, the highest peak of Daisetsuzan, is 2,291 meters above sea level but can be accessed via the ropeway, which will take you to the fifth observation point. To follow this route, take the Ideyūgō shuttle bus from Asahikawa Station and alight at the bus stop "Asahidake." Here, you can take the "Asahidake Ropeway" up the mountain.

Near the station at the top of the mountain, there is a path that is open from June to around mid-October. Come September, the turn of seasons means there will be a colorful array of red, yellow, and green autumn leaves. You will not get to see this at other times, so you definitely should take in the beautiful scenery while strolling! After you descend the mountain, you could soak in Asahidake Onsen near Sanroku Station, before taking the shuttle bus back to Asahikawa Station.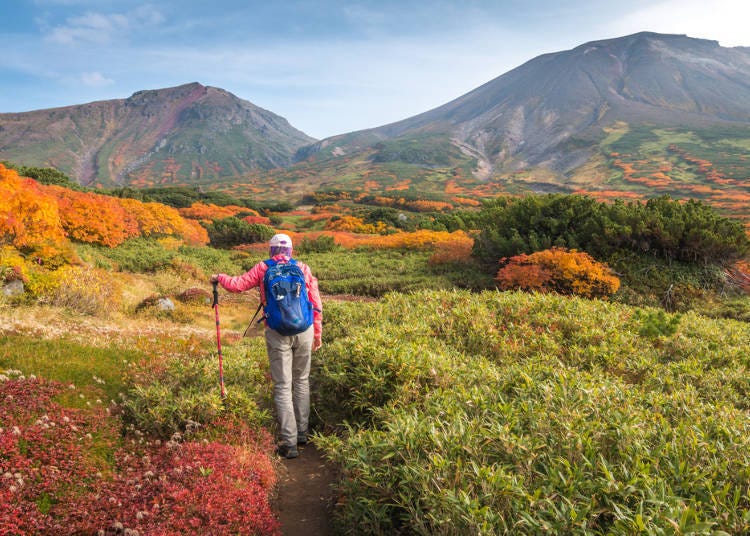 Beautiful autumn leaves along the mountain path
Day 4: 3 Sightseeing Spots in Asahikawa City (Ueno Farm/Otokoyama Sake Brewing Museum/Asahikawa Ramen Village)
Head to "Ueno Farm" in the morning to enjoy its beautifu and mystical garden. Buses headed directly for Ueno Farm are in operation when the garden is open between late April to mid-October. Take the bus from the bus stop "Ichijō Hatchōme (Feeeal-mae)" near Asahikawa Station.

This place was originally a farm, but aesthetic improvements were made so that customers would appreciate the rural and agricultural landscape better. There are pamphlets available in traditional Chinese, simplified Chinese, and English, so you can thoroughly enjoy the garden while browsing them.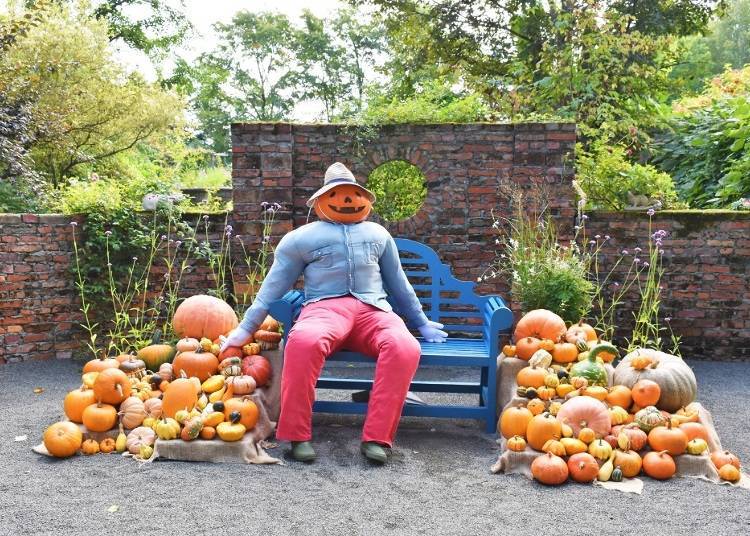 Garden decorations to complement festivities
Within the farm compound is a café where you can order takeout lunch and savor it in the spacious and comfortable garden. To counter COVID-19, the tables and chairs have been arranged in a way so that the seats do not face one another. The compounds are regularly disinfected too.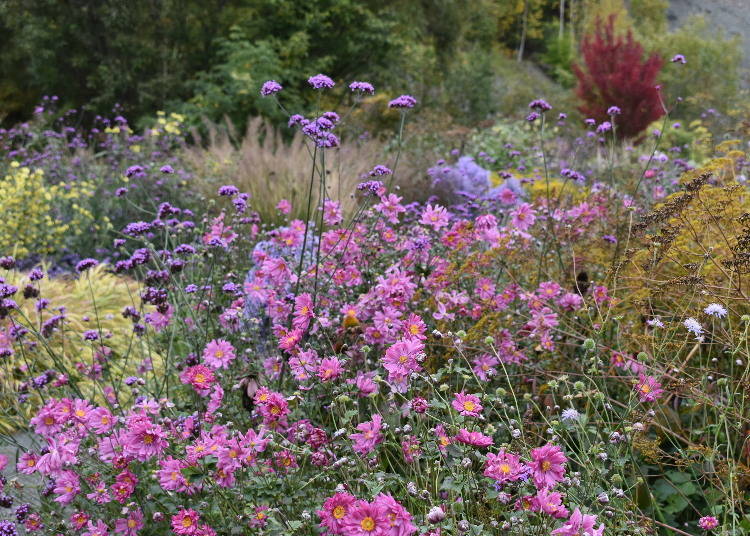 From mid-September, you will see not only autumn leaves but also blooming autumn flowers like the daisy and the Japanese anemone
After lunch, take the 1:00 p.m. or the 2:00 p.m. (last) bus from Ueno Farm to "Otokoyama Sake Brewing Museum" (nearest station is "Nagayama Nijō Rokuchōme").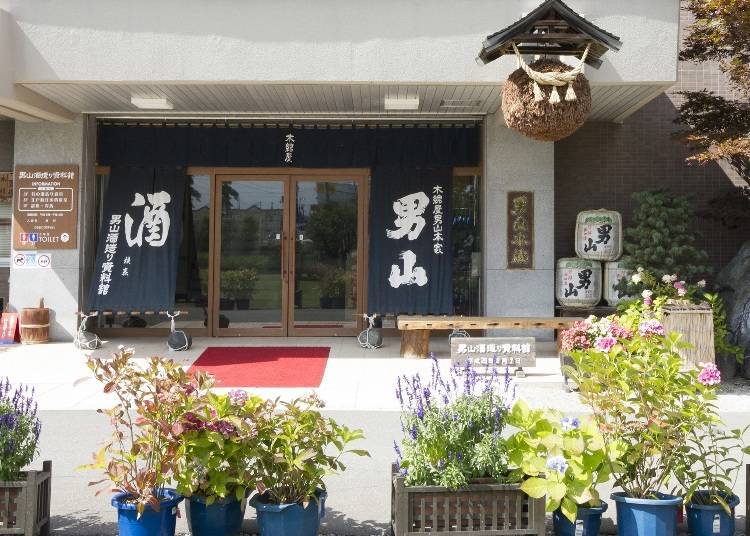 Here, you will get to learn more about "Otokoyama," the local sake brewed using Asahikawa water, as well as the culture of sake brewing, which is one of Japan's traditional industries. If you are looking to take home a souvenir from the museum, the gift shop offers limited goods like Japanese sake and sake bottles. You would not be able to find these anywhere else!

Social distancing is strictly enforced, and the museum is also regularly disinfected so you can be at ease when you visit.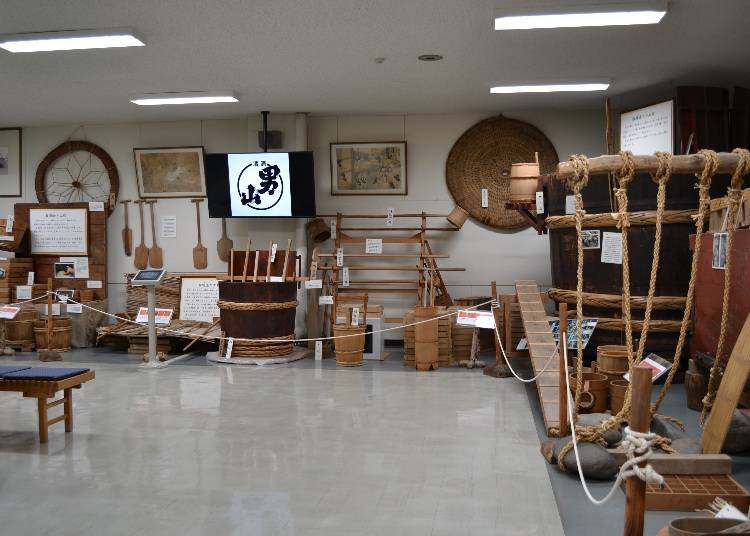 Exhibit of old sake brewing tools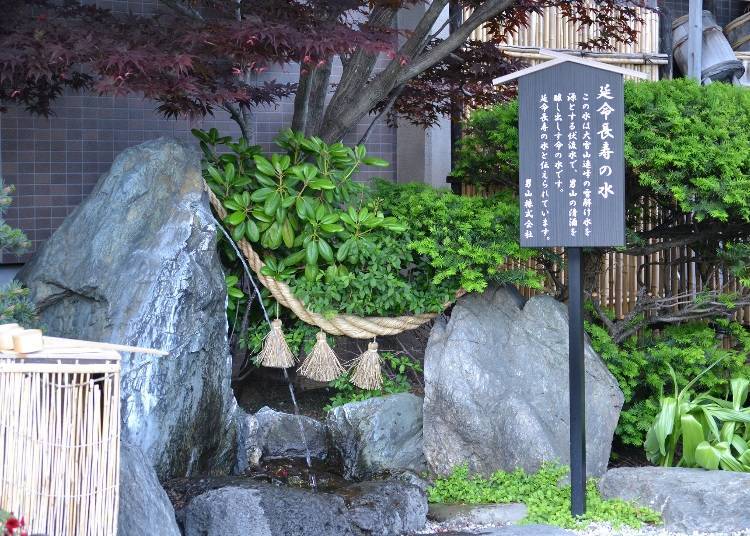 The popular Asahikawa water is said to be unbelievably delicious
In the front garden is a spring of what is known as the "Water of Longevity." This is also what goes into the making of the Otokoyama sake. Currently, drinking the water at the spring is prohibited, but it is alright for visitors to bring some home. You can visit and collect the water from between 9:00 a.m. to 5:00 p.m., but please be sure to be mindful of the local etiquette. Remember to put on a mask and maintain social distancing.

What better food to have for dinner than Asahikawa's specialty, Asahikawa ramen? The restaurant for today, Asahikawa Ramen Village, is a 5-minute ride away by taxi from the Otokoyama Sake Brewing Museum.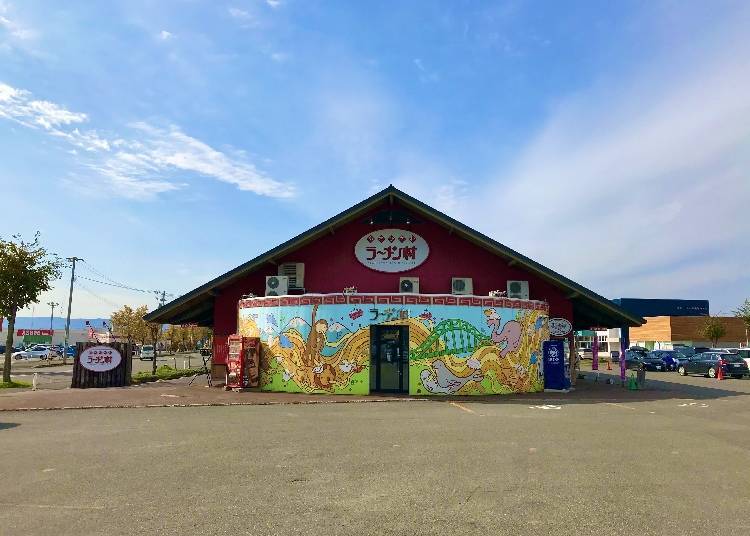 Asahikawa ramen has a typical broth made from seafood, pork bones and chicken. In addition, because the Asahikawa area is unusually frigid even within Hokkaido, the soup is usually served with a layer of oil on top to insulate and prevent it from turning cold.

This shop was established in 1996 to spread awareness about Asahikawa's ramen culture. Now there are eight stores within the city, all serving up the ramen that they are so proud of! With foreign language menus provided in each store, the ordering process is fuss-free even for non-Japanese language speakers.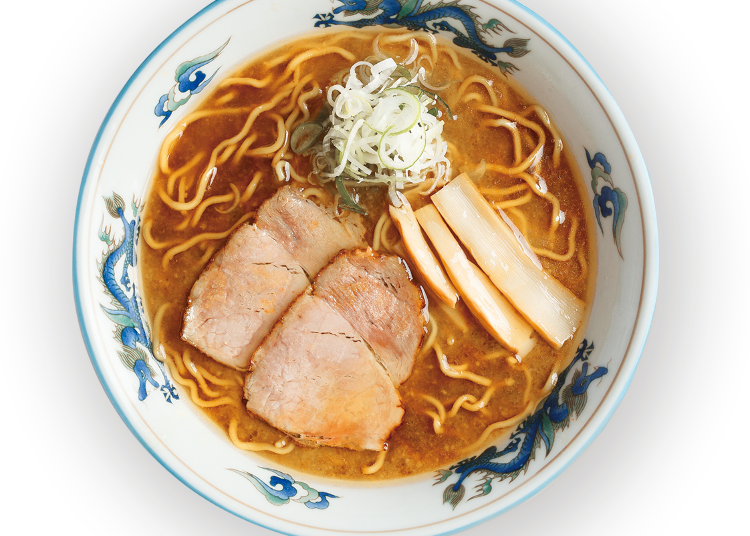 The "Asahikawa Ramen" with shoyu base
Within the compound is a gift shop that offers souvenir ramen you can bring home. If you are looking to take some commemorative shots, there are exciting photo spots, such as a bench that makes the subject look as though they are sitting in a ramen bowl.

Each store is enforcing strict measures against COVID-19, including the placement of vinyl sheets in front of the kitchen and cashier, alternate seating and installation of partitions between seats.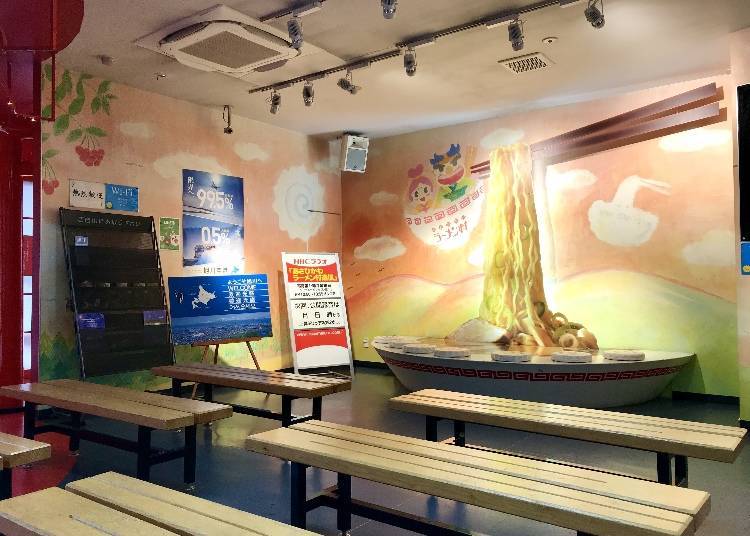 Uniquely designed rest areas within the store that include benches that look like disposable chopsticks and ramen bowls
上野ファーム

Address

16-186, Nagayama-chō, Asahikawa-shi, Hokkaido, 079-8431

Phone Number

0166-47-8741

Opening Hours: 10:00 a.m. – 5:00 p.m. between 18 April – 18 October for the year 2020
Admission Fee: 1,000 yen for adults (middle school and above); 800 yen for group visits (10 pax and more) *free admission for elementary school and below
1,200 yen for the Garden Passport (valid only within the year; a 50% discount will be extended to one additional visitor from your second visit onwards)
Closed: Winter (19 October 2020 – 23 April 2021)
Otokoyama Sake Brewery Museum

男山酒造り資料館

Address

7-1-33, Nagayama 2-jō, Asahikawa-shi, Hokkaido, 079-8412

Phone Number

0166-47-7080

Opening Hours: 9:00 a.m. – 5:00 p.m. (wine cellar is open from 10:00 a.m. – 3:00 p.m. on the second Sunday of February)
Admission Fee: None
Closed: 31 December and 1-3 January
*Information provided here is correct as of 23 June 2020. Please visit the official website or enquire directly for the latest information and opening hours before visiting.
あさひかわラーメン村

Address

4-119-48, Nagayama 11-jō, Asahikawa-shi, Hokkaido, 079-8421

Phone Number

0166-48-2153

Hours: 11:00 a.m. – 8:00 p.m.
Day 5: Conclude Your Trip With Some Shopping at Heiwa-dōri Shopping Park!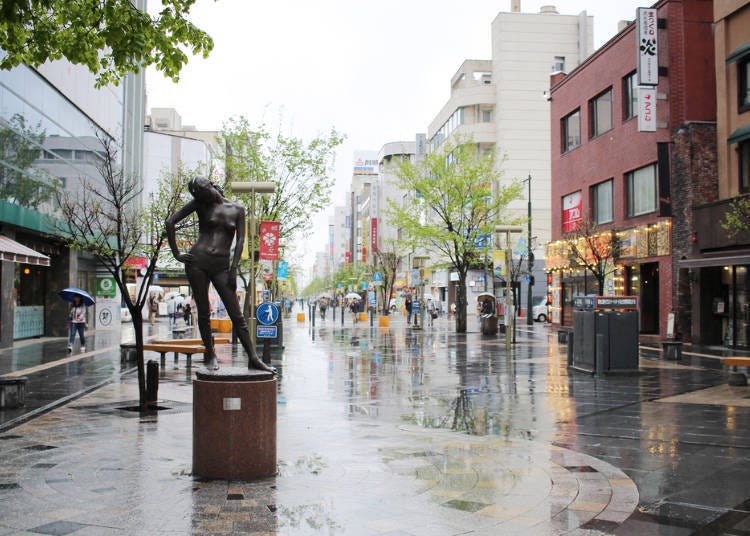 seaonweb / Shutterstock.com
"Heiwadōri Shopping Park," located right in front of Asahikawa Station, is considered by locals as the main street of Asahikawa and is where departmental stores and food establishments abound. There are also many options in this area for some last-minute souvenir shopping, such as the classic "Kibana," an almond wafer snack with white chocolate sandwiched in the middle, and "Kuranama" cookies.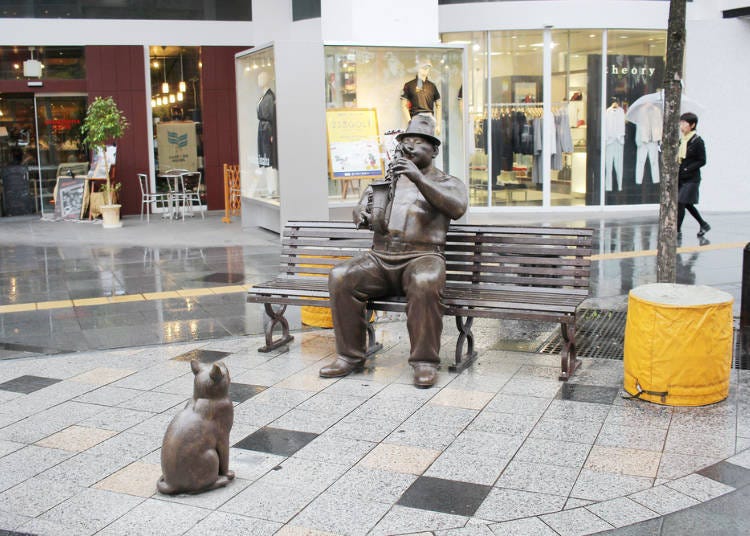 Fun photo spots in the area as well (seaonweb / Shutterstock.com)
There are two ways to return to Chitose Airport: you can either take an express bus that sends you directly from Asahikawa Station to the airport or go by train and change at Sapporo Station. If there is time to spare before the flight, you could stop by Sapporo and sightsee.

Traffic conditions can be unpredictable during the autumn and winter seasons so it would be wise to avoid a packed Asahikawa itinerary. If you can, try out our recommendations above, and you will be sure to have an enjoyable trip to Asahikawa!

Text by:minna no kotoba sha

*The above article is based on information from July 2020
Other things to do around Kushiro!
Address

Gojo-dori 6-964-1 , Asahikawa, Hokkaido, 070-0035
View Map

Nearest Station

Asahikawa Station (Soya Main Line / Hakodate Main Line / Furano Line)
13 minutes on foot


Vacancy search, reservation

from

12,000JPY

1room, 2adults

Check with our partner site as the latest rates, rate details, and guest room requirements may vary.
Address

Asahidake Onsen, Higashikawa, Hokkaido, 071-1472
View Map

Nearest Station

Kamikawa Station (Sekihoku Main Line)


Vacancy search, reservation

from

47,430JPY

1room, 2adults

Check with our partner site as the latest rates, rate details, and guest room requirements may vary.
Address

Miyashitadori 10-chome 3-3, Asahikawa, Hokkaido, 070-0030
View Map

Nearest Station

Asahikawa Station (Soya Main Line / Hakodate Main Line / Furano Line)
6 minutes on foot


Vacancy search, reservation

from

11,200JPY

1room, 2adults

Check with our partner site as the latest rates, rate details, and guest room requirements may vary.
*This information is from the time of this article's publication.
*Prices and options mentioned are subject to change.
*Unless stated otherwise, all prices include tax.
Limited time offer: 10% discount coupons available now!