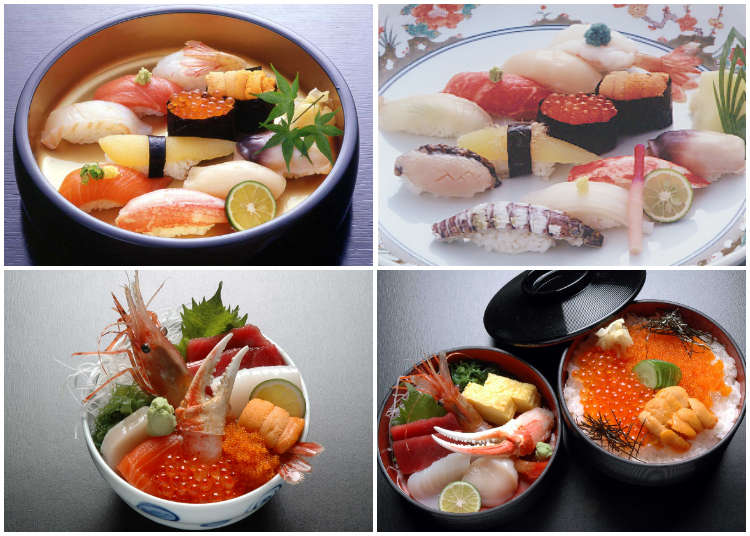 Pioneering in Hokkaido got underway about 150 years ago, and at that time, the port of Otaru, renowned for its sushi and other seafood, was the entry point.

The Otaru Canal and warehouses made of stone nostalgically remind visitors of its history, and while these draw sightseers, Otaru sushi has become a famous attraction!

There are several popular sushi restaurants in Otaru, ranging from famous spots on an appropriately named Sushi Street, to sushi train shops popular with residents.

We've drawn up a list of five that we believe you would like. All of them are near Otaru Station and the canal area, so they are easily accessible - be sure to visit them during your stay in Otaru!
1. Nihonbashi: Representative of the best shops on Otaru Sushi Street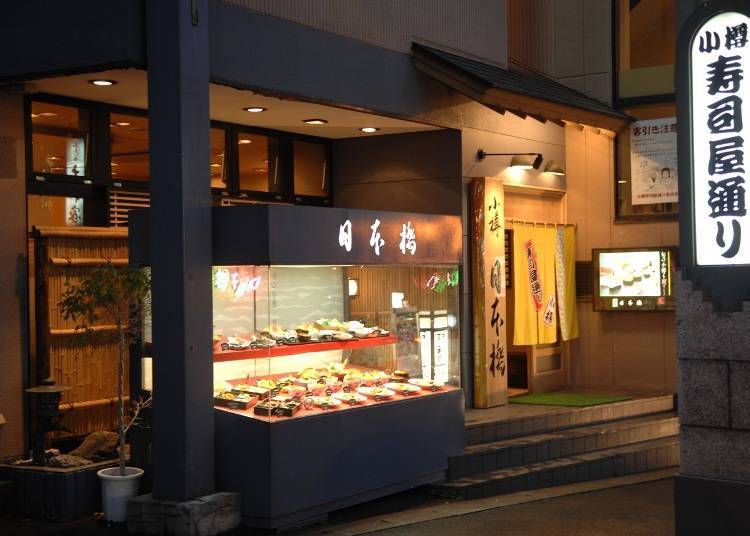 Otaru Sushi Street is a 200-meter stretch between National Highway No. 5 and the Otaru Canal along which are lined many sushi shops making it the place to eat sushi.

Otaru Sushiya-dori Nihonbashi was established more than 40 years ago and is located just inside Otaru Sushi Street not far from JR Otaru Station.

After you duck under the noren (shop curtain outside the entrance) you step into a spacious room exuding warmth. Shortly after the shop opens the counter is soon filled with patrons watching the itamae (sushi chef) skillfully preparing dishes.

In addition to the counter, there are rooms for small groups as well as a large one able to accommodate up to 50 people.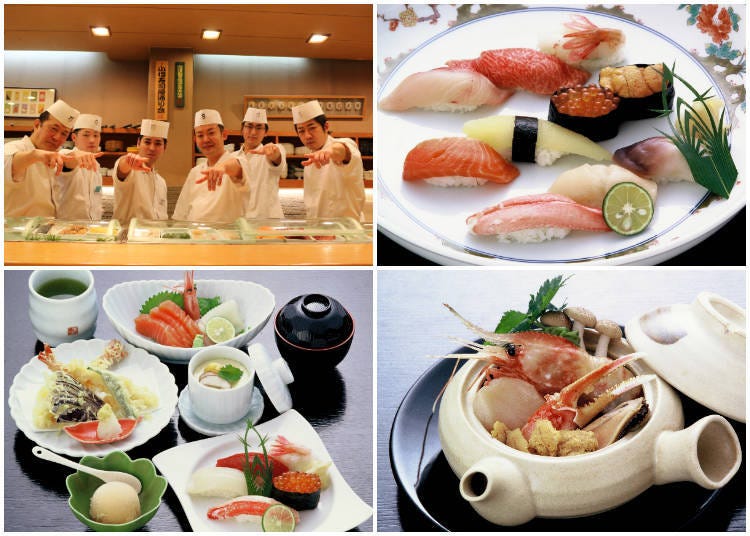 Top left: skilled sushi chefs. Top right: Otaru Nigiri, a sampling of seasonal seafood. Lower left: the Otaru Story set menu. Lower right: the popular steamed dish Dobin Mushi.
All the itamae are from port towns so they have been around people dealing with fish since they were born. They are skilled at preparing nigiri servings using the freshest natural neta (ingredients) quickly to ensure they do not lose their flavor.

Popular sushi dishes include Otaru Nigiri (3,300 yen) made with seasonal Otaru seafood, and the popular set course Otaru Monogatari (Story) of tempura, sashimi, and a dessert (2,500 yen). We also recommend the Otaru Dobin (1,500 yen) that fully delivers the exquisite flavor of steamed fresh seafood.

If you are lucky enough to get a seat at the counter, I'm sure you will enjoy watching the itamae prepare your requests. They are excellent conversationalists making the experience all the more rewarding.
小樽寿司屋通り 日本橋

Address

〒047-0032 北海道小樽市稲穂1-1-4/1-1-4, Inaho, Otaru-shi, Hokkaido, 047-0032, Japan

Phone Number

0134-33-3773

Open: 11:00 AM ~ 3:00 PM (last order 2:30 PM), 5:00 PM ~ 9:00 PM (last order 8:30 PM)
Closed: Thursdays (also at other unscheduled times)
Access: 10-minute walk from JR Otaru Station
2. Otaru Fuku Sushi: A sightseeing hot spot on Sakaimachi-dori!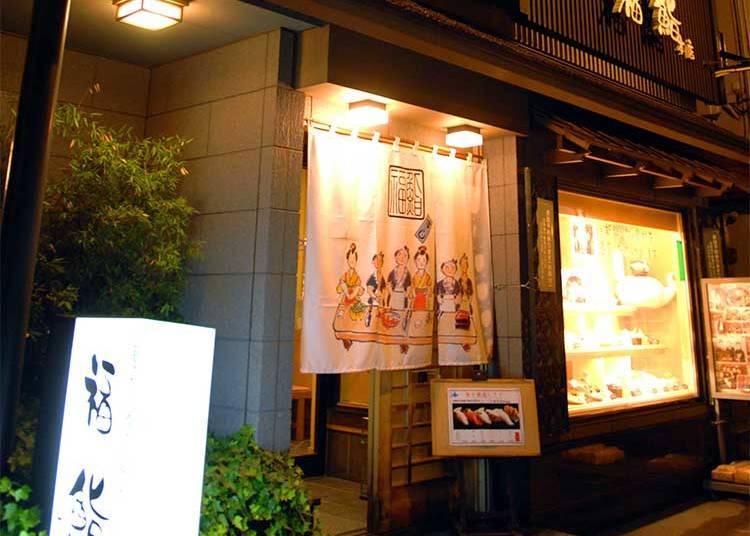 Otaru Fuku Sushi is one of the popular sightseeing spots among the many on Sakaimachi-dori. Kitaichi Glass and the Otaru Music Box Museum are also nearby. This popular sushiya is located a 5-minute walk from the Otaru Canal.

Inside the atmosphere is one of clean and modern Japanese sophistication. There are tables that can seat many people as well as horikotatsu, the low table on tatami-mat flooring with a recessed area below it for legs.

This Otaru sushi shop is always crowded during the lunch hour, but relatively less so in the evenings. The best seats for enjoying the fresh sushi are of course at the counter where you can enjoy observing the skills of the itamae.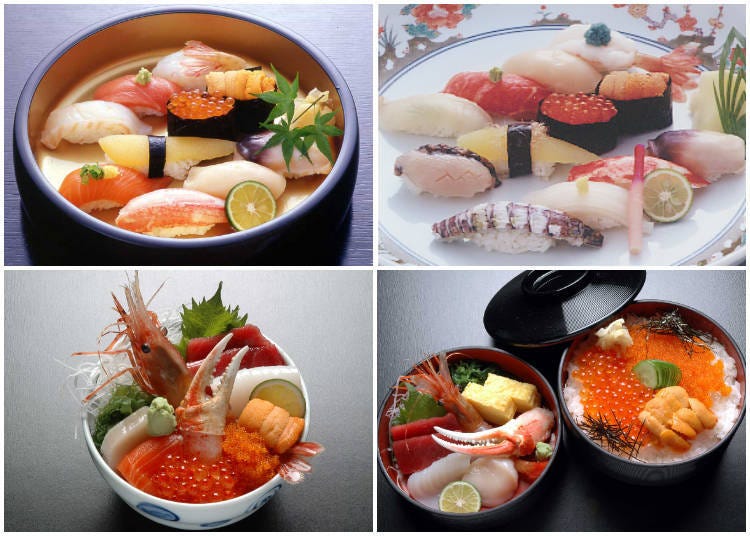 Top left: Otaru Nigiri offering a sampling of typical Otaru sushi neta. Top right: Shun no Omakase Nigiri is a special selection of seasonal seafood. Lower left: Shunsai Chirashi is a popular bowl dish topped with several types of seafood. Lower right: Isaribi Chirashi serves the neta and shari in separate bowls.
Seafood freshly caught in the sea near Otaru is shipped directly by fishermen. For that reason, about 30 different types of neta which normally are a rare treat are always available.

Popular sushi dishes are the Otaru Nigiri, a selection of standard neta (3,564 yen), the Shun no Omakase Nigiri, a careful selection of seasonal neta received that day (5,400 yen), and the bowl dishes Shunsai Chirashi (2,700 yen) and Isaribi Chirashi (3,780 yen). Funamori, sushi arranged in a container shaped like a boat, is popular with foreign visitors. Beer goes very well with the fresh seafood.
小樽 福鮨

Address

〒047-0027 北海道小樽市堺町5-26/5-26, Sakaimachi, Otaru-shi, Hokkaido, 047-0027, Japan

Phone Number

0134-23-2939

Hours: 10:30 AM ~ 8:00 PM
Closed: not scheduled
Access: 10-minute walk from JR Minami Otaru Station
3. Otaru Take no Sushi: Enjoy sushi in the retro-modern atmosphere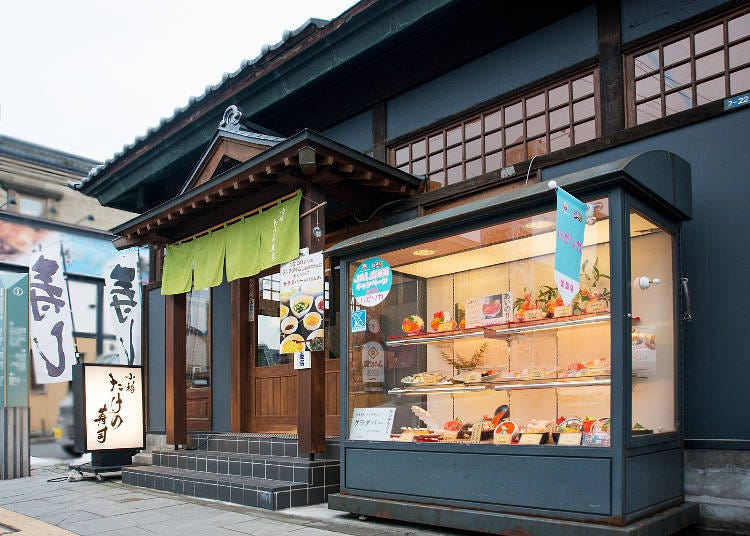 Otaru Take no Sushi is located in the old Nakayama Warehouse and Home that was built at the start of the Taisho era about 100 years ago.

Located in the middle of the popular Sakaimachi-dori, you can't miss its stylish retro exterior. Inside as well there are vestiges of the past creating a relaxing atmosphere.

On the first floor, there are a counter and tables while on the second floor there is a large table capable of seating many people and perfect for banquets. Here you can savor the history of Otaru as well as the truly fresh sushi.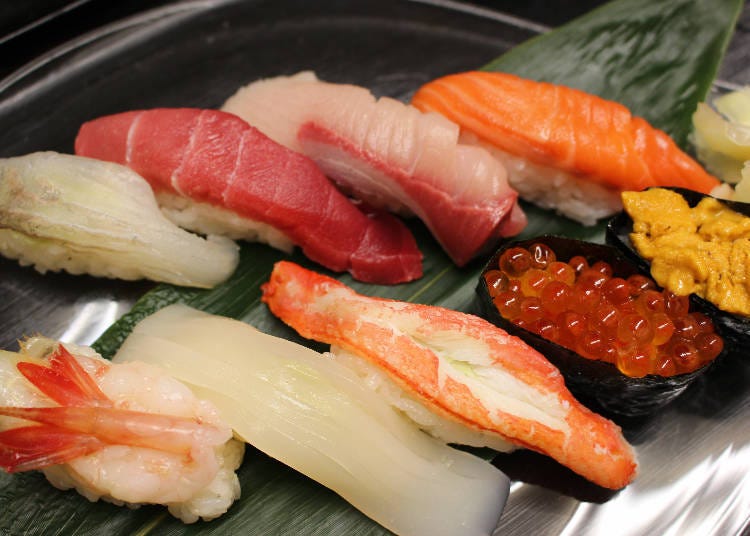 The neta made from seafood freshly caught off the coast of Otaru is served on shari made from a blend of Hokkaido-grown rice. Pictured is the Sapporo Nigiri (2,160 yen) and the Furano Nigiri (1,188 yen), two popular sets bearing the names of two Hokkaido towns. The Otaru Nigiri (3,240 yen) is a masterpiece of 12 kan arranged on a long plate.

If you like just one type of neta, try the Maguro Dzukushi [tuna plate] (3,564 yen) or Salmon Dzukushi [salmon plate] (1,944 yen). There is also the Ainori-don [mixed bowl] (2,160 yen) which lets you order toppings from 18 different types. Other types of bowl dishes are also available. This shop lives up to its motto that "eating should be enjoyable".
小樽 たけの寿司

Address

〒047-0027 北海道小樽市堺町2-22/2-22, Sakaimachi, Otaru-shi, Hokkaido, 047-0027, Japan

Phone Number

0134-25-1505

Hours: 11:00 AM ~ 4:00 PM, 5:00 PM ~ 9:00 PM (store closes when it runs out of neta)
Closed: Thursdays
Access: 15-minute walk from JR Otaru Station
4. Otaru Sushi Ko: Enjoy sushi in a relaxed atmosphere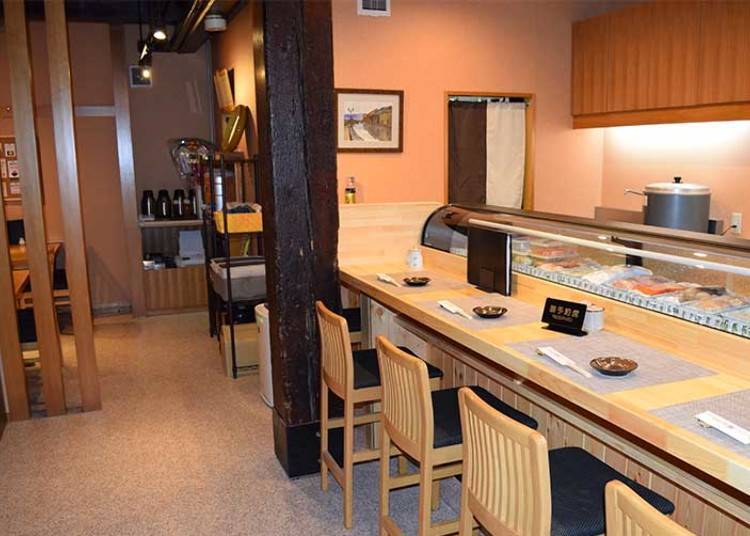 Otaru Sushi Ko is noted for its unique exterior reminiscent of a traditional stone warehouse. It is only a 3-minute walk from the Otaru Canal making it the perfect place for lunch or dinner while out sightseeing.

Prices are reasonable and it is possible to order only one kan at a time, which makes it popular with sightseers. In addition to the counter and tables on the first floor, there is a koagari style room upstairs for more leisurely dining pleasure and popular with old and young alike. Long familiar with this area of Otaru having grown up here, the master of the shop strives to use the seafood of the finest quality to create memorable dishes.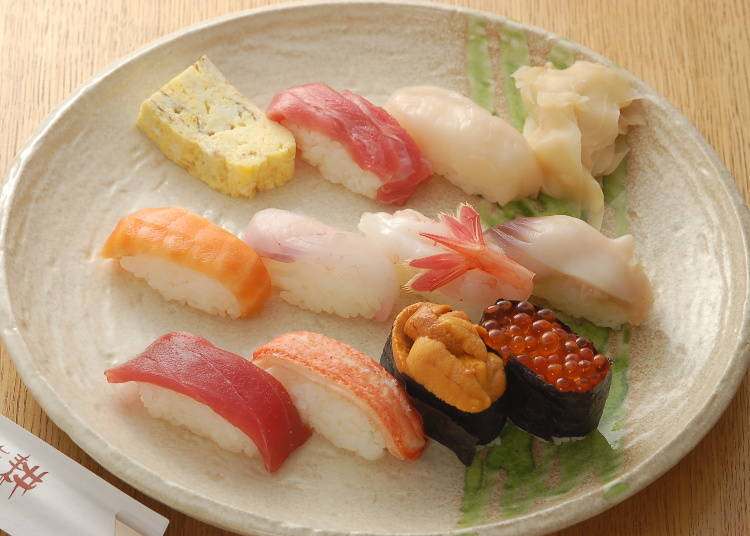 Set dishes for individuals, such as the Otaru Nigiri (1,944 yen) and Nagomi (3,024 yen) pictured above are reasonably priced and provide a good sampling of popular neta. Individual kan start at 108 yen a piece. This is a good option for those who just want to sample a few things.

The bowl menu also has many selections to choose from, such as the most popular Hokkaido-don (2,916 yen) that is topped with such delicacies as salmon, salmon roe, and sea urchin. You can also order an Original-don (price varies depending on neta selected) where you can ask for your favorite neta topping. Irodori Chirashi is a very popular dish that has a large, varied selection of seafood types on a bowl of rice (2,376 yen). These are just three to begin with.
小樽 すし耕

Address

〒047-0031 北海道小樽市色内2-2-6/2-2-6, Ironai, Otaru-shi, Hokkaido, 047-0031, Japan

Phone Number

0134-21-5678

Hours: 12:00 PM ~ 9:00 PM
Closed: Wednesdays (the following day if Wed. falls on a national holiday)
Access: 10-minute walk from JR Otaru Station
5. Waraku: High-quality conveyor belt sushi in Otaru!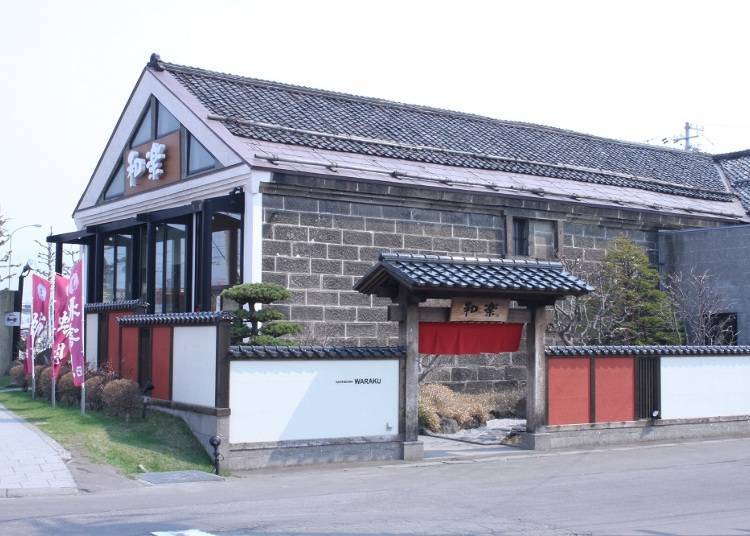 The conveyor belt sushi (called kaiten-zushi) shops of Otaru also serve high-quality sushi.

One that is favored by local residents with discerning palates is the Waraku Kaiten Sushi Otaru shop. Located near the Otaru Canal, it is thought highly of by tourists who like its stone warehouse exterior and small garden at the entrance. The high ceiling and large windows give it a more spacious feeling creating a cheerful and bright atmosphere.

Its popularity makes it crowded during the lunch hour, but if you have to wait to be seated, you'll be told approximately how long the wait will be, during which time you can pass the time sightseeing around the canal. The area around here is lit up at night enveloping it in a nostalgic atmosphere.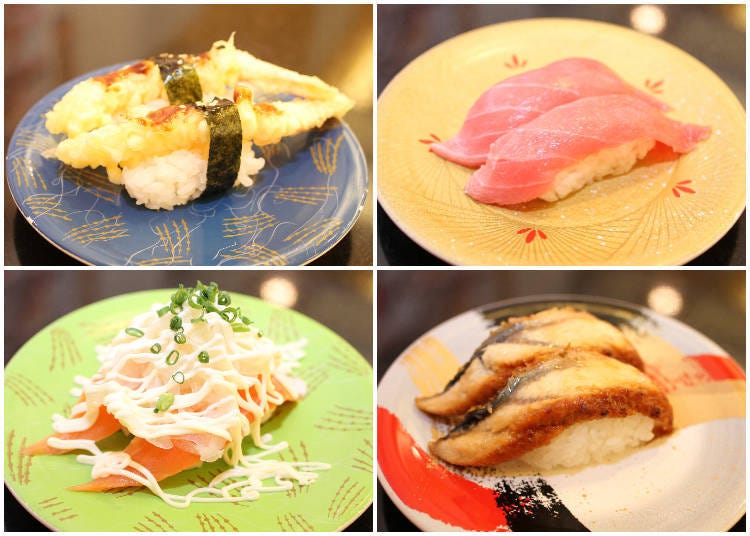 A selection of dishes popular with foreign visitors. Top left: Ebiten Nigiri (266 yen); Top right: Medium Fatty Bluefin Tuna (391 yen); Lower left: Onion Salmon (194 yen); Lower right: Unagi [Eel] (443 yen) *Prices are subject to change
This is an Otaru shop where you can comfortably savor fresh neta stocked daily with seafood caught along the coast of Otaru.

These include octopus caught at Mashike (266 yen), sockeye salmon caught in the northern sea (338 yen), and natural young yellowtail tuna called Warasa (266 yen).

The menu often is changed to include seasonal dishes throughout the four seasons with such items as rape blossoms and asparagus that contribute to a subtler and deeper experience. Here, too, you can enjoy Nordic salmon and neta from all parts of Japan.

This rotary sushi uses the finest vinegar for its shari (rice), soy sauce, and seaweed, making it seem like no other rotary sushi you may have experienced.
回転寿し 和楽 小樽店

Address

〒047-0027 北海道小樽市堺町3-1/3-1, Sakaimachi, Otaru-shi, Hokkaido, 047-0027, Japan

Phone Number

0134-24-0011

Hours: 11:00 AM ~ 10:00 PM (last order 9:30 PM)
Closed: January 1st
Access: 15-minute walk from JR Otaru Station
Other Restaurants in Otaru
Address

2-2-6, Ironai, Otaru-shi, Hokkaido, 047-0031
View Map

Nearest Station

Otaru Station (Hakodate Main Line)


Phone Number

0134-21-5678
*This information is from the time of this article's publication.
*Prices and options mentioned are subject to change.
*Unless stated otherwise, all prices include tax.
Limited time offer: 10% discount coupons available now!