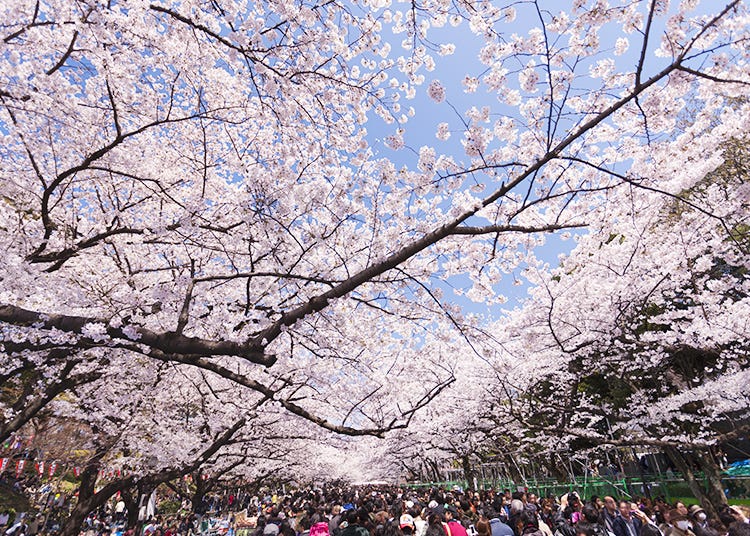 Ueno
Ueno:Overview & History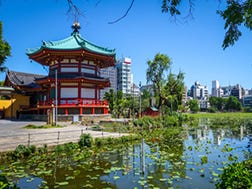 The Ueno area in Taito Ward still has vestiges of the Edo Era, as well as signs of the cultural growth that took place as the country was ushered into the modern age and through to present-day times. The area can be divided into two parts, the Yamanote neighborhood—including Ueno Park (the official name is Ueno Onshi Park)—and the shitamachi neighborhoods of Ueno-hirokoji and Okachimachi, both of which have subway stations.
Ueno Park was built on the grounds of the Tokugawa family temple, Toeizan Kaneiji. After the temple burned down during the 1868 Boshin Civil War, the Meiji government seized the land and built the country's first park on it. Today, Ueno Park remains a well-loved destination, full of nature, culture and art.
In its heyday, the grand approach to Kaneiji Temple ran through Ueno-hirokoji, making it a bustling commercial area. Today it remains a thriving part of the center of the city. Legend has it that the Okachimachi neighborhood, was named for the low-level samurai who lived there and whose jobs were to guard the shogun and protect Edo Castle. After the war, black markets flourished in the area. Ameya Yokocho, the street where most of this business took place, is still a lively, albeit legal commercial area, a favorite spot for visitors to Tokyo from around the world.
There are three train stations in Ueno: JR Ueno, JR Okachimachi, Keisei Ueno, and five subway stations: Ueno on the Ginza and Hibiya lines, as well as Ueno-hirokoji, Ueno-okachimachi, and Naka-okachimachi.
To the north of Ueno Park is Yanaka, a residential area full of the old shitamachi atmosphere, with houses and tiny shops packed together along narrow roads. Tourists from other parts of Japan come to visit just to experience the close-knit commercial areas every town and city used to have.
Ueno Onshi Park Area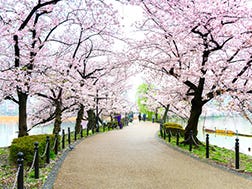 Ueno Park has cultural facilities from the Edo era as well as those from more modern times. Ueno Toshogu Shrine was built in 1651. It is a designated important cultural asset and gives us glimpses of the Edo era. The shrine and Karamon Gate shine with gold-foil trim. They and the 200 lanterns are well worth the trip. You will also not want to miss the Kiyomizu Kanon Hall (designated important cultural asset) of Kaneiji, built in 1631. From the stage of the hall, visitors can look at the surrounding scenery through the circle of branches of the Moon Pine tree (restored in 2012), made famous by Ukiyo-e artist Hiroshige Utagawa's Moon Pine in Ueno, one of his One Hundred Famous Views of Edo series. Ueno Park also has many buildings that led the country into the modern age. They include the Natural Museum of Nature and Science, Tokyo (built in 1877) and the first public art museum in the country, Tokyo Metropolitan Art Museum (1926). The main building of the National Museum of Western Art (1959) is the only example in Japan of architecture by famed Swiss architect Le Corbusier, and has been designated a World Heritage Site.
The natural beauty of Ueno Park is another of its features. Cherry trees are planted throughout the park, and thousands of people come during the cherry blossom season for flower viewing parties. In 1980, the Ueno Toshogu Peony Garden was created to commemorate friendship between Japan and China. The garden is a popular spot in winter and spring during the Peony Festival. Shinobazu Pond is a good spot to enjoy a little boating, and the adjacent Ueno Zoo, established in 1882, is highly recommended to all animal lovers. The zoo is home to 400 species from around the globe, including the ever-popular giant panda. (The pagoda of Kaneiji Temple, restored in 1639, is located on the zoo premises.)
In Ueno Park, you can also find several restaurants that have been here since the Meiji era. One is Ueno Seiyoken, a French restaurant opened in 1876. In its early days, Seiyoken was a popular place to go and be seen. The atmosphere remains today, and it can be enjoyed along with the sophisticated cuisine.
Ameyoko Area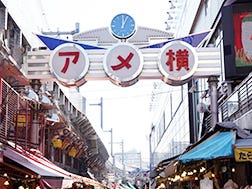 Beneath and on the west side of the raised railway connecting JR Ueno and Okachimachi stations is the shopping street Ameya Yokocho, better known as Ameyoko. Tiny shops sell fish, dried foods, imported foods, imported sundries, apparel and many other things. In the last few days of December each year, the collective Japanese attention is drawn to the annual sight of Ameyoko overflowing with tourists and shoppers preparing for the New Year. Among the shops are a wealth of restaurants. Visitors can enjoy a big bowl of rice topped with fresh sashimi (kaisen-don), or a few drinks at a pub that operates throughout the day. Shintoyo (est. 1955) is one popular restaurant situated under the railway. Diners can enjoy authentic Taiwanese cuisine or dishes "arranged" for Japanese tastes. Lo mein is one such dish. Noodles topped with meat and vegetables in a thick sauce has been a favorite since the restaurant's earliest years. Near Ueno Station, Santomo serves fugu (blowfish) delivered direct from Shimonoseki at the western tip of Honshu. Recommendations include tessa, a beautifully arranged dish of fugu sashimi, fugu-nabe, fish and vegetables cooked and served directly from a clay pot, and hirezake, sake flavored with savory grilled fugu fins.
Ueno-hirokoji/Ueno-okachimachi station area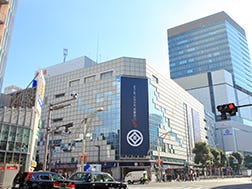 Matsuzakaya Ueno, the department store in front of the station, has been in business more than 100 years. But let's not forget that Matsuzakaya itself is more than 400 years old. The restaurant floor and basement foods floor are full of some of Japan's most famous brands, making this a great spot to eat and buy souvenirs. Suzumoto Theater (est. 1857) is on the Shinobazu side of the station, an excellent place to enjoy traditional Japanese performing arts of rakugo (one-man comedy), manzai (comedy teams), and kamikiri (storytelling while cutting paper). The theater offers a bargain showing every Sunday morning. Four "opening acts" can be seen for the low price of 500 yen. Thanks to all the office buildings in the neighborhood, there is also a good selection of restaurants. Izuei is a restaurant specializing in unagi, or eel, which has been in business for "200 plus a few dozen or so years." Artisan chefs grill eel according to top-secret recipes. Enjoy it over rice or served as part of a full-course meal. Private rooms can be reserved on Saturdays, Sundays and public holidays.
Yanaka area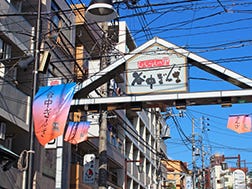 Yanaka is to the north of Ueno Park. It is one of the few remaining areas visitors can soak up the atmosphere of a shitamachi neighborhood straight out of the good old days. Damage from the Tokyo air raids of WWII was relatively light, so there are still remnants of the pre-war era, as well as Shinto shrines, Buddhist temples and many historic spots. Yanaka Ginza Shopping Street is lined with about 60 shops to buy homemade food for dinner, stock up on sundries, sit down for a cup of coffee, and much more. One feature of the area is the variety of "walk around" foods, such as croquettes, sweet-bean buns shaped like manekineko cats, which are readily available. A few-minutes walk from the shopping street will take you to Yanaka Reien, a cemetery with the remains of Yoshinobu Tokugawa, the last shogun of the Edo Bakufu, as well as those of famous Japanese writers and scholars. The cemetery is 100,000 square meters large, enormous for central Tokyo, and just right for a quiet, sunny walk. Crowds are on hand in the spring, though, to enjoy the rows of cherry trees forming a tunnel of blossoms. Many visitors come to Yanaka just to enjoy the nostalgia of the back streets (called Rojiura) and to see the cats who hang out there.
Late March to early April: Ueno Cherry Blossom Festival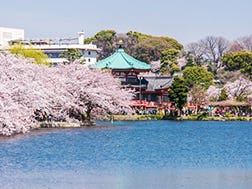 Ueno Park is famous for its numerous cherry blossom trees and is one of Tokyo's prime spots to see the delicate flowers. About 8,000 yoshino cherry trees are in full bloom during this festival and they're especially beautiful during the night, illuminated by innumerable lanterns.
Mid-July to mid-August: Ueno Summer Festival
The Ueno Summer Festival takes place around Ueno Park's Shinobazu Pond. From ice carving to floating lanterns, look forward to a plethora of fun events.
Access from Narita Airport to Ueno
From Narita Airport Station (Terminal 1), take the Keisei Main Line (Limited Express) bound for Keisei Ueno. After about 1 hour and 20 minutes, get off at Keisei Ueno Station. From there, it's a 7-minute walk to JR Ueno Station.
Access from Haneda Airport to Ueno
From Haneda Airport International Terminal Station (Keikyu), take the Keikyu Airport Line (Limited Express "Kaitoku") bound for Aoto. After about 13 minutes, get off at Shinagawa Station and transfer to JR Keihin-Tohoku Line (Limited Express) bound for Minami-Urawa. After about 17 minutes, get off at Ueno Station.