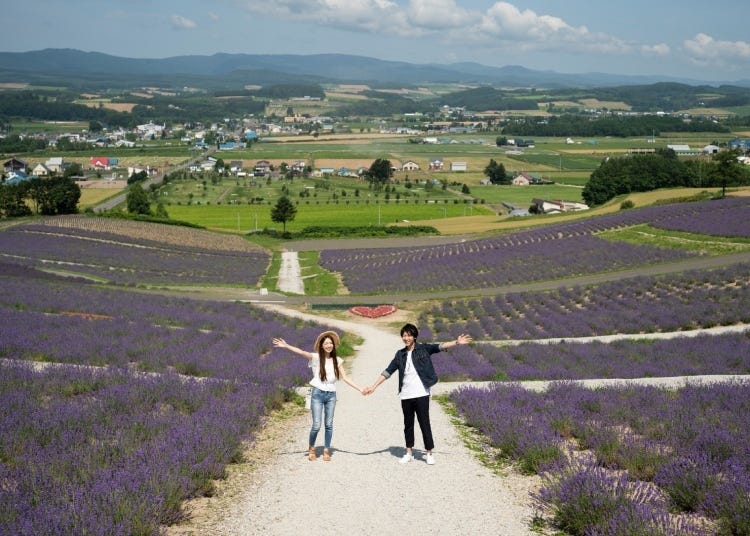 These dreamy Hokkaido lavender fields seem to take over Instagram every summer! They are a massive draw for tourists from around the world. The Furano flower fields, complete with breathtaking waves of lavender, are among the region's most popular.

Starting with the world-famous Farm Tomita, we will share inside tips on how to see the Furano flower fields, plus details on the lavender blooming season so you can get the best photos during your Hokkaido trip.

This summer, make these Hokkaido flower farms part of your itinerary! Don't miss the lavender-covered hills - become enveloped in the refreshing scent drifting softly in the breeze!

Main image: PIXTA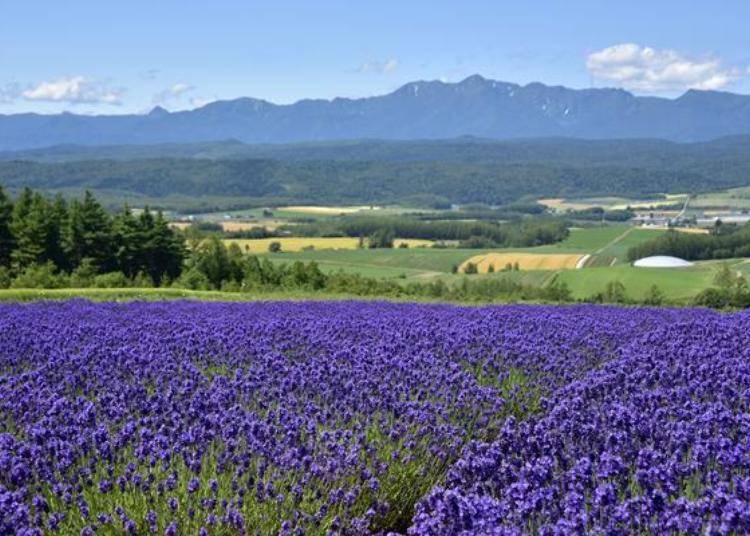 ▲One of the charms of the Furano flower fields district is that you can view the majestic landscapes and flower fields from several locations!
1. Farm Tomita Flower Fields: The Holy Land of Hokkaido Lavender Fields
Farm Tomita revived the declining lavender cultivation in the Furano region and pioneered that established lavender tourism. Now it is a lavender holy land where people visit from around the world.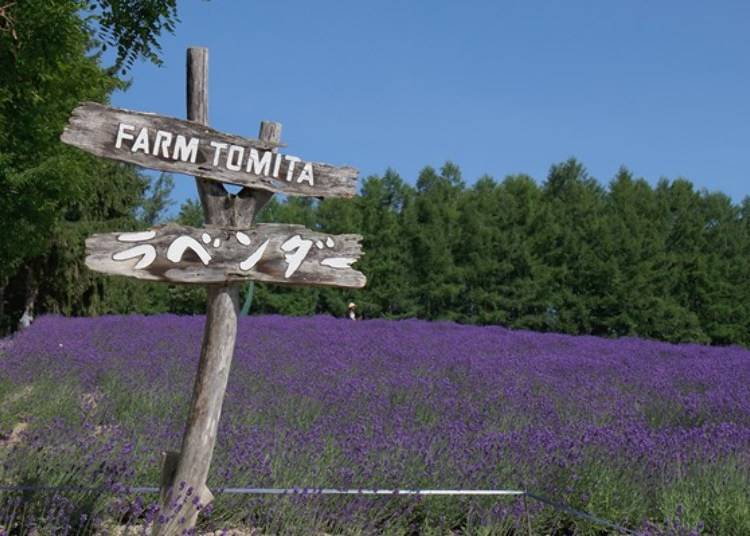 ▲It is not an exaggeration to say that almost everyone planning to view lavenders in the Furano region will visit Farm Tomita
Farm Tomita is about a 45-minute drive from Asahikawa Airport, about 5 minutes from JR Furano Station, and about a 7-minute walk from JR Lavender Farm Station, where only the special train Noroko is allowed to run.

On this incredible Furano flower farm, there are a variety of blooming fields and many places worth viewing!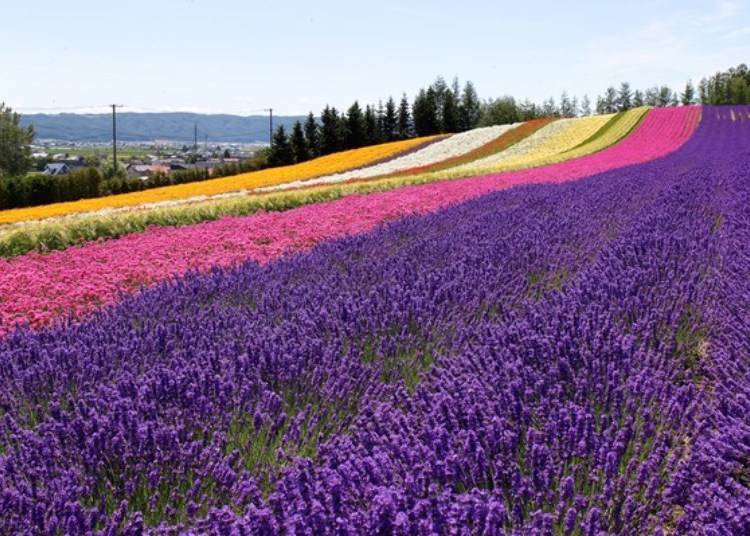 ▲A hill covered with colorful flowers, Irodori Field is a famous spot for snapping pictures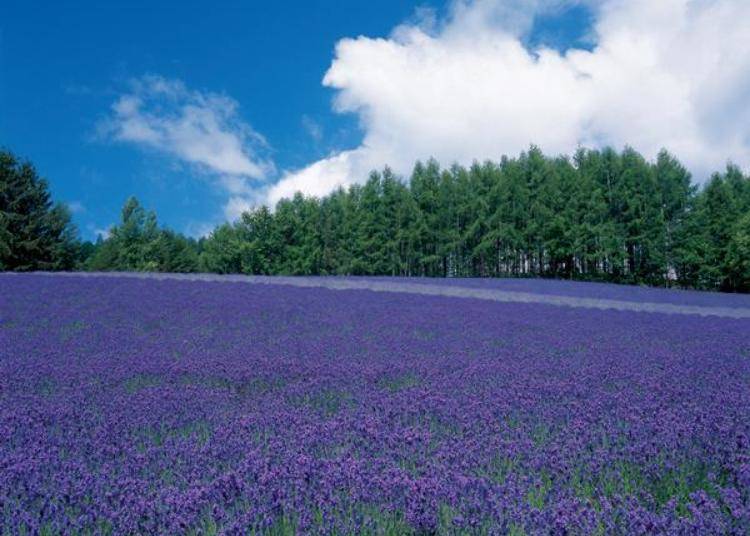 ▲The Traditional Lavender Field located along the slope is also another place to stop by!
Lavender bloom time!
There are many types of lavender here, such as the Noushi Hayazaki and Youtei, which are in bloom during early July to mid-July, and the Okamurazaki, which flowers from mid-July to late July.

Even though there are many late-blooming lavender types, you can enjoy a purple view in various locations on the farm from early to late July.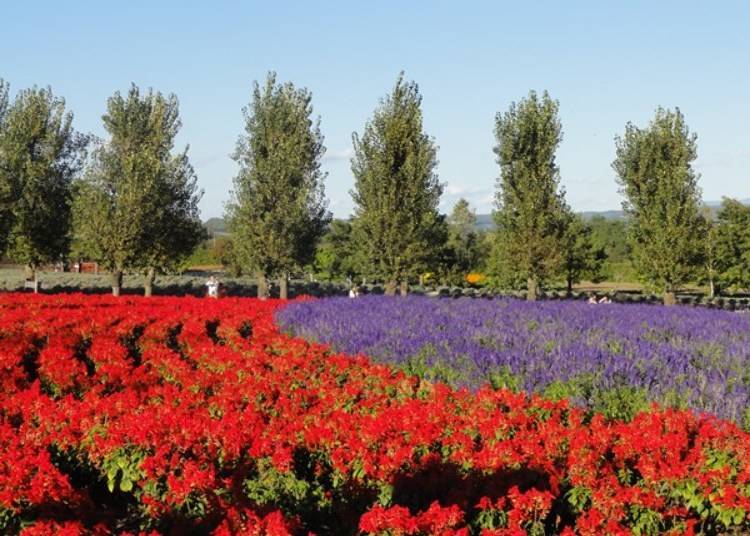 ▲Other than lavender there are various flowers such as poppy and scarlet sage; the farm has flowers in bloom from spring to autumn
Farm Tomita offers shops and cafes like Poppy House and Hanabito House to accompany your flower viewing pleasure.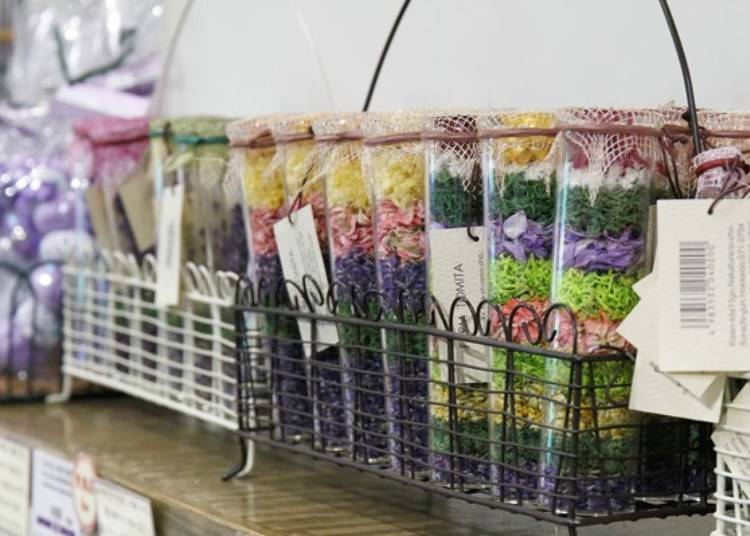 ▲Gifts such as dry flowers made from poppy and lavender are available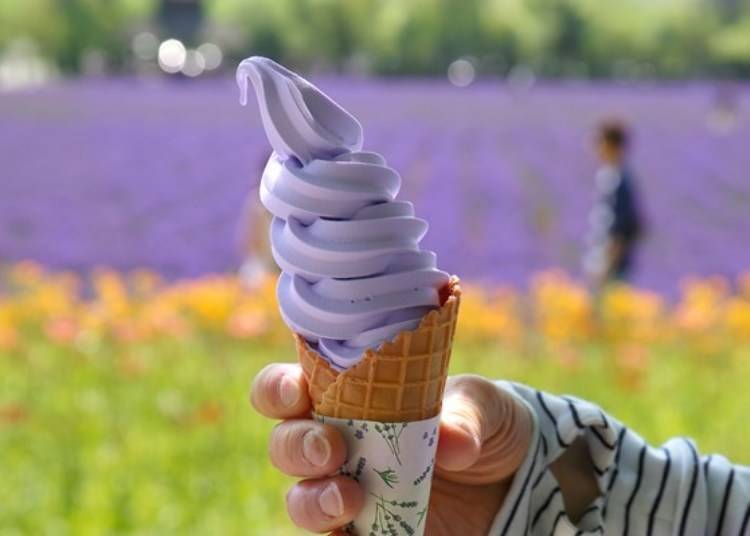 ▲Refreshing flavor & aroma! The lavender soft-serve ice cream (300 yen) is a must-taste
Stroll around with a camera: the beautiful landscape will mesmerize you to spend the whole day here. Magnificent views will convince you that this is indeed a holy land.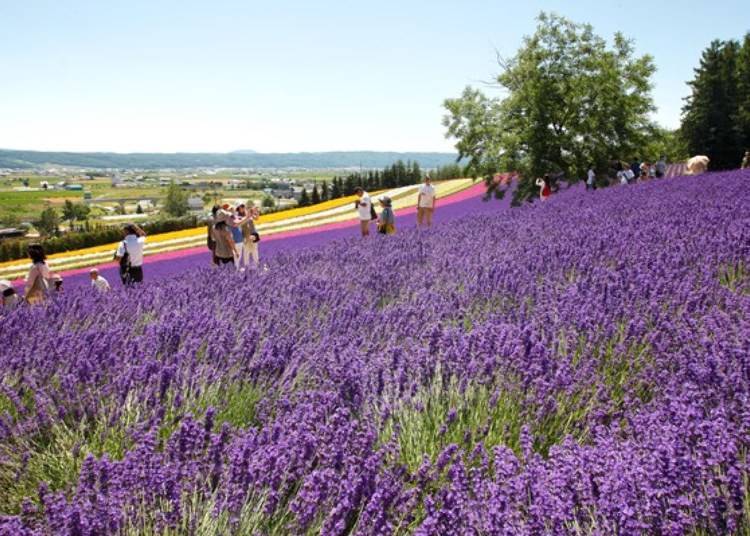 ▲Many visitors during the peak season
During the Hokkaido lavender blooming season in July, there are many visitors, and on the weekends, the parking lot is crammed with a long line of cars forming before noon.

We recommend visiting Farm Tomita in the morning before the crowds descend. Especially if you are planning on visiting these Hokkaido lavender fields, there is some traveling to do and the roads will be crowded, so we propose that you start your sightseeing from here.
Entry Fee: Free
Hours: Normal operation hours planned (December to March will be operated as WHITE SEASON)
Closed: Always open during the lavender season (*Shops, cafes will have different operations hours depending on the facility and season. Please check the website.)
Address

15, Kisenkita, Nakafurano-cho, Hokkaido, 071-0704
View Map

Nearest Station

Naka-Furano Station (Furano Line)


Phone Number

0167-39-3939
2. Choei Lavender Farm: View Lavender Flower Fields From Above!
After Farm Tomita, head on over to Choei Lavender Farm, which is about a three-minute drive away. This is a hidden gem for viewing lavender. Hop on the ski lift and see these Furano flower fields on the slope!
▲Hokuseiyama is a ski resort during the winter and during the summer the slope becomes a lavender field
Enjoy the view going up the slope and once at the top look back to see the magnificent vista!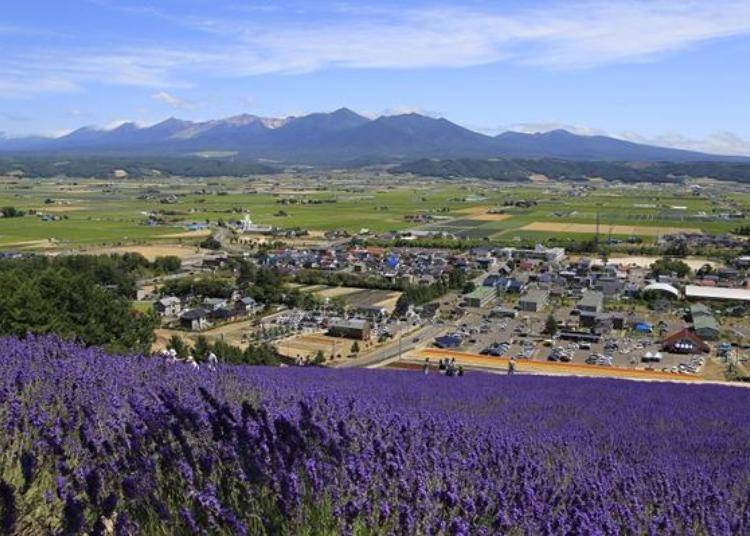 ▲After a 5 minute ride to the top, a magnificent view is waiting for you at the observation area!
Beyond the lavender field sprawled across the slope is a rural landscape and the Tokachi Mountain range. Make sure to stop by after visiting Farm Tomita: this view is a must!

It is possible to walk up and down the slope, however, we strongly recommend the ski lift. Sure, it is easier to get to the top, but the ride down is refreshing!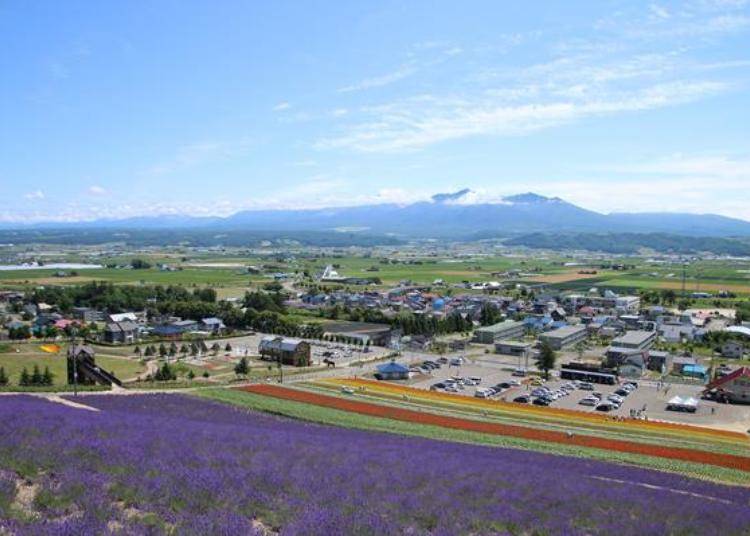 ▲The view going down is also amazing! It is as if you are walking on air above a flower field.
There are 4 types of lavenders here, the early blooming Noushi Hayazaki, the late bloomer Okamurasaki, the white lavender Misetosekka, and the larger Lavandin.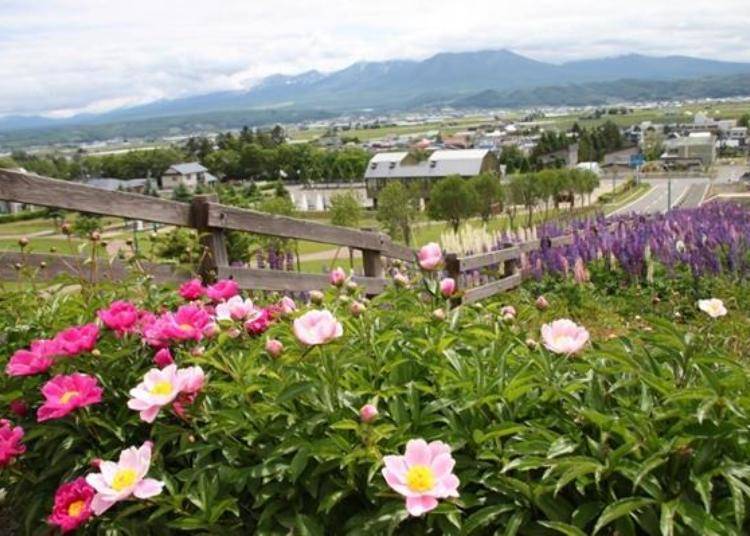 ▲There are also other flowers such as Chinese peony, marigold and white sage for your viewing pleasure
There is some lavender in bloom from late June. However, there are more late bloomers, so we recommend visiting from mid to late July. Make sure to hop on the ski lift to get the full experience!
Entry Fee: Free, round trip ski fare: high school students and up, 300 yen; elementary and middle school students, 200 yen
Hours: Every Year from mid-June to August 31st, 9 AM - 6 PM (may be closed during bad weather)
Closed: Open during the season
Address

1-41, Miyamachi, Nakafurano-cho, Sorachi-gun, Hokkaido, 071-0714
View Map

Nearest Station

Naka-Furano Station (Furano Line)
15 minutes on foot


Phone Number

0167-44-2123
3. Lavender East - Japan's Largest Lavender Field
After riding the ski lift, head on over to Japan's largest lavender field, Lavender East! It is operated by Farm Tomita and is located about 7 minutes away from Farm Tomita by car and about 10-minute drive from Choei Lavender Farm.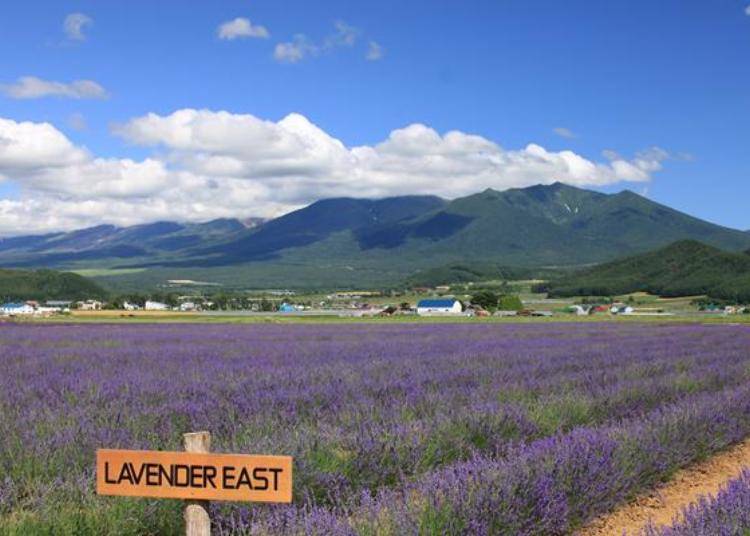 ▲A huge lavender field the size of 3 Tokyo Domes, with about 90,000 flowers planted here
It was originally a farm to produce dried flowers, lavender oil, and other products, however, from 2008 it was opened to the public for a limited period only.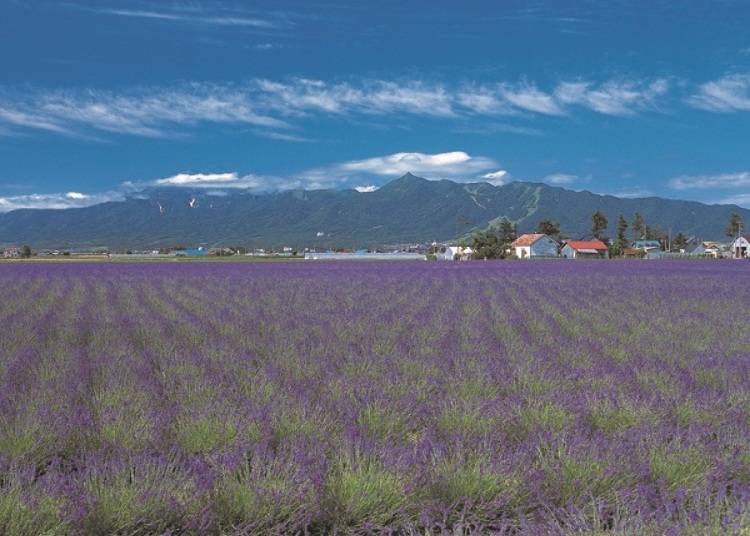 ▲Noushi Hayazaki and Okamuaraski are planted here. The best season to visit is mid-July
There are two major points here. The first is viewing the lavender field from the Fragrant Breeze Hill and observation deck located in the center area of the facility.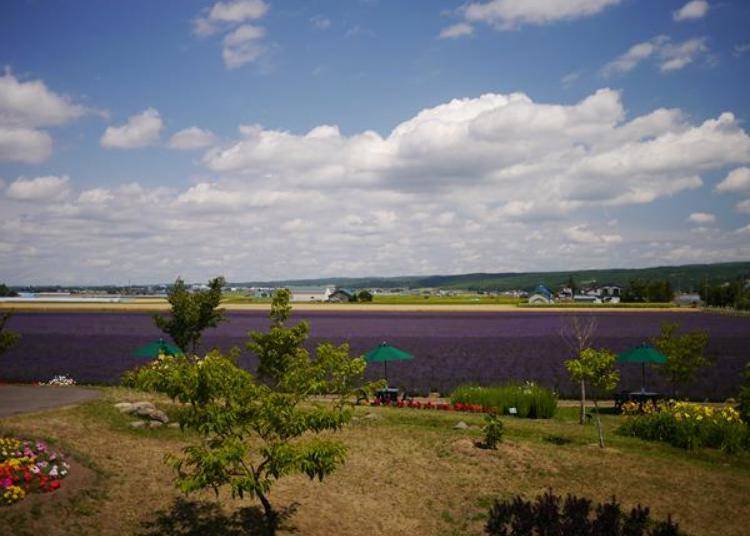 ▲View of the lavender field form the observation deck. In front is the Fragrant Breeze Hill
The observation deck is located in the center of the facility, surrounded by lavender fields. Beyond the grounds is a view of the Tokachi Mountain range and Yubari Mountains.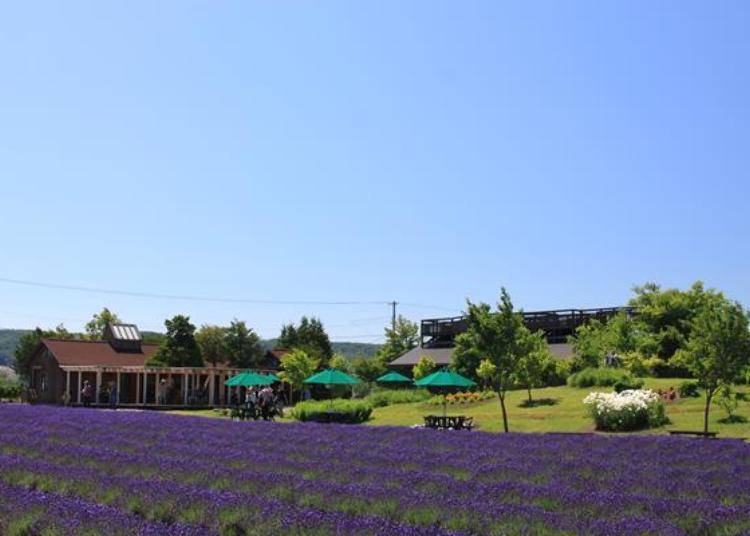 ▲Next to the observation deck is the Lavare House offering gifts and light meals
The second point is riding the lavender bus (200 yen, middle schoolers, and up; 100 yen, 4 years old to elementary school) and enjoying the view. The open van without windows or pillars offers an excellent view and guided tour. While the farm is open, feel free to ride the bus at any time.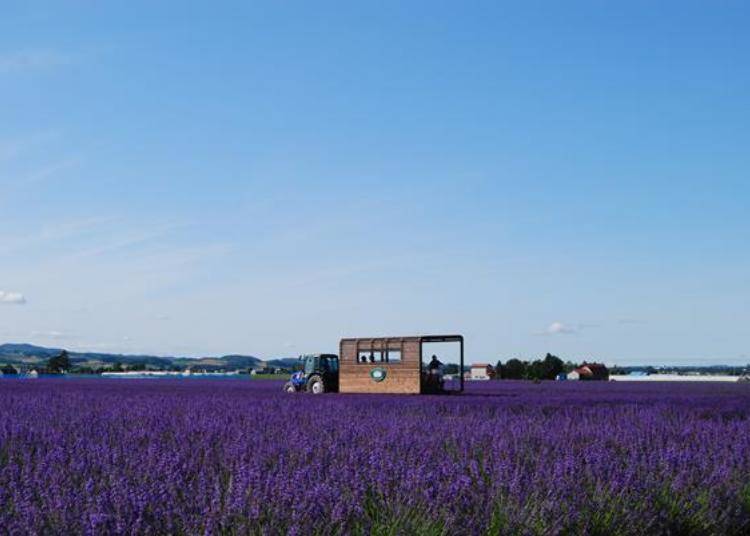 ▲The leisurely ride goes through the purple field in 15 to 20 minutes
Being able to enjoy the view, fragrance and learn trivia, the lavender bus is a must ride!
Entrance Fee: Free
Hours: July 1-24, 2022 from 9:30 a.m. - 4:30 p.m.
Closed: Open during the season (not accessible during off-season)
ラベンダーイースト

Address

〒071-0526 北海道空知郡上富良野町東6線北16号/16, Higashi6-senkita, Kamifurano-cho Sorachi-gun, Hokkaido, 071-0526, Japan

Phone Number

0167-39-3939
4. Hinode Lavender Field: Breathtaking Views From the Observation Deck!
Hinode Lavender Garden in Kamifurano Town is a 10-15 minute drive from Lavender East. This region started lavender cultivation first in the Furano region, and there is a monument indicating the birthplace of lavender cultivation.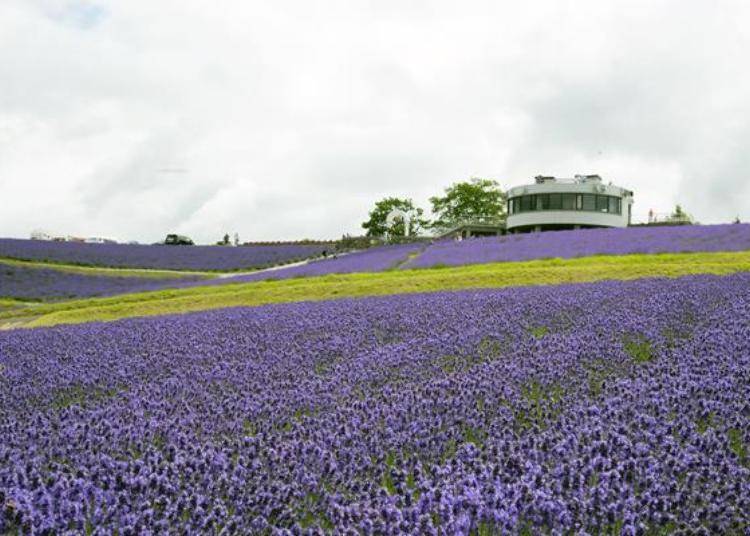 ▲We recommend the view from the observation deck located on the hilltop above!
To reach the observation deck from the parking lot, walk up hill and use the steps surrounded by lavender. The view from the observation deck is worth the walk!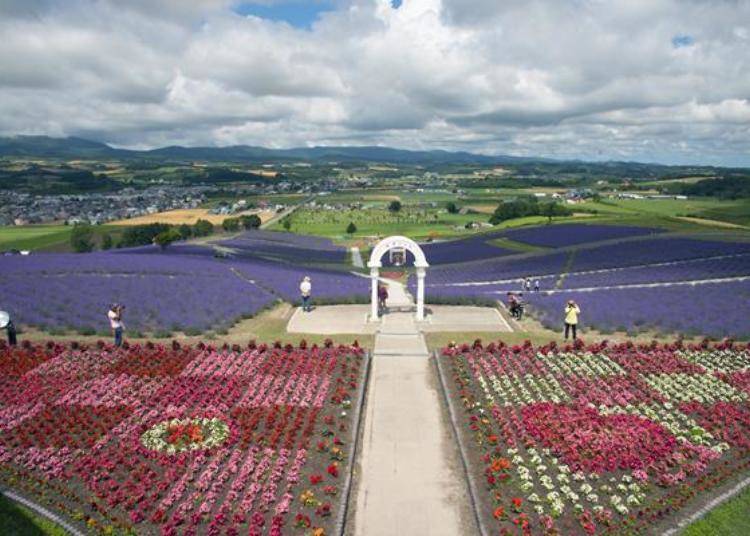 ▲Past the observation deck surrounded by flowers is the view of the Furano flower fields and Furano basin beyond
Just below the observation deck is the white monument Bell of Love (Ai no Kane), which is popular with couples and young ladies.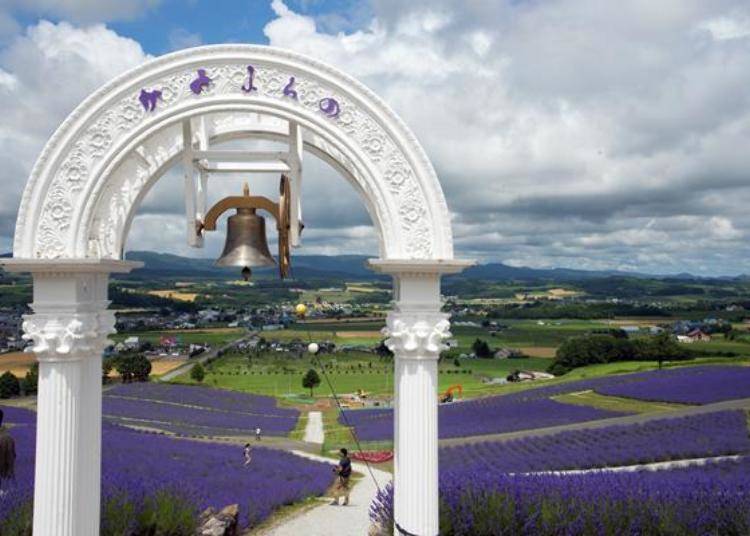 ▲It is said that if you pledge your love here it will be fulfilled!
The main lavender type is the Okamuarasaki, however there is also the early bloomer Noushi San Go aka Koimuraskai in some parts. The best season to view the Okamuarasaki is mid to late July.
日の出公園ラベンダー園

Address

〒071-0521 北海道空知郡上富良野町東1線北27号/27, Higashi1-senkita, Kamifurano-cho Sorachi-gun, Hokkaido, 071-0521, Japan

Phone Number: 0167-45-6983(Kamifurano Public Commercial & Industrial Tourism Planning Department, Commercial & Industrial Tourism Group)
Entrance Fee: Free
Hours: Anytime
Closed: None
5. Rokugo Viewing Platform (Furano Jam Garden) - Amazing Hokkaido Lavender and Sunflower Fields
Next, we will head to the Rokugo Viewing Platform located at Furano Jam Garden in Furano outskirts Rokugo, which is about a 40-minute drive from Hinode Lavender Garden.

A small tip, from Kamifurano to Rokugo district, the national road is usually crowded; it is smoother if you take the prefectural road closer towards the foot of Mount Tokachi.

We recommend the view from the observation deck.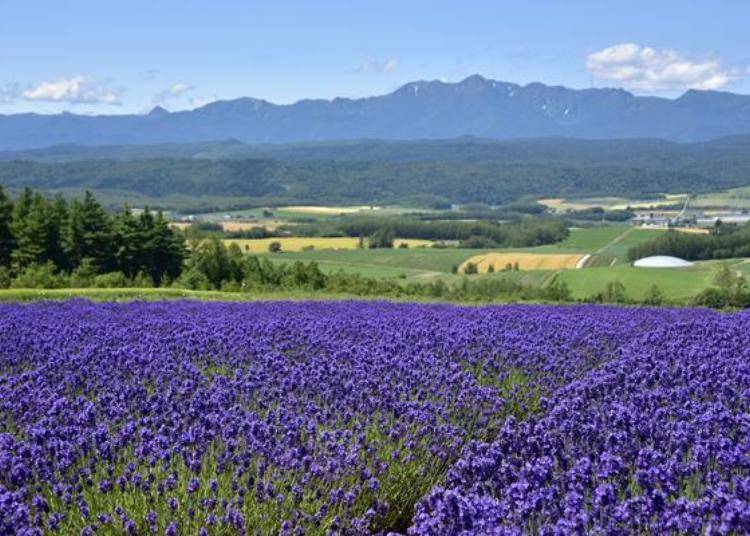 ▲With a majestic rural landscape, Rokugo was the set location for the Japanese drama Kita No Kuni Kara
Around the viewing platform, there are a variety of Furano flower fields, including lavender fields, Chinese Peony, Spider Flower, Cosmos and other seasonal flowers.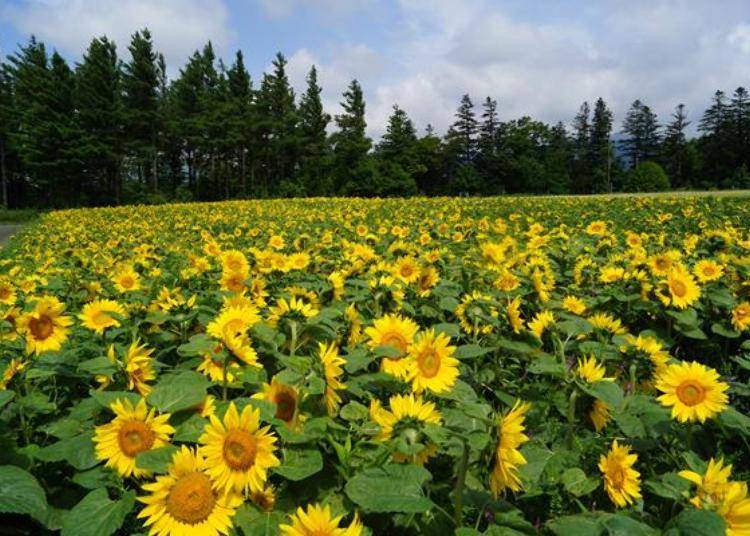 ▲Every year in early August sunflowers are in bloom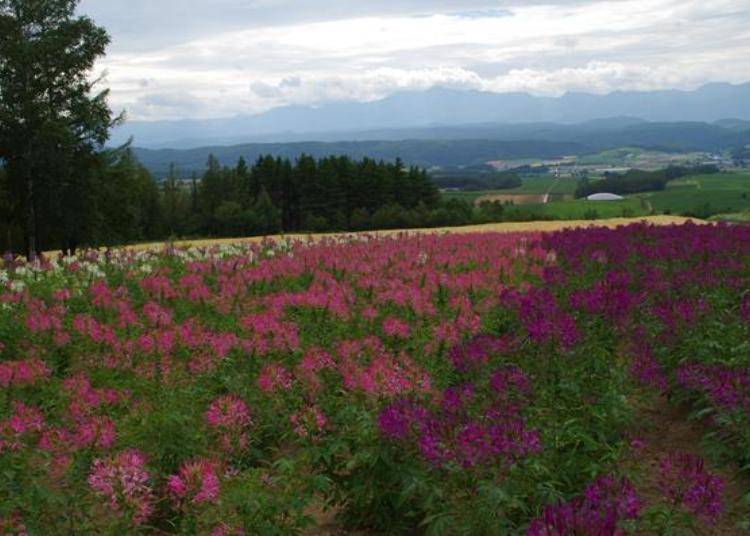 ▲The best season to view the Spider flower fields is early to late August
▲A beautiful scenery of Kigarashi field can be seen during mid-August every year
After viewing the beautiful flowers, head on over to the Auntie Jam's Gift Shop for some shopping.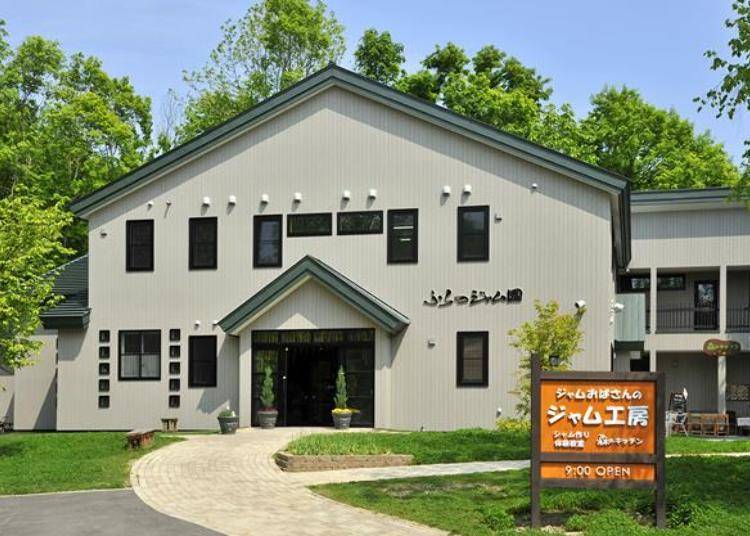 ▲Auntie Jam's Gift Shop and Anpanman Shop is near the viewing platform
Made without added water and using only vegetables and fruits from Hokkaido, the jam is nutrition-packed and very delicious. You can sample the 38 flavors of jam and other processed agricultural products.
▲There are various jams such as blueberry and haskap, and you can even enjoy freshly made jam
The main lavender here is the late-blooming Okamurasaki which can be seen from mid to late July. However, even if you miss the Hokkaido lavender season, there are many other types of flowers to enjoy.
Rokugou Viewing Platform (Furano Jam Garden)

麓郷展望台(ふらのジャム園)

Address

〒076-0162 北海道富良野市東麓郷3/3, Higashirokugo, Furano-shi, Hokkaido, 076-0162, Japan

Phone Number

0167-29-2233

Entrance Fee: Free
Hours: 9 AM - 5:30 PM
Closed: End of the year to New Year's (temporary closure during the winter season)
6. Highland Furano: Enjoy Hokkaido Lavender Fields While Soaking in an Outdoor Hot Spring
How about soaking in an outdoor hot spring while looking at lavenders at the end of your trip? Head on over to Highland Furano, a 50-minute drive from Furano Jam Garden and about 20 minutes from JR Furano Station.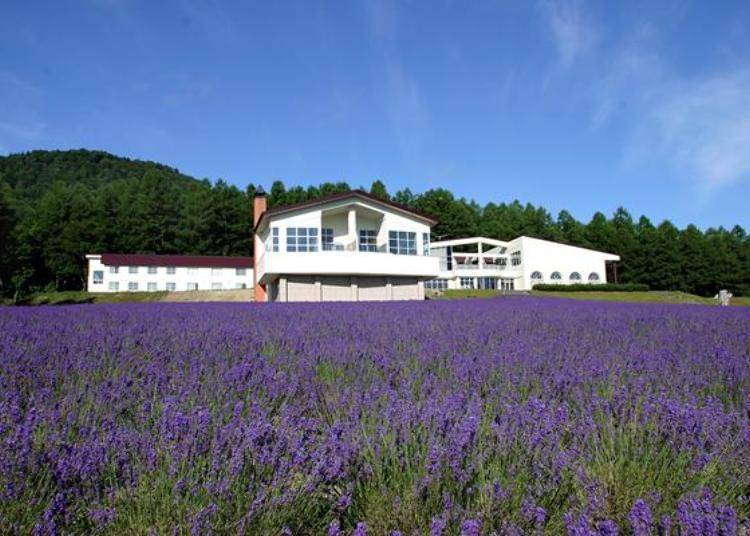 ▲The Sea of Lavender in front of the hot spring lodging facility
The Furano onsen hot spring is open late and is perfect to wash away your fatigue from sightseeing and driving!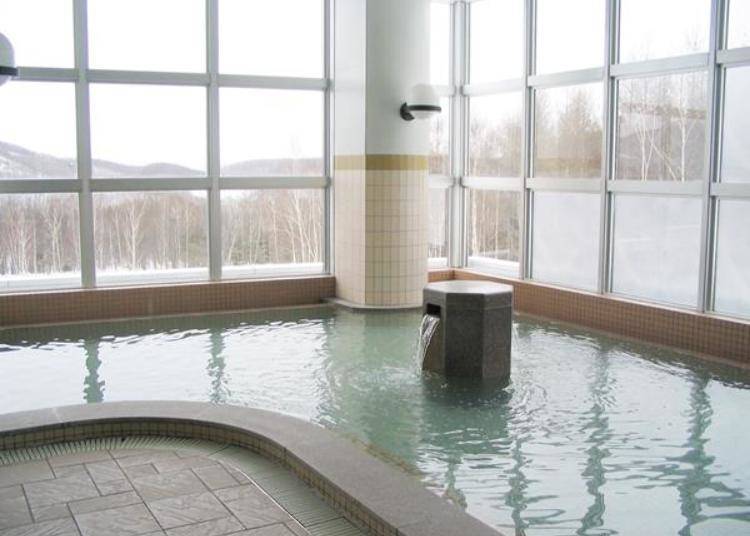 ▲The weak alkaline hot spring has a soft touch and is very refreshing
You must try out the outdoor onsen hot spring!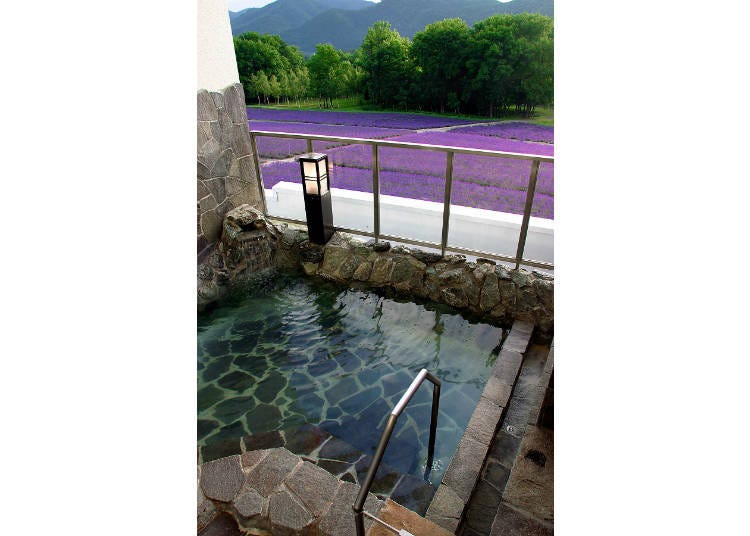 ▲Past the fence of the hot spring is the Sea of Lavender
These Hokkaido lavender fields are illuminated during mid-July, providing a view after sunset.

The primary lavender type here is the Noushi San Go, which blooms a little later than early bloomers and a little sooner than late bloomers. The best time for viewing is mid-July; however the lavender and hot spring can be enjoyed until late July.
ハイランドふらの

Address

〒076-0036 北海道富良野市島ノ下/Shimanoshita, Furano-shi, Hokkaido, 076-0036, Japan

Phone Number

0167-22-5700

Price: Day trip bath Adult: 510 yen, middle school student: 407 yen, elementary school student: 257 yen, 100 yen discount for adults from 6 AM-8 AM and after 9 PM
Hours: 6 AM to 11 PM (bathing reception ends at 10:30 PM)
Closed: Closed on maintenance days

Vacancy search, reservation

from

12,540JPY

1room, 2adults

Check with our partner site as the latest rates, rate details, and guest room requirements may vary.
When is the lavender blooming season in Hokkaido?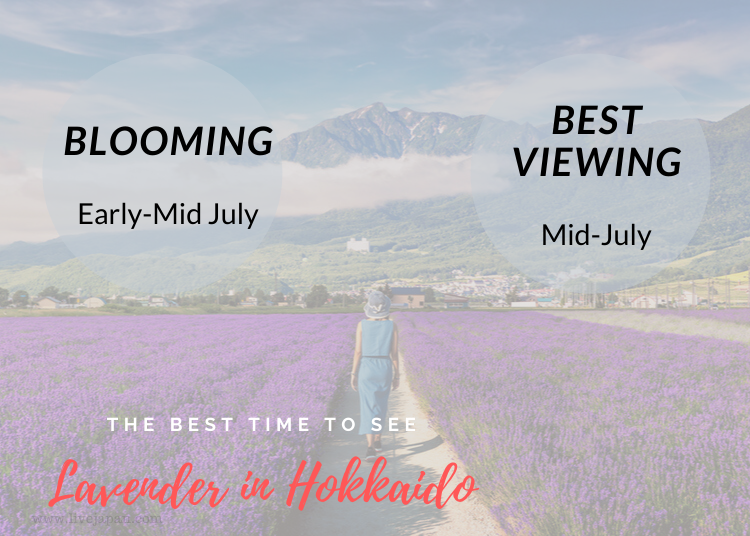 Calendar for the lavender blooming season in Hokkaido
Lavender season in Hokkaido starts in late June and is in full bloom from early to mid-July. Late-blooming lavender varieties will begin flowering in early July and peak from mid to late July.
The best time to see Hokkaido lavender is in July, especially between July 10-25. Harvesting will start in August so visit by the end of July by the latest.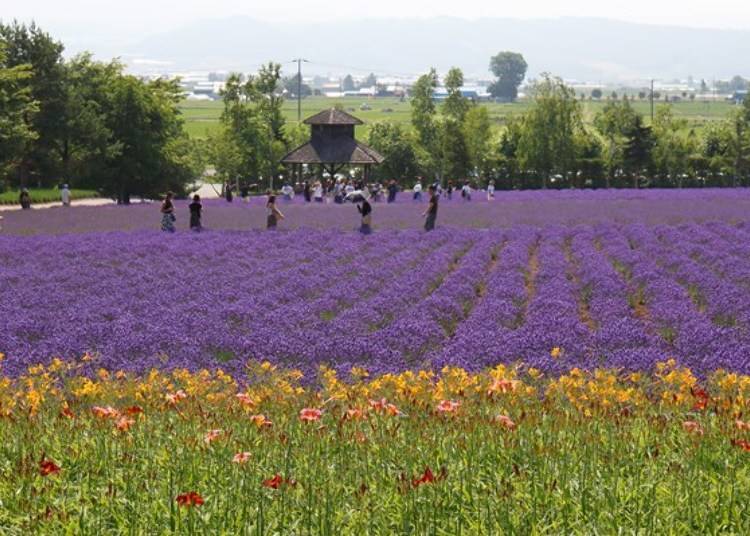 What did you think of the lavender fields in the Furano region? For everyone planning to travel to Furano to view lavender, be sure not to miss the best season and enjoy your lavender sightseeing!

*All prices in the article are tax inclusive.
*This article was partially revised based on the content of the coverage in 2017
Written by: Nobuhiro Kawashima
Explore Japan at Your Pace - Rent an RV!
RV rentals are a great way to see a new side of Japan from the open road! Use LIVE JAPAN's promo code below to get 5% OFF your rental now.
・Promo code: LiveJapan_coupon_02
・On the "Request for a Quote" page, enter the promo code to get your discount.

*This information is from the time of this article's publication.
*Prices and options mentioned are subject to change.
*Unless stated otherwise, all prices include tax.
Limited time offer: 10% discount coupons available now!