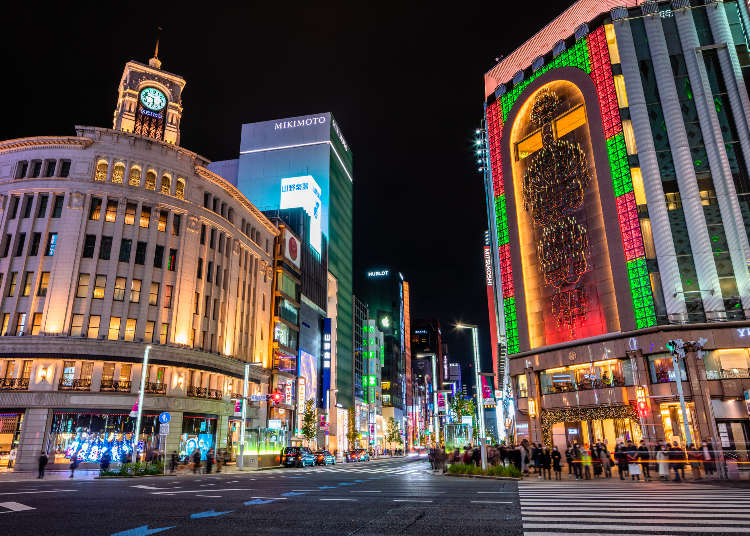 Where are the best shopping districts in Tokyo? Whether you hit up every duty-free shop you see or you just want to pick up omiyage (souvenirs), you are going to shop at some point during your trip.

But, shopping in Tokyo can be difficult; you have language barriers, cash-only shops, and a range of shopping centers to choose from such as outlets or shopping malls or specialty shops! You will likely feel overwhelmed.

With the right guide, shopping in Tokyo can be really enjoyable. That's why we've rounded up the top 7 shopping districts in Tokyo for an unbeatable time!
1. Ginza (For Fashion and Luxury)
If you enjoy the finer things in life—nice bags, fancy cars, shiny arm candy—Ginza is for you. Ginza is the upscale luxury shopping district in Tokyo. Here you can find the best in international and domestic luxury goods.

As the city's luxury center, many high-end brands have set up their flagship stores in Ginza. You can find Chanel, Bvlgari, Rolex, and more, as well as high-end department stores like Mitsukoshi Ginza and the new GinzaSix.

Ginza is a popular destination for luxury shoppers, and many tour groups have buses that take visitors to the major department stores for the day. Shopping rules here, so much so that the main street is closed on Sundays for pedestrians who are here to shop.
2. Kappabashi (For Stylish Kitchenware)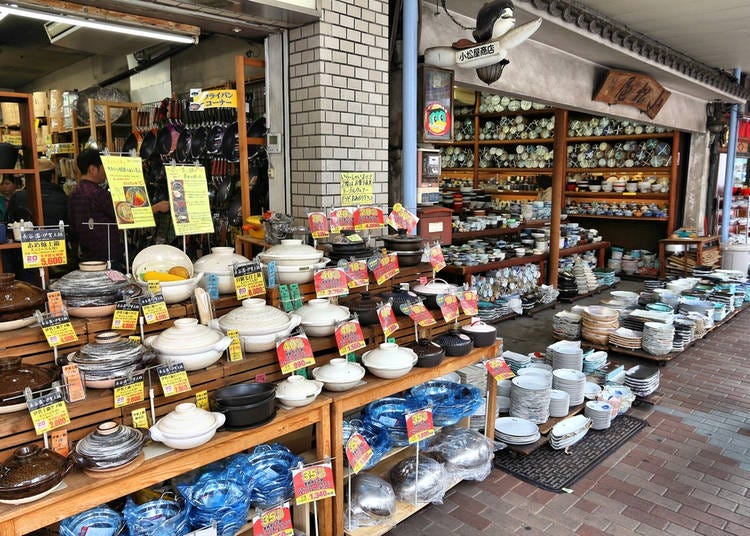 Those who are looking for something a bit less packed should head over to Kappabashi. Also known as Kitchen Town, Kappabashi is the best shopping district in Tokyo for buying cooking supplies.

The main street connects Ueno and Asakusa and is lined with various cookware shops. Over 100 years old and with more than 170 shops, Kappabashi has everything from bowls and baskets to tables and chairs.

You'll find this place less touristy than other shopping districts in Tokyo, with many locals visiting the area in search of new kitchenware. For something uniquely Japanese, pick up the realistic, but fake, wax food samples; these model dishes are displayed in front of Japanese restaurants to entice hungry patrons.
3. Asakusa (For Perfect Japanese Souvenirs)
Asakusa is a shopping district in Tokyo where you will find a treasure trove of Japanese goodies that make the perfect souvenirs! If you visit Senso-ji Temple, you will walk down Nakamise Dori, a promenade leading to the temple lined with traditional-styled shops that sell plenty of souvenirs.

Fans, chopsticks, tabi (traditional Japanese socks), and more can easily be found among these souvenir shops in Asakusa. But, for something a bit more unique, try the quieter side streets. The items for sale here are more authentic and better quality.
4. Jimbocho (For Winter Jackets, Ski Shops & Sport, Books)
The adventure traveler and the book lover in your group will especially love shopping in Jimbocho.

Here, you can find an array of sports gear, especially winter sports. Every year, people come from around the globe to enjoy Japan's powder. So, winter sports enthusiasts have carved out a place in Tokyo to shop for the best ski and snowboard gear.

Yasukuni Dori connects Jimbocho and Ogawamachi and has department stores, stand-alone shops, and specialty shops catering to skiers and snowboarders. Victoria and L-Breath are great places to start.

But winter jackets and snowboarding gear isn't the only thing you'll find in Jimbocho. Actually, Jimbocho is where you can find books! And a lot of them. About 200, in fact. Some small, some big. Some old, some new. You can find all kinds of books here including plenty of old and secondhand ones.

Some bookstores only have Japanese books, but others sell or even specialize in foreign language books like Sanseido and Paper Press Cafe!
5. Akihabara (For Manga, Electronics & More)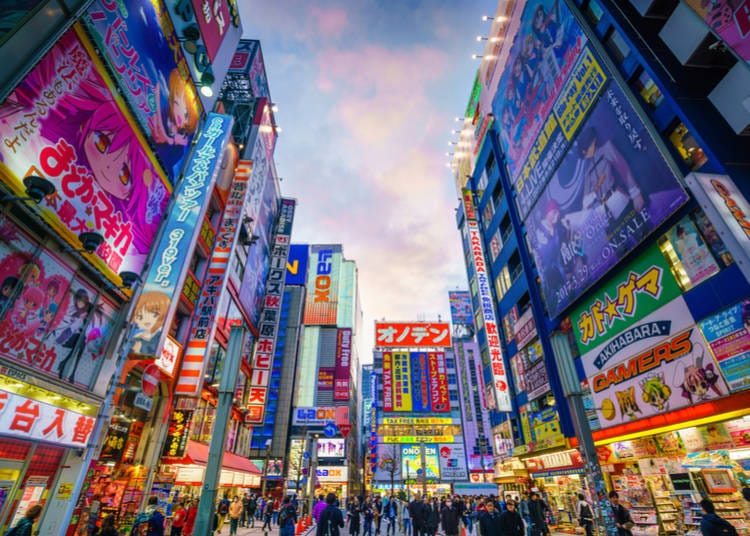 Have a bit of an obsession with anime and manga culture? Caught up on the latest season of Shingeki no Kyojin?

If anime and manga interest you, head over to Akihabara for the best shopping in your life! This is otaku central, after all! You will have no problem finding collector's pieces, OVAs, and other memorabilia from all kinds of anime. Take your time and visit Animate, Radio Kaikan, Mandarake, and more!

While you're in the area, you can also browse the numerous electronics shops! Here, shopping malls filled with all kinds of electronics are at every corner. Whether you want old, new, whole devices, or just a specific piece, you'll find all the tech you could ever want and then some!

Try Yodobashi Camera or Bic Camera to begin with, and head to the back streets where smaller, independent shops sell individual pieces and particular items.
6. Ochanomizu (For Guitars & Instruments)
Meanwhile, the musically inclined will find their place in Ochanomizu.

Lovingly called Guitar Street, Meidai Dori is filled with guitar shops and outlets. Fender, Gibson, Martin, PRS, Rickenbacker, Yamaha, Gretsch—you'll see all of them and more. You can find everything relating to guitars on this road. And you have the option of buying new or used.

For secondhand try Shimokura Secondhand or Ishibashi. Or, go all out and order a custom guitar at the ESP Custom Shop.
7. Harajuku (For Young Fashion)
If you've been captivated by Japanese youth fashion and lolita culture, then take a day to explore Tokyo's shopping district of Harajuku.

Best known for Takeshita Dori, Harajuku is where you can find all the latest avant-garde trends and styles. Be careful, as this area gets super crowded with locals and foreigners, especially on weekends. Try Bubbles for super kawaii outfits, or go to ACDC Rag for edgier pieces. You can also look for one-of-a-kind items at secondhand shops like Kinji and Ragtag nearby.

But, for those who are a bit too old to wear the looks overtaking Takeshita Dori, head toward Aoyama. Along Omotesando Dori, you'll find high-end fashion for the more mature fashionista. Stop at one of the many shopping malls along the way, like Omotesando Hills and Gyre, for luxury finds.
8. Shimokitazawa (For Vintage Clothing)
Shimokitazawa is a unique, trendy and artistically-minded neighborhood, lying just to the west of Tokyo's world-famous Shibuya district. The neighborhood is split up into two areas on either side of the train station (north and south), both of which are characterized by a collection of narrow pedestrian walkways that are bursting with life, great food, delicious coffee and retail variety in equal measures.

The narrow labyrinthine alleyways of "Shimokita" (as it's known in colloquial terms) are flanked by vintage clothing stores, craft coffee shops, global eateries, indie fast-food joints and a smattering of pubs and cocktail bars. It's also home to a plethora of stores proffering all kinds of trinkets, oddments, paraphernalia and memorabilia from the days of yesteryear: vinyl LP's, old-school books and magazines, retro antiques, traditional lacquerware, you name it.
With a bit of help, you can find almost anything in Tokyo! Everything from snowboards to lolita fashion to limited edition gunpla models is in stock in Tokyo. So, make sure to check out these shopping districts in Tokyo for the ultimate haul!

Photo credit (main image): Perati Komson / Shutterstock.com
Book an unforgettable shopping experience in Tokyo!
Make your trip extra memorable by booking one of these recommended tours on our partner site, Voyagin!
*This information is from the time of this article's publication.
*Prices and options mentioned are subject to change.
*Unless stated otherwise, all prices include tax.