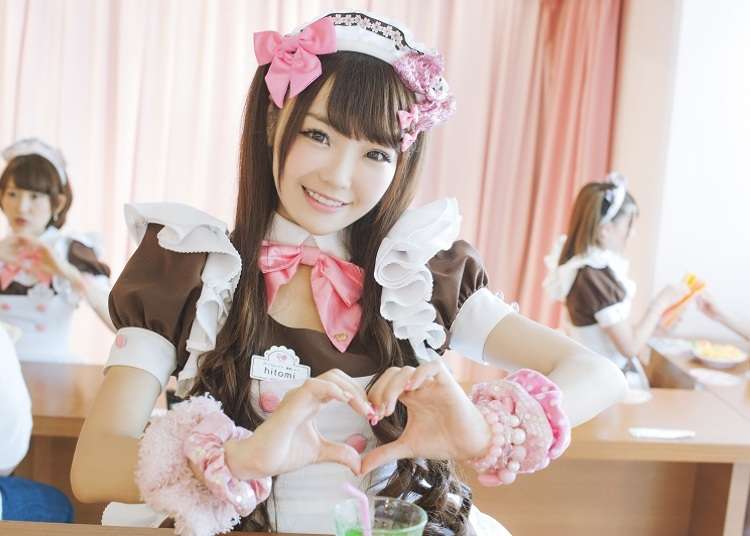 "Welcome back, master, mistress," says the Akihabara maid cafe staff decked in a cute outfit with a bright smile on her face as she greets you at the door. This is a scene that plays out daily at every maid cafe worth their while.

Maid pop culture is one of Japan's representative subcultures, and it has gained much popularity around the world in recent years as well!

Maid cafes are where you can find adorably dressed maids, swanky live performances, and fantastic food. These shops have attracted even ladies who have a passing interest in cute things! Some, however, lament that it's too tricky for complete newbies to the subculture to step into a maid cafe just like that, and perhaps you agree with them. Is that true, though?

That's what we're here to clear up! We'll be introducing you to five beginner-friendly maid cafes in Akihabara, a popular hotspot for foreign visitors. And we have the best person to guide us through the experience as well - a former maid by the name of Mariannu. A cosplay enthusiast and fervent fan of fictional worlds, she chose to go into this line to work at a place where she could freely converse with people about her interests.

According to Mariannu, there's room for plenty of variety among maid cafes as well, which means there are plenty of ways to enjoy them. Let's ask her to introduce us to some of them right away!
1. @Home Cafe: Relax at leisure in its spacious environment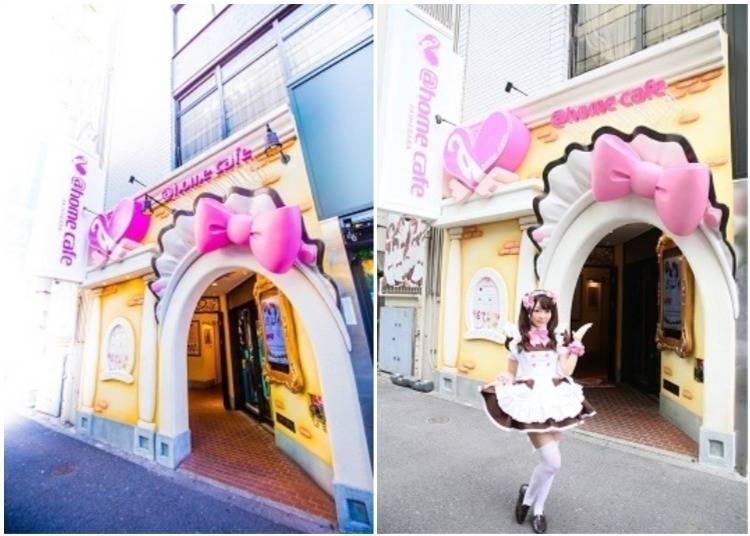 Her first recommendation is @Home Cafe Akihabara.

Mariannu: "The most unique trait of the cafe is its spacious and relaxing interior. Because the cafe employs many maids, you're bound to find one with a personality that speaks to you! You can also take commemorative photos with the maids here, or play competitive games with them."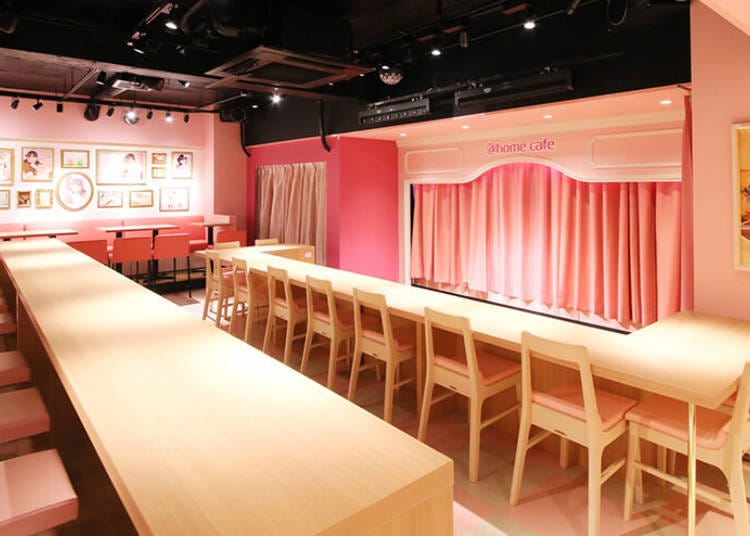 The Akihabara main shop is a spacious cafe that occupies the third to seventh floors of the building.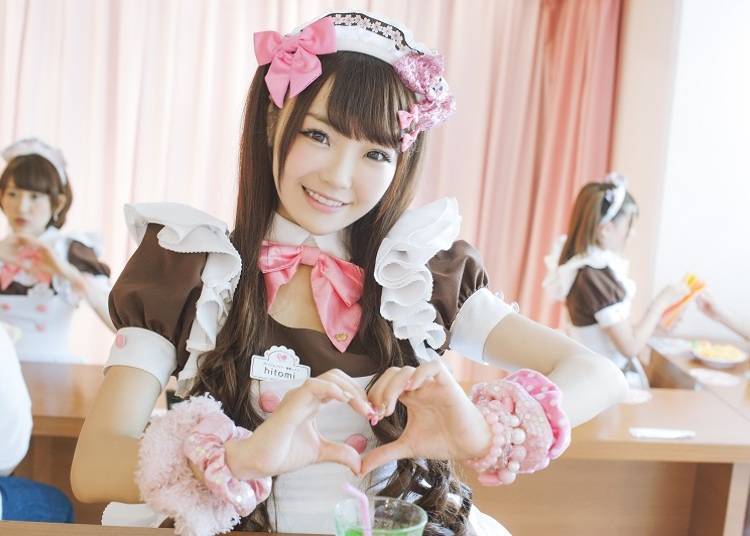 As you step into the store, an usher maid will welcome you as if you have just returned home. As you walk through the shop, the maid will ring a bell, and a chorus of "Welcome back, master, mistress!" will sound out from all the maids who happen to hear the ringing.

Once you're comfortably seated, the system and menu will be carefully explained to you, helping you to feel at ease even if it may be your first time visiting a maid cafe.

The menu is available in Japanese, English, and Mandarin Chinese. Many tourists love the fact that all staff at the cafe have undergone English language training as well!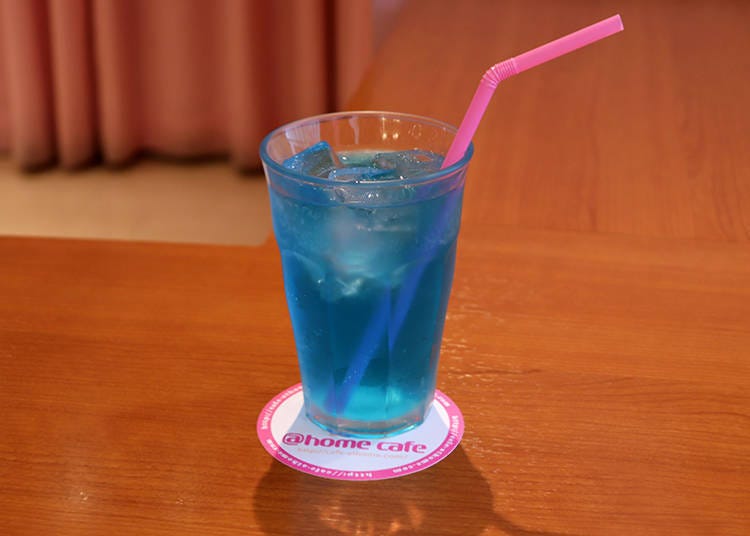 Popular items on the menu are foods that allow for fun interaction with the maids.

Take this "Furifuri Shakashaka" drink, for example, that allows guests to shake and mix drinks with the waiting maid for just 750 yen (tax excluded). Choose from a milk or soda base and see what color you end up with!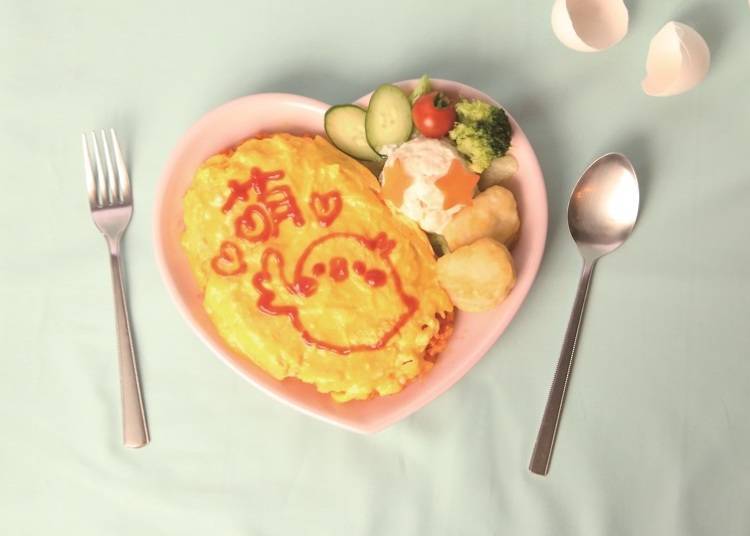 Another popular item is the "Pipiyopiyopiyo Piyokosan Rice" for 900 yen (tax excluded), where the maid will decorate your dish with ketchup art. All artwork, whether a rabbit, cat, dog, or any other cute thing, is done on the spot. To finish off, the maid will cast a "charm" that's full of love for you, to ensure that your tasty meal tastes even better!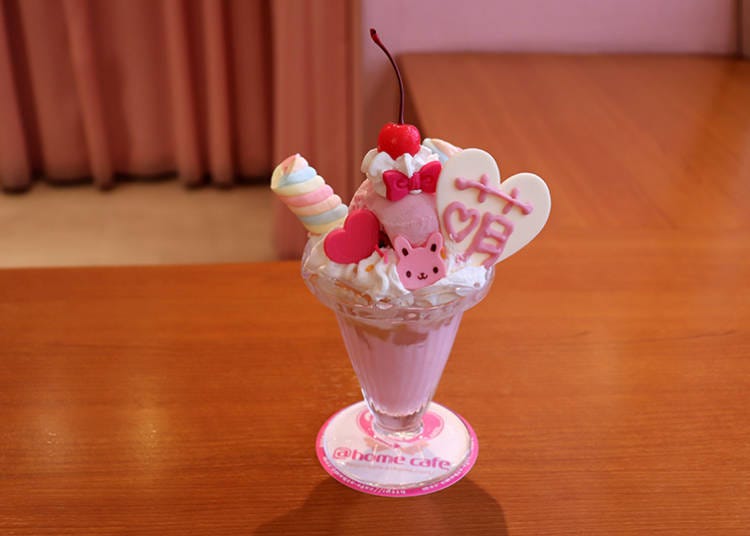 For dessert, try the pretty pink "Ojochama Sundae" for 700 yen (tax excluded), or the cool blue version, "Obocchama Sunday" for the same price. The pastel colors are as sweet as they taste!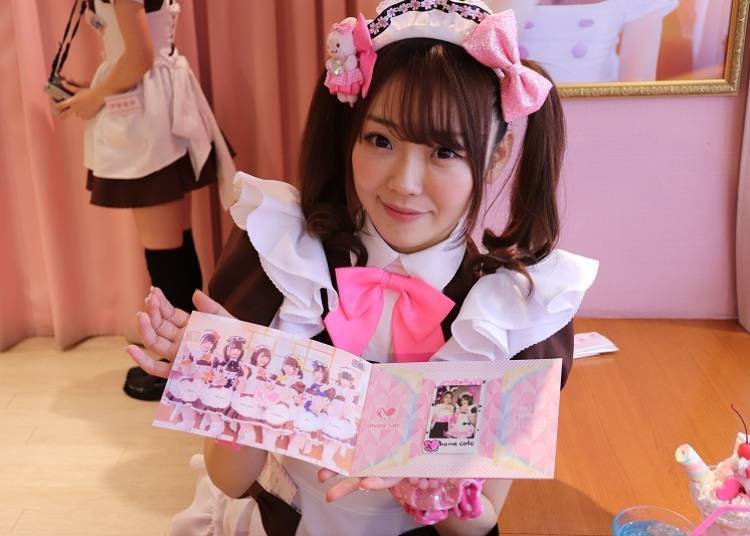 Mealtime is one hour for all guests. The basic fee for restaurant use would be the entrance fee, and any one menu item ordered, and this starts from just 1,270 yen (tax included).

There are also packages that come with photography sessions or an opportunity to play games with the maids. Some packages may also include food or dessert.

For beginners who don't know what activity to try, consider taking one of their packages just for simplicity's sake. Doing this will free up your attention for more time with the bubbly maids waiting on you!
On the second floor of the building is the @Home Shop where you can buy souvenirs like maid photos, "Moemoe Pink Curry", "Popcorn", and other interesting items.

How about a combination item - popcorn with a maid photo on its packaging? You can buy a "Moekyun Popcorn" at 550 yen (tax excluded) for that! These maid cafe original products come in different flavors - strawberry, blueberry, or caramel, and each product package comes with a printed photo of an @Home maid.

Certainly, one of the more distinctive items to bring home as a souvenir commemorating your visit!
@ほぉ~むカフェ秋葉原本店

Address

Mitsuwa Bldg. 3F to 7F, 1-11-4, Sotokanda, Chiyoda Ward, Tokyo-to

Phone Number

03-5207-9779

Hours: 11.00 a.m. – 10:00 p.m. (last order 9:20 p.m.); Weekends and holidays 10:00 a.m. – 10:00 p.m. (last order 9:20 p.m.)
Closed: Open daily
2. Cure Maid Cafe: For a calmer and soothing experience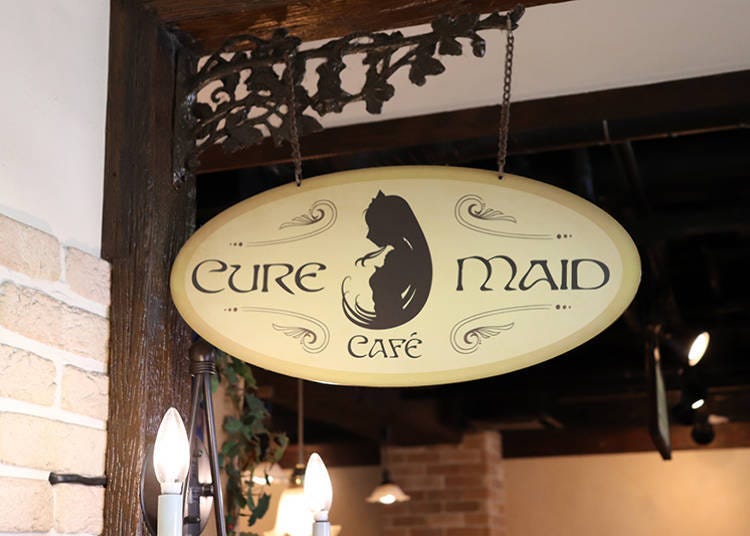 Cure Maid Cafe was established in 2001 and is known as the "Original Maid Cafe".

Mariannu: "The maids here wear distinctive long skirts and they provide services reminiscent of what the term 'maid' classically meant before it became a pop subculture icon. So for those of you wanting some delicious afternoon tea and cakes, you can't go wrong with Cure Maid Cafe!"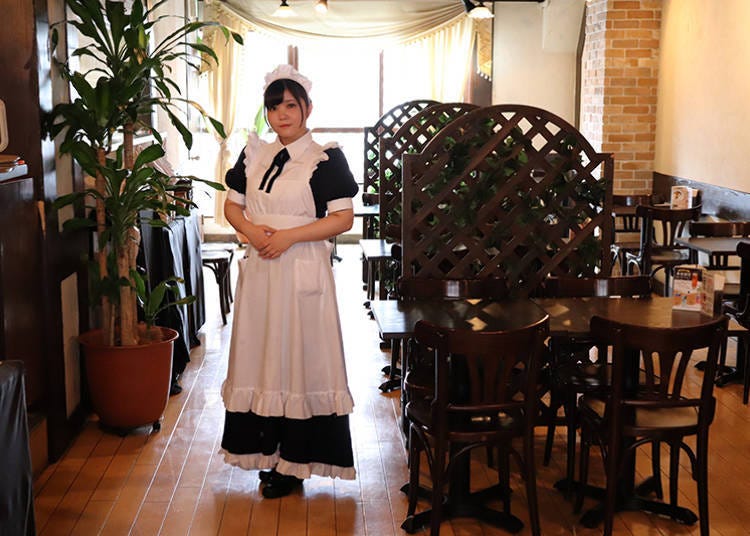 This isn't a cafe for fun interaction with the maid waiting staff, but a place to soothe your nerves in a calm environment. If you think you would be too nervous about striking up a conversation with a maid, but still want to have a taste of what a maid cafe is like, then you don't want to miss visiting this place!

The maid staff here are dressed in classic maid wear and trained to provide wholehearted and thoughtful services to guests. The long skirt uniform accentuates the maid's dignified bearing, so much so that dining here makes you feel like a true-blue aristocrat!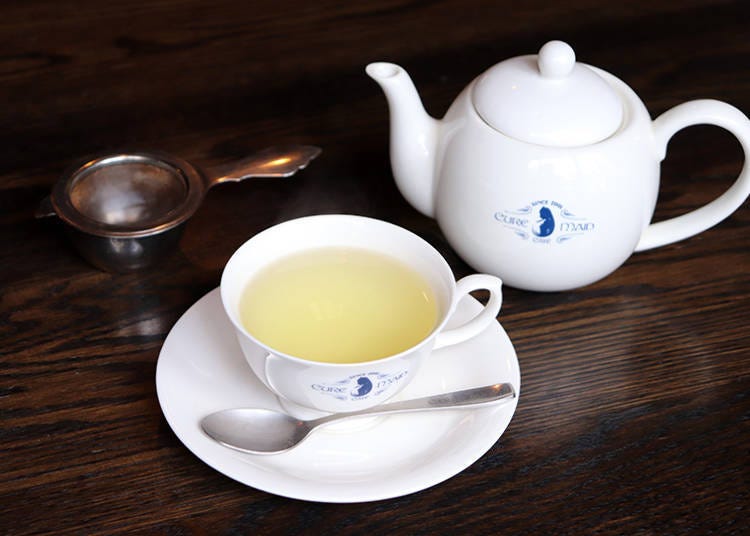 The tea here is so fastidiously prepared, the Japan Tea Association recognizes it as a "Tasty Tea Shop." Needless to say, we highly recommend the tea helpings here as well.

"Cure Lumiere (500 yen, tax excluded)" is an original blend herb tea the cafe is particularly proud of. The type and amount of herbs that go into the blend are adjusted depending on the season or guest needs, making it a taste you can only savor during that particular time or season. Many order this beverage because of the potential for pleasant surprises it offers.

You can also buy tea leaf blends to bring home at 1,000 yen (tax excluded) for 30 grams (about 1 ounce). It comes in a can bearing the original label of Cure Maid Cafe, which makes it perfect as a souvenir too. Cups and saucers are on sale as well, for those who wish to get into the Cure Maid Cafe mood in the comfort of their own home.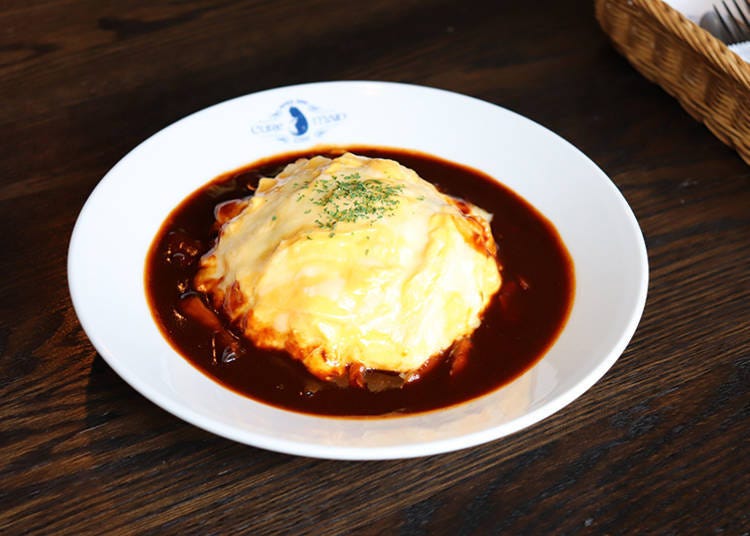 Of the food items being offered here, the famous "Omelette Rice (850 yen, tax excluded)" is something that comes highly recommended by our guide Mariannu as well. This bowl of thick-cut chicken with rice comes topped with a viscous flow of cheese and half-boiled eggs, along with your choice of either demi-glace or white sauce.

The menu also features pasta, curry rice, and finger food like sausages, fries, salad, and other appetizers. There is a special menu for vegetarians and vegans as well.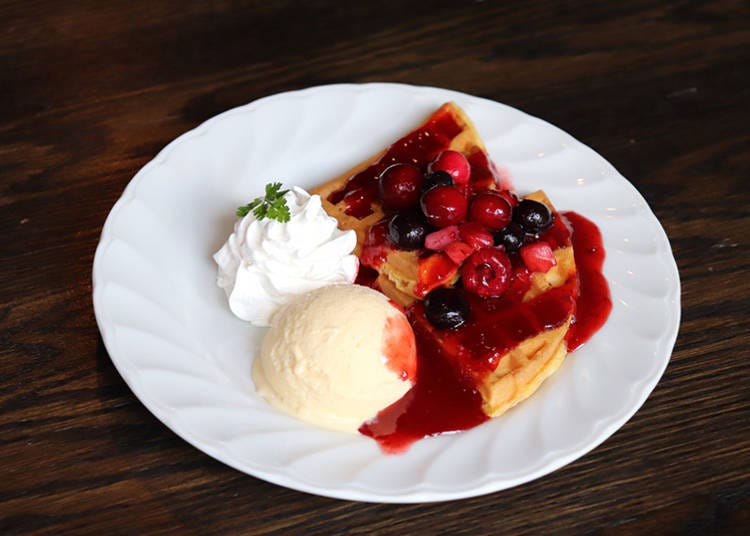 The best way to enjoy your afternoon tea is with cakes and pastries, and the cafe understands that very well. That's why one of their most popular items is the "Kimagure Waffles (500 yen, tax excluded)" dessert. The crisply toasted waffles are accompanied by ice-cream and sauce that changes flavors along with the seasons.
At Cure Maid Cafe, afternoon tea and and lunch is readily available during the day, while delicious wine and dinner items are served up at night. This maid cafe spares no expense in ensuring that guests will have a relaxing and elegant time in the shop with the best food and services they have to offer.
CURE MAID CAFÉ

Address

Gee Store Akiba 6F, 3-15-5, Sotokanda, Chiyoda Ward, Tokyo-to

Phone Number

03-3258-3161

Hours: Mon to Thu 11:00 a.m. – 8:00 p.m. (last order 7:30 p.m.); Fri, Sat 11:00 a.m. – 10:00 p.m. (last order 9:30 p.m.); Sun, holidays 11:00 a.m. – 7:00 p.m. (last order 6:30 p.m.)
*Holiday eves 11:00 a.m. – 10:00 p.m. (last order 9:30 p.m.)
*If Monday is a holiday, the cafe closes at 7:00 p.m. on Sunday.
Closed: Every Wednesday (the next day if Wednesday is a public holiday)
3. Akiba Zettai Ryoiki: Themed maid cafe with a nod to furries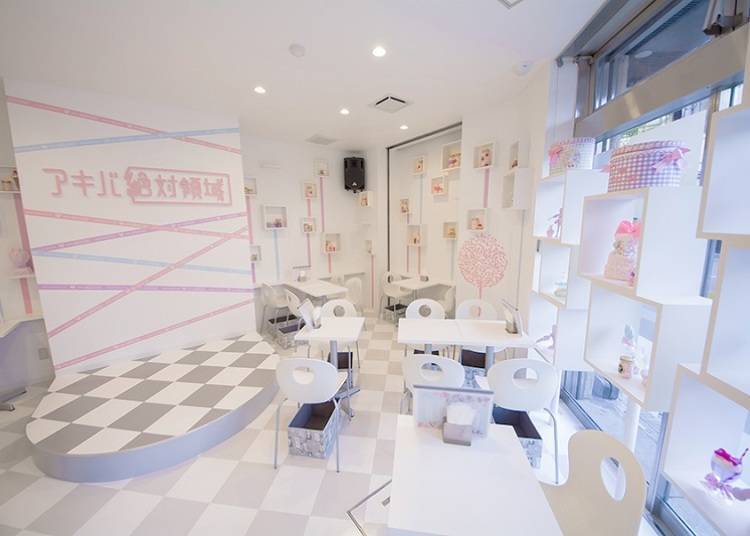 Akiba Zettai Ryoiki is our next recommendation. This popular maid cafe has a total of four shops in Akihabara. While each shop has its own decor and uniform style, the interior design and food items of all shops are designed to look as photogenic as possible.

Mariannu gives her seal of approval: "The concept of Zettai Ryoiki is that it's a maid cafe God created to allow grateful cats to serve their benefactors while in human form. All maids wear cat ears here, so it's the perfect maid cafe for all you furries out there!"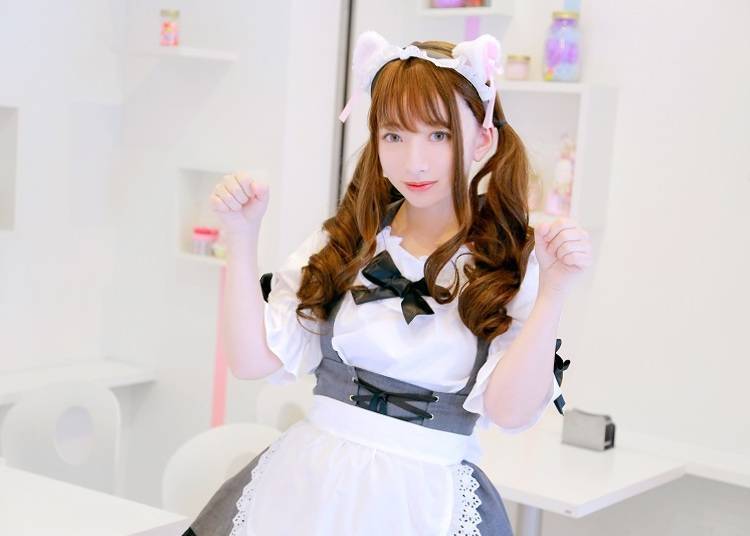 Many maid staff here are otaku (fan enthusiasts) themselves who also love makeup and fashion. They'll definitely get along with maid cafe newcomers who aren't sure what to talk about, or lady guests who enjoy talking about cute stuff!

The shop has one Korean maid staff, and their menu is available in English and Traditional Chinese at all four branches. Guests from overseas will be able to enjoy communicating with the team here by making use of translation apps or other similar software.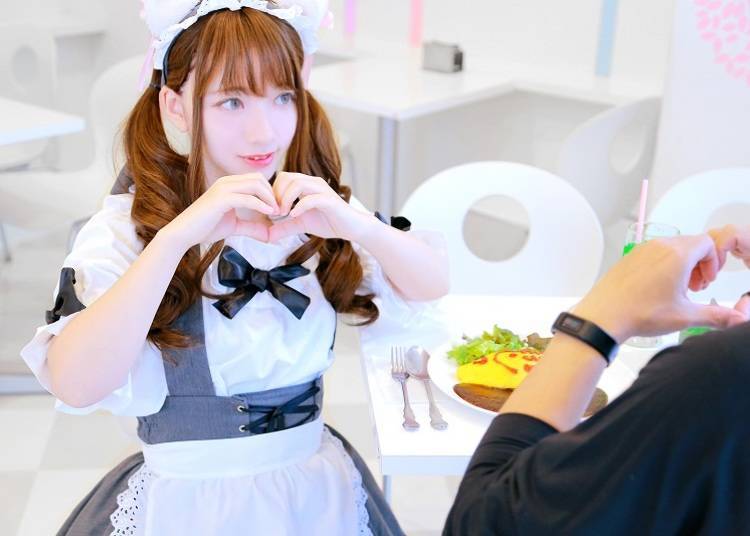 The fee is 600 yen (tax excluded) per person for 60 minutes with one drink. Staying beyond 60 minutes is counted as an extension, and guests are expected to order an additional drink after that.

Maid staff will cast a charm on every food item being served to ensure the food tastes even better. The incantation? "Oishikunare, moemoekyun! (Become tastier, cuteness overload!)"

Another popular offering of the shop is the live dances by maid staff. When you order a food item that comes with a live show, maids will gather at the center stage to entertain you with a performance.

You may be able to catch a glimpse of wotagei, the representative performing art of Akihabara, in its full glory! Wotagei means "otaku art", and is traditionally performed by idol group otaku, or enthusiasts, during concerts or events using glow sticks.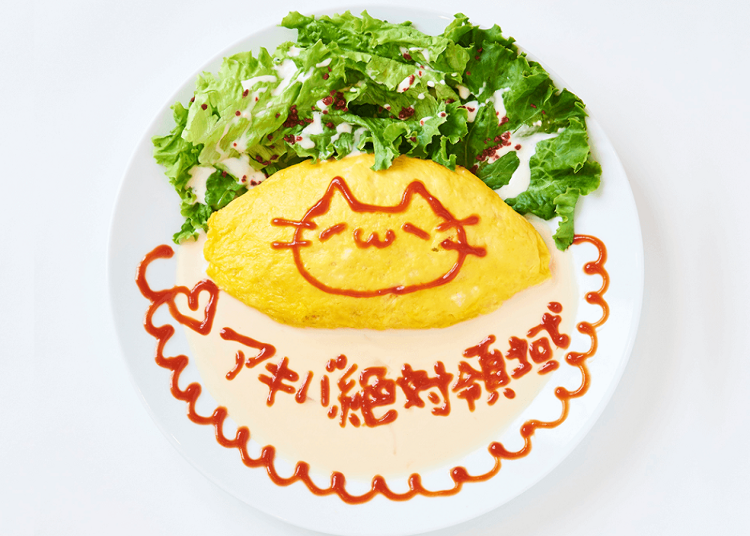 Of course, the shop features maid cafe staple "Omelette Rice" with ketchup art as well! The one featured in the photograph is the "White Omelette Rice (1,400 yen, tax excluded)" from Akiba Zettai Ryoiki Shop 1.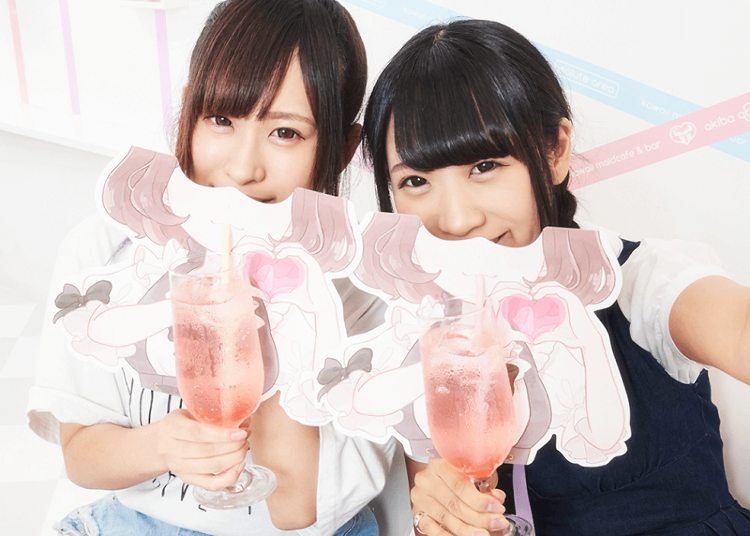 Additionally, this shop has a popular "Photo Props Drink (1,000 yen, tax excluded)" that allows guests to take selfies of them looking like maids as well.

You can take commemorative photos with the maids in the shop with Polaroid instant cameras as well, but if you foresee your shyness getting in the way, consider trying out the "Photo Props Drink" option instead!
Akiba Zettai Ryoiki (Shop 1)

アキバ絶対領域(1号店)

Address

Obayashi Bldg. 1F, 3-1-1, Sotokanda, Chiyoda Ward, Tokyo-to

Phone Number

050-1180-6584

Hours: 12:00 p.m. – 10:00 p.m.
Closed: Open daily
4. Maidreamin: A cafe with universal appeal that entertains guests from varied demographics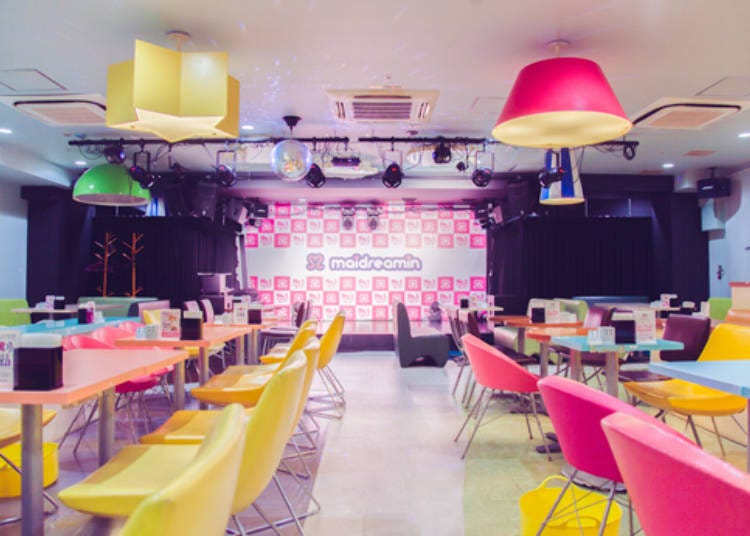 Next up: Maidreamin Akihabara! This shop employs the most number of maid staff and is the largest maid cafe group in Japan.

Mariannu: "The concept is basically "pop idols." The maids' live performances draw many here, so if you're on a quest to check out maid cafes, this is one shop that absolutely has to go on your list!"

Here, you'll find office workers dropping by on their way home, women holding ladies' nights, family groups, international tourists, and many others - a testament to the premises' universal appeal among a large variety of guests.

Among the industry, this maid cafe is well-known for its rigorous training of maid staff. What this means is newcomers to maid cafes can come here to be served without feeling uneasy about anything!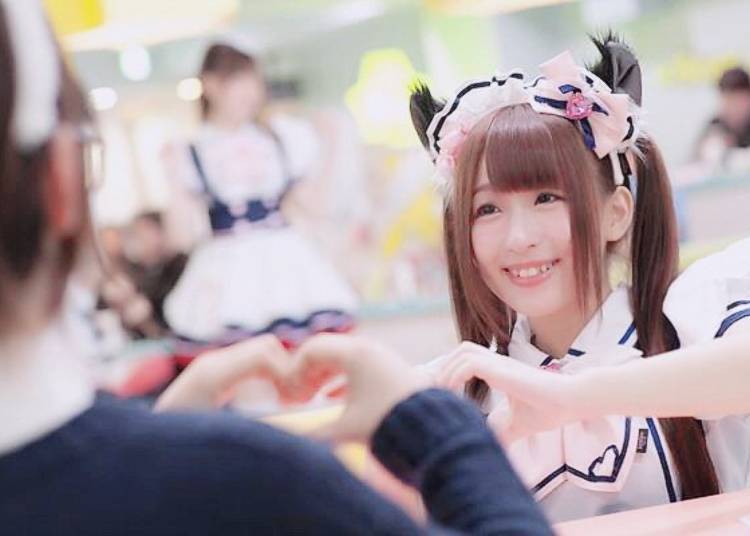 Fees start at 500 yen (tax excluded) per person for an hour, in addition to any food or beverages you may order. Entry is free for children below 12, and they'll even be given a free ice-cream!

The menu is available in a few languages, and there is also maid staff from other countries on hand. The entertainment value you'll find here is unbeatable. With the large variety of services available, it's definitely a place we would recommend to maid cafe newcomers. We would even recommend it to anyone new to Akihabara as well!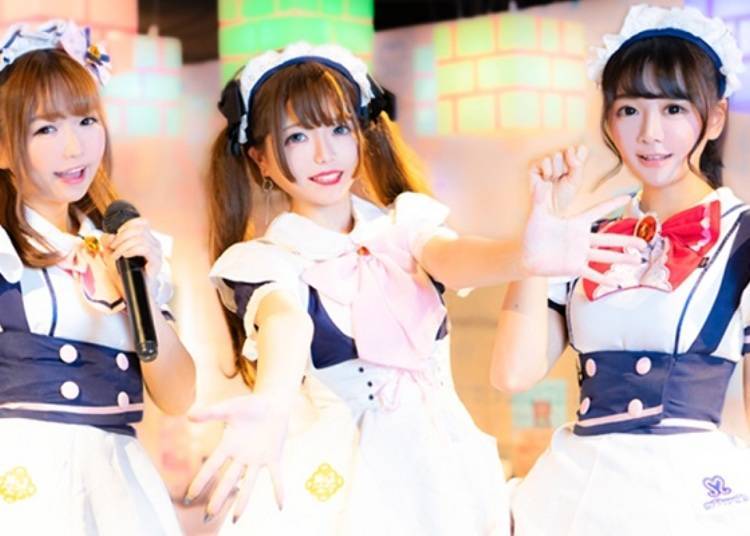 Maidreamin is a place for you to enjoy interacting with the maid staff thoroughly, and they've prepared a plethora of activities to that end, including getting the tasty spell cast on your food, drawing on kitty-themed lottery, taking instant photos, and much more!

Once every two hours, the maid staff will perform a "Fun Live Show" that will blow your mind away. Being able to see live singing, dancing, and wotagei up-close is a culture peculiar to maid cafes located in Akihabara. So sit back, relax, and enjoy the show!
The maid cafe has an impressive lineup of food and drinks that will satisfy those with big and small appetites alike.

Pictured in the photograph is the 1,150 yen (tax excluded) "Twin Bears Omelette Rice." Starting from 980 yen (tax excluded) for a plate of "Plain Omelette Rice" and going up to 1,150 yen (tax excluded) for each type of "Sauce Omelette Rice", you can be sure to find something your taste buds will thank you for!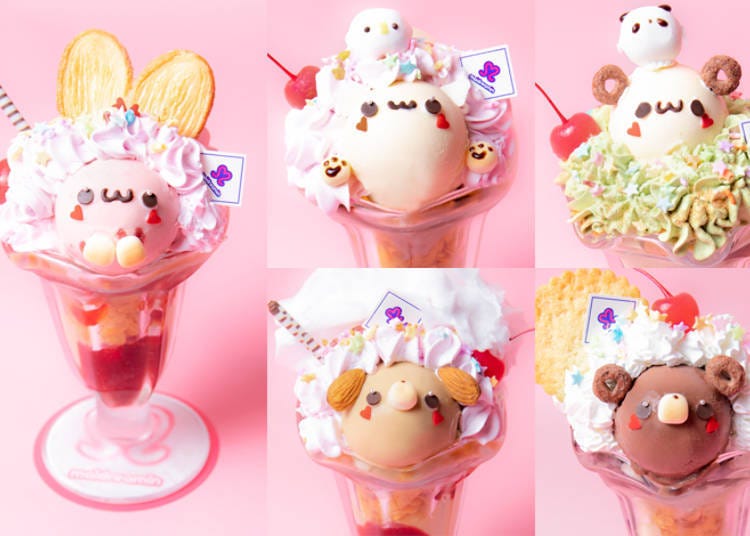 The 780 yen (tax excluded) "Animal Parfait" is another popular item. Each variant is delectably photogenic and comes with its own dreamland storyline.

And this isn't the only animal-themed food item you'll find on the menu, too! If it's cuteness you're looking for, you'll get it in spades in this maid cafe for sure.
Maidreamin Akihabara Live Restaurant Heaven's Gate

めいどりーみん 秋葉原 LIVE RESTAURANT Heaven`s Gate店

Address

AK Bldg. 6F, 1-15-9, Sotokanda, Chiyoda Ward, Tokyo-to

Phone Number

03-6206-8090

Hours: Weekdays 11:30 a.m. – 11:00 p.m.; Weekends and public holidays 10:30 a.m. – 11:00 p.m.
Closed: Open daily
5. Akiba Guild: Trying your hand at casino games with maid dealers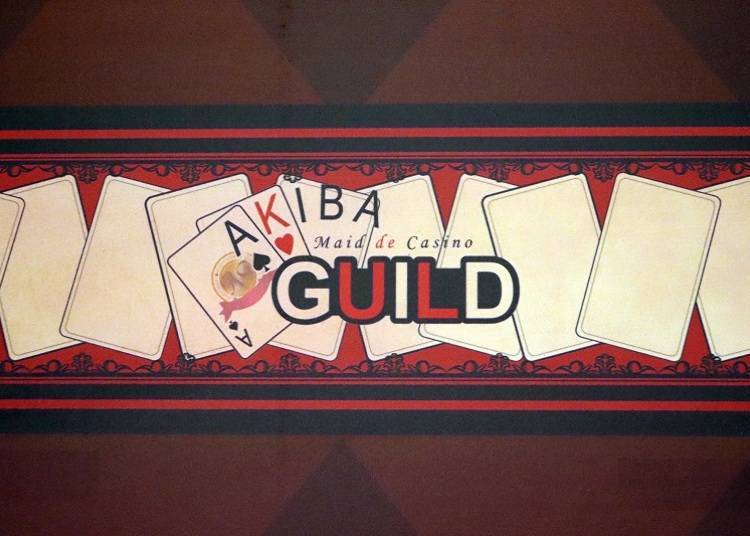 Our last recommendation for this article is Akiba Guild, an entertainment venue with a casino theme where you can play poker, blackjack, and other games often found in casinos.

Maid staff who have undergone thorough training work as dealers here, allowing you to experience some authentic casino entertainment with them.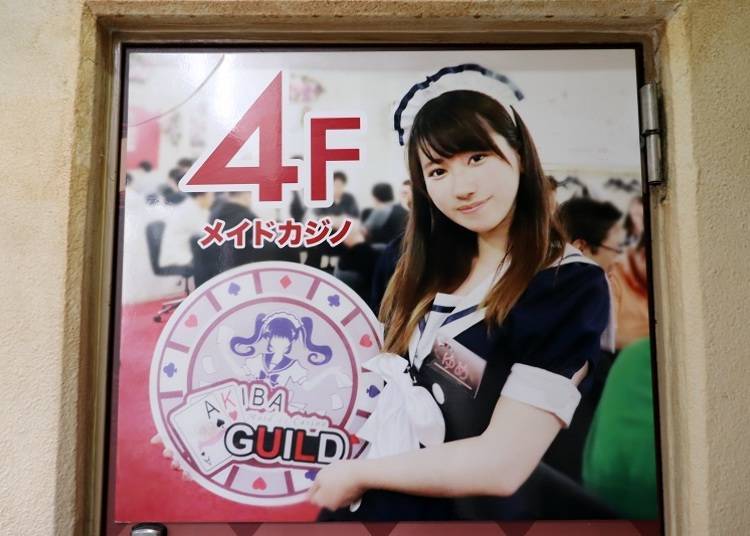 Mariannu: "Each and every maid here is an attraction! Though it's not your standard maid cafe, it's still a shop where you get to spend time together with maids.

Even if you're not familiar with the rules of casino games, the maid-dealers will explain them carefully to you, so this place definitely gets a recommendation from me for newcomers who want to have some fun with a maid element to it!"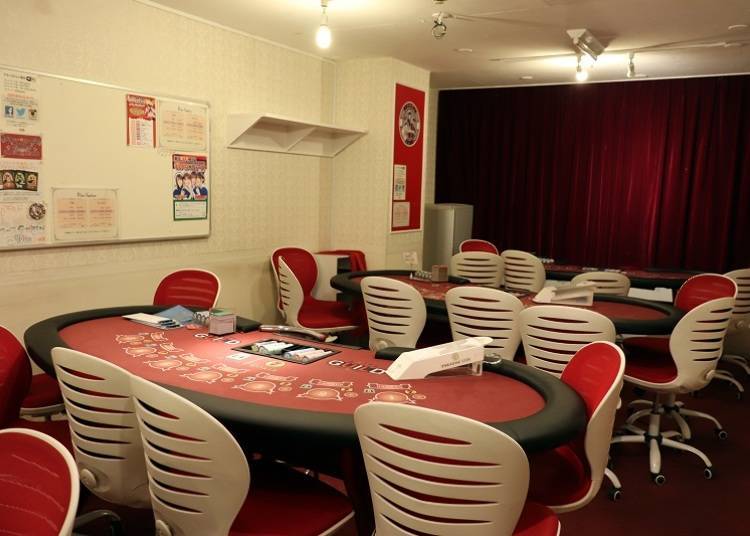 You'll hear the standard maid greeting of "Welcome back, Master," the moment you step in. The interior is lined with tables for casino games and roulettes.

Fees here are paid in advance. You buy chips when you first enter the shop. For first-time visitors, we recommend taking the 3,000 yen plan, which will buy you $300 worth of chips.

As long as you have chips in your possession, you're allowed to stay for however long you like. Since this is a casino theme park and not an actual casino, you're not allowed to exchange the chips back for money. Nevertheless, you're sure to get your money's worth with the authentic casino gaming experience being offered here!

The fee system and food menu are available in English as well, to help international visitors feel more at ease.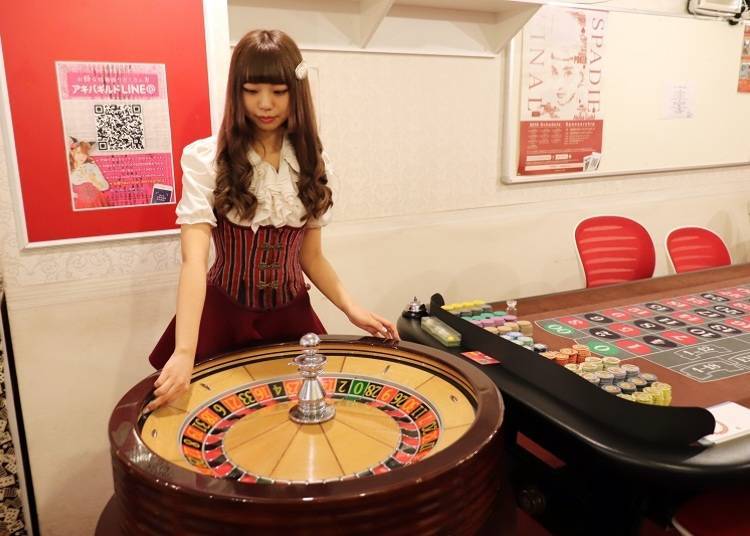 The maid staff here serve as dealers for different games on a rotation basis. You can specify a particular maid to be your dealer, too, if you like!

The casino games here follow standard rules accepted internationally, so many foreign visitors find it easy to enjoy their time here by communicating with the maid staff through the universal language of the casino game they're playing.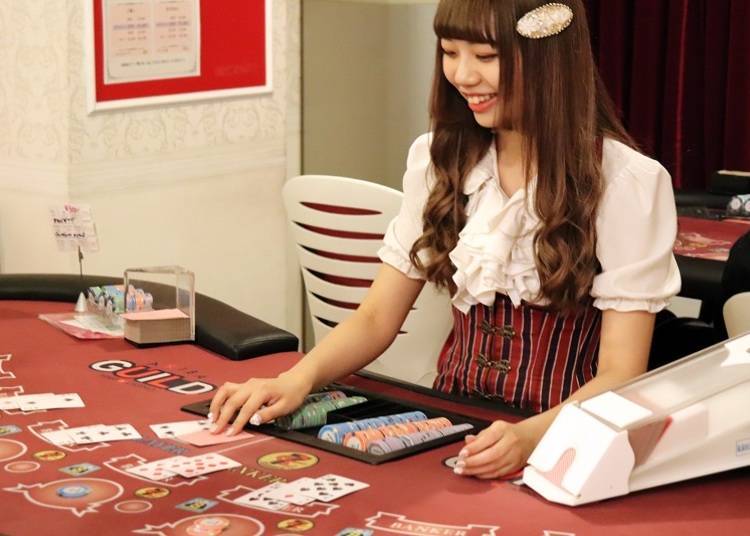 All sorts of conversations take place at the same time as the games are ongoing. You might even hear phrases like "Moemoe Daburu (Cute Double)!" being shouted by those at the blackjack table, making you realize you're in a maid cafe after all. The ability to engage the dealer in casual conversation as you play is something you can't do in an actual casino, and this adds to the shop's appeal.

Drinks in the shop start at 300 yen for a soft drink or 700 yen for an alcoholic beverage. There's also an original maid blend going for 400 yen, and the recipe for this drink changes according to the conversations you've had so far. Try it out if you're looking for a more maid cafe-like vibe to your visit!

Written by Naho Jisikyu. English translation by Huimin Pan
アキバギルド

Address

Kogure Bldg. 4F, 1-11-6, Sotokanda, Chiyoda Ward, Tokyo-to

Phone Number

03-6206-8948

Hours: Weekdays 3:00 p.m. – 10:30 p.m.; Weekends and public holidays 1:00 p.m. – 10:30 p.m.
Closed: New Year's Day
*This information is from the time of this article's publication.
*Prices and options mentioned are subject to change.
*Unless stated otherwise, all prices include tax.