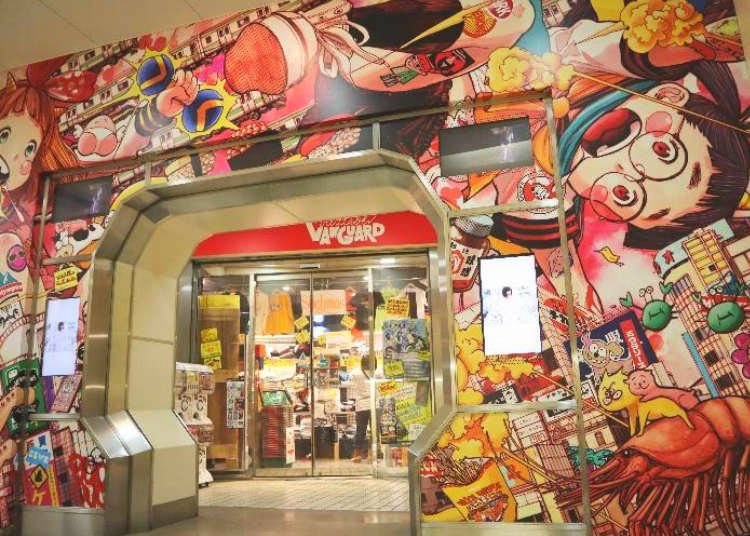 With the concept of "a bookstore for when you want a good time" as its core, VILLAGE VANGUARD carries a variety of items to satisfy from books and hobby magazines to foodstuffs and lifestyle items, even CD and apparels.

Think of it like a secret base loaded with goodies, with excitement around every corner as you unearth the next treasure. The unique setting of the shop not to mention its impressive lineup are a few reasons why the place is popular with visitors from abroad.

Here we'll be focusing on the top picks from the main branch of this shop in Shibuya, Tokyo - which is hugely popular with foreign tourists.
Right at the doorsteps of Shibuya Station: VILLAGE VANGUARD Shibuya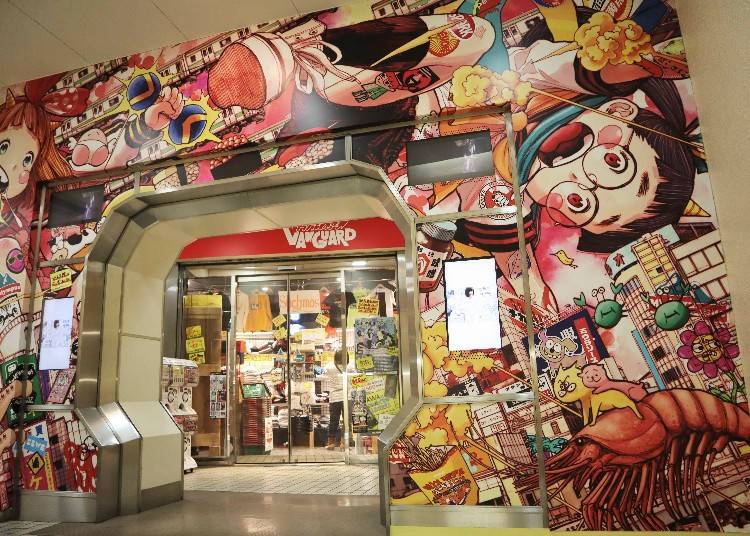 Just a step away from the station, the headquarters specializes more in apparel and fashion goods, due to its location in the town where fads and trends are born. The actual shop's premises are located underground, taking up 2 floors worth of space.

B1 is where the fashion-related goods are located as well as most magazines and foodstuffs, not to mention mainstream character goods such as Super Mario, Studio Ghibli and Pokemon.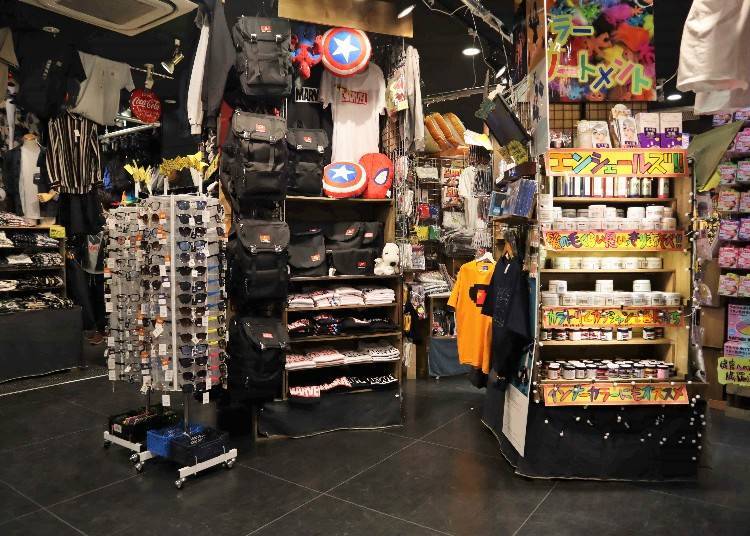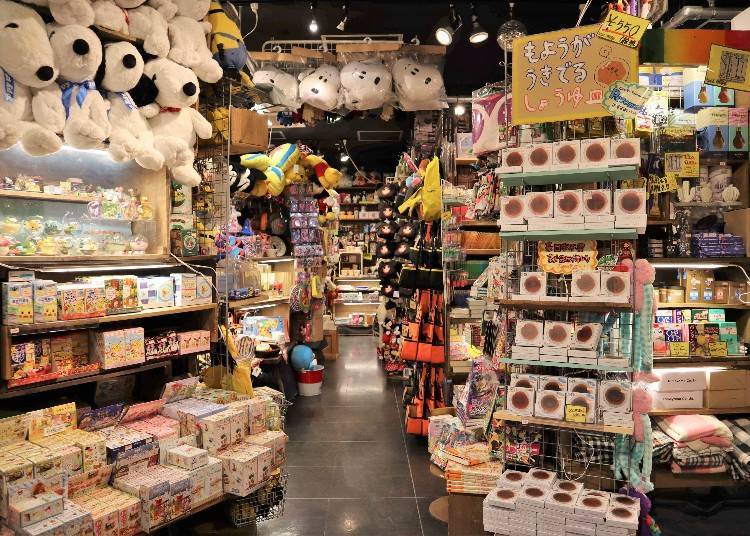 Meanwhile, B2 is the place where the more otaku related merch is located at, such as books, small character trinkets, idol merch as well as anime goods.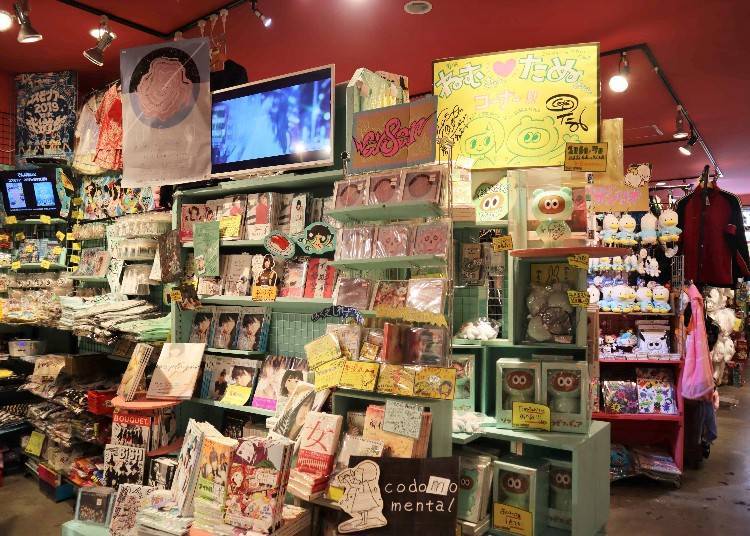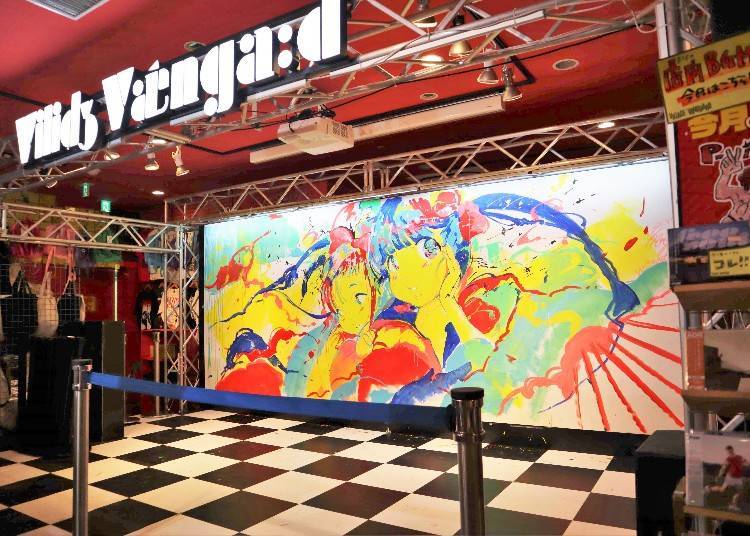 B2 is also where the event space is located, where idol and male vocal groups regularly hold showcases and performances.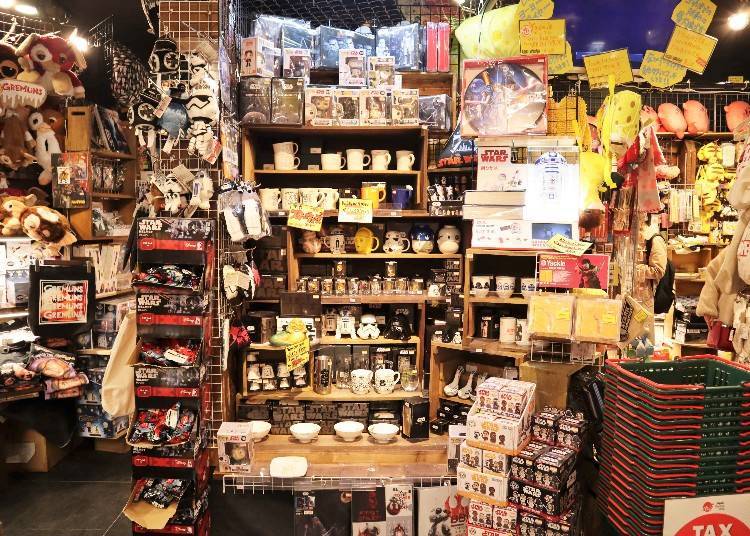 All these goods on full display is one of the place's draws, but at the same time with so many genres and even more types of goods, it's evidently hard to rank them all exactly.

That's why we took the recommendations of the manager, Mr. Tanoue, about the items popular with foreign customers now.
1) Top Food for thought: Super-Spicy Korean Ramen "Buldak Bokkeum Myun Carbonara"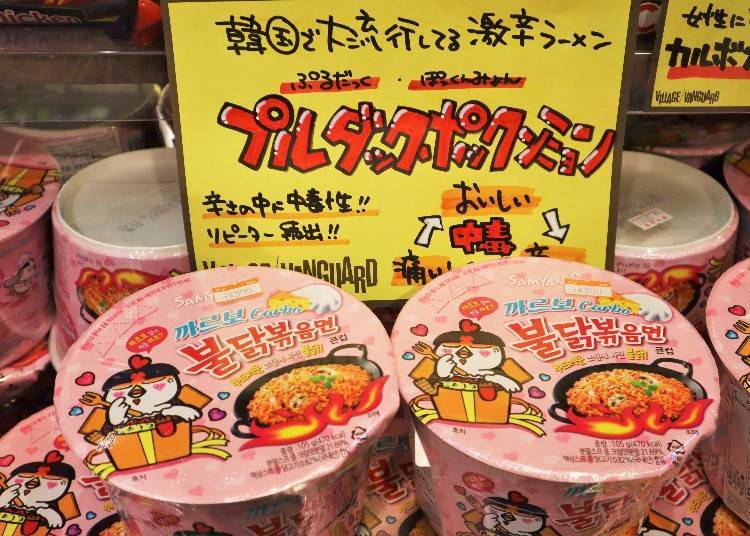 "A Korean brand, this instant noodle pack is popular with both Asia and the West."

Village Vanguard tends to stock rare provisions not available in many supermarkets, and this super popular instant noodle pack is one such product. The Buldak Bokkeum Myun (300-yen tax exclusive) is known for its hellfire level of spiciness and is almost synonymous with Korea. This new carbonara flavor uses thick noodles to match the spice and sauce, producing a strong flavor that's sure to get you hooked on.
2) The "Shoyu saucer", saucers that project drawings when you pour soy sauce in, are popular for their Japanese-ness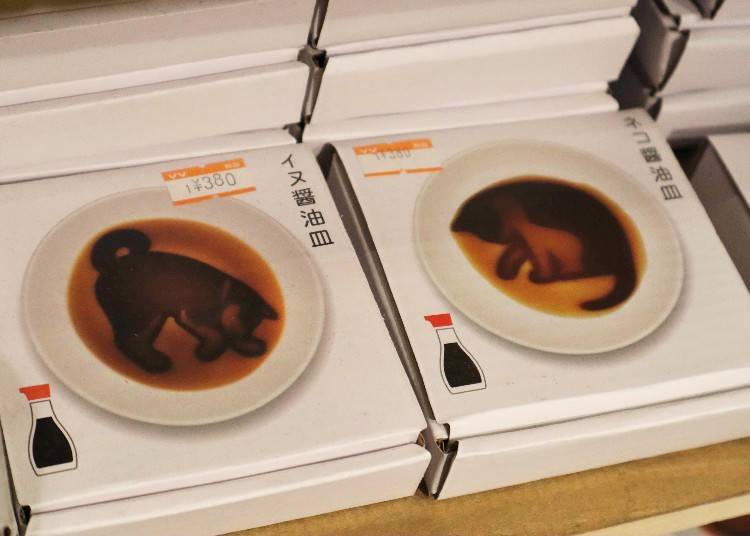 "These are overwhelmingly popular with the Chinese. They often comment that it's very Japanese, not to mention being a fairly interesting product in its own right."

This shoyu saucer (300-yen tax exclusive) projects an image onto the surface of the sauce. From dogs, cats, to even pandas, a variety of patterns are available. Regardless if you're Japanese or not, anyone will instinctively squeal with excitement due to the cuteness of the designs.
3) Only available in Shibuya! "Shibuya Logo T-Shirt"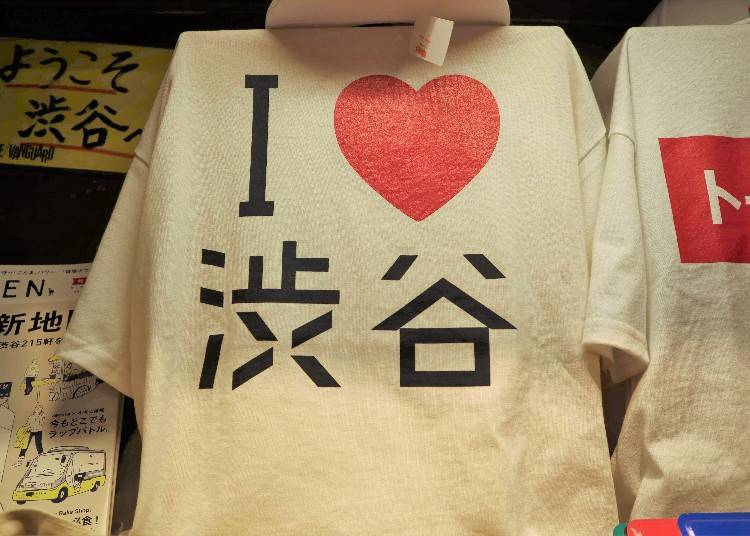 "Many customers come here looking for area-specific goods, and among those types of products this I LOVE Shibuya T-shirt is popular for its Japanese feel due to the kanji."

"I LOVE" T-shirts are considered a staple for any major tourist attraction and Shibuya is no exception. The Shibuya variation of these T-shirts (2,200-yen tax exclusive) is perfect proof of their visit for foreigners, especially with the kanji.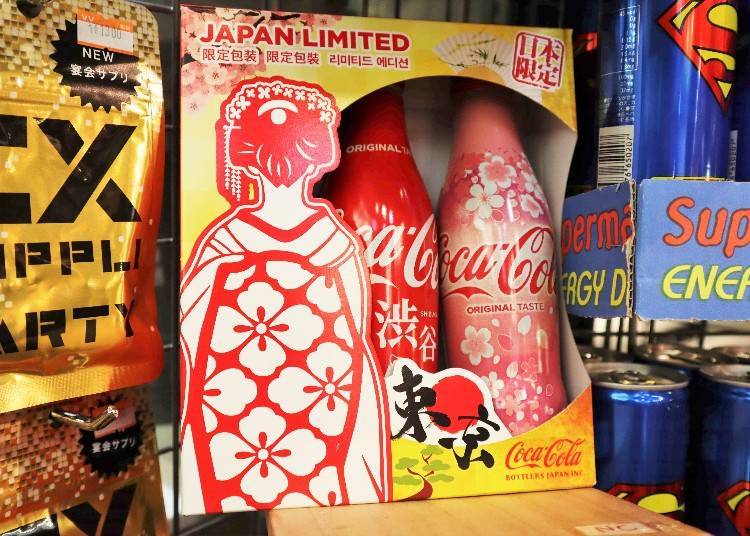 "Speaking of the Shibuya Logo, these Coca Cola bottles with the Shibuya kanji on it sell surprisingly well even though that's the only thing different about the bottle (laughs)."

The bottle is decorated with Japanese motifs like sakura petals and the words "Shibuya" (333-yen tax exclusive).
4) Gamer goods for the tourist! "PlayStation Logo and Game Character Goods"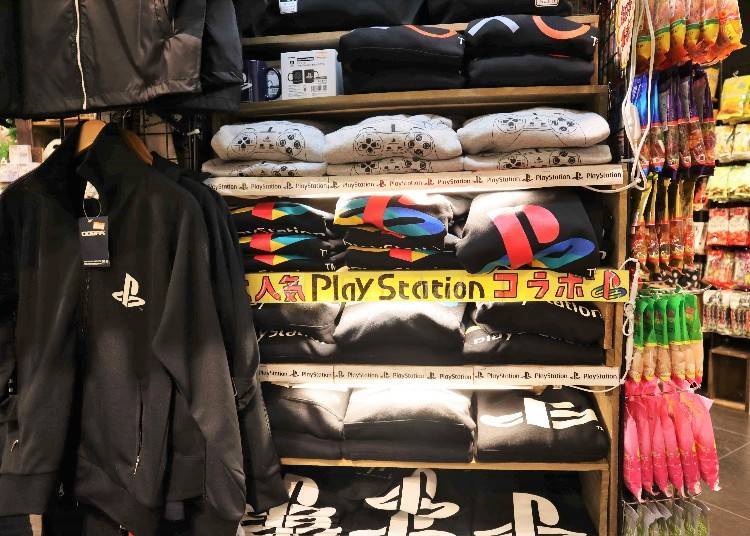 "These PlayStation Collaboration goods are also popular. As expected, many customers were drawn to Japan due to games and the renown PlayStation brand is one of those Japanese game consoles. Character goods from popular games like Super Mario and Final Fantasy are also equally popular here."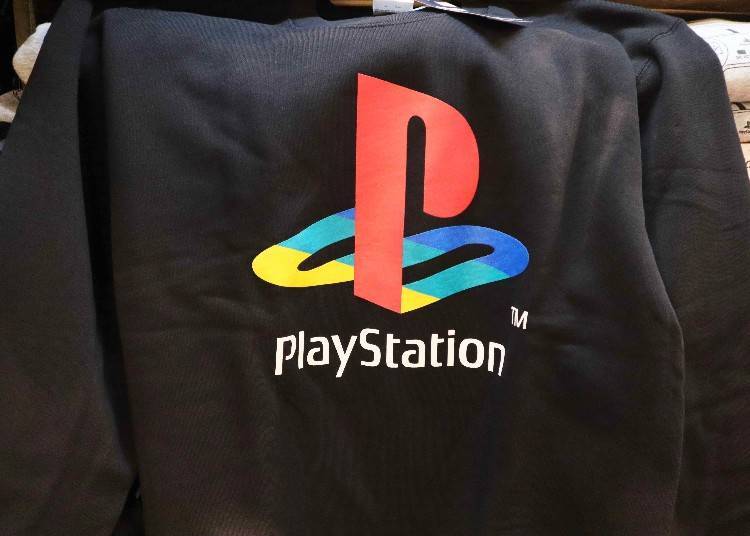 A sweatshirt with the PlayStation motif. 5000 yen (tax exclusive).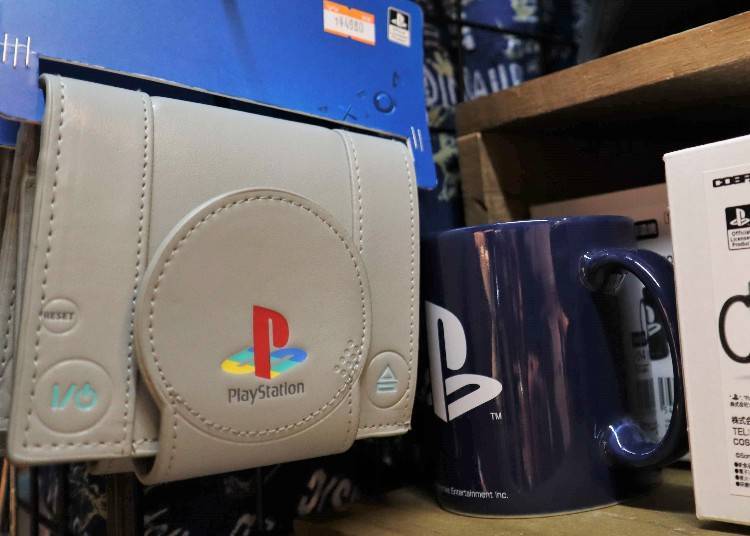 From wallets (4,900-yen tax exclusive) to mugs (1,300-yen tax exclusive), many of these kinds of goods are available.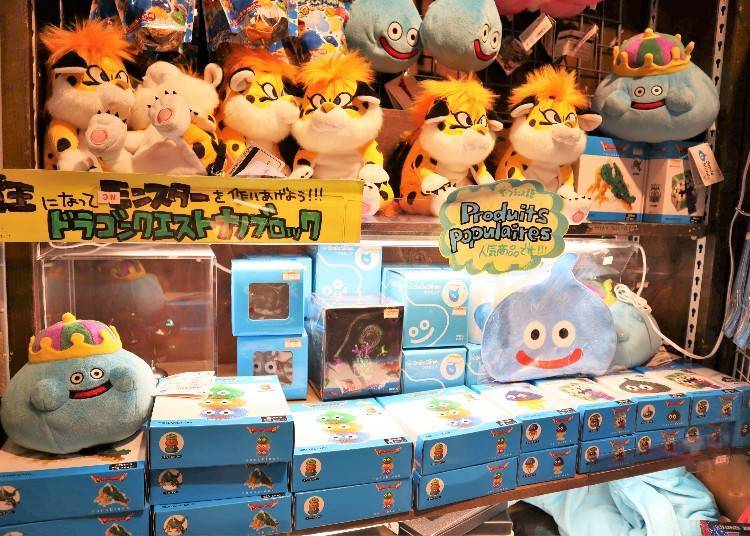 5) Stealing the top spot among character goods are the "Unicorn" and "Ghibli" goods!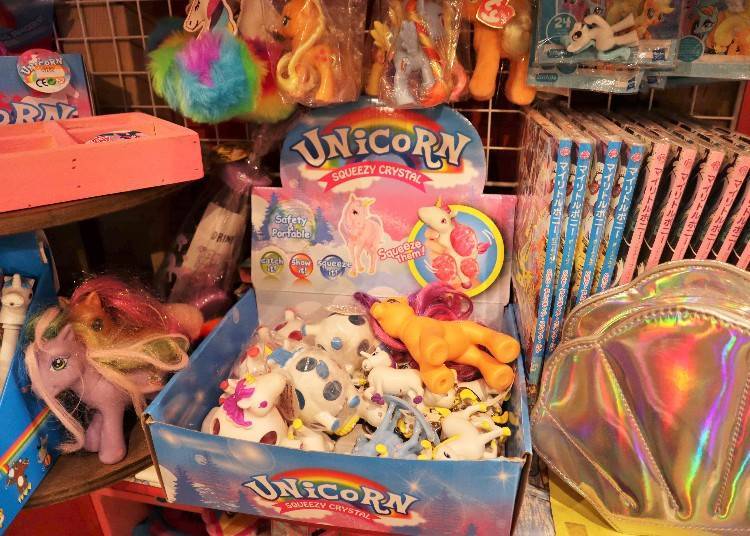 "The miscellaneous goods section in Basement 2 has recently been seeing a lot of sales from Unicorn goods. It's surprisingly popular with not just foreigners, but Japanese themselves too."

Colorful and fantastical, these Unicorn goods sell surprisingly well. Look no further for these fantastic beasts as this is where to find them.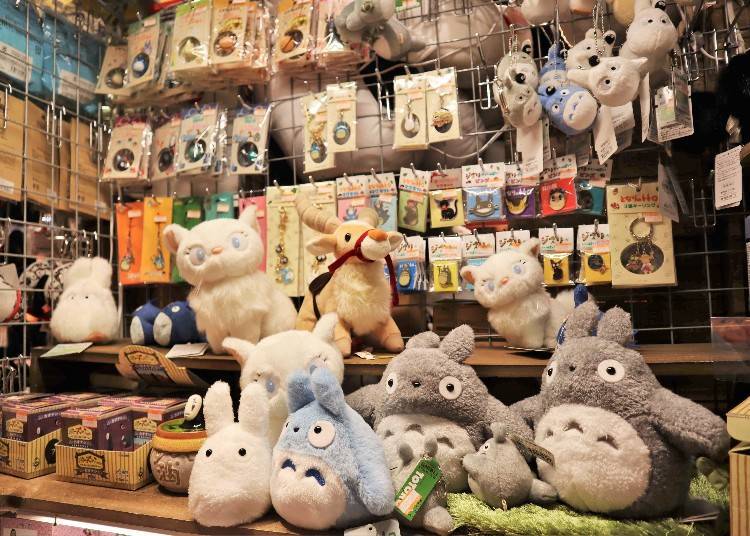 "Amongst all the Japanese characters, Ghibli is probably an all-time favorite. Ghibli-inspired chopsticks and mugs are great souvenirs for any situation."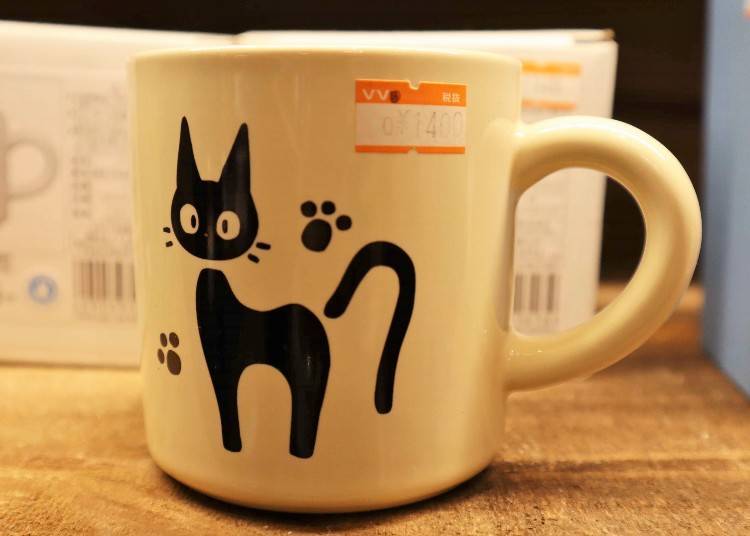 This mug with a picture of Jiji from the Ghibli anime "Kiki's Delivery Service" (1,400-yen tax exclusive) also appears in the anime, making it popular with fans.

Below are some other popular items.
American comic goods, despite being in Japan, are mysteriously popular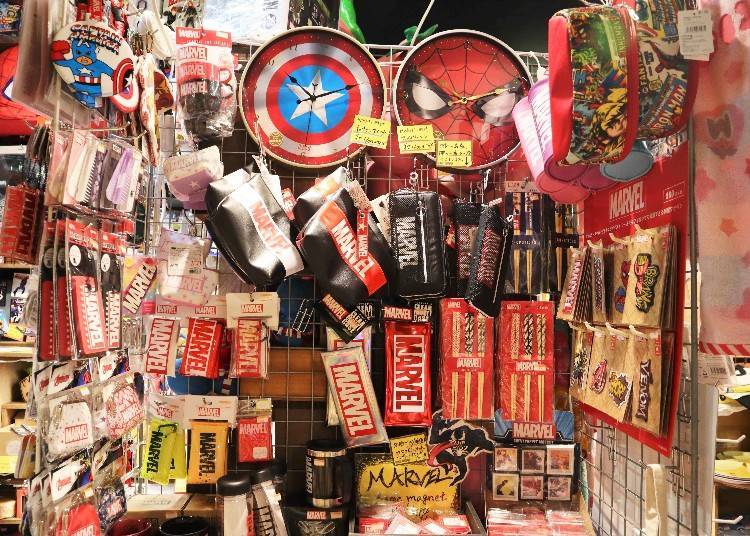 "Marvel goods are really popular here despite being an American brand! These are all imported from America, so it really is strange that it's so popular here... There are plenty of Japan-exclusive Marvel goods too though, which could be one reason for its popularity."

Die-hard fans of this world-famous comic brand are sure to buy them, despite being an American product, especially the Japan-limited goods.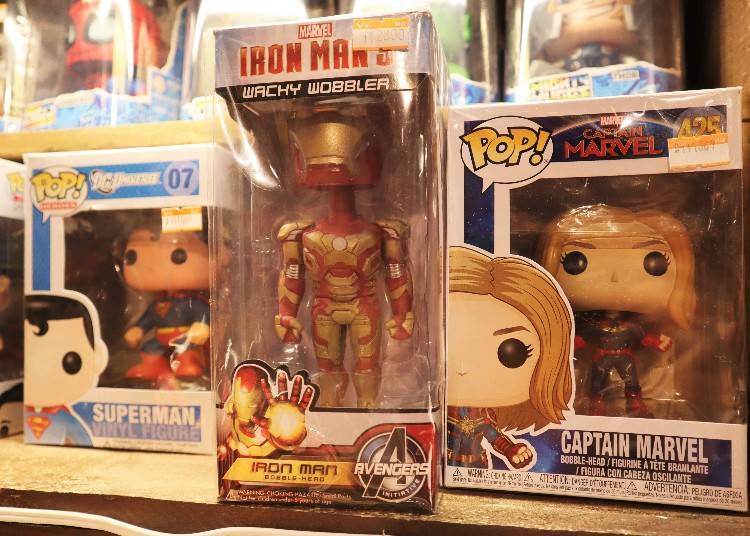 "These soft vinyl figures for example, are made in Japan despite the characters being of American creation and are really popular."

Marvel movies have been gaining rapid traction even in Japan, and the recently debuted "Captain Marvel", the first female lead in a superhero movie, also has her own figure here. The other heroes like Spiderman, Ironman, and many more are also available, a fact that would no doubt please many a fan.
Nothing more unique than putting salt, ice-cream, or any foodstuff for that matter, on your wounds: Food-motif bandages!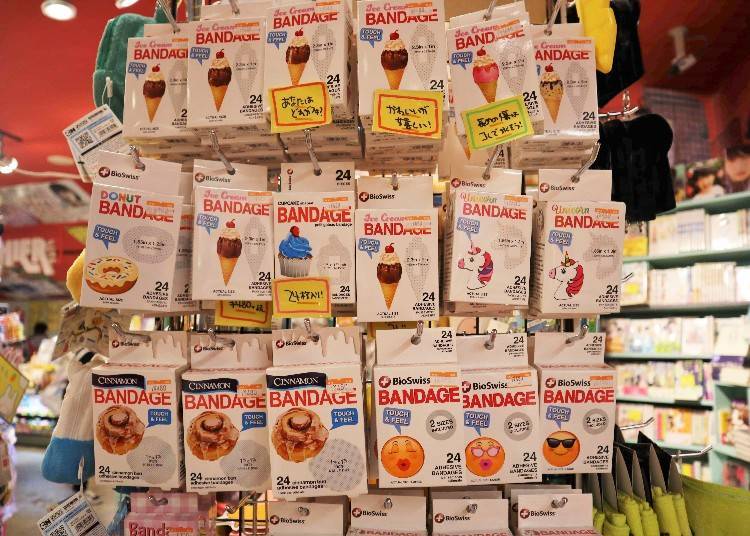 "These are popular amongst the knickknack collectors. Cheap and unique, the pizza design is our bestseller."

Perhaps the best personification of the Village Vanguard motto, the BANDAGE (480 tax exclusive) uses food caricatures as their design. The best part of this product is that it calms one down with their design even if one were to be trying to hide their wounds. Definitely one of our top recommendations!

Finally, we have the top 4 recommendations from the manager himself.
Recommendation 1: "SUPERMAN ENERGY DRINK" (260 yen, tax exclusive)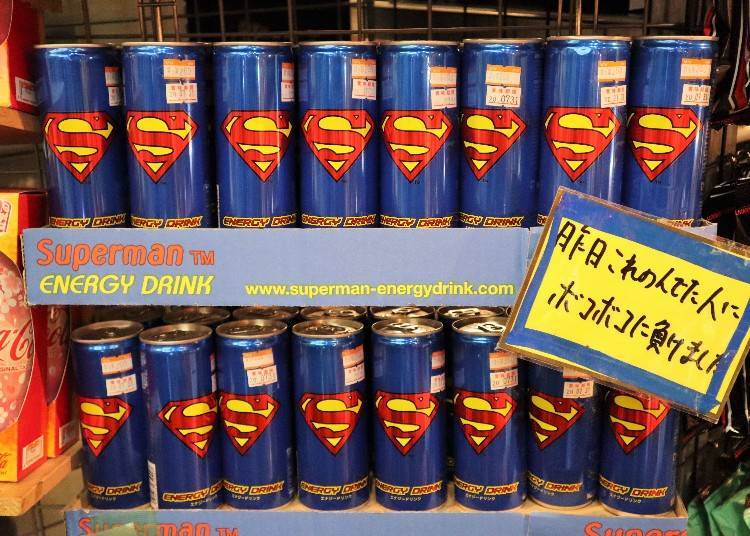 "I mentioned that American goods were popular here earlier, and this one really tops it off with its uniqueness and gag levels. I really recommend it!"

To commemorate its 80th anniversary in 2018, these Superman energy drinks were released. Supercharge yourself with this energy drink and be faster than a speeding bullet and more powerful than a locomotive.
Recommendation 2: "Ham-ish Bonito flakes" (699-yen tax exclusive)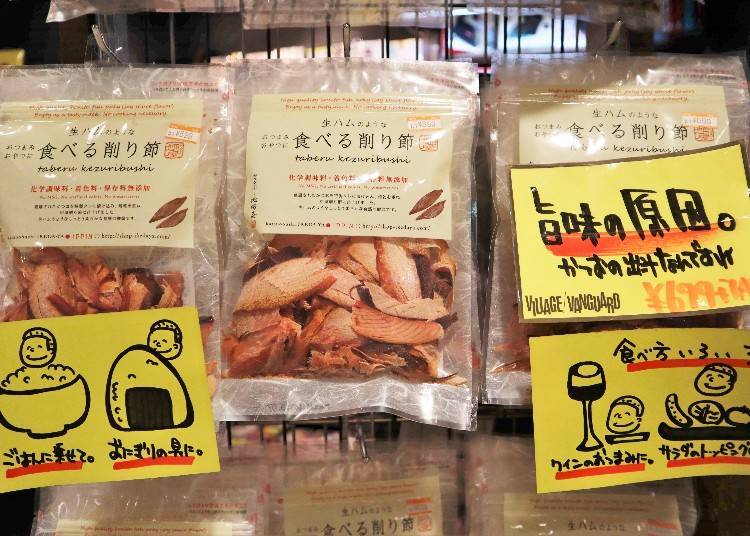 "I started recommending recently to those looking for goods that feel Japanese. The texture is really similar to dry-cured ham and is really easy to eat too."

Eating bonito flakes as a snack is a fresh experience even for locals. You can be guaranteed of its deliciousness!
Recommendation 3: "Grow-your-own-water-plant Set" (1,400-yen tax exclusive)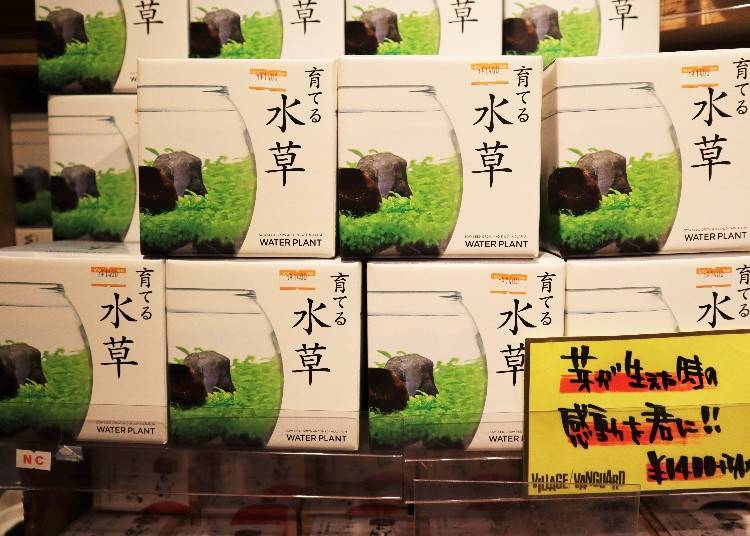 "Growing your own vegetables is something that gives a really Japanese impression. There's always joy and satisfaction in raising something yourself."

This souvenir is the perfect way to remind yourself of your experience in Japan even when you return home. Other plants are available as well like bonsai.
Recommendation 4: When fiction approaches reality: "AKIRA" goods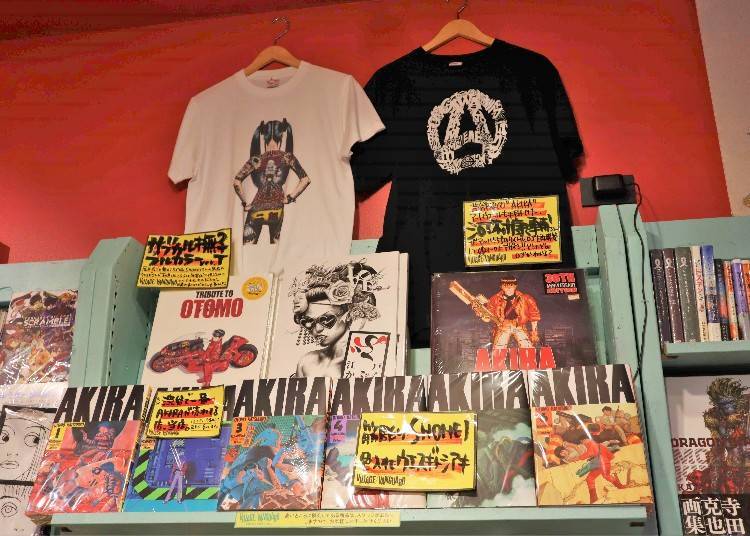 "AKIRA is a fairly old work, but even now it still has many hardcore fans. What makes this work so important now is that it is set in 2020 Tokyo which is at present approaching soon. I'm thinking of running a campaign to promote this even more."

Serialized a good 36 years ago, the manga "AKIRA" is widely acclaimed even amongst international audiences. The fact that reality is slowly catching up to such an old series is a wondrous feeling. As 2020 approaches, the manga is sure to gain even more attention.
Find your own fancy in Village Vanguard!
With this much variety of goods and genres, not to mention the colorful displays and handwritten comment boards, Village Vanguard surpasses the traditional definition of a bookstore. Dig around and you're sure to find something that catches your eye here. If you're looking for souvenirs or items with a little spice to them, look no further than this vanguard of bookstores.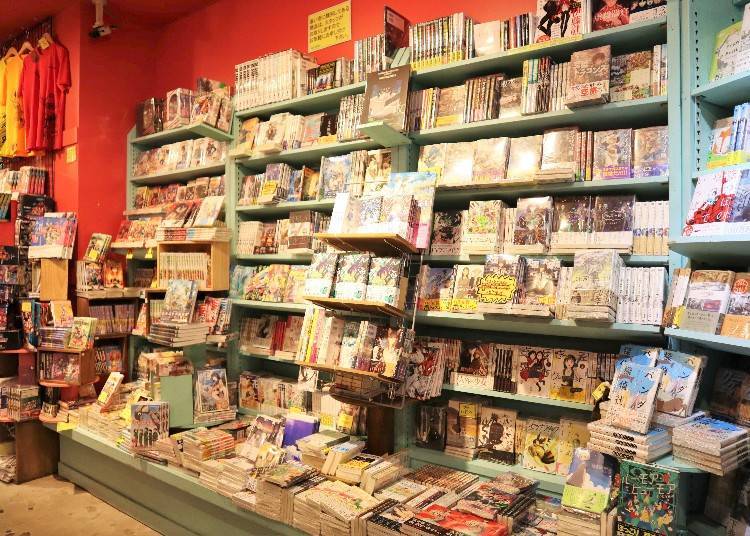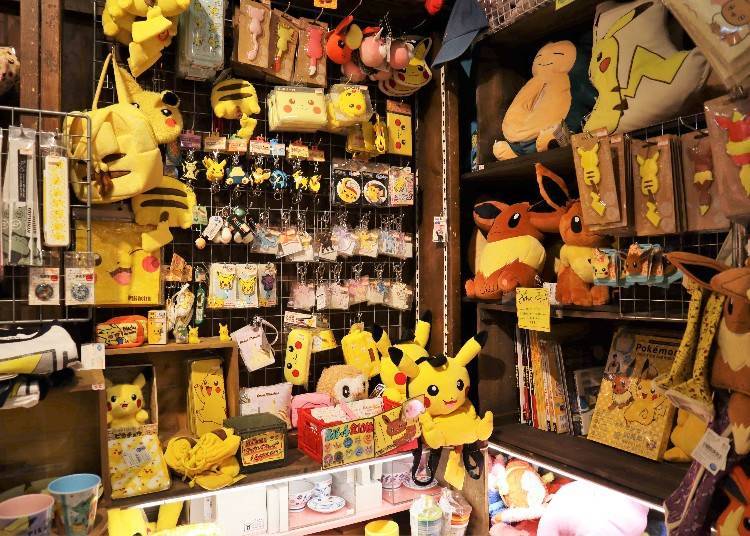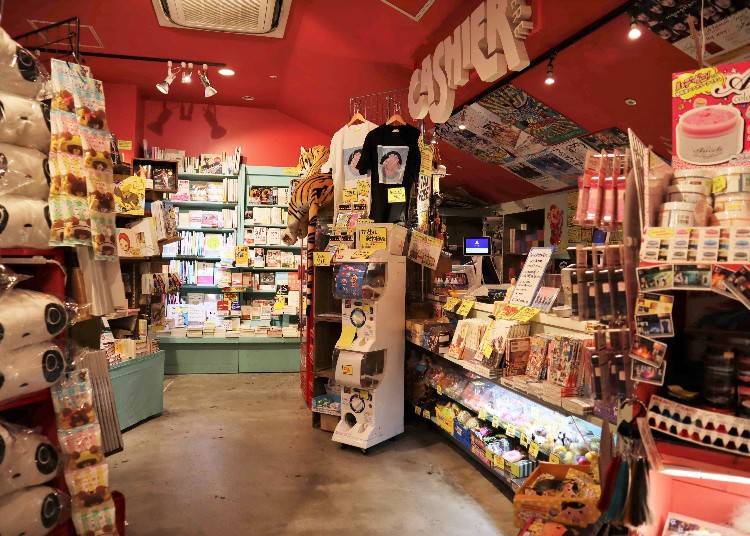 ヴィレッジヴァンガード渋谷本店

Address

Udagawacho DKB Kyodo Building B1F+2F, Shibuya 23-3, Shibuya-ku, Tokyo 150-0042

Phone Number

03-6416-5641

Hours: 10:00 am to 11:00 pm
Closed: Irregular

*This information is from the time of this article's publication.
*Prices and options mentioned are subject to change.
*Unless stated otherwise, all prices include tax.