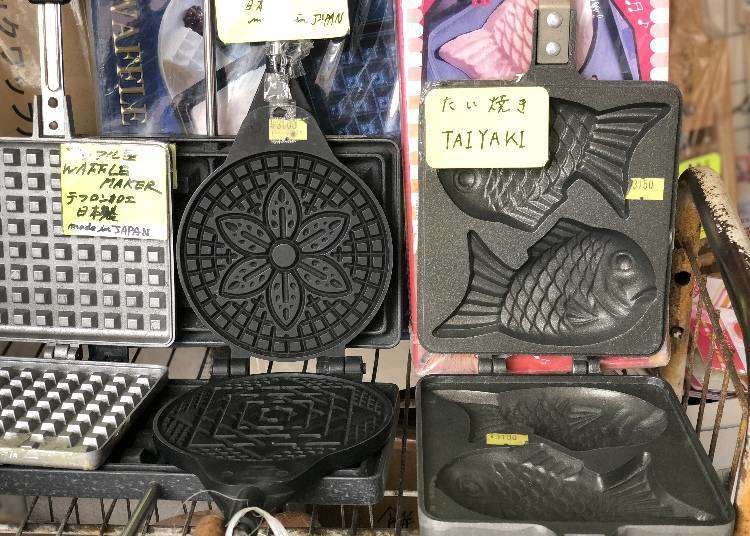 You could easily spend an entire day wandering Tokyo's "kitchen town" known as Kappabashi. Sandwiched between Asakusa and Ueno, Kappabashi consists of 170 specialty shops lining an 800 meter-long stretch of a road called Kappabashi Dougu Street.

We teamed up with veteran tour guide Kozue Hisaoka of True Japan Tours to give you an exclusive look at 9 must-see shops. As a bonus, we'll even show you how to enjoy neighboring Asakusa like a local!
Everything A Chef Could Ever Dream Of - Niimi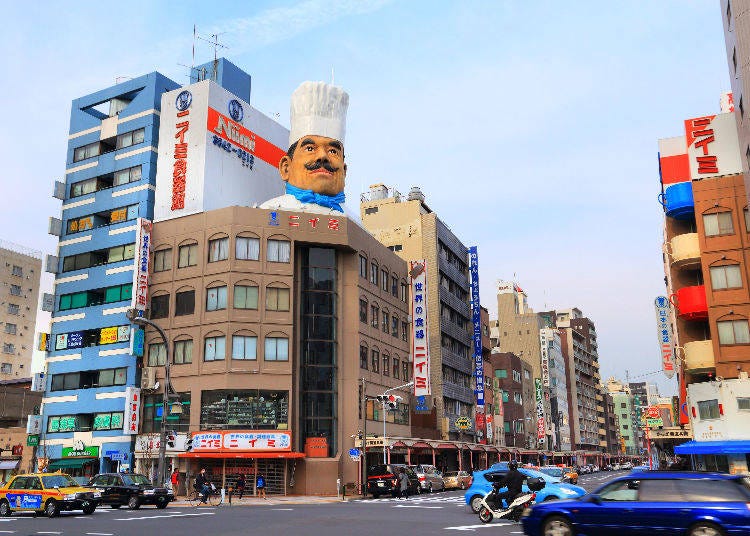 With a giant bust of a chef perched on top of its roof, you'll immediately notice Niimi.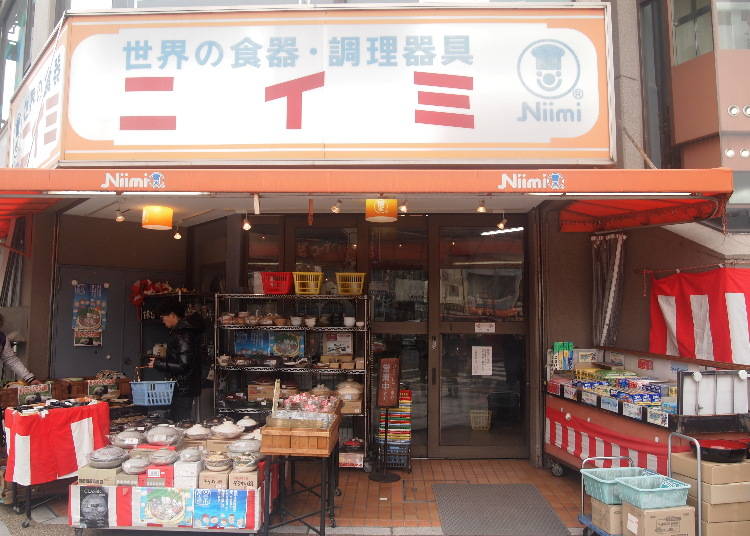 You'll find everything a budding restaurateur needs, but Niimi also sells obscure kitchen utensils like rock salt graters, as well as standard fare like aluminum foil.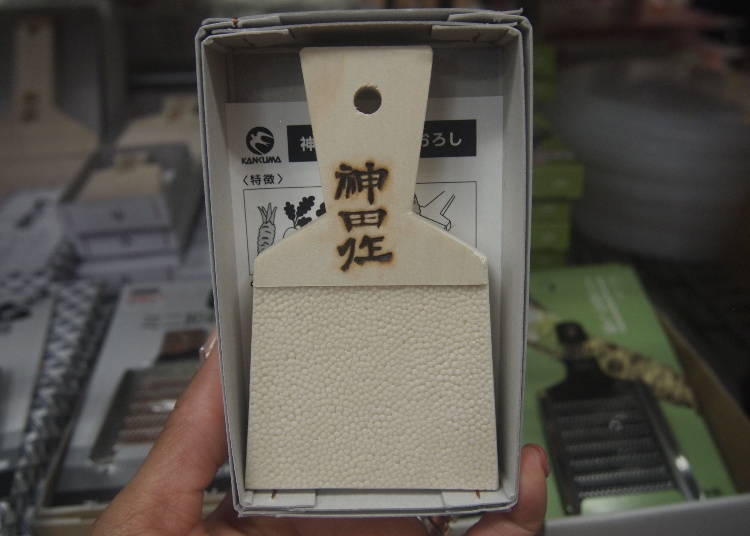 Pick up: A wasabi grater. One with shark's skin on its surface are better suited to release the distinct flavor and aroma of wasabi.
Hours: 10:00 - 18:00
Closed: Sundays
Address

1-1-1, Matsugaya, Taitou-ku, Tokyo, 111-0036
View Map

Nearest Station

Tawaramachi Station (Tokyo Metro Ginza Line)
3 minutes on foot


Phone Number

03-3842-0213
Natural Wood and Bamboo Products - Okuda Shoten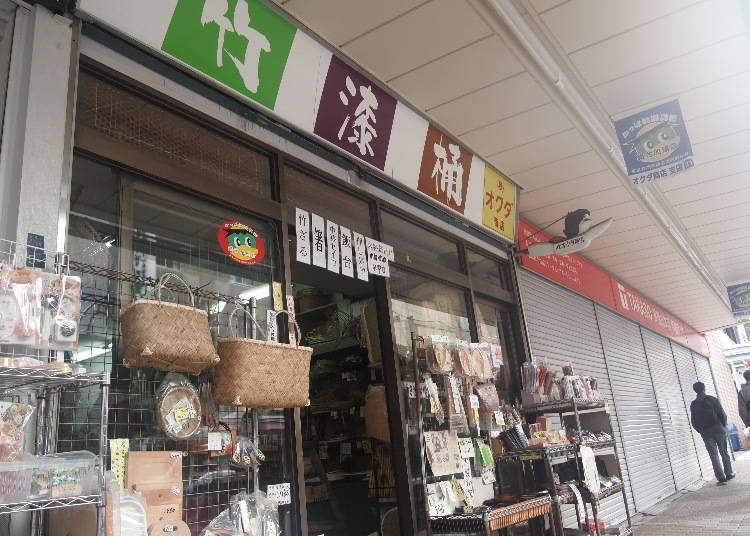 70% of Japan is mountainous, forested terrain. The ever-resourceful Japanese have taken advantage of these abundant resources by using the plentiful trees and bamboo to produce kitchenware and utensils.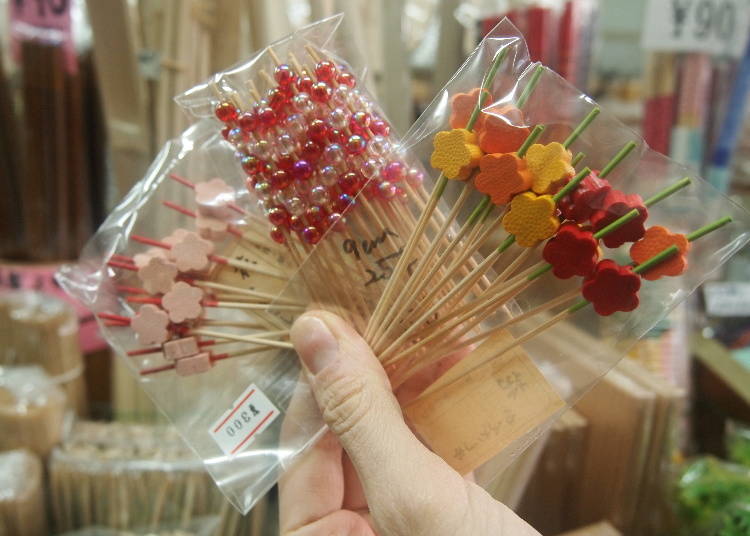 You'll find circular wooden vessels for steaming food; square, box-like apparatus used for created "cake" sushi (oshizushi); matcha tea whisks; and the cutest toothpicks.
Hours: 10:00 - 17:00
Closed: Sundays, Holidays
オクダ商店

Address

1-5-10, Nishiasakusa, Taito-ku, Tokyo, 111-0035, Japan
Scrub, Scrub, Scrub Away! - Kanaya Brush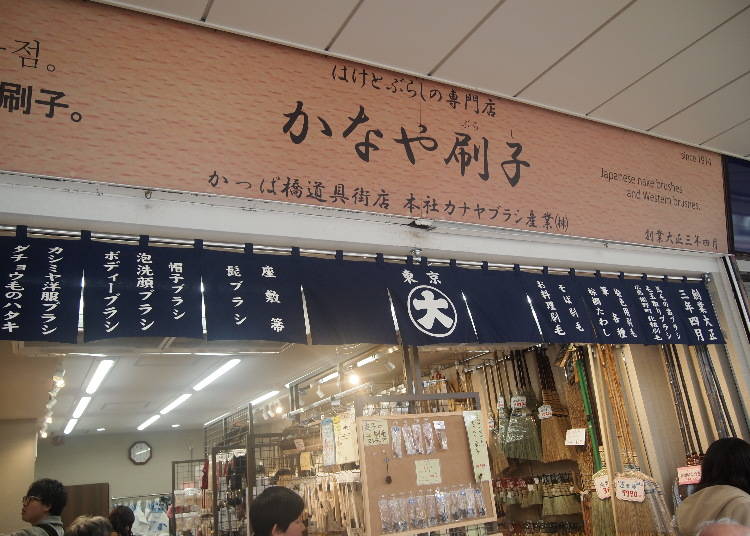 A shop that specializes in natural bristle brushes may seem out of place in a kitchen town like Kappabashi, but cleanup is an essential part of running a restaurant.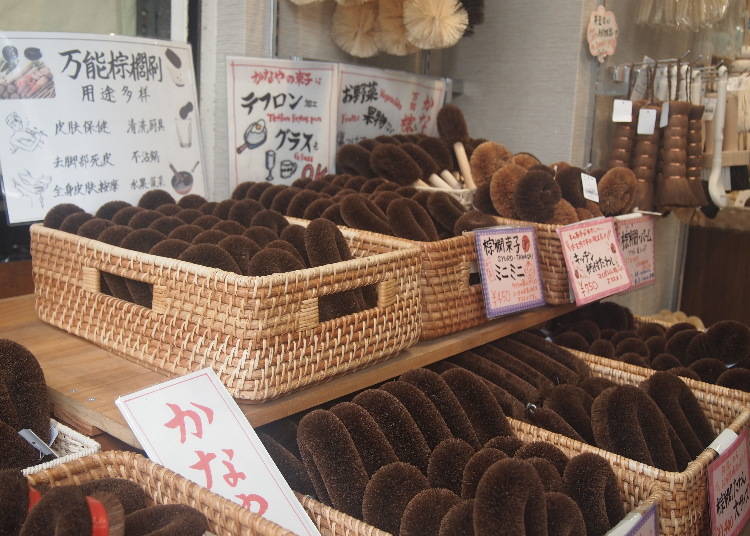 Brushes found at Kanaya Brush are used to scrub pots, pans, and they even sell special brooms for sweeping tatami flooring. Because the quality of the hairs used in Kanaya brushes is high, you can also find a variety of brushes for cleansing your face and your body and makeup brushes with a luxurious touch.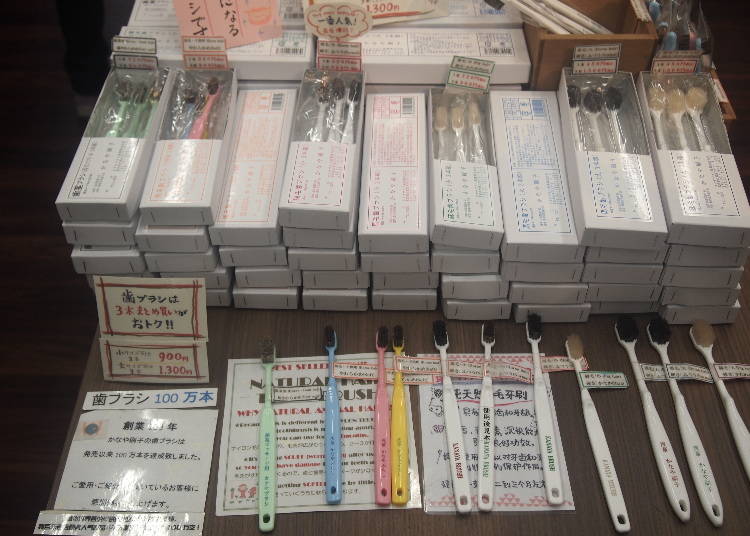 Pick up: A set of toothbrushes made with natural hair. Compared to nylon, natural animal hair bristles can last for up to 2 to 3 months.

Hours: 10:30 - 17:50
Closed: None
かなや刷子

Address

1-5-9 Nishi-Asakusa, Taito-ku, Tokyo 111-0035, Japan
Feeling Hungry? - Maiduru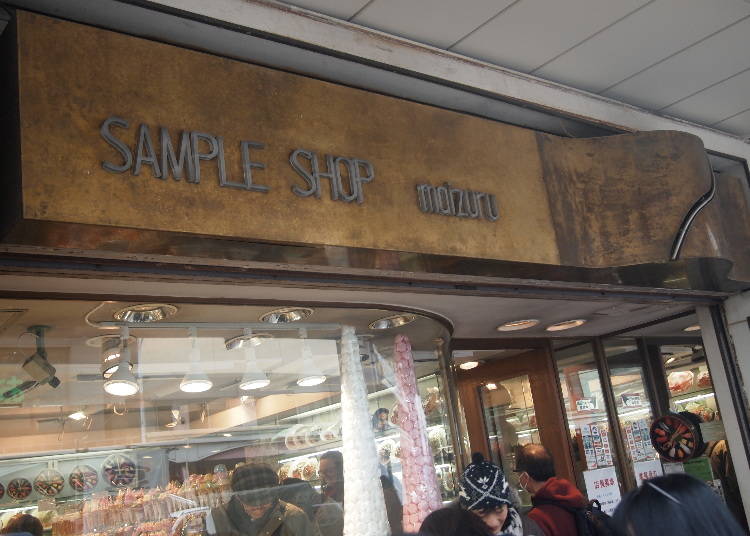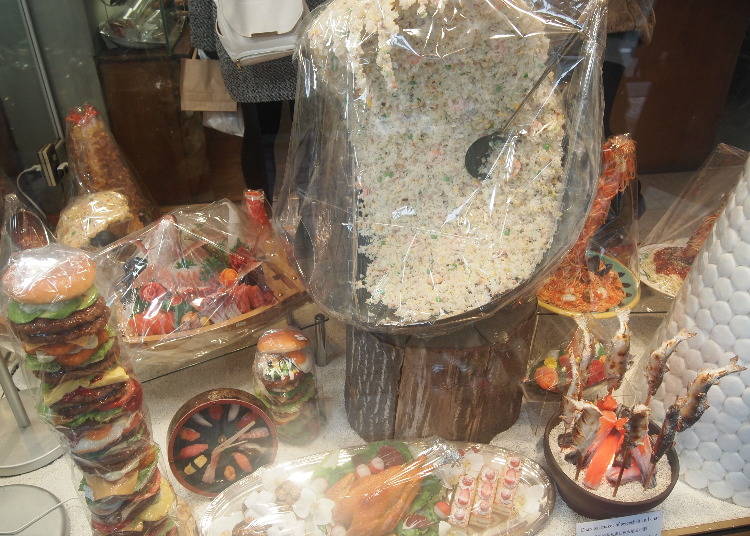 With towering macaroon cakes and a giant wok of stir fry rice in its display window, Maiduru looks like something straight out of a foodie's dream.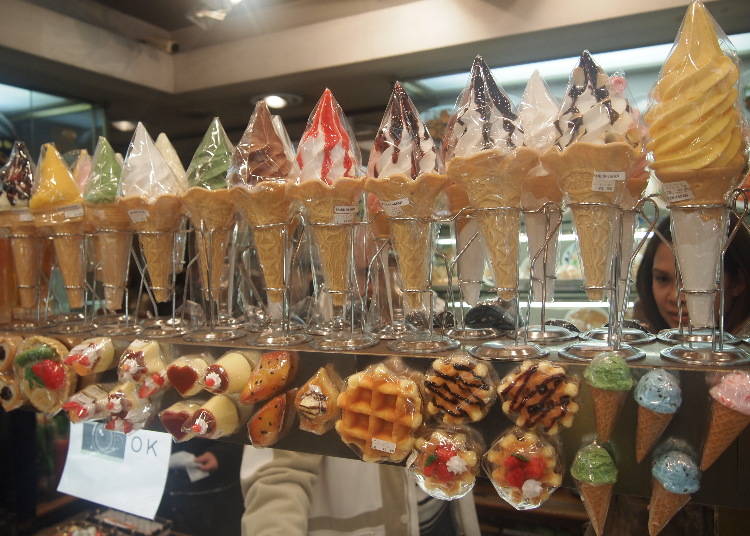 While you'll find plenty of plastic replicas of lunch and dinner menu staples like curry rice, ramen, and miso soup, mini parfaits and sushi magnets are sure to delight you.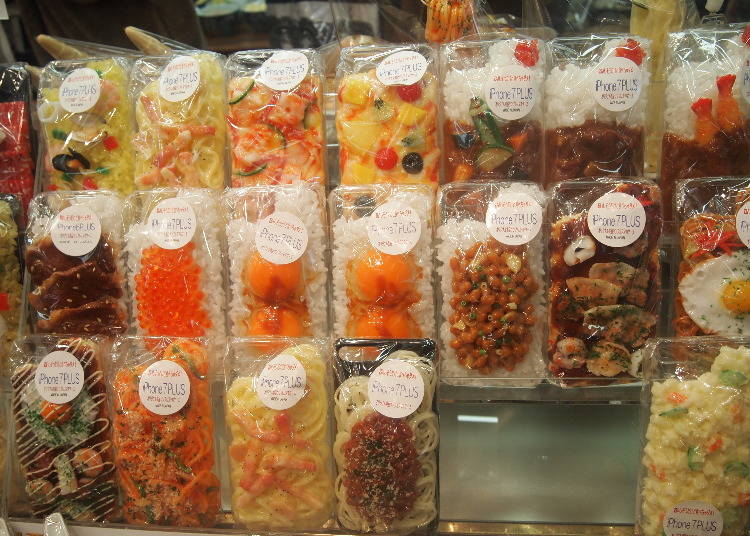 Pick up: A smartphone case. Imagine the look on everyone's face when they think you're holding spaghetti to your ear!

Hours: 9:00 - 18:00
Closed: New Year's, Golden Week, Obon
まいづる本店

Address

1-5-17 Nishi Asakusa, Taito-ku, Tokyo 1100032, Japan
Where East Meets West - Arai Shoten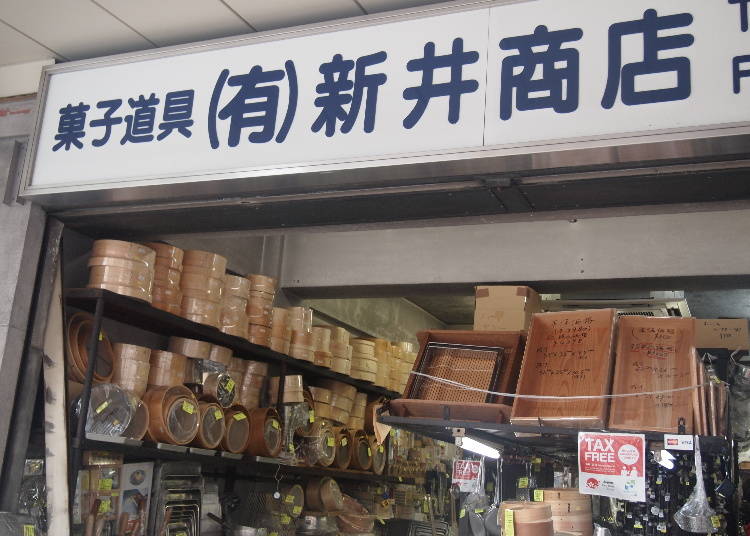 Arai Shoten is literally divided into two parts. On one side you'll find familiar tools and utensils used for baking western sweets.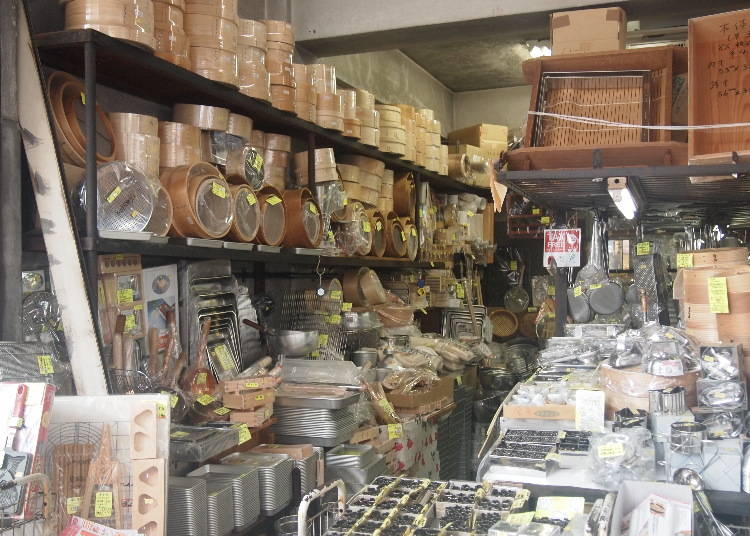 On the other side is a curious assortment of tools used for Japanese confectionery, including a variety of rakugan molds. Rakugan is a very popular type of Japanese sweet made from refined sugar and rice flour, distinguished by its seasonal shapes and whimsical colors.
Pick up: Taiyaki maker. Taiyaki, large bream fish-shaped cakes with a thin waffle-like, outer shell are a favorite snack among Japanese.

Hours: 9:30 - 17:30
Closed: Sundays, Holidays
新井商店

Address

1-5-17 Nishi-Asakusa, Taito-ku, Tokyo 111-0035, Japan
Need a Pair of Chopsticks? - Hashitou
Hashitou is a large store that specializes in chopsticks. In case you needed a reminder, a large pair of wooden chopsticks decorates one of its walls.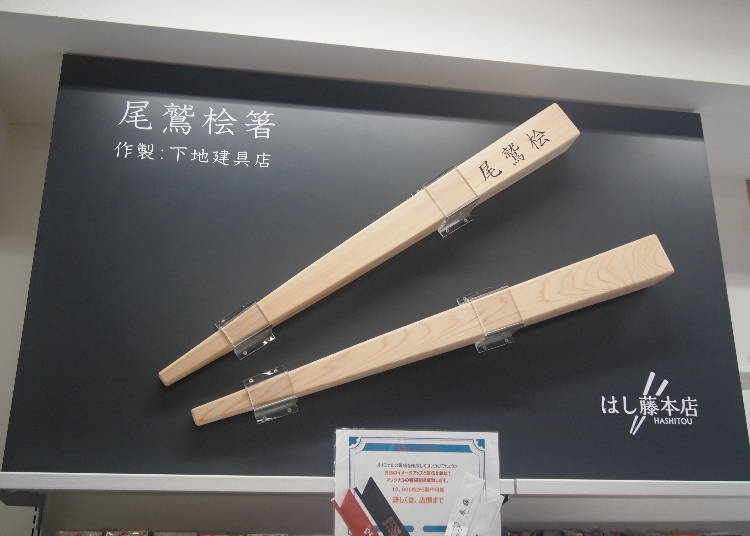 You'll find a fantastic array of chopsticks in different sizes, colors and made from a variety of wood.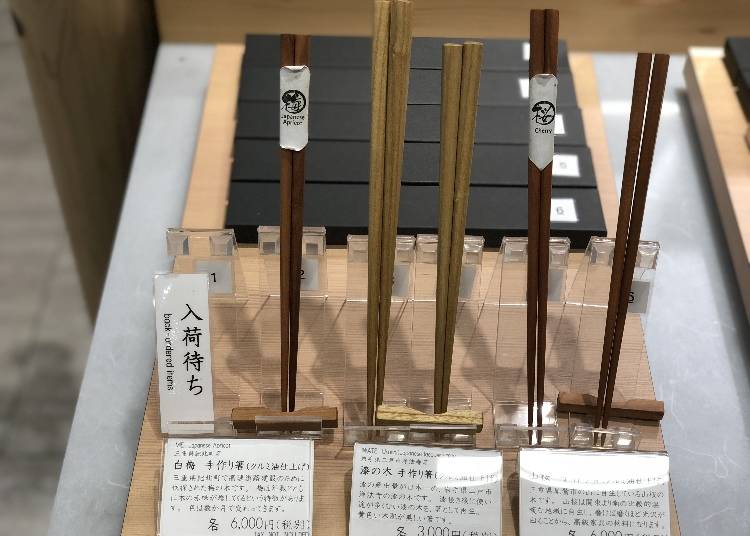 These premium chopsticks are made from the wood of Japanese cherry and Japanese apricot trees and URUSHI lacquer tree. Priced at 3,000 yen and 6,000 yen each, they are high-quality and made from trees grown in Mie and Iwate Prefectures.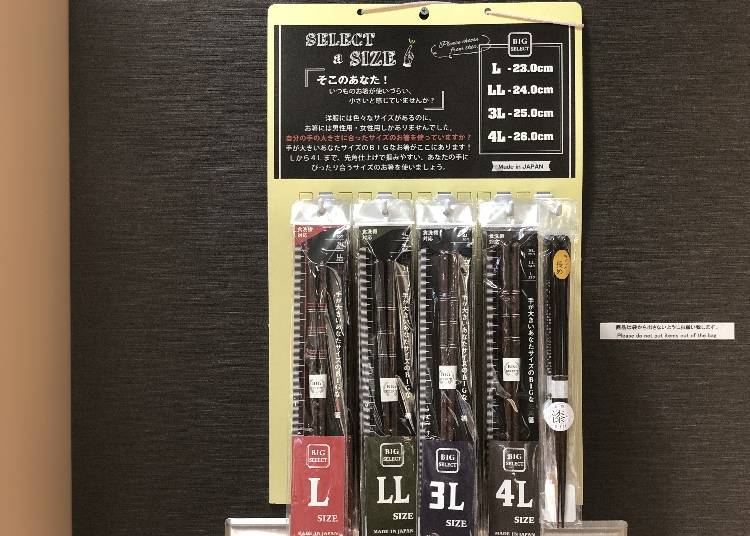 Hashitou even sells chopsticks suitable for those with bigger hands. If you've ever had trouble using chopsticks, perhaps picking a pair of these specialty chopsticks will make a difference!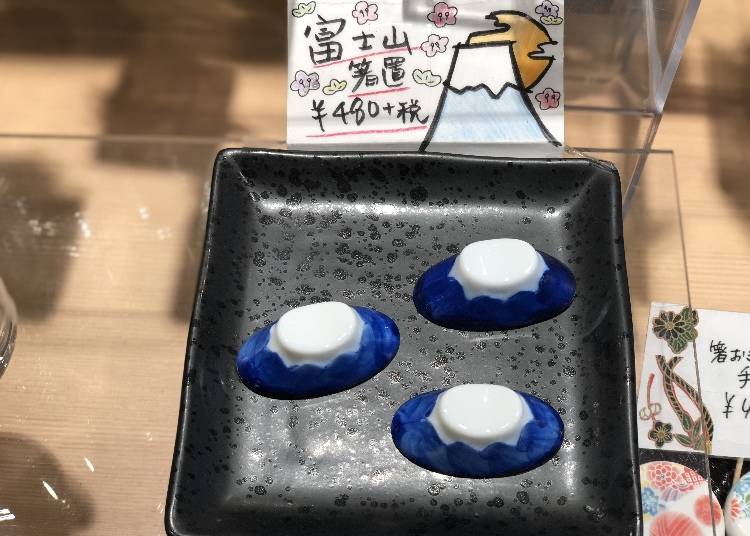 These unique chopstick rests shaped like Mount Fuji make an excellent reminder of your stay in Japan.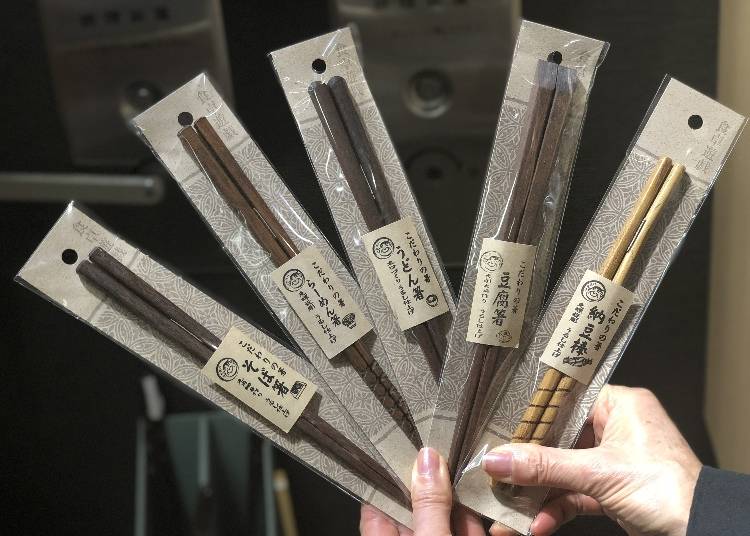 Pick up: specialty chipsticks. Struggle to use chopsticks when eating ramen, udon, soba, tofu, or natto? Grab a pair of chopsticks designed to accommodate these slippery foods. 648 yen each.

Hours: 9:00 - 17:00
Closed: Sundays, Holidays
はし藤本店

Address

2-6-2 Nishi-Asakusa, Taito-ku, Tokyo 111-0035, Japan
Knives For Professionals and Casual Cooks - KAMA-ASA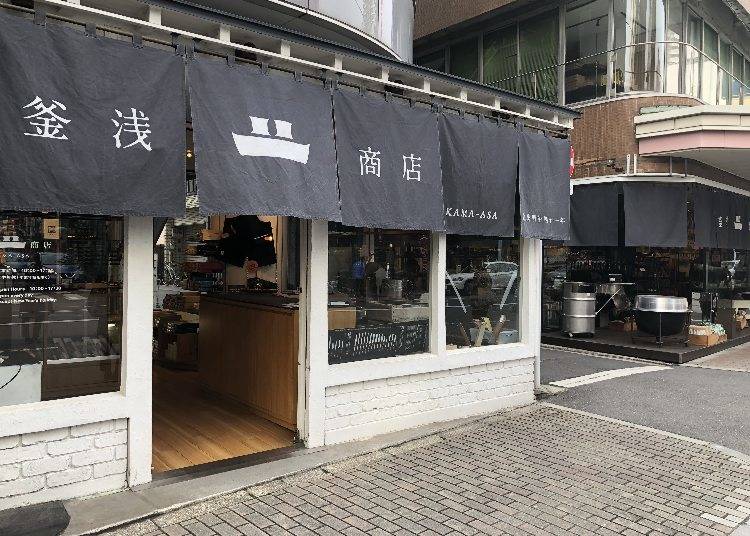 If you've come all the way to Tokyo to purchase a set of knives, KAMA-ASA will not disappoint you. Their knowledge staff will assist you in finding the perfect knife among the styles on display. Japanese knives have a single edge, allowing it to beautifully slice through food.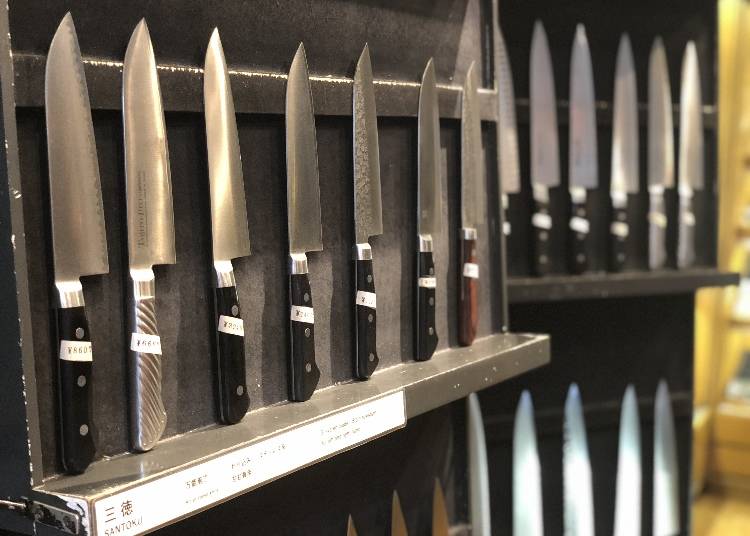 Check out the shape of blade on gyuto (western style all purpose knife) and santoku (Japanese style all purpose knife) knives to see the difference for yourself.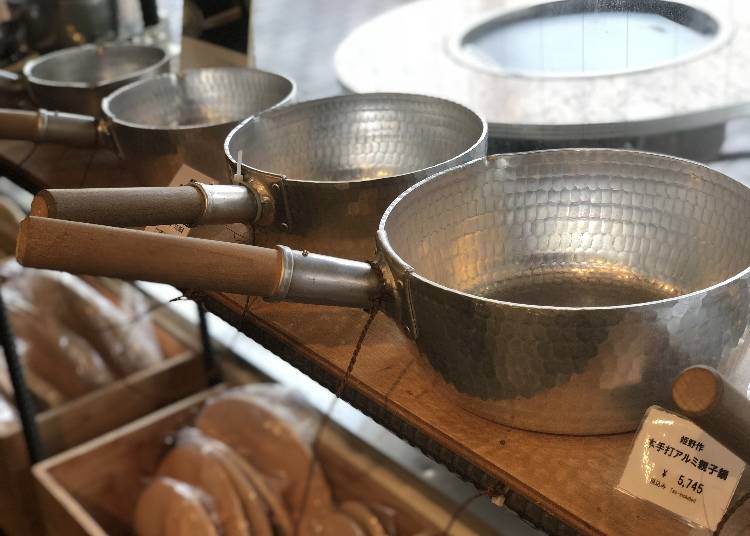 Next door is KAMA-ASA's other shop, which features kitchen utensils and pots and pans, including the easily recognizable yukihira style aluminum pots with hand hammered. Size 5(15cm) pot: ¥7,680;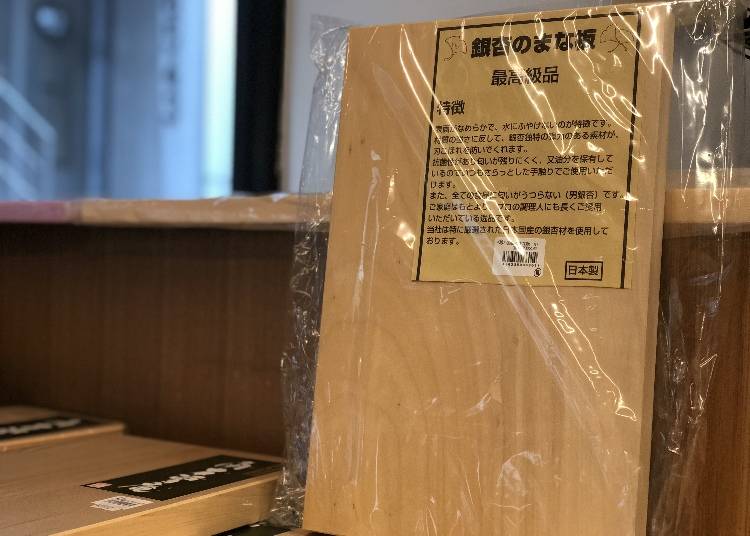 Pick up. Ginko tree cutting board, 5421yen. The wood of a gingko tree is soft and has natural oils that allow for the cutting board to dry easily.

Hours: 10:00 - 17:30
Closed: New Year's holiday
Address

2-24-1, Matsugaya, Taitou-ku, Tokyo, 111-0036
View Map

Nearest Station

Asakusa Station (Tokyo Metro Ginza Line / Toei Asakusa Line / Tobu Isesaki Line (Tobu Sky Tree Line) / Tsukuba Express)
8 minutes on foot


Phone Number

03-3841-9355
The Patron Kappa of Kappa Bashi - Kappa no Kawataro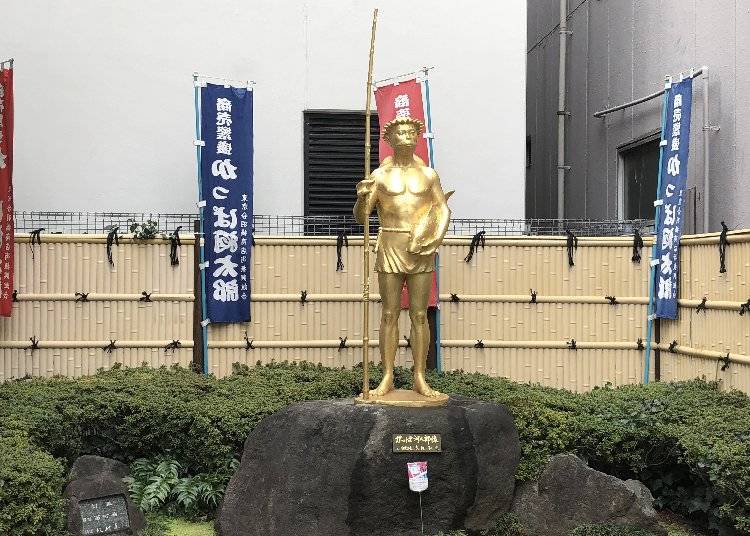 Just a few steps down from Kama Asa Shouten is the intersection of Kappabashi, where you'll find a gold statue of Kappa no Kawataro. A kappa is a mythological water sprite and Kappa no Kawataro help to prevent floods caused by the nearby Sumida River.
Mouth Watering Plastic Delights - Ganso Shokuhin Sample-ya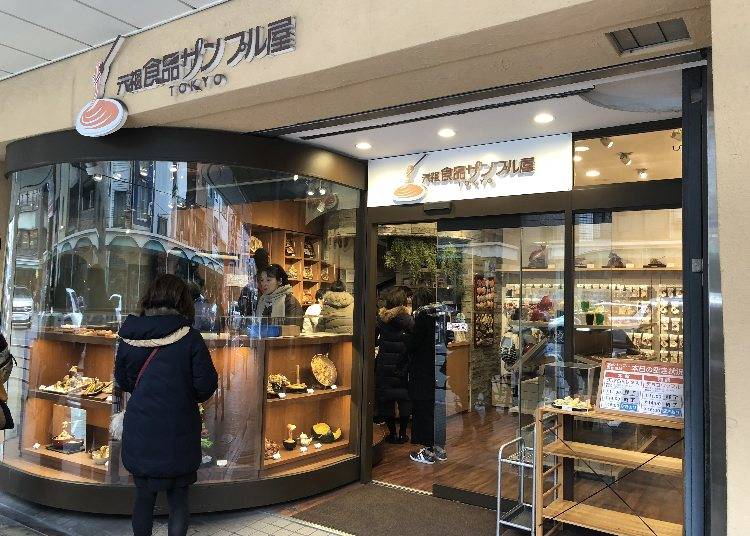 Walking down Kappabashi Dougu Street, you might accidentally walk past Gansou Shokuhin Sample-ya. From the outside, it looks very much life a restaurant.

There are several plastic food display manufacturers in Ganso Shokuhin Sample-ya, but what makes this tiny shop stand out is that workshops are held on its second floor. For 3,500 yen per person, you can learn how to make a realistic waffle cone ice cream, a plate of spaghetti, pizza, and more.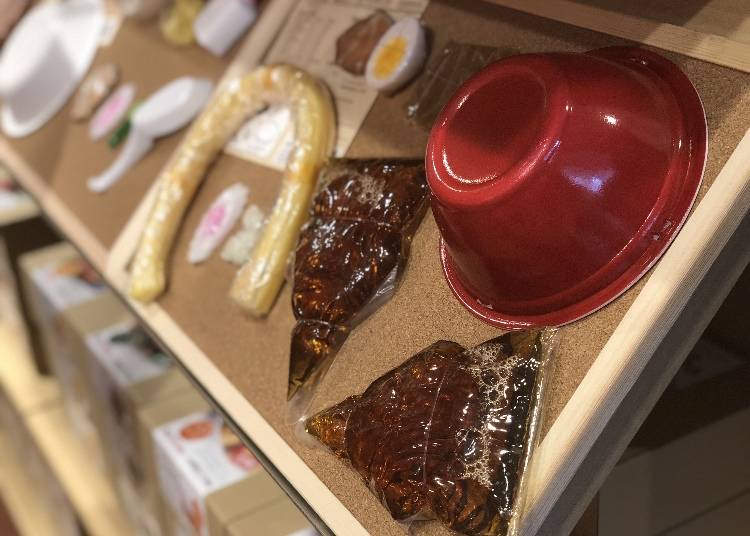 Pick up: DIY plastic food sample kit. There are 11 kits in total, divided into three categories: easy, medium, and hard, ranging in price from 1,200 yen to 2,667 yen, with optional parts costing 200 - 400 yen.

Hours: 10:00 - 17:30
Closed: New Year's
Address

3-7-6, Nishiasakusa, Taitou-ku, Tokyo, 111-0035
View Map

Nearest Station

Tawaramachi Station (Tokyo Metro Ginza Line)
12 minutes on foot


Phone Number

0120-17-1839
Bonus - Take a Leisurely Stroll to Asakusa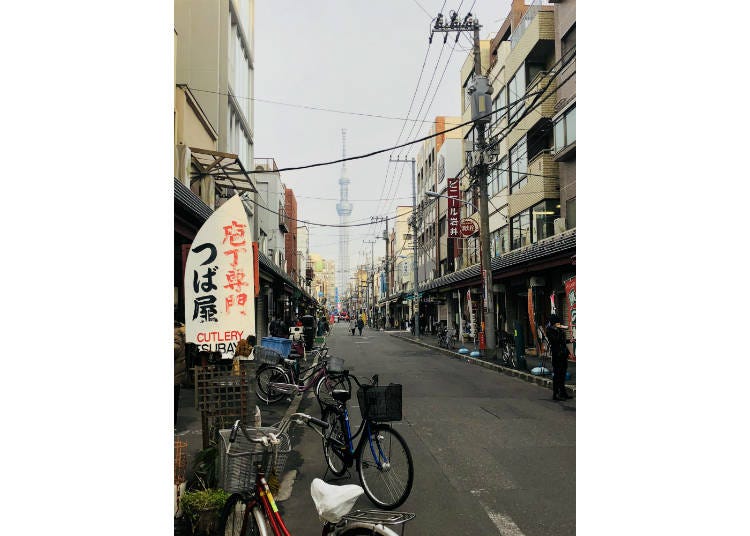 Return to the intersection of Kappabashi crossing to make your way to Asakusa. Your walk will treat you with unparalleled views of Tokyo Skytree.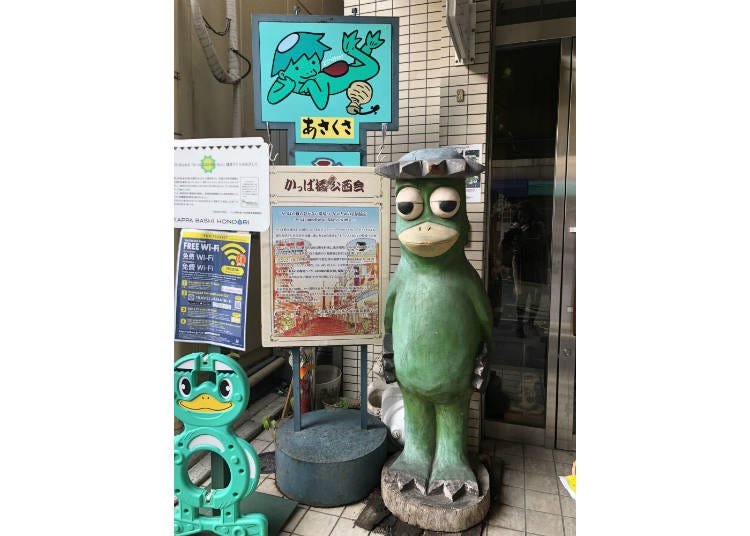 Be on the lookout for kappa statues and artwork. From cute to comical, you're bound to encounter all sorts of kappa!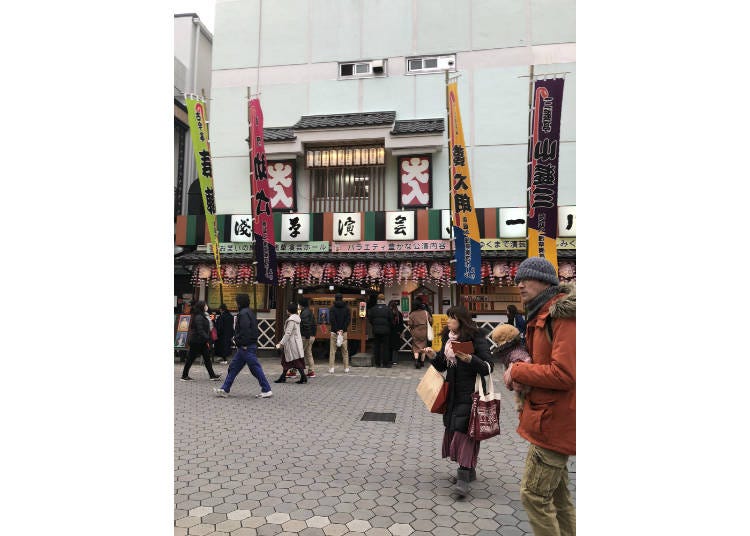 After you cross the intersection of Asakusa Rox (Rox referring to roku, the Japanese word for "six"), you have reached the backstreets of Asakusa. The former entertainment district is still a place for up and coming comedians to perfect their craft.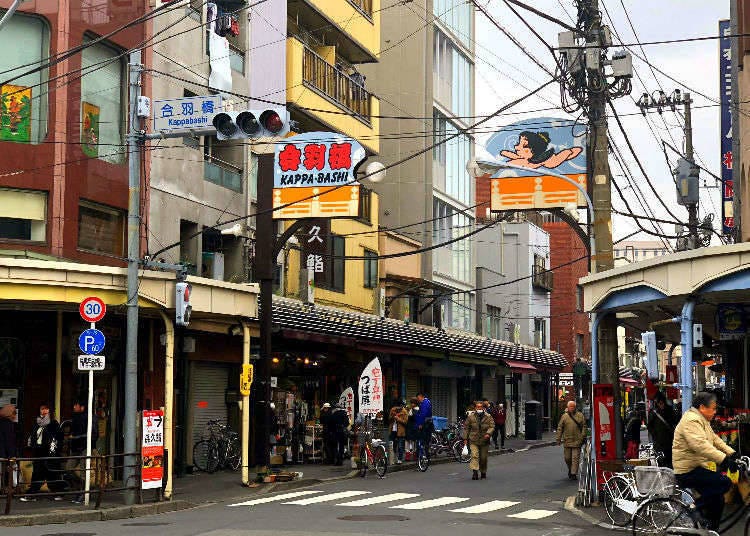 When most people think of Asakusa, Sensoji Temple and its grand Kaminarimon gate immediately comes to mind. But, Chingodo lies in the heart of locals. Look closely between the hall of worship and a twisted tree and you'll see a tanuki statue. It's said that the worship hall survived the Tokyo air raids of World War II because raccoon dogs made the temple their home.

Once you pass Chingodo, you're sure to recognize the bustling promenade of Nakamise Street! You made it!

Top image credit: Tupungato / Shutterstock.com
*This information is from the time of this article's publication.
*Prices and options mentioned are subject to change.
*Unless stated otherwise, all prices include tax.