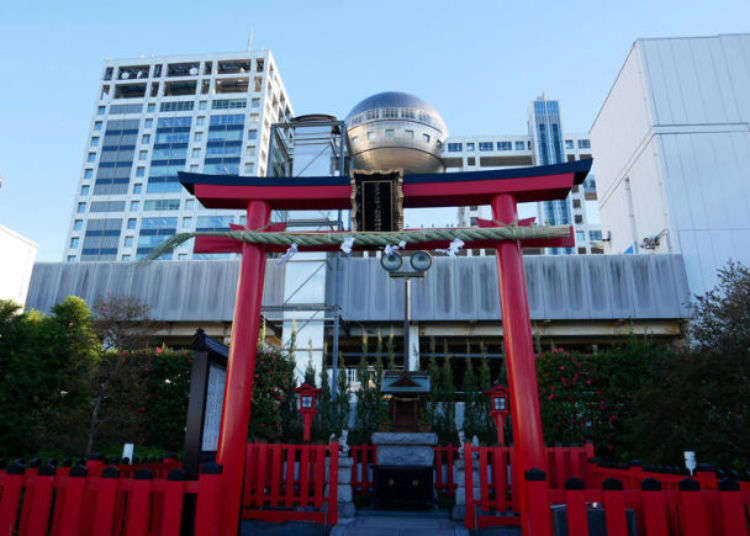 Odaiba is Tokyo's waterfront suburban area, and a popular sightseeing spot, where you can enjoy many attractions during your stay in Tokyo. Among them, is Aqua City Odaiba, overlooking the reproduction of the Statue of Liberty and Rainbow Bridge.

Aqua City Odaiba is a large complex with around 120 shops and entertainment facilities. Here you will find a variety of stores for your shopping, restaurants with beautiful night views, and much more! There are many establishments that have multilingual support and vegetarian food options.
How do I get to Aqua City Odaiba?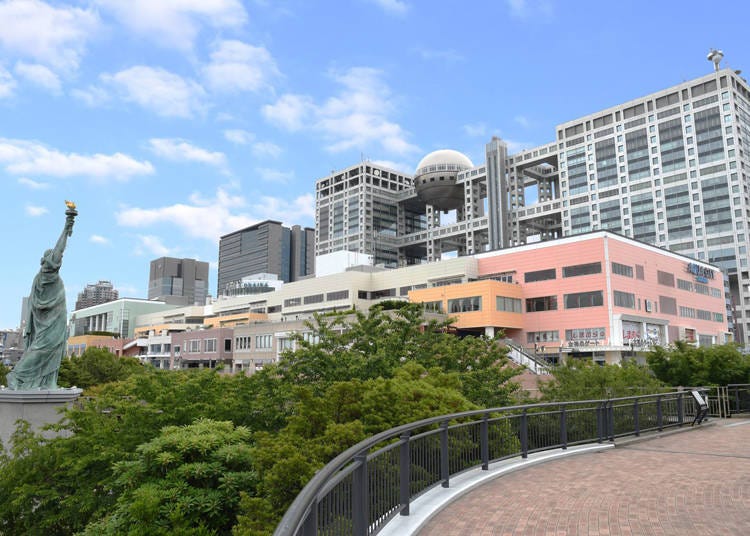 Aqua City Odaiba can be reached using public transportation, via the Yurikamome Rinkai Line (directly from the JR Saikyo Line), or via buses, water buses, and airport limousines. In addition, a free bay shuttle bus tours the main sights of the Rinkai Fukutoshin. For more details, see the access guide at the end of the article.
This is what Aqua City Odaiba is like!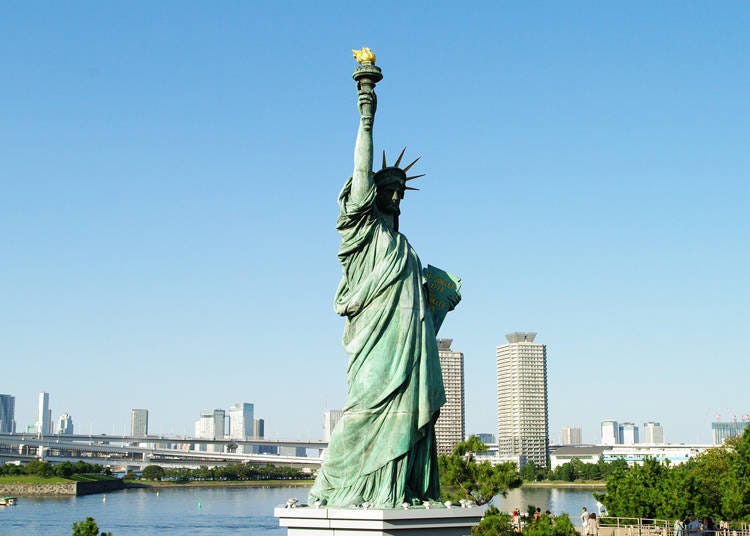 Aqua City Odaiba is located next to Odaiba Seaside Park, in front of the Statue of Liberty, in a prime location facing the Rainbow Bridge, and the city center. There are movie theatres, amusement facilities, and even shrines. The shopping area, which sports more than 60 stores, offers a wide variety of products, from brand products to casual fashion, and home appliances, or sweets.

The Seaside District's largest restaurant zone is comprised of 50 shops of various kinds. There are also shops for visitors with vegetarian, or halal preferences, making the choice even wider.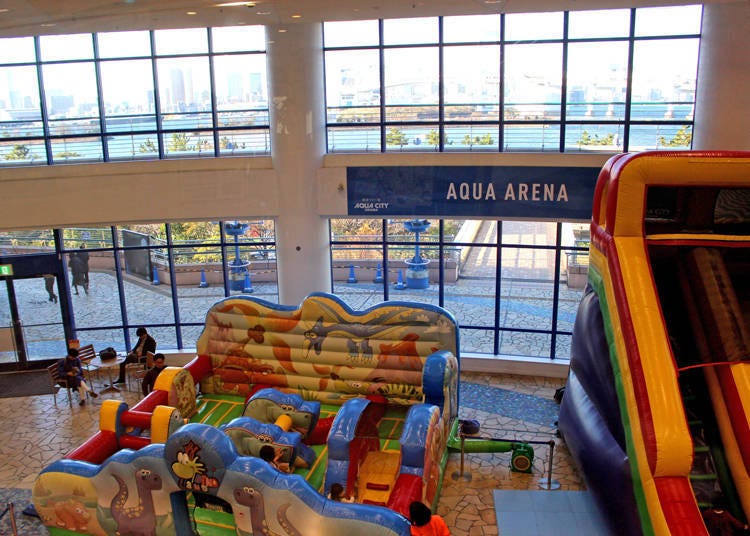 The complex also features small children-friendly, as well as easily accessible and enjoyable for the elderly, and people with disabilities. There are baby-restrooms on the 1st, 4th, and 6th floors, with nursing corners with diaper changing beds, and hot water baths. Strollers and wheelchairs are available free of charge at the two information counters on the 3rd floor.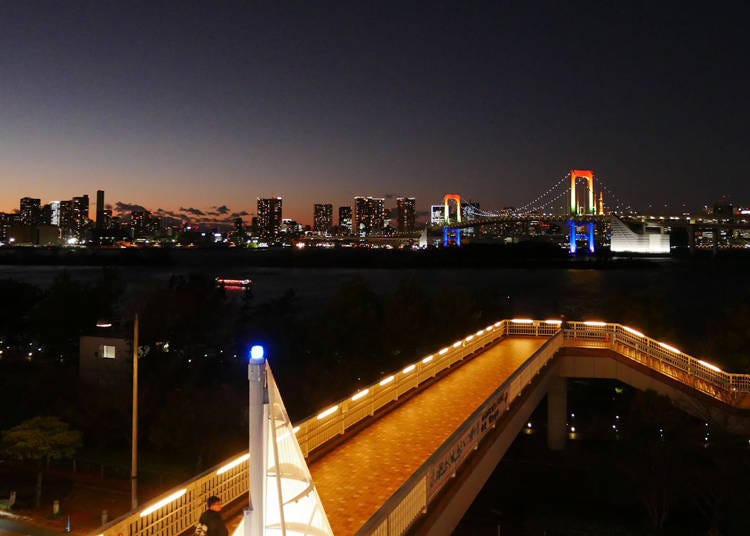 Aqua City Odaiba is also popular as a night-view spot. In particular, the beauty of the Rainbow Bridge emerging from the darkness is a must-see. Aqua City Odaiba has many corners from which to admire the sights, as well as restaurants from where you can enjoy the view during your mean, making it perfects for dates.
Have fun at Aqua City Odaiba! Entertainment
Let's take a look at two of the entertainment options in Aqua City Odaiba that first-time visitors will surely enjoy.

●East Area, first floor "United Cinemas Aqua City Odaiba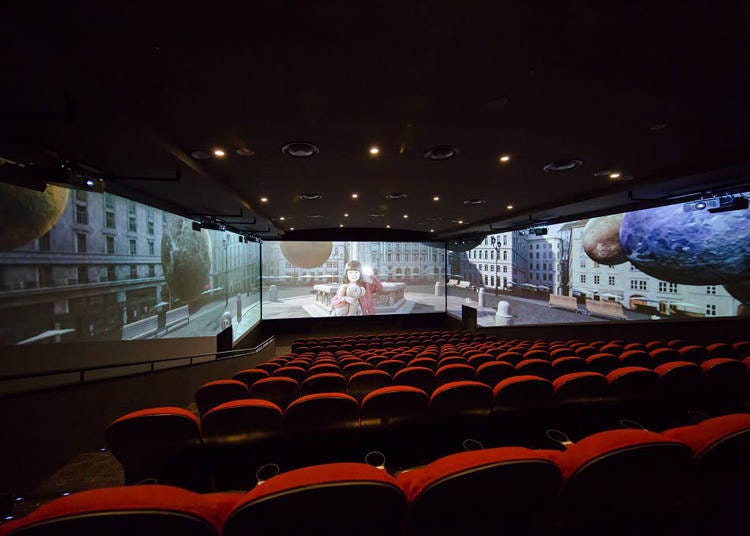 The first spot is the "United Cinemas Aqua City Odaiba," on the first floor of Aqua City Odaiba. This is a cinema complex with 13 screens, equipped with state-of-the-art screening systems, like the multi-screen system "ScreenX" and the "4DX," which use a variety of effects having the audience experience moving seats, blowing wind, water, lights, and smells. Have a fully immersive and unique movie experience.

●East Area, fourth floor, "Tokyo Leisureland"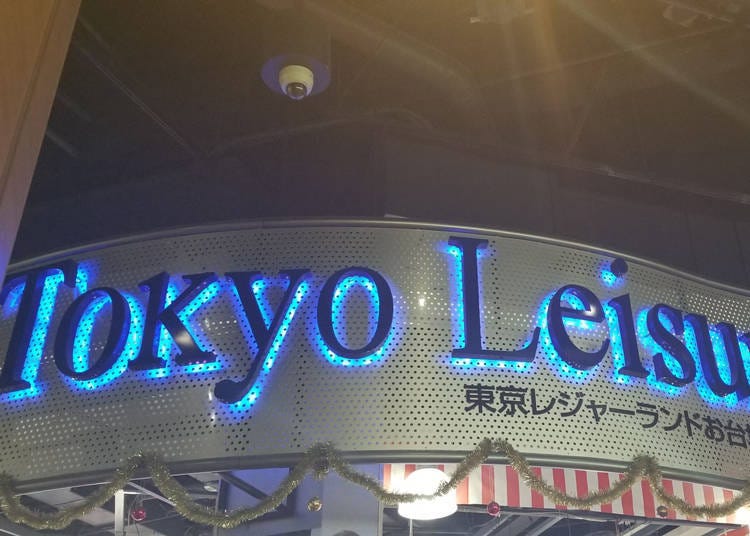 Tokyo Leisureland is an entertainment center for children and adults alike, with popular games and prizes including Disney products, Pokemon, and One Piece. In addition, there are purikura corners, and card-game corners for Dragon Ball and Masked Rider.
The entrances of Aqua City Odaiba are the Yurikamome Daiba Entrance, the Goddess Gate Entrance, the Seaside Entrance, the Kaihin Park Entrance, and the Rinkai Line "Tokyo Teleport Station" Entrance.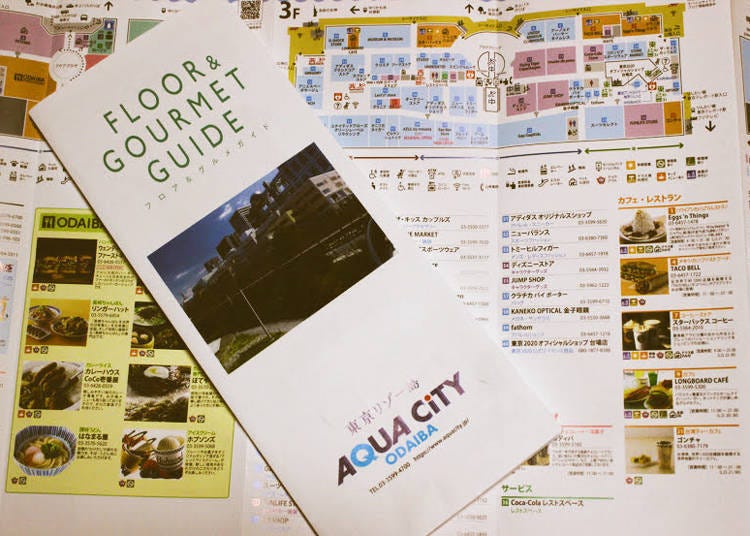 Since the hall is very large, the "floor and restaurant guide" (provided in Japanese, English, Chinese, and Korean), is very conveniently located by all entrances.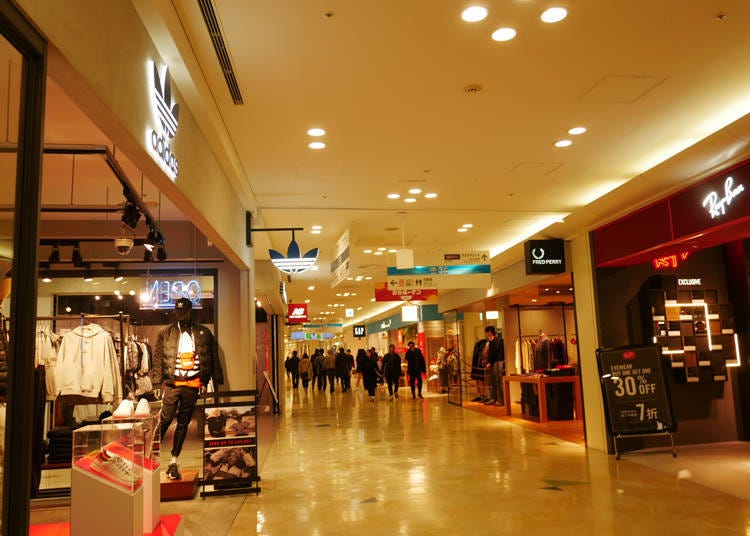 Aqua City Odaiba is divided into three areas: West, Middle, and East. All areas are connected on the 3rd and 4th floors, but note that United Cinemas on the 1st floor of the East Area, and the Cortona Seaside Daiba (wedding hall) on the 5th and 6th floors, are not connected to the Middle Area.
Find Aqua City's robot guide, "Junko Chihira!"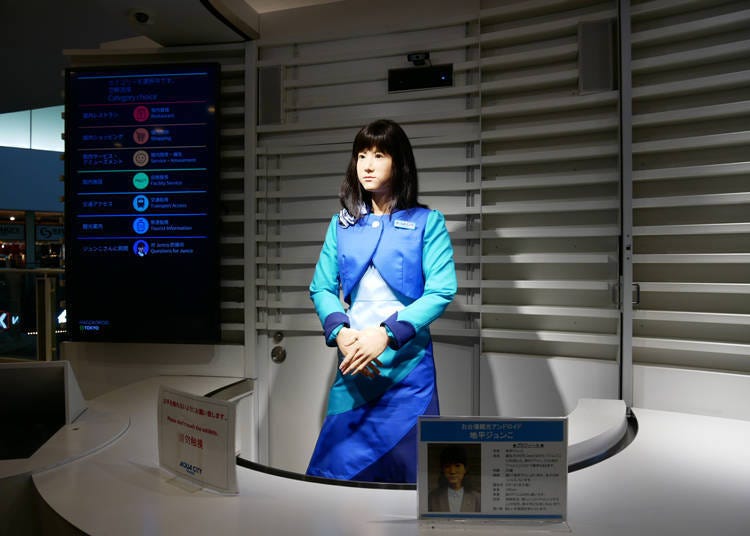 Aqua City Odaiba is home to the popular AI guide "Junko Chihira," and many people go and "meet" her. Junko is a little shy, but speaks fluently in three languages: Japanese, English, and Chinese.

Junko will provide you with information on the museum, stores, as well as sightseeing spots and transportation, not only in the area, but for the whole city of Tokyo. If you would like to meet Junko, go to the tourist information center right near the entrance of Tokyo Teleport Station Rinkai Line on the 3rd floor.
Where's the best shopping?
●Middle Area, first floor, "Le Edo"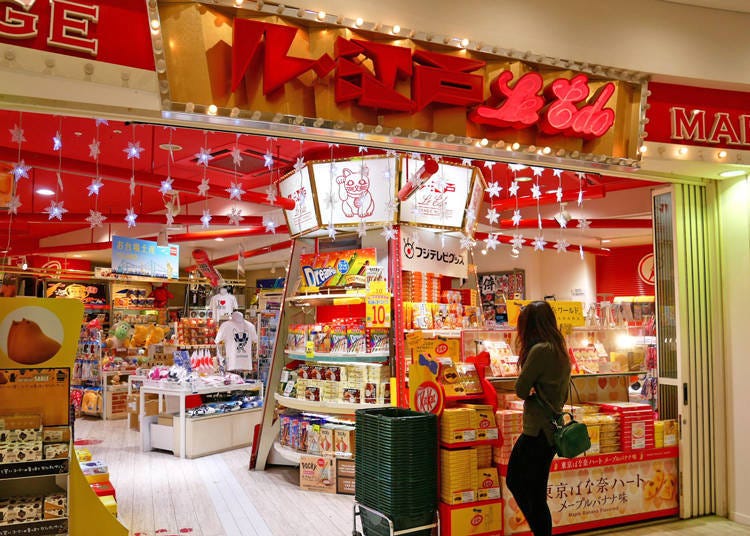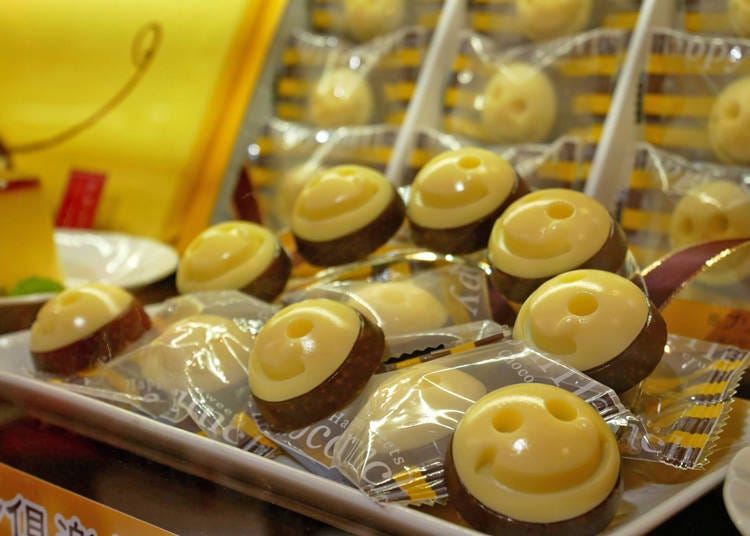 The shop we want to recommend for souvenirs is "Le Edo," on the first floor. From cute sweets to chopsticks with many different patterns, from accessories to T-shirts, and more, here you will find a wealth of items that are perfect to bring home as souvenirs of your trip to Japan. Some of the staff can speak English and Chinese (but they may be unavailable), and the shopping is duty-free.

●East Area, third floor, "Funlife Store"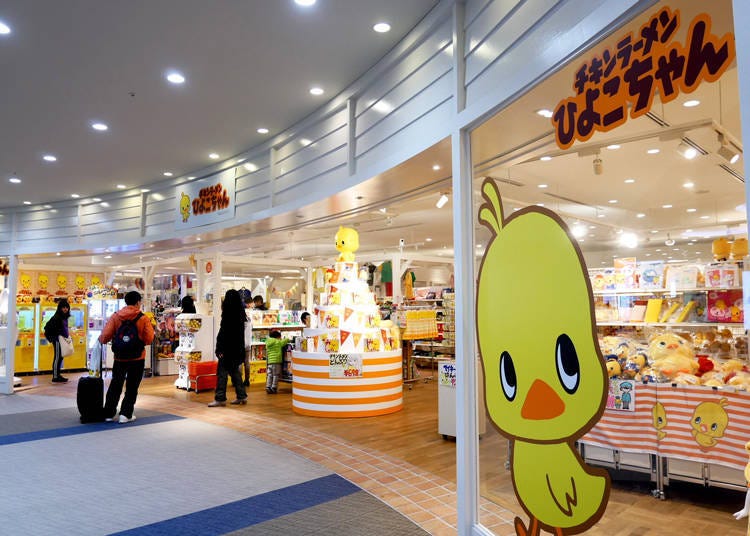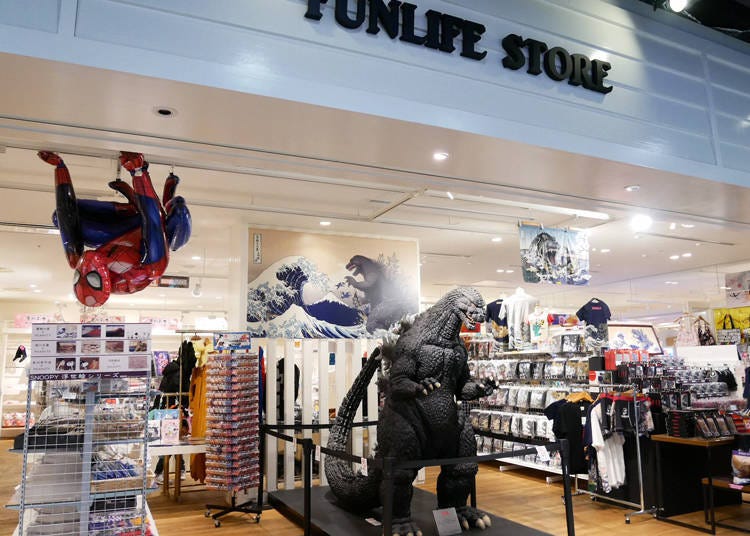 If you want to find products inspired by popular characters, go to Funlife Store on the thirds floor. Here you will find all kinds of merchandise carrying the Nissin Chicken Ramen, or Godzilla, as well as many other Japanese characters, as well as patterns of Japanese design. You will also find RR (Robin Ruth) apparel, as well as Marvel items that can be purchased only in Japan. Some of the staff can speak English (but they may be unavailable).

●East Area, third floor, "Hipshop"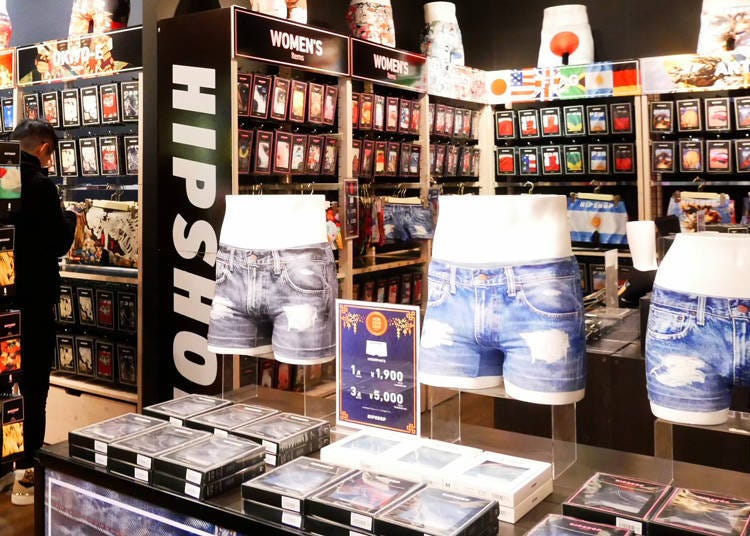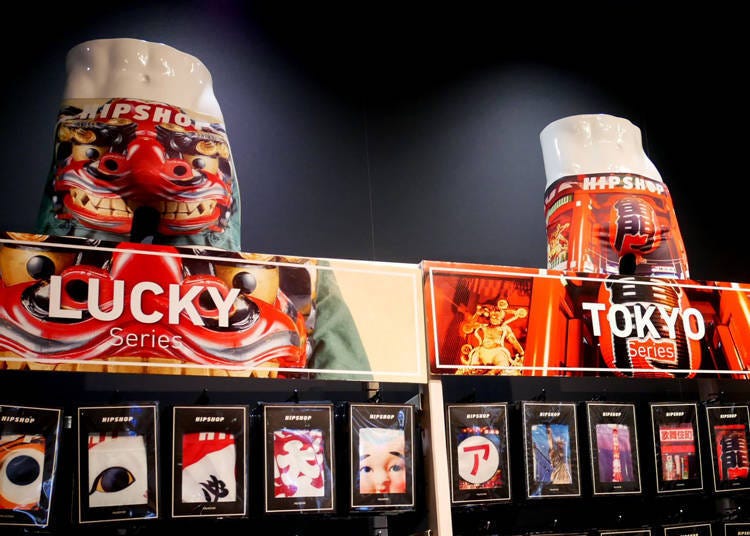 One of the most popular shops in Aqua City Odaiba is "Hipshop." This is an exciting underwear shop with underpants and socks with prints of cute animals, fruits, sweets, landmarks of Tokyo, and more. The quality of the items is very high, and the store carries merchandise for both men and women. If you want to surprise your friends with an original present, this is the place for you. Some of the staff can speak English (they may be unavailable)

●East Area, third floor, "Tokyo 2020 Official Shop Daiba Store"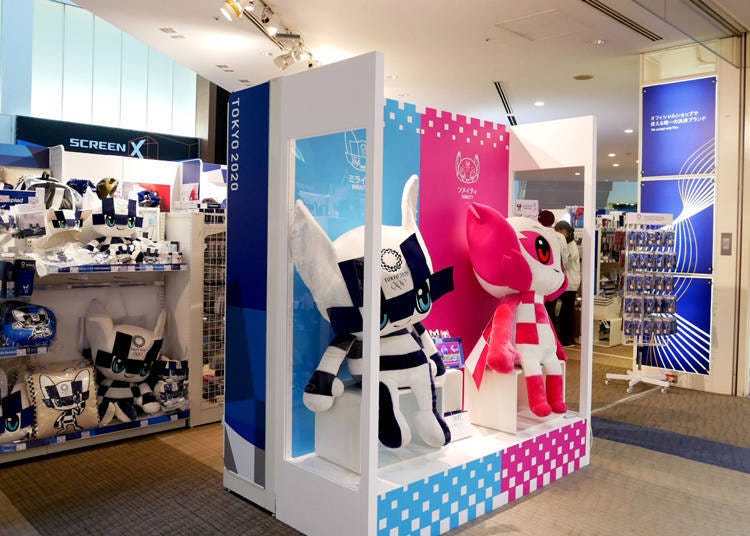 On the Third floor is the "Tokyo 2020 Official Shop Daiba," which sells officially licensed products, and merchandise carrying the official Japan Olympics characters Miraitwa and Somei. The staff can speak English and Chinese.

●Middle Area, third floor, "Musee de Peau"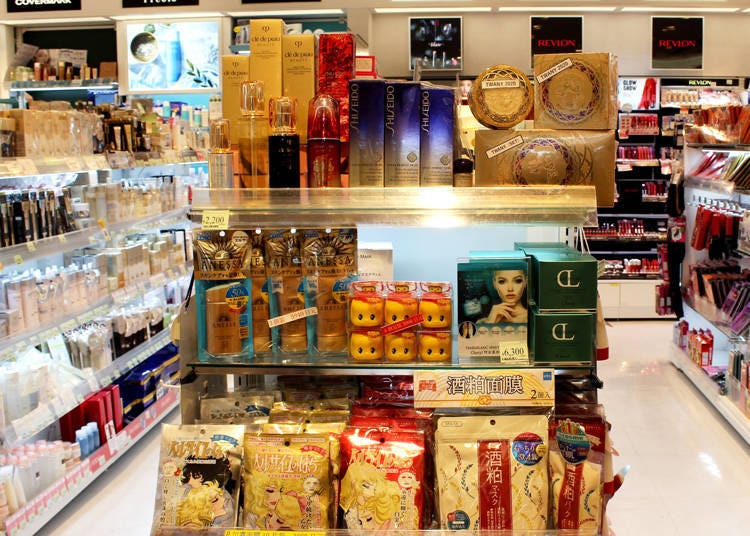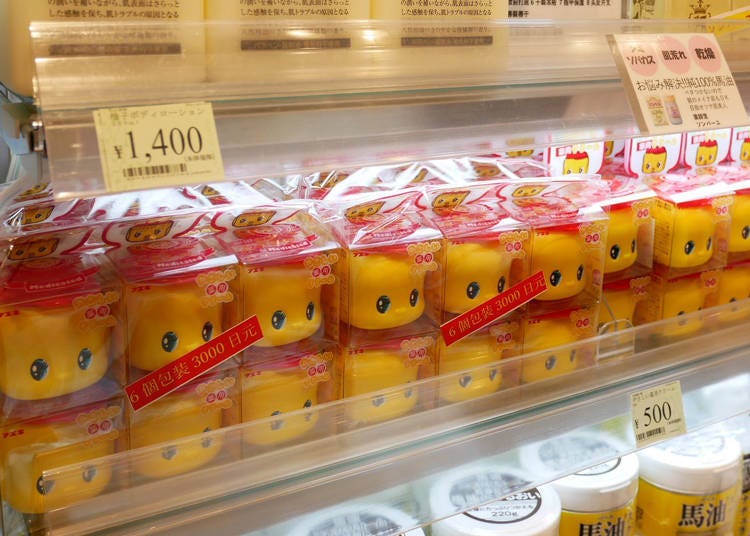 In recent years, Japanese cosmetic and pharmaceuticals have been gaining popularity among foreign tourists. At "Musee de Peau," you can find everything from high-quality Japanese cosmetics to popular and more reasonably priced cosmetics and pharmaceuticals. Popular and highly recommended products include Shiseido's Cle do Peau Beaute, Kanebo's Twany Milano collection (limited company), and "Fueki Easy Medicinal Cream." The cream is smooth and has an excellent moisturizing power. It's a product recommended for it high-quality and low price.

●Middle Area, fourth floor, "Air Bic Camera"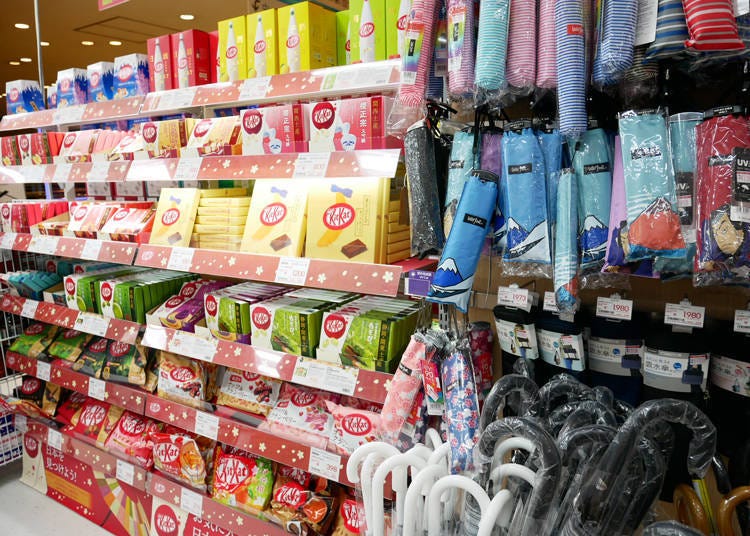 If you want to buy high-quality, hard-to-break Japanese home appliances, go to "Air Bic Camera." They carry a wide range of popular products, like beauty appliances, household appliances, digital cameras, watches, pharmaceuticals, SIM cards, and more. In addition to home appliances, you can find snacks and umbrellas with nice Japanese patterns, making it an easy one-stop-shop for souvenirs. The shop has staff that can speak English and Chinese, as well as a multi-lingual translator.

The Bic Camera Liquor on the same floor offers a large selection from popular liquors to rare Japanese sake (only a few bottles produced every year).
●Middle Area, first floor, "Food Court"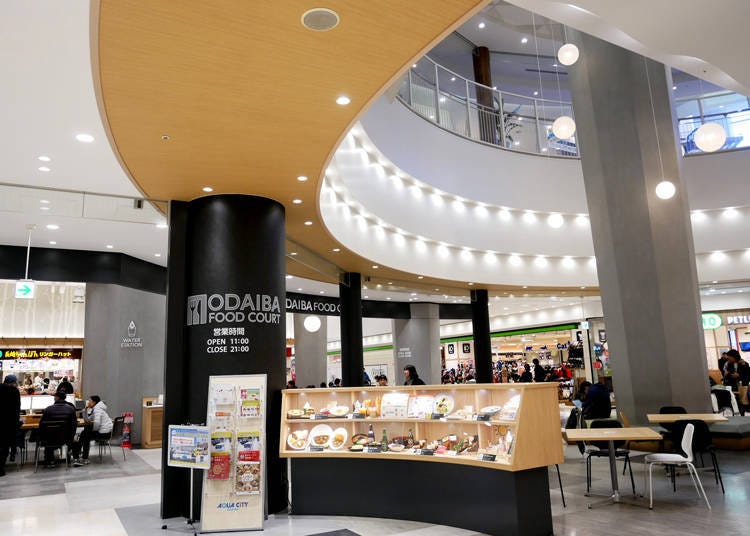 Aqua City Odaiba has more than 50 dining shops where you can enjoy Japanese cuisine, as well as food from many other countries. The "Food Court" on the first floor is a convenient place to eat different kinds of food at a reasonable price or enjoy food from different restaurants, while still being able to eat with your group. There are eight curry shops, as well as Nagasaki Champon, Sanuki Udon, Chinese food, hamburgers, takoyaki, and ice cream.

●West Area, fourth floor, "Kua'Aina Odaiba Store"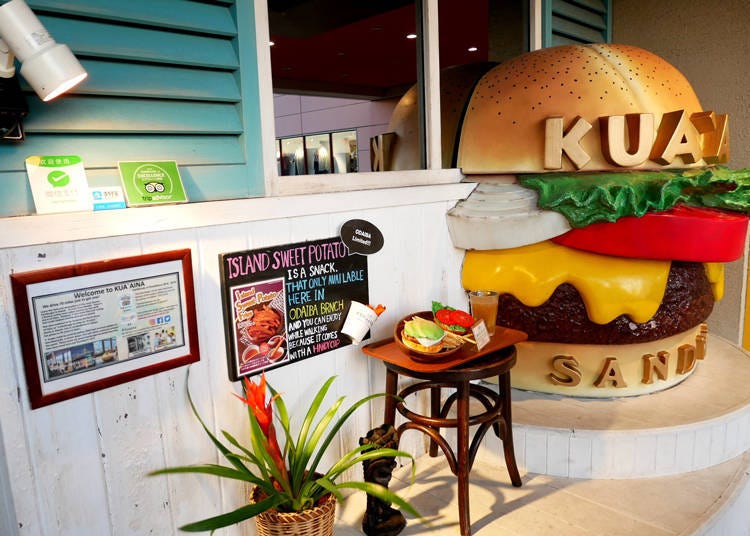 Some of the recommendations restaurants for those looking for vegetarian options, are "Kua'Aina Odaiba" on the fourth floor and "Mumbai" and Indian restaurant on the sixth floor, which offers also a halal menu. Kua'Aina is a famous Hawaiian hamburger chain with 10 stores in Tokyo. The Odaiba store, offers a spectacular view of the reproduction of the Statue of Liberty, and the staff can speak five languages. The patties are baked on a grill, and are very juicy.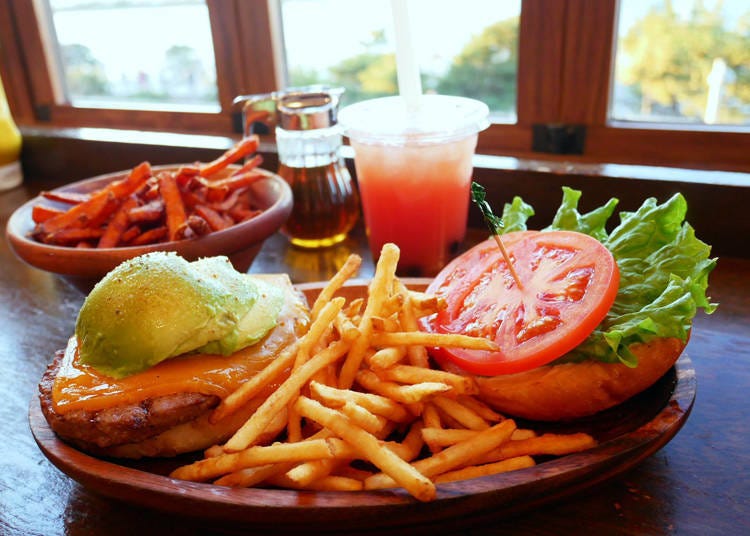 The most popular item is "Cheddar Avocado Burger." The bun is crispy, and the patty is 100% beef. The burger is garnished with cheddar cheese and avocado. The side dish that you see in the top-left corner of the picture is "Island Sweet Potato," which is served only in Odaiba. This side dish is just the best. Sweet potatoes covered in maple syrup! The staff speak English, Chinese, Tagalog, Bengali, Sinhala (depending on availability). The menus are in English and Chinese.

●Middle Area, fourth floor, "Gonpachi Odaiba"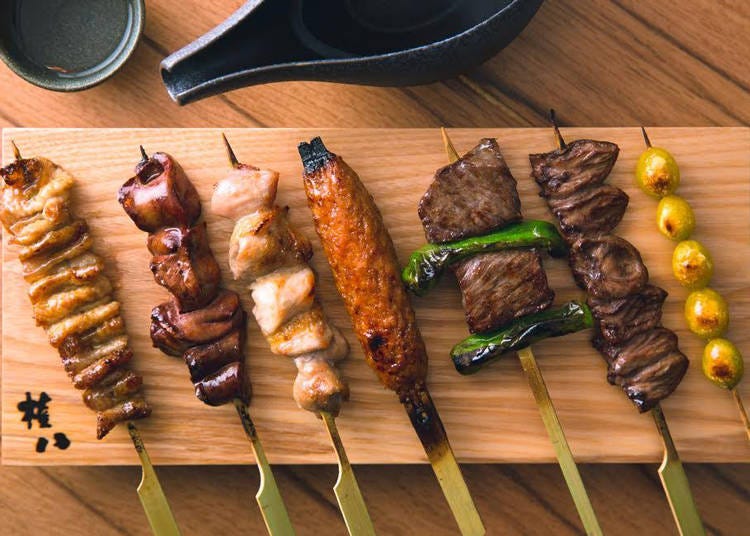 Gonpachi Odaiba, located on the 4th floor, has tatami floors and it's a popular restaurant, especially for families. Gonpachi Nishizabu is where in 2002, Prime Minister Koizumi held a meeting with President Bush. The handmade soba noodles are carefully prepared with selected ingredients every morning. The restaurant also offers skewers grilled on slow-burning charcoal, freshly fried tempura, and other special dishes.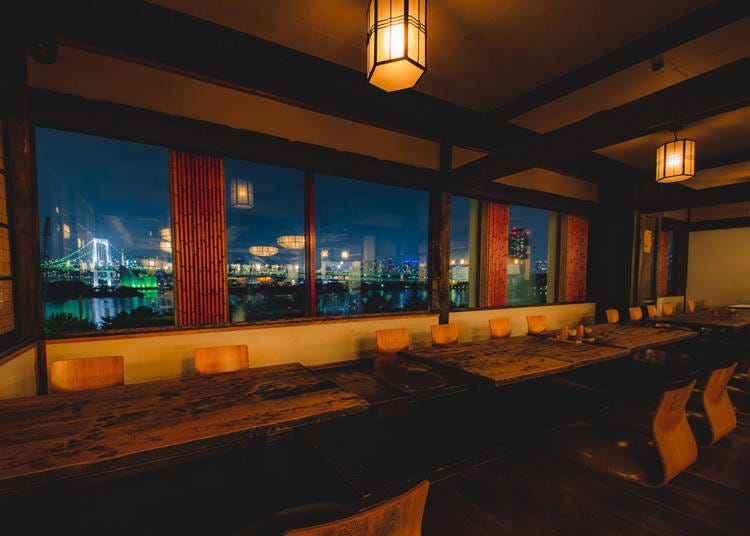 Some raised seats require a reservation, and offer a panoramic view of Tokyo Bay, Rainbow Bridge, and Tokyo Tower. Especially at night, the beauty of the view will leave you speechless. There are many kinds of drinks, like Japanese sake from all over the country, and the restaurant is opened until 3am (Last order), so take your time there. The menu is available also in English.

●Middle Area, fifth floor, "Tokyo Ramen Kokugikan Mai"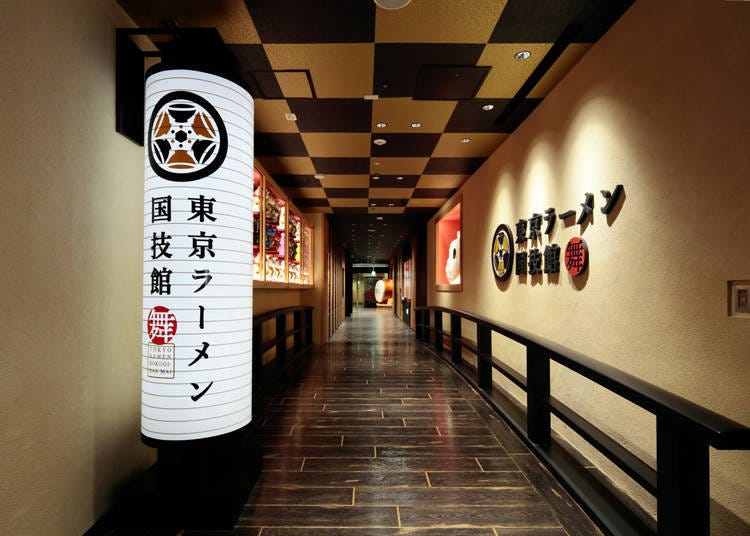 Japanese Ramen is one of the local dishes that attracts travelers from all over the world. Tokyo Ramen Kokugikan Mai, located on the 5th floor of Aqua City Odaiba, is a ramen-theme complex where six popular stores that are expanding overseas gather from across the country. They also offer dishes that can only be tried here!

●West Area, sixth floor, "Shabu-Shabu Dining Roku"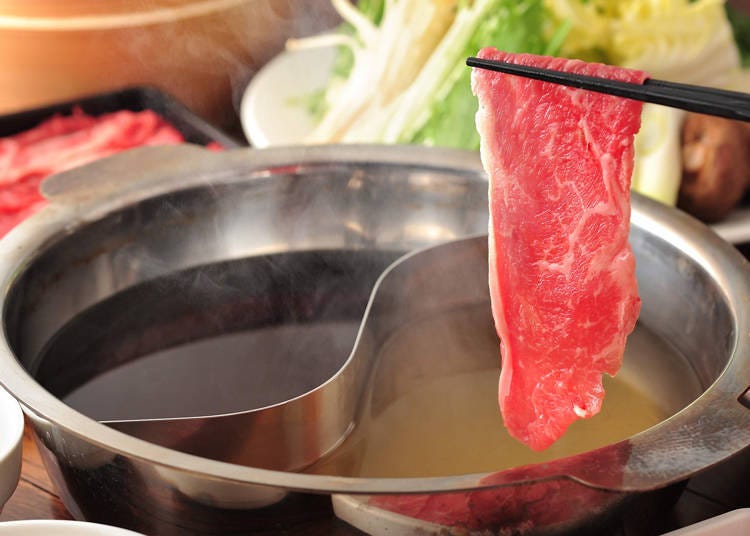 There are many Japanese restaurants overseas that serve sushi or ramen, but there are still few shabu-shabu specialty-shops, so many people still don't know what it tastes like. Shabu-shabu is Japan's most famous hot-pot dish. It's a healthy and very flavorful dish, made by dipping slices of meat or fish in boiling broth and then dipping them in sauce.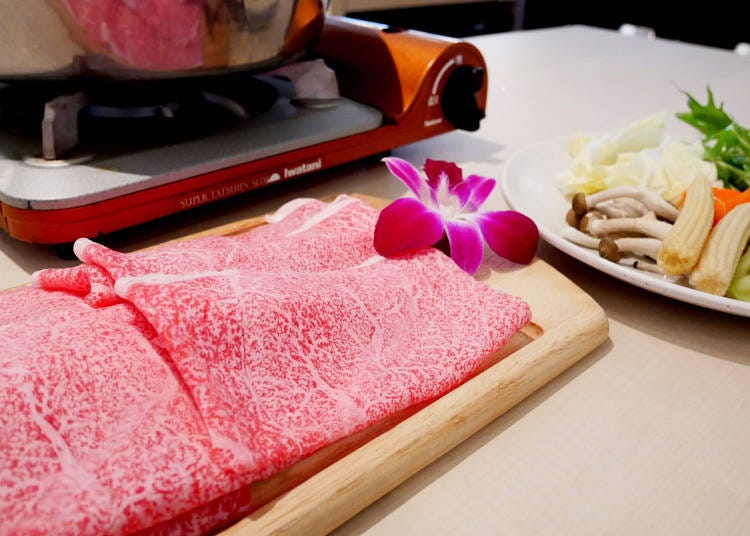 The 6th floor "Shabu-Shabu Dining Roku" is the first all-you-can-eat shabu shabu restaurant in Odaiba. In addition to the "shabu-shabu course" with vegetables and pork and beef meat, there are also options for all-you-can-eat dim sum, as well as A5 rank Japanese black beef. You can enjoy a spectacular view of Odaiba from the glass windows on the wall, and the sparkling night view is fantastic. The menu is available in English as well.

●Seventh Floor "Aqua City Odaiba Shrine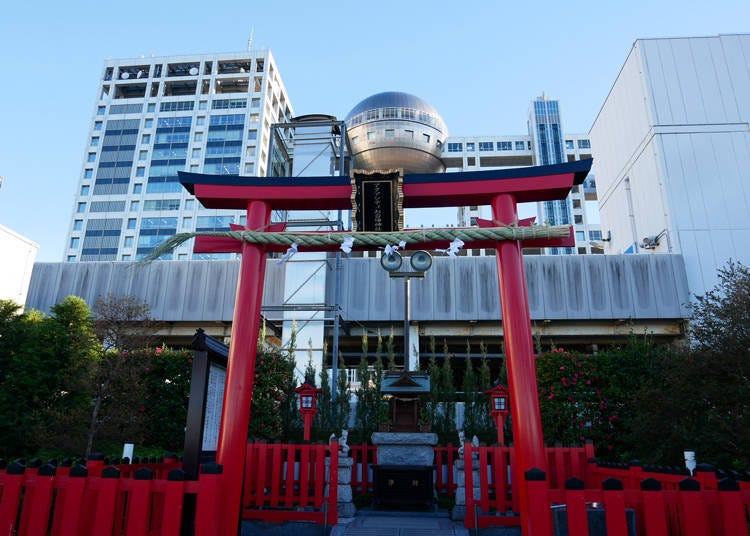 Let's not forget "Aqua City Odaiba Shrine" in the 7th floor's Aqua Garden. This is a venerable shrine taken from Shiba Daijinju Shrine, known as the "Ise of Kanto." Beyond the shrine is Fuji TV headquarters, and facing the shrine is the Rainbow Bridge and Tokyo Bay. You can take pictures of the shrine and the Fuji TV spherical observation deck "Hachitama," or of the shrine and the Rainbow Bridge!

On the 7th floor is also the "Weber Park," where you can enjoy a full-fledged BBQ, and use the grill yourself (closed in winter from December 1 to February 29).
And this is it. Aqua City Odaiba is a place where you can enjoy a variety of shopping and food all day, regardless of weather conditions. On your way home, take a mental picture of the wonderful views of the Tokyo skyscrapers, the Rainbow Bridge, and the Statue of Liberty across Tokyo Bay, and take them home with you. If you have the time, enjoy the sunrise on the pier from the waterbus for even more impressive views. Getting to Hinode Pier from Hamamatsucho takes only 10 minutes on foot, and it's very easy to reach.
*This information is from the time of this article's publication.
*Prices and options mentioned are subject to change.
*Unless stated otherwise, all prices include tax.