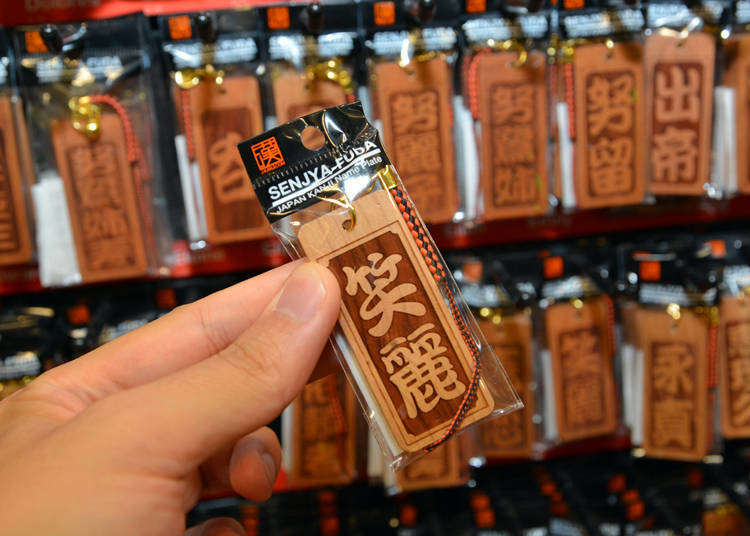 Don Quijote is Japan's largest discount chain store. They have a huge variety of items in their store, and looking around the shop is like going treasure hunting. It has become a popular place for foreign visitors to look for souvenirs.

This time we will cover Don Quijote located in Asakusa, an area famous for Kaminarimon. Don Quijote Asakusa focuses on local products and has interesting Japanese gifts.
Perfect Asakusa Gifts that will be Appreciated!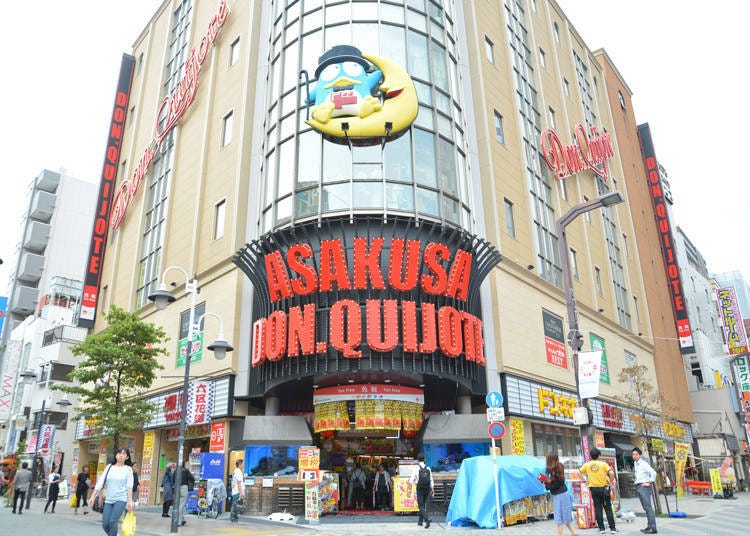 Don Quijote Asakusa is located near the popular sightseeing spot of Sensoji Temple, and it is a one minute walk from Tsukuba Express Asakusa Station. The store is in one of Japan's major sightseeing destinations and has many foreign visitors. They also have a great line up of Asakusa souvenirs.

The shop has a total of 4 floors. Groceries are on the first floor, sundries and cosmetics on the second floor, variety goods and clothing on the third floor and electronics, watches, and jewelry on the fourth floor.

Here are some quirky items we found!
Simple and Affordable T-shirts Exclusive to the Asakusa Store
First up is the popular "Asakusa" T-shirt!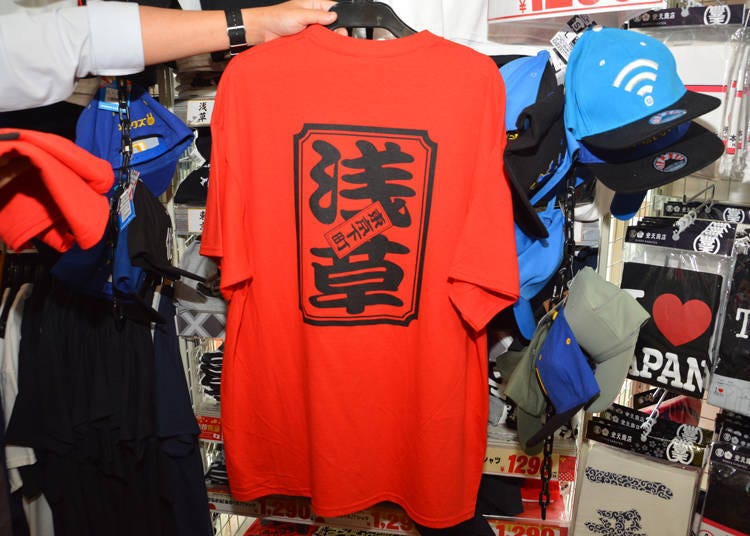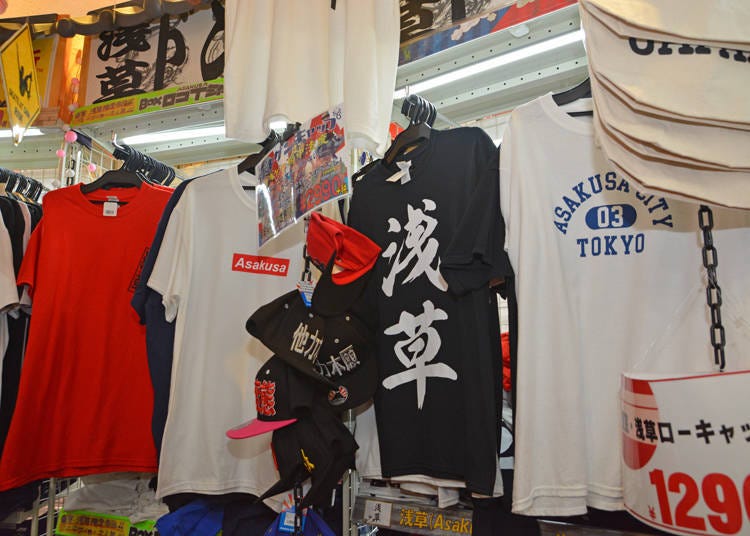 At Don Quijote Asakusa they have a special section with T-shirts with Asakusa prints. Also, these shirts are limited items only available here. The simple kanji character Asakusa shirt and the print with a lantern are popular. The affordable price of 1,290 yen (excluding tax) adds to their popularity.
Shoyu Plate with Unique Japanese Designs
Next up are the shoyu soy sauce plates with unique designs.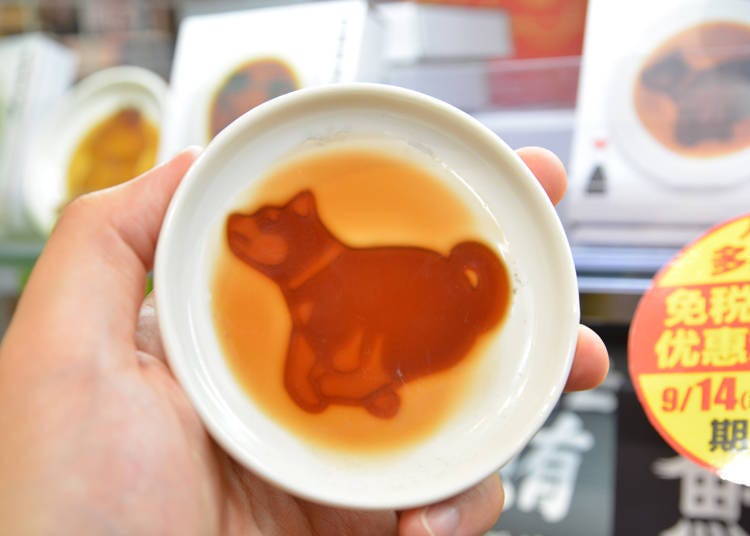 This white shoyu plate has an interesting mechanic, when you pour soy sauce in it a word or picture will appear. They have various Japanese style designs such as Shiba dogs, sumo wrestlers, Mt. Fuji and shogi (Japanese chess) characters like 王将 (king), 飛車 (rook), 角行 (bishop). By the way when we spoke to the store staff, they said this product is very popular and selling like hotcakes! Prices range from 380 to 448 yen per plate (excluding tax).
Special Collaboration with Jagariko Snacks!
Another popular gift is snacks and food! Here is a popular snack that collaborated with a long-established restaurant.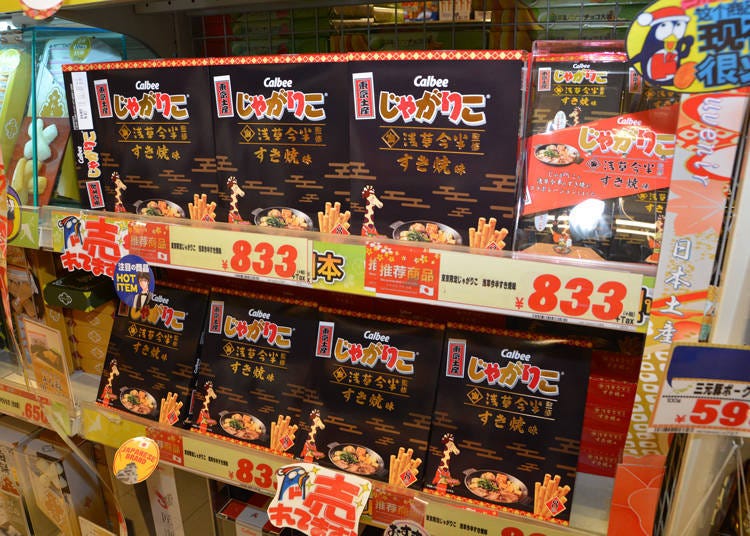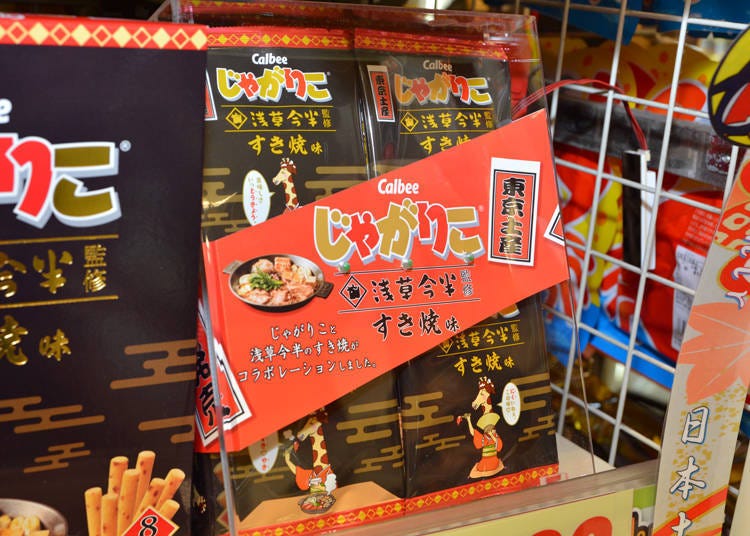 Jagariko is a popular snack in Japan. They collaborated with the long-established shabu-shabu restaurant Asakusa Imahan, to create the "Jagariko Sukiyaki Flavor" (833 yen, excluding tax). Asakusa Imahan opened in 1895.

The shabu-shabu flavor was made under the supervision of Asakusa Imahan, and you can taste the umami of the beef, the aroma of the onion, and the distinct clear shoyu flavor for sukiyaki. The nice crisp texture is sure to get you hooked.
Can you find your name? Senjafuda makes popular gifts!
Here is another unique gift. They have Senjafuda for foreigners.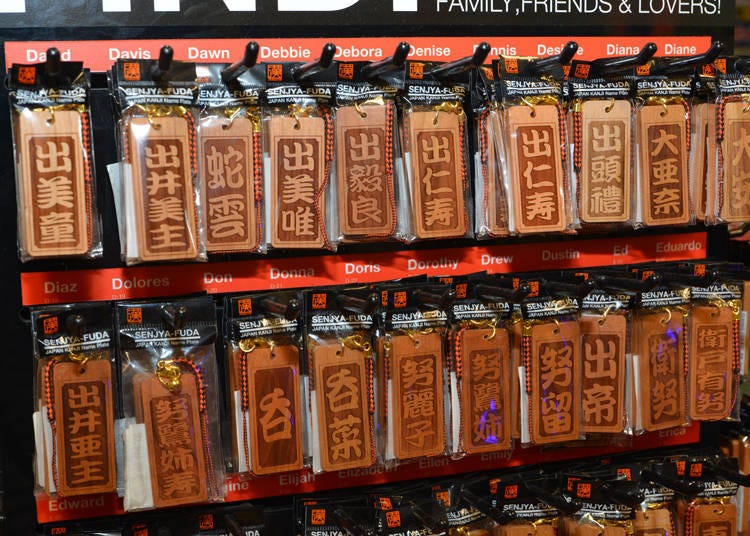 Senjafuda is a slip of paper posted on shrines or temples by pilgrims. (*) At Don Quijote Asakusa, the Senjafuda sold are not stickers, they are good luck charms.

The highlight of these is what's is written on them. They are written in a way to represent foreign names such as David is spelled 出美童 and Edward is 江戸和亜土.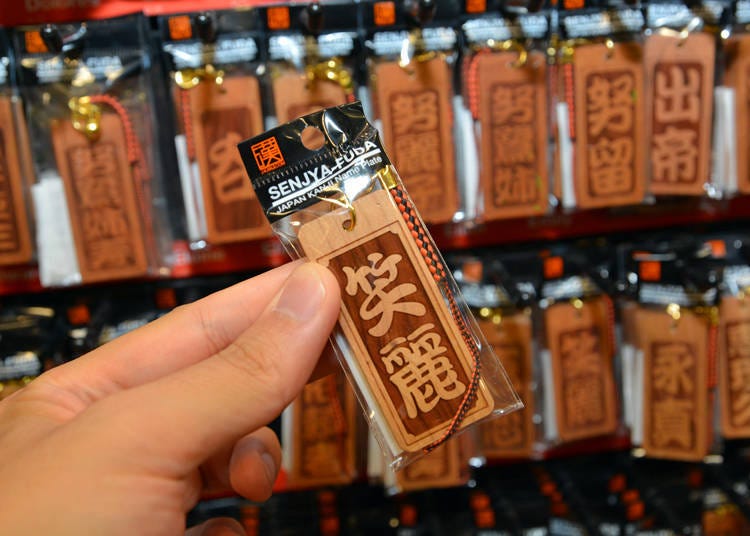 This one is Emily.
They don't take up much room and make great gifts. They cost 790 yen for one (excluding tax).

(*Note that posting a senjafuda requires permission from the temple or shrine.)
Learn Chopstick Manners while Playing with "Manner Mame, Mame Sushi"
There are many interesting party goods! Here are three items that are popular among foreign tourists.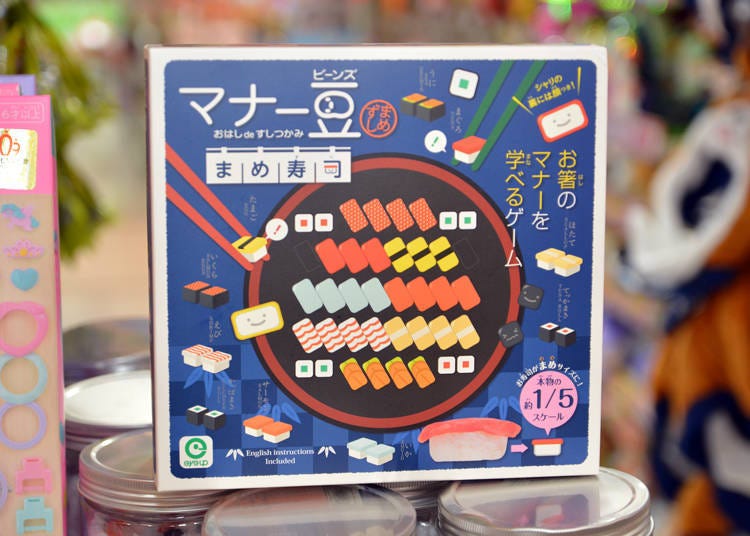 First up is the "Manner Mame Mame Sushi" (2,480 yen, excluding tax) that teaches you chopsticks manners. It is a game where you pick up 1/5 scale sushi to your plate card. There are instructions on how to hold chopsticks correctly and how to play in English, which makes it a perfect gift.
The "Osakana Kanji Yunomi Puzzle," a Perfect Gift for Sushi Lovers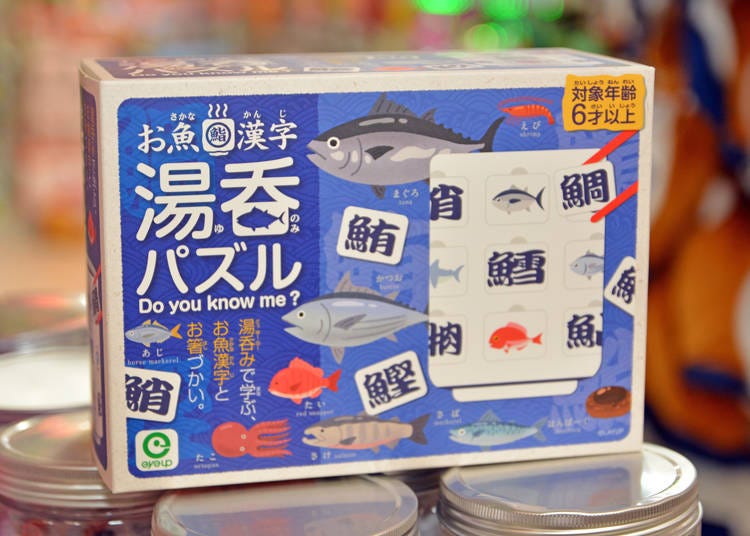 You can't forget about the"Osakana Kanji Yunomi Puzzle" (1980 yen, excluding tax), which is shaped after the sushi shop teacup. It is a convenient game where you can learn the shape of the fish and kanji. It has three game modes of fish kanji puzzle, stacking fish kanji, and fish kanji reversi. This product also has instructions on how to hold chopsticks and how to play in English.
The World's First Japanese Poem Karuta Game in English "Whack A Waka Hyakunin English"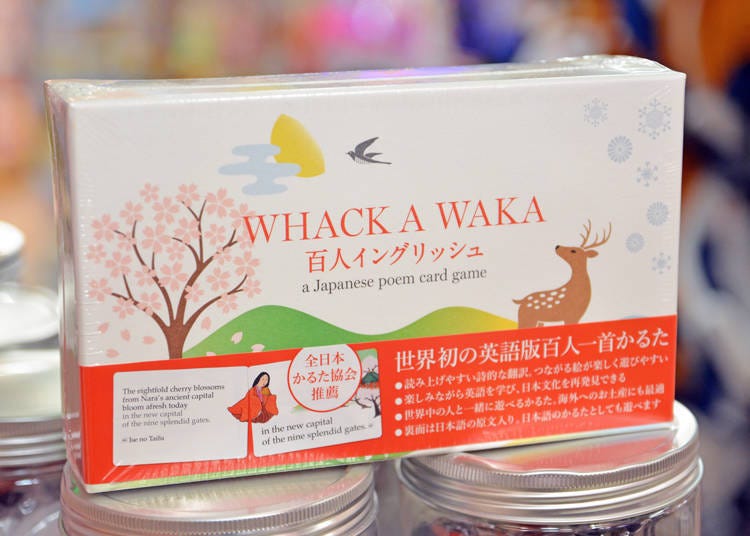 The last item on our list is "WHACK A WAKA Hyakunin English" (2,980 yen, excluding tax). One of Japan's oldest card game karuta Hyakunin Isshu has been translated by translators familiar with Japanese poems. Each card has a drawing that depicts the poem, so even if you haven't memorized the poems you can play the game. It is the first English version of the card game in the world, and it's a nifty game that allows you to learn Japanese culture while playing.
Many Useful Tools Such as Towels, Tote Bags and Stamps
Don Quijote Asakusa has many interesting items. We found an interesting item that is not for sale. Such as this "Hanko Vending Machine!"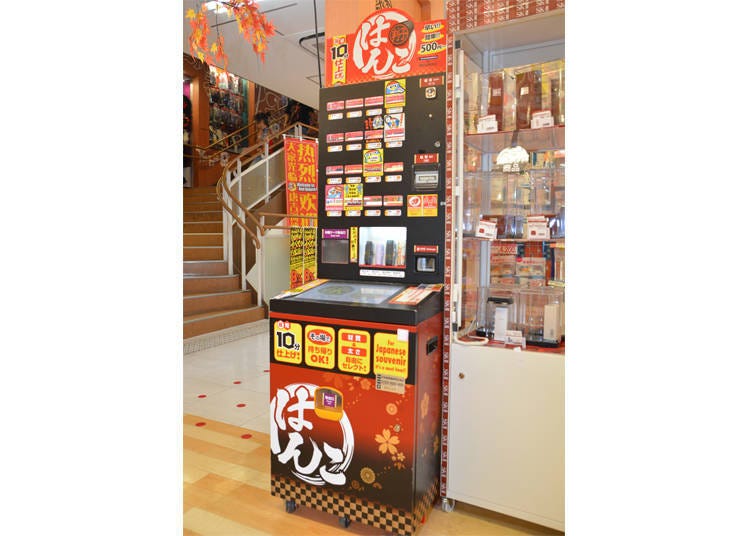 It is an automatic machine that sells hanko (stamps), and it can make you a one of a kind stamp in as little as 10 minutes. It is easy to operate. All you have to decide is a name, typeface, and location, and then the machine does the rest. According to the staff they said "it is easy to use and very popular with foreign guests." The price depends on the stamp material, but it ranges from 500 - 2,500 yen (tax included). If needed you can purchase a stamp case too.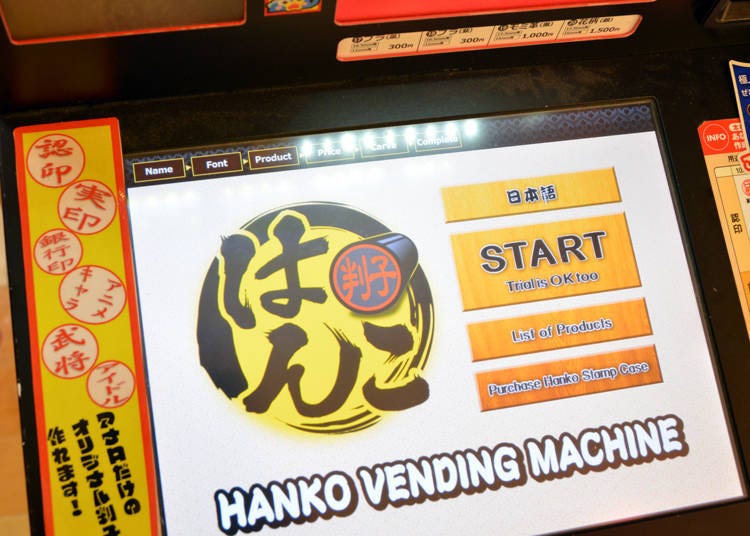 Here are other items that drew our attention!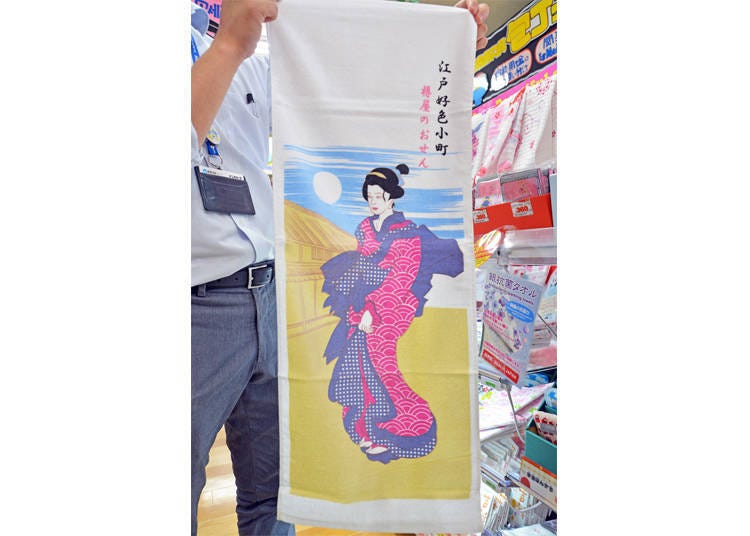 The "Magic Towel" (1,000 yen, excluding tax), the drawing changes when hot water is poured on it.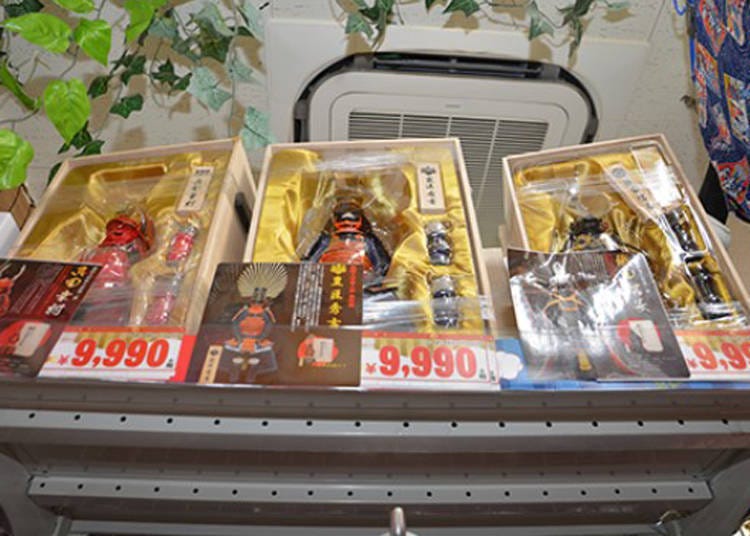 Miniature Japanese armor "Sengoku Kacchu Ningyo" (9,990 yen, excluding tax).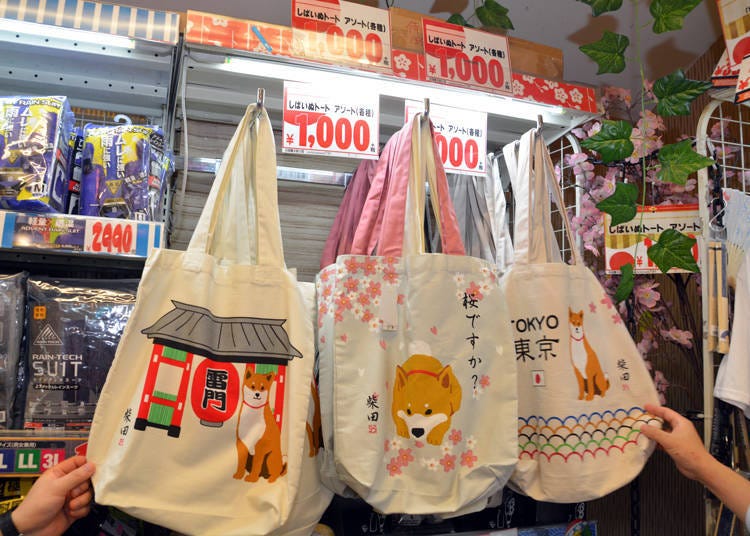 Tote bags with Shiba dog designs, "Shiba Inu Tote" (1,000 yen, excluding tax).
If your travel plans are full and you have limited time to look for souvenirs, Don Quijote Asakusa has everything you need. It is open 24 hours, and you can stop by anytime. They also have standard gifts to unique items, and we strongly recommend shopping at Don Quijote Asakusa.

The store has staff who can speak English and Chinese; also you can use credit cards like VISA and MasterCard.

(Prices listed in this article are as of September 2019.)
ドン・キホーテ 浅草店

Address

2-10 Asakusa, Taito-ku, Tokyo-to 111-0032 Japan

Nearest Station

Access: 1 minute walk from Tsukuba Express Asakusa Station


Phone Number

03-5826-2511

Open: 24 hours a day
Closed: always open
Like cool Japanese products that you can only get in Japan? Now you can shop from home from the link below!
*This information is from the time of this article's publication.
*Prices and options mentioned are subject to change.
*Unless stated otherwise, all prices include tax.