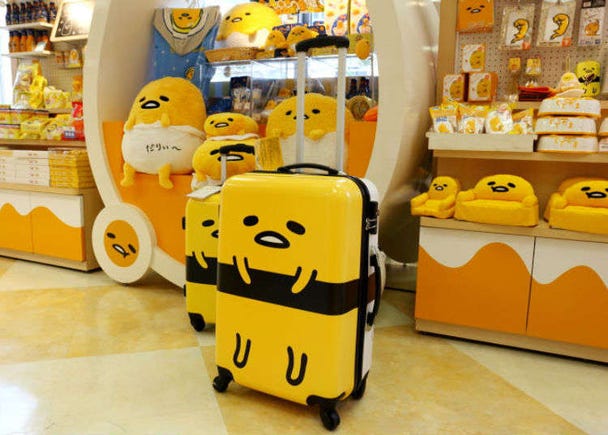 Sanrio World Ginza is the world's largest Sanrio flagship store and also features the world's greatest selection of Hello Kitty gifts, Sanrio character goodies and more! The huge shop is divided into a two floors, with the second being not only about Hello Kitty herself but also about her fun friends, such as Pompompurin, Gudetama, and more! We've combed this second floor together with the Sanrio staff for the 10 absolute must-have Sanrio goodies for international tourists – go treat yourself to an adorable souvenir!
Pompompurin's Face Pillow S: Super Soft, Cuddly, and Kawaii! (1,500 Yen)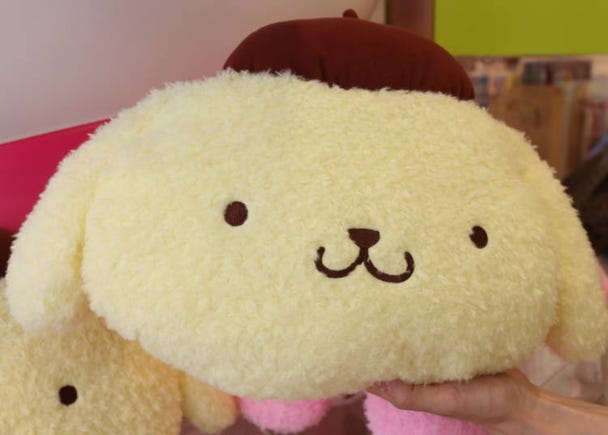 A small-sized pillow. It doesn't take up much space so it's easy to carry around.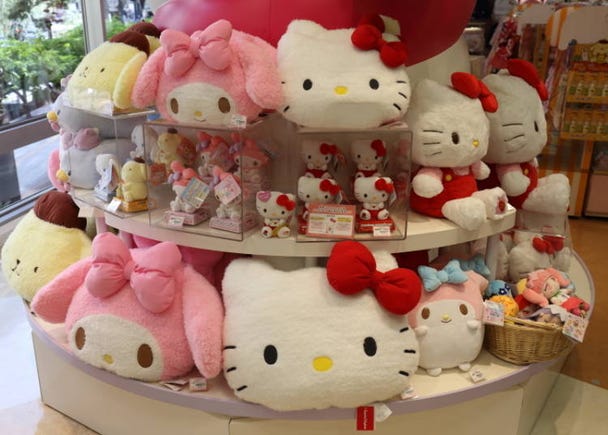 It also comes as Hello Kitty and My Melody, in two sizes.

Pompompurin is a Golden Retriever boy who earns his nickname "Purin" due to the little brown beret on his head, making him look like a pudding dessert. He's a very popular character that always scores high in Sanrio's character ranking contest. This fluffy pillow is shaped just like his puffy face, ridiculously adorable and irresistibly huggable! Put it on your couch or bed for a fun splash of color. Due to its small size, it fits in every suitcase, making it a popular souvenir.
Gudetama Suitcase L: Super Unique, Cute Travel Item! Gudetama Turns Into Sushi! (17,800 Yen)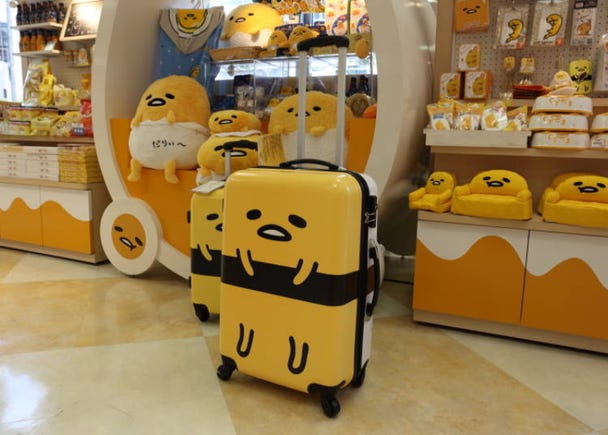 The front boasts a yellow Gudetama.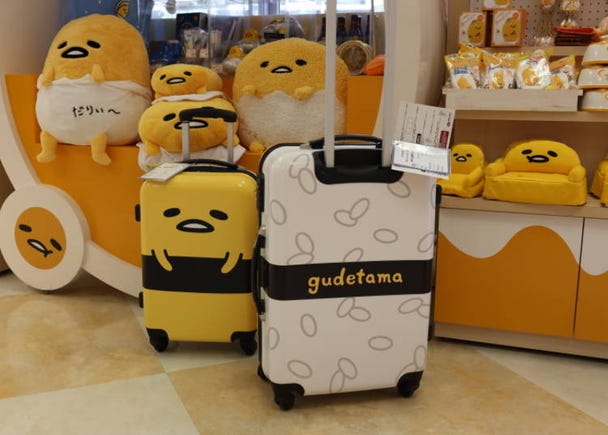 ...but the back is sushi rice!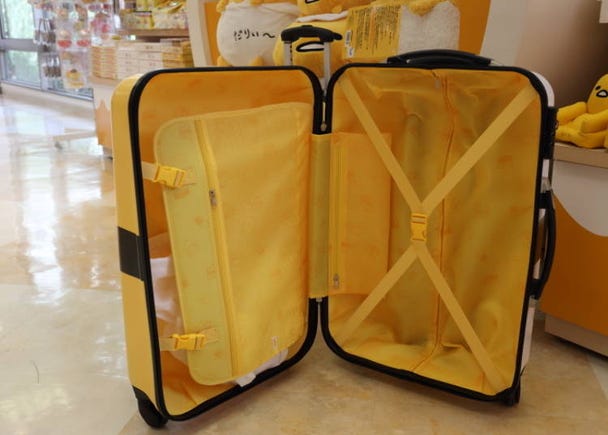 The inside is yellow as well and has a lot of convenient pockets.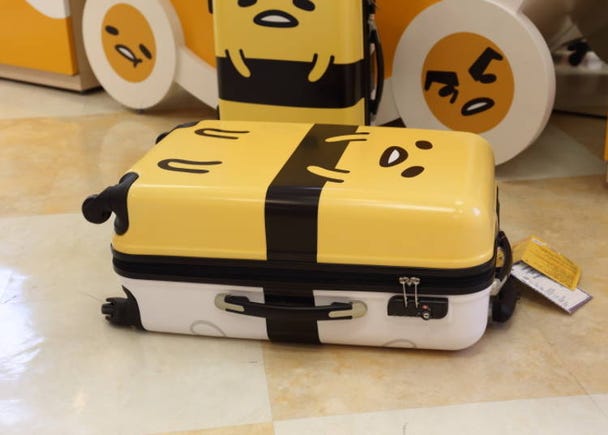 Once you lay the suitcase down, you realize that it's egg nigiri sushi with Gudetama! On the baggage carousel, it'll look like conveyor belt sushi!

Born in 2013, Gudetama is a fairly new character but his all too real unmotivated character has conquered the hearts of fans worldwide. This adorably lazy egg now comes as a suitcase. The front features classic yellow Gudetama, but if you look closely, you'll notice that the black belt is actually seaweed! The backside is rice, making Gudetama a delicious tamagoyaki (fried egg) nigiri sushi! It's a unique design that is eye-catching and adorable, so you can easily imagine why this suitcase is so popular.

The interior features partitions and pockets that make it easy to keep your luggage organized. Four wheels promise ease of use while the suitcase can be locked with a TSA lock. This suitcase is both practical and cute, making traveling even more fun! The S size is perfect for 1 to 2 nights, while L easily fits 4 to 5 nights.
Gudetama's Favorite Soy Sauce Premium (Left, 453 Yen) & Gudetama's Worshipped Dashi Soy Sauce (Eight, 399 Yen): Revolutionize Your Egg Habits!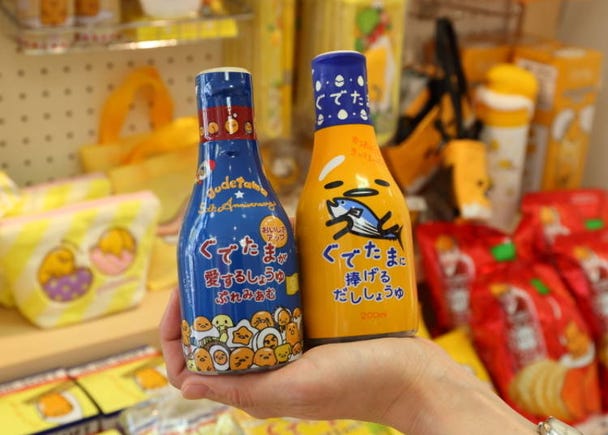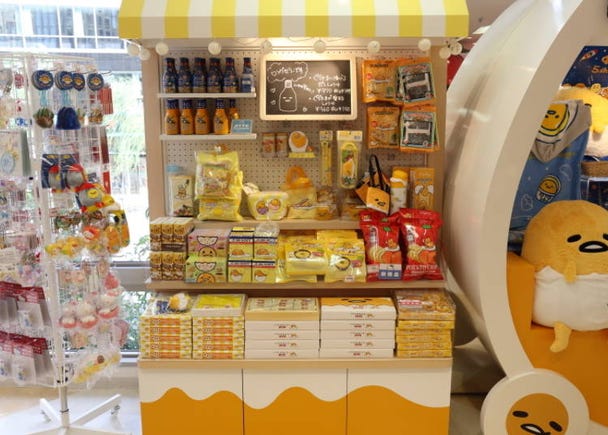 The Gudetama corner has all sorts of items, such as food and plushies.

Because Gudetama is an egg, he is sometimes seen with soy sauce, a classic egg seasoning in Japan. The "Gudetama's Favorite Soy Sauce Premium" is a limited item commemorating his 5th birthday, boasting tastier ingredients than regular soy sauce and characterized by a rich but mellow flavor. It's perfect for the well-beloved Japanese dish called tamago-kake gohan, rice topped with a raw egg and soy sauce.

Another gourmet highlight is the "Gudetama's Worshipped Dashi Soy Sauce" that combines soy sauce and bonito soup stock. It doesn't only fit egg but other Japanese dishes such as udon really nicely as well. These are must-haves for fans of Japanese cuisine, as they bring an authentic flavor in the most adorable form imaginable. Besides, soy sauce can be used to flavor a variety of dishes outside Japanese cooking, so it's also a nice souvenir for friends and family at home. The sealed bottles do not contain air, so they have a long shelf life. Having one of them on your table brings Gudetama's lazy fun to your meal!
Hello Kitty Local Specialties Charms: The Flavor of Japan! (From 500 Yen Each)
Hello Kitty collaborates with the specialty of each Japanese prefecture! From the right: ikura (roe) bowl from Hokkaido, takoyaki from Osaka, okonomiyaki from Hiroshima, and mentaiko (spicy cod roe) from Hakata (Kyushu, Fukuoka).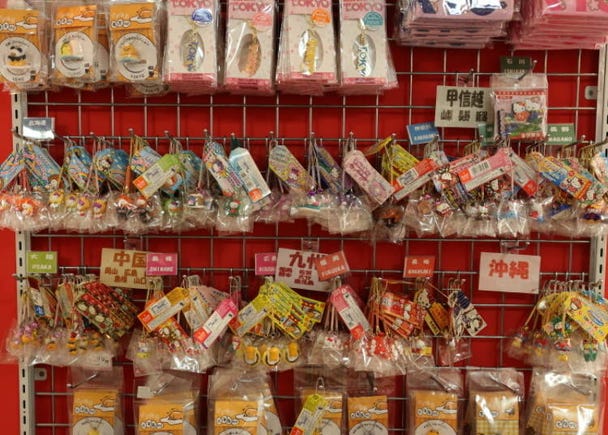 There are over 200 individual charms, from Hokkaido to Okinawa.

These Hello Kitty charms feature regional gourmet specialties from all over Japan! It is said that there are over 3,000 of these charms representing the country from Hokkaido in the north to Okinawa in the south – a collector's dream come true because these little charms are simple but adorable. A majority of them cannot be bought without actually going to the region they represent, but Sanrio World Ginza has about 200 of them of various places in Japan. Even if you don't go to one city or another, you can still take home a Sanrio version of local cuisine, such as the famous takoyaki of Osaka and many more! The charms are surprisingly detailed, so do look closely to find your favorite!
My Melody Stainless Steel Bottle With Cover: Cold and Hot! (3,200 Yen)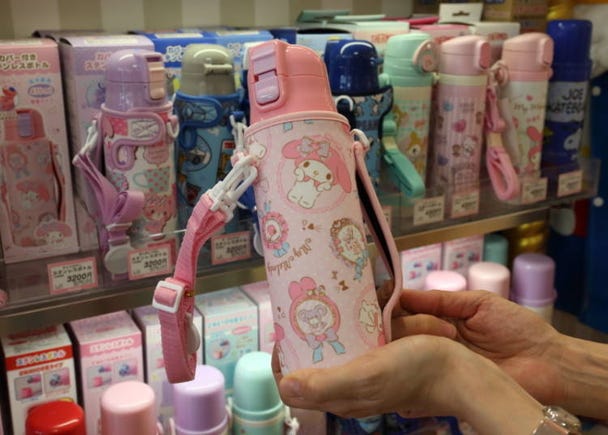 The pink cover can be taken on and off. It features a My Melody design.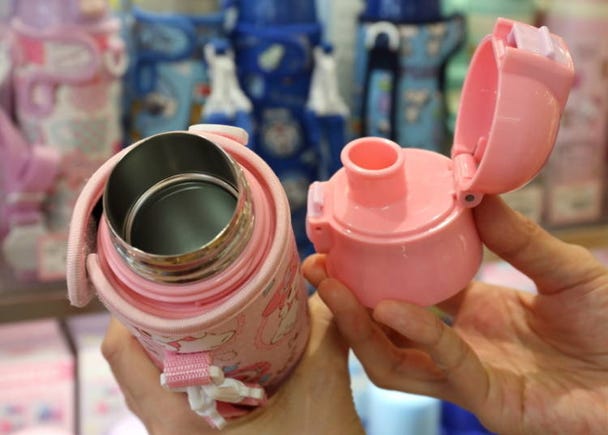 The lid can be opened with a single push. Of course, there's also a lock attached.
There are also versions that feature a cup for hold beverages.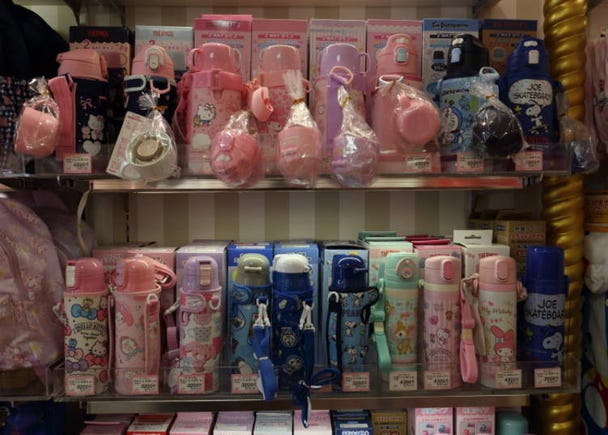 The Sanrio stainless bottle series also includes designs with other characters such as Hello Kitty and Pompompurin. There are also a variety of sizes and collaboration items with the famous Thermos brand, maker of stainless steel vacuum bottles.

My Melody, a girl who wears clothes made by her grandma, is also an ever-popular Sanrio character. For 20 years, My Melody has always been in the top 5 of the Sanrio character ranking contest! This stainless steel bottle boasts excellent insulation for cold beverages and is particularly popular with girls due to its adorable pink design. It's easy to carry, the lid is easy to remove, and it's easy to wash. Of course, the lid can also be locked so you don't have to worry about spilling. This one is the cooling type without cup that holds 470ml.
Hello Kitty Glowing Paper Lantern Summer Card: A Beautiful Piece of Japanese Summer! (1,500 Yen)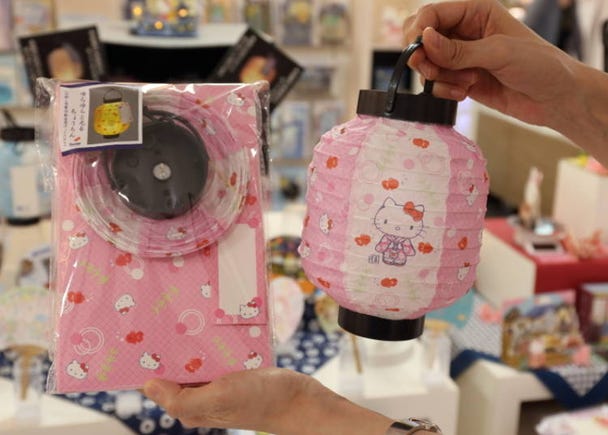 A paper lantern with Hello Kitty on it. It is folded to a compact size, allowing you to put it in a special box and mail it as a message card.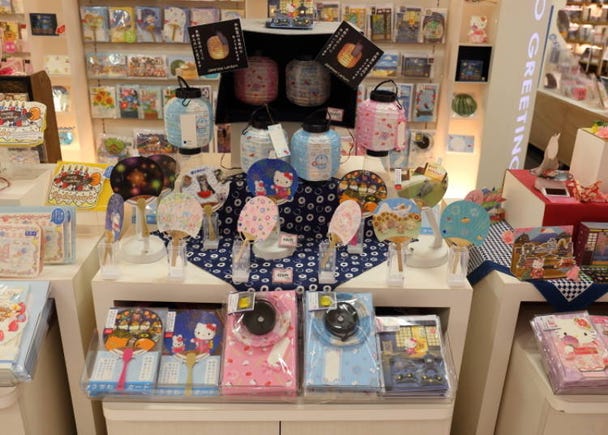 The lanterns come in pink and light blue. Fan-shaped cards are also popular.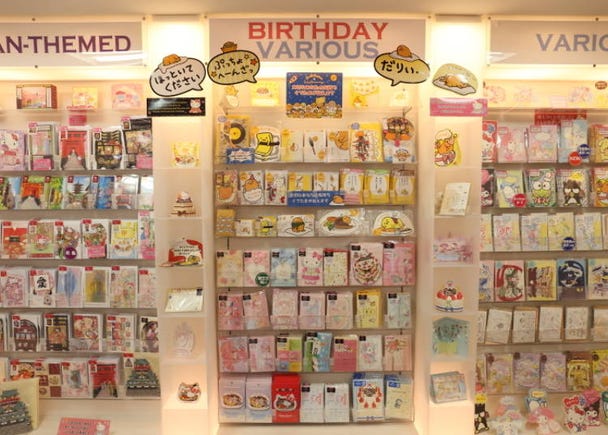 The greeting card corner inside the store has a big selection, including birthday cards.

Sanrio has created and sold greeting cards since long ago. Next to events such as seasonal holidays and birthdays, the selection also includes a nice variety of unique and creative cards. This lantern is one of them. It looks exactly like a real paper lantern and glows with the help of dry cells, so it can be folded and sent via mail to friends and family via the included box. Of course, the postage needs to be paid separately.
Hello Kitty Die Cut Relief Lunch Box: Cute Lunchtime Fun! (500 Yen)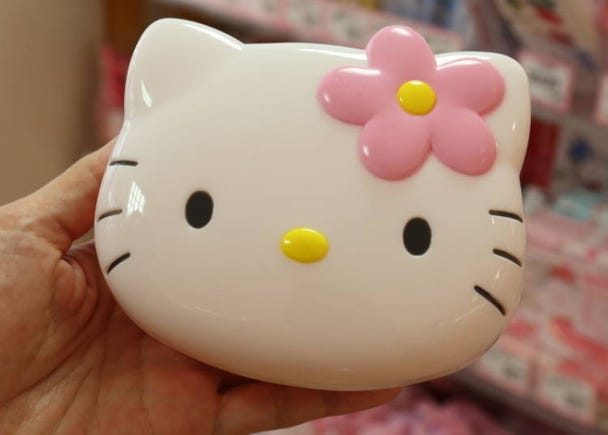 A lunch box shaped like Hello Kitty's face.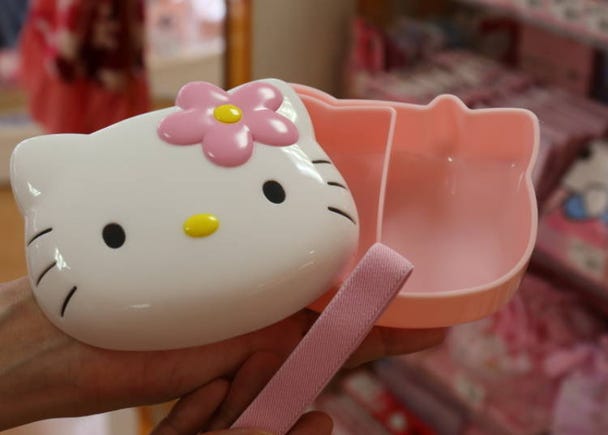 The inside has partitions and a rubber band is included. It can also be used as a box for accessories and so on.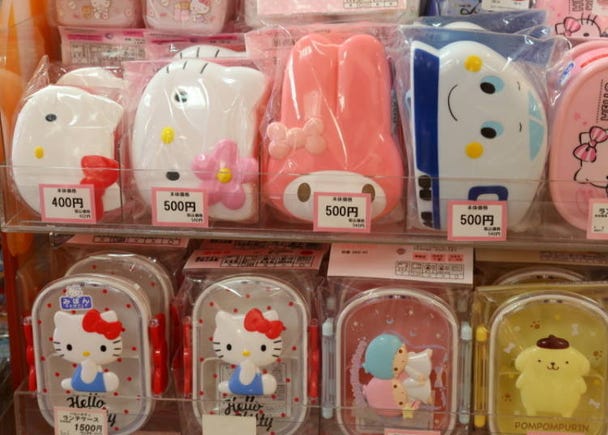 The lunchboxes come in various shapes and types.

This lunchbox looks just like Hello Kitty's adorable face! There's a proper partition on the inside, allowing you to separate rice and side dishes. If you want to make your own adorable bento, simply draw Hello Kitty's face on top of the rice inside with whichever side dish you like to eat – tadah, there's your Hello Kitty-themed lunch! The lid doesn't have a locking function but the rubber band holds everything in place and prevents the tasty contents from spilling. The simple but adorable design comes with a wonderfully reasonable price, so why not fancy up your lunch with Hello Kitty?
Gudetama & Hello Kitty FriXion Ball Knock Set: A Purrfect Little Souvenir! (1,750 Yen Each)
A set of five black FriXion Ball Knock pens. Cute and functional, it's a perfect souvenir.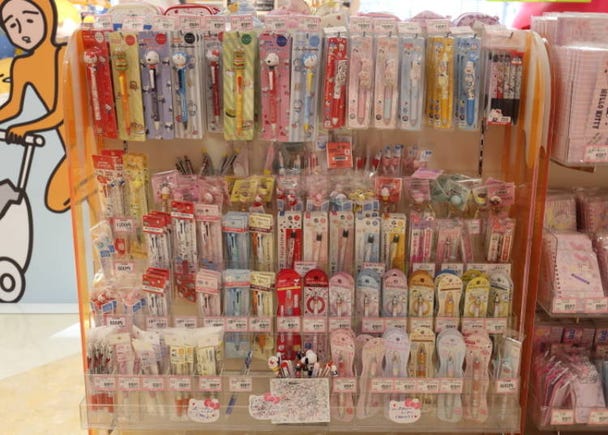 The stationery selection is huge!

The FriXion Ball Knock is an erasable ballpoint pen, featuring its own rubber! It's a revolutionary pen developed by the Japanese company Pilot that has become known throughout the world. These sets feature the designs of Hello Kitty and Gudetama, uniquely drawn on five such pens. It's a popular souvenir choice because the set can be split and handed out one by one. The pens come in black only.
Cinnamoroll Foldable Face Boston Bag: Compact, Cute, and Super Handy! (2,500 Yen)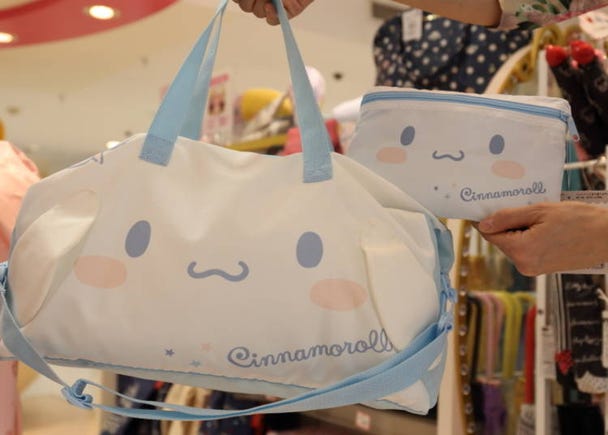 The Cinnamoroll features the most adorable little ears! Fold it when not in use.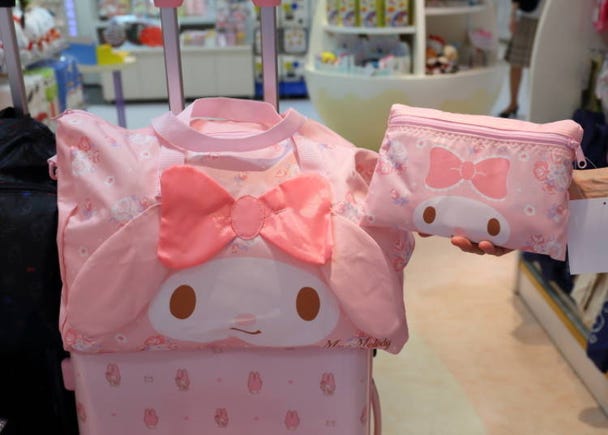 This is the My Melody bag with its large ribbon.

In both 2017 and 2018, Cinnamoroll won Sanrio's character ranking contest. He's a white puppy dog with a cute little tail that curls like a cinnamon roll and has innumerable fans all over the world. This foldable Boston bag, designed like his adorable face, is a convenient travel companion. The ears on the side are fun accents that give the bag a playful feeling. For easy handling, simply attach the detachable shoulder belt or use the belt that can be attached to the handle of the carry case. The inside of the bag has zipper pockets for all of your little things. His handy bag will become a lifesaver if you spontaneously buy a lot of souvenirs and need extra storage!
Socks for Adults: Adorn Your Feet with Your Favorite Character! (380 Yen Each)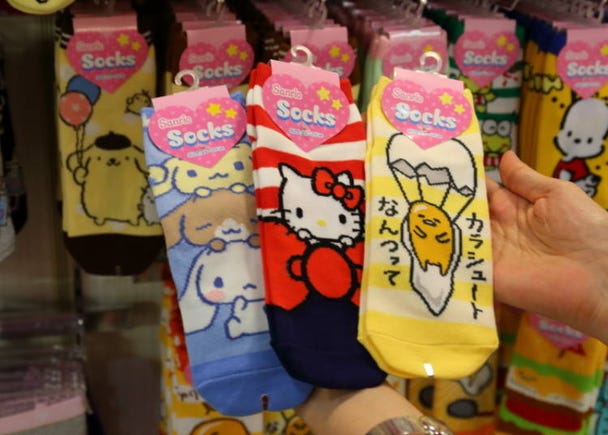 These socks come in about 100 designs of popular characters!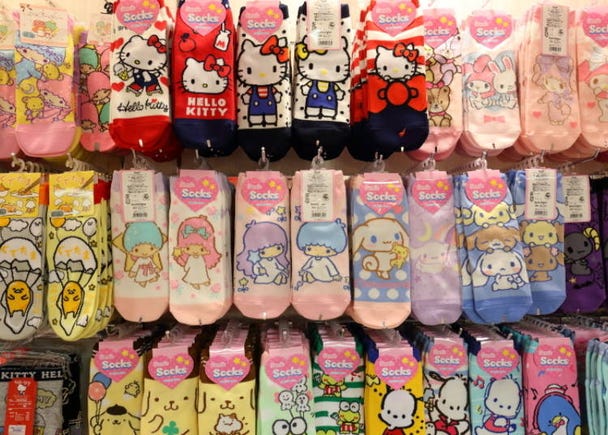 All of Sanrio's most popular characters are present. Buying three pairs at once gets you a special deal!

Last but not least, check out these colorful socks with various popular Sanrio characters, including Hello Kitty, Cinnamoroll, My Melody, and many more! The cutest way to wear these is to mix two pairs and wear different characters on each foot. Extra tip: if you buy three pairs of socks at once, you get all three for 1,000 yen. The size is 23cm to 25cm, so mainly for girls and women.

This is the second floor of Sanrio World Ginza, Sanrio's largest flagship store in the entire world. There are numerous Hello Kitty goodies, but various other characters share the spotlight! It's easy to navigate, being divided into characters and items, so you'll surely find an amazing souvenir on the second floor! Make sure to stop by if you're in the area.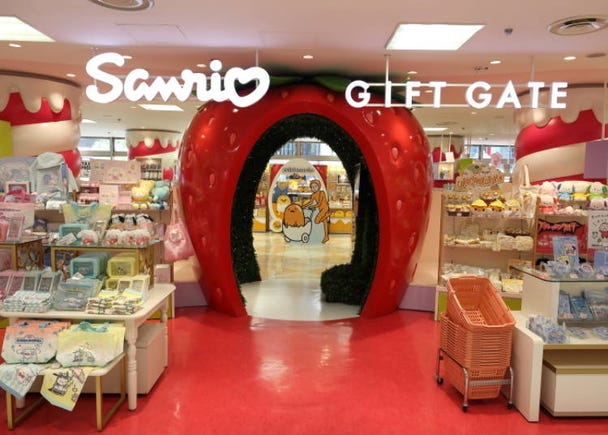 The large apple is an eye-catcher!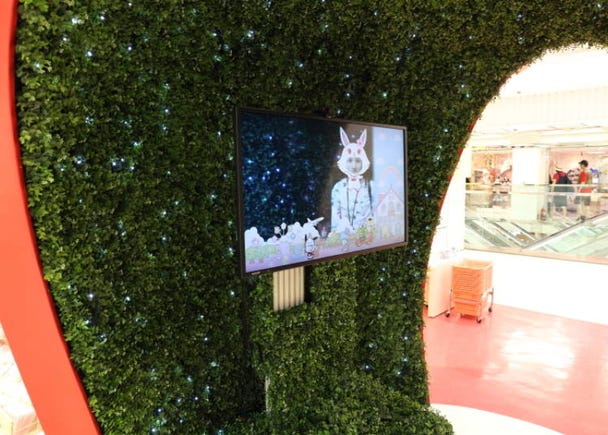 Inside the apple is a little visual game!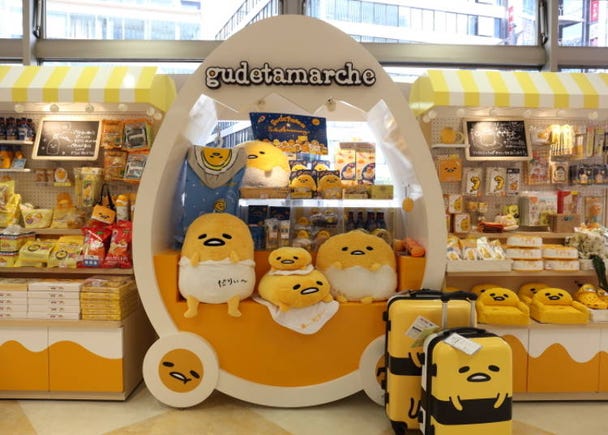 The Gudetama corner.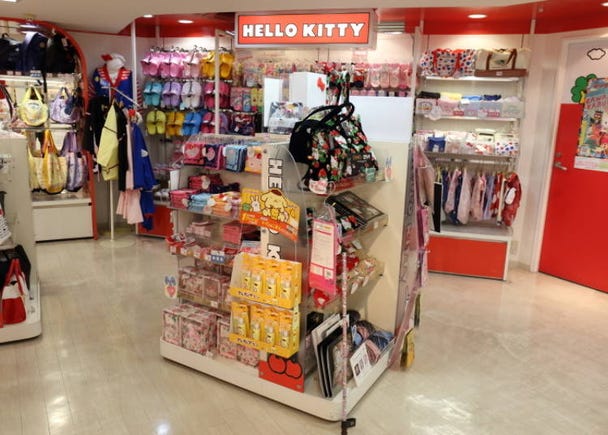 The Hello Kitty corner.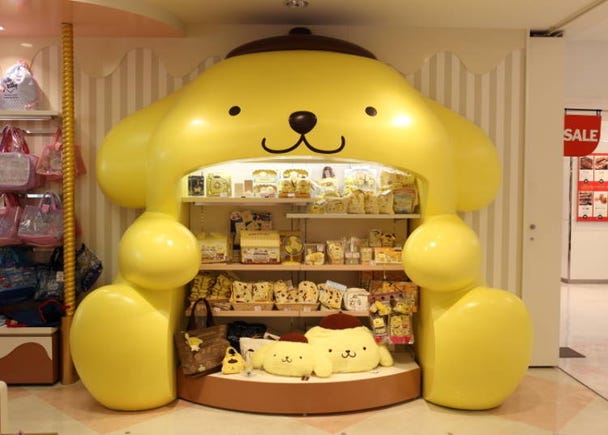 The Pompompurin corner.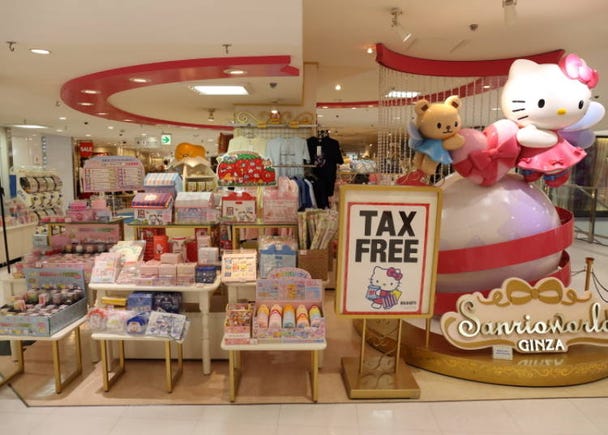 Tax free shopping is also available!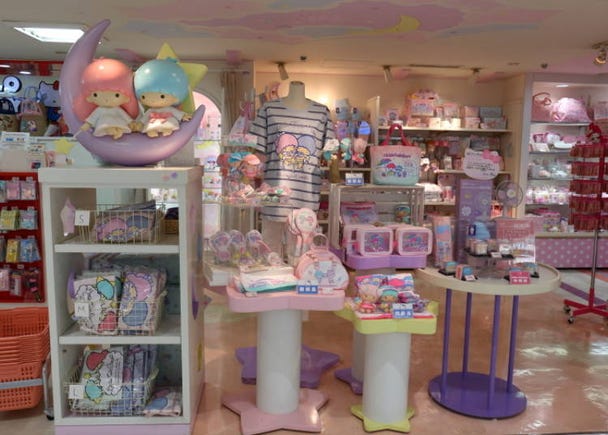 The Little Twin Stars corner.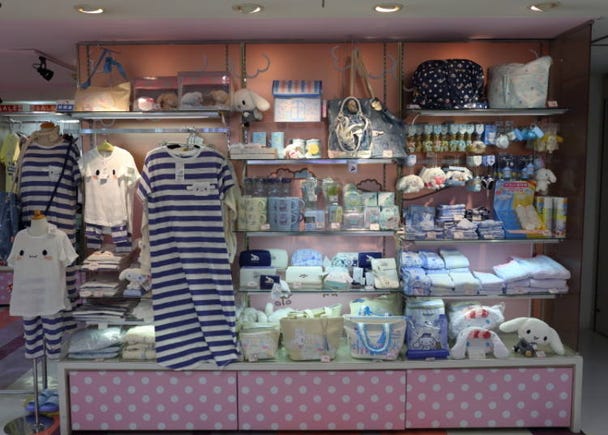 The Cinnamoroll corner.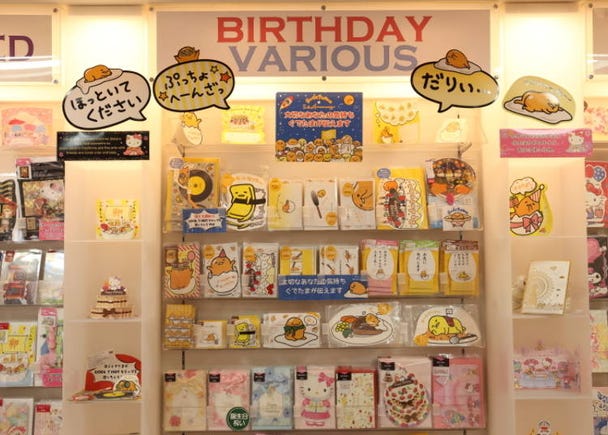 The extensive greeting card selection.
Sanrioworld GINZA 2階

Address

〒104-0061 東京都中央区銀座4-1先 西銀座2F/4-1saki Nisiginza2F, Ginza, Chuo-ku, Tokyo, 104-0061, Japan

Nearest Station

JR Yurakucho Station, 5 minutes by foot / Tokyo Metro Ginza Station, right in front of Exit C5. The shop is inside Nishi Ginza Department Store under the elevated expressway.


Phone Number

03-3566-4040

Hours: 11:00 a.m. – 9:00 p.m. (open until 8:00 p.m. on Sundays and national holidays)
Closed: irregularly (same as the building)
*This information is from the time of this article's publication.
*Prices and options mentioned are subject to change.
*Unless stated otherwise, all prices include tax.