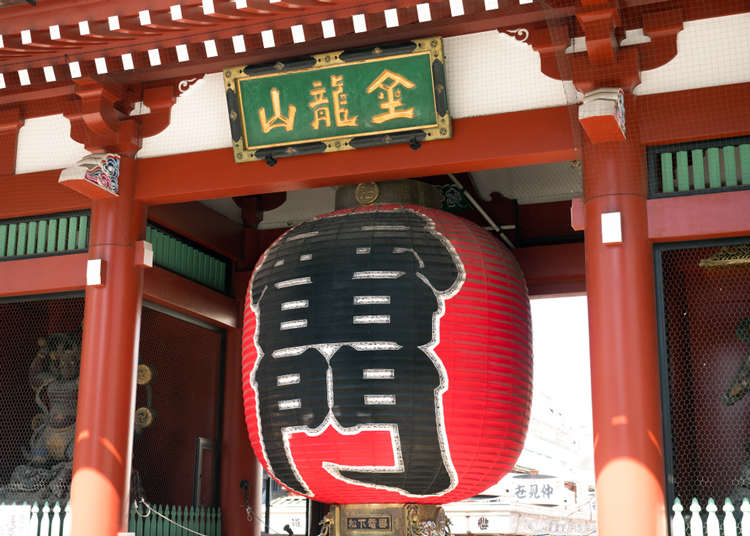 When speaking of sightseeing spots in Tokyo, you can't miss out on the ever popular Asakusa area. Juxtaposed with the laidback, old Edo period downtown streets is the Tokyo Skytree, bringing both the modern and the ancient together in harmony.

This time, to help you make the most of your next trip to Asakusa, we're recommending sightseeing spots, gourmet, shopping, and souvenir spots in the seven areas of Asakusa! From the main areas to the ones less frequented by tourists, these are places that not only first-timers will want to visit, but repeat visitors will want to go to as well!
What kind of place is Asakusa, Tokyo?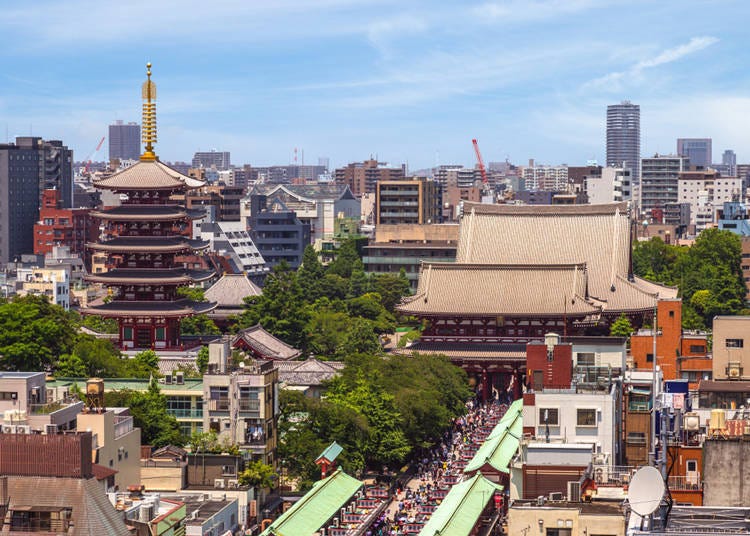 Asakusa is a famous sightseeing area located in Tokyo's Taito ward, bustling and vibrant since the Edo period. Samurai and merchants were at the heart of its cultural expansion to the masses, and even today you can see the traditional downtown atmosphere in its streets.

The most famous place in Asakusa is, without a doubt, Sensoji Temple. The Kaminarimon gate is adorned with its symbolic red lantern, and the road leading up to it, "Nakamise dōri", is lined with shops, making this path the number one sightseeing route to Sensoji.
Address

2-3-1, Asakusa, Taitou-ku, Tokyo, 111-0032
View Map

Nearest Station

Asakusa Station (Tokyo Metro Ginza Line / Toei Asakusa Line / Tobu Isesaki Line (Tobu Sky Tree Line) / Tsukuba Express)
5 minutes on foot


Phone Number

03-3842-0181
In the immediate vicinity, there are eateries selling monjayaki, a type of savory Japanese pancake, and other desserts, traditional craft and snack shops. There's also the Hanayashiki amusement park and other museums in the area, and the entire district is just overflowing with the feel of the Edo period's downtown.

In recent years, one of the tallest buildings in the world, the Tokyo Skytree, was also built in the area, giving a modern side to Asakusa as well. The view of the night light-up of the Tokyo Skytree from Komagata Bridge, which joins Taito and Sumida wards, is an especially otherworldly view that looks like something straight from the future.
Address

Oshiage 1-1-2, Sumida-ku, Tokyo, 131-0045
View Map

Nearest Station

Tokyo Skytree Station (Tobu Isesaki Line (Tobu Sky Tree Line))


Phone Number

0570-55-0634
Asakusa: Overwhelmingly popular even among foreign visitors
In the "2018 Taito Ward Sightseeing Statistics and Marketing Survey", Taito ward, where Asakusa is in, welcomed over 9.53 million foreign visitors, an increase of 1.23 million people from 2016.

Of these visitors, 40.5% came from East Asian countries, including China, Taiwan, Hong Kong, and Korea, and is a popular destination amongst those from Japan's neighboring countries.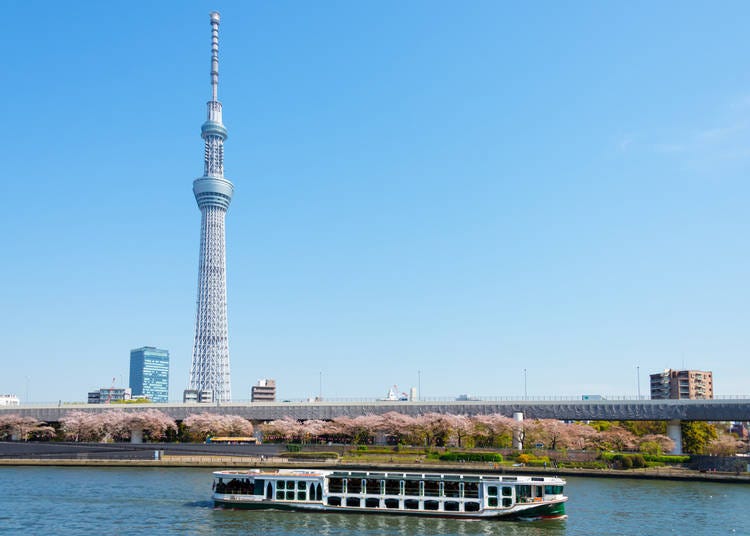 When asked about what they felt were the best things about sightseeing in Taito ward, the most frequent answers were "famous places, old buildings and history museums, and art museums". Asakusa is home to numerous Buddhist temples and Shinto shrines, and other historically significant buildings, and being able to see the rich history and culture of Japan is what makes this place especially popular amongst tourists.

Recently, more and more shops and establishments in Asakusa have begun implementing services in foreign languages as well. For those that are visiting Japan the first time, the peace of mind while navigating the area is another point that makes it one of the top tourist destinations.
It's more than just Sensoji, here are another seven areas where you can experience the charm of Asakusa!
In Asakusa, there are many places where you can feel excitement from just walking down the street. This time, we'll introduce seven places where you can experience the finest gourmet and shopping experiences, where you can enjoy Asakusa to your heart's content!

1) The area around Kaminarimon-dori
Starting from the Kaminarimon gate of Asakusa, there are numerous souvenir shops and restaurants lined up and crowded with people. Besides these, there are also kimono studios where you can rent a kimono to snap pictures in, and rickshaws as well. For those wanting to feel the true essence of Asakusa, this is definitely the first place you should visit.

Recommended Spots
2) Nakamise dōri, the area around the main hall of Sensoji
A 250-meter long road between the "Kaminarimon" gate and Sensoji itself, Nakamise dōri is neatly lined with shops, providing plenty of enjoyment until you reach Sensoji itself. From Japanese style trinkets and goods to local delicacies such as "ningyōyaki" pastries and "senbei" rice crackers, there are many goods demonstrations and samples as well. Eating freshly-made food while walking down Nakamise dōri is a true joy in itself.

Recommended Spots
After walking down Nakamise dōri, there is a second gate with a red lantern similar to the "Kaminarimon", called the "Hōzōmon", leading straight to Sensoji's main hall. Built in 628, this is the oldest temple in Tokyo, and is a definite must visit if you're in Asakusa.
During the air raids on Tokyo in 1945, Sensoji was gone for a period, but in 1958, the main hall was rebuilt. Before praying, you should wash your hands at the fountain to the right of the main hall, before offering some incense in front of the main hall, cleansing your body and soul in its smoke. After making a monetary offering at the main hall, put your hands together and bow, then bow again and make your prayer.

As you approach the main hall, you can see a tall building to the left, called a "Gojunoto", or five-storied pagoda. The pagoda is based on the stupa, a similar type of building from India, and the top level of this particular pagoda was gifted from the Isurumuniya Temple in Sri Lanka in 1966.
3) The area around Shin-Nakamise dōri
Near the Kaminarimon gate, the street that intersects Nakamise dōri is also known as Shin-Nakamise dōri, and similar to its namesake, is a popular area with both tourists and locals alike. In the arcade area, there are souvenir shops, restaurants, and snack shops lined up side by side, along with numerous shops with long histories.
4) The area around Asakusa Kokusai dōri
Asakusa Kokusai dōri, also commonly known as Beat Street, is named after the "Asakusa Kokusai Gekijō" theatre on the street, which was at the heart of the entertainment scene from 1937 to 1982. Now, there are movie theaters and music halls, amongst other performance and entertainment halls in the area. Hotels and restaurants, shops, and more are all gathered in the area, and it is well-known amongst many as the entrance to Asakusa.
5) The area near Azumabashi bridge
Near Asakusa Station, there is a bridge built across the Sumida River called "Azumabashi". As it's also near Sumida Park, it's one of the more popular areas in Asakusa as well. You can see the golden "Asahi Flame", Tokyo Skytree, and other modern and unique buildings from there, making it a great place for photography as well.

On top of this, if you ride the "Tokyo Cruise" sightseeing boat, which runs along the Sumida River, you can see the Azumabashi bridge up close too. From Asakusa, you can go to Hamarikyū Park, Hinode Pier, and Odaiba Seaside Park as well, so be sure to make you of this transport option!
6) The area around Kototoi dōri
Behind Sensoji, the road that leads up to the Kototoibashi Bridge across the Sumida River is called Kototoi dōri. There are shops selling various sundries and goods, as well as museums, and is highly recommended for people looking to get away from the noise and bustle of Asakusa. As Kototoibashi Bridge offers a splendid view of Tokyo Skytree, it's a popular photo spot as well.
7) The area around Edo Dōri
At the west intersection of Kototoibashi Bridge towards Asakusabashi Bridge is Edo dōri, where old shops selling handmade crafts and Japanese style goods are gathered. If you walk from Kuramae Ichome intersection to Asakusabashi Station, you'll pass by "Edo dōri Tonyagai", a wholesale shops with stationery, toys, and other interesting products.
To get to Asakusa, you can take the Tokyo Metro Ginza Line, Toei Asakusa Line, or Tobu Isezaki Line. From Haneda Airport, if you take the Keikyu Line, it merges straight into the Toei Asakusa Line, making for a mere thirty-five-minute journey with no transfers.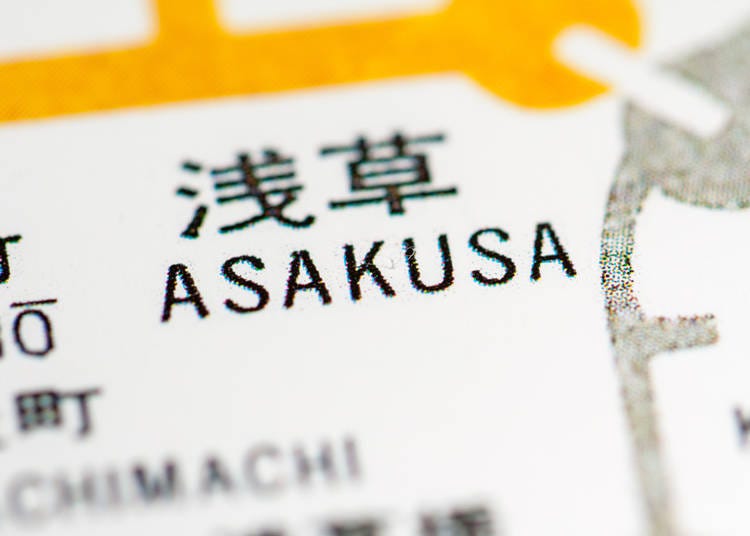 Besides this, if you're coming from Narita Airport, you can take the Keisei Line, which merges into the Toei Asakusa Line as well, and is a one hour twenty-minute journey with no transfers. If you take the Skyliner (express train with extra charges) instead, you can transfer to the Tokyo Metro Ginza Line at Ueno Station, for a quick and convenient journey that takes less than an hour.

Though Asakusa has no bus terminal, many route buses stop by at the bus-stop "Tobu Asakusa Mae". The bus runs from the Yaesu exit of Tokyo Station, going past Nippori Station, and connects all the way to Ikebukuro Station. If nothing else, there is always the water bus that runs along the Sumida River, a boat service with lines that go from Asakusa to Hi-no-De Pier, from Asakusa to Odaiba Seaside Park and Toyosu, and from Asakusa to Azusawa via Ryogoku, Senjū, and Arakawa Yūen. For a calm and relaxing way to get around, we definitely recommend going by boat.

When sightseeing in Tokyo, Asakusa is a definite must-go. Besides the usual attractions such as the Kaminarimon gate and Sensoji, there's gourmet and shopping, and numerous sightseeing spots, allowing you to see different sides of Asakusa. Be it first-timers or repeat visitors to Asakusa, do enjoy the vibrancy of Edo's downtown life that Asakusa has to offer!
*This information is from the time of this article's publication.
*Prices and options mentioned are subject to change.
*Unless stated otherwise, all prices include tax.
Limited time offer: 10% discount coupons available now!