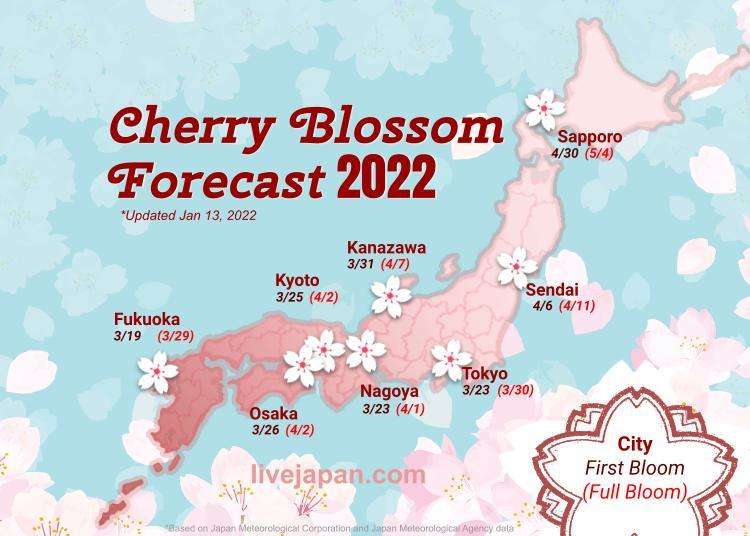 In Japan, the appearance of cherry blossoms, known as sakura, signals the beginning of spring. The arrival of these flowers is an annual event so significant, that there are forecasts pinpointing exactly when and where the flowers are expected to bloom. From an outsider's perspective, this may seem excessive. However, when taking into account the fact that sakura are only in bloom for a maximum of about two weeks, it's understandable that people would want to find out both the 'kaika' (blooming) and 'mankai' (full bloom) predictions in order to make the most out of the 'hanami' (flower viewing) season.
Early Sakura Blooming in Tokyo and Other Areas in Japan
On March 2, Japan Meteorological Corporation (JMC) released its latest 2017 cherry blossom forecast
cherry blossom forecast. The forecast is based on various factors, such as the low temperatures during autumn and winter, cumulative temperatures, past area data, and cherry tree growth status. This year, it is predicted that Tokyo's first sakura blossoms will open seven days earlier than usual on March 19, with peak blooming occurring March 29.

Fukuoka should be seeing blossoms a day later than Tokyo on March 23, while Nagoya and Shizuoka will have to wait until March 26.

Sakura in Kyoto should begin flowering on March 29, followed by Osaka on March 30. However, some areas in southern Kyushu are expected to open up to a week later than usual, such as Kagoshima, with blossoms predicted to open April 2.
Later Blossoms in Northern Japan
In the colder areas of Northern Japan, cherry blossom season typically occurs later than the rest of the country. Sakura in Akita and Aomori in the Tohoku Region are predicted to open April 15 and 17, respectively. The last cherry blossoms predicted to open will be in Hokkaido: Hakodate on April 26, Sapporo and Muroran on May 2.
Hokkaido and Tohoku Region
Hokuriku and Tokai Region
Chugoku and Shikoku Region
*This information is from the time of this article's publication.