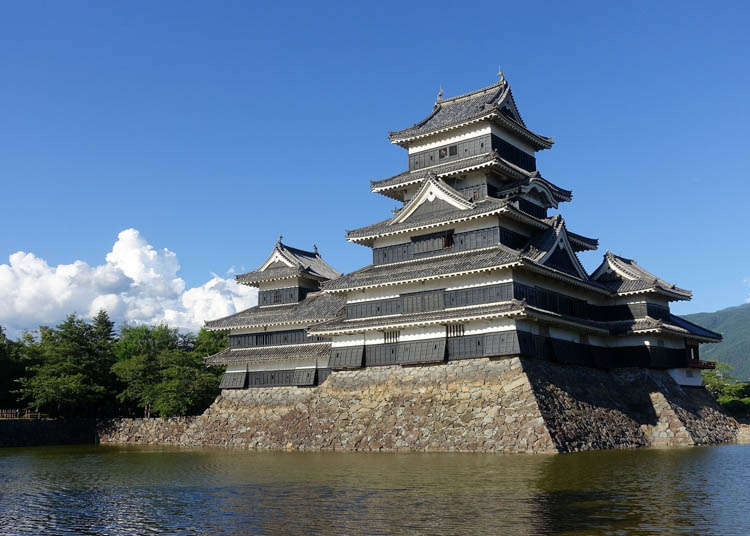 Matsumoto Castle, located in Nagano, is famous for being the oldest surviving 5-tiered 6-story castle tower in Japan.* While there are castles with towers all over Japan, only 12 are genuine relics from the Sengoku and Edo periods, while only five are designated 'national treasures.' One of these is Matsumoto Castle.

The jet-black Matsumoto castle is given extra life from its awe-inspiring Northern Alps background. Each season ushers in a fresh new look to the castle and its surroundings, making it a different experience each time. While being an important relic and educational tool, it is also a relaxing and beautiful place that is best enjoyed slowly!

*Five tiers can be observed from the outside, while inside there are actually six levels.

main image: Courtesy of Matsumoto Castle Administration Office
The Castle's Grand Scenery and Jet-black Beauty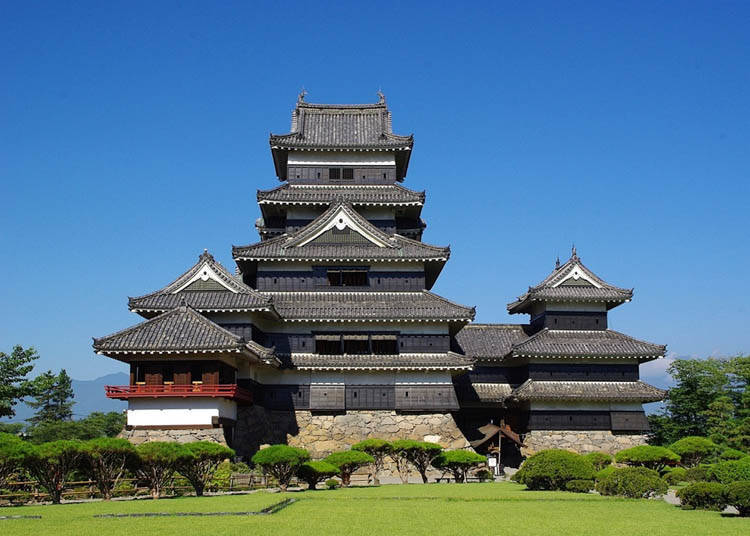 Photo: Matsumoto Castle Administration Office
Matsumoto is a quiet, simple town mostly famous for its central titular castle, which is about a 20-minute walk from JR Matsumoto Station. Even among the 12 authentic castle towers in Japan today, Matsumoto, built on perfectly flat plains and surrounded by three moats, stands out. When Japan's Top 100 castles were decided in 2006, it was a natural addition.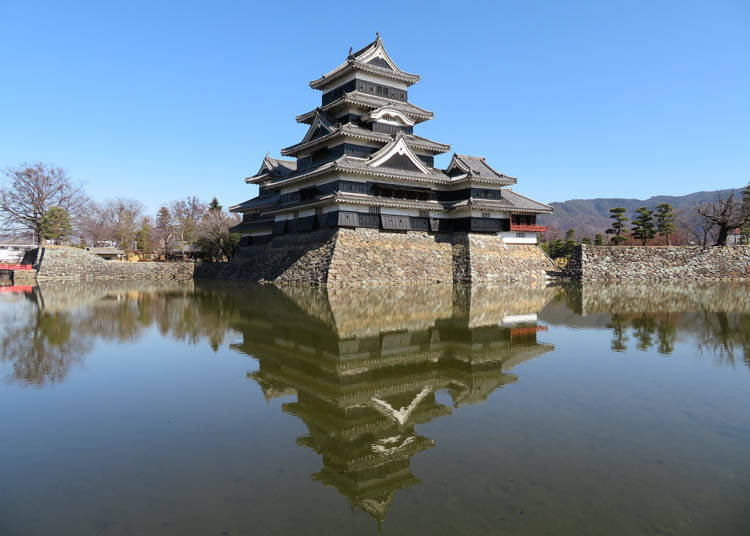 Photo: Matsumoto Castle Administration Office
What first catches the eye is the outer walls, which are painted a stark jet-black. These walls are retouched every year to preserve its beauty.
Photo: Matsumoto Castle Administration Office
The walls are also coated with white plaster, spawning a unique contrast that is perfectly reflected in the moat's water on the side facing the Northern Alps. If you're after some photos with the alps as a backdrop, we recommend shooting from the south side of the castle.
Getting the Ultimate Photos of Matsumoto Castle for Your Social Media!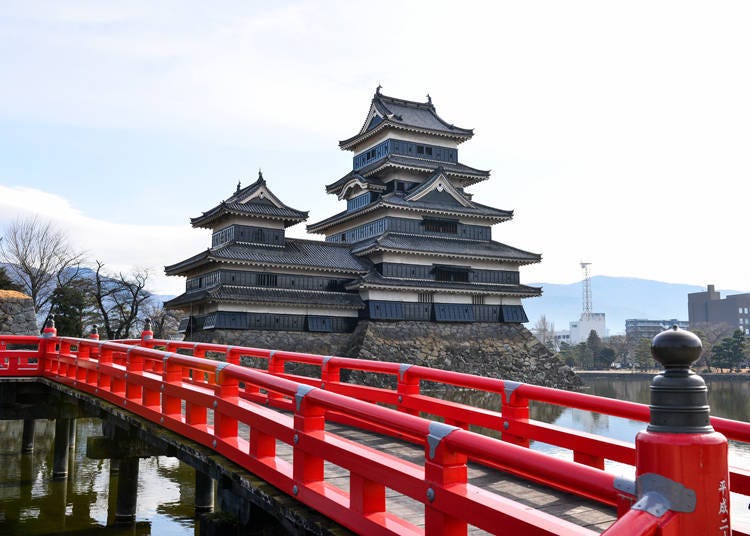 One place to truly highlight the beauty of Matsumoto Castle is Uzumi Bridge, which can be found on the west side of the castle. A photo of the stark black castle contrasted against the bright red of the bridge will be a guaranteed hit! If you're lucky, you may even be photobombed by some beautiful local swans! Just be aware you can't actually cross the bridge at this time.
Every day from 8:30 a.m. to 4:00 p.m., you can enjoy costumed performers donning traditional Japanese armor, ninja outfits, and princess getups at Honmaru Garden (a special pay-to-enter section inside the moat). You can take pictures with them for free!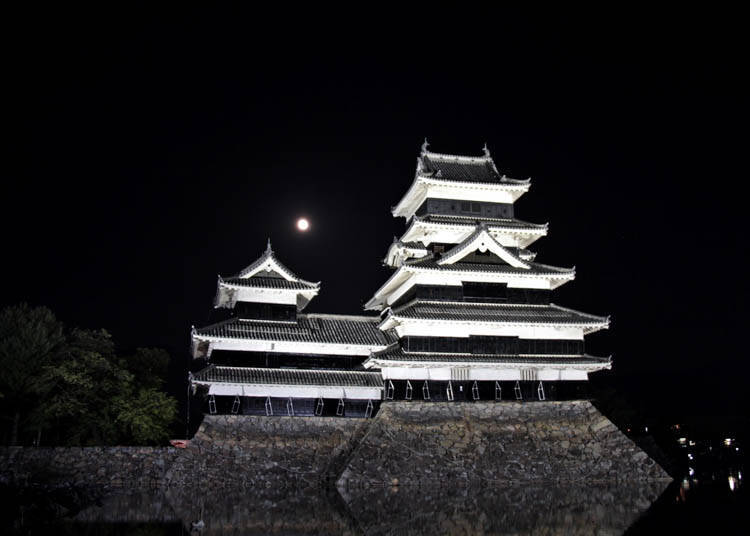 Photo: Matsumoto Castle Administration Office
Every night from sunset to 10:00 p.m., the castle tower is illuminated to bring it out of the darkness in a stunning display.
Spanning the Violent Sengoku Era to the Peaceful Edo Period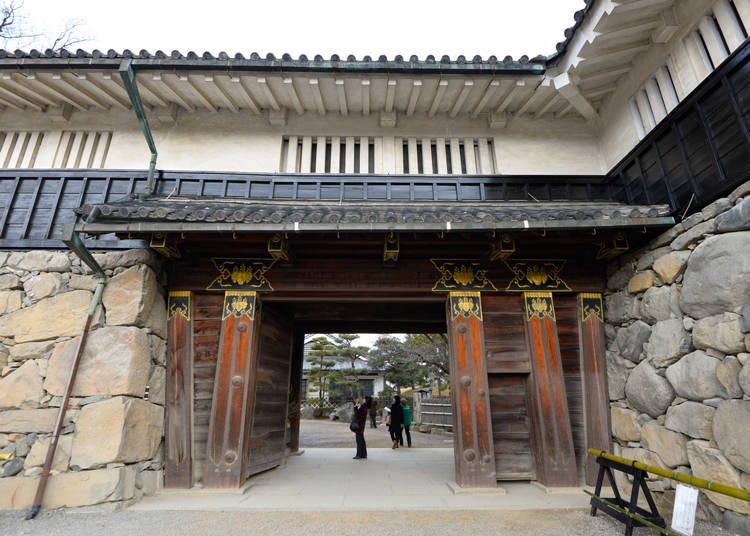 The antecedent to Matsumoto Castle was Fukashi Castle, built during the first year of the Eisho period (1504) during the Sengoku Warring States era.

After surviving the turbulence of the time, the castle was renamed 'Matsumoto Castle.' Built for battle and lacking extravagant decorations, this beauty of this castle originally lay in its simple and durable fortifications.

When peace settled over Japan during the Edo era, an elegant 'yagura' and other trimmings were added to increase its aesthetic value.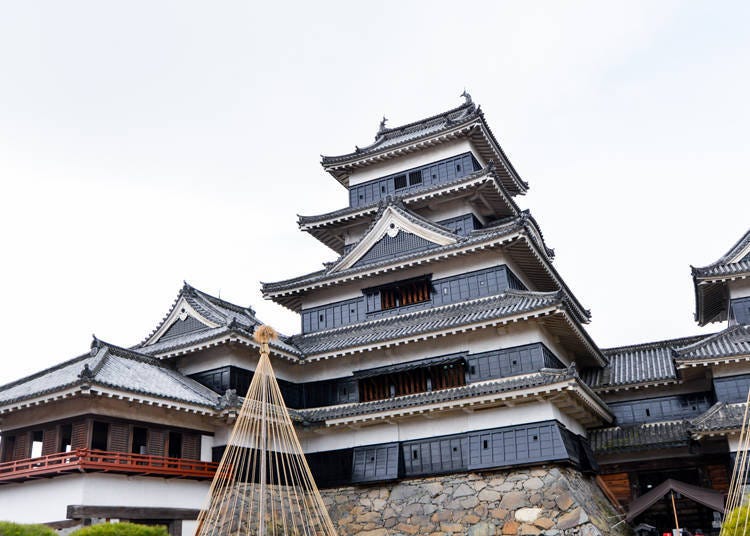 The contrasting natures of these starkly different periods each had their own influence on the castle, creating a unique amalgamation of war and peace.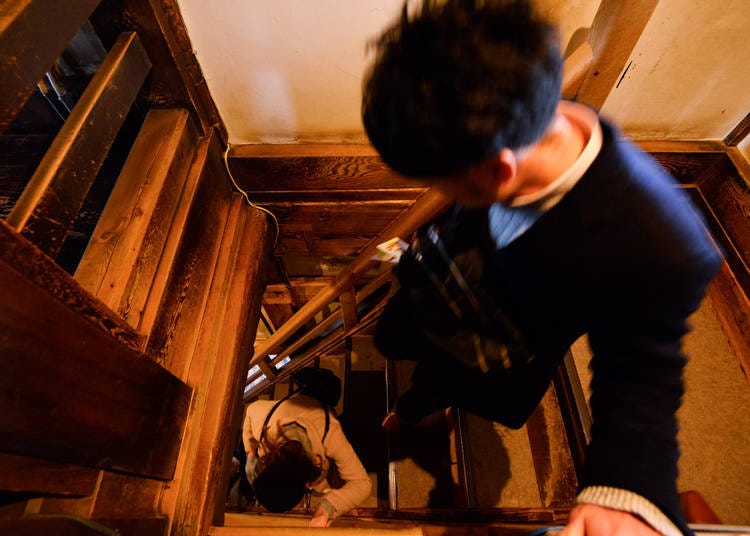 While the free Matsumoto Castle Park is very satisfying in itself, for a more complete experience, visits to Honmaru Garden and castle tower are definitely worth their entrance fees. (Adults: 700 yen, Elementary/Junior-high school students: 300 yen). It generally takes around 45 minutes to an hour to fully tour the tower. Inside is narrow with steep steps, so take care when exploring.
Beauty of the Four Seasons: Covered by Cherry Blossoms in Spring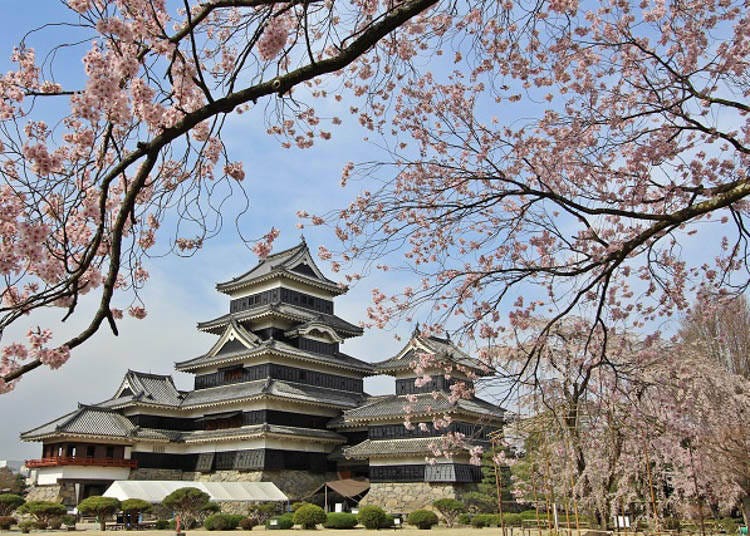 Photo: Matsumoto Castle Administration Office
Being able to enjoy a new side of Matsumoto Castle every season is another one of its charms. Each season is celebrated by different events that keep visitors coming back again and again!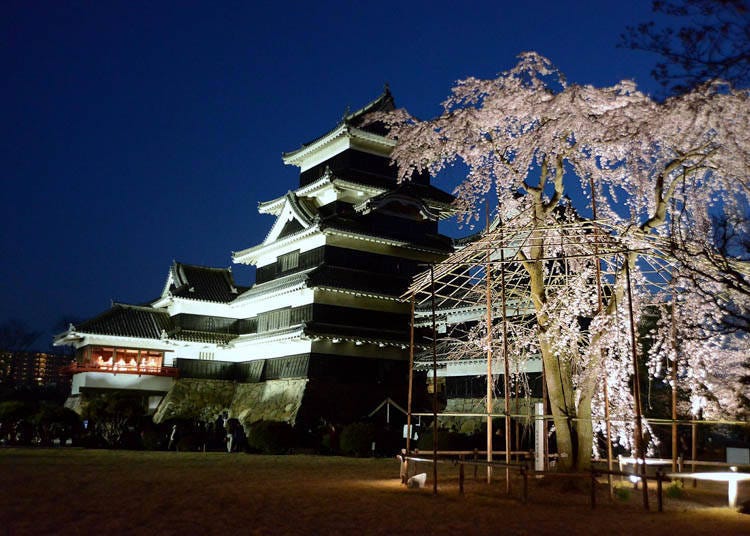 Photo: Matsumoto Castle Administration Office
During spring, tourists flock to see the spectacular blooming of the cherry blossoms, which peak from early to mid-April. Entry to Honmaru Garden becomes free for the 'Cherry Blossoms at Night' viewing event.

This brief seasonal spectacle is also celebrated with pop-up tea rooms and live music alongside the illuminated castle tower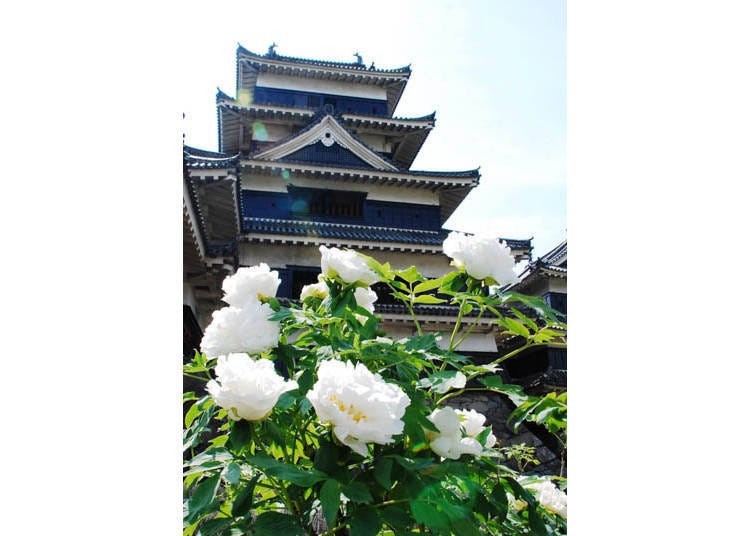 Photo: Matsumoto Castle Administration Office
Once the 'Golden Week' holiday period in late April/early March is over, various flowers begin to bloom. This includes azalea, rose, wisteria, and the Ogasawara Botan, a historical bunch of tree peony that has been passed down the generations.
A Glittering Summer and an Action-packed Autumn!
Photo: Matsumoto Castle Administration Office
The castle tower emits a glowing radiance against summer's fresh greenery and blue skies.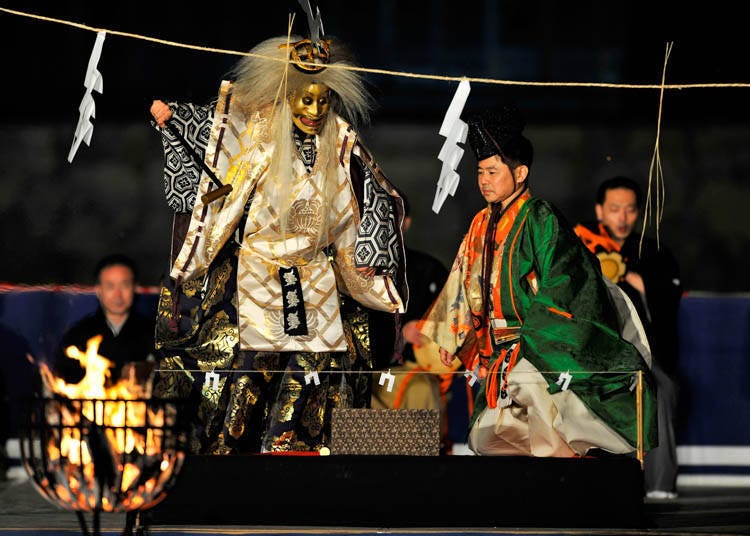 Photo: Matsumoto Castle Administration Office
Events featuring renditions of plays and performances, such as the Taiko Drum Festival and the Takiginou Festival make summer another popular time to visit.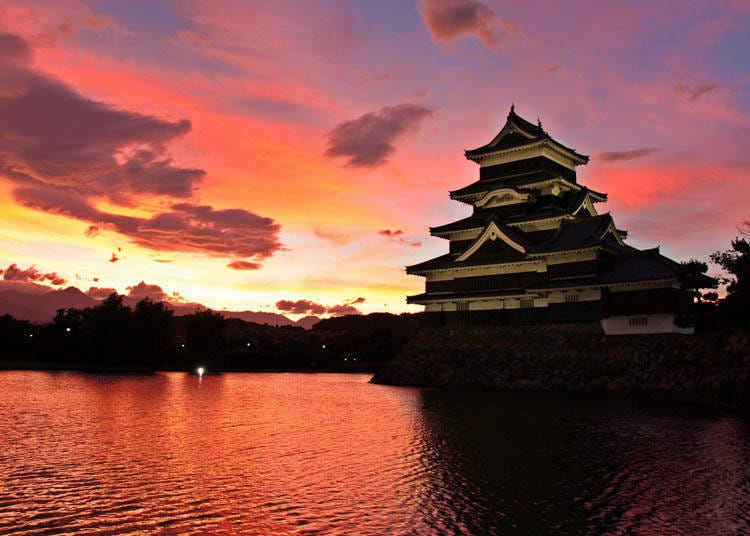 Photo: Matsumoto Castle Administration Office
During the evening, the summer sunset bathes the entire region in an otherworldly glow.

Opening hours in summer are also extended, and anyone who comes dressed in traditional Japanese clothing, such as a kimono, will be granted free entry!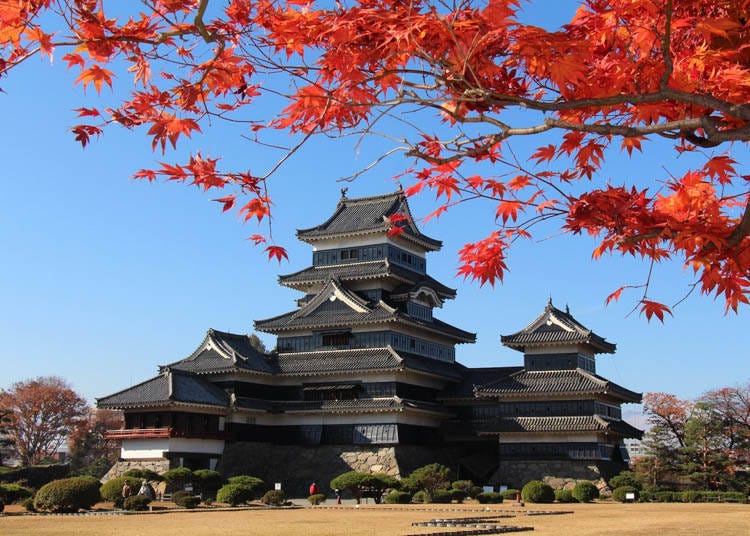 Photo: Matsumoto Castle Administration Office
Autumn engulfs the area in grand multicolored fall leaves. Much-anticipated events, including tea ceremonies, doll festivals, artillery demonstrations, and a falconry show with samurai origins, keep the park busy.
The Snow-capped Peaks of Winter Bring New Attractions!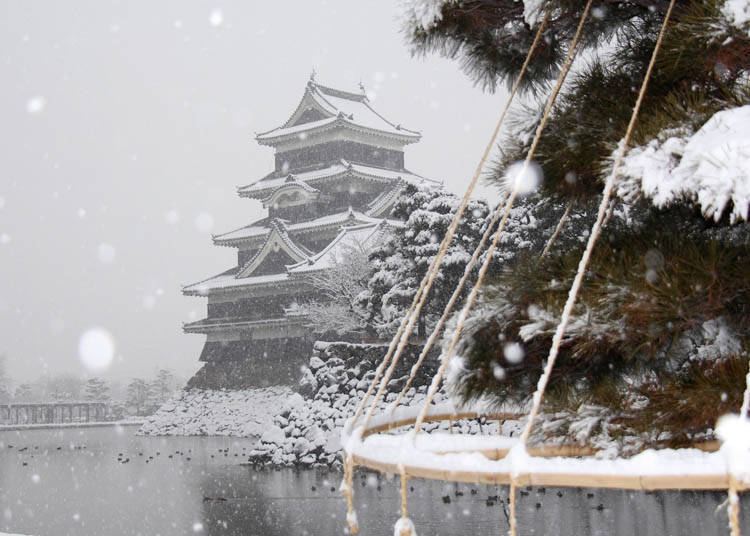 Photo: Matsumoto Castle Administration Office
The contrast between the white winter and the dark Matsumoto Castle is enchanting! To protect the vegetation in Honmaru Garden from the freezing cold and buildup of snow, historic 'warabocchi' and 'yukizuri' supports are constructed, which are renowned symbols of winter in the area. On sunny days, the snow-capped peaks of the Northern Alps are breathtaking.

At the end of the year, a huge 'kadomatsu,' a traditional decoration made mainly from pine, is set up. The castle grounds are full of busy workers sweeping the rooms and putting up traditional decorations to ward off evil.

Preparation for the new year is a lot of work! Once the new year comes, locals wrapped in their kimonos come to celebrate and pay their respects, creating an enchanting aura that feels authentically Japanese!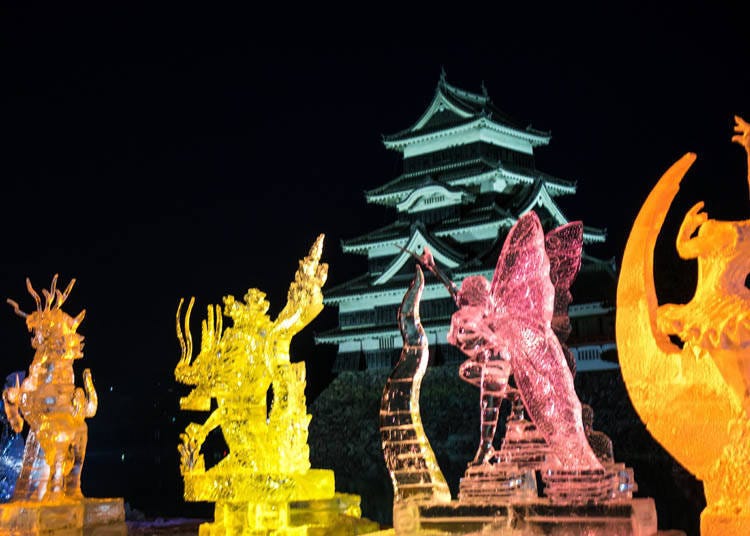 Photo: Matsumoto Castle Administration Office
From late January to early February, the Matsumoto Ice Carving Festival is held. Ice sculptors from all over Japan assemble to create art and compete!
A Free Tour of Matsumoto Castle!?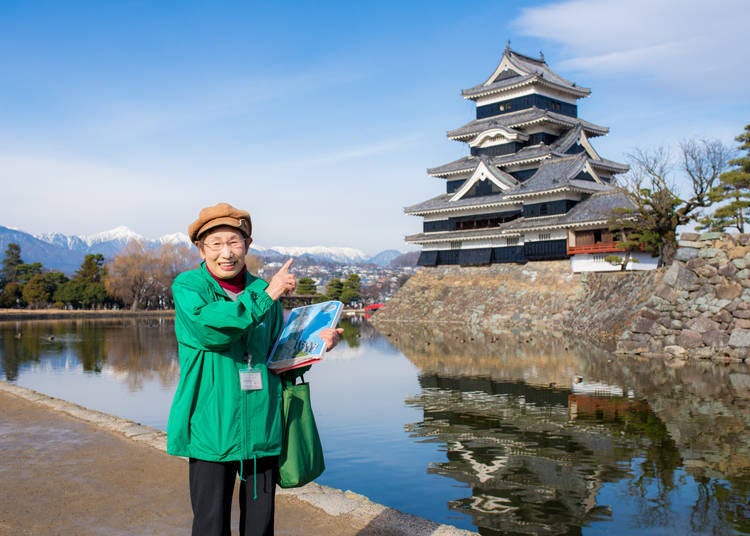 If you really want to get up close and personal with Matsumoto castle, we recommend getting free guidance from a local volunteer.

In addition to Japanese, guides who can speak English, French, Spanish, Chinese, and more are ready to help! These guides will personalize your tour to meet your needs!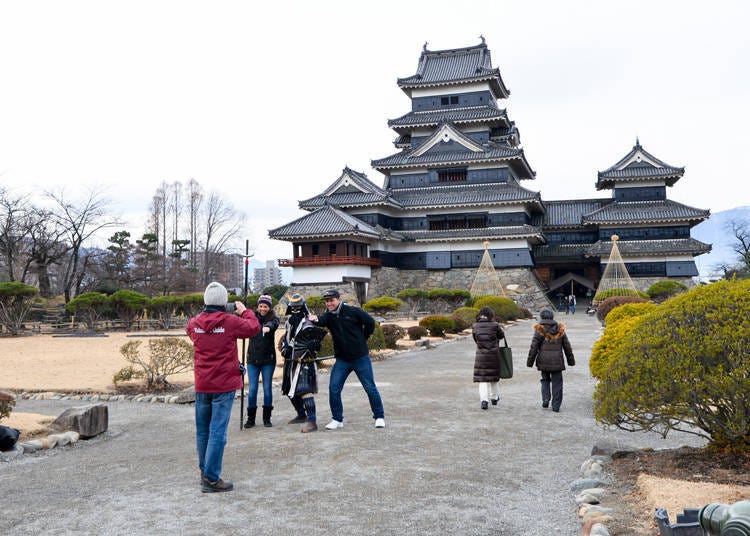 There is an office and tour guides on standby near the front entrance of the castle, so it doesn't matter whether you book your tour in advance or just inquire on the day. Volunteer guides are also available to show you around Matsumoto City (Japanese-language only).
A Fresh Way to Sightsee: Matsumoto Castle's Smartphone App!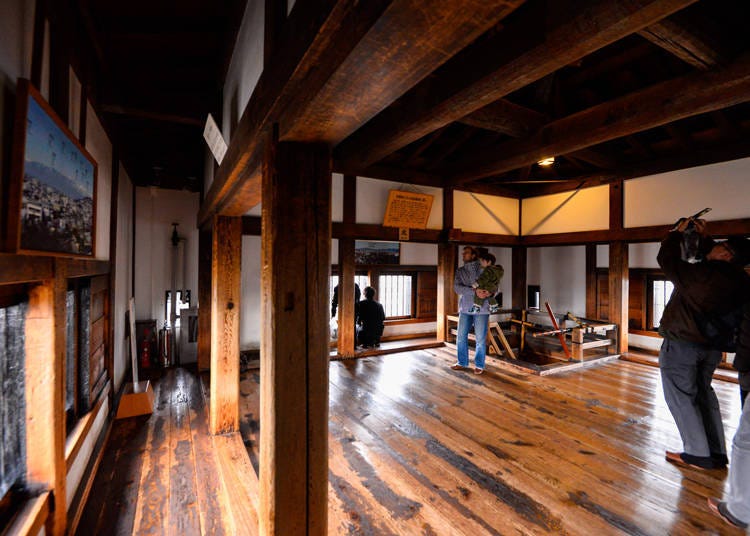 In recent years, a number of innovative ways to help preserve Matsumoto Castle's history have been trialed. A VR app, part of the 'Street Museum' collective, allows you to see how Matsumoto Castle would have appeared during the Edo period in real-time through your smartphone.

In the Honmaru and Ninomaru areas are 9 spots set up with high-tech VR and detailed commentary. Sannomaru boasts 20 spots, along with scrolls that display history facts when tapped. The app supports numerous languages, including English and Chinese.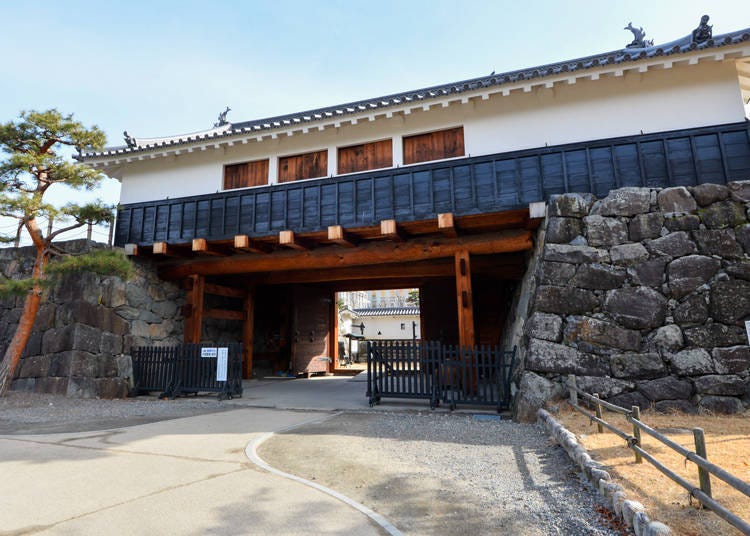 The audio guide app, Pokke, also broadcasts 'Matsumoto Castle – The Castle of War' in many different languages. It is narrated by celebrated Japanese voice actor Akira Ishida, best known for playing Kaworu Nagisa in Neon Genesis Evangelion.

The smartphone app, National Treasure: Matsumoto Castle Guide, has a quiz with 10 questions on the history of the castle ranging from its initial construction to the modern era. Try testing your newfound knowledge! You'll pass with 8 or more correct answers.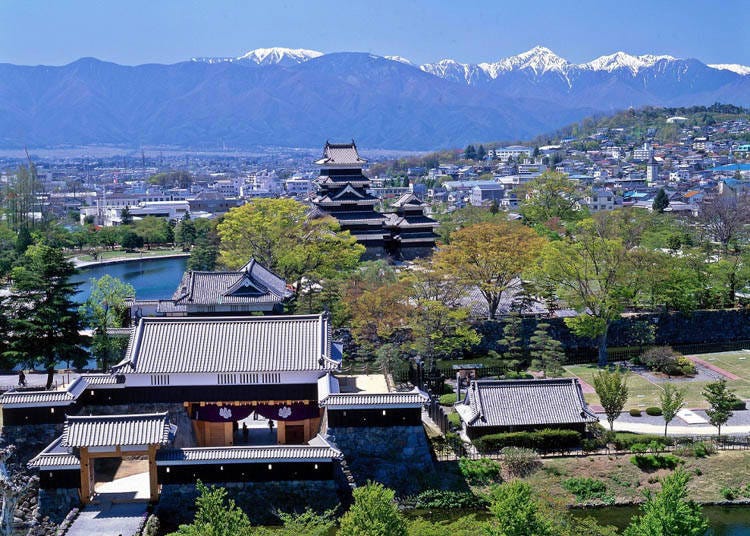 Photo: Matsumoto Castle Administration Office
Matsumoto Castle, with its dozens of attractions, seasonal events, and stunning nature, is a must-see addition to any Japan itinerary!

Along with the refreshing scenery and remarkable architecture, a visit to this epoch-crossing castle will prompt deep reflection on Japan's fascinating history.

Having survived countless assaults by brutal wind and rain during its 400+ years of history, Matsumoto Castle is something Japan is proud to present to the world.
松本城

Address

4-1, Marunouchi, Matsumoto City, Nagano, 390-0873

Phone Number

0263-32-2902

Opening Hours: 8:30am – 5:00pm
Golden Week and Summer Hours: 8:00am – 6:00pm (admission ends 30 minutes before closing)
Tickets: Adult \700, Elementary/Junior-high school \300
Closed: December 29 – 31 (alternative business hours during January 1 – 3. Check website for details).
*This information is from the time of this article's publication.
*Prices and options mentioned are subject to change.
*Unless stated otherwise, all prices include tax.
Limited time offer: 10% discount coupons available now!