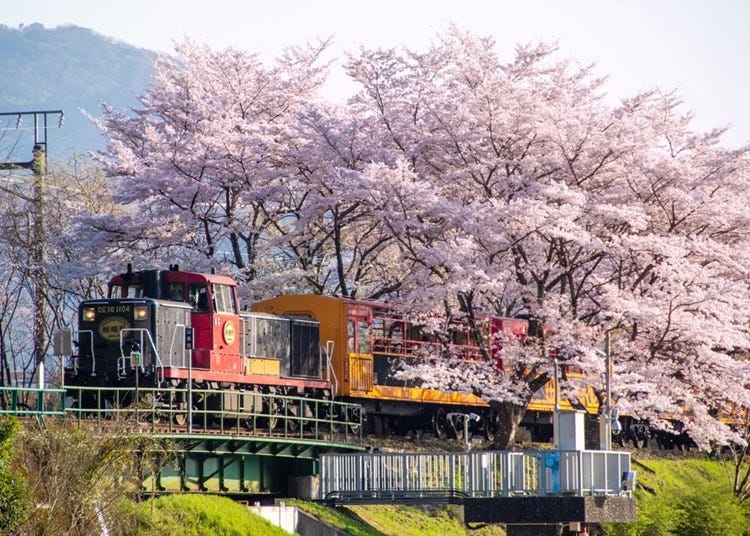 Cherry blossoms are an integral part of Japanese spring. Although there are various viewing spots throughout the country, this article will focus on the Kansai region's top five sites for trains and cherry blossoms.

Japan's Kansai region has many major private railways, local railways, as well as sightseeing trains. Scattered along railway tracks are a myriad of cherry blossom viewing points, letting you take in the scenery of beautiful flowers and railways together.

In addition to enjoying rides surrounded by Kansai's nature and wild cherry trees, the trains also offer a wide variety of blossom views, such as the Yoshino cherry, visible in city parks! Here we've also added handy tourist information and tips on riding the trains.
1. The Temmabashi Station Area on the Keihan Electric Railway (Osaka Prefecture)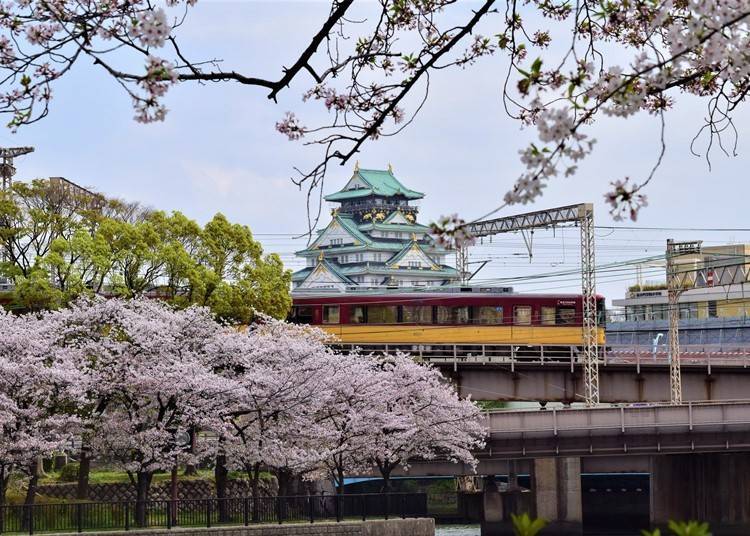 Image courtesy of: Keihan Electric Railway Co., Ltd
The Keihan Electric Railway connects Kyoto and Osaka Prefecture- offering several cherry blossom-viewing spots along its tracks. Out of the many sites available, we will introduce a scenic area around Temmabashi Station.

Upon approaching the railway bridge on the Kyoto side of the station, you're able to enjoy cherry blossoms, a sweeping view of Osaka City, as well as a flowing river. Standing tall in the background is Osaka Castle, one of the city's iconic sights. The castle's presence in a modern cityscape makes for unique scenery filled with Osaka's charm.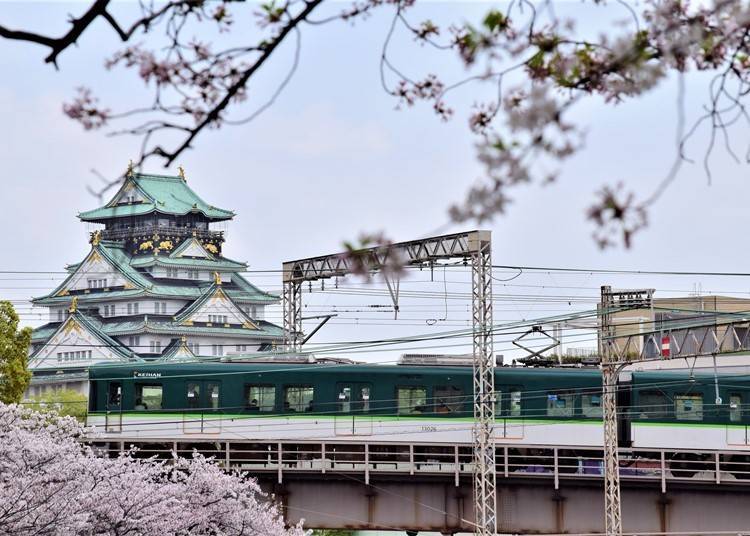 Image courtesy of: Keihan Electric Railway Co., Ltd
Temmabashi Station is close to where Okawa River and Neyagawa River meet. The park along this river's bank is a place of relaxation for many people in the neighborhood. Also nearby is the Osaka Mint, crowded with people gathering to enjoy the adjacent passage of Osaka's late-blooming cherry blossoms.

When is the best time to see the cherry blossoms?
Every year, the cherry blossoms bloom from late March to early April.

What are some nearby tourist attractions?
Right by the station is River Station Hachiken-ya. This facility offers waterbus tours and SUP (standup paddleboarding) activities. You can also take a walk in the park along the river or enjoy shopping and dining at a mall directly connected to the station.

How to Access the Keihan Electric Railway's Temmabashi Station
Take the train bound for Nakamozu from Umeda Station on Osaka Metro's Midosuji Line. Then transfer at Yodoyabashi Station to get on the Keihan Railway, taking the train bound for Demachiyanagi. Temmabashi Station is only two stops from Yodoyabashi Station. It's a two-minute train ride from Umeda Station to Yodoyabashi Station and another three minutes from Yodoyabashi to Temmabashi.
天満橋駅

Address

1-1, Temmabashi-Kyobashi, Chuo-ku, Osaka 540-0032
2. Narutaki Station to Untano Station on Keifuku Electric Railroad's Kitano Line (Kyoto Prefecture)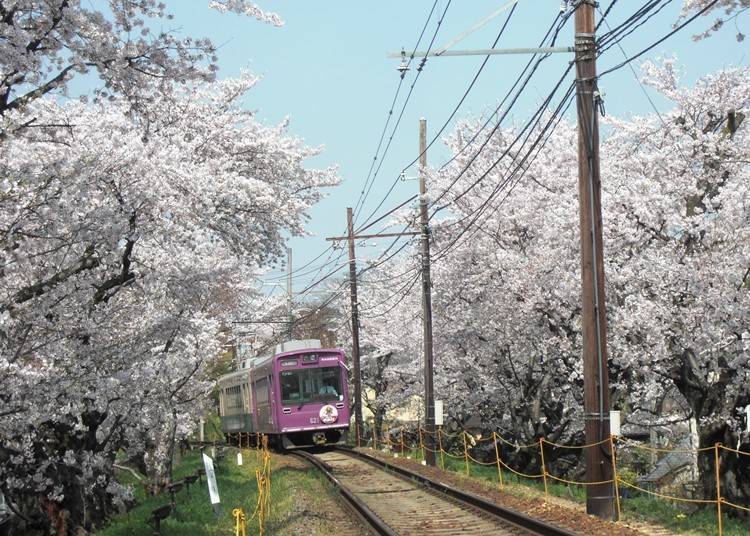 Image courtesy of: Keifuku Electric Railroad Co., Ltd.
The Keifuku Electric Railroad, otherwise known as Randen, is a railway that runs through Kyoto. It has two lines, the Arashiyama Main Line and the Kitano line. In this article, we introduce the Kitano Line. Spanning four kilometers in length, it runs from Kitano-Hakubaicho Station, which is close to Kitano Tenmangu Shrine, to Katabiranotsuji Station.

Along both sides of this railway line, between Narutaki Station and Untano Station, is a 70-meter stretch of cherry blossom trees called the Randen Cherry Blossom Tunnel. The tiny one to two-car train that goes through this tunnel adds to the spring atmosphere. Popular among locals, tourists, and railway enthusiasts- this is a spot all kinds of people can enjoy!

When is the best time to see the cherry blossoms?
Every year, the cherry blossoms bloom from late March to early April.

What are some nearby tourist attractions?
Along Keifuku Electric Railroad's Kitano Line are many temples belonging to the World Heritage Site-Historic Monuments of Ancient Kyoto. This includes Ninna-ji Temple, Myoshin ji Temple, and Ryoan ji Temple. If you transfer onto the Arashiyama Main Line from Katabiranotsuji Station, you can easily access tourist attractions such as Arashiyama and Toei Kyoto Studio Park, a theme park where Japanese period dramas and movies are filmed.

Accessing Randen Cherry Blossom Tunnel
From JR's Kyoto Station, take the Kyoto City bus and get off at the stop Kitano-Hakubaicho. Next, take a train bound for Katabiranotsuji on Keifuku Electric Railroad's Kitano Line. It takes around 40 to 50 minutes to get from Kyoto Station to Kitano-Hakubaicho (this may change depending on traffic). Getting from Kitano-Hakubaicho Station to the Randen Cherry Blossom Tunnel takes about six to seven minutes.
Randen Cherry Blossom Tunnel

嵐電 さくらのトンネル

Address

4 Utano-ho, Anji-cho, Ukyo Ward, Kyoto, 616-8206
3. The Kameoka Station area on Sagano Scenic Railway (Sagano Romantic Train) (Kyoto Prefecture)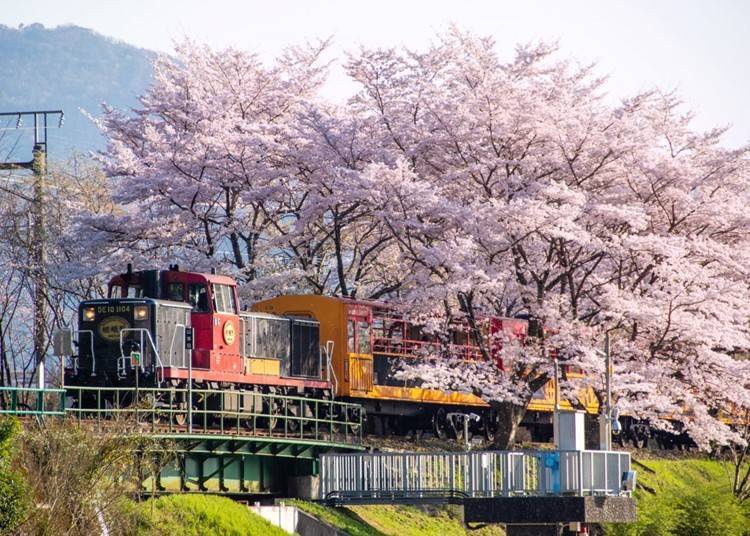 Image courtesy of: Sagano Scenic Railway Co., Ltd.
The Sagano Scenic Railway (Sagano Romantic Train) is a sightseeing railway that connects Saga-Arashiyama Station to Kameoka Station. Running along the Hozugawa River, it offers seasonal views such as cherry blossoms and fall foliage from the train's windows.

Beyond the Hozugawa River are a range of mountains. Deep into these mountains lies Mount Atago. This is where the 16th-century general, Akechi Mitsuhide, was said to have prayed before the Honno-ji Incident, where he betrayed Oda Nobunaga, leading to his death.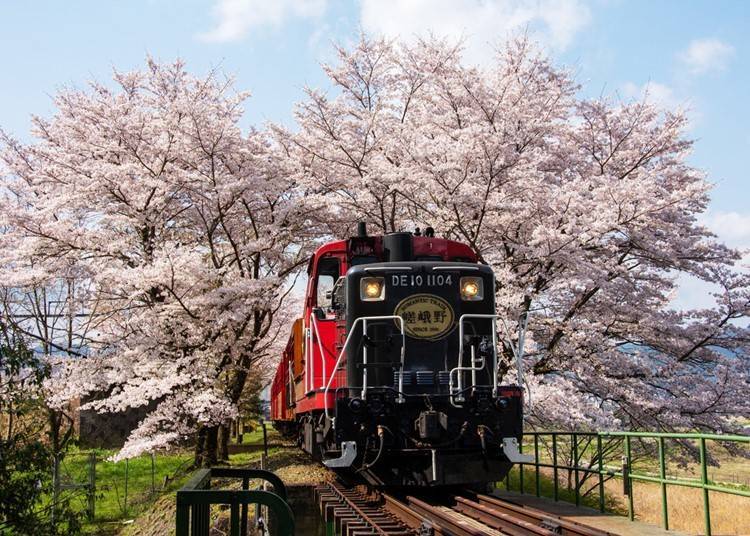 Although there are several stops with views of cherry blossoms, one must-see is the cherry blossom tunnel close to Kameoka Station. Spanning approximately 100 meters in length, prepare to be in absolute awe as the train's windows are buried in a sea of beautiful cherry blossom trees.

We recommend getting on the train's fifth car, otherwise known as The Rich. This train car doesn't have any seat partitions, ensuring that nothing blocks your view. Also, its glass ceiling enables you to enjoy cherry blossoms from every direction.

When is the best time to see the cherry blossoms?
Every year, the cherry blossoms bloom from late March to early April.

What are some nearby tourist attractions?
Arashiyama can be easily accessed from Torokko Saga Station and Torokko Arashiyama Station, making it a great railway line for sightseeing. Many tourists enjoy walking Arashiyama's trails and riding the tram as a combined activity.

At Torokko Kameoka Station, a horse and carriage await, prepared to take you to breathtaking scenic spots nearby! These carriages operate from March 26th, so please make sure to check if they're available during your visit. What's more, the horse and carriage, as well as bus services, are available to take you to a boat boarding area. From here, you can take a cruise down the Hozugawa River.

How to Get on the Sagano Romantic Train
You can make online bookings using the West Japan Railway Company's train reservation service, e5489. If there are seats left, you can also buy tickets at the station on the day of your trip. However, tickets sell out very quickly during cherry blossom season, so we recommend making online reservations.

Trains run daily (except Wednesdays) from March 1st until December 29th. The railway offers special service trains during peak seasons, such as when the cherry blossoms bloom. You can even check seat availability and operation services on the Sagano Romantic Train's official website.

To get to the train, you can take JR's Sagano Line from Kyoto Station to Saga-Arashiyama Station. The Sagano Romantic Train can be found adjacent to JR's Saga-Arashiyama Station. When using a rapid express train, the ride from Kyoto Station takes approximately eleven minutes. The duration of the ride from Torokko Saga Station to Torokko Kameoka Station is 23 minutes.
トロッコ亀岡駅

Address

Yamamoto-Shinden, Shiono-cho, Kameoka-city, Kyoto 621-0825
4. From Kamuro Station to Kudoyama Station on Nankai Electric Railway's Koya Line (Wakayama Prefecture)
Image courtesy of: Nankai Electric Railway Co., Ltd.
The Nankai Electric Railway is a railway line that connects Osaka's Namba district, Kansai International Airport, and Wakayama Prefecture.

Trains on the Koya Line leave from Namba Station and head towards Gokurakubashi Station, a train station located on the foothills of the Mount Koya World Heritage Site. Popular among worshippers and tourists, it's the standard way to access the mountain.

The Koya Line offers spectacular scenery of trains and cherry blossoms between Kamuro Station and Kudoyama Station. The views from the Koya Flower Railway's sightseeing train, Tenku, are highly recommended. Transfers onto this train are available from the Koya Line's Hashimoto Station. Decorated with a forest green and cherry blossom pink exterior, enjoy a ride on a train that perfectly complements its surrounding scenery.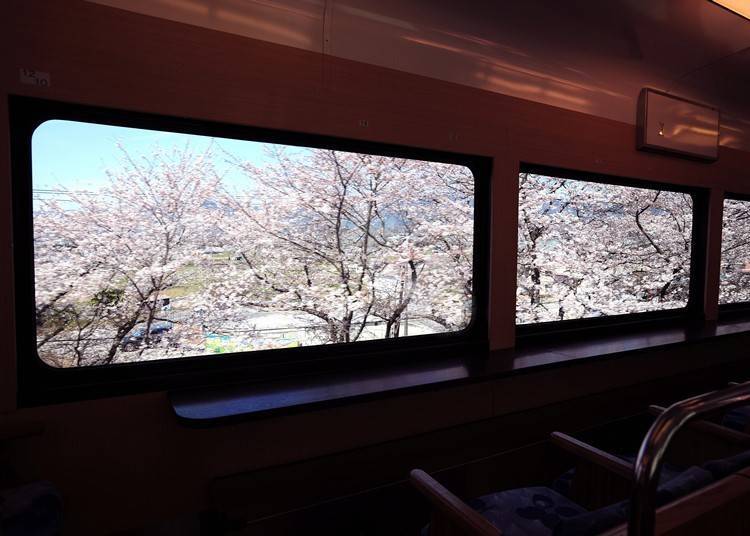 Image courtesy of: Nankai Electric Railway Co., Ltd.
You can also enjoy cherry blossoms from the train's windows. Tenku is a sightseeing train with a section for reserved seating that offers amazing views. Since the reservation-only section is adjusted to face the window, you can watch the outside scenery very comfortably. You can even go outside onto the observation deck on a nice day to enjoy cherry blossoms and the outdoor breeze.

When is the best time to see the cherry blossoms
Every year, the cherry blossoms bloom from late March.

What are some nearby tourist attractions?
Scattered around Kudoyama Station are historical sites related to the Sengoku period warrior Sanada Yukimura. This includes the remains of his secret hideout.

Inside the station is the rice ball stand called Kudo. Here you can enjoy rice balls made of locally grown rice cooked in a kamado, a traditional Japanese wood-burning stove. If the weather's nice, we recommend walking around the area with one of these rice balls in hand.

How to Get on the Koya Flower Railway's Tenku
Take the Koya Line from Namba Station on the Nankai Electric Railway. If you get off at Hashimoto Station, you can transfer to the Koya Flower Railway's Tenku. Getting to Hashimoto Station from Namba takes approximately 50 minutes on the express train.

To take the Koya Flower Railway's Tenku, reservations must be made by phone. At the earliest, reservations can be made from 9:00 a.m. ten days before the day of your trip and at the latest until 5:00 p.m. the day before. In addition to ticket fares, adults must pay 520 yen for reserved seating.
*Same-day tickets can be purchased only if there are seats available.

Trains run from March until November. However, they do not operate on Wednesdays or Thursdays. Also, from December to February, trains operate only on Saturdays and holidays. From March to November, two round-trip service trains are available on weekdays, and three are available on weekends and holidays. From December to February, two round-trip service trains are available.
九度山駅

Address

123-2 Kudoyama, Kudoyama-cho, Ito-gun, Wakayama 648-0101
5. The Kurakuenguchi Station Area on the Hankyu Railway's Koyo Line (Hyogo Prefecture)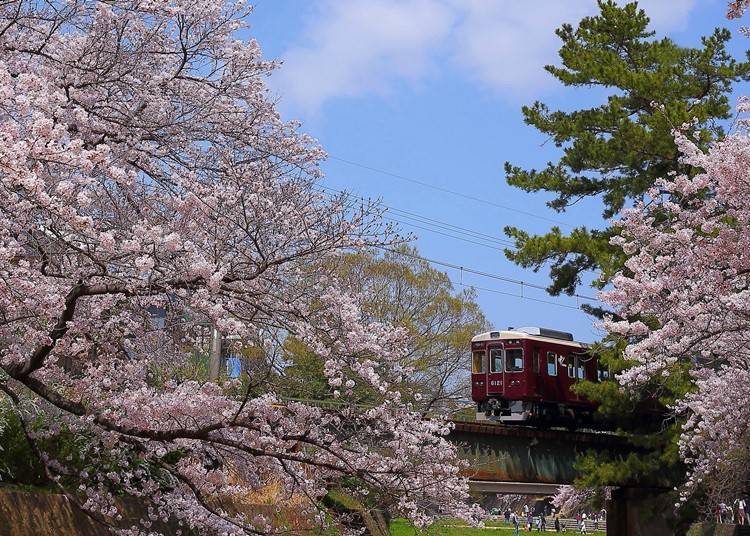 Image courtesy of: Hankyu Corporation
The Hankyu Railway connects the Osaka, Kyoto, and Kobe areas. Out of the many cherry blossom-viewing spots available through the railway, a stand-out is an area nearby Kurakuenguchi Station on the Koyo Line.

The Koyo Line is a short railway line that ties Shukugawa Station and Koyoen Station together. Close-by flows the Shukugawa River. The banks of this river have been turned into a park where over 1,000 cherry blossoms bloom in the spring.

A spectacular spot for taking photos is by the small railway bridge next to Kurakuenguchi Station. Although you can enjoy cherry blossoms from the train's windows, it's also recommended to relax by the river to see trains chugging alongside cherry blossom-covered landscapes. Lovingly called Hankyu Maroon, the trains on the Hankyu Railway boast a glossy maroon exterior that elegantly pairs with the color of the cherry blossoms.

When is the best time to see the cherry blossoms?
The cherry blossoms at Shukugawa Park bloom in early April.

What are some nearby tourist attractions?
Shukugawa Park, right by Kurakuenguchi Park, is a popular place to relax among the region's residents. It's also a popular cherry blossom spot. If you walk through the park for 20 to 30-minutes, you'll eventually end up at Shukugawa Station.

How to Get on Hankyu Railway's Koyo Line
From Hankyu Railway's Osaka-Umeda Station, take the Kobe Line and get off at Shukugawa Station. Here you can transfer directly to the Koyo Line. It takes 15 minutes when using the limited express train from Umeda-Osaka Station to Shukugawa Station. Taking the Hankyu Railway's limited express train does not require any limited express service charge. Once you've transferred to the Koyo Line from Shukugawa Station, it's a two-minute ride to Kurakuenguchi Station.
苦楽園口駅

Address

Ishibane-cho, Nishinomiya-city, Hyougo 662-0074
This article introduced five spots for scenic views of railways and cherry blossoms. During cherry blossom season, each spot is packed with people. Most trains don't require any reservations, but we recommend checking in advance.

Also, make sure to check out websites and social media accounts that update you on the blooming periods of cherry blossoms along railways!

Don't miss out on this opportunity and enjoy Japan's cherry blossom filled spring to the fullest!

*The information in this article is from February 2022. For updated information, please refer to each official website.
Written by:

Related Stories
*This information is from the time of this article's publication.
*Prices and options mentioned are subject to change.
*Unless stated otherwise, all prices include tax.