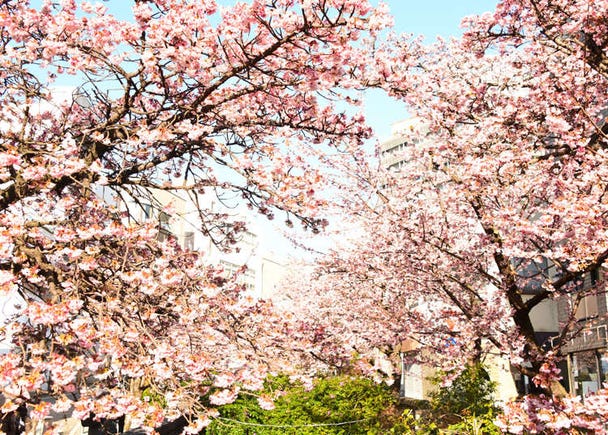 While Japan's main cherry blossom season starts in March, in early February you can get a preview of Japan's sakura season in Atami, a quiet town just south of Tokyo!

In fact, February just might be the perfect time of year to get a preview of Japan's famous cherry blossom season. Here's all about when and where to see these early bloomers!
Early Cherry Blossoms in Japan: February Sakura in Atami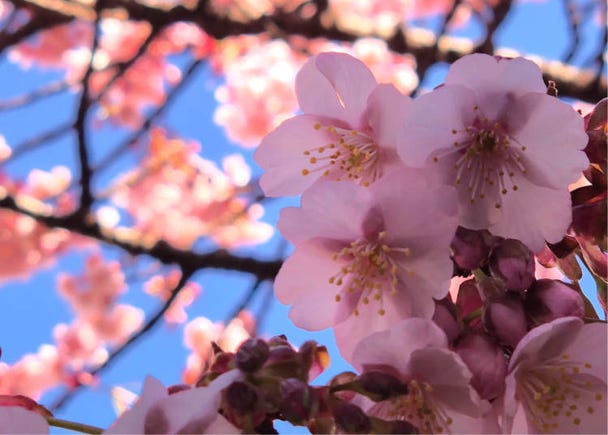 While the majority of Japan's cherry blossoms tend to bloom in mid to late March, there are varieties which favor opening their flowers at the end of winter, when it's still cold outside.

Atami, a quiet coastal town about 90 minutes south of Tokyo (or 44 minutes via Shinkansen bullet train), is well known for its many onsen hot springs, and given its proximity to Tokyo it is a popular weekend destination for many looking to relax in the natural hot waters.

In February, it becomes a destination of choice for flower lovers, with plum blossoms opening in early-to-mid February and the 'Atami-Zakura' cherry blossoms opening in late January/early February - around February 4 in recent years. The blossoms remain in bloom for around 10 days or so, drawing crowds of eager tourists.
Where can I see Atami's cherry blossoms?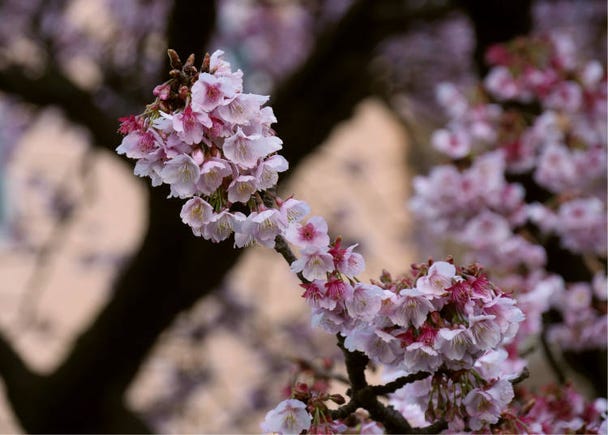 The promenade along the small Itogawa River is about a 10-minute walk down from Atami Station. Here you'll see 58 trees planted on either side along the street, making for a lovely pastel-pink canopy that runs for around 300 meters. While called a river, the Itogawa is more of a picturesque stream which meanders down to the ocean.

On either side of the river are a variety of small restaurants, shops, and bars, and on the weekends you might catch some of the local merchants selling drinks and snacks outdoors.
What time is best to see Atami sakura? Enjoy Atami cherry blossoms throughout the day!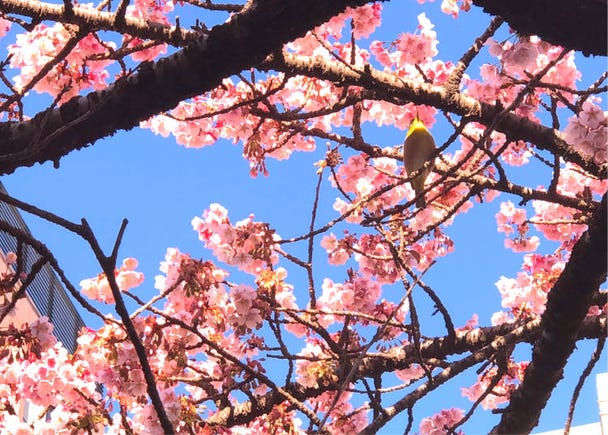 Now you might wonder what time of day is best to catch the gorgeous sakura, and the fact is that you can enjoy them at pretty much all time of day. While you can enjoy tea service and other events nearby from 10am to 3pm, the river and its view is open around the clock.

From morning until early afternoon, you will likely see flocks of energetic mejiro - Japanese white eyes - flitting from flower to flower in search of delicious nectar, their excited peeps drawing crowds of shutterbugs hoping for a shot of these shy birds.

And from around 3-3:30pm, the angle of the sun will bring on 'golden hour' - when the light pink of the flower petals will pop against the blue hues of the sky, making for dramatic images.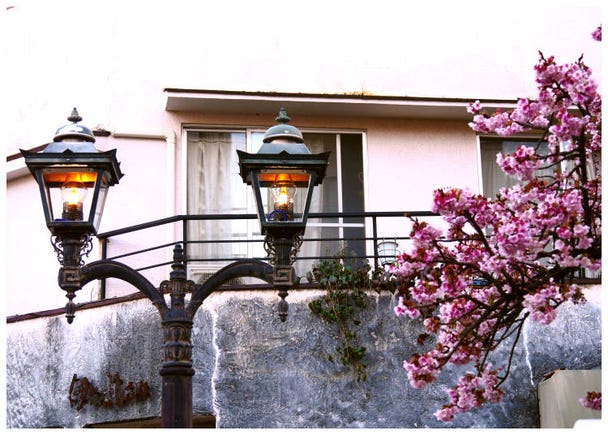 As evening draws near, the retro-looking streetlights flick on, bathing the area in a warm incandescent glow.
Then from 4:30pm to 11pm, the blossoms themselves are illuminated from below, casting a romantic glow that's rather enjoyable with a bottle of warm sake.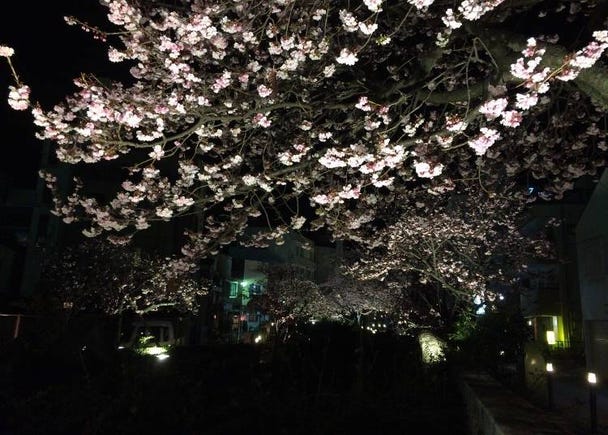 Evening blossoms
Where are popular places to take pictures of cherry blossoms in Atami?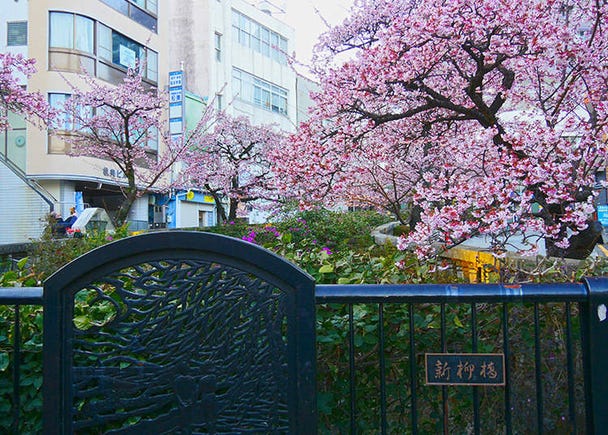 There are a several small bridges along the Itogawa River, each offering Instaworthy selfie spots. Two particularly popular areas around around the Shinyanagi Bridge (shown above) and Dragon Bridge (below).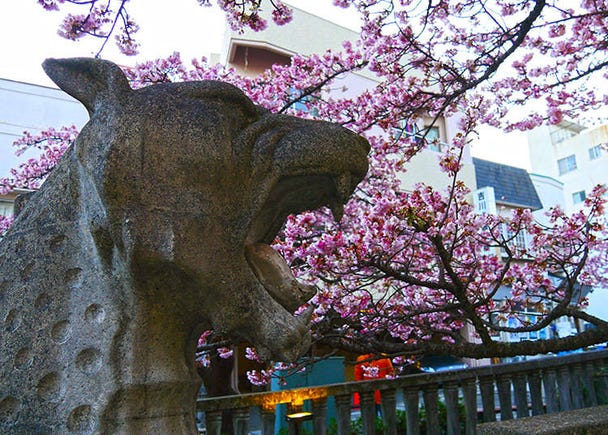 Also check out the many curious sculptures along the promenade which give a nod to Atami's port heritage.
糸川桜まつり

Address

Chūōchō, 3, Atami-shi, Shizuoka, 413-0015

Nearest Station

Atami Station


About a 10-15 minute walk from Atami Station. Go down the covered shopping street in front of the station and continue along the main street down the hill.
Bonus: What to do after seeing the cherry blossoms in Atami?
Depending on the season, you might be able to catch not only the Atami sakura blossoms, but also the famous plum blossoms! These sweet, fragrant flowers come into bloom in early to mid-February as well, and the Atami Plum Garden is a popular scenic spot to see these beauties.

Also, as Atami is a spa town, don't miss the chance to soak in soothing onsen waters before your trip back to Tokyo!
Address

8-11, Baiencho, Atami-shi, Shizuoka, 413-0032
View Map

Nearest Station

Kinomiya Station (JR Ito Line / JR Ueno Tokyo Line)
10 minutes on foot


Phone Number

0557-86-6218
Other Cherry Blossom Articles
*This information is from the time of this article's publication.
*Prices and options mentioned are subject to change.
*Unless stated otherwise, all prices include tax.