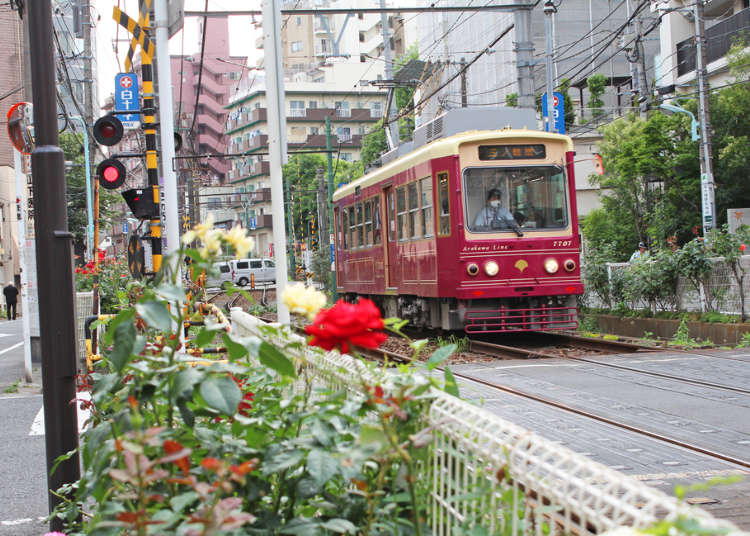 Tokyo has an adorable little tram called the Sakura Tram! It's the nickname for the Toden Arakawa Line, one of only two streetcar lines serving the massive metropolis.

The Sakura Tram runs along Tokyo's north, from Waseda Station via Ikebukuro, Sugamo, and Arakawa before arriving at Minowabashi. The tram takes you through idyllic alleys and along residential areas, showing you an entirely different side of Tokyo that you'd see if you gazed out of the windows of, say, the Yamanote Line.

Flowers, traditional buildings, and the beauty of everyday life in Tokyo make a ride on the Arakawa Line so memorable. In spring, the streetcar offers breathtaking views of cherry blossoms, hence its nickname: Sakura Tram.

Not just traveling on the Arakawa Line but actually getting off and exploring a bit really means exploring Tokyo off the beaten path and seeing places that can't be found in guidebooks. The best way to enjoy Arakawa Line sightseeing is to buy a Toden one-day ticket for 400 yen (or 200 yen for kids) at a ticket machine, an office, or inside the tram itself.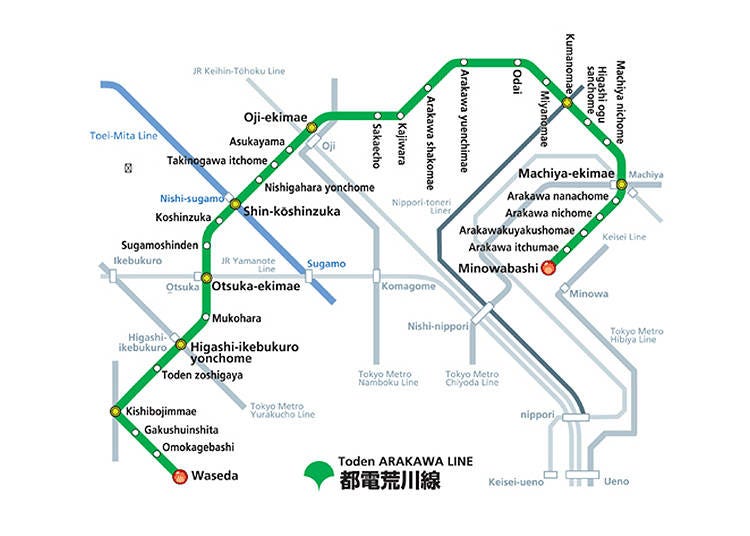 Tokyo Sakura Tram map
(Kishibojinmae Station) Kishimojin Temple: How a Demon's Daughter Became a Deity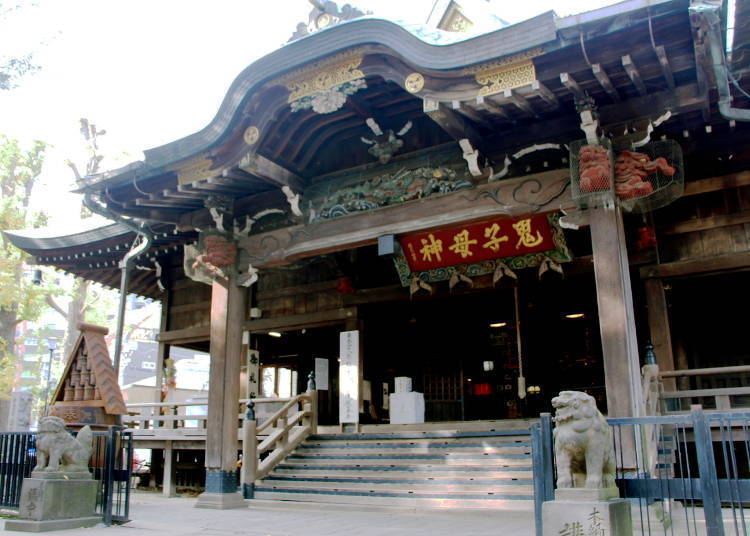 Our first stop is Kishibojinmae Station and Kishimojin Temple almost right in front of it. Legend has it that Kishimojin, the Buddhist deity enshrined at this wonderful, ancient temple, was once a rather gruesome demon woman known for kidnapping – and eating – human children.

Only when she temporarily lost one of her own did she understand the pain of losing a child. She renounced her vile ways and instead became a guardian deity of children and childbirth.

Kishimojin Temple is a go-to power spot for expecting parents and little ones. On the precincts, 700-year old ginkgo trees provide cool shade and shelter from the rain, while Japan's oldest sweets shop is located right next to the main hall. It'd be a waste to not spend a few yen and indulge in Tokyo's nostalgic candy, especially since it is rumored that this shop was an inspiration for Studio Ghibli.
Address

3-15-20, Zoshigaya, Toshima-ku, Tokyo, 171-0032
View Map

Nearest Station

Kishibojinmae Station (Toden Arakawa Line)


Phone Number

03-3982-8347
(Koshinzuka Station) Enjoy Green Tea and Traditional Sweets at Ippukutei Teahouse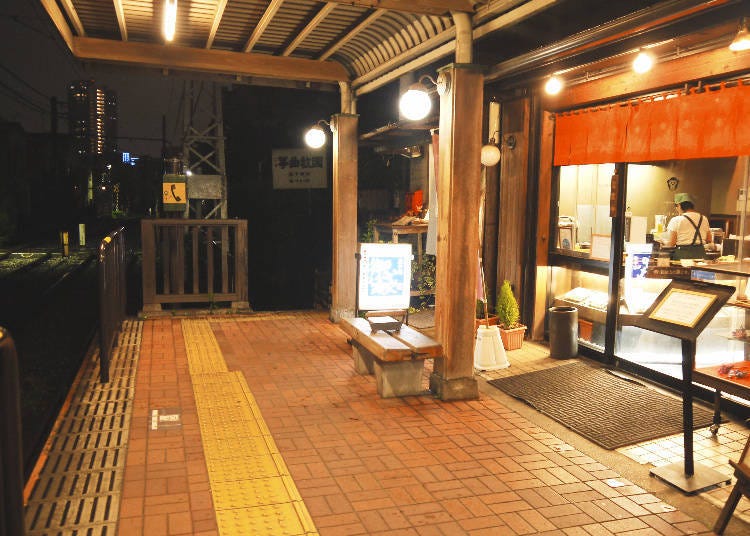 The next stop is Koshinzuka Station and a teahouse called Ippukutei right in front. The atmospheric shop is a beautiful manifestation of traditional Japan in modern times, serving Japanese cuisine and traditional sweets.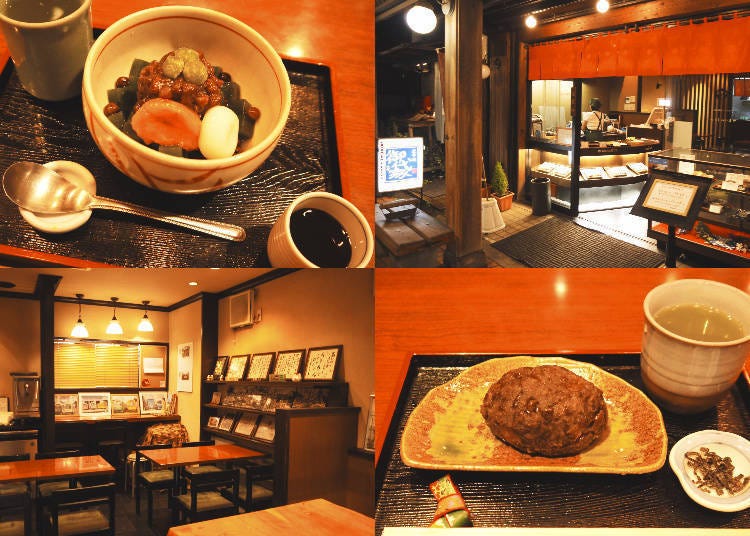 Ippukutei is famous for their ohagi, a traditional dessert of a coarse, sweet rice coated in sweet red bean paste. In contrast to mochi, rice cakes, ohagi are firmer to the bite and the inverted versions are often coated with sesame, thus making for a mild dessert and substantial snack.
甘味処 いっぷく亭

Address

2-32-10, Nishi-Sugamo, Toshima-ku, Tokyo 170-0001, Japan

Hours: 10:00 a.m. – 6:00 p.m. (last order at 5:30 p.m.)
Closed: New Year's (December 29 – January 2)
(Koshinzuka Station) Sugamo Shopping Street: The Seniors' Harajuku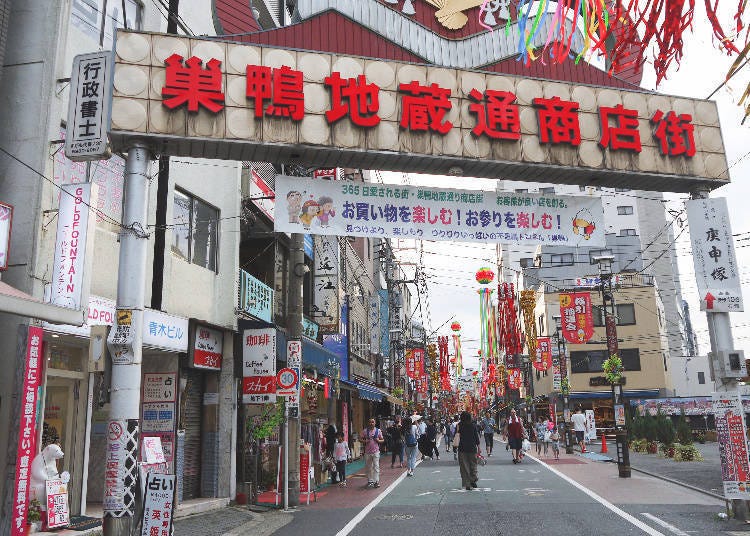 Not far away from Koshinzuka Station is Jizo-dori, the street of the "splinter-pulling monk." It's a shopping street often called the Harajuku of Tokyo's seniors, as numerous shops sell clothes and miscellaneous goods at bargain prices and restaurants and food stalls will tickle your taste buds with local delights. While you are likely not going to go on a massive shopping spree here, it's a wonderfully laid-back, local place that offers excellent snacks and souvenirs.
Address

3, Sugamo, Toshima-ku, Tokyo, 170-0002
View Map

Nearest Station

Sugamo Station (JR Yamanote Line / Toei Mita Line)
2 minutes on foot


Phone Number

03-3918-2101
(Koshinzuka Station) Maruji's Mysterious Red Underwear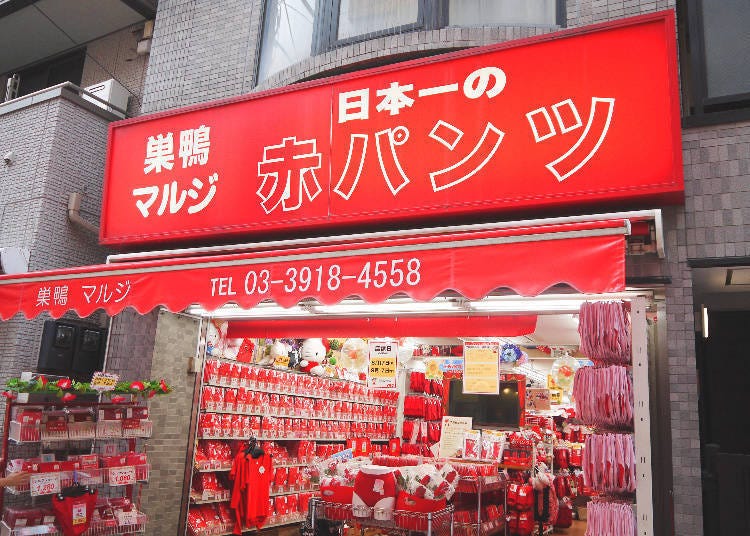 Located in Sugamo's shopping street is Maruji Akapantsu, a shop with a name that literally translated to "red panties" – and that's what you're going to get.

Rumor has it that wearing these red panties during New Year's will up your luck quite a notch, so maybe it's time to start playing lotto in the new year! In any case, they make for a fun souvenir and are quite comfortable, so don't hesitate to buy a pair for yourself.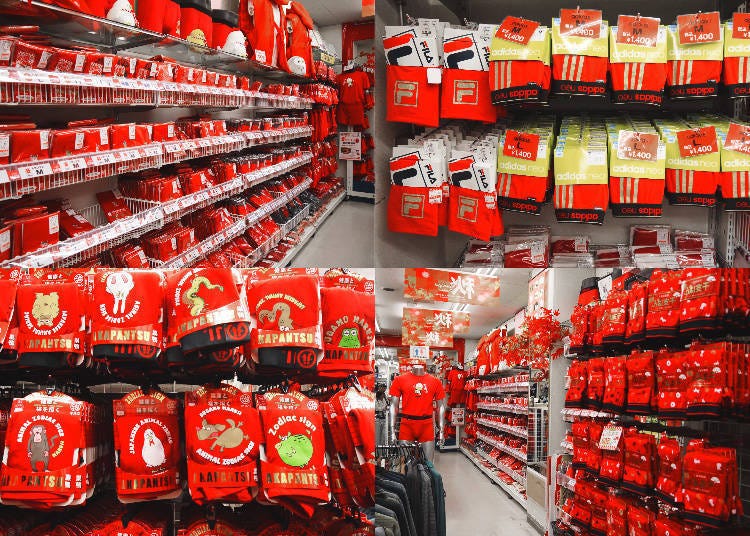 They come in various designs and for all genders, so there's no need to hold back. Maruji even collaborated with various sports brands to give their famous undergarment a functional touch! If you want to opt for a cuter version, why not get a pair with your zodiac on it?
Address

4-21-11, Sugamo, Toshima-ku, Tokyo, 170-0002
View Map

Nearest Station

Koshinzuka Station (Toden Arakawa Line)
8 minutes on foot


Phone Number

03-3910-1409
(Oji-ekimae Station) Savory Seafood at Sushi Yanoyasuke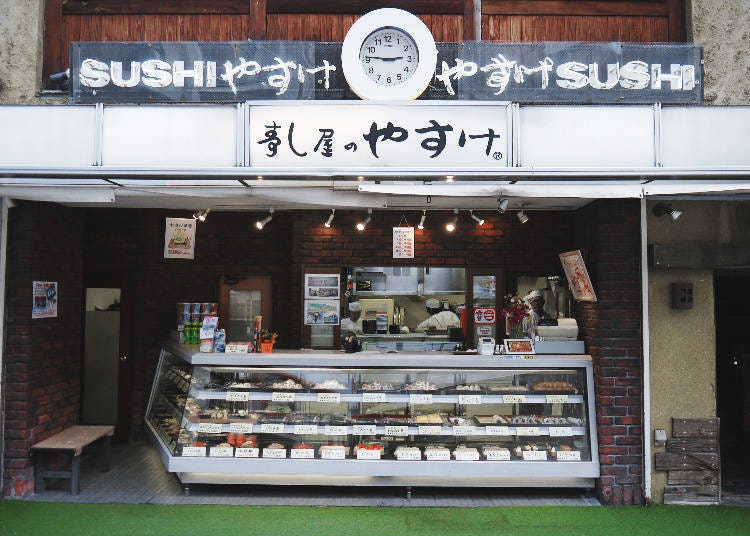 When in Tokyo, you'll want to enjoy Japanese sushi at least once. Our recommendation is Sushi Yanoyasuke at the Arakawa Line's Oji-ekimae Station, a shop specializing in take-out sushi creations. They're amazingly delicious and perfect for enjoying in the nearby Asukayama Park.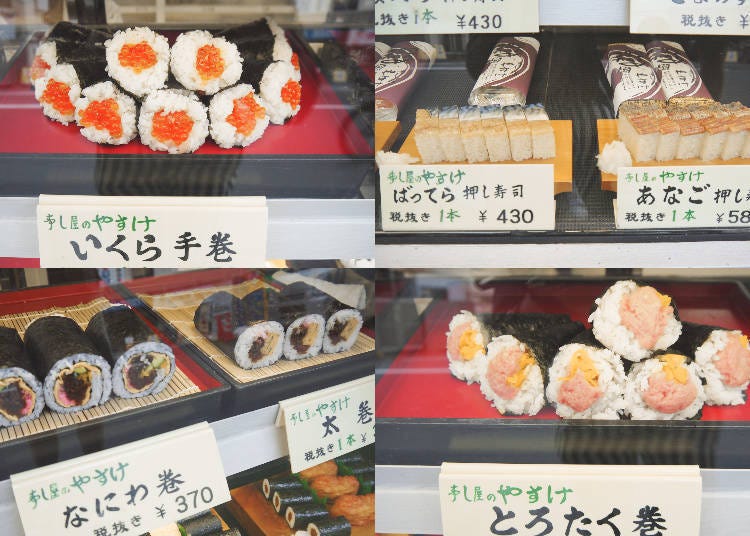 One of the best parts about Sushi Yanoyasuke is that their rolls are plentifully stuffed while available for only 250 yen each, an unbelievably reasonable price. The taste is so exquisite, you won't be able to stop until the entire roll is gone.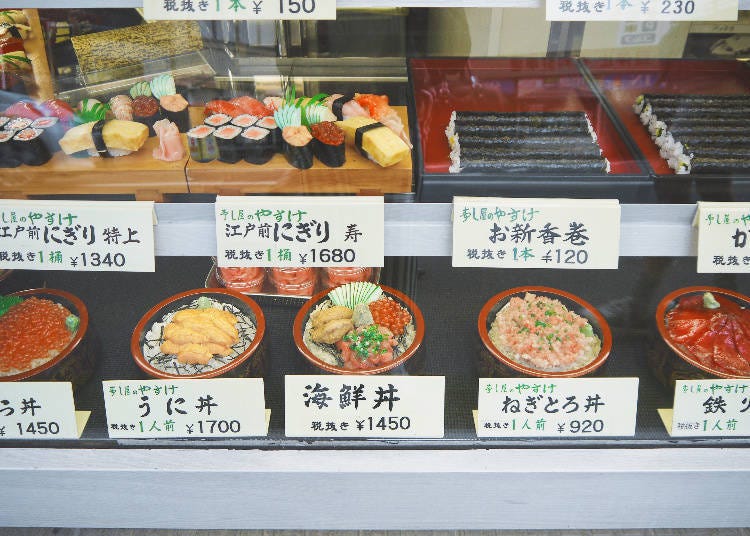 Next to the tasty rolls Sushi Yanoyasuke also offers oshizushi (pressed sushi), nigiri, and even sushi bowls. It's a great choice for a casual and local lunch, especially if you'd rather eat outside than in a restaurant.
寿し屋のやすけ

Address

1-5-11 Oji, Kita-ku, Tokyo 1140002, Japan

Hours: 09:00 a.m. - 9:00 p.m.
Closed: always open
(Oji-ekimae Station) Relax Body and Mind at Asukayama Park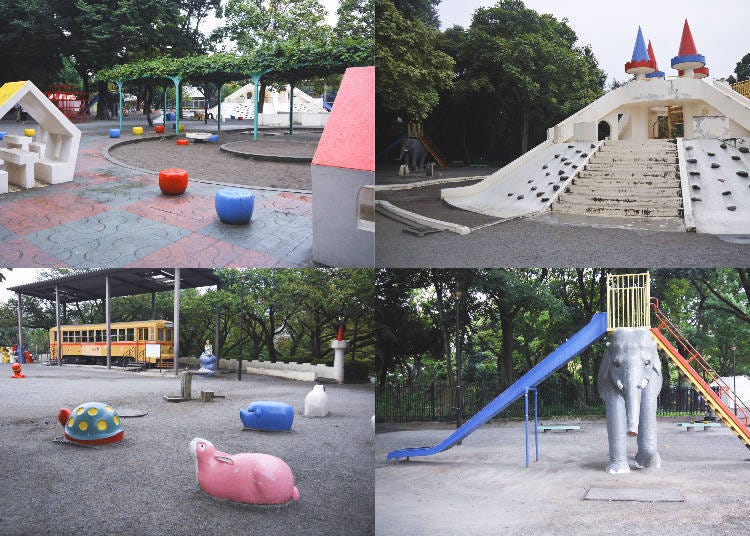 Asukayama Park, right next to Arakawa Line's Oji-ekimae Station, isn't just a regular park. There are three museums inside, and numerous festivals and events are held throughout the year, providing lush greenery and numerous activities for the whole family. In spring, the park is famous for its magnificent cherry blossoms.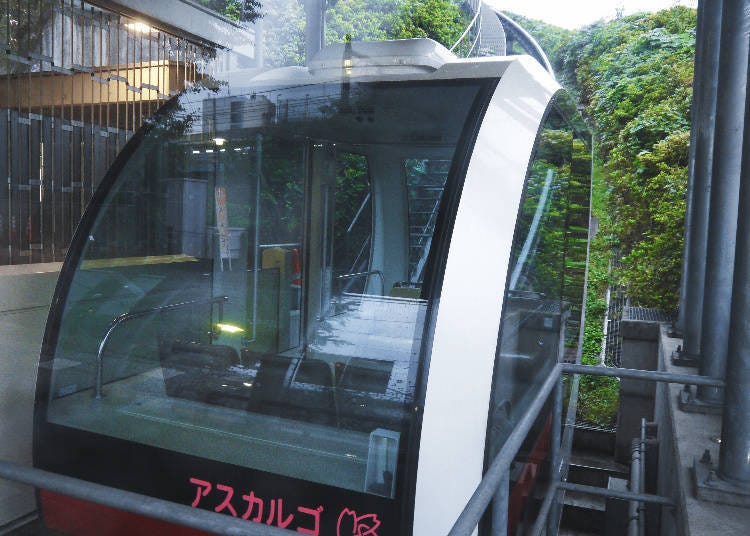 Another big highlight of Asukayama Park is the tiny monorail. It's entirely free to ride and takes you up the hill. It's a brief ride but charming nonetheless.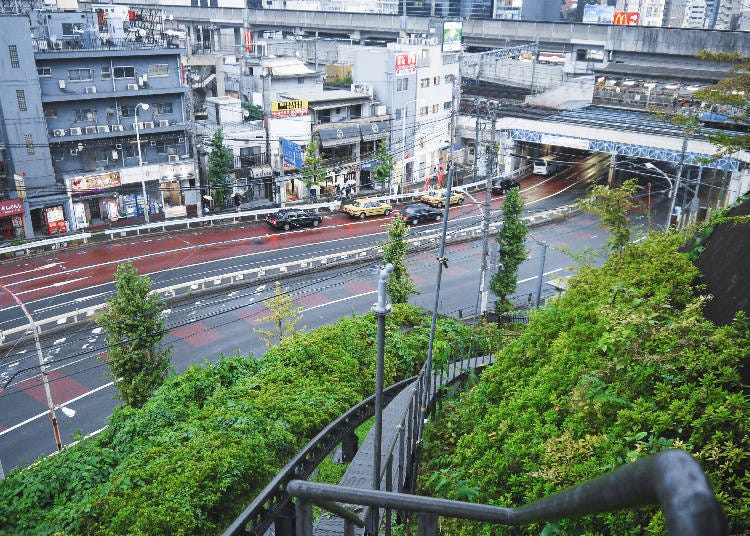 On top of said hill awaits a beautiful view of the area, surrounded by lush nature. Throughout the park, you'll find various statues and monuments.
Address

1, Oji, Kita-ku, Tokyo, 114-0002
View Map

Nearest Station

Oji Station (JR Keihin-Tohoku Line / Tokyo Metro Namboku Line)
1 minute on foot


Phone Number

03-3908-9275
(Oji-ekimae Station) Nanushinotaki Park's Famous Waterfalls
Right next to Asukayama Park is Nanushinotaki Park, with the most waterfalls in all of Tokyo – there are four in total. One is even connected to a little river, making for the stunningly beautiful scenery you wouldn't expect in a big city like Tokyo.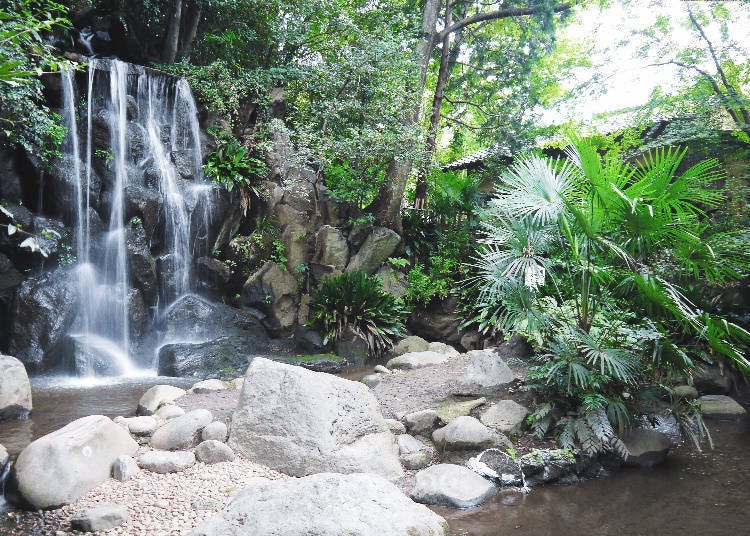 It's a great spot to take a break and refresh both mind and body amidst lush nature. Many people believe that one has to go to Tokyo's suburbs or even further to take a deep breath surrounded by calming greenery, but look no further than Asukayama Park on the Arakawa Line. There's no entrance fee either, so it's the perfect spot just to pop by.
Address

1-15-25, Kishimachi, Kita-ku, Tokyo, 114-0021
View Map

Nearest Station

Oji Station (JR Keihin-Tohoku Line / Tokyo Metro Namboku Line)
10 minutes on foot


Phone Number

03-3908-9275
(Kajiwara Station) Akemi's Delicious Confectionery
Akemi is a confectionery store on Arakawa Line's Kajiwara Station. It sells sweets following the theme of the Arakawa Line itself. They make for beautiful souvenirs for friends and family at home and tasty mementos of your off-the-beaten-path trip.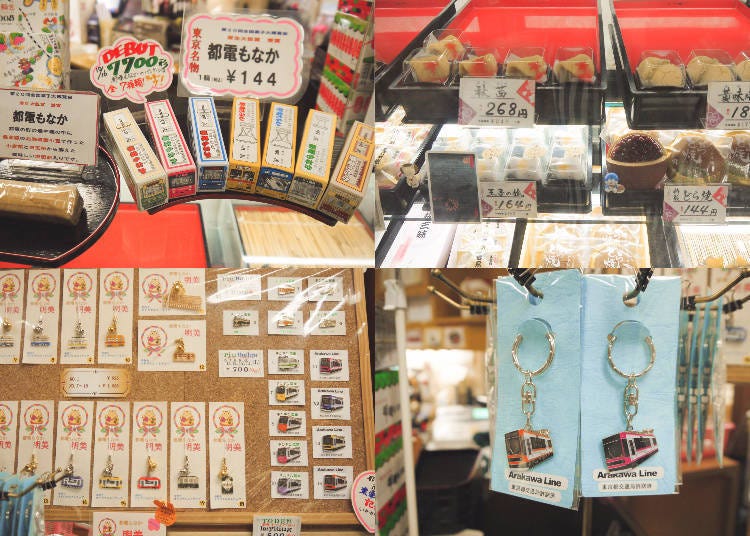 Of course, Akemi also sells regular traditional sweets and traditional Japanese confectionery. If you have a sweet tooth, make sure to dauntingly try those that pique your interest!
都電もなか本舗 明美製菓

Address

3-30-12 Horifune, Kita, Tokyo 1140004, Japan

Hours: 10:00 a.m. – 7:30 p.m.
Closed: Mondays
(Arakawa-shakomae Station) Exploring the Toden Memorial Square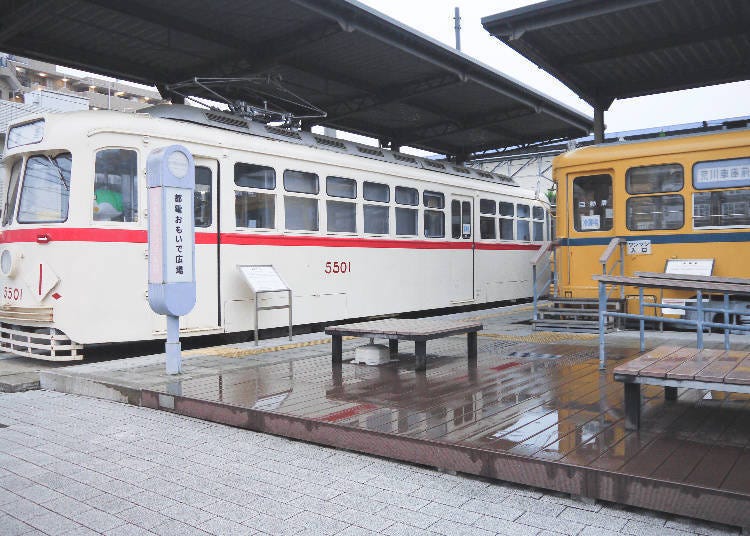 Traveling around Tokyo's north with the Toden Arakawa Line might have you wonder about the history of the little streetcar.

If you're taking your tour on a Saturday, Sunday, or national holiday, make a stop at the Toden Memorial Square at Arakawa-shakomae Station. The spot showcases old trains and even lets you board them, so it's a special piece of history, especially for train and railway fans.
Toden's train garage is just next to Memorial Square and in the evening, you'll get to see all the trams returning for the night. It's a fun spectacle that is rare to see in Tokyo. Keep in mind, though, that you cannot explore the parked cars like the exhibits at the square.
Toden Omoide Hiroba (Toden Memorial Square)

都電おもいで広場

Address

3-30-12 Horifune, Kita, Tokyo 1140004, Japan

Hours: 10:00 a.m. - 4:00 p.m.
Closed: weekdays, New Year's from December 29 to January 3
(Minowabashi Station) Stroll Through Joyful Minowa Shopping Street
The Joyful Minowa Shopping Street is a wonderful example of Japan's shopping street culture. Filled with smaller and bigger local shops and chains, few tourists ever find their way here, so you'll dive into a lively, local atmosphere filled with both buzz and warmth.

From groceries to clothes, Joyful Minowa Shopping Street is a fascinating profile of Tokyo's day to day life, honest and unpretentious.
Joyful Minowa Shopping Street

ジョイフル三ノ輪

Address

1-18-5 Minamisenju, Arakawa-ku, Tokyo 1160003, Japan

Hours and holidays vary by store.
(Minowabashi Station) Okashi Rakuichi, Tokyo's Candy Paradise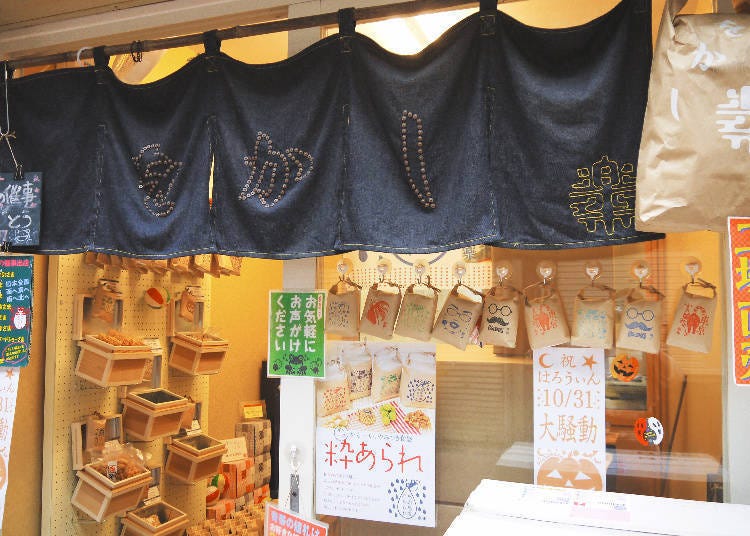 The shop Okashi Rakuichi, literally "sweets marketplace," is close to Arakawa Line's last stop, Minowabashi. This fun place is dedicated to selling traditional Japanese candy and sweets but enhanced with new ideas. You even get to sample some of the many different varieties!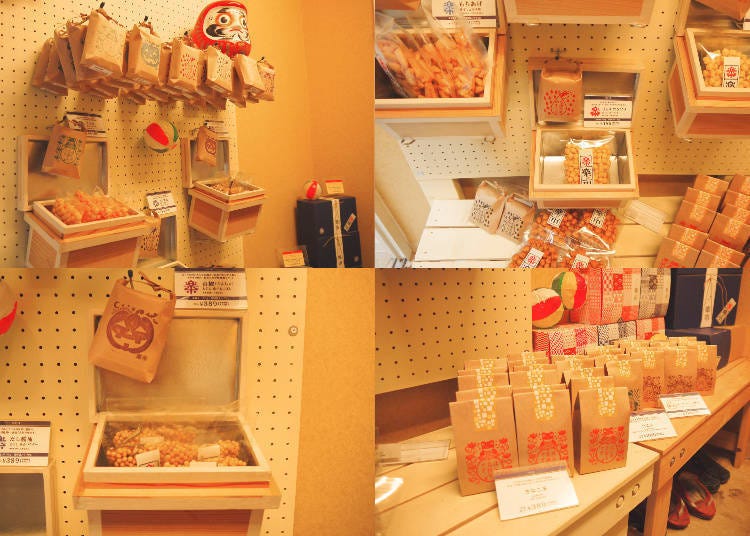 The treats sold have a unique texture and taste, almost a bit like Japanese rice crackers. For foodies, they certainly are a great idea for souvenirs! One bag is available for 389 yen (tax included). Even the packaging is unique, as it resembles a rice bag but is decorated with a cute print.
をかし楽市

Address

1-25-11 Minamisenju, Arakawa-ku, Tokyo 1160003, Japan

Hours: 10:00 a.m. - 6:30 p.m.
Closed: irregularly, please inquire by phone.
(Minowabashi Station) The Best Soba on the Arakawa Line at Sunabaso Honke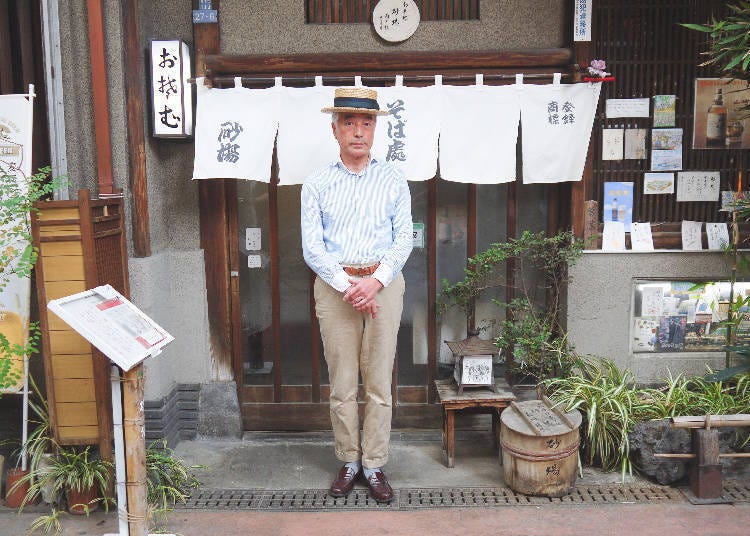 Soba, buckwheat noodles, are one of Japan's most traditional dishes and are simple, healthy, and incredibly delicious. Sunabaso Honke serves you this classic dish. According to the owner, the restaurant dates back to 1924, and although it has undergone numerous renovations, it has never lost its traditional charm.
The owner's recommendation is tenzaru soba, cold buckwheat noodles served with plenty of tempura. Said tempura consists of shrimp and four different kinds of seasonal vegetables.

In our example, the veggies were carrot, bunshimeji mushrooms, potato, and green peppers. Generally, the tempura harmonizes just perfectly with the cold soba – this dish is a classic representative of Japanese cuisine!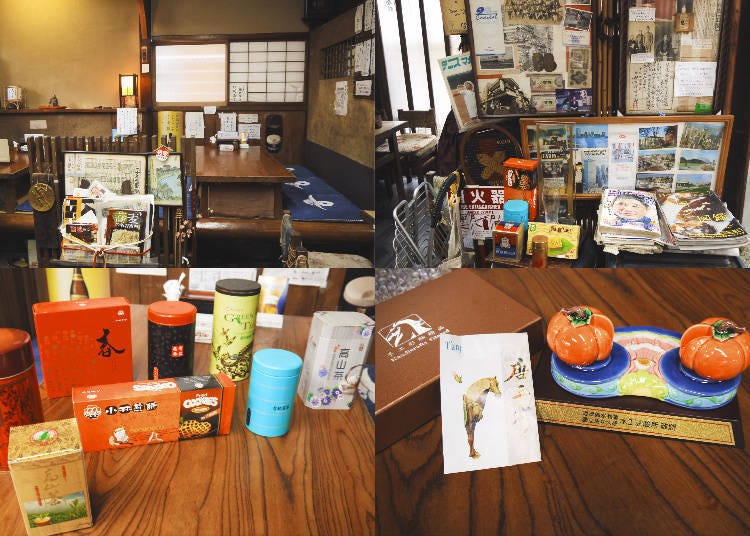 The owner himself is friendly and talkative, and his shop is dotted with souvenirs and mementos from his many international guests. This doesn't only make for a warm, welcoming atmosphere but also for interesting chats as you enjoy your soba!
砂場総本家

Address

1 -27-6 Minamisenju, Arakawa, Tokyo 116-0003

Hours: 10:30 a.m. - 8:00 p.m.
Closed: Thursdays (and two times each month irregularly, please inquire by phone)
Tokyo is a big city and there are many things to see, which is exactly why local neighborhoods are sadly often left unexplored. Hop on the Toden Arakawa Line and get to know a different side of Tokyo – slower, warmer, and full of charming surprises!
*This information is from the time of this article's publication.
*Prices and options mentioned are subject to change.
*Unless stated otherwise, all prices include tax.