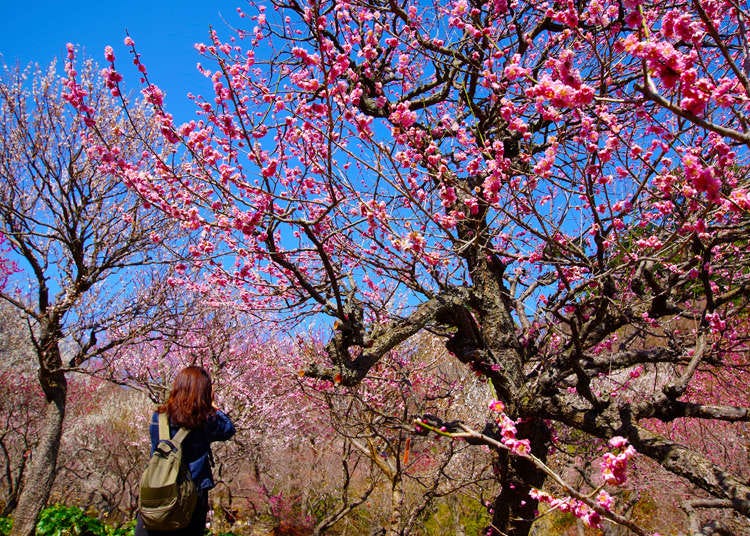 Plum blossoms coming into bloom is one of the first and most exciting signs of spring in Japan. Since Japanese plum blossoms bloom in February, they offer a perfect preview of cherry and other spring flowers that will soon appear!

Called 'baika' in Japanese, plum blossoms can easily be mistaken for sakura. However, there are some differences that can help to distinguish these two equally beautiful flowers.

Read on as we share when and where to catch plum blossoms in and around Tokyo!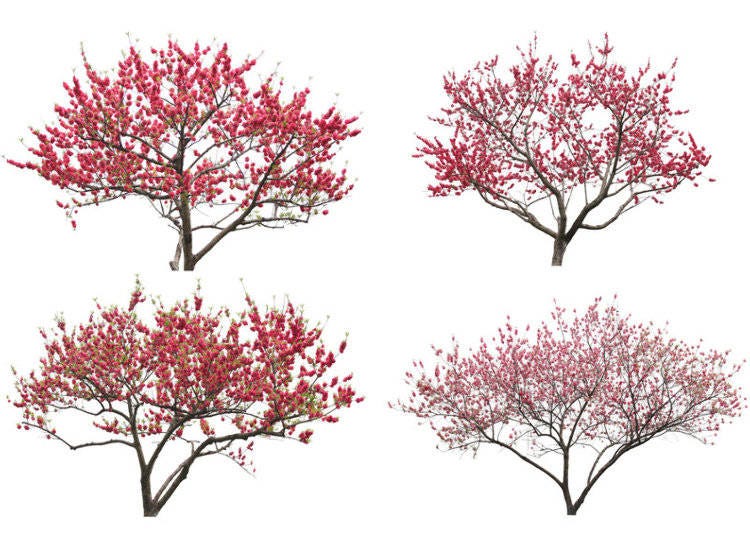 Not to be confused with the fruit known as 'plum' in English, 'ume,' the plums found in Japan, come from an Asian tree species called 'Prunus mume.' It is also known as the Chinese plum, or Japanese apricot.

In fact, it is very closely related to the apricot. The appearance of baika in late winter signals the changing of seasons, and a sign that warmer weather is on its way.

Japanese plum trees are not only famed for their flowers, but their fruit is known as 'ume.' These plums are known for their sour flavor and are often pickled into 'umeboshi' to be used in various dishes, or made into a popular liqueur called 'umeshu,' which is sometimes referred to as 'plum wine' in the west.
Top 9 Places to See Plum Blossoms in Tokyo
Yushima Tenjin Shrine is said to have been constructed in 458. It was later devoted to the spirit of Michizane Sugawara, a politician and scholar. The precincts were selected by a famous Japanese ukiyo-e artist in the Edo era, Hiroshige Utagawa as a subject for his One Hundred Famous Views of Edo and was very popular as a recreation area for local Edo people. Plum trees were Michizane Sugawara's favorite and approximately 300 plum trees are planted here and in the peak of blossoming, February, the shrine receives a lot of visitors.
Address

3-30-1, Yushima, Bunkyo-ku, Tokyo, 113-0034
View Map

Nearest Station

Yushima Station (Tokyo Metro Chiyoda Line)
2 minutes on foot


Phone Number

03-3836-0753
2. Koishikawa Korakuen Gardens
The garden was originally created by Yorifusa Tokugawa, the founding member of the Mito-Tokugawa family in the early Edo period (1603-1868). It is a circuit pond garden with an artificial hill blessed with the beauty of trees and water. The pond (Daisensui) is the center of the landscape and represents Lake Biwa in Shiga Prefecture, and it is said that people used to enjoy boating on the pond in the old days. In the garden is a big 70-year-old tree of weeping cherry, which creates impressive scenery when it blooms in spring. Seasonal colors such as plum and cherry blossoms, Japanese irises, and autumn foliage make the garden landscape even more magnificent.
Address

1, Kouraku, Bunkyo-ku, Tokyo, 112-0004
View Map

Nearest Station

Iidabashi Station (JR Chuo Main Line / Tokyo Metro Tozai Line / Tokyo Metro Yurakucho Line / Tokyo Metro Namboku Line / Toei Oedo Line)
8 minutes on foot


Phone Number

03-3811-3015
The Kameido Tenjin Shrine is where Michizane Sugawara is enshrined. This site has been known for its wisteria flowers since the Edo Period, and flower calendars for different seasons are available. The Ume (Japanese plum) Festival is held between late February and early March, when about 300 red-and-white Japanese plum blossoms bloom. Also of note are three bridges — Otoko-bashi (male bridge), Taira-bashi (flat bridge) and Onna-bashi (female bridge) — that symbolize the past, present and future.
Address

3-6-1, Kameido, Koutou-ku, Tokyo, 136-0071
View Map

Nearest Station

Kameido Station (Tobu Kameido Line / JR Sobu Line)
14 minutes on foot


Phone Number

03-3681-0010
The garden was created and opened in 1906 by Sankei Hara, who made a fortune in the silk-reeling industry and from silk trading. Inside the spacious Japanese garden, old historical buildings moved from Kyoto and Kamakura (ten of National Important Cultural Properties, three of Tangible Cultural Properties designated by Yokohama) are neatly placed. You can enjoy the historical buildings such as the three-story pagoda from old Tomyoji, tea houses and houses with steep rafter roofs along with views in harmony with around 600 plum trees.
Address

58-1, Honmokusannotani, Naka-ku, Yokohama-shi, Kanagawa, 231-0824
View Map

Nearest Station

Negishi Station (JR Negishi Line)
10 minutes by bus


Phone Number

045-621-0634
Located on Tokyo's west side, this municipal park is home to the Setagaya Plum Blossom Festival (Setagaya Ume Matsuri), which takes place from February until early March. Although the park is somewhat on the small side, it has around 650 plum trees, making for a beautiful scene.
羽根木公園

Address

4-38-52 Daita, Setagaya-ku, Tokyo 1550033 Japan
6. Shinjuku Gyoen National Garden
Shinjuku Gyoen is a spacious garden that was established in 1906 as an Imperial Garden. It consists of three distinct styles: an expansive Landscape Garden, a symmetrically arranged Formal Garden, and a calm Japanese Traditional Garden. These well-designed gardens are said to be a masterpiece of garden landscapes in Japan. About 300 plum trees bloom here.
Address

11 Naito-cho, Shinjuku-ku, Tokyo, 160-0014
View Map

Nearest Station

Shinjuku-Gyoemmae Station (Tokyo Metro Marunouchi Line)
5 minutes on foot


Phone Number

03-3350-0151
7. Ushi-Tenjin Kitano Shrine
Said to have been founded in 1184, Ushi-Tenjin Kitano Shrine has around 300 plum trees. Around 90% of the Japanese plum blossoms are red, adorning the grounds in a very vivid color. Also, Ushi-Tenjin Kitano Shrine is said to have the only weeping plum blossom tree in Tokyo. During its plum festival, which starts in early February, the shrine offers plum-shaped sweets and a non-alcoholic rice drink called 'amazake.'
Ushi-Tenjin Kitano Shrine

牛天神北野神社

Address

1 Chome-5-2 Kasuga, Bunkyo City, Tokyo 112-0003
Originally a temple garden, Keio Mogusaen has breathtaking hilltop views of the neighboring area and is best known for its 500 plum trees which bloom in early February to mid-March.
京王百草園

Address

560 Mogusa, Hino, Tokyo 191-0033
Opened in 1886, Atami Plum Garden has 464 apricot trees from 58 different species planted in the garden. Some of them start to bloom as early as mid-December. Apricot festivals are held from early January to early March every year, and the peak of the flower-viewing season is from late January to mid-February.
Address

8-11, Baiencho, Atami-shi, Shizuoka, 413-0032
View Map

Nearest Station

Kinomiya Station (JR Ito Line / JR Ueno Tokyo Line)
10 minutes on foot


Phone Number

0557-86-6218
When Will Japanese Plum Blossoms Bloom in 2023 (Forecast per <@Japan Meteorological Agency|a=https://www.data.jma.go.jp/sakura/data/phn_000.html@>)
Tokyo

Around February 1
Around February 14
Sapporo (Hokkaido)

Around April 20
Sendai

Around March 15
Osaka

Around February 26
Kyoto

Around March 10
Around January 23
6 Ways to tell plum blossoms and cherry blossoms apart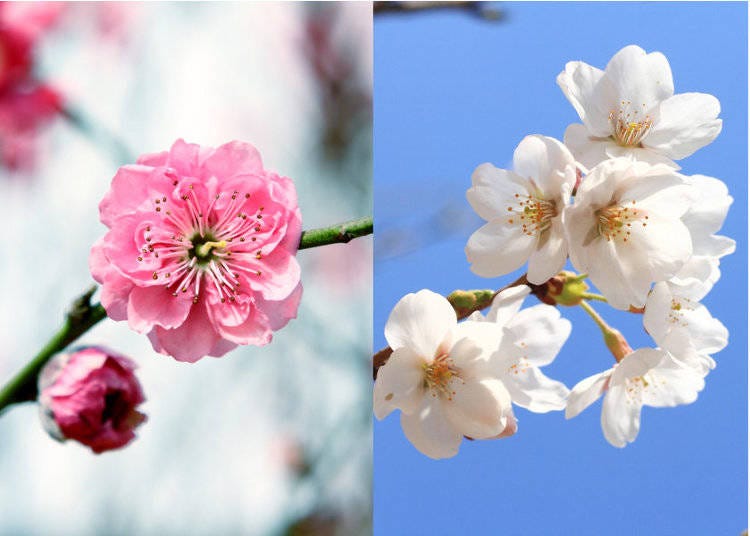 Plum and Sakura: Note the characteristic notch in the petal on the right
To the untrained eye, it can be quite easy to mistake baika for sakura. Once you understand a few of the major differences, however, there should be little difficulty distinguishing between the two flowers.

1. Timing: The first difference between the two is the time of flowering; plum blossoms typically appear before cherry blossoms (February to mid-March), although there may be some overlap. The first baika can be seen as early as February, while sakura usually blooms later on in the spring season.

2. Petals: One of the easiest ways to tell the two flowers apart is by their petals. Cherry blossoms are known to have a split at each petal tip, while plum blossoms always have a rounded petal tip. In addition, look at the blossom position: plum flowers tend to stick up directly from the branches.

3. Buds: A single bud from a cherry tree can have multiple flowers grow from it. A plum blossom bud will only have a single flower. The shape of the buds as different as well; sakura buds are oval-shaped and baika buds are round.

4. Bark: The bark of cherry trees are typically light grey, with horizontal lines called lenticels. Plum trees, which lack lenticels, are typically a much darker brown color.

5. Tree Shape: When viewed from a distance, plum trees tend to have somewhat of an oval shape, while cherry trees will have more of an umbrella shape.

6. Fragrance: Plum blossoms have a stronger, sweeter scent. Sakura, on the other hand, has a sweet, but much fainter aroma.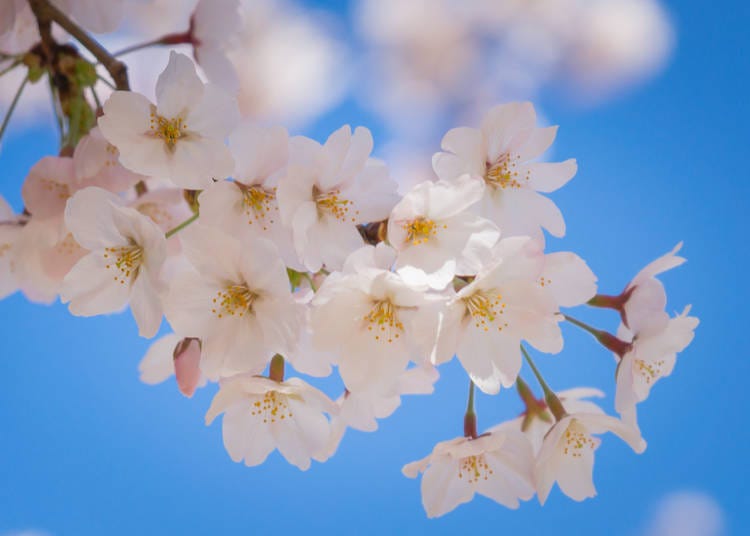 Sakura. Note the characteristic notch in the petal and the longer green stem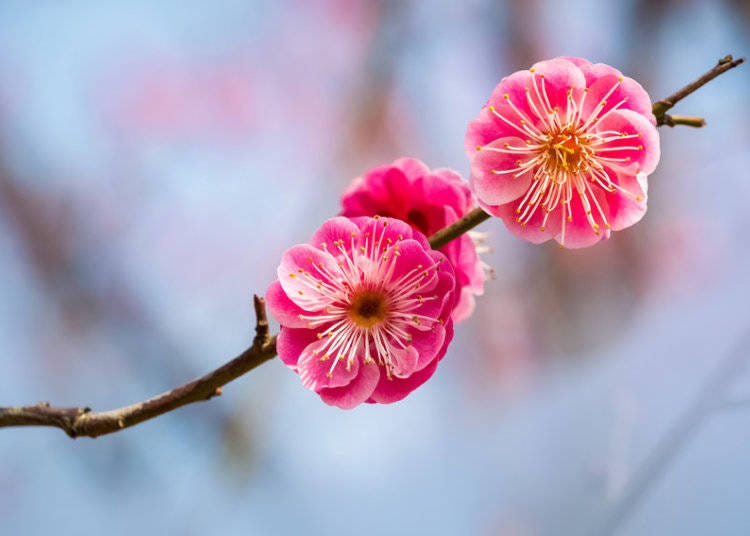 Beautiful, aromatic plum blossoms
With these points in mind, you can enjoy the beauty of both flowers, and have an even greater appreciation for baika, the underrated star of Japan's 'hanami' (flower viewing) season!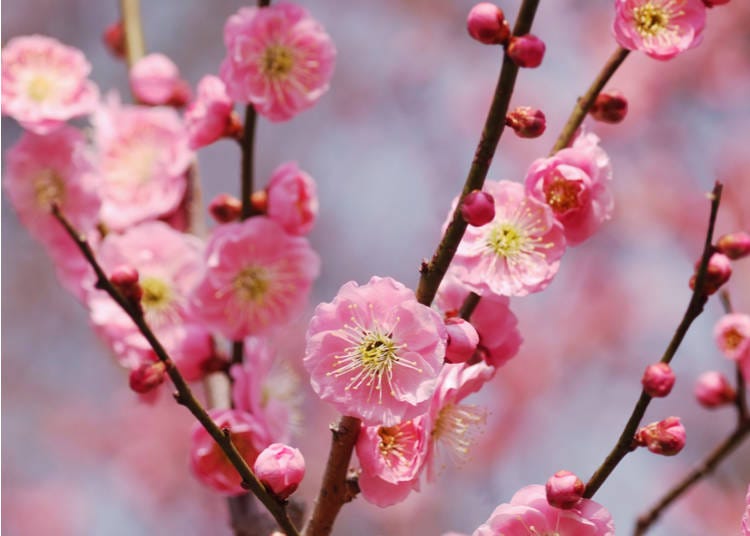 Plum blossom. Note the reddish color of the bud and lack of notch in petal.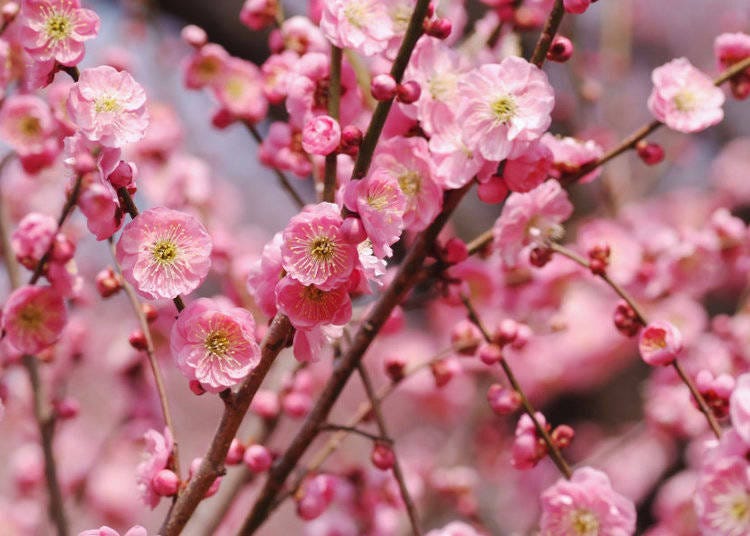 Plum blossoms. Note the reddish color of the bud.
*This information is from the time of this article's publication.
*Prices and options mentioned are subject to change.
*Unless stated otherwise, all prices include tax.
Limited time offer: 10% discount coupons available now!