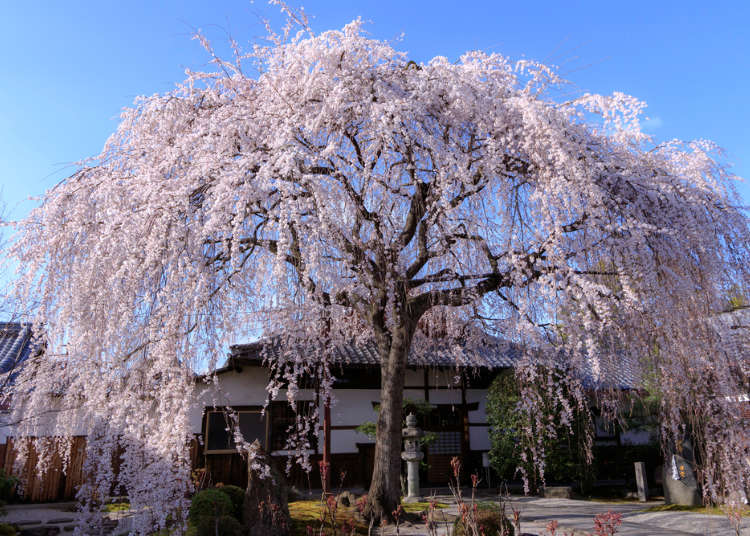 Japan is full of famous places where you can see sakura, or cherry blossom trees. One of the cherry blossom trees that stands out the most is called the "Shidarezakura", or "weeping cherry tree", which has many flowers blooming on drooping branches.

There are many types of weeping cherry trees, and each one boasts its own unique beauty. Also, there are many famous places sporting this sakura variety. Find out where they are and when they're in full bloom so you can see them, too!
1. What are the Characteristics of Weeping Cherry Blossom Trees?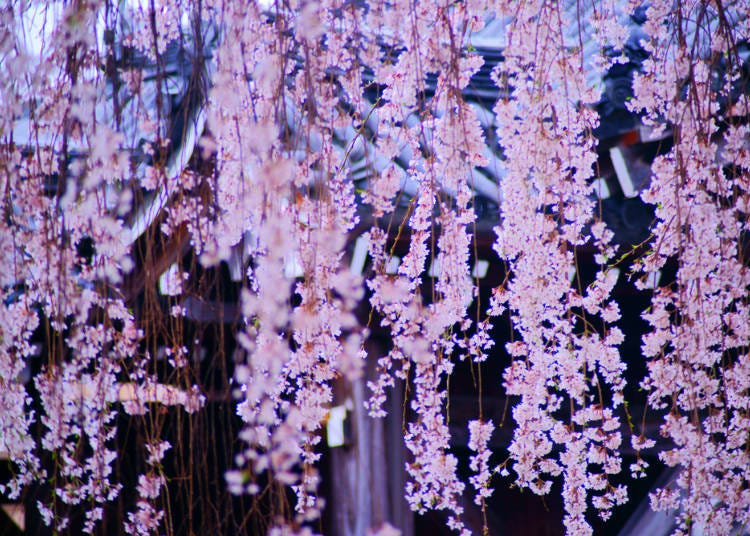 Fang ChunKai / Shutterstock.com
Weeping cherry blossom trees (しだれ桜) are characterized by their thin, drooping branches that hang down like threads, also earning them the nickname "itozakura" (thread cherry blossoms). These popular trees have a long history dating back as far as the Heian Period 1200 years ago.

It is actually a mutation that causes the branches to sag. Not all weeping cherry trees weep. These trees also have very long lifespans. One famous old sakura tree in Fukushima Prefecture, called the Miharu Takizakura, is said to be over 1000 years old!

The color of the flowers depends on the type of weeping cherry tree, and can vary between pink, white, and red.
2. Flowering Times and Best Times to See Weeping Cherry Blossoms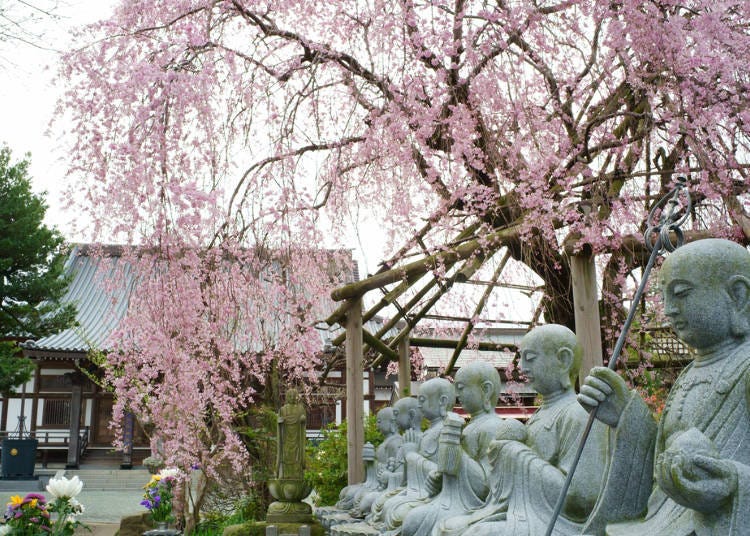 Though times vary by region, weeping cherry trees usually bloom around late March and reach full bloom in April. Compared to the Somei-Yoshino cherry tree, some bloom about a week earlier, and some bloom later.
3. Types of Weeping Cherry Blossom Trees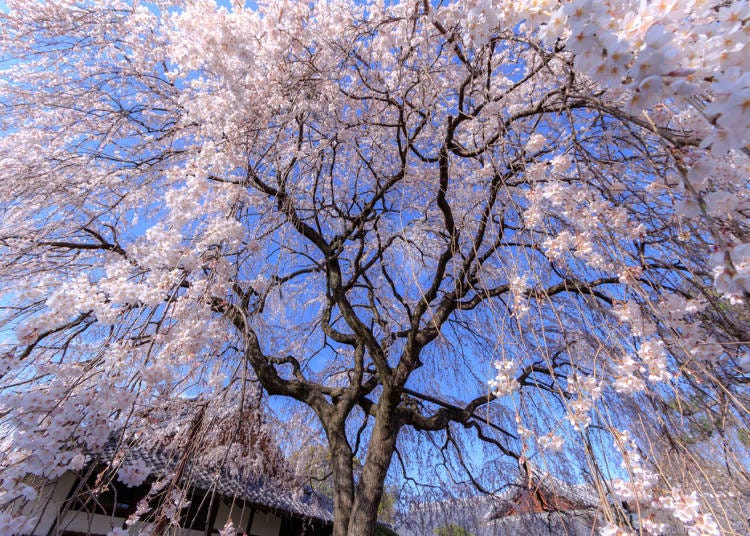 "Shidarezakura," or "weeping cherry tree," is the general term for cherry blossom trees with sagging branches. Here are some variations.
i. Yae-Beni-Shidare (八重紅枝垂)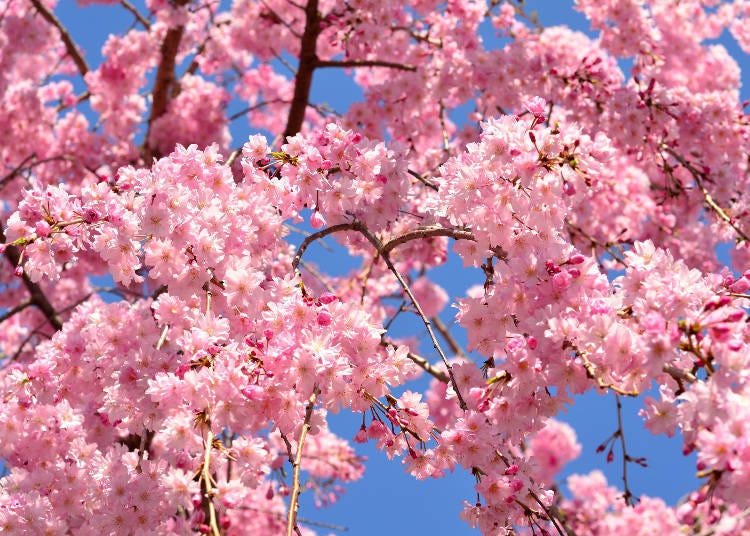 Image Source: PIXTA
This cherry blossom tree is one type of the Edo-higan variety. The leaves appear more volumi-nous due to the double-flowered crimson cherry blossoms, which make it stand out even from a distance. Because the former mayor of Sendai City, Yoji Endo, made efforts to popularize this tree, it has also earned other nicknames such as Endo Sakura, Sendai Yaeedari, and Sen-dai Kozakura. It has also been called the Heian Beni-shidare, named after the Yae-Beni-Shidare tree in Kyoto's Heian Shrine.
ii. Kiyosumi-Shidare (清澄枝垂)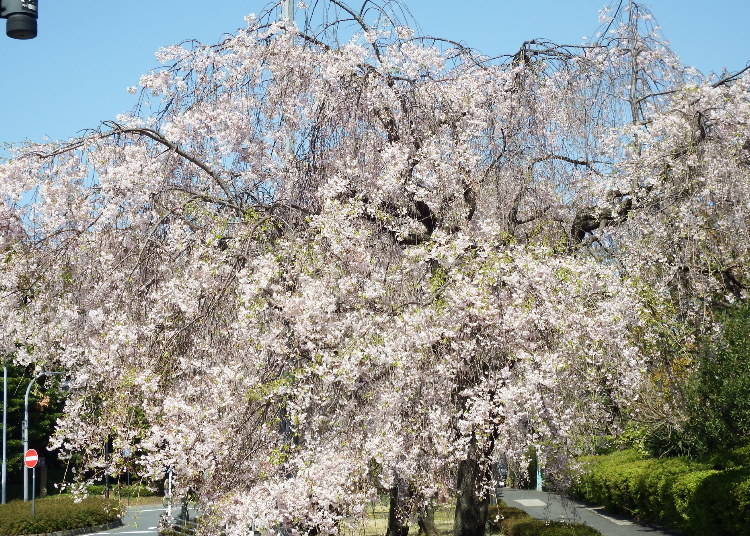 Image Source: PIXTA
This variety of winter cherry blossom blooms white, single flowers in mid-April. It was named after the ancient trees at Seichoji Temple in Kamogawa City, Chiba Prefecture. They are also known as "shidare-kobazakura," or weeping leaf cherry tree.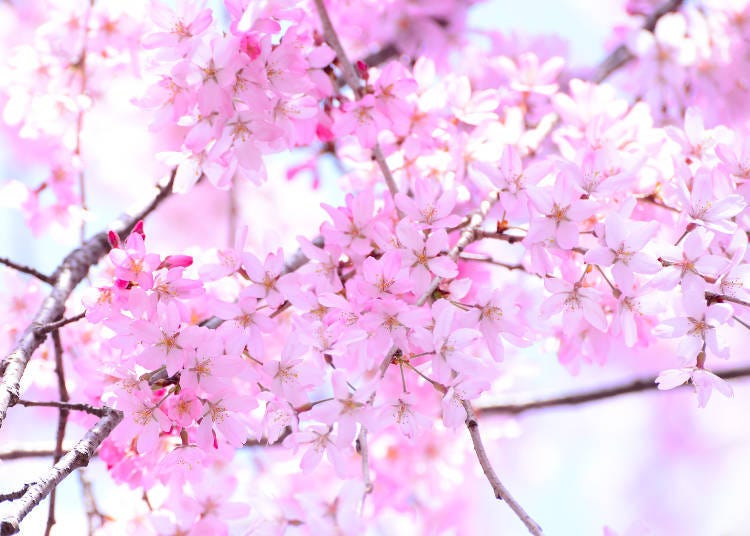 Image Source: PIXTA
Just like the Yae-Beni-Shidare, this is another type of Edo-higan tree. It has single flowers, and the same deep crimson color.
iv. Shidare-Yamazakura (枝垂山桜)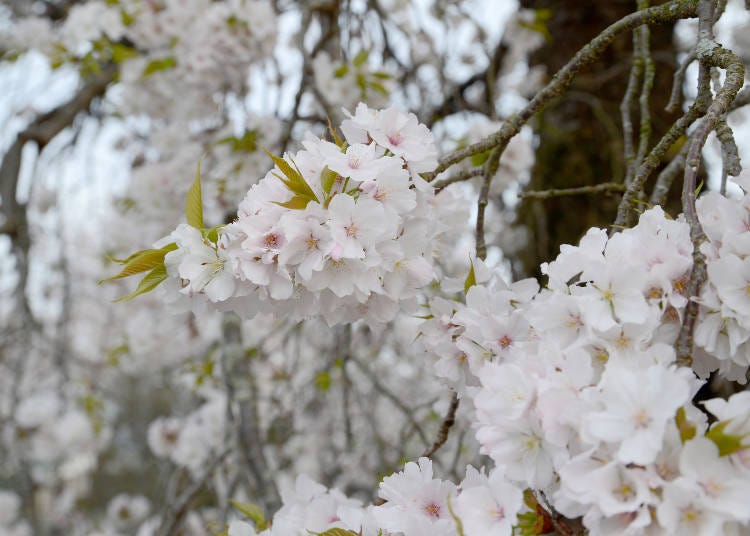 Image Source: PIXTA
This is a type of yamazakura, or wild cherry tree, with pale pink, single flowers and a notch at the tip of the petals.
v. Yoshino-Shidare (吉野枝垂)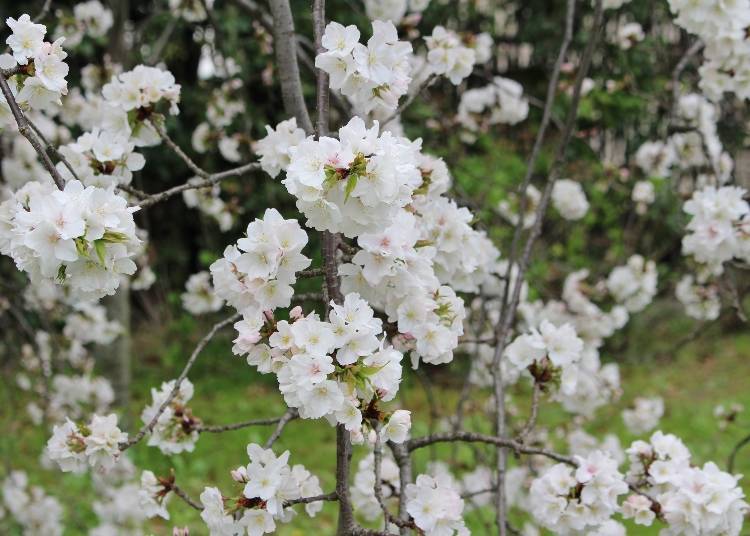 Image Source: PIXTA
This is a variety of Somei-Yoshino cherry tree with hanging branches. Like the typical Somei-Yoshino cherry tree, it is characterized by many pale crimson, single flowers.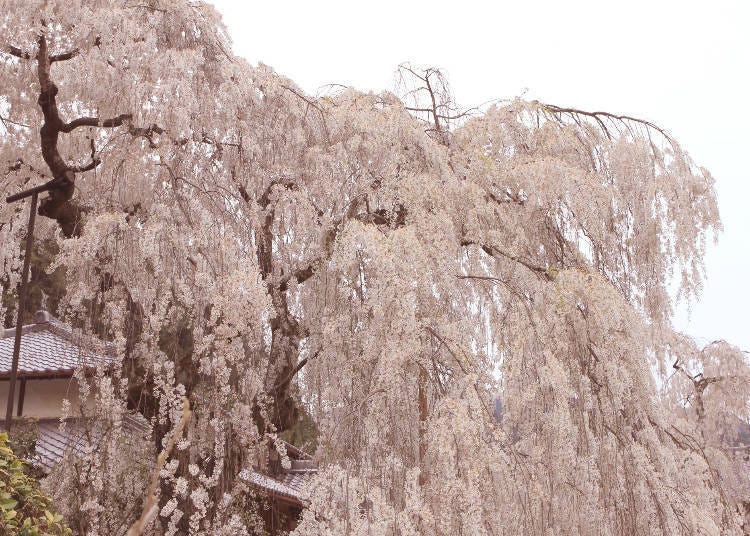 Onodera Temple Ito-Shidare / Image Source: PIXTA
This weeping cherry tree grows rather large, and bloom light pink double flowers. One large, particularly famous tree at Onodera Temple in Uda City, Nara Prefecture is said to be 300 years old!
4. Weeping Cherry Blossoms FAQs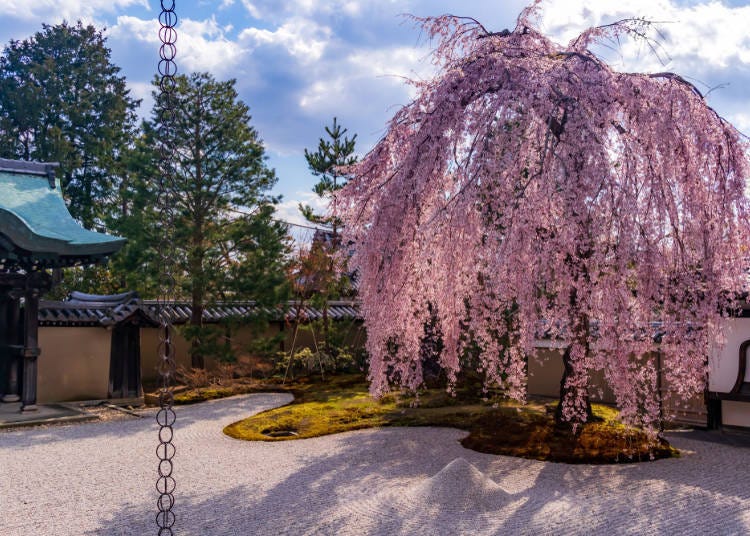 Learn even more about weeping cherry blossom trees! Frequently asked questions.

Q1: Can weeping cherry blossoms be found all around Japan?
They can be found in various places from Hokkaido to Kyushu. You'll also find Yoshino trees planted along roads and in parks in a number of places.
However, if you're looking for a spot where you can see lots of them planted together, you may have to travel a bit further.
The overwhelming beauty of the full-bloom cherry tree has often been the subject of novels and plays, and is said to be "magical."

Q2: How many years do they live?
The Somei-Yoshino cherry tree is said to have a lifespan of 70 to 80 years. However, many weeping cherry trees have a much longer lifespan of 300 years or more. They also grow very tall, and many have been designated as natural monuments.

Q3: How tall can the weeping cherry tree grow?
Weeping cherry trees grow best in a well-ventilated environment with sunlight and good drainage. Depending on the variety, they generally reach about 5 to 10 meters tall, though some grow even taller as they age.

Q4: Can you grow weeping cherry trees as bonsai?
Weeping cherry trees are grown from seeds, so you can also grow them as bonsai. However, they rarely germinate, if at all, and if they do, it may take many years for the flower to bloom.
However, seedlings are commercially available, and you can enjoy growing them in the shape and size of your choosing.

Q5: Can you find them in Japanese gardens?
You can sometimes find strong, beautiful weeping cherry trees planted in Japanese gardens. Weeping cherry blossoms, with their flowery branches drooping all around the trunk, look even more fantastic when lit up!
In the olden days, superstition said that weeping cherry blossom and plum trees would bring bad luck to the home, so people avoided planting them in their garden.
However, in recent years, people's perspective on the value they bring to the landscape has changed.
5. Five Famous Weeping Cherry Blossom Spots in Japan
Here are some recommended sightseeing spots to see the famous weeping cherry blossoms all over Japan. Grab some friends and check them out!
i. Miharu Takizakura (Fukushima Prefecture)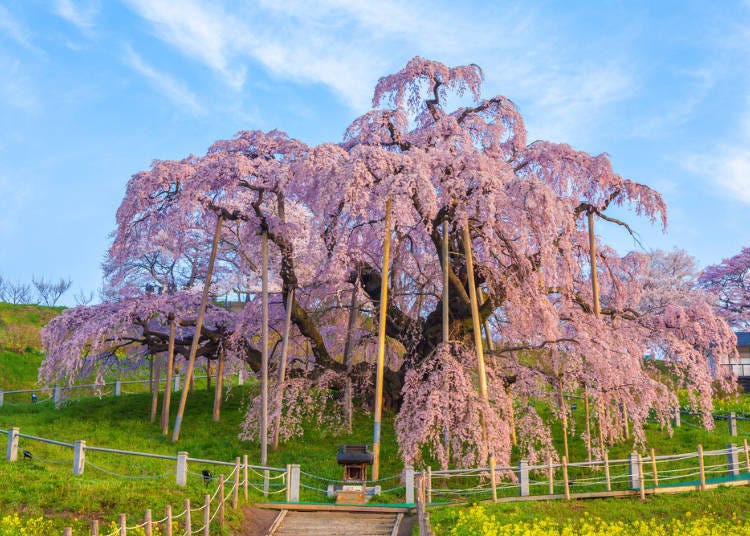 Neoya Usuzumi Zakura (Motosu City, Gifu Prefecture) and Yamataka Jindai Zakura (Hokuto City, Yamanashi Prefecture) are two of Japan's three most famous cherry blossom trees, estimated to be nearly 1000 years old! They are designated natural monuments. Countless small pink flowers bloom on branches that extend outward in all directions from the 13.5-meter tall trunk.

・Best time to see: Mid-April
Address

Sakurakubo, Taki, Miharu-machi, Tamura-gun, Fukushima, 963-7714
View Map

Nearest Station

Miharu Station (Ban-etsuto Line)
15 minutes by bus


Phone Number

0247-62-3690
Nearby Sightseeing Spot
BRITOMART
(348-4 Niimichi Saito, Miharu-cho, Tamura-gun, Fukushima Prefecture)
A facility with restaurants, bakeries, sweets, coffee, interior shops, flowers & exteriors, flowers & greens, and local food shops.
ii. Weeping Cherry Trees in Kakunodate Samurai District (Akita Prefecture)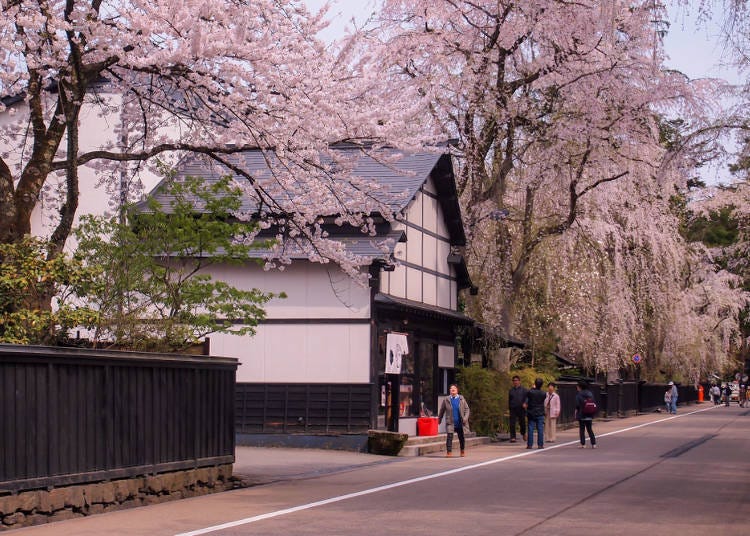 Nathapon Triratanachat / Shutterstock.com
Around 1656, weeping cherry trees were planted at each home along the Samurai District's Bukeyashiki Street in Kakunodate, Akita Prefecture.
Some tree trunks reach a circumference of more than 1 meter around, and some trees grow over 20 meters tall.
The pink flowers of the weeping cherry blossoms stand out against the blackboard walls of Bukeyashiki Street, creating a picture-perfect landscape.
More than 90% of these cherry blossom trees are of the Edo-higan variety, and 162 of the 450 weeping cherry trees are designated as natural monuments.

・Best time to see: Mid-April to early May
Address

Omotemachikamicho, Kakunodatemachi, Senboku-shi, Akita, 014-0334
View Map

Nearest Station

Kakunodate Station (Tazawako Line / Akita Shinkansen / Akita Nairiku Line)
20 minutes on foot


Phone Number

0187-54-2700
Nearby Sightseeing Spot
Bukeyashiki Ishiguro-ke
This is the oldest surviving samurai residence, with a thatched-roof main house. In the garden, there are artificial hills, huge stones, large fir trees, and a gazebo. The residence is surrounded by a blackboard wall with a peephole. Though simple in appearance, it retains its true samurai style.
Address

1 Shimocho, Kakunodatemachi, Semboku City, Akita Prefecture, 014-0331
View Map

Nearest Station

Kakunodate Station (Tazawako Line / Akita Shinkansen / Akita Nairiku Line)
5 minutes by car


Phone Number

0187-55-1496
iii. Nicchusen Weeping Cherry Blossom Trees (Fukushima Prefecture)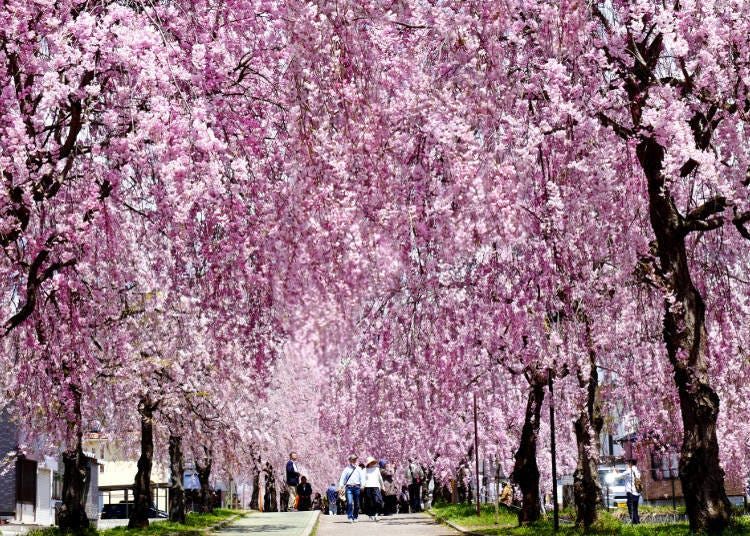 jirobkk / Shutterstock.com
Once the site of the former Nicchu Line, discontinued in 1984, a portion of the area has been made into a 3km promenade with nearly 1,000 weeping cherry trees. You can see an exhibit of the steam locomotive that once ran here at the mid-point. It's a great spot for cherry blossom photos. There is also a magnificent tunnel of weeping cherry trees that wows visitors every time!

・Best time to see: Mid-April to late April
Nicchusen Weeping Cherry Tree

日中線しだれ桜並木

Address

22 Suwa, Kitakata City, Fukushima 966-0095

Nearest Station

About a 20-minute walk from JR Banetsu West Line Kitakata Station


Tel: 0241-24-5200 (Kita Tourist Products Association) Weekdays 8:30 - 17:00
Nearby Sightseeing Spot
Kitakata Kura no Sato
(2-109, Oshikiri, Kitakata City, Fukushima Prefecture)
Kitakata City prospered as a supply distribution center during the Edo Period. Over 4,200 warehouses still remain. Nine of these buildings have been relocated to Kitakata Kura no Sato to preserve the nostalgic city scenery, including shops, a miso warehouse, a granary, and old residences.
iv. Rikugien Gardens (Tokyo)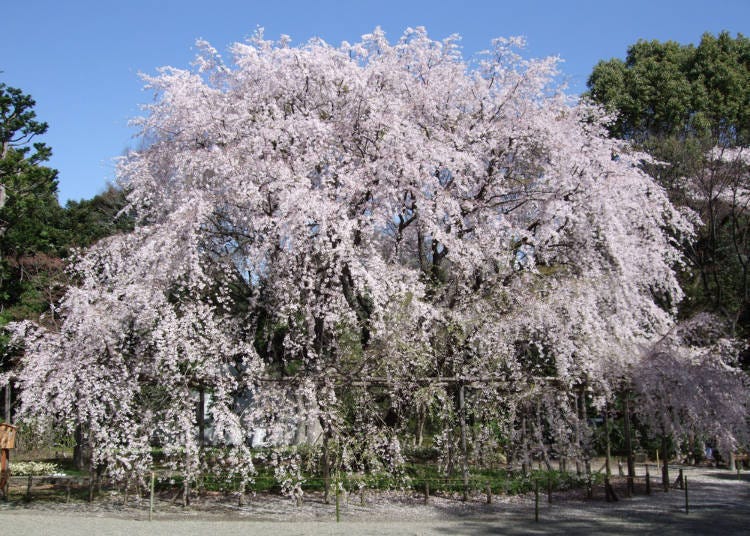 Rikugien Gardens was said to be one of the two largest gardens in Edo, along with Koishikawa Korakuen Garden. There are 75 weeping cherry trees in the park, including Yoshino, Yama-zakura, and Satozakura cherry trees. The largest weeping cherry tree is 70 years old and stands about 15 meters tall. Many flowers bloom on 20-meter-long branches that droop down like a cherry blossom waterfall.

・Best time to see: late March
Address

6, Honkomagome, Bunkyo-ku, Tokyo, 113-0021
View Map

Nearest Station

Komagome Station (JR Yamanote Line / Tokyo Metro Namboku Line)
7 minutes on foot


Phone Number

03-3941-2222
Nearby Sightseeing Spot
Kyu-Furukawa Gardens
This park retains elements of the gardens of the early Taisho Period, with a Western-style building on a small hill, a Western-style garden along the slope, and a Japanese garden on the lowlands. This harmonious combination of Japanese and Western beauty has been designated as a national scenic spot. It is famous for the rose garden left by the Furukawa Zaibatsu group.
Address

1-27-39, Nishigahara, Kita-ku, Tokyo, 114-0024
View Map

Nearest Station

Kami-Nakazato Station (JR Keihin-Tohoku Line)
7 minutes on foot


Phone Number

03-3910-0394
v. Sekiba Weeping Cherry Tree (Tochigi Prefecture)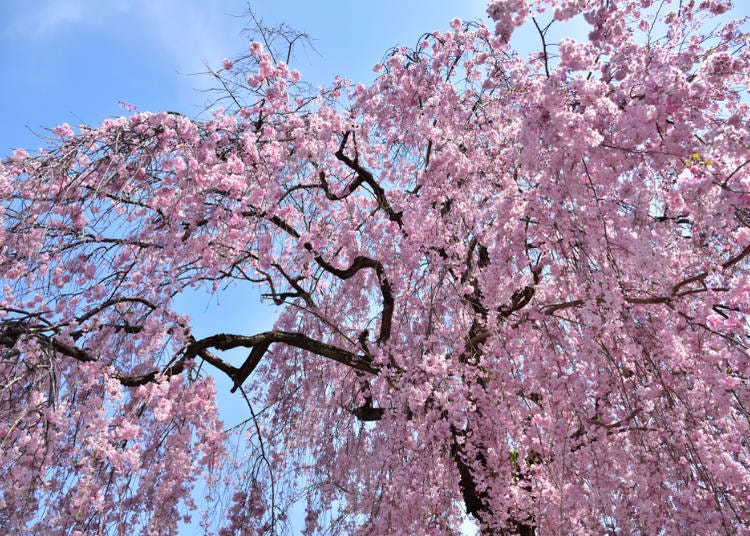 (Sample Image)
This single cherry tree stands 20 meters tall, branching out 20 meters east-west, and 28 meters north-south. This beautiful weeping cherry tree is over 350 years old, and was designated as a natural monument in 1962.

・Best time to see: Early to late April
Sekiba Weeping Cherry Tree

関場の枝垂桜

Address

771 Akiyamacho, Sano-shi, Tochigi 327-0157

Nearest Station

About 25 minutes by car from the Sano-Tanuma IC on the Kita-Kanto Expressway


Tel: 028-21-5111 (Sano City Tourism Association 9:00-18:00/open daily)
Nearby Sightseeing Spot
Domannaka Tanuma Rest Area
(366-2 Yoshinaga, Sano City, Tochigi Prefecture)
Sano City, where the Sekiba cherry tree is located, is known for fruit production. You can shop for fresh fruits, vegetables, and local specialties, as well as visit Japanese, Western, and Chinese restaurants.
Weeping cherry trees have a different, more dynamic beauty than the average Yoshino tree, with many flowers blooming on drooping branches. Because they are less common, many people love them and make sure to raise them with extra care. Enjoy the beauty of the weeping cherry blossoms as they glimmer in the wind.

Shidarezakura Supervisor: Takuya Watanabe, Representative Director, Watanabe Nouen Co., Ltd.

*Cherry blossom flowering times vary each year.
*Event dates and activities subject to change. Please be sure to avoid crowds and take proper precautions against infection when going out.
Written by: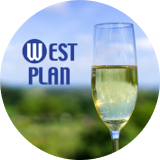 *This information is from the time of this article's publication.
*Prices and options mentioned are subject to change.
*Unless stated otherwise, all prices include tax.