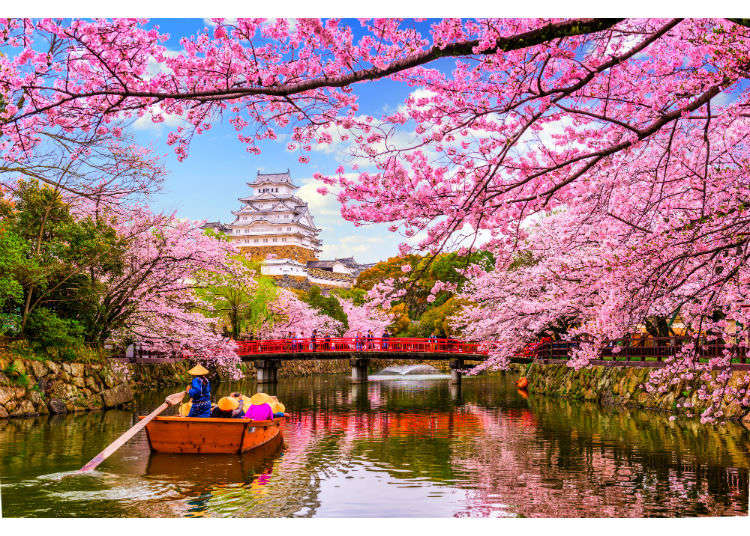 Japan's beloved flower is the cherry blossom. According to the traditional Japanese calendar, spring officially starts on February 4, the day known as risshun. Kicking off spring in Japan is the February bloom of Japanese plum blossoms. This is followed by the early spring celebration of Hina Matsuri on March 3 that wishes health and happiness for girls. After the ornamental dolls of Hina Matsuri are put away, it's only a matter of time until the cherry blossoms are in bloom.

As spring's premier event, it's no surprise that talk of cherry blossoms dominate conversation in Japan. It's no exaggeration to say that all of Japan is glued to their TV screen anxiously awaiting updates on the weather forecast. Will there be sunny skies for this year's cherry blossom viewing party? Exactly when will the cherry blossoms begin their bloom? Will spring showers put a premature end to cherry blossom festivities?

If you're wondering what the big deal about these flowers is, you should know that cherry blossoms are in bloom for only about one week. Once the buds open, there's an explosive chain reaction that results in a beautiful display of pale pink, finally fluttering to the ground in grand finale known as sakura fubuki. Though it's for a short period of time, a trip to the park to see the cherry blossoms is wonderful way to enjoy nature in all its glory.

We've put together this Sakura FAQ to help you enjoy the viewing of cherry blossoms this year.
Q1. Why are there so many cherry blossom trees in Japan?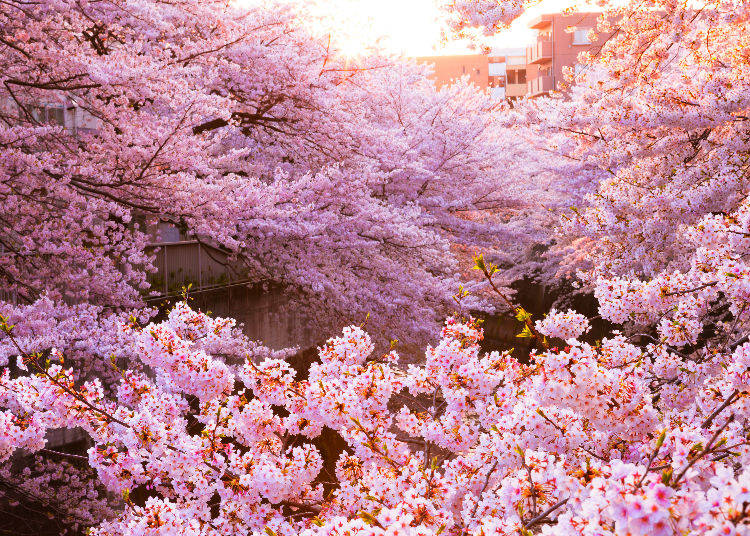 Viewing cherry blossoms has been a national pastime since the 8th century. There are many species of cherry, some of which have been cultivated through cross breeding. These efforts took off in the 14th century where they became cultivated as an ornamental flower.

In the mid-19th century, a variety of cherry blossom known Somei-yoshino (Prunus x yedoensis) was first introduced to Japan. From the late 19th century onward, its cultivation spread across Japan, resulting in it becoming the most abundant species of cherry tree.
Q2. What's the point of hanging out underneath sakura cherry blossom trees?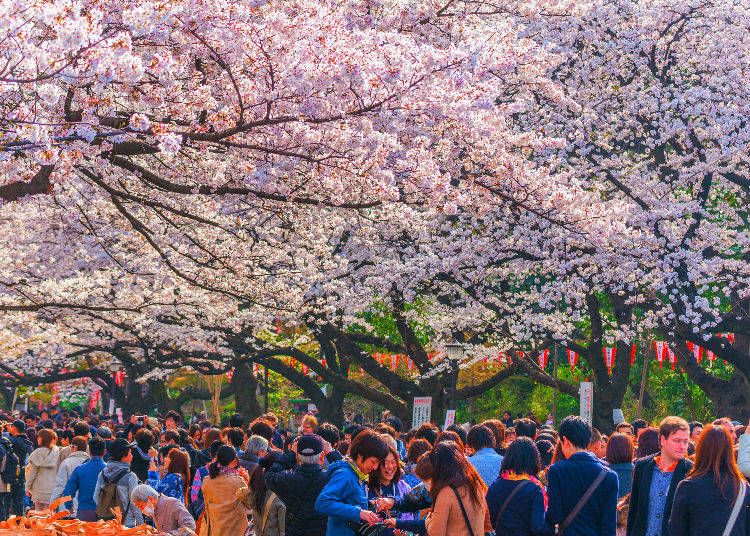 As we mentioned earlier, the Japanese have appreciated cherry blossom trees for their beauty for centuries. Even in those days, people gathered underneath the trees to dine and socialize. Fans of manga and anime might know the expression "hana yori dango (food over flowers)," which simply means to be present in the moment by pairing nature's beauty with equally appealing and delicious food. There are many ways to enjoy the beauty of cherry blossoms but they nearly always include alcohol and food!

In other countries, the start of the school year or school semester is in September. However, April, when the cherry blossoms are in bloom, is the start of the Japanese academic and fiscal calendar. The bloom of cherry blossoms matches up nicely with this period, making it an excellent opportunity for new coworkers and classmates to get to know each other.

This is the main event on Japan's social calendar. Plenty of Japanese look forward to gathering with their friends, family, and acquaintances.
Q3. What should I wear to see cherry blossoms in Japan?
Although the cherry blossoms bloom in spring, you should dress in layers, especially when going out at night. The sun's rays certainly feel nice in the daytime, but once the sun goes down, the chill sets in!
Q4. When do the cherry blossoms bloom in Japan?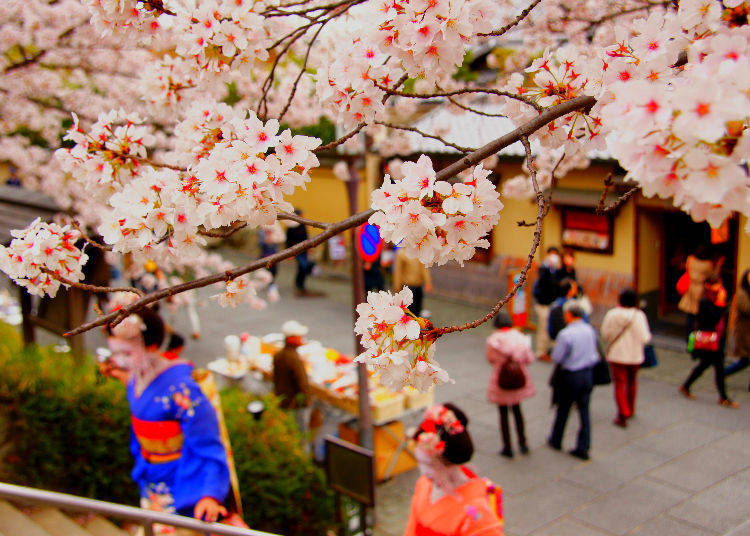 You have a two-week window starting from when the buds bloom to when they start to wither. This is all of course dependent upon factors such as wind and rain.

In the Kanto region, buds turn yellow-green and open in mid-March. Gradually they become pink. On average you can expect the cherry blossoms to be in full bloom around five days after the Japan Meteorological Agency (JMA) announces that the buds have opened. However, if there is a cold snap the flowers will reach peak bloom ten days after the JMA announcement.

There are several terms in the Japanese language used to describe the trees when they are three-quarters in bloom and nearly in bloom. It is around this time that the petals take on their signature pink color. It is also around this time where you can see both the cherry blossom buds and blossoms at the same time

Due to Japan's geography the cherry blossom front stretches from south to north. Starting around March 20th the cherry blossom trees in the southern region of Kyushu begin to bloom. Next, is the island region of Shikoku, Chugoku (Hiroshima/Okayama), the Kinki/Kansai Region (Kyoto/Osaka), and Tokai (Nagoya). Then, the front reaches the Kanto (Tokyo) region by the end of March. It then moves upward to Hokuriku (Kanazawa) and Tohoku (Sendai), reaching Nagano in mid-April and the northern island of Hokkaido at the start of May.
How long do the cherry blossoms last?
Once JMA has made its official announcement you can expect to enjoy the cherry blossoms at peak bloom for about one week.
Q5. Any tips for seeing cherry blossoms at night in Japan?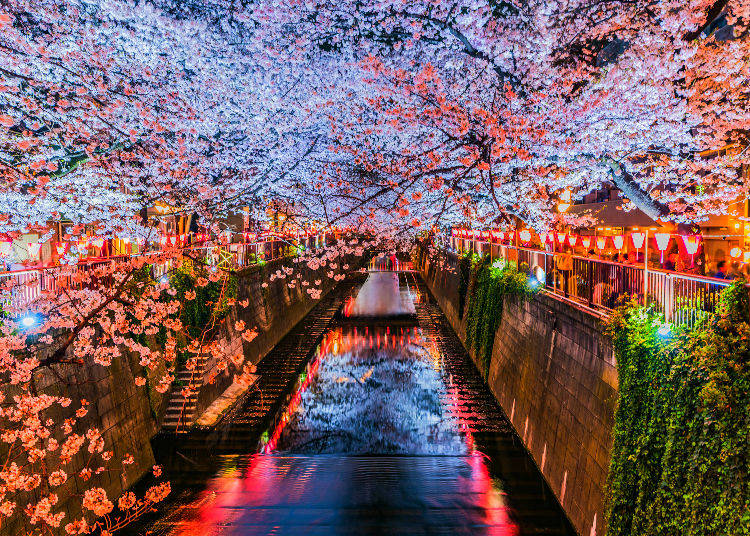 The best way to delight in the full bloom of cherry blossoms is under the moonlight. The moonlight casts a filter over the blossoms, creating a dreamy, romantic mood. In Tokyo, try to visit a popular spot like Roppongi or Rikugien in the daytime then again at night to marvel in the change in scenery. Accent your nighttime viewing with a bottle of your favorite beverage.
Q6. Can I still enjoy cherry the blossoms ever after the leaves have appeared?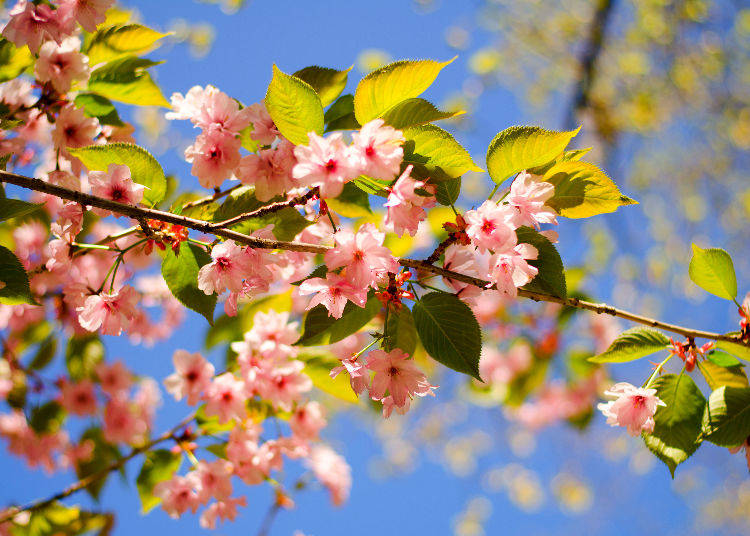 You will see hazakura, cherry blossom trees whose blossoms have been replaced with fresh green leaves, anywhere from April to May. The contrast between the dainty pale pink petals and the vibrant green leaves is nature's signal for summer to make its entrance. When you see hazakura, you're witnessing the change in seasons, a sayonara to spring.
Q7. Where are cherry blossom trees found in Japan? When should I go? What can I expect to see there?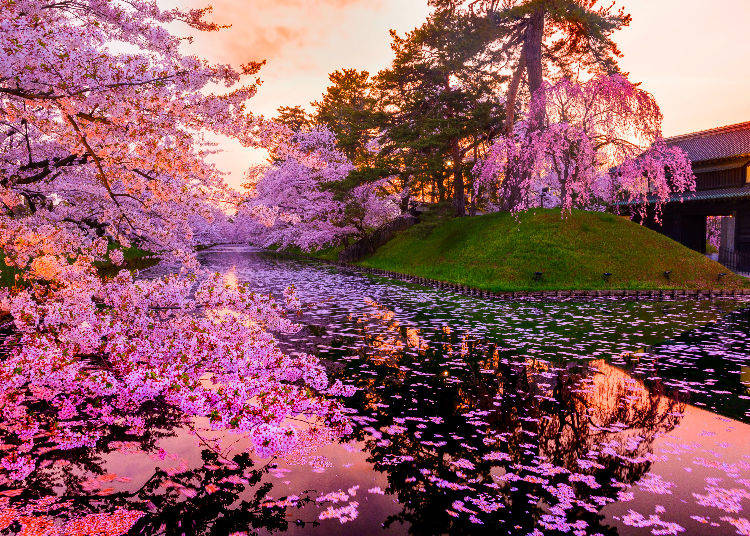 It's said that Japan has 600 species of cherry blossom trees. Eighty percent of them are somei-yoshino. When cherry blossoms reach peak bloom depends on their region and species. For example, some varieties in Okinawa bloom as early as January, while trees in other areas of Japan don't bloom until mid-May. Furthermore, trees in Hokkaido stay in bloom much longer compared to other regions.

There are also several species of cherry blossom trees that bloom even in the winter. You can see these trees in bloom twice a year, once in April and again from October to January.

While cherry blossoms are closely associated with spring, there are times where unusual weather patterns will cause them to bloom in autumn or winter. Cherry blossoms prepare for their spring debut in the winter. But if the mechanism that controls their bloom is interrupted they will mistake the warm temperature for spring and open prematurely.

When cherry blossoms bloom depends heavily on location and temperature. For further details visit コチラのサイト or get the latest update on the JMA homepage.
Here are a few of our top picks for seeing cherry blossoms in Tokyo!
Right in the heart of Shinjuku is a sprawling garden with greenery that reflects the changes in the four seasons. There are 65 species of cherry blossom trees in this park totaling around 1,100 trees in all.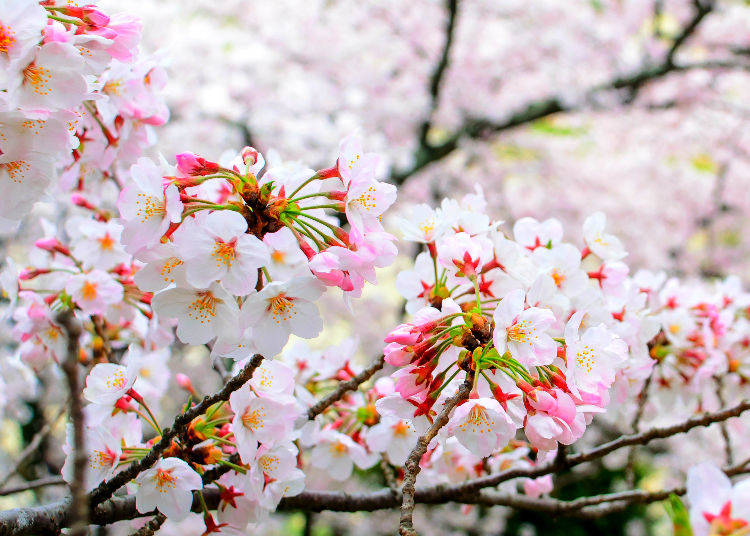 The variety of cherry blossom tree here is known as shidare zakura, or weeping cherry blossom tree, which reaches peak bloom a week before the somei yoshino. There are also somei yoshino at Koishikawa Korakuen. If you're lucky you might be able to see both in bloom at the same time.
Right next to Ichigaya Station on the JR Sobu Line is Chidorigafuchi and its pink double cherry trees. Rent a rowboat to take a better look at the flowers. The double cherry tree reaches peak boom two weeks after somei yoshimo.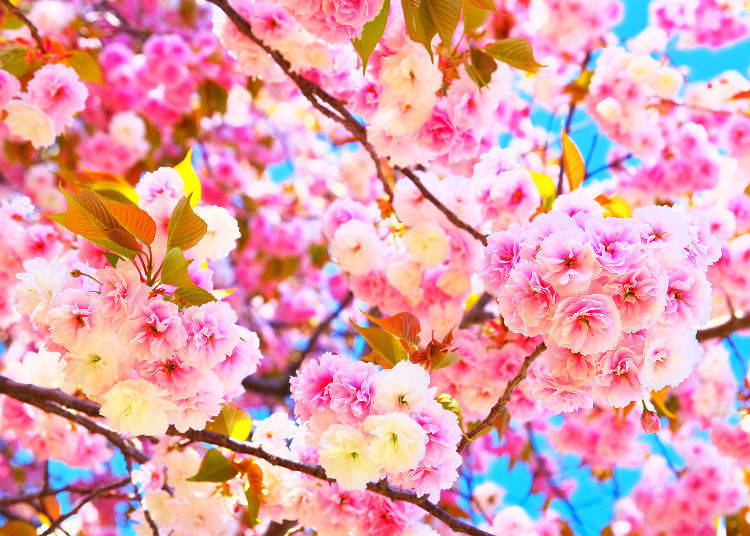 Q8. Where can I go to see cherry blossoms and experience more of Japanese culture?
Since you've made it all the way to Japan, it's only natural that you want to see more of what this country has to offer. Here are a few places to add to your itinerary.
Kyushu, Kumamoto Prefecture: Take part in the cherry blossom festival right in front of Kumamoto Castle
Kumamoto Castle General Office
The cherry blossom trees at Kumano Castle

The cherry trees on the grounds of Kumamoto Castle are listed Japan's Top 100 Cherry Blossom Viewing Sites. Kumamoto Castle itself is one of the three great castles in Japan. At present you can not enter the castle due to damage it sustained in the April 2016 earthquake. However you can view the castle keep and scaffold from Ni No Maru Hiroba, a space where the Kumamoto Castle Festival takes place every March. Enjoy taiko drum performances and dishes made with locally grown ingredients. You might even get the chance to meet Kumamoto prefecture popular mascot, Kumamon!

Event: Spring at Kumamoto Castle Festival (Haru no Kumamoto to Oshiro Matsuri)
Address: Kumamoto Prefecture, Kumamoto, Chuo-ku Honmaru 1-1
Hours of Operation: March to November: 8:30 to 18:00 (entry until 17:30); December to February: 8:30 to 17:00 (entry until 14:30). Entry to the tower keep until 30 minutes before closing.
Holidays: December 29 to December 31
Entry Fee: 500 yen (group rates and year passes available)
Kansai, Shiga Prefecture: See Riverside Cherry Blossoms in Omihachiman
Omihachiman is a serene expanse of nature and one of the eight picturesque sights of Lake Biwa. In mid-April, the riverside comes alive with the harmonious union of cherry blossoms and greenery. Be led downstream in a boat, riding along the narrow winding river and taking in your surroundings along the way. It's almost as if you've been transported to a world of fantasy.

Event: Omihachiman Riverside Cruise
Dates: April 1, 2018 to November 30, 2018. Departure times at 10:00 and 15:00 (private tours depart according to schedule)
Address: 880 Kitanosho-cho, Omihachiman, Shiga Prefecture
Access: From JR Omihachiman, take a bus bound for Chomeiji; Get off at Hounenbashi Wasen Noriba Guchi
Admission: Adults 2,160 yen, children 1,080 yen, rental boats from 8,930 yen (price per person, reservation required)
Tohoku, Akita Prefecture: Relieve history underneath the tunneling weeping cherry tree at the Samurai Residences of Kakunodate.
Kakunodate Tourist Association
The samurai residence of Kakunodate are where the warriors of feudal Japan called home. There are several buildings on the property that remain intact in an area designated as a Nationally-selected Preservation District for Groups of Traditional Buildings.

The trees 2,000 trees on the grounds of Kakunodate are designated national treasure. When in bloom, they envelop the samurai residences in a tunnel of cherry blossoms, coating the town in a beautiful carpet of pale pink. The Kakunodate Cherry Blossom Festival takes place annually from April 20 to May 5, attracting visitors from all over Japan. Walk in the footsteps of samurai as you explore this castle town and its cherry blossoms.

Event: Kakunodate Cherry Blossom Festival
Dates: April 20 to May 5
Address: Akita Prefecture, Senboku, Kakunodate
Access: 20 minute walk from JR Kakunodate Station
Q9. What are those birds in cherry blossom trees?
Birds play a vital role in pollinating flowers and trees. Let's take a look at the species you're likely to find among the cherry blossoms.

The nectar of cherry blossoms is deep at the base of the petals. Only birds with long thin beaks can reach the nectar. Therefore you're likely to see the Japanese white-eye and brown-eared bulbul nestled among the cherry blossoms. Short beaked birds like the Japanese tit and Eurasian tree sparrow have short stout beaks so they need to tear at the petals to reach the nectar. When you see petals on the ground, it's like the work of those two.

Among the many varieties of cherry blossoms trees, birds are found of somei yoshino and other single petal flower varieties because they have more nectar.
A bird with a sweet tooth, the Japanese white-eye is attracted to nectar and fruit. You can easily spot them thanks to their yellowish-green feathers and white ring around their eye. The Japanese white eye is frequently mistaken for the Japanese bush warbler but it takes a keen eye and ear to spot the difference.
High in the trees chirping cheerily is the brown-eared bulbul. You can often find them drinking the nectar upside down.
You'll instantly recognize the Japanese tit thanks to the bold black line running down its chest. It chirps as if it's urging spring to begin.
The urban dwelling sparrow is responsible for picking apart the cherry blossom in search for nectar. It's believed that the sparrow drinks the nectar of cherry blossom because their food source is diminishing.
*This information is from the time of this article's publication.
*Prices and options mentioned are subject to change.
*Unless stated otherwise, all prices include tax.