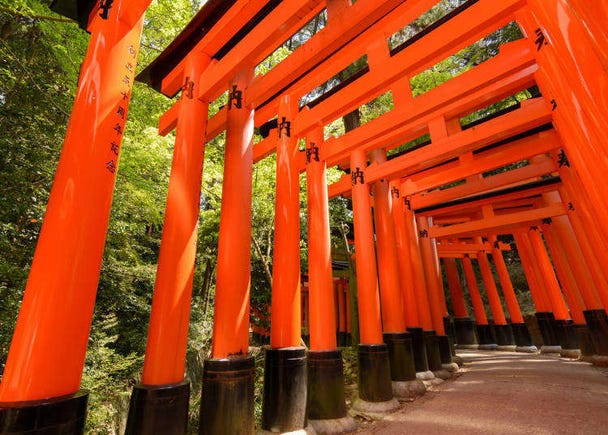 Filled with Japanese traditional culture, Kyoto is a very popular destination for tourists to Japan. However, there are so many temples and other famous places – how do you know where to visit? Well, for the Kyoto beginner, we'll go over the classic places you'll want to visit first. Enjoy the best of Kyoto, with great lunches and sweets.
Though Tokyo is the current capital of Japan, that role belonged to Kyoto until the year 1868. Even as Japan modernized as a whole, Kyoto held onto its Japanese traditional and scenery. You can still find old temples and shrines about the city, and the seasonal cherry blossoms and red leaves are also a beautiful sight to behold. Their cuisine is famous for kaiseki course meals, yudofu, and matcha items like parfaits. Yatsuhashi is a confection that serves as the usual Kyoto souvenir, but matcha sweets are also very popular with tourists. Traditional objects like bags and hand towels are also good choices.
Getting around during a Kyoto trip
Getting from Kansai International Airport to JR Kyoto Station will take an hour and 45 minutes by limousine bus, and an hour and 20 minutes by express train. Once there, you'll mostly be getting around in buses with the JR Kyoto Station being your base. However, since buses get crowded during the tourist seasons of spring and autumn, it's best to use the subway, trains, and your legs as much as you can. Mount Arashi is popular regardless of season, so you'll want to get there by train over bus. Plenty of visitors wear rental kimono while they go sightseeing, so you might consider joining them.
A Kyoto essential: Fushimi Inari Taisha, a noteworthy shrine
To get to this shrine, take a 5-minute ride from JR Kyoto Station to Inari Station. It'll be right outside. With red shrine gates lining its paths, this mysterious holy site is very popular with tourists nowadays. Constructed over 1,300 years ago, this head shrine has more than 30,000 sub-shrines all over Japan, conferring blessings of bountiful harvest, business success, familial stability, and the granting of wishes. The most striking place is the "Thousand Shrine Gates", which, as the name suggests, is a continuous line of the red gates. This was gifted by those who had their prayers and wishes granted, and the gates have been there since the Edo period.

If you don't have any time, make sure to at least see this path of gates, and if you have some hours to spend, try walking through the gates around the mountain.
伏見稲荷大社

Address

68 Fukakusa Yabunochicho, Fushimi-ku, Kyoto-shi, Kyoto

Nearest Station

A short walk from JR Inari Station (Nara Line)


Phone Number

075-641-7331
You can't forget Mount Arashi and its beautiful bamboo grove
You can walk to Mount Arashi from Saga-Arashiyama Station, about 15 minutes by train from JR Kyoto Station. Beloved as prime villa grounds by nobles for over a thousand years, it's a very popular area for its beautiful nature and wealth of temples. Most notable is its bamboo forest. The mystique of the bamboo stalks on all sides has won it popularity on TV and posters.

The mountain and river view from Togetsu Bridge is also essential. The world heritage site of Tenryu-ji Temple and its beautiful garden, as well as Nonomiya Shrine, known for its blessings of good relations, are also very worth a visit.
竹林の小径

Address

Sagatenryuji Susukinobabacho, Ukyo-ku, Kyoto-shi, Kyoto 〒616-8385

Nearest Station

A 15-minute walk from Saga-Arashiyama Station (JR Sagano Line)

What's the food like in Kyoto?
Kyoto has some unique cuisines, including its famous matcha treats and dishes that use subtle-tasting dashi. Matcha parfaits uses ice cream made with green tea and are an excellent choice when you're in the mood for sweets. If you want something more substantial, there are warm yudofu and kaiseki, a collection of various Japanese dishes. There's also the obanzai, where you take pieces of a larger dish into smaller plates. Whichever food you're after, the trick is to arrive at a restaurant when it opens up to avoid crowds.
1.Bittersweet: Matcha Parfait
The matcha parfait is a Kyoto classic, popular enough to have people line up for it. It most prominently features slightly bitter matcha ice cream, mixed in with jelly, cream, castella, bavarois, shiratama and more. Though the specific ingredients differ by establishment, there's always a variety. If you're tired out from sightseeing, there's nothing better than taking a quick break with a matcha parfait.
2.Warm and nutritious: Yudofu
Yudofu is a Kyoto item popular for lunch or dinner. Kyoto has high quality groundwater, so it's been a site of tofu creation since the the Edo period. Tofu is boiled in konbu dashi, then eaten by dipping into a light soy sauce for an amazing taste. The recipe is very simple, so you can taste every ingredient that goes into the dish.
3. A crystallization of Japanese cuisine: Kaiseki
One much-loved form of cuisine is kaiseki. They take dishes made from the freshest seasonal vegetables and fish and put them into beautiful plates and bowls, serving them in courses. Most of them are lightly flavored with dashi, and each dish tastes so good it almost feels like a shame to eat.

Kaiseki cuisine is not cheap, and a beginner should shoot for a 3,000 to 5,000 yen lunch course, which is on the cheaper side. You'll want to do your research beforehand, as well – the restaurants have different rules, such as required reservations, credit card usage, shoes allowed, and so on. Remember to wear or bring socks for restaurants that have a no shoes rule. Take off rings that might damage the tableware and hold back on cologne or perfume as it might interfere with the dishes' scent.
Japanese knick-knacks and sweets are perfect souvenirs!
Japan has a culture of souvenir-giving, and Kyoto has plenty of souvenir shops. One of the most popular items is Nama Yatsuhashi, coarse red bean paste wrapped in mochi flour. It has a noticeable cinnamon scent. Available flavors have increased to include fruit, chocolate, sesame, and more. You can usually find a small variety pack, giving you a fair amount to test out.

Otherwise, you'll find cookies and baumkuchen cakes made with matcha, and cute bags and hand towels with Japanese patterns. Kyoto Station has many souvenir shops around it, so don't hesitate to pay them a quick visit and get some shopping done.
Atiwat Witthayanurut / Shutterstock.com 外国の方に人気の抹茶のお菓子は、こんなに種類豊富!
There's a very wide variety of matcha sweets!
Japanese-patterned knick knacks make perfect souvenirs for yourself
From places as beautiful now as they were a thousand years ago to very Japanese dishes, Kyoto is a place where you can experience traditional Japan all at once. Explore and eat to your heart's content and enjoy the wonder of Japanese culture.
Text by:Bikoo-System
*This information is from the time of this article's publication.
*Prices and options mentioned are subject to change.
*Unless stated otherwise, all prices include tax.