Kyoto is famous for its abundance of historical buildings, such as temples and shrines. It also has a stronger sense of passed-down, traditional Japanese food when compared to other cities.

When you're setting up your itinerary, try adding in these great Kyoto food spots to make it all the more satisfying.
What's special about Kyoto food?
Kyoto cuisine uses plenty of old Japanese ingredients, such as tofu, matcha, bracken starch, and kudzu. It also has plenty of preserved fish, such as dried herrings and salt-pickled mackerel, a fitting trait for a land-locked city.

As for sushi, there are mackerel and pickled sushi, enjoyable for their unusual appearances. Another classic dish is kaiseki, a variety of foods that changes with the season and truly has an air of Japanese tradition. The cuisine also makes use of kombu and dashi.

Though it costs more and takes longer than other foods, Kyoto cuisine is definitely worth experiencing. There are also tasty Japanese desserts out there, such as bracken starch mochi, kudzu noodles, and matcha parfaits.
1. Kyoto Yudofu: Warm and healthy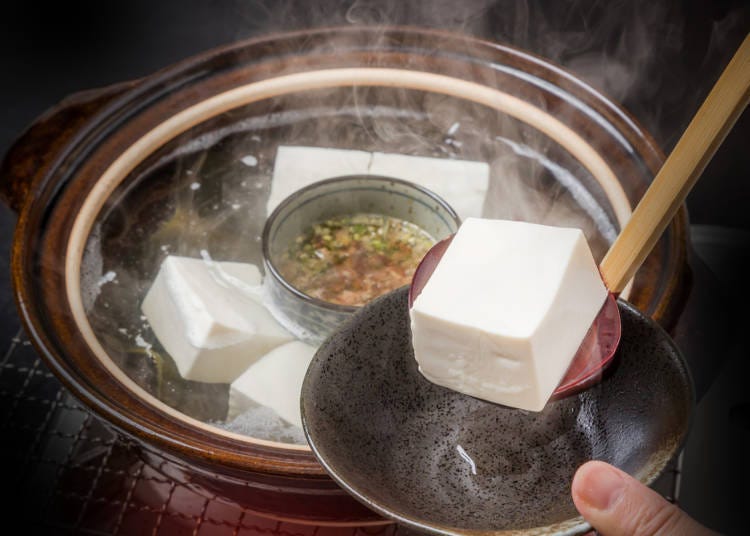 Yudofu
Tofu is made from soy beans and water. Kyoto, with its high-quality groundwater, has been a popular site of tofu-making for over 150 years. That being the case, Yudofu, tofu warmed in kombu broth and eaten with soy sauce, is one of Kyoto's representational dishes. It's a classic dish in temples, where monks eat vegetables instead of meat, so there are plenty of yudofu restaurants around them.

Most establishments have sesame yudofu and tempura in a set, available for 3,000 to 4,000 yen. Many are also based in mansions with beautiful gardens, allowing you to truly experience Kyoto while you eat.
2. Kyoto Kaiseki: Beautiful and seasonally tasty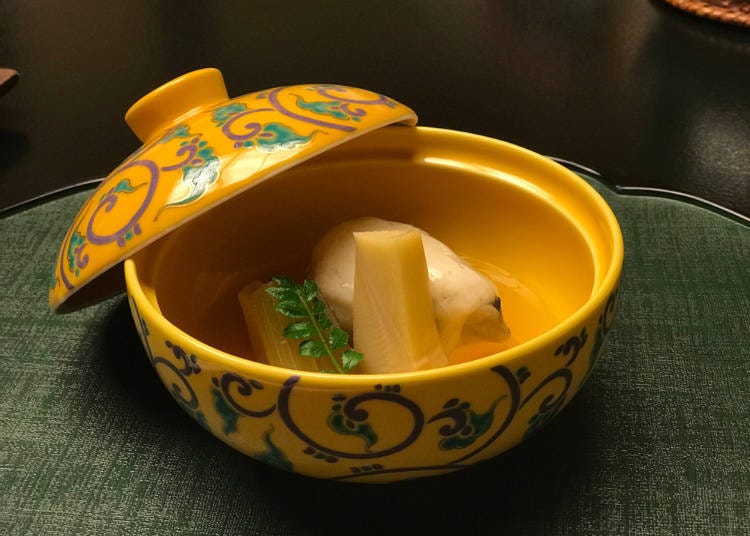 Kaiseki
There's one cuisine everyone knows Kyoto for: Kaiseki. Sashimi, grilled, fried, and simmered foods, soup, rice, and dessert all come with these course meals, each brought out individually. They use seasonal ingredients and pay special care to how the food is presented, including vessels used. They say that kaiseki started out as light meals eaten before sipping matcha during tea ceremonies. In modern days the number of dishes has increased, and more care has been given to its appearance.

Most restaurants charge 10,000 yen for a course at night, but lunch courses reach around a more accessible 3,000 to 5,000 yen. Most establishments require reservations, so inquire at your hotel or information desk. Lunch takes about an hour and a half, while dinner takes about two hours. If you'd like to gracefully experience Japanese cuisine, this will be a great memory of your trip.
Address

91-1, Kamikitaura, Shinochoshino, Kameoka-shi, Kyoto, 621-0826
View Map

Nearest Station

Umahori Station (JR Sagano Line / JR San-in Line)


Phone Number

0771-24-0567

* For business names, representatives or managers, and other information, please contact the store directly.
* Time of payment (Pre-paid: On confirmation of reservation. Other than pre-paid: At time of visit.)
3. Kyoto Nishin Soba: Noodles with a big, sweet herring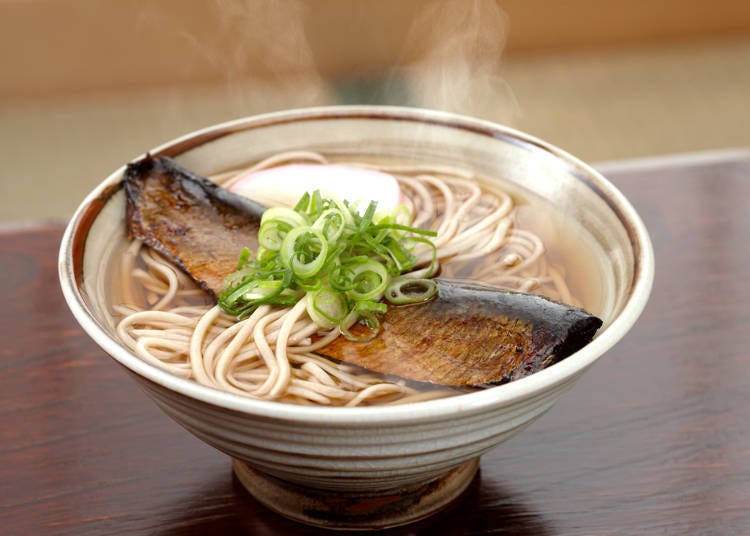 Nishin Soba
Nishin soba consists of sweetly boiled herring atop warm soba noodles. This particular dish became popular in Kyoto because herring preserves very well, and in previous ages, Kyoto was too far inland for fresh fish to be delivered there safely.

That said, Nishin soba has been eaten in Kyoto for over 150 years and is one of the city's signature dishes. When eating this dish, most are surprised at the sheer size of the herring. The meat is soft, and its sweet flavor blends in with the broth, creating one exquisite dish.
4. Kyoto Mackerel sushi: Thick mackerel and vinegar-seasoned rice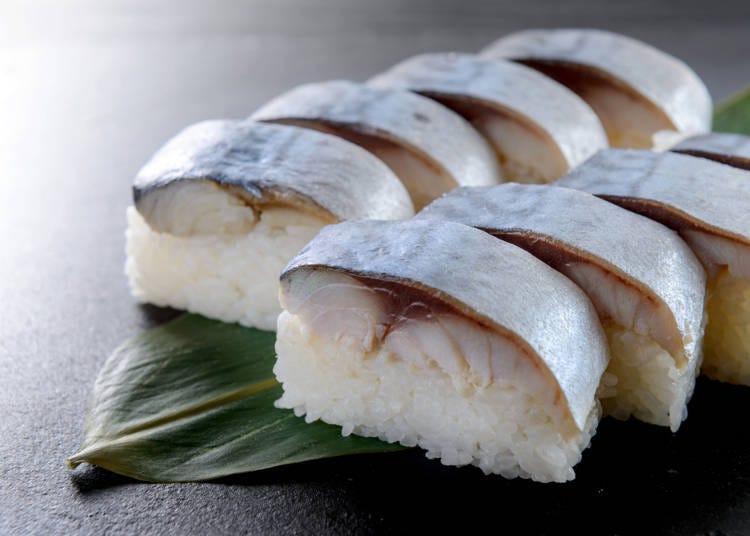 Mackerel sushi
Much like Nishin soba, salted mackerel was a valuable preserved food in Kyoto. From it came the soon-to-be-popular mackerel sushi. With no cooling technology or transportation infrastructure, the mackerel of the past was rolled in from Fukui on carriages. The road it took is still called Saba Kaido, Mackerel Road. Chefs would pickle the mackerel in vinegar and combine it with vinegar-seasoned rice to make mackerel sushi.

The thick mackerel meat mixes well with the acidic taste of the vinegar rice, giving it a unique taste. Putting some kombu on top of it gives it an even deeper flavor.
Robata Sushi Uonabe Ichirin

うなぎと蕎麦 一鱗

Address

114, Tominagacho, Higashiyama-ku, Kyoto-shi, Kyoto, 605-0078


Nearest Station

Gionshijo Station (Keihan Line)


Phone Number

075-561-7000
5. Kyoto Tsukemono Sushi: Easy access to traditional pickled foods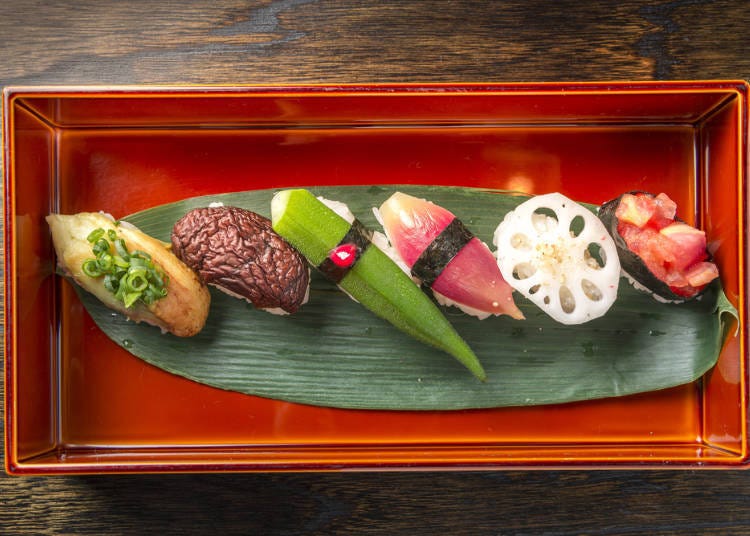 Tsukemono Sushi
Japan has long eaten "tsukemono," vegetables pickled with salt, vinegar, and sometimes sugar. Kyoto is home to a substantial amount of them, but since they need to be chilled, it isn't easy to buy them on the road. That's where tsukemono sushi comes in.

With pickled vegetables replacing the fish, this sushi has been very popular lately. Plenty of veteran pickling establishments provide the sushi, so the flavor is excellent. They also boast a variety of colorful appearances, making them perfect for social media.
6. Kyoto Warabi Mochi: Bracken starch cakes with a unique texture and flavor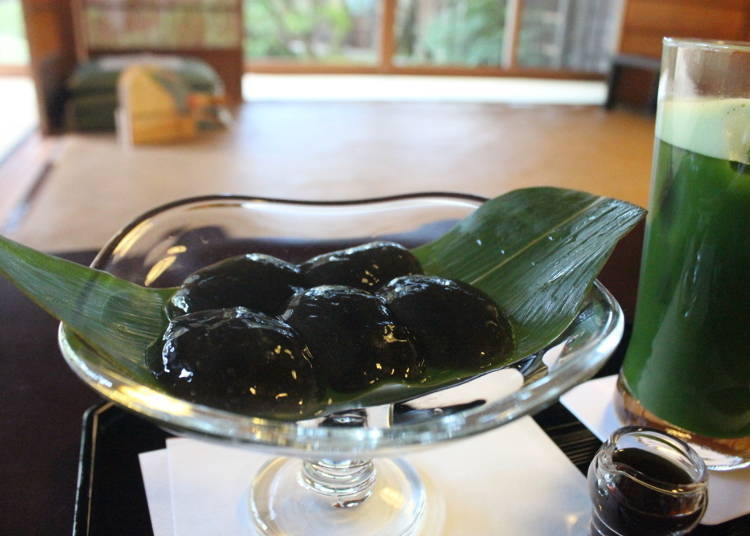 Warabi mochi
Warabi mochi is the chewy, addictive treat. Though cheap versions tapioka or potatoes in place of the warabi, Kyoto uses the real thing: bracken starch flour. Bracken flower gives it a noticeably soft texture and unique flavor, and it is topped with with kinako or brown sugar syrup. Some contain red bean paste inside.

When summer comes around, warabi mochi goes on sale in convenience stores and supermarkets, but the ones made by experts in Kyoto are completely different. If you want to taste the real thing, try them in Kyoto!
Address

373, Yasaka Kami-machi, Shimogawara-dori Higashi-iru Higashiyama-ku, Kyoto-shi, Kyoto, 605-0827
View Map

Nearest Station

Gionshijo Station (Keihan Line)
13 minutes on foot


Phone Number

075-561-1972
7. Kyoto Kudzu Noodles: Keep you refreshed throughout summer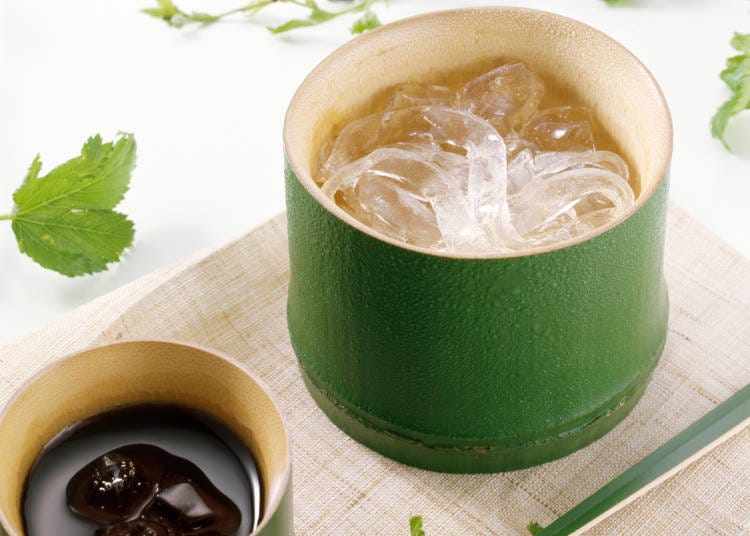 Kuzukiri
The sweet kuzukiri is also popular in Kyoto. Kuzukiri is made from powder taken from kudzu root, dissolved in water and put into a mold, then heated into a solid and cut finely like noodles. It's generally eaten with brown sugar syrup on it.

The transparent "noodles" give it a refreshing image for summer, but you can have them in Kyoto all year long. They have a unique, refreshing way of passing through the mouth and the throat, so you'll definitely want to check them out.
8. Kyoto Matcha sweets with a wonderful bitterness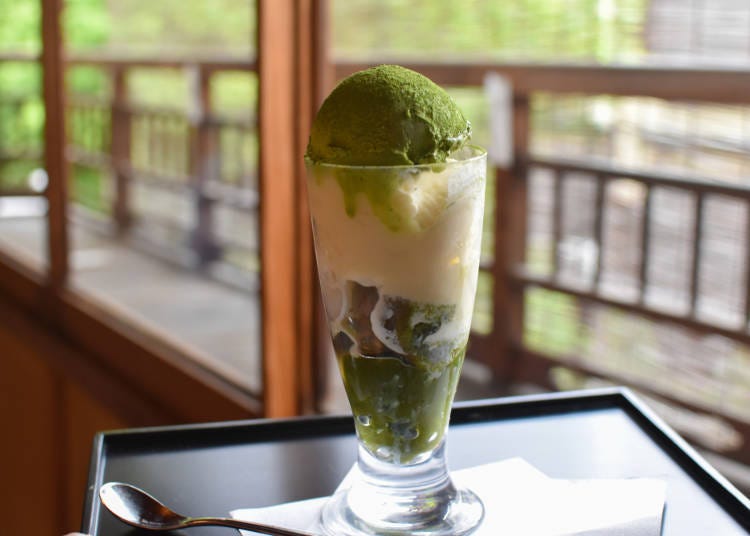 Matcha parfait
If there's one type of sweet that feels Japanese, it's those that use matcha. While there are plenty in existence, of particular note is the increasingly popular matcha parfait. Kyoto's Uji City is well known for its tea production, which provides Kyoto with plenty of high-quality matcha.

The parfaits come with various toppings with its ice cream, too, such as jelly, cream, castella, bavarois, and more. They're definitely worth a try, and a sweet you can't miss if you're visiting Kyoto.
Address

286-2, Gionmachikitagawa, Higashiyama-ku, Kyoto-shi, Kyoto, 605-0073
View Map

Nearest Station

Gionshijo Station (Keihan Line)
5 minutes on foot


Phone Number

075-531-0331
Text by: Bikoo-System
Book an unforgettable Kyoto food experience!
Make your trip extra memorable by booking one of these recommended tours!
*This information is from the time of this article's publication.
*Prices and options mentioned are subject to change.
*Unless stated otherwise, all prices include tax.