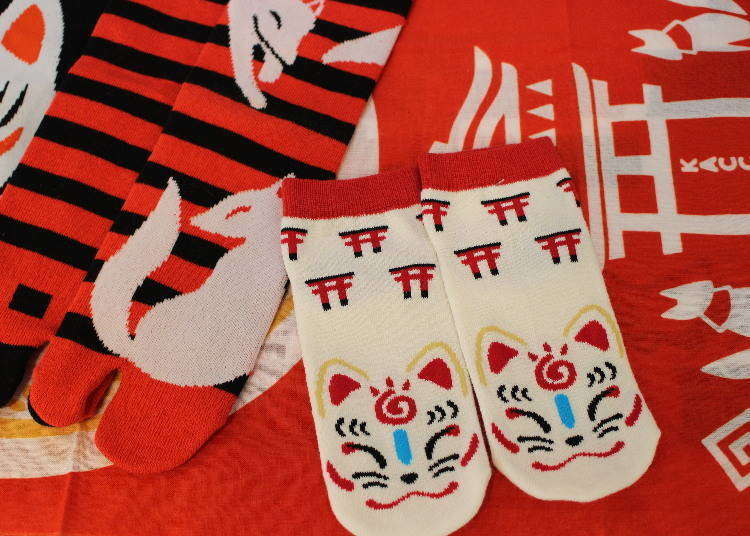 Fushimi Inari Taisha is a popular tourist destination among Japanese and foreign tourists alike.

Located in Kyoto, it's one of the main shrines of the Inari Shrines spread all around Japan. The reason for its popularity is the "Senbon Torii" that leads to Mount Inari, behind the main shrine. The file of more than 10,000 red torii gates are placed by devoted worshippers who pray for a rich harvest or good business or simply to show appreciation.

The route is also decorated and guarded by several fox statues, the messengers of the god of Inari Taisha.

Today we will introduce you to souvenir shops where you can find Kyoto products.
1. Sohonke Hogyokudo: Take home an Inari rice cracker!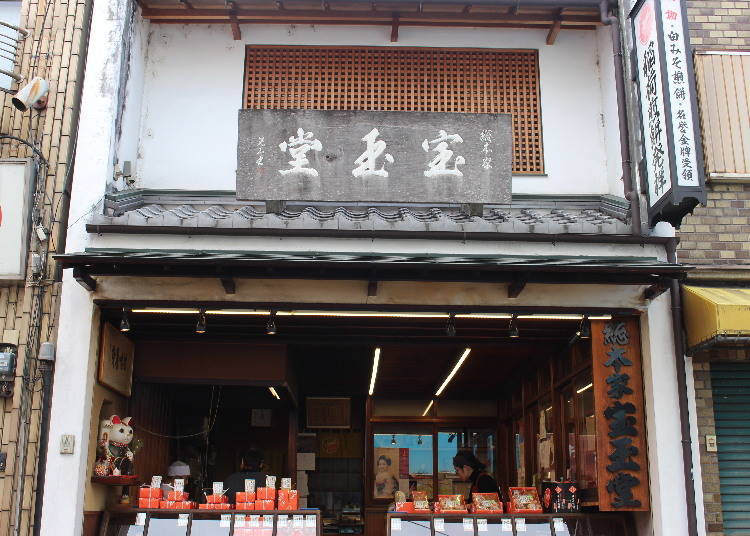 Sohonke Hogyokudo is a shop located near the entrance to Fushimi Inari Taisha, by Inari Station the JR Nara Line and the Fushimi Inari Station on the Keihan Main Line.

The roasted aroma of sweet and fragrant rice crackers attracts people to the store. The store is a long-established shop which sells "Inari Senbei" to tourists and locals, following a recipe unchanged for 80 years, since the store opened.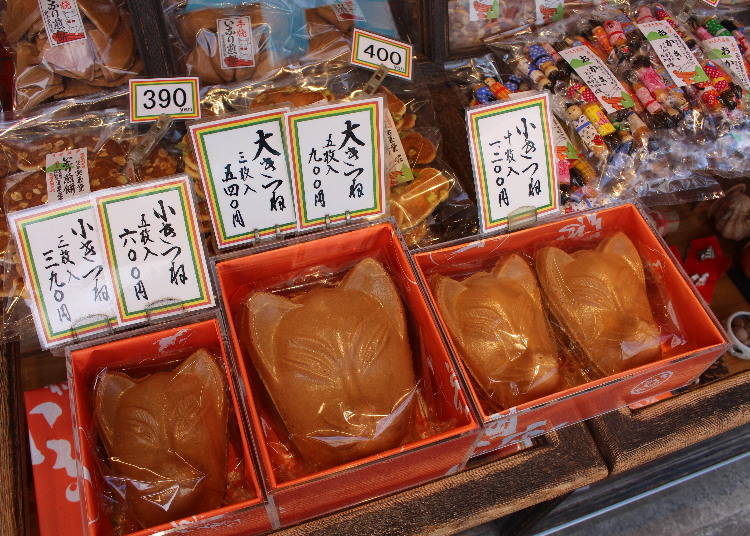 Among the many rice crackers is the "Big Tsune" (540 yen for 3 pieces, and 1,800 yen for 10) and "Kotsune" (390 yen for 3 pieces, 1,200 yen for 10), baked in the shape of a fox's head, making it also a popular souvenir. The dough is prepared by mixing wheat flour with Kyoto white miso, sugar and sesame, giving the treat a simple sweetness and a fragrant aroma, accompanied by a rich flavor of white sesame.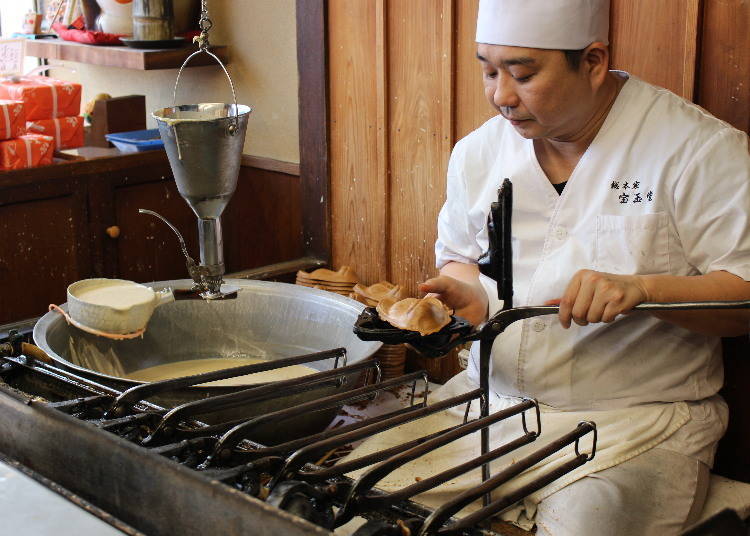 The owner of the store prepares the treats himself, and at times even has to prepare up to 1000 a day to accommodate the demand. He was surprised when a large number of Taiwanese tourists flooded the store after an appearance on social media. Looking at the hand-making of these small cakes is fun and instructive.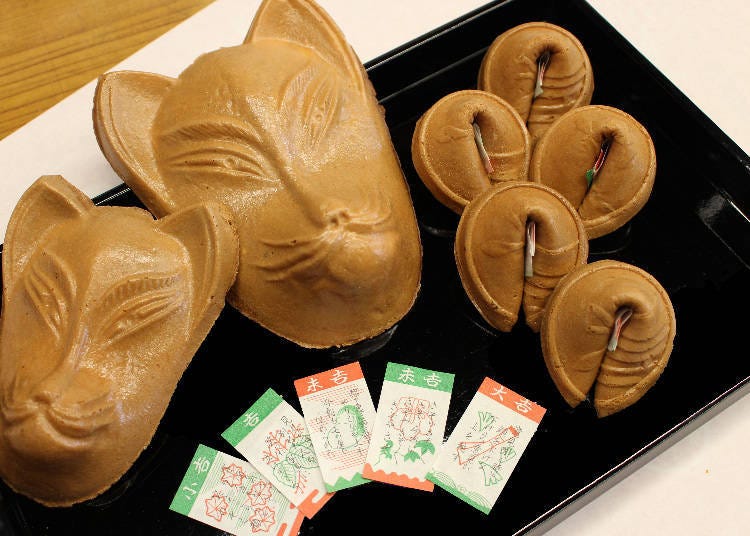 The bell-shaped "Suzu Senbei" has been around since the opening of the store, along with the fox-shaped rice crackers. This is the store's version of a fortune cookie that will reveal your fortune upon breaking it in the form of an Omikuji.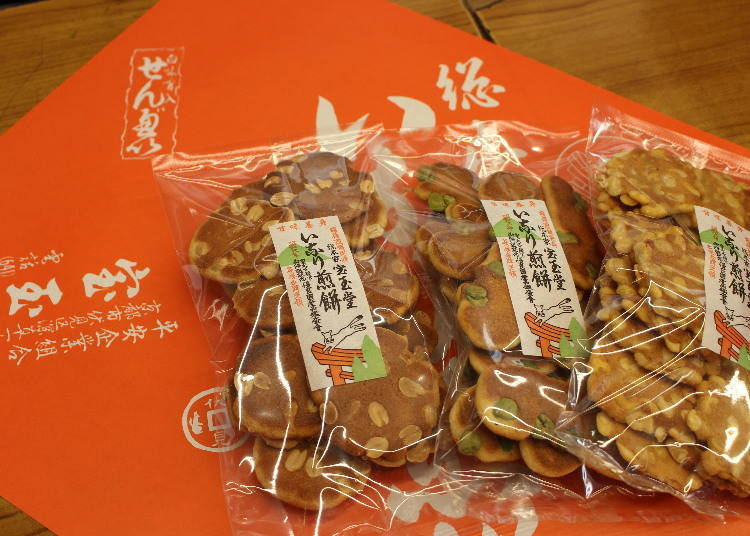 There are also three types of "fried beans," fried rice crackers with soybeans (390 yen), peanut rice crackers (390 yen), and green peas rice crackers (400 yen). They are perfect for a quick snack.
総本家 宝玉堂

Address

27 Fukakusa Ichinotsubo Cho, Fushimi-ku, Kyoto, 612-0012

Phone Number

075-641-1141

Open: 7:30am-6pm
Closed: always open
2. Gallery Kacco: Cute everyday items boutique inspired by Fushimi Inari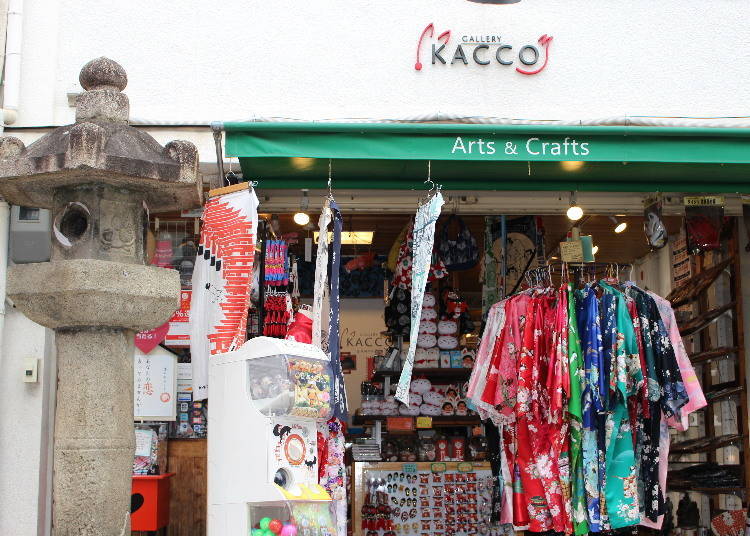 By the entrance of Fushimi Inari, you will see a couple of stone lanterns marking the entrance of Gallery Kacco. Kacco sells a lot of products of different kinds, with foxes, torii gates, as well as other motifs recalling Kyoto. The staff speaks English well.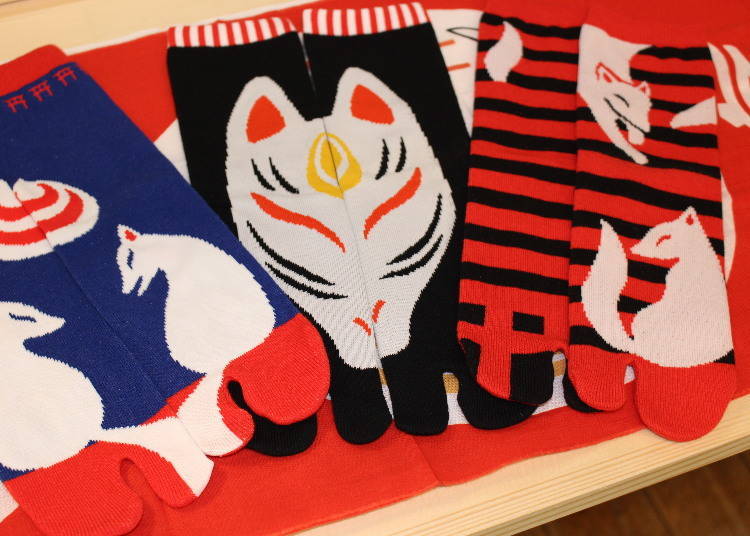 Kacco's original fox socks (660 yen) are popular among both men and women for their colors, and design. The cute design, the comfort, and the reasonable price make these socks a perfect souvenir.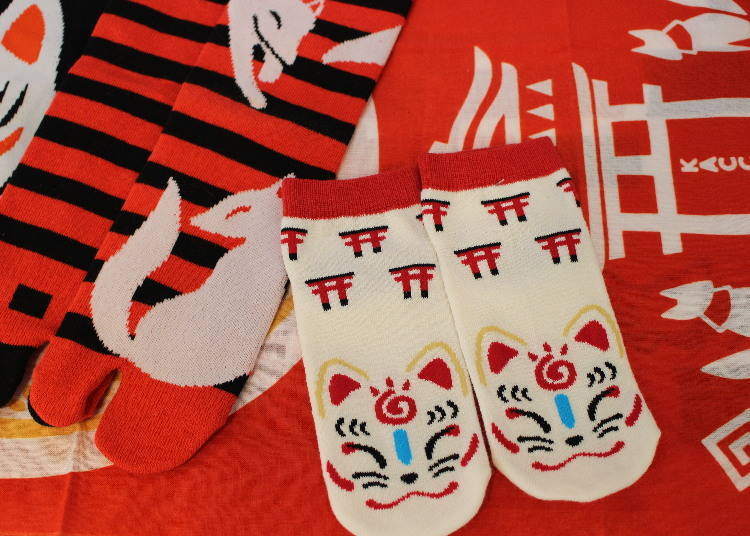 The mini socks (550 yen) for children are adorable with their cute torii and fox design.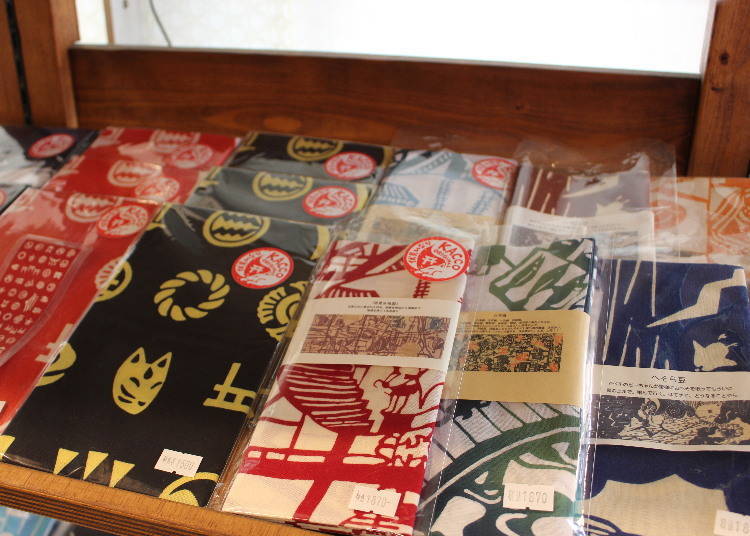 We also recommend the Kacco original design Inari Tenugui (800 yen-1,870 yen), which comes in a wide variety of styles.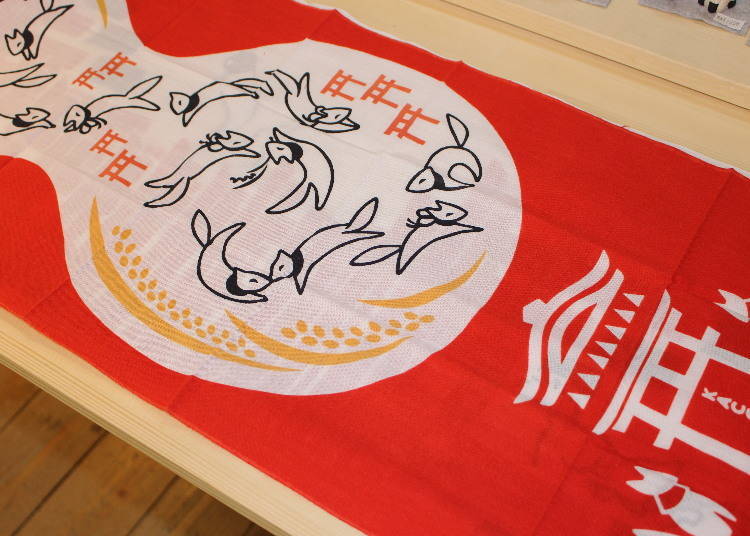 This red towel is especially popular. In the center appear well-auspicious foxes bouncing around the torii gates. Originally, Japanese towels were used in place of handkerchiefs, but nowadays they are also used as a tapestry, centerpieces, or framed art.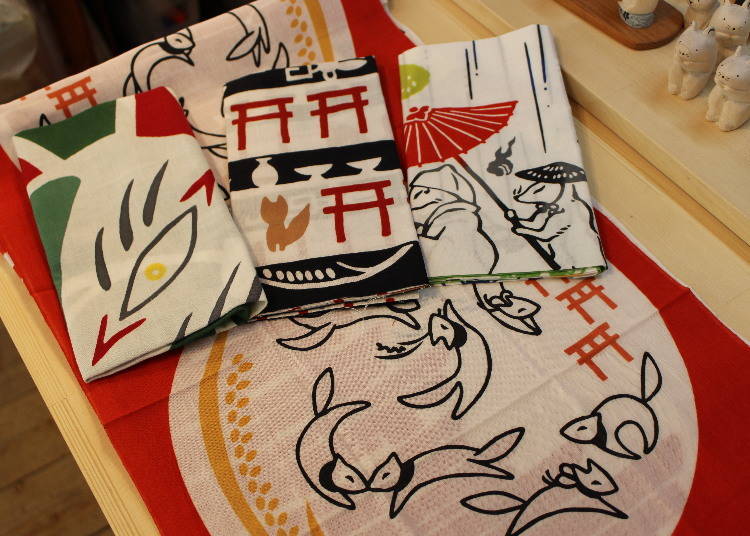 The towels come in many colors and designs. Inside the store, opened towels are set up for display to make it easy for you to choose your favorite design.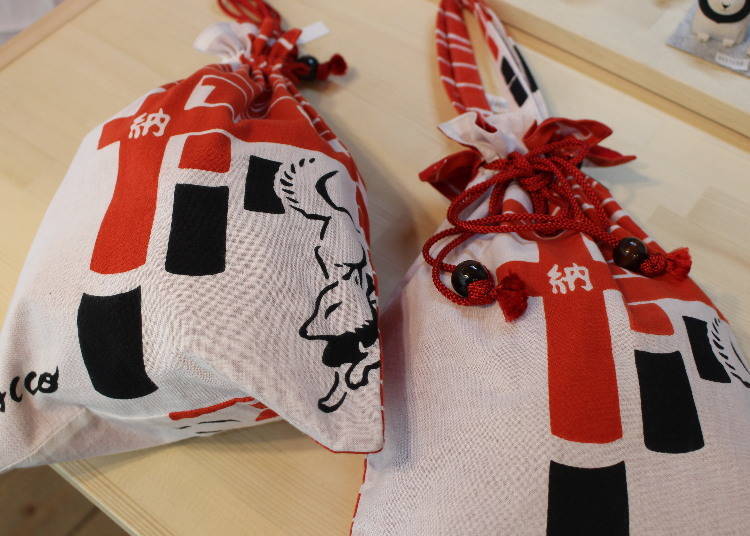 Purses (1,870 yen) and handbags (3,080-3,800 yen) are not bulky, so they make for nice souvenirs. They are convenient and stylish.
GALLERY KACCO

Address

46-4 Fukakusa Inari Nakanocho, Fushimi-ku, Kyoto, 612-0807

Phone Number

075-641-5527

Open: 10am-5:30pm
Closed: always open
3. Sohonke Inariya: The original "Tsujiura Senbei" can be found here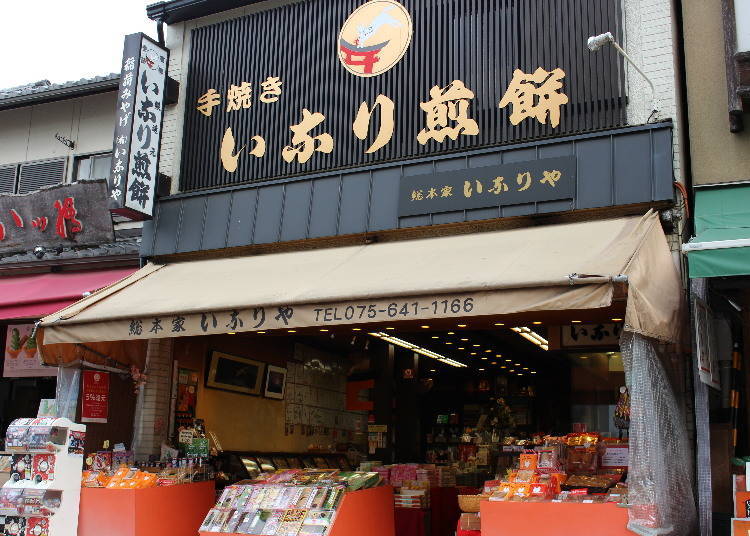 Sohonke Inariya, found by the torii gate on the road to Fushimi Inari Taisha Shrine, is a well-known store for its Inari rice crackers, selected by the Fushimi Inari Taisha Shrine's 1300 year festival attendants as the festival's official treats.

The signboard is marked by a white fox leaping over the auspicious red torii, a registered trademark of the store.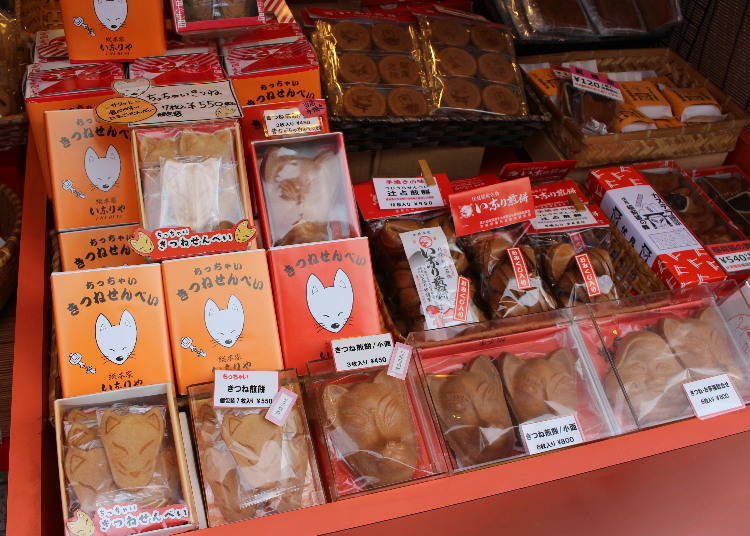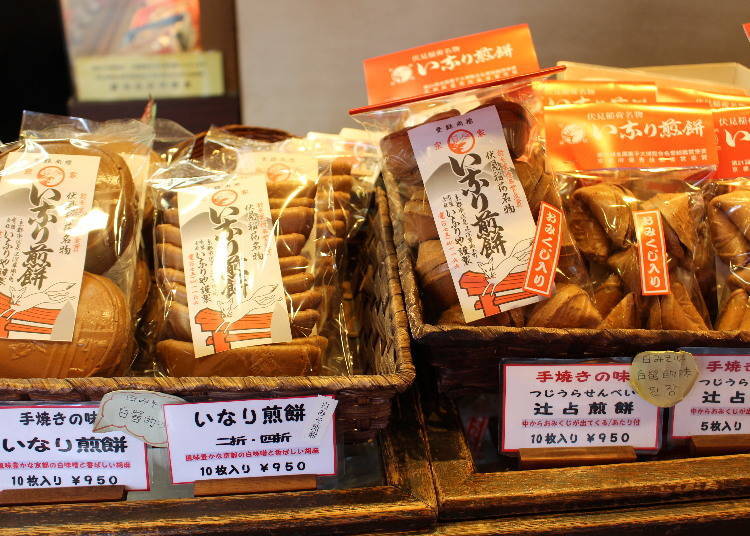 Right at the entrance, you will be welcomed by the store's fox rice crackers, carefully baked with white miso, roasted sesame seeds, sugar, and flour (small ones 450 yen for 3 pieces, 800 yen for 6 pieces, 1,300 yen for 10 pieces. Large ones 5 pieces for 1,300 yen). The round thick inari senbei rice cracker sells for 950 yen for 10 pieces. It's thicker and chewier than the regular one. The senbei with omikuji is 480 yen for 5 pieces or 950 for 10 and there are more types to choose from.
This store, too, bakes nearly 1000 rice crackers/day by the hand of a third-generation master and his younger brother, and you can see the masters at work! The omikuji filled Tsuji Senbei is prepared by putting each omikuji into a freshly baked hot and soft senbei rice cake, and folding it into its typical bell shape. The fox rice crackers are hand-cut into their shape one by one right after baking them.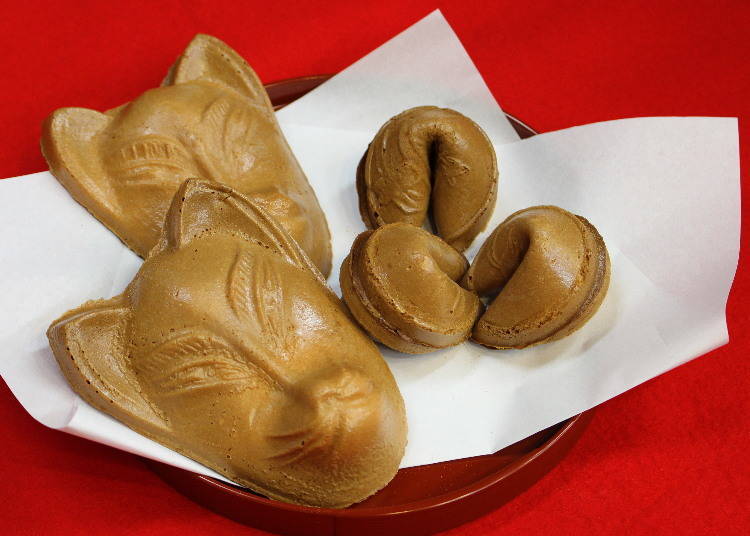 Each carefully baked rice cake is delicious and with a refined sweetness and fragrance of roasted sesame.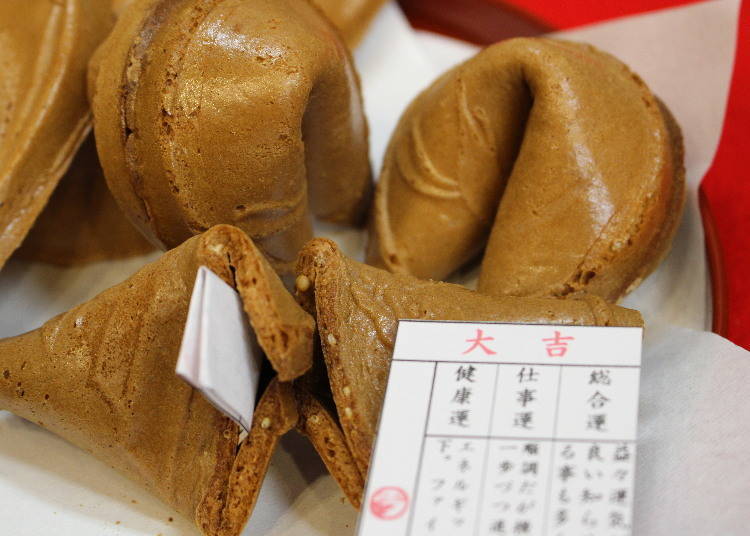 It seems that the tsuji senbei, which reveals fortune, is the precursor of the fortune cookies. There are 240 types of omikuji and you could get a very lucky "Daishikichi" (excellent lucky fortune) out of them. The Daishikichi can be found also in the Chinese and English versions, and it will be your ticket to get a golden fox (even via mail if you find the lucky ticket in one of the treats that you took home as a souvenir).
総本家 いなりや

Address

2 Fukakusa Kaidocho, Fushimi-ku, Kyoto, 612-0806

Phone Number

075-641-1166

Open: 8:30am-5:30pm
Closed: 1st of every month, Thursday (except for holidays)
4. Fushimi Fuyusya: A cute store recommended for Kyoto souvenirs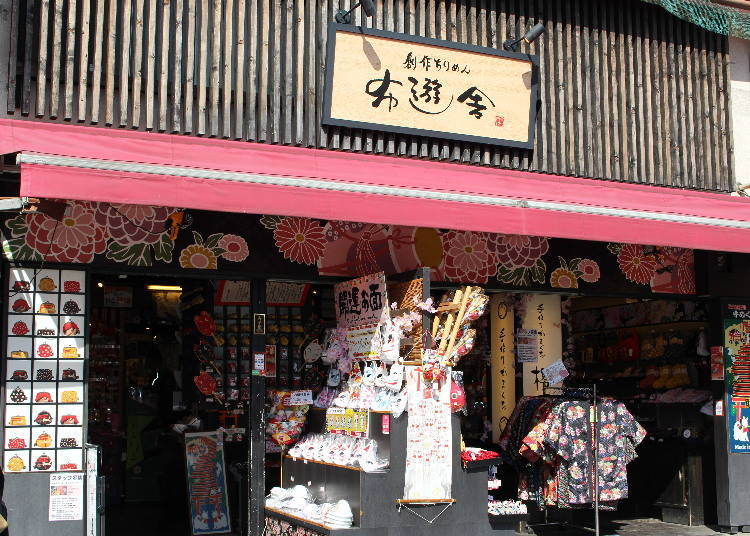 Fushimi Fuyusya is a shop near the center of the road to Fushimi Inari, and it's one of the shops with unique souvenirs not only of Fushimi Inari but also of Kyoto in general. There are different kinds of Japanese goods, and the shop can also help you in English, Chinese, Korean, and Thai.
The store which branched off from a purse specialty store, offers a lot of gamaguchi purses made from many types of fabrics.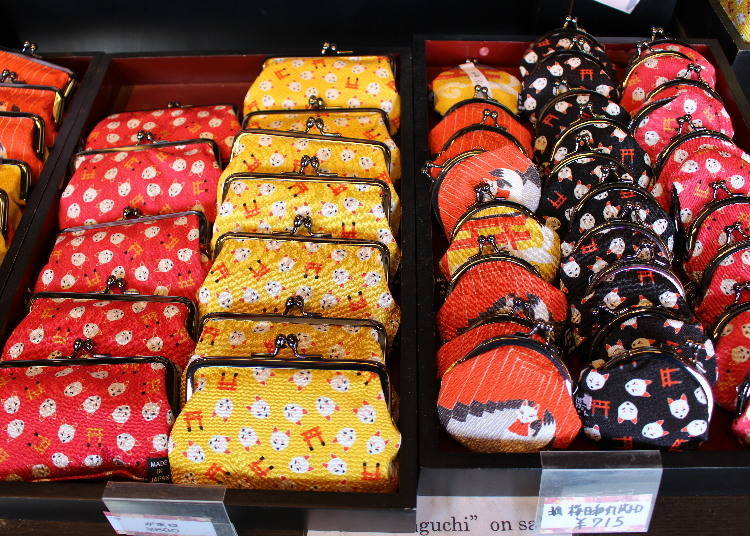 The Fushimi Fox (715-1,100yen), exclusive to this store in Fushimi, comes in various sizes, and it can be used as a makeup pouch, cellphone holder or handkerchief holder. It's also convenient to keep small stuff like lip balm, or small accessories.
There are also other fox inspired goods. One of the most popular items for decoration or as a toy for children, is the Fushimi-store exclusive Koro Kitsune (990yen), made from Japanese paper.

The Okiagarikoboshi is a lucky hollow doll, with a weighted bottom so that it stays standing even when tilted or knocked down. The fox and torii cute towels (550 yen) are also popular souvenirs.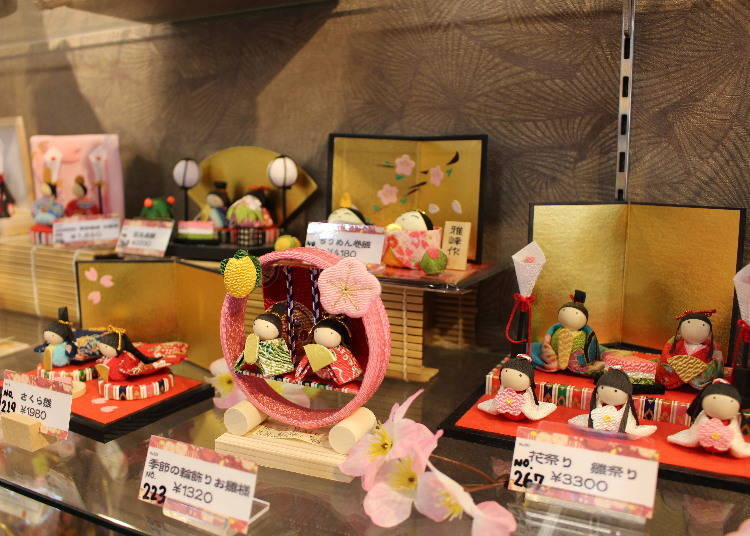 Hina Dolls (1,000-7,000 yen) are made by hand using chirimen and are popular among tourists from different countries, all year round. In Japan, Hina Dolls are displayed to wish for girls to grow healthy. The Hinamatsuri is a festival that focuses on celebrating health and fortune for girls on March 3, and during this period, many Hina Dolls can be seen. Foreigners seem to be fascinated by the beautiful kimono and delicate traits, and more and more people are purchasing these souvenirs.
伏見 布遊舎

Address

1-6 Fukakusa Kaidocho, Fushimi-ku, Kyoto, 612-0806

Phone Number

075-645-4010

Open: 9am-5:30pm
Closed: always open
5. Showroom Wakuwaku: Stretch your legs and find some nice pottery!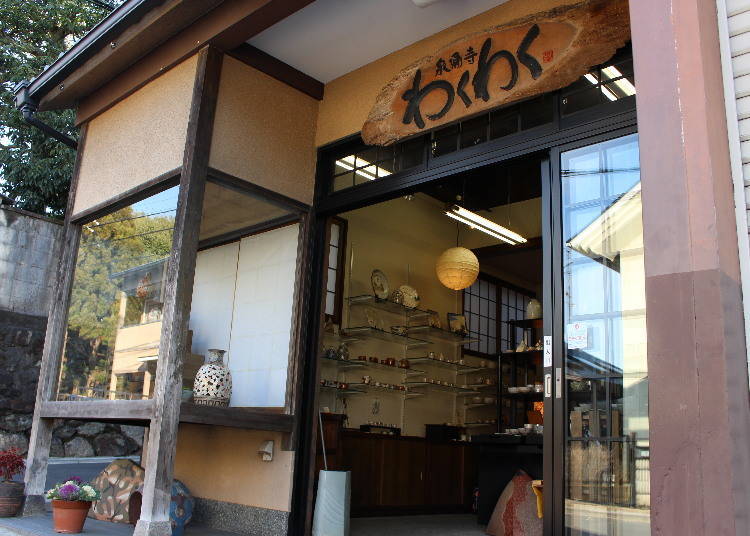 10 minutes walking from Tofukuji Station, just two stops away from the Keihan Main Line's Fushimi Inari Station, is Showroom Wakuwaku, in front of the quiet Sengakuji Temple. This shop specializes in works creating Kyoto and Shimizu products reproducing modern life, and they have been at it for 100 years (three generations).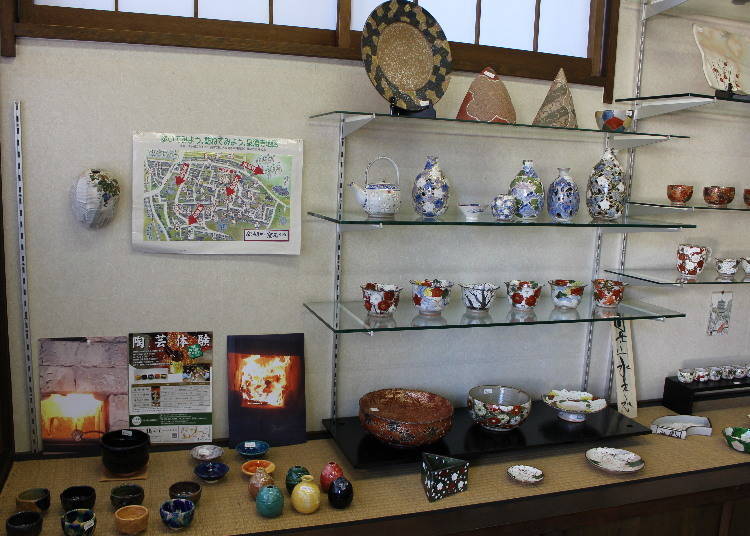 In the shop, you will find beautiful vases, tableware, tea sets, and more. The ceramics are decorated with floral patterns, as well as trees, and representations of the 4 seasons in Japan. The painting of Mount Toshi seems to have been learned directly from the painting of Ken Ogata.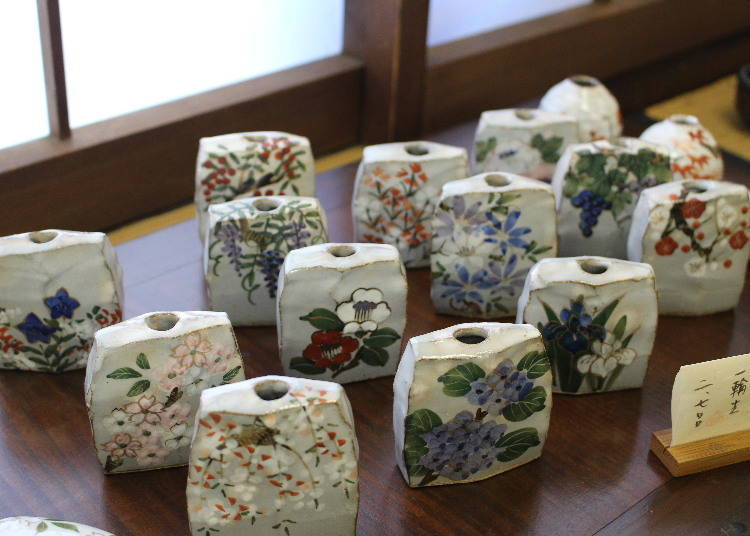 When it comes to pottery, traveling with them may sound troublesome, but there are many beautiful vases and tableware that can be bought here. The vase in the picture above (2,700 yen) shows camellias, cherry blossoms, hydrangea, wisteria flowers, etc, and it's palm-sized.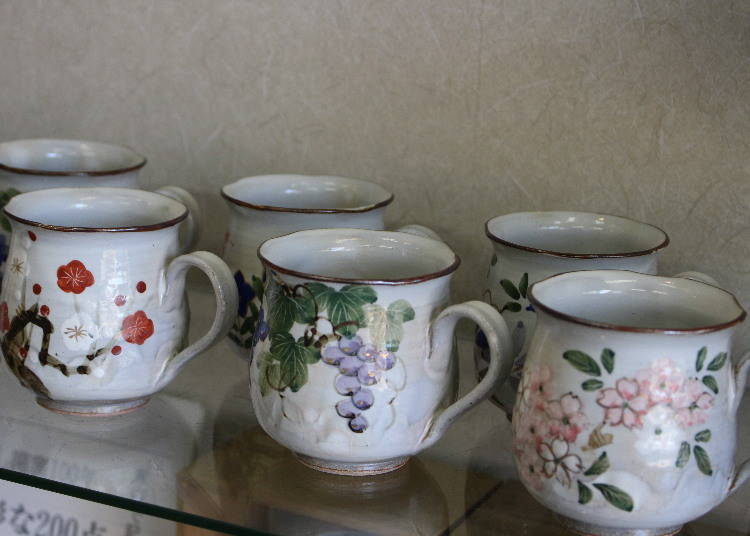 Seasonal flowers and grapes are also drawn on mugs and cups (3,850 yen). The slightly round shape makes it easy to hold and its textures remind of the warmth of soil and earth.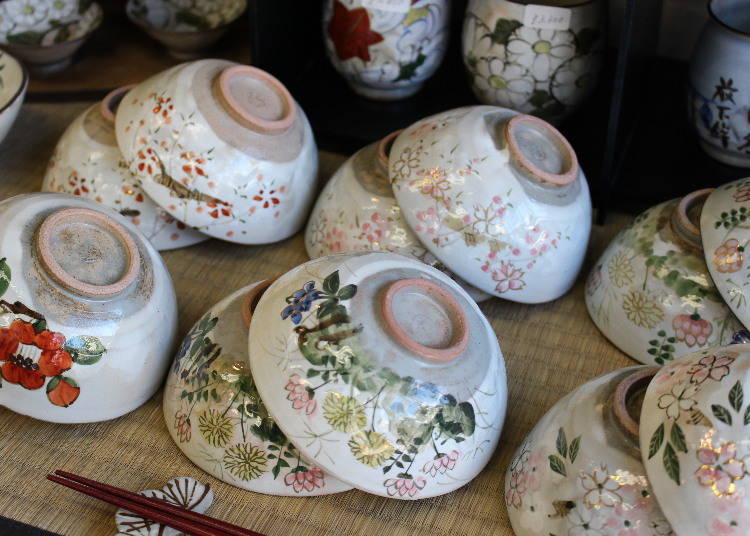 The tea bowls that Japanese people use on a daily basis (3,300 yen and up) are fascinating because of their beauty. It might feel like it would be a shame to use them regularly, but even just eating rice from them will make you happier. This is the one item you really want to have.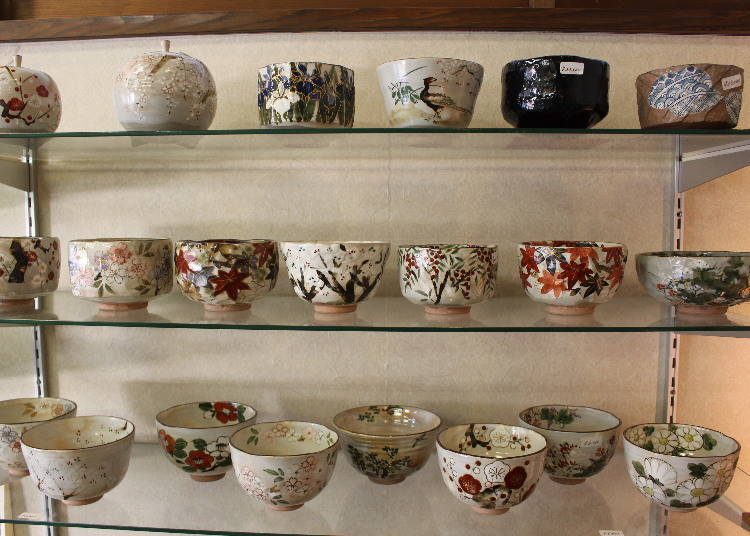 These tea sets (6,600 yen and up) are also popular among foreign visitors. No two of them are the same. Why not take home something unique that represents and inherits the tradition and history of Kyoto?
京のやきもの わくわく

Address

12 Sennyuji Torincho, Higashiyama-ku, Kyoto, 605-0976

Phone Number

075-561-9333

Open: 10am-5pm
Closed: Thursday
Fushimi Inari Shrine is a famous location also known for its re-invigorating powers. So energize yourself, and take home great souvenirs for you and your family and friends. We hope that through this list you will find the perfect souvenir for you!
Address

68, Fukakusayabunouchicho, Fushimi-ku, Kyoto-shi, Kyoto, 612-0882
View Map

Nearest Station

Inari Station (JR Nara Line)


Phone Number

075-641-7331
Written by WestPlan

*The above article is based on information from April 2020
*This information is from the time of this article's publication.
*Prices and options mentioned are subject to change.
*Unless stated otherwise, all prices include tax.