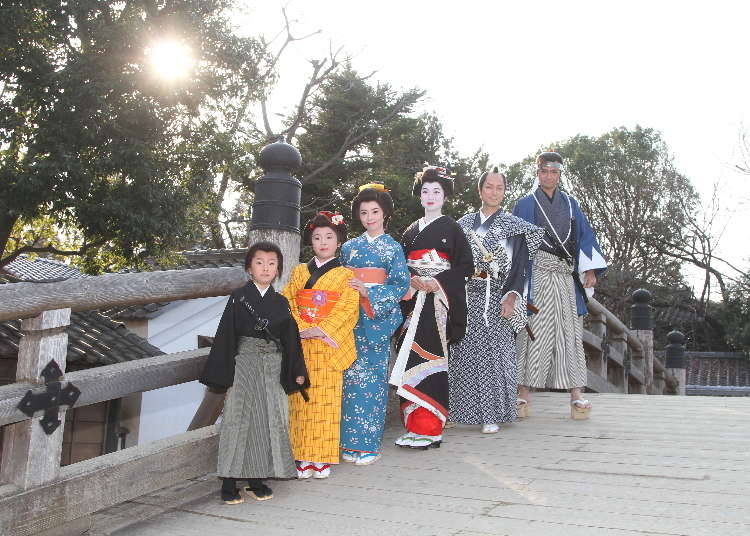 Toei Kyoto Studio Park is the first theme park in Japan where you can see the scenes of historical dramas and experience the world in an open set of the Edo-era.

Let's go back in time to the Edo period to experience fun with costumes and samurai lessons courses!
What is the Toei Kyoto Studio Park?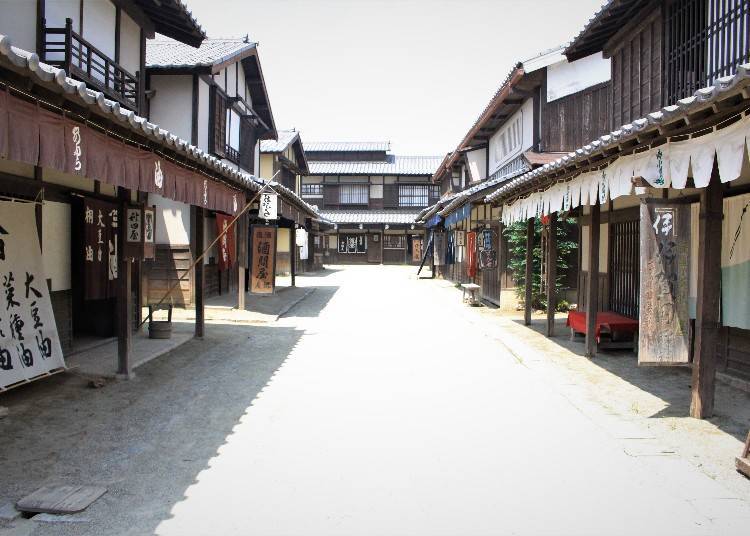 Toei Kyoto Studio Park was born in 1975 as Japan's first theme park where visitors can observe historical drama sets and experience the world during the Edo-era through these open sets, events, and attractions.

Enter the Toei Kyoto Studio Park and pass through the Padios building to arrive at Meiji-dori, and you will see the Edo town open set. This area reproduces the streets of Edo that are often seen in historical plays, such as long homes, soy sauce shops, and rice wholesalers. In the historical dramas, there is also the set of a home belonging to a beloved hero called "Heiji Zenigata".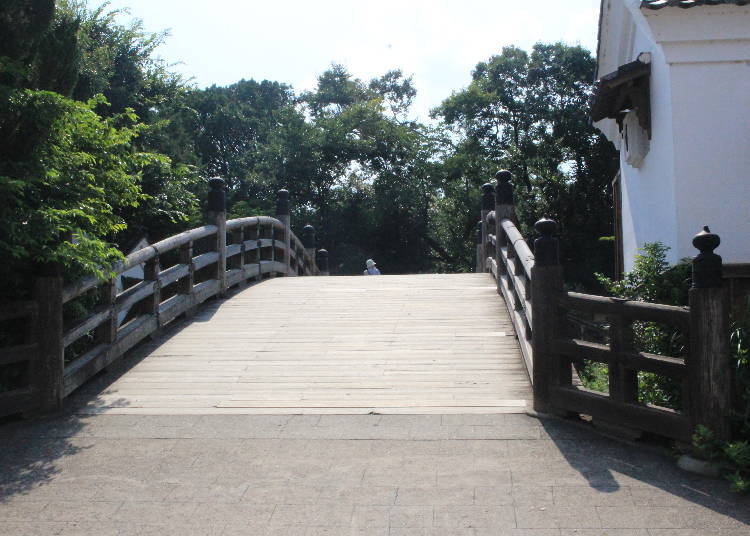 For example, this is "Nihonbashi" of Taikobashi, which is often seen in historical plays. This bridge, in fact, has a staircase behind it, which is not shown when shooting. When the text on the railings are changed, the bridge quickly changes into the Sanjo Ohashi bridge in Kyoto. Be sure to cross the bridge.
Guided Toei Kyoto Studio Park Tour with our actors!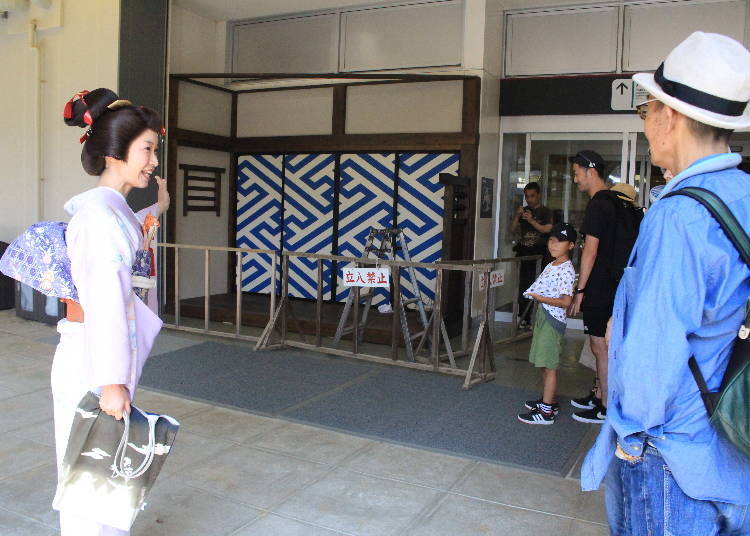 If you want to know more about "Toei Kyoto Studio Park", we recommended you participate in the "Guided Tour with Actors!"

This 20-minute tour is different from regular tours in that Toei actors that appear in dramas and movies come to give you interesting insights, such as the ingenuity of the set and story behind the shooting of the films. If the timing is right, you may even be able to see an actual film shoot.

There are also English interpreters, so it is also popular with foreigners. No reservations are needed making this tour easily accessible.
The powerful ninja show is a must-see!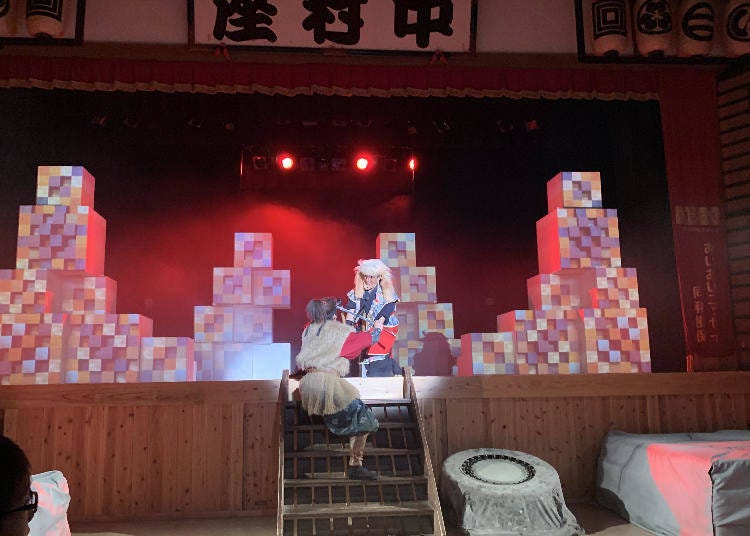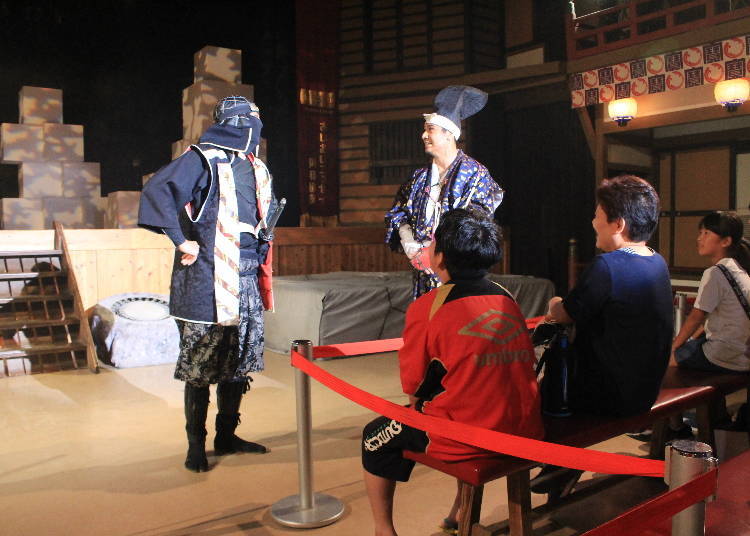 The largest building in the open set is a theater called "Nakamuraza". The Nakamuraza, is a reproduction of the building that was one of the three "Edo Sanza," an art performance theater around during the Edo-era). In Nakamuraza, "Clash! Ninja Show Sasuke" is performed three times a day.

Ninja Sarutobi Sasuke and Hattori Hanzo run around the stage and have an epic battle. The effect of 3D mapping is also extreme where you can enjoy 20 minutes of excitement and laughter.

There are even scenes where the ninja actors, as well as truly trained ninjas, come close to the audience to interact with them which is one of the highlights of the show.
Enjoy a wide variety of costumes at Toei Kyoto Studio Park!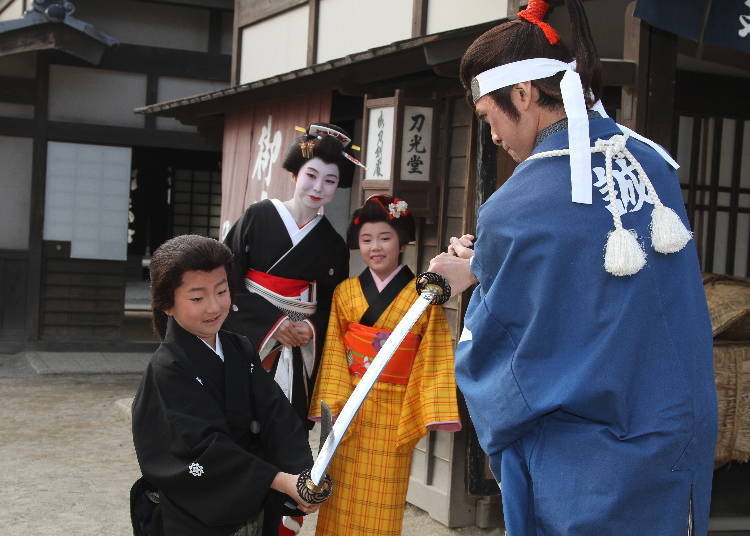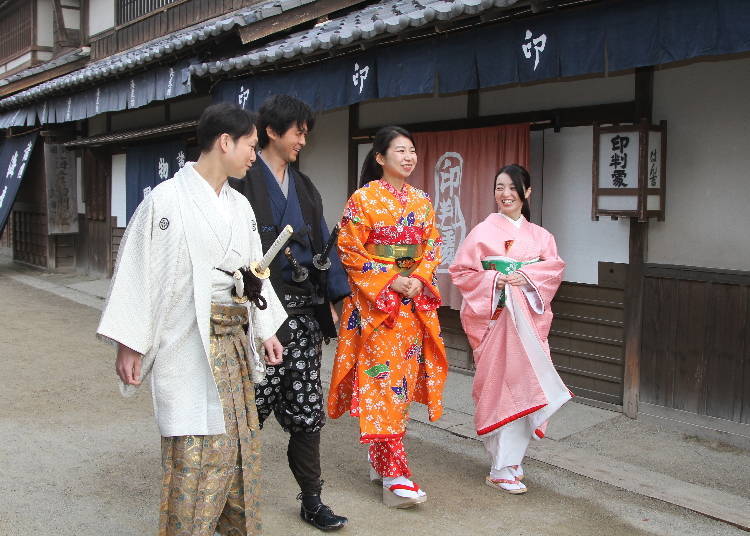 The most popular experience is the "Transformation Experience" (starting at 5,800 yen).

You can enjoy your experience in costumes at the historical drama hall. The time required for the experience is about 15 minutes for the clothing, 10 minutes for the wig, and about 1 hour for makeup.

Toei veteran engineers will work to help you get prepared.

You can choose from a wide variety of appearances like a lord or princess, as well as a Shinsengumi corp member, ninja, geisha, groomsman, or town girl.

It is also popular for men to dress up as women and vice versa so that you can stroll through the movie village in your transformative state.

If you don't have time, we recommend the kimono rental (2,500 yen). You can wear a kimono on top of your clothes which only takes about 10-15 minutes. Both options come with an hour's walk in the village.
Snap a photo in costume at the Toei Kyoto Studio Park photo studio!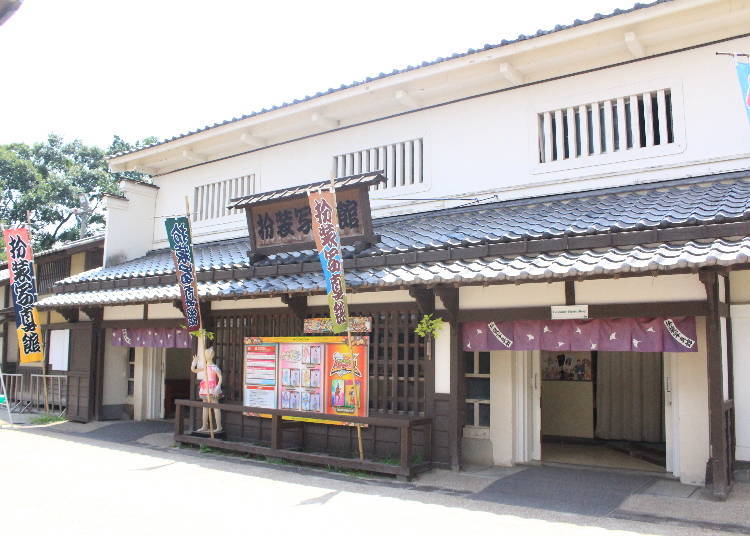 This is a speed menu of about 5 minutes from dressing to photo completion (1,900 yen). Here you quickly change into costume for memorable pictures.

Take the picture in the open set with an authentic background that matches the outfit.

The popular choices here are the men's black kimonos such as Ryoma, Musashi, and Ronin style, with the women's being ones with many ornaments such as princess and Maiko. You can't walk around the village in these outfits, but it will definitely create a great memory!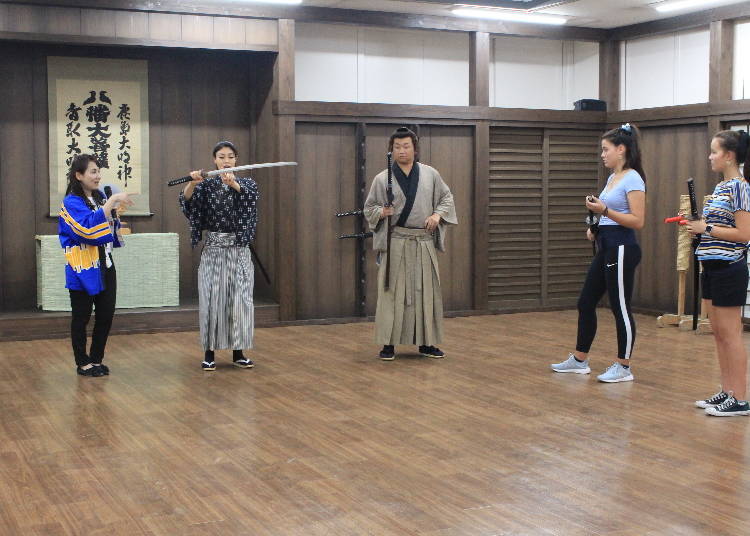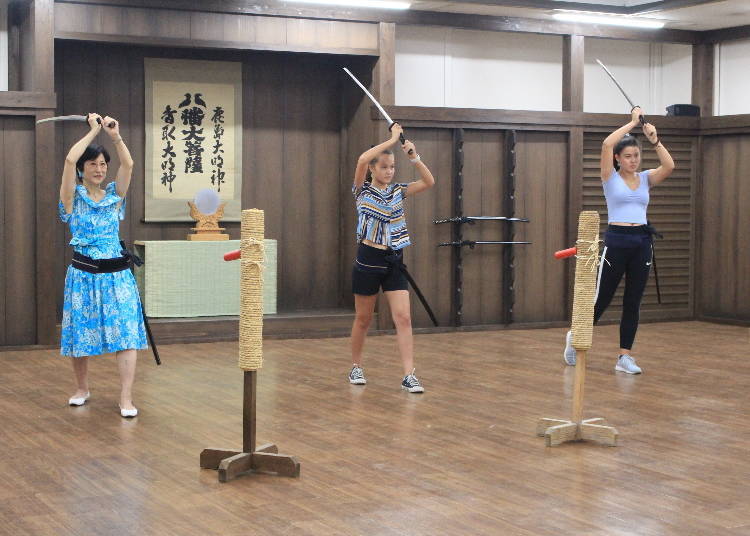 Starting with an explanation of the sword, this course teaches you how to draw and sheath the weapon as well as how to hold it and other techniques.

Even for beginners, it is an excellent option as you can quickly join the experience by merely strapping the sword to your waist. The teacher demonstrates what movements to make for the students to then copy.

Reservations are not required, with participants recruited 10 minutes before the event. There is English commentary, making this experience popular with foreign tourists.
Dining at Toei Kyoto Studio Park: Original gourmet!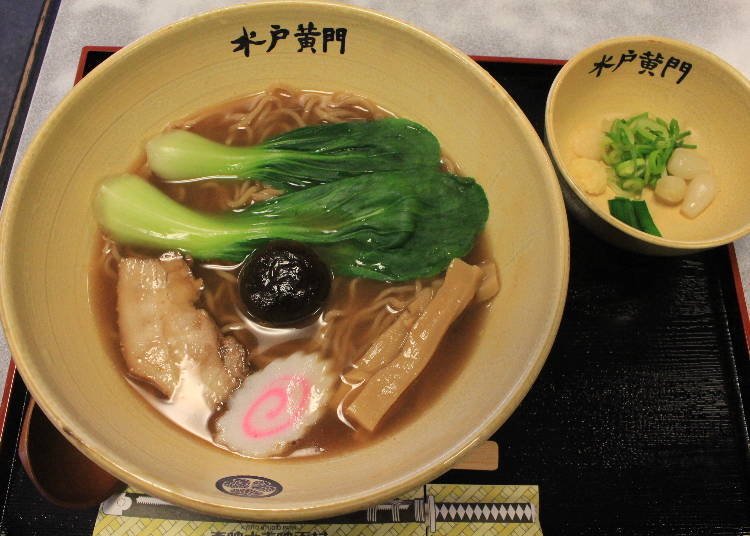 The original gourmet recommended is "Mitohan Ramen" (800 yen). This is a familiar reproduction of Japan's first ramen recipe, known to have been eaten by "Mitsukuni Tokugawa," based on the literature at that time.

The special feature of "Mitohan Ramen" is the addition of kneaded lotus root powder which is added to the noodles, and is seasoned with "goshin," a mixture of garlic, Chinese onion, leek, garlic, and ginger.
Many other fun attractions!
Here, we introduced the popular attractions among foreign tourists, but there are many other attractions in the village such as the "Karakuri Ninja Museum" and "Ninja Trick Mansion". You can enjoy Toei Kyoto Studio Park all day long.

* All prices shown include tax.
*Text by: WEST PLAN
東映太秦映画村

Address

Kyoto City, Ukyo-ku, Dazai-Higashi-Hachiokacho 10

Phone Number

075-864-7716

Hours: 9:00-17:00 (Opens from 9:30 from December 2 - March 1)
Fees: Adults 2,200 yen, junior and senior high school students 1,300 yen, children (3 years old and older) 550 yen (from October 1, adults 2,400 yen, junior and senior high school students 1,400 yen, children (3 years old and older) 1,200 yen)
Holidays: January 14-24, 2020
Toei Kyoto Studio Park: Tickets
Save money and hassle - make your trip extra memorable by getting tickets on our partner site, Voyagin!
*This information is from the time of this article's publication.
*Prices and options mentioned are subject to change.
*Unless stated otherwise, all prices include tax.