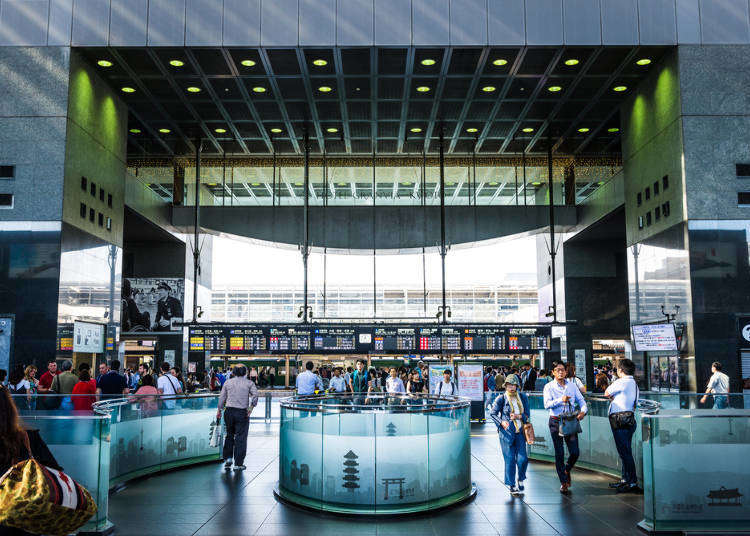 Kyoto Station sees a fair share of the 50 million local and foreign tourists that visit Kyoto every year. Kyoto Station is not only a major transit hub for Kyoto, but tourists can find many facilities with shops selling food and souvenirs in and around it, making it easy to do all your shopping in one spot!

To help you get a head start on your Kyoto trip, we've compiled some useful information about shops and services such as transport options, baggage checkrooms, food places, and shopping centers that will no doubt prove handy. One can never have too much knowledge when planning a trip, after all!
Kyoto Station: The undisputed gateway to Kyoto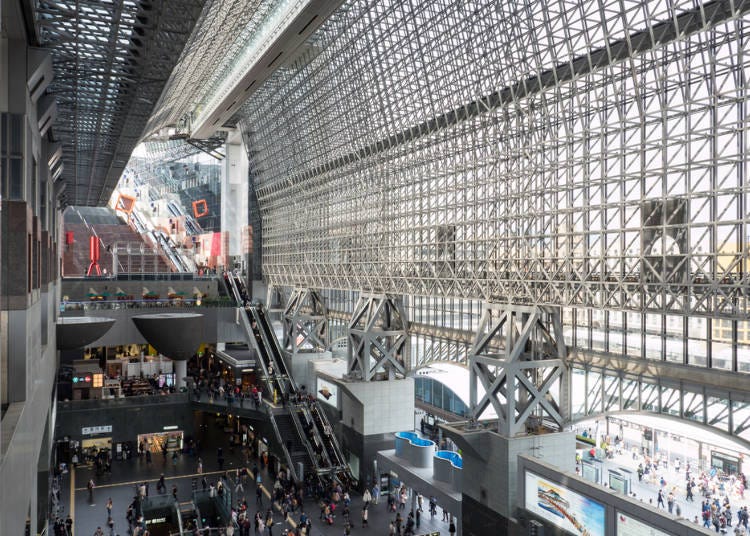 pio3 / Shutterstock.com
Kyoto Station is a major terminal station that serves four major railways: Tokaido Shinkansen, the JR Lines, the metro, and Kintetsu Railway. It is the transport hub everyone uses to start their journey towards the various points of interest within Kyoto City itself.

This busy train station is understandably full of passengers every day, with quite a lot being tourists from other parts of Japan and overseas.

The Kyoto Station Building is a complex located in the center of three stations. You'll mainly find shops selling general goods here, and there's also a shopping street for those looking for variety.

More and more hotels and guesthouses have been sprouting up in the vicinity of the station. Restaurants are plentiful both inside and outside the station as well.

Taking all of this information into consideration, it becomes quite evident that the Kyoto Station area is ideally suited to be the main base of a fun-filled Kyoto trip.

Let's start by taking a closer look at the four train routes plying through Kyoto Station.
The Four Main Train Lines
1. Tokaido-Sanyo Shinkansen: The best way to move around between cities

This particular Shinkansen (bullet train) route connects Tokyo in east Japan to Shin-Osaka in west Japan, then goes to Hakata via the Sanyo Shinkansen from Shin-Osaka. Kyoto is just one station before Shin-Osaka from Tokyo. If you are going to and fro between major cities such as Tokyo, Nagoya, Hakata, and other stops along this route, then this train service will make your trip planning many times easier for sure.

You're probably already aware, but the Shinkansen is the fastest train service in all of Japan and covers the longest distances. However, a reservation is required, and unless you have a Japan Rail Pass, the fee is quite high compared to other regular train services. If your trip mainly covers just Osaka or other Kansai region cities, it may be prudent to consider different routes as a cost-saving measure.
beeboys / Shutterstock.com
2. JR's Zairai Line: Best for Kansai area travel or railroad sightseeing

JR's Zairai Line reaches into quite a few areas in Japan, making it a convenient choice for traveling between nearby cities. From this line, you can also transfer to JR's Kyoto, Biwako, Kosei, Sagano, and Nara Lines.

From Kyoto, to get to Osaka, the largest city in Kansai, hop on JR's Kyoto Line, which will take you to Osaka Station. This is also the line to use whenever you need to head for Kansai International Airport.

Shiga, where Lake Biwa, Japan's largest lake, resides, is also easily accessible from Kyoto Station. Get on a train on JR's Biwako Line and head for Otsu Station. This is also a convenient train route to rely on if you have plans to look around the outskirts of Kyoto or other places in Kansai.

The Nara Line is especially known for its stations' proximity to major shrines of interest. For example, to get to Tofuku Temple, which is famous for its beautiful autumn leaves, disembark at Tofukuji Station.

Thinking about visiting Fushimi Inari Taisha to see those photogenic torii temple gates? Simply drop off at Inari Station, and you'll be all set. How about a peaceful outing to Byodo Temple, a building that's featured on the 10 yen coin? It's within walking distance from Uji Station!

As for the Sagano Line, dropping off at Saga-Arashiyama Station along this will bring you to Arashiyama, the mountain of beautiful natural sights and a famous bamboo forest.
3. Metro: For convenient access to places within Kyoto
4. Kintetsu: Great for trips to Nara

Learning to make use of Kyoto's bus network will allow you to move around within the city easily, which we'll explain more about later in this article. The metro is another option. Fans of Japanese history won't want to miss the immensely popular Nijō Castle, and the metro's Karasumaru Line is a great and convenient way to get there.

Shijō Kawaramachi, the most prominent downtown street of Kyoto can be reached in about 10 minutes on foot from Shijo Station, or via a transfer train on the Hankyu Line.

The Kintetsu Railway train is the most convenient way to access sightseeing spots in Nara with deep historical value, all of them comparable to the traditional sites of Kyoto in terms of cultural history. Toji, a temple with an iconic five-storied pagoda is also within easy reach of train stations on this particular route.
Buses: A convenient way to sightsee within Kyoto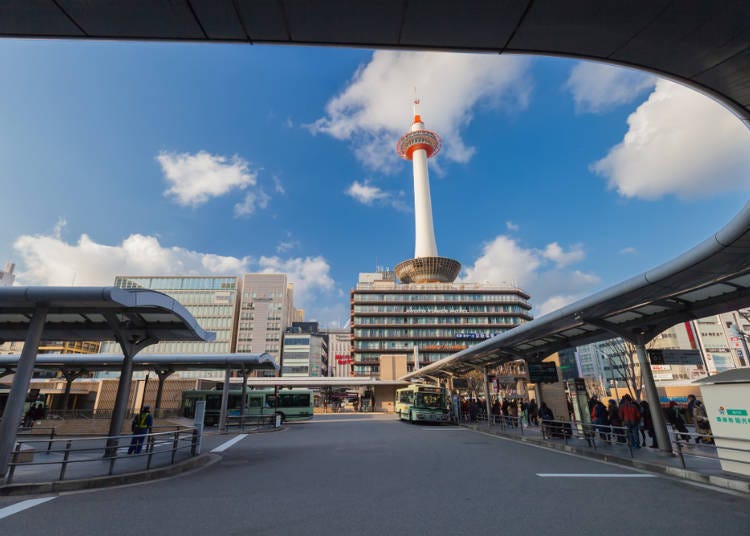 Nbeaw / Shutterstock.com
The bus network you have access to from Kyoto Station will bring you to all the sightseeing spots you can think of within the city. To get to the bus bay, go straight after coming out from the central ticket gantry of Kyoto Station on the JR Lines and exit the building. Starting heading towards the Kyoto Tower in the background, and you'll be at the bus rotary in no time at all.

Check the destination properly before getting on the bus. For example, if you're going to the more popular Kinkaku-ji, Ginkaku-ji, or the Heian Shrine, you'll want to take municipal buses 100, 101, or 102. The fee is 230 yen (adult fee) per bus ride. If you intend to take the bus for more than three times in one day, the one-day unlimited bus pass for 600 yen will give you the best value.
Kyoto Luggage Services: What to do with suitcases while sightseeing in Kyoto
Since Kyoto is a city of ancient streets and temples, it's not exactly designed for modern baggage access, so it might be better to leave them behind before you traipse off to enjoy yourself. Nevertheless, if it turns out you've arrived at the city with baggage anyway, look for lockers immediately upon reaching Kyoto Station.

There are plenty of lockers available within the station itself, and some facilities even offer the service of sending your baggage to your lodgings for you for a fee. Choose whichever one seems most convenient for you so as to make the most of your trip.
1. Let a special search machine do the locker-searching for you!

The ICOCA Empty Locker Search machine is a fantastic help for finding an empty locker among the 1,700 coin lockers available in and around Kyoto Station. This allows you to check for locker space quickly and conveniently without having to drag your baggage around to look for one physically.

Another highlight is that the program supports four languages: Japanese, English, Mandarin Chinese, and Korean. This machine can be found near the central exit on the first floor, at Platform 0 inside the paid area, or near the west exit on the second floor. You can also access the program online via the URL below to do the search on your smartphone or internet devices instead!

Locker Concierge: JR Kyoto Station Locker Availability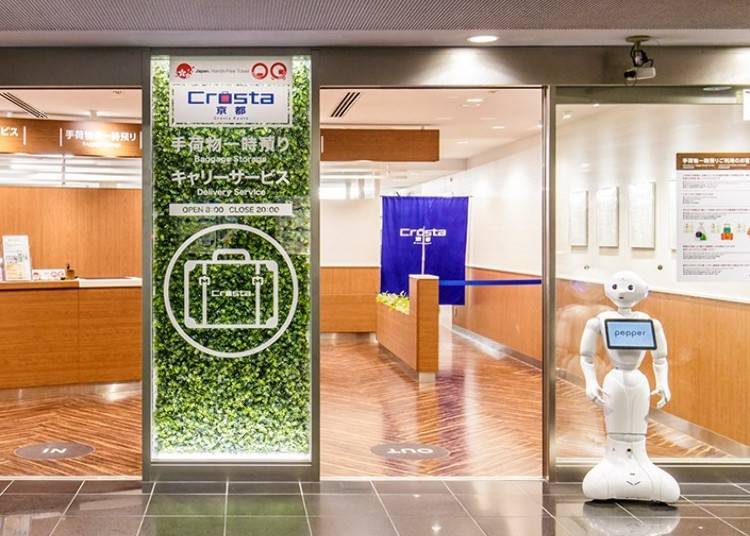 2. Luggage services by Crosta Kyoto near the central exit

Go down the escalator you see in front of the central exit of the JR Lines to arrive at Crosta Kyoto on the basement floor. Crosta offers baggage storage or carry services between stations. Because it's located near Kyoto Station's bus rotary, it's a convenient place to leave your baggage behind while you concentrate on thoroughly enjoying the sights immediately upon arrival!

Pricing wise, they charge 800 yen per piece of baggage per day, up to a maximum of 15 days. Crosta Kyoto can also convey your luggage to the numerous lodgings within Kyoto city, so if you've already booked your accommodations, ask them if they can send the baggage there instead. To make use of this service, you'll be charged 1,000 yen per piece of luggage.
JR京都駅キャリーサービス Crosta京都

Address

Higashi-shiokojicho, Kyoto-shi, Shimogyo Ku, Kyoto 600-8216 Japan

Phone Number

075-352-5437

Hours: 8:00 a.m. – 8:00 p.m. (reception for checkroom service closes at 2:00 p.m.)
Closed: Open daily
3. Luggage Delivery service near Shinkansen Hachijo Exit

There's a delivery service near the Shinkansen Hachijo Exit as well, and you might prefer to use this instead of the others if you'll be arriving via Shinkansen. Baggage checkroom and baggage delivery services are the services being offered here.

Baggage storage fees are 800 yen per piece per day, and delivery to your accommodations will cost 1,000 yen per piece. They also do hotel-to-hotel delivery, something you can consider using if you'll be staying in Kyoto for a few days but in different hotels.
Shinkansen Hachijo Exit Delivery Service

JR京都駅新幹線八条口デリバリーサービス

Address

Kyoto Shi, Shimogyo Ku, Kyoto Fu, 600-8214, Japan

Phone Number

075-671-8026

Hours: 8:00 a.m. – 8:00 p.m. (delivery service reception closes at 2:00 p.m.)
Closed: Open daily
Kyoto Station Shopping, Food & Souvenirs
Right within Kyoto Station, there's a large variety of shopping complexes. The plus point about these facilities is that most of them are open until quite late at night and stay open even during public holidays.

Here are some of our recommended eateries and restaurant streets that offer iconic Kyoto delicacies, along with souvenir shops where you can buy a piece of Kyoto to take back with you for memory's sake!
1. Porta: An underground street with more than 100 shops

Porta is a large-scale shopping complex spread out under Kyoto Station with about 110 shops selling all sorts of stuff. If you're looking for a unique Kyoto souvenir, go to the east area, which is full of Japanese and Western confectionery like yatsuhashi (baked glutinous rice) that perfectly reflect the city's traditional vibe.

Koicha-flavored (thick green tea) cat tongue tea biscuits are available at the popular Malebranche, and we especially recommend getting some. You can also buy food, tea, pickles, and other exciting items from the old and established stores here.

The east and west areas have a combined total of more than 30 restaurants and cafes, and these resting points help to draw more visitors to the complex. Detour Square is a new plaza that was completed in March of 2019 in the west area, and it comes equipped with smartphone charging points that you can take a quick detour to make use of in between shops. The area also gives shoppers access to Wi-Fi service. It's a great place to rest and recharge for the next round of shopping.
京都駅前地下街 Porta

Address

902 Higashishiokojicho, Shimogyo-ku, Kyoto, Kyoto 600-8216

Hours: Restaurants/Cafes 11:00 a.m. – 10:00 p.m. (shops offering breakfast open from 7:30 a.m. onwards)
Shopping/Services/Food/Sweets 10:00 a.m. – 8:30 p.m. (shops open until 9:00 p.m. on Fridays and Saturdays)
Closed: Not fixed
2. Kyoto Omotenashi Koji: An exotic-looking shopping street

In the southern part of the Kyoto Station Building, just outside the Shinkansen Hachijo east exit is a restaurant zone with an exciting concept – a large and straight corridor packed with ten shops laid out in such a way that even people unfamiliar to the area can find what they want easily. The decor features tiled roofs and lattice windows reminiscent of Kyoto's olden townhouses, and this retro design is well-received among its many patrons.

Visitors from overseas especially love the revolving sushi bar Sushi no Musashi here, where sushi is being prepared with fresh seafood sent directly from Maizuru Bay in northern Kyoto. The shop sees brisk business every day with long queues as a result. Other shops we recommend checking out here are a canteen serving food cooked in coal furnaces and an old-time Kyoto-style cafe. Most restaurants here are wide and spacious enough to accommodate larger groups as well.
ASTY Kyoto Omotenashi Koji

アスティ京都 京都おもてなし小路

Address

8-3 Higashishiokoji Takakuracho, Shimogyo-ku, Kyoto, Kyoto, 600-8214

Phone: 075-662-0741 (JR Development and Management Corporation of Kansai - weekdays 9:00 a.m. – 5:00 p.m.)
Hours: Depends on shop
Closed: Open daily
3. Omiyage Koji Kyokomachi: Where you can buy regular and newly designed snacks and treats

On the first floor of the Kyoto Station building, just outside the central exit of the JR Lines, is a souvenir shop called Omiyage Koji Kyokomachi. This shop is divided into two sections on two floors - the northern and southern wings.

The northern wing is where you can find loads of Japanese confectionery from Kyoto's traditional shops such as Mangetsu, famous for its ajarimochi (sweet bean paste dumpling) pastry. There's a limited-time promotion corner here called Kashi Meguri that rotates products on display every seven to 14 days, and you'll be able to find some of the most popular snacks being featured here.

As for the southern wing, keep your eyes peeled for Kyo no Wagashi Noren Meguri, a display corner that sells Kyoto pastries that come in limited time noren-style (Japanese door curtain dividers) packages. These perfectly souvenir-sized confectionery are being sold at reasonable prices between 300 to 500 yen, and their affordability is part of what makes them very popular among souvenir hunters. Other goods available here are pickled foods and Japanese-style general products.
おみやげ小路 京小町

Address

Kyoto Station Building 1F, Higashishiokojicho, Karasuma-dori Shiokoji-sagaru, Shimogyo-ku, Kyoto, Kyoto 600-8216

Phone Number

075-365-8602

Hours: 8:30 a.m. – 8:00 p.m. *Subject to change depending on season
Closed: Not fixed
4. Omiyage Kaido: Easy to drop by before boarding a train

On the second floor of the Kyoto Station building is a pathway called Omiyage Kaido that connects the north and south areas. The path just outside the west exit of the JR Lines and is opened from early morning till late at night, making it easy for anyone to drop by along the way to or from somewhere directly. Why not make this your final stop for souvenirs just before hopping on a train back to your accommodations?

Happily, the shops here are tax-free and feature an astounding variety of goods, including hot favorites like Kyo Baum, a Japanese-style baumkuchen pastry, Kyoto Black Thunder, a reasonably-priced chocolate confectionery, and of course, Kyoto's well-known matcha-flavored snacks of all sorts.

You can also find an Entrée Marché souvenir shop inside the paid area of JR's Zairai Line, near the west exit, in case you've already entered the station platforms and still want to get more souvenirs!
おみやげ街道 JR京都駅西口

Address

Higashishiokojicho, Karasuma-doriShiokoji-sagaru, Shimogyo-ku, Kyoto, Kyoto

Hours: 7:30 a.m. – 10:00 p.m.
Closed: Open daily
5. Kyoto Ramen Street: All the best local ramen in one spot

This ramen specialty restaurant street is on the 10th floor of the Kyoto Station building. It features nine popular ramen shops from all over Japan, from Sapporo in Hokkaido to Hakata in Fukuoka. Representing Kyoto is Masutani, a longtime ramen place with more than 70 years of history touted as the originator of "Seabura Shoyu Ramen," a delectable ramen dish featuring the back fat of roast pork.

You'll also find other local dishes like the regular "Tonkotsu Ramen" and slightly more specialized fare like "Taiwan Mazesoba." There's a snack specialty store on the same floor as well for you to finish off your hearty ramen meal with a beautiful plate of dessert. Also, if you wear a kimono to the shops with a Kyoto Kimono Passport, you'll receive a bonus ajitamago (flavored egg) completely free of charge.
Kyoto Ramen Street (Kyoto Ramen Koji)

京都拉麺小路

Address

Kyoto Station Building 2F, Higashishiokojicho, Kyoto Shi Shimogyo Ku, Kyoto Fu, 600-8216, Japan

Hours: 11:00 a.m. – 10:00 p.m. (last order 9:30 p.m.)
Closed: Not fixed
Start your trip at Kyoto Station for a smooth journey!
As you can see, Kyoto Station not only has excellent rail access but is filled with plenty of facilities that will make your sightseeing a lot more convenient as well.

You'll be glad to know there's no end of interesting places to see in and around Kyoto Station, besides the places we've featured this time.

For example, there's a lot of good food and shopping to be had in JR Kyoto Isetan. How about looking at Kyoto from a vantage point of view at the observatory spot of Kyoto Tower?

You can also tickle your tech fancies at Yodobashi Camera Multimedia Kyoto, a large-scale consumer electronics retailer that probably has every electronic device you can think of and more.

Plan to start your trip from Kyoto Station today for a fun-filled day packed with activities that will bring you closer to Kyoto's cultural core!

Text by: Bitakumi. English translation by: Huimin Pan.
Book an unforgettable experience in Kyoto!
Make your trip extra memorable by booking one of these recommended tours.
*This information is from the time of this article's publication.
*Prices and options mentioned are subject to change.
*Unless stated otherwise, all prices include tax.