Yamagata Prefecture is a nature-rich area located in northern Japan on the Japan Sea side of the Tohoku Region. It is a region known for its greatly differing summer and winter temperatures. The winter landscape is especially popular with tourists from overseas.

With plenty of sightseeing spots to experience such as the beautiful nature and downstream boat rides, a trip here is sure to be one full of unforgettable memories. The area is also known for its fruit production and boasts the largest cherry harvest in Japan. With the fresh abundant waters flowing down the mountains, it is also known for producing delicious rice.

There are many specialty dishes such as taro and beef tongue "imoni" (a kind of meat-and-potatoes soup), and deliciously fragrant soba, sure to please foodies.
What Kind of Place is Yamagata Prefecture?
Yamagata Prefecture is located about 300 km north of Tokyo, and boasts a population of about 1.1 million. It is easily accessible from Tohoku gate and Sendai, and takes about 90 minutes by bus or train.

Yamagata is divided into four areas, each with their own attractions: Shonai, Mogami, Murayama, and Okitama. Over 70% of the prefecture is made up of forest land, which is also home to famous mountains such as Mt. Zao, Mt. Chokai, and Mt. Dewasanzan. Thanks to the abundant nature of the land, agriculture also flourishes here, including delicious fruits and rice. There are also plenty of hot springs all throughout the towns, many which are great to visit during day trips. You can freely stop by during your travels.
What to See in Yamagata: Places to Visit
Compared to Tokyo, Yamagata has fewer public transit options available, so you may find it more convenient to travel by car if planning to visit multiple areas. If you prefer to stay inland, the places you want to visit are Yamagata City and Yonezawa City.

If you want to explore the coastal Sea of Japan area, you will want to start with Tsuruoka City or Sakata City. There are two airports, one in Yamagata and one in Sakata. When you arrive at your destination city, you can take a taxi or rent a car to your points of interest.
1. Yamadera (Hoju San Rishakuj)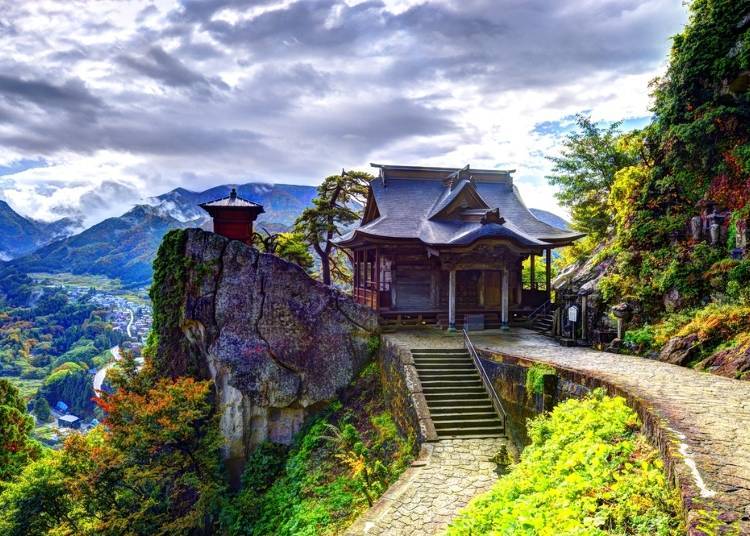 This temple is said to have been established in 860 by Jikaku Daishi, a Buddhist priest. There are many temples all over the mountainside. To reach the summit, you must climb a staircase of 1015 steps, so be sure to wear comfortable sneakers or other easy-to-walk footwear, and if visiting in the winter, then you will need boots. At the end of your climb, in the Okunoin-Daibutsu-en, there is a 5 meter high Amitabha statue that glows a brilliant gold. The Godaido Temple, built by an apprentice of Jikaku Daishi, is also a popular scenic spot with a panoramic view of Yamadera. It is a very beautiful and moving landscape of the mountain village.
Yamadera(Houjyusanrishakuji)

山寺(宝珠山立石寺)

Address

4456-1 Yamadera, Yamagata-shi, Yamagata-ken

Phone Number

023-695-2843

Business Hours: 8:00AM~5:00PM
Admission: 300 yen
Regular Holidays: None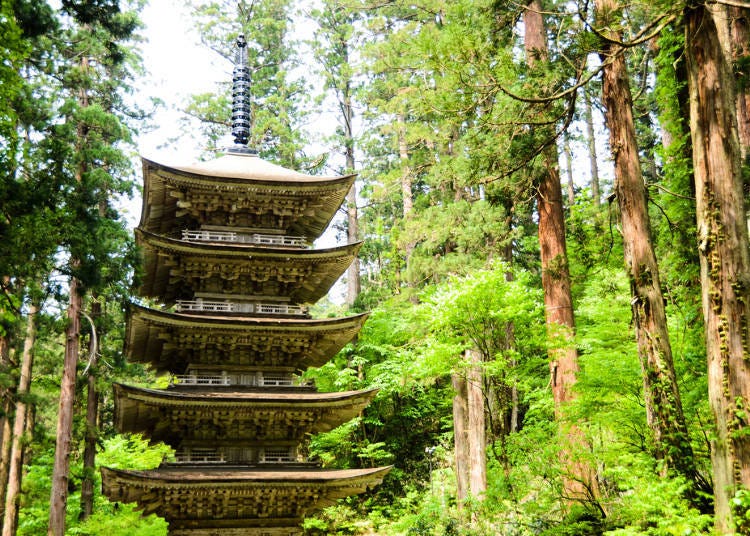 Haguro is a mountain in Tsuruoka that towers at 414 meters high. At the top of the mountain is the Dewasanzan Shrine Sanshingosaiden, dedicated to the deities of The Three Mountains of Dewa: Mount Haguro, Mount Gassan, and Mount Yudono. Leading to the top is a 2446-step stone stairway surrounded by over 350-year-old cedars. These mysterious, beautiful cedars have even earned a three-star rating from the Michelin Green Guide Japan. In the middle of the trip to the top you will come across the National Treasure Five-Tier Pagoda of Mt. Haguro (Hagurosan Goju no To), said to be the oldest tower in the Tohoku Region, and Ninosaka Chaya, where you can try handmade mochi. The journey takes about 2 hours total, round trip.
羽黒山

Address

7-touge, Haguro-machi-touge, Tsuruoka-shi, Yamagata-ken

Phone Number

0235-62-2355

Business Hours: 8:30AM~4:30PM
Admission: Free
Regular Holidays: None
4. Mogami River Funa-kudari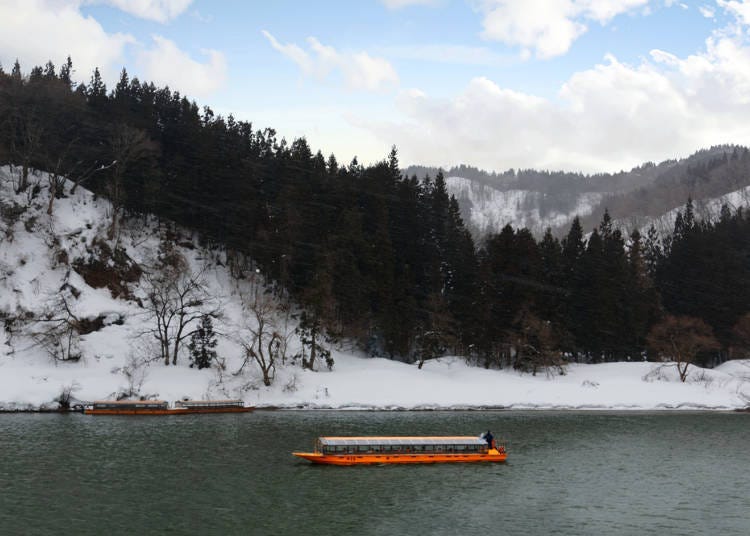 The Mogami River is also known as the "Mother River," as it is the necessary water source used in daily life, including for agriculture and as a traffic route. The Mogami Gorge in the middle reaches of the canyon is a popular boating spot for a different view of nature from the water's surface. The downstream trip of Mogami Gorge Line Tourism is a course that slowly descends over 12 km in about one hour. Not only will you enjoy taking in the scenery but you will also find it interesting to watch and listen to the boatman, who will act as your guide. You can also ask for guidance in English, Korean, and French. On the trip, you will also be able to see several waterfalls from the top as well as stop by a rest stop where you can try "ayu shio-yaki," or sweetfish grilled with salt. During the winter, from December to March, heated Japanese tables called kotatsu are loaded onto the boats, providing a unique experience where you can enjoy the snowy winter views while also keeping warm.
Mogami River Basyo Line Descent

最上峡芭蕉ライン観光

Address

86-1 Furukuchi, Mogami-gun, Tozawa-mura, Yamagata-ken

Phone Number

0233-72-2001

Business Hours: Departure times vary by season (inquire for more info)
Admission: Boat: 2,450 yen; Elementary children 1,230 yen; toddlers & under, free
Regular Holidays: None (may close in inclement weather)
What do Eat in Yamagata: Cuisine
In addition to rice and fruits, Yamagata is also known for many other ingredients such as beef, pork, and seafood, as well as a variety of delicious gourmet dishes that utilize them. There are many restaurants located in the center of the Yamagata City that offer local dishes and prefectural specialties, including boiled dishes, soba, and tama-konnyaku.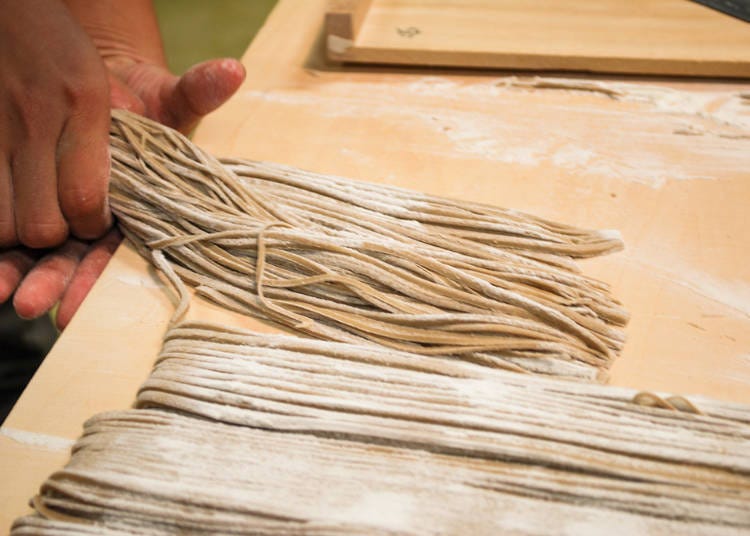 Yamagata has flourished in the production of soba since long, long ago. Ita-soba, the specialty of inland areas such as Mogami and Murayama, is characterized by its strong texture and rich aroma. Served in a large wooden box, it is also visually appealing.

In Oishida, Ohanazawa, and Murayama there are also "Soba Highways," areas where many famous soba shops line the road. It is another popular spot with tons of visitors, and it is recommended to try several of them out and compare dishes.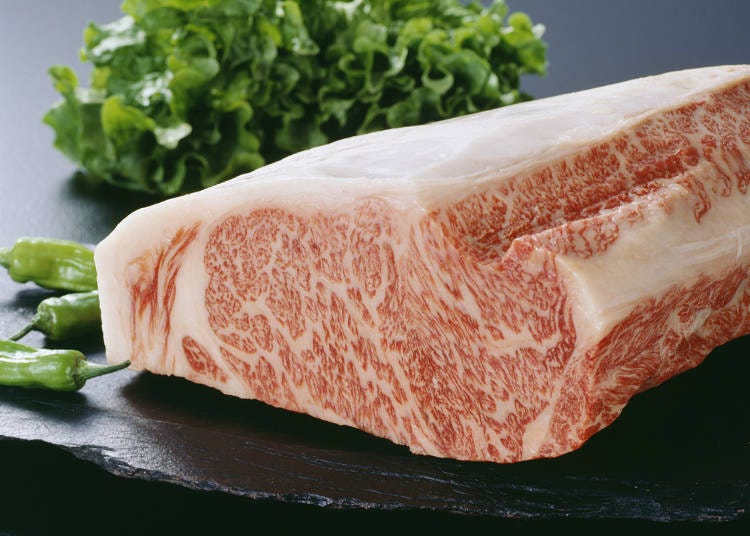 Yonezawa Beef is a special brand of beef that flourished mostly in the Okishima District, the southeastern part of Yamagata Prefecture. Yonezawa Beef comes from a black-haired cattle of Japanese cattle that are raised and fattened in Okishima. Only those cattle that meet the very strict requirements are certified, such as never having given birth to offspring, and being at least 32 months old.

The meat from these cows is much softer and more tender than that of bulls, practically melting in your mouth with each bite. There are many specialty shops that serve Yonezawa Beef in different forms, including not just sukiyaki and steak but also as Yonezawa beef burgers and kebabs.
Shopping in Yamagata: Souvenirs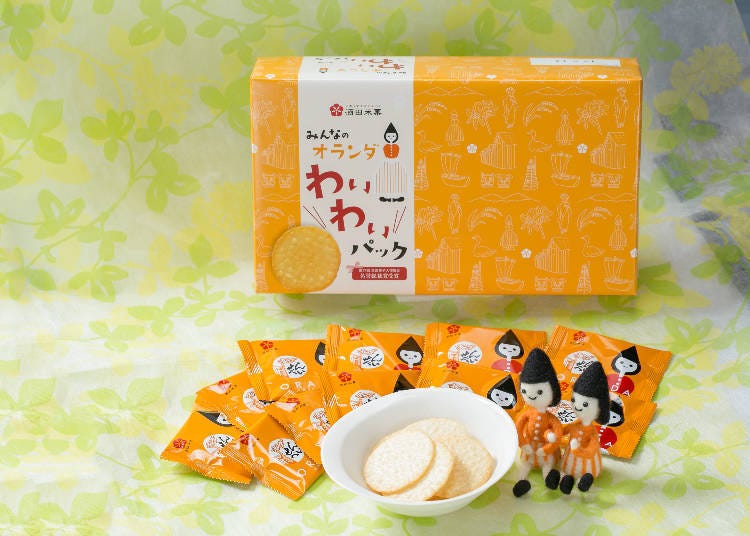 Sakata Senbei Image
Sweets made from local Yamagata fruits, wine and sake, and confectionaries enjoyed by locals since long ago are all popular souvenir choices. The soba noodles used in the local gourmet dishes also hold for a long time when dry, and make great souvenirs. Many people also buy wooden crafts such as wood carvings, and wooden toys such as tops and kendama.
1. Dutch Senbei from Sakata Senbei
Senbei is one of Yamagata's staple baked goods. These senbei are thin, grilled rice crackers made from roasted Shonai rice, one of Japan's most famous leading rice brands, and are characterized by their crisp texture, moderate saltiness, and simple taste. There is a package of 51 small bags each containing two crackers, a convenient gift option when buying souvenirs for a large number of people.
This white wine is manufactured in Tendo City, which is known for long hours of sunshine and low rainfall, suitable conditions for grape cultivation. Niagara wine is fermented at low temperatures using Niagara grapes from Yamagata. It is sweet with a light taste and it keeps the original, rich flavor of the grapes, which flows through your entire mouth with each sip.
3. Shinise Choeido's "Fuuki-mame"
This long-established confectionary shop was founded in 1886. "Fuuki-mame" is a famous Yamagata confectionary item made from green peas. At Shinise Choeido, the craftsmen take carefully-selected green peas, skillfully peel off the skins, and simmer them in a way in which they will not break down. In addition to eating them raw you can also find them in sealed vacuum-packs that can be stored for much longer.
Yamagata City: Shopping Guide
Yamagata City, the center of Yamagata Prefecture, features plenty of local sweets and sake shops, as well as other shopping centers and renovated old buildings, gathered around the station area. With a variety of different shops, including souvenir shops, clothing shops, and drug stores, this is the perfect place to stop and shop during your trip.
1. Shopping Mall Connected to Yamagata Station
S-PAL Yamagata is a shopping center that connects directly to JR Yamagata Train Station. It is a complex shopping facility with fashion shops, restaurants, cafes, and cosmetic shops. There is even a floor lined with all kinds of souvenirs from Yamagata Prefecture, so you can pick up items here from any city or attraction you may have missed.
S-PAL山形

Address

1-1-1 Kasumi-cho, Yamagata-shi, Yamagata-ken

Phone Number

023-628-1106

Business Hours: 10:00AM~8:00PM (may vary by shop); Yamagata Miyage Aya, from 9:00AM~8:00PM
Regular Holidays: None
2. Mizunomachiya Nanokamachi-Gotenzeki: Take a Break at a Japanese-Style Facility
The Mizunomachiya Nanokamachi-Gotenzeki is located in the town of Nanoka-machi and lined with plenty of unique shops and cafes. The building was built in the image of "Machiya," a merchant residence established in the town center during the Edo Period. There is also a tea and soba shop, so it is the perfect spot for a lunch break.
Mizunomachiya Nanokamachi-Gotenzeki

水の町屋 七日町御殿堰

Address

2-7-6 Nanoka-machi, Yamagata-shi, Yamagata-ken

Phone Number

023-623-0466

Business Hours: Varies by shop
Regular Holidays: Varies by shop
3. Yamagata Marugoto-kan Beni-no-Kura: Shopping Spot Renovated from Meiji Era Storehouse
Yamagata Marugoto-kan Beni-no-Kura is a shopping spot renovated from the houses owned by the Marutani Hasegawa family, the merchants behind Yamagata Beni-no-Kura specialty products. It is 7 minutes away from Yamagata Station by taxi.

There are restaurants, a tourist information center, and even a sales office set up that handles traditional crafts and original Japanese sake made with local Yamagata rice.
Yamagata Marugoto-kan Beni-no-Kura

山形まるごと館 紅の蔵

Address

2-1-8 Toka-machi, Yamagata-shi, Yamagata-ken

Phone Number

023-679-5101

Business Hours: Varies by shop
Regular Holidays: Varies by shop
Text by: SHOE PRESs
*This information is from the time of this article's publication.
*Prices and options mentioned are subject to change.
*Unless stated otherwise, all prices include tax.