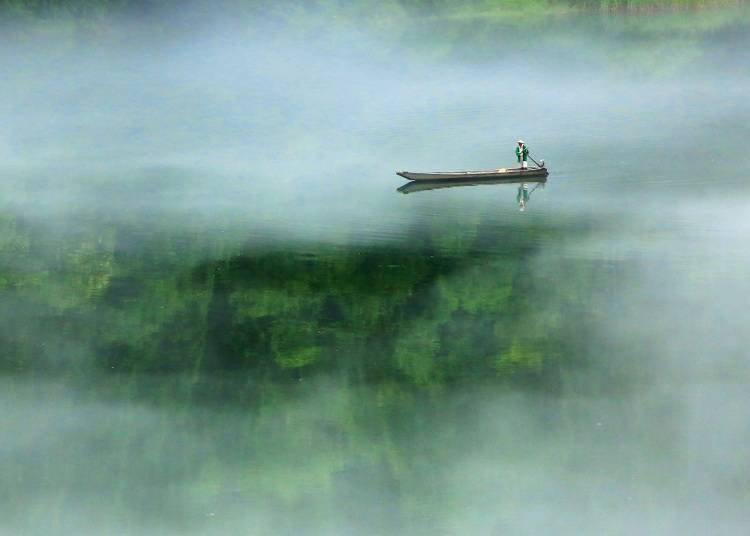 Beautiful Tohoku scenery can make a wonderful memory of your trip. The nature-rich Tohoku region has numerous magnificent views, such as the crater lake with emerald green water and a pond that looks like a dragon's eye.

Tohoku Japan is an area where you can see uniquely Japanese views that change with the season or truly experience Japanese culture, such as the traditional activity "kamakura" and the natural "snow monsters."

Here we want to introduce you to carefully selected magnificent views of Tohoku Japan. How about stopping by these locations these magnificent view spots during your trip here?
1. Mototaki Fukuryusui Underflow (Akita)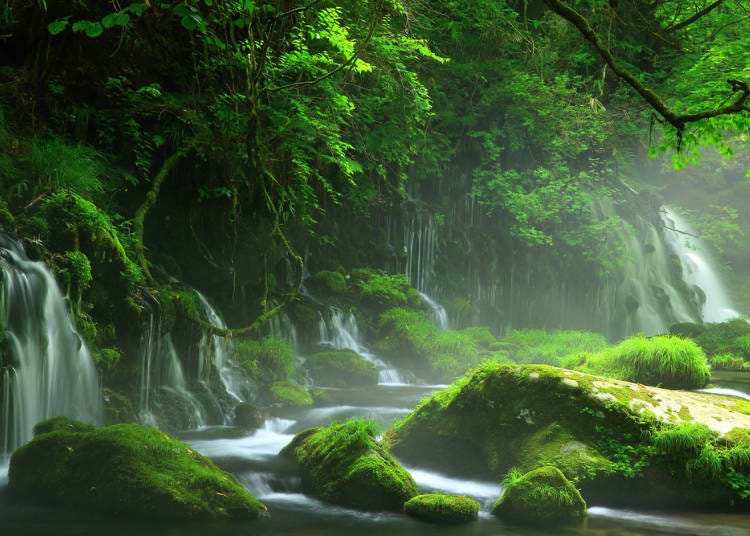 "Motoaki Fukuryusui Underflow" is located in Mt. Chokai, Nikaho City Akita Prefecture. It is a subtle and profound waterfall with various streams that emerges from mossy stones.
It is about 5 meters tall and about 30 meters wide. While it isn't huge, it is a beautiful spot with the contrast of the green mossy stones and delicate white flow of the water.

We recommend vesting between late May and early June during the fresh verdure season. Especially in the morning, the air is chilly and gives a mystical feeling. It's only about 10 minutes on foot from the parking lot, so it makes for a great stop on your Tohoku tour.
Address

Kisakatamachiseki, Nikaho-shi, Akita, 018-0133
View Map

Nearest Station

Kisakata Station (Uetsu Line)
15 minutes by car


Phone Number

0184-38-4305
2. Mugenkyo no Watashi (Fukushima)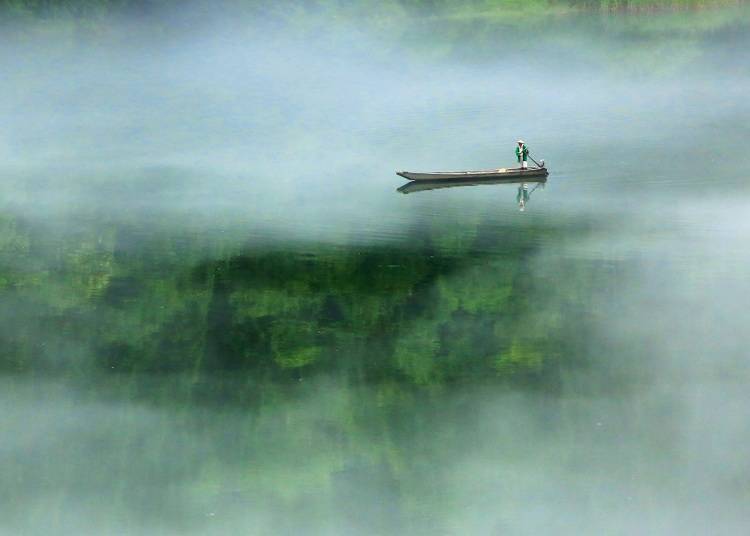 Photo provided by native photographer Kenkou Hoshi
Mugenkyo no Watashi is the rowboat crossing of the river in a mountain village shrouded in mist. Mugenkyo is the common name of the valley where Tadami River goes between Kaneyama Town and Mishima Town. Mugen means misty illusion, and as its name implies, from June to September early in the morning, in the evening or after it rains, the river is enveloped in mist and looks like an illusion.

We recommend taking photos at the pier. From late April to late November, you can ride the rowboat crossing during the day. You can enjoy the boat trip for about an hour while watching the landscape. To ride the boat head towards the hot spring, "Tsuru no Yu" near the pier.
霧幻峡の渡し

Address

Hayato, Onuma Gun Mishima Machi, Fukushima Ken, 969-7406, Japan

Telephone: 0241-42-7211(Kaneyama Town Tourism and Local Products Association)
Hours: not designated, boat crossing operation from late April - mid-November seasonal sunrise - sunset (requires reservation five days in advance)
Price: Boarding fee is 5,000 yen up to 3 people, 1,500 yen per person for 4 - 19 people, for over 20 people 1, 300 yen per person
Closed: Late November - mid-April
3. Lake Usori (Aomori Prefecture)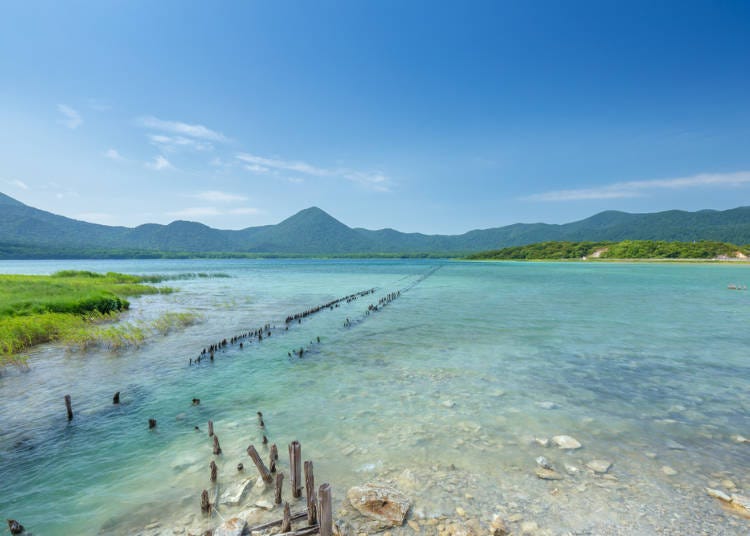 Usoriyamako (Lake Usori) is located in Mount Osore Aomori Prefecture, one of the three major sacred locations in Japan. The crater lake formed by an eruption has a unique ultramarine color.

The mystical lake in a desolate rocky area is beautiful, and with the white lakeside sandy beach, it is called "Gokurakuhama (Paradise Beach)." Since the lake water is strongly acidic, only ugui (big-scaled redfin), which is said to be adaptable to acidity, inhabitants the lake. Every year in mid-October, the leave colors of the mountains surrounding Usoriyamako start to change, creating an elegant scenery.
Address

Usoriyamako, ooaza-Tanabu, Mutsu-shi, Aomori, 035-0021
View Map

Nearest Station

Shimokita Station (Ominato Line)
43 minutes by bus


Phone Number

0175-22-1111
4. Oirase Mountain Stream (Aomori Prefecture)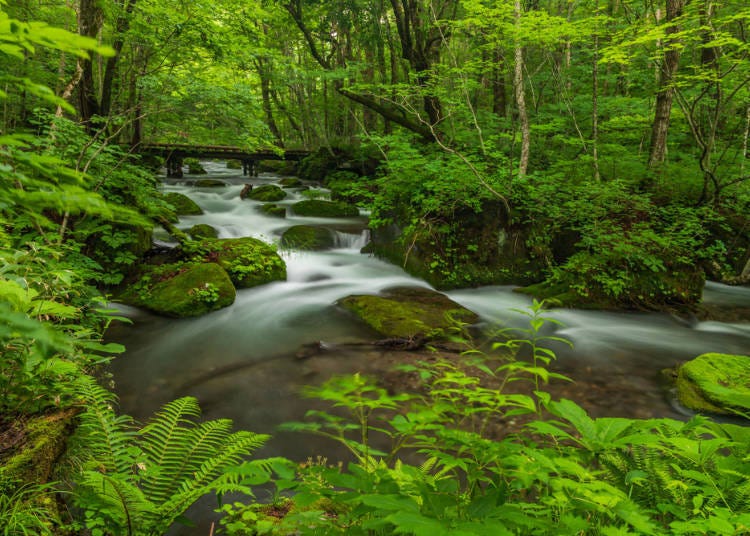 Oriase Keiryu (Oirase Mountain Stream) starts from Aomori Prefecture Lake Towada. The stream stretches from Nenokuchi on Lake Toawada to Akiyama, a total distance of about 14km. Walking paths are maintained along the stream and you can see various sceneries such as the strong Ashura Current and Choshi Otaki, a 7-meter tall and 20-meter wide waterfall.

The best time to visit for a beautiful fresh verdure season is May - June, and for autumn leaves season is mid to late October. If you visit early in the morning, there is hardly anyone around and you can enjoy a pleasant walk.

If you plan to walk through the whole area of Oirase Mountain Stream, it will take about half a day. If you use the local bus or rental bicycles, you can explore the area in 2-3 hours.
Address

Okuse, Towada-shi, Aomori, 034-0301
View Map

Nearest Station

Hachinohe Station (Hachinohe Line / Tohoku Shinkansen / Hokkaido Shinkansen / Aoimori Tetsudo)
90 minutes by bus


Phone Number

0176-75-2425
5. Tsurunomai Bridge (Aomori Prefecture)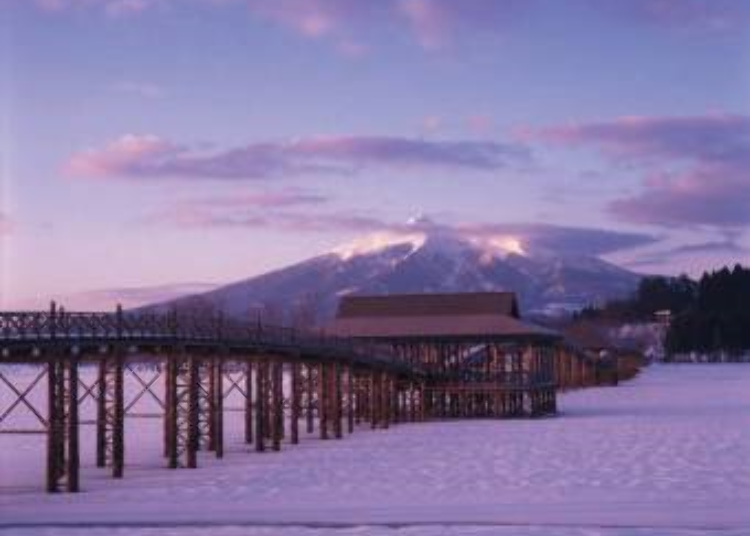 Tsurunomaihashi (Tsunomai Bridge) in Aomori Prefecture, is a full hiba (hiba arborviatae) triple- arch bridge over Tsugaru Fujimi Lake. It is 300 meters long, and it is the longest triple-arch bridge in Japan.

Between the three 100-meter arches, there are two platforms, and it looks like a crane flying. There are two main photo spots. The first is near Tsurunomai Bridge parking lot, which gives a great view of the bridge and the scenery behind it form the front. The second spot is near Tanchotsuru Shizen Koen (Crane Nature Park), which provides a view of the bridge with Mount Iwamoto in the back.

Also throughout the year, there are various sceneries, but the snowscape from December to February during the sunrise and sunset is other-worldly.
鶴の舞橋

Address

Oosawa81-150, Mawarizeki, Kitatsugaru Gun Tsuruta Machi, Aomori Ken, 038-3542, Japan

Telephone: 0173-22-2111 (Tsuruta Town Office, Planning and Tourism Division)
Hours: Not designated (access may be denied due to snowfall or bad weather)
Prices: Free
6. Hachimantai Dragon Eye (Iwate - Akita)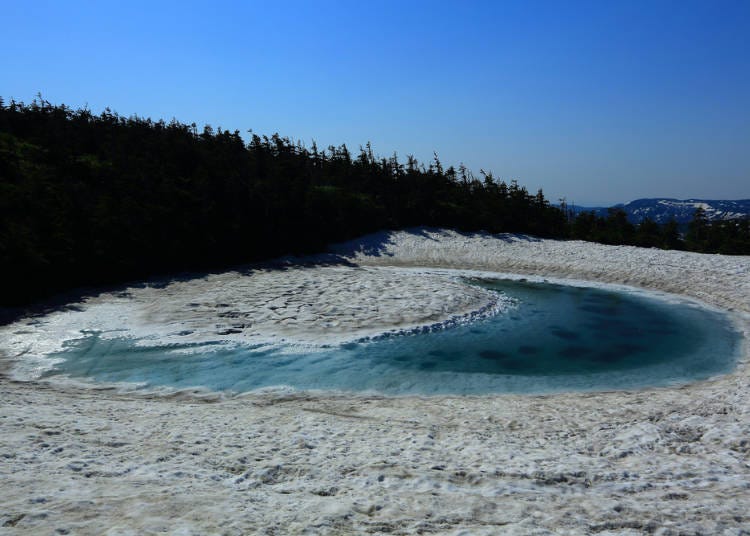 Hachimantai Dragon Eye is a rare scenery of Mount Hachimantai that crosses over Akita Prefecture and Iwate Prefecture that you can see if you are lucky. Along the hiking course to the summit of Mt. Hachiman is "Kagami-numa (Kagami Pond)," and when the snow starts to melt in a ring shape, it looks like a dragon's eye.

It's about 50 meters in diameter. It can only be seen when the snow starts to melt in mid-May to mid-June. Depending on when the snow starts to thaw and weather conditions, the shape, and color of the eye changes. You can see vivid white and blue border right when the snow starts to thaw. But remember, this is a snowy mountain so make sure to dress accordingly.
Hachimantai Dragon Eye (Kagami-numa)

八幡平ドラゴンアイ(鏡沼)

Address

Tazawako Tamagawa, Semboku, Akita 014-1205

Telephone: 0195-78-3500(Hachimantai Kanko Kyokai)
Hours: Hachimantai Mountain Peak Hiking Course mid-April to early November, free access
Prices: Free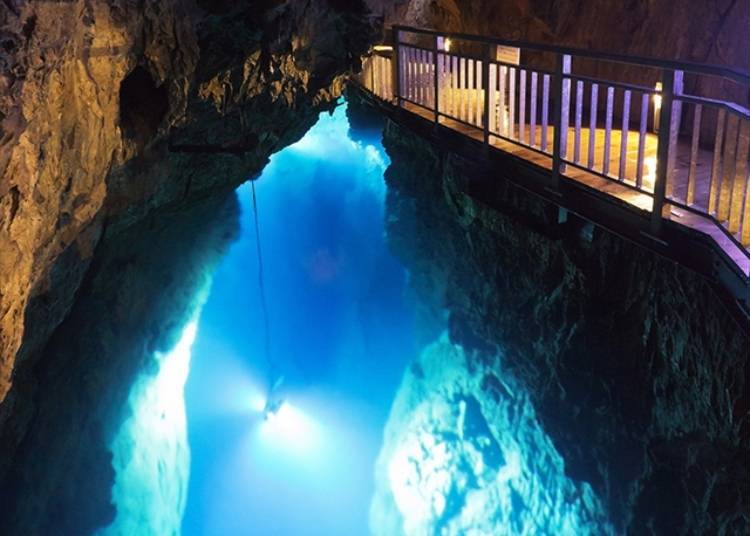 One of Japan's three major limestone cavern "Ryusendo" in Iwate Prefecture is a cavern where you can encounter underground lakes with blue water and dynamic stalactite. The total confirmed length of the cave is currently 4,088m, and 700 meters are open to the public. They suspect that the total length is more than 5km.

In the cave, there are a few viewing areas such as the "Gekkyuden," an area with illuminated stalactite and underground lakes, which are one of the most transparent lakes in the world. You can't miss the three extremely clear underground lakes.

Especially breathtaking is the 98-meter-deep "Third Underground Lake" with its beautiful gradation of blue created by the water and lighting.
Address

Iwaizumi, Iwaizumi-cho, Shimohei-gun, Iwate Kannari 1-1, 027-0501
View Map

Nearest Station

Iwaizumiomoto Station (Riasu Line)
26 minutes by bus


Phone Number

0194-22-2566
8. Yokote Kamakura Snow Festival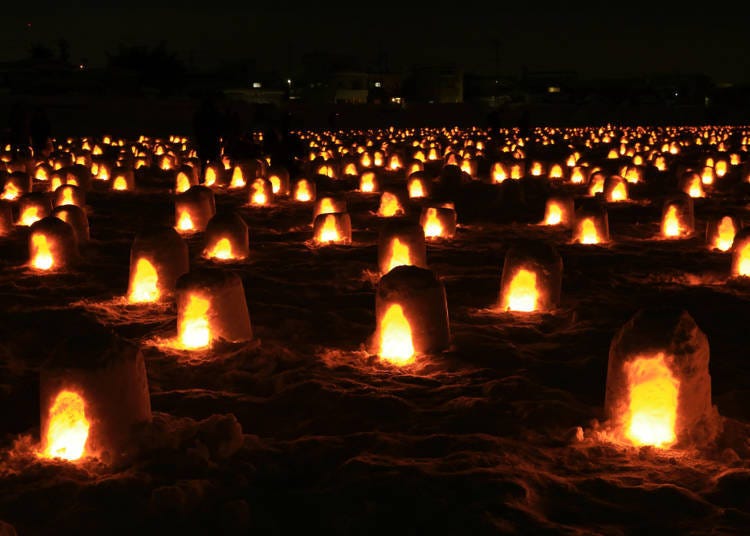 Yokote Kamakura Snow Festival (Yokote no Kamakura) held in Yokote City Akita Prefecture is a traditional activity that has about 450 years of history. Kamakura is an igloo-like snow house made out of packed snow. In the Tohoku region's heavy snow area, it is common for children to make their own kamakura!

Every year the "Yokote Kamakura Snow Festival" is held on February 15th and 16th. The highlight is the lighting of candles in the "mini-kamakura" held at Yokote Minami Elementary School courtyard and Janosaki Kawahara. There are about 2,000 mini-kamakura on the snowfields! Once the candles are lit at night, the area is filled with warm lights.
横手のかまくら

Address

〒013-0017 Akita, Yokote, Janosakimachi, 2

Telephone: 0182-33-7111(Yokoteshi Kanko Kyokai)
Hours: February 15 - 16, 6:00 p.m. - 9:00 p.m.
Prices: Free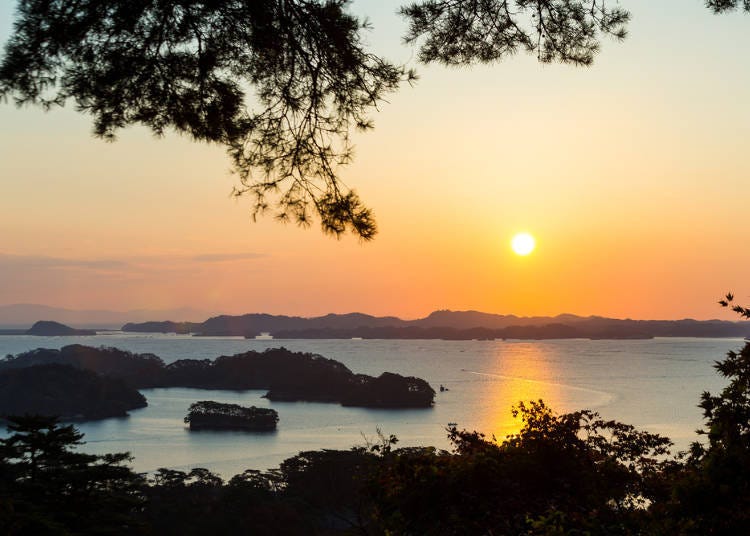 Matsushima is considered one of Japan's three greatest views, and it is a scenic spot that represents Miyagi. In the calm Matsushima Bay, there are about 260 small and large islands, which offer various views.

The standard viewing spot is "Saigyo M0doshi no Matsu Park," which is about a 5-minute drive from JR Matsushima-Kaigan Station. It is also known as a famous spot for cherry blossoms, and the best viewing season is mid-April to early May. During this time, you can enjoy the beautiful view of Matsushima Bay and the light pink colored cherry blossoms. The view of Matsushima bay during sunrise and sunset are truly breathtaking.
松島

Address

Inuta-2 Matsushima, Miyagi District, Miyagi 981-0213(Saigyo Modoshi No Matsu Park)0981-0213
Okama is a symbolic spot of the Zao Mountain range that spans between Miyagi Prefecture and Yamagata Prefecture. It is a strong acidic crater lake, and it was named okama because it is shaped like a traditional iron pot (which you may have guessed, is "okama" in Japanese).

The highlight of the lake is the mystical emerald green water. Depending on the weather and angle of the sunlight, the color will vary. The lake is quite large, with a circumference of 1,000 meters and a diameter of about 330 meters.

We recommend the observation deck to get a full view, and you can also get close to the lake on foot.
御釜

Address

Kuraisitakekokuyuurinnai, Togattaonsen, Katta Gun Zao Machi, Miyagi Ken, 989-0916, Japan

Telephone: 0224-34-2725 (Zao Town Tourist Information Center)
Hours: Late April - early November, hours not designated
Closed: Off-limits during mid-January - mid-April
11. Rime Frost in Zao (Miyagi - Yamagata)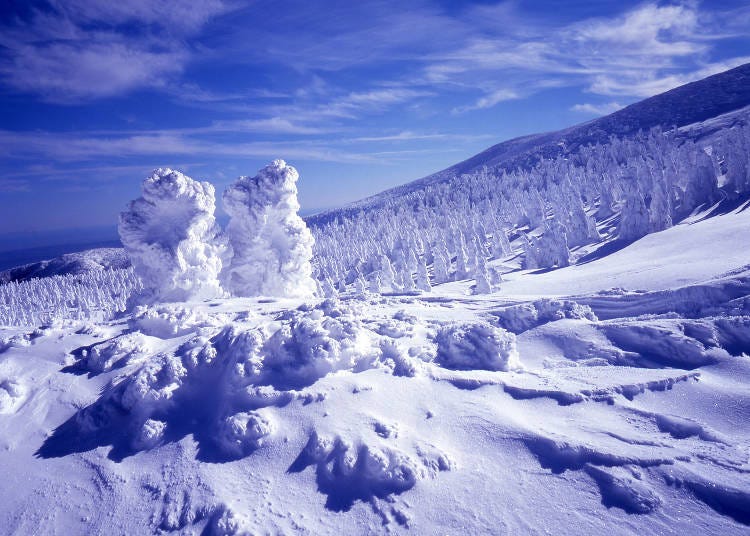 Zao Ropeway
Rime Frost is a natural phenomenon that can only be seen during wither in Zao, which spans between Yamagata Prefecture and Miyagi Prefecture. The best time to visit is from late January to the end of February. The vast rime frost field is really impressive.

At "Sumikawa Snowpark" in Miyagi Prefecture, they have started a snowcat tour that goes to the rime frost fields (requires reservation). Also, at "Zao Onsen Ski Resort" in Yamagata Prefecture, you can ski and snowboard through the rime frost fields. Riding the "Zao Ropeway" and looking down at the rime frost is really enjoyable. Make sure to check out the tour that for illuminated rime frost (requires reservation).
Address

Zaoonsen, Yamagata-shi, Yamagata, 990-2301
View Map

Nearest Station

Yamagata Station (Ou Line / Yamagata Line / Yamagata Shinkansen)


Phone Number

023-694-9518
12. Maruike-sama Pond (Yamagata)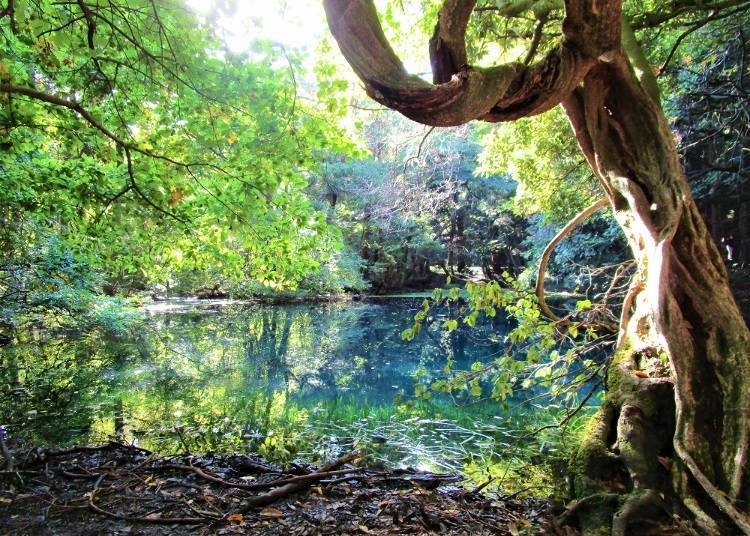 Maruike-sama Pond in Yuza Town Yamagata Prefecture is a magnificent viewpoint that is well-known but to only a few. The pond's water source comes from the spring water of Mr. Chokai, a high mountain that represents the Tohoku region.

The bright blue pond that appears in the woods look majestic and out of this world. The locals worship the pure water, and fallen trees in the pond last for a long time.

From mid-June to early July blooms the baigamo (water buttercup), which only grows in very clean water. These rare beautiful flowers are truly a sight to behold.
丸池様

Address

57 Suguse Arakawa, Yuza-machi, Akumi, Yamagata 〒999-8525

Telephone: 0234-72-5666(Yuzacho Kanko Kyokai)
Hours: Not designated
13. Ouchijuku (Fukushima)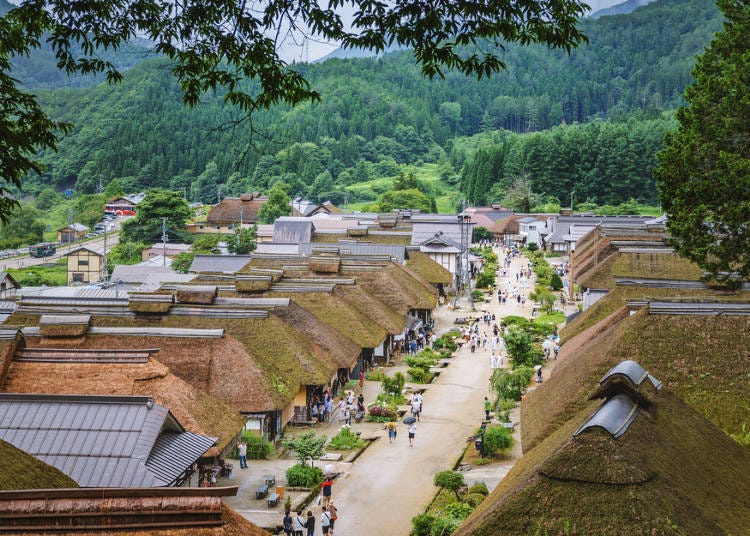 "Ouchijuku" is an inn town from the Edo Period (1603 - 1868) in the mountainous region of Aizuwakamatsu City Fukushima Prefecture. The sight of over 30 thatch-roofed farmhouses, is extremely rare in Japan, and it is a perfect place for people who want to see the old scenery of Japan.

Aizuwakamatsu City is one of the prefectures heaviest snowfall areas, so the best time to visit for ease of access is from spring to autumn, if you are not worried about access, then the winter snowscape is a must-see. You can see the orange lights illuminating the snow-covered inn town.
大内宿

Address

Yamamoto, Ouchi, Minamiaizu Gun Shimogo Machi, Fukushima Ken, 969-5207, Japan

Telephone: 0241-68-3611(Ouchijuku Kanko Kyokai)
Hours: hours may vary depending on the shop
Closed: hours may vary depending on the shop
We hope this guide will help you find a memorable experience during your travels to the Tohoku region!

Text by: SHOE PRESs
*This information is from the time of this article's publication.
*Prices and options mentioned are subject to change.
*Unless stated otherwise, all prices include tax.
Limited time offer: 10% discount coupons available now!