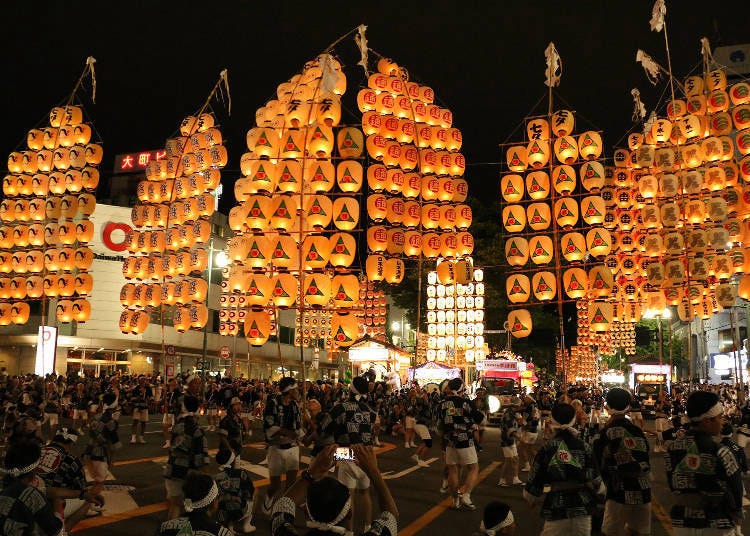 Japan's Tohoku region is home to some of the most unique and vibrant festivals in the country. From the spectacular Nebuta Matsuri in Aomori to the mesmerizing Kanto Matsuri in Akita, these festivals offer a glimpse into the rich cultural heritage of Japan.

These festivals are a must-see for anyone looking to experience Japan's vibrant culture and immerse themselves in the local traditions. With stunning performances, vibrant colors, and an electric atmosphere, they are a feast for the senses.

In this article, we'll explore ten of the most fascinating Tohoku festivals, each offering a glimpse into the distinct traits and traditions of the different regions during different seasons. So, get ready to discover the cultural richness and beauty of Tohoku through these spectacular festivals!
The Many Exciting Tohoku Festivals
One of the features of the Tohoku Region is the great number of festivals held in the summer. There are many festivals overlapping at the beginning of August, so you can enjoy multiple Tohoku events around the same time.

Of course, there are many festivals held during the other seasons as well.

For example, the Sendai Aoba Festival is held in late May, when fresh greenery is in full bloom, as well as the Yokote Snow Festival in mid-February when the snowy landscape is especially beautiful.

When these festivals are held, hotels, ryokan, and other inns are likely to become fully booked, so it is recommended to plan ahead and make reservations in advance.
1. Aomori Nebuta Festival (August 2-7 every year)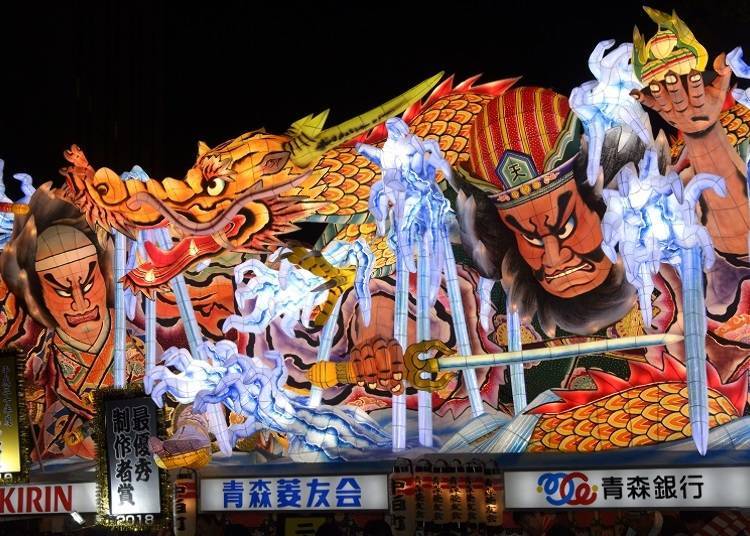 photo: Aomori Tourism and Convention Association
The Aomori Nebuta Festival features huge floats called "Nebuta" made in the likeness of warrior dolls and based on traditional Japanese mythology.

There are various theories of the origin of this festival. Still, it is believed to have resulted from the merging of the Tanabata Festival, which came from China, and the local traditions of sending off spirits and passing illness into dolls.

This merge is said to be what has become known as Nebuta Nagashi, the event of making lanterns and sending them off on the flowing river. This service is still held on the last day of the festival, with the Nebuta being floated out to sea at Aomori Port.

The main festival includes a parade of about 20 large Nebuta floats along the main street of Aomori City, which proceeds along the broad road with dynamic movements such as spinning around and even approaching the audience.

The highlight of the event is the dance called "Haneto," which is performed as the dancers energetically chant, "Rassera, Rassera!" (a dialect expression similar to "irasshai" which means "welcome"). You can even rent a costume yourself in Aomori City, allowing you to freely participate in the haneto dance.
Address

Aomori Chamber of Commerce Hall 4F, 1-2-18 Shinmachi, Aomori City, Aomori Prefecture, 030-0801
View Map

Nearest Station

Aomori Station (Ou Line / Tsugaru Line / Aoimori Tetsudo)
3 minutes on foot


Phone Number

017-723-7211
2. Goshogawara Tachi Neputa Festival (August 4-8 every year)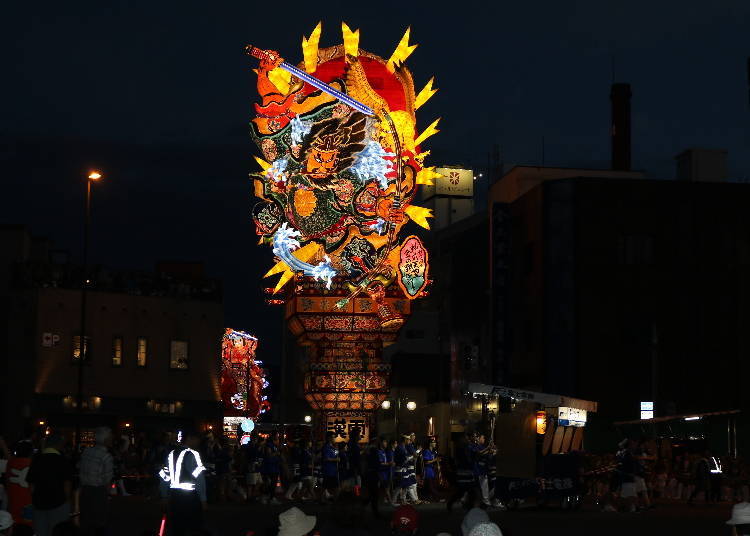 Out of all the Neputa related festivals held in various locations throughout Aomori Prefecture, Goshogawara Tachi-Neputa is an event where you can see particularly large neputa floats, standing at about 20 meters tall.

The oldest record of Goshogawara Tachi-Neputa is said to be from around 1900, and it was believed that the influential figures of Aomori Prefecture at the time made these huge Neputa as a symbol of power.

On the evening of the festival, colossal neputa floats are lined along the street that extends from Goshogawara Station. About 15 of these giant Neputa are walked through the city from a starting point near Goshogawara Station, as the dancers shout, "Yattemare, Yattemare!" When festival season is over, you can see the Neputa all year round at the Tachi Neputa Museum in the city.
Goshogawara Tachineputa Festival

五所川原立佞武多(五所川原市観光協会)

Address

Various places in Goshogawara City, Aomori Prefecture

Phone Number

0173-38-1515

Fee: Free, 3000 yen for bleacher seat
3. Akita Kanto Festival (August 3-6 every year)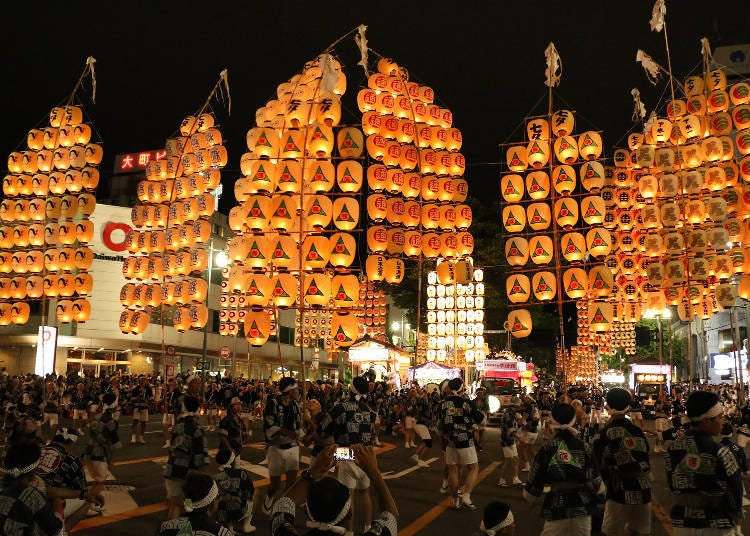 The Akita Kanto Festival colors the night sky of Akita. It is said to have stemmed from Neburi-nagashi, an event that was held in the summer to get rid of evil and disease, in 1789.

On the night of the festival, "kanto," or pole lanterns, are lit up. About 15 minutes on foot from Akita Station lies Kanto-odori, the main venue for the festival, where about 70 groups of nearly 280 kanto lanterns will be lit.

The kanto are rather large, and 46 of them hung across a 12-meter long pole can weight 50 kg. Watch the display of skills as a performer called the "sashite" balances a lit kanto lantern on his palm, forehead, shoulders, and waist. During the "Fureai-no-toki" event held after the performances, you can take photos with the sashite and touch the lanterns.

In the daytime, you can see the daytime lanterns as watch sashite compete in the busy Area Nakaichi Square.
Address

Around Kanto Odori, Akita City, Akita Prefecture, 010-0000
View Map

Nearest Station

Akita Station (Ou Line / Akita Shinkansen / Uetsu Line)
15 minutes on foot


Phone Number

018-888-5602
4. Omagari Hanabi National Fireworks Competition (Last Saturday of August, every year)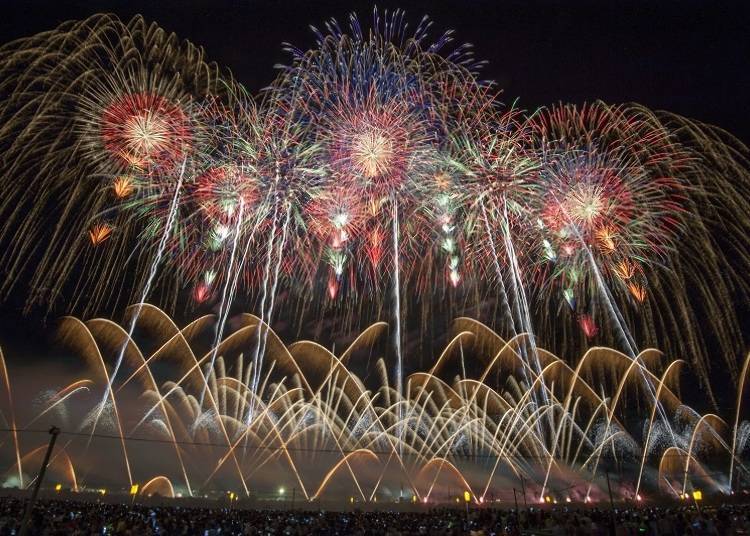 The Omagari Fireworks has a history of over 100 years and was first held as a shrine festival in 1910. It is a large-scale Tohoku fireworks competition between about 27 participating "fireworks masters" featuring about 18,000 fireworks.

The tournament consists of four different categories: daytime fireworks (colorful smoke type), starburst/ball-type, starburst/ball-type, freestyle, and creative. This is the only tournament in the country where you can watch colorful patterns painted in the sky in the daytime with red, yellow, and blue smoke fireworks. At night, you can enjoy displays of traditional round and flower-shaped fireworks, as well as creative fireworks that form a variety of shapes and patterns along with the music.

This tournament is also located at an exclusive venue built between Omagari Fireworks Bridge and Himegami Bridge. Because of the river that flows between the launch site and this spot, the audience can enjoy the beautiful fireworks without anything blocking their view.
Address

Daisen-shi, Akita, 014-0000
View Map

Nearest Station

Omagari Station (Ou Line / Tazawako Line)
30 minutes on foot


Phone Number

0187-88-8073
5. Yokote Snow Festival (Kamakura) (February 15-16 every year)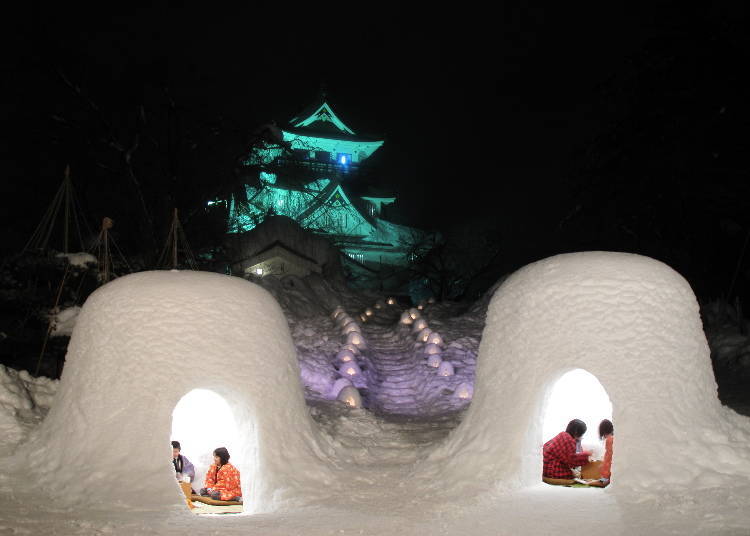 This event has been held in Yokote City, Akita Prefecture for about 450 years, and was created to worship the god of water. People go inside the "kamakura," little huts made from small, hollowed-out mountains of snow, and present money and offerings as they pray for the safety of their families and prosperous business.

It has been celebrated since 1954 as the Yokote Snow Festival, together with another festival called Bonden, in which people hold a long, beautifully decorated stick and pray for safety within the town and the success of agriculture. It is now a sightseeing event representative of Yokote City.

In ancient Japan, children were believed to be purer than adults, therefore closer to god. Even nowadays, local children enter the kamakura and offer visitors amazake and mochi as they invite them inside to worship. You, too, can visit one of the 80 kamakura that dot various parts of Yokote City while enjoying the fantastic scenery they create.
Yokote Snow Festival (Kamakura)

横手の雪まつり(かまくら)(横手市観光協会)

Address

Various locations in Yokote City, Akita Prefecture

Phone Number

0182-33-7111

Fee: Free
6. Morioka Sansa Odori (August 1-4 every year)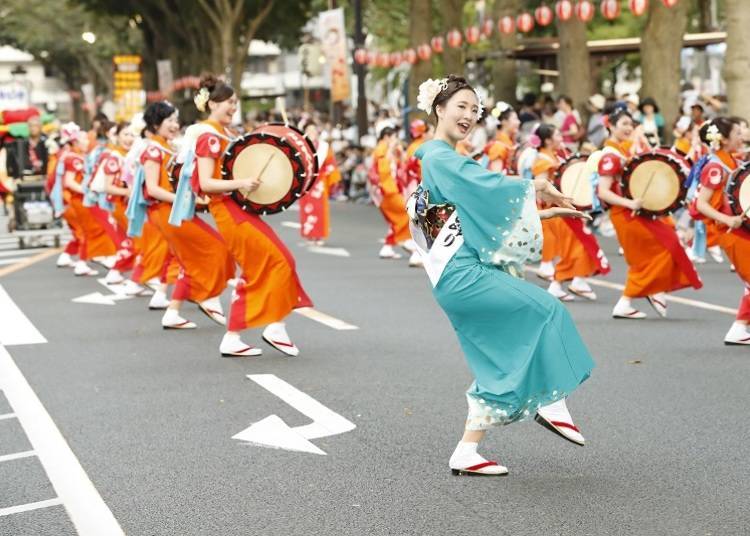 photo: Morioka Sansa Odori Executive Committee
The Morioka-san dance, which has been around since the 1600s, is a festival characterized by the light sound of Japanese drum and elegant dance, a depiction of the charms of Iwate Prefecture. It is said to have originated from the dances people did to express their joy after the demons that had been running rampant in the region were destroyed by their gods. Even now, a dance is dedicated to Mitsuishi Shrine every year, where the demons vowed never to commit an evil deed again.

The main event of the festival is called the Miseru Sansa Parade, where more than 30,000 dancers and taiko drummers parade through the central street of Morioka City. The "Miss Sansa Odori" is another must-see, where women dressed in beautiful kimono perform fantastic, eye-catching dances at the beginning of the parade. Tourists can also freely participate in the ring dance that is held after the parade.
Morioka Sansa Odori Festival

盛岡さんさ踊り(盛岡さんさ踊り実行委員会)

Address

Various places in Morioka City, Iwate Prefecture

Phone Number

019-624-5880

Phone: 019-624-5880 (Morioka Sansa Odori Executive Committee)
Fee: Free
7. Sendai Tanabata Festival (August 6-8 every year)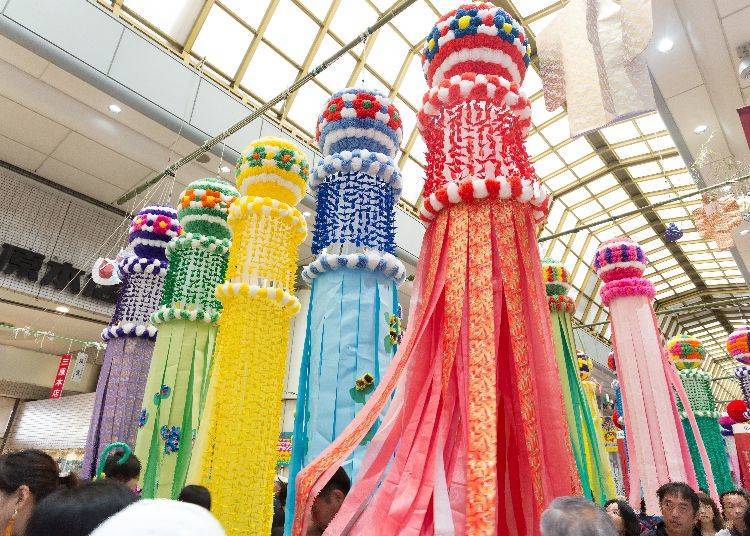 photo: Sendai Tanabata Matsuri Kyosankai
During the Sendai Tanabata Festival, over 3,000 traditional Sasakazari decorations sway in the wind, decorating the city of Sendai. This traditional festival is said to have been around since 1600 and attracts more than 2 million tourists every year.

Plenty of colorful Tanabata decorations, such as streamers made of Japanese paper and paper cranes, are displayed throughout the city of Sendai and the surrounding local shopping streets. There are a total of seven different kinds of decorations, each of which represents a wish for skill improvement or good health.

Nowadays, people can write their wishes freely on paper strips, but in the old days, the requests were said to be specifically for academics and calligraphy. These strips are kept all throughout various places in the city. The purpose of the Tanabata Festival seems to be not just sitting and watching, but actively writing down your wishes to make them come true.
Address

Sendai-shi, Miyagi center and neighboring malls, 980-0000
View Map

Nearest Station

Sendai Station (Namboku Line)


Phone Number

022-265-8185
8. Sendai Aoba Festival (3rd Sunday in May, every year)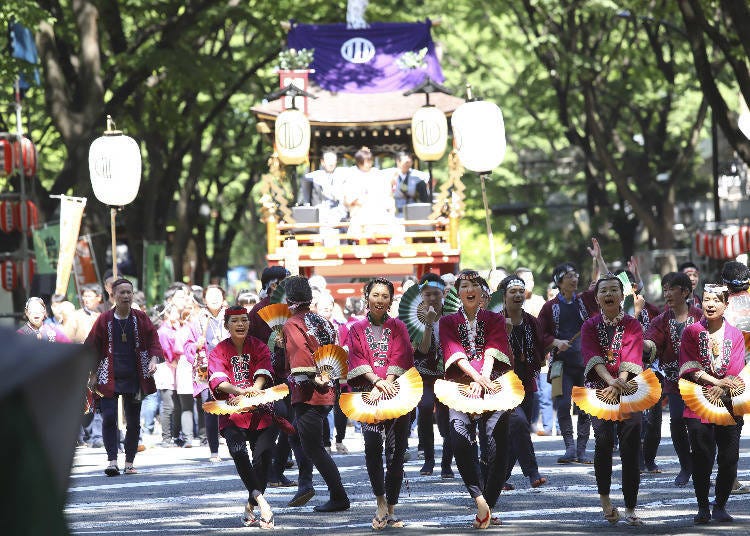 The Sendai Aoba Festival is said to have originated from the Sendai Festival, the most important festival in Toshogu, which began in 1655. It later became a festival of the Aoba Shrine that enshrines Date Masamune, the founder of Sendai, and became known as the Aoba Festival, to be held on May 24th, the date of his death. Although the festival was discontinued for a while, it was revived in 1985 to become what it is today.

Jozenji-dori is the main street for the Yoi Festival, held on the day before the third Sunday in May, and is lined with beautiful zelkova trees. The "Sendai Suzume Odori," literally the "sparrow dance," is performed by dancers in colorful costumes dancing and hopping around like sparrows.

The highlight of the festival held on the following day is the procession of people in armor portraying brave warriors carrying the "Masamune Mikoshi Togyo," which is said to hod the spirit of Masamune mikoshi. The parade of beautiful floats and the captivating Sendai Suzume Odori dance that follows the procession is also a complete masterpiece.
仙台・青葉まつり(仙台・青葉まつり協賛会)

Address

Jozenji-dori (plus other locations), Aoba-ku, Sendai-shi, Miyagi-ken

Phone: 022-223-8441 (Sendai/Aoba Matsuri Kyosankai)
Fee: Free
9. Yamagata Hanagasa Festival (August 5-7 every year)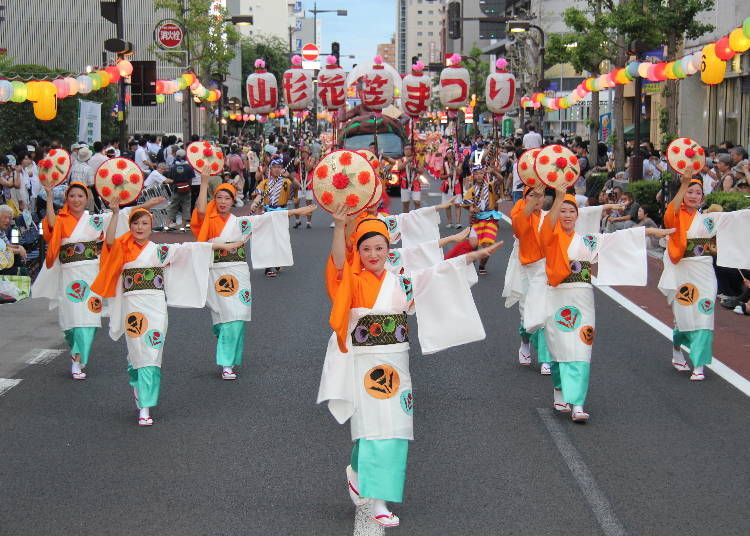 photo: Hanagasa Yamagata Prefecture Council Executive
The Yamagata Hanagasa Festival features many dancers in bright costumes performing group dances accompanied by their energetic shouts of "Yasho, Makasho!"

Participating groups such as companies, schools, and volunteer groups also have their uniform costumes and Hanagasa (flower umbrellas) decorated with safflowers, the local flower of Yamagata Prefecture.

Dances have always varied from region to region. Still, in 1963, to make it easier for everyone to learn, the elegant choreography of the regular Hanadasa-Odori dance called Kunpu Mogamigawa was born. In 1998, a regular Hanagasa-Odori for men was also created, called Zao Gyoko. You can see various other types of dances as well, including the "Kasa Mawashi" (Umbrella Spinning) and "Sosaku Odori" (Creative Dancing).

About 10,000 dancers dance along the 1.2 km long main street of Yamagata City in this grand parade, brightly painting a summer scene of Yamagata.
Yamagata Hanagasa Festival

山形花笠まつり(山形県花笠協議会事務局)

Address

Nanokamachi~Bunshokan, Tokamachi, Honmachi, Yamagata-shi, Yamagata-ken,

Phone: 023-642-8753 (Hanagasa Yamagata Prefecture Council Executive Office)
Fee: Free
10. Soma Nomaoi (Last Sat-Mon of July every year)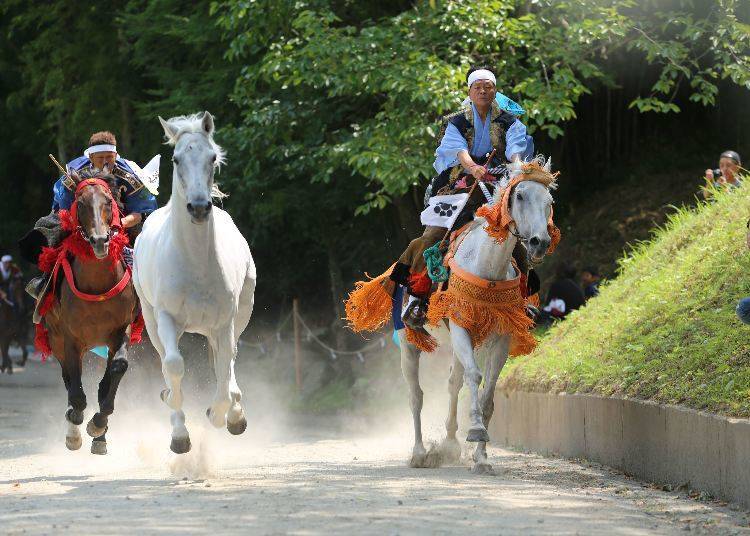 Somano Maoi is a traditional event with about 1,000 years of history in which you can watch the heroic figures of warriors in full armor riding horses right before your eyes. It is said to have originated from part of the warriors' training for battle in which horses were released in the fields to be pursued in place enemies.

The highlight of the three-day festival is the "Kachu Keiba Horse Race," which takes place in the Haramachi District of Minamisoma City. The brave equestrian warriors remove their helmets, fasten white headbands on their heads, and dash forward, waving their flags in the air, just as if samurai had really been brought back in our modern times.
相馬野馬追(相馬野馬追執行委員会事務局)

Address

Various locations, Minamisoma-shi,Fukushima-ken

Phone: 0244-22-3064、0244-24-5263(Soma Nomaoi Executive Committee Office)
Fee: Festival Entry, 1,000 yen
円
Text by: SHOE PRESs
*This information is from the time of this article's publication.
*Prices and options mentioned are subject to change.
*Unless stated otherwise, all prices include tax.