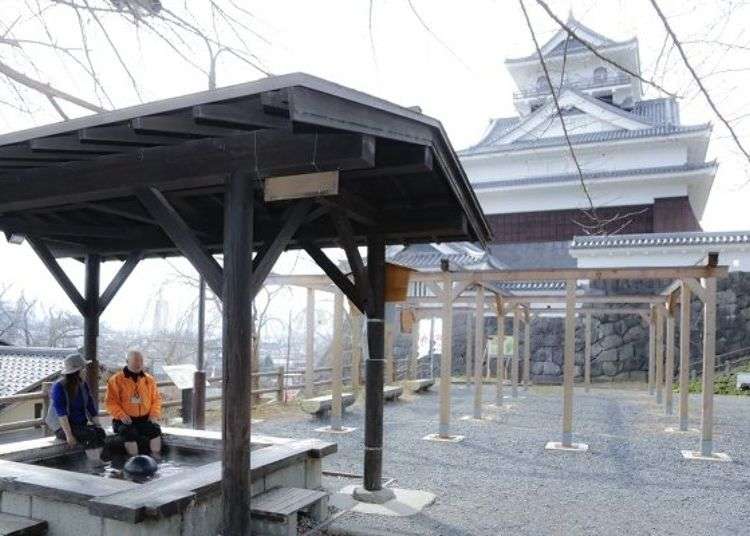 Kaminoyama Onsen was discovered about 560 years ago in the southern part of Yamagata. It is well-known as a castle town at the foot of Kaminoyama Castle and as a prosperous inn town on the Ushu Highway during Edo times.

Here there are many samurai residences and old houses that are reminiscent of those days as well as many other interesting sights.

Taking a stroll through this old castle town, sampling its famous konjac cuisine, and perhaps a luxurious soak in a hot spring at night are treats that will await you in this city unique even in Japan for the three roles it played as a castle town, ryokan inn town, and hot spring town; the perfect place for a leisurely day trip and sightseeing.
How Kaminoyama Onsen hot spring town came about
To get to Kaminoyama City you first take the Yamagata Shinkansen from Tokyo which takes about two and a half hours to Yamagata City. From there it is then only about a twenty-minute drive away making it a great place for enjoying a day of sightseeing.

The Kaminoyama Onsen began in 1458 during the Muromachi Period. Stopping here while on a journey, Gesshu, a monk from Hizen (now Saga Prefecture), came upon a crane standing in a swamp to comfort an injured leg. Seeing that it was a natural hot spring, Gesshu, with the help of the villagers, began developing it. Because of that, it is also called the Tsuru-Hagi no Yu which literally means "Crane Leg Hot Spring".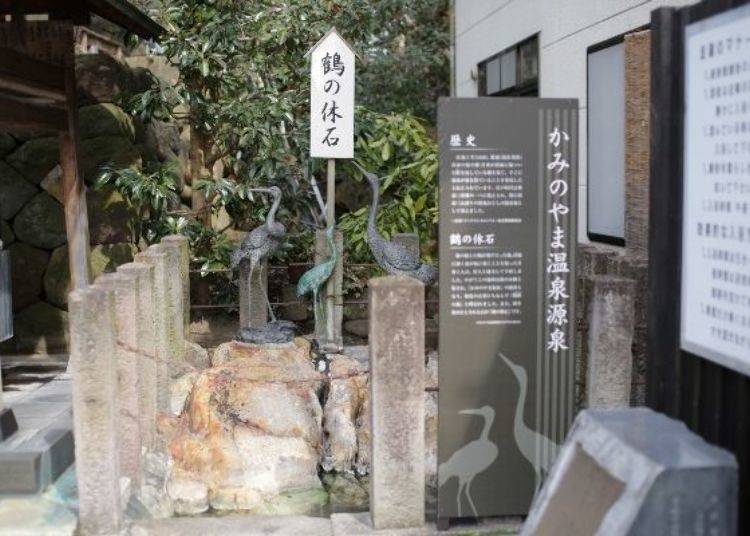 ▲ The Tsuru no Yasumi Ishi (stone on which the crane rested) is in the hot spring town and where the crane was said to have rested its wings.
Kaminoyama Onsen has six distinct districts, such as the Yumachi District that has the oldest history, the Shinyu District with its vestiges of the old castle town, and the Hayama District sitting on a quiet hilltop.

Yunohama Onsen, located on the Japan Sea side of the prefecture, and Higashiyama Onsen, found in Fukushima Prefecture, are each counted as being one of the Oshu Sanrakugo (Three Pleasure Towns of Oshu).
The famous reconstructed Kaminoyama Castle
Let's begin our stroll by first walking about 15 minutes from the JR Kaminoyama Onsen Station to Kaminoyama Castle and walk around the nearby old samurai residences.

During the Edo period, this area was the domain of the Kaminoyama Clan; while the most powerful clan in Yamagata was the Date Clan, whose domain was in Yonezawa, both clans playing very important roles in this region.

In the past, the castle was in the center; the current Kaminoyama Castle is a reconstruction based on architectural documents in the local museum that was completed in 1982.
▲ The three-tiered castle is a famous photo spot. It is a symbol of Kaminoyama City and many people visit it during the cherry blossom season (mid to late April).
Let's climb the stone stairs and go up inside Kaminoyama Castle. A solemn air permeated the dimly lit interior, and the moment I entered it, I felt myself coming to attention.

After paying the admission fee (410 yen for adults, tax included), we asked a sightseeing volunteer guide to show us around. If there are volunteer guides in the castle when you visit, you do not need to make a reservation for one in advance. However, if you also wish to have a guide accompany you on your walks in the area, it is necessary to make a reservation by phone at least five days in advance (contact the Kaminoyama City Tourist Association; reservations can be made for one or more individuals). There is no charge for the volunteer guide service, and they are available from 9:00 a.m. to 5:00 p.m. (End and beginning of year excluded).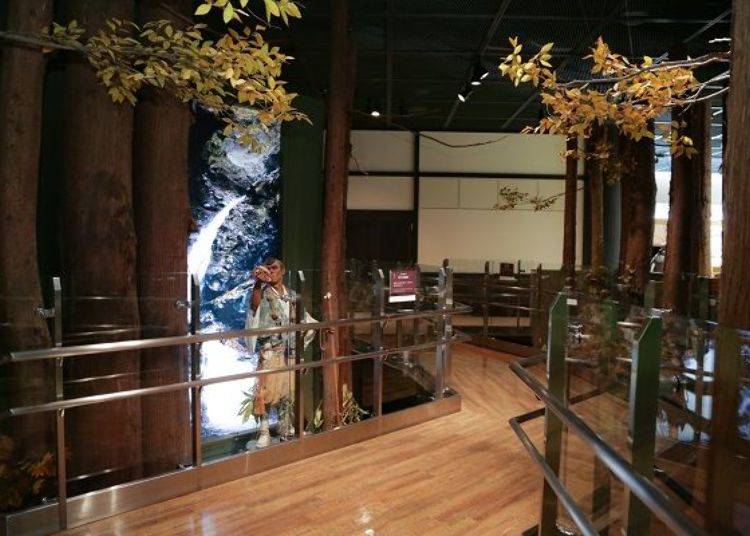 ▲ A figure of a Yamabushi [mountain priest] in the entrance. The interior has a unique air
In the hall, the natural environment of Kaminoyama City, the formation of the hot spring village, and the history of the town are introduced through images and photos.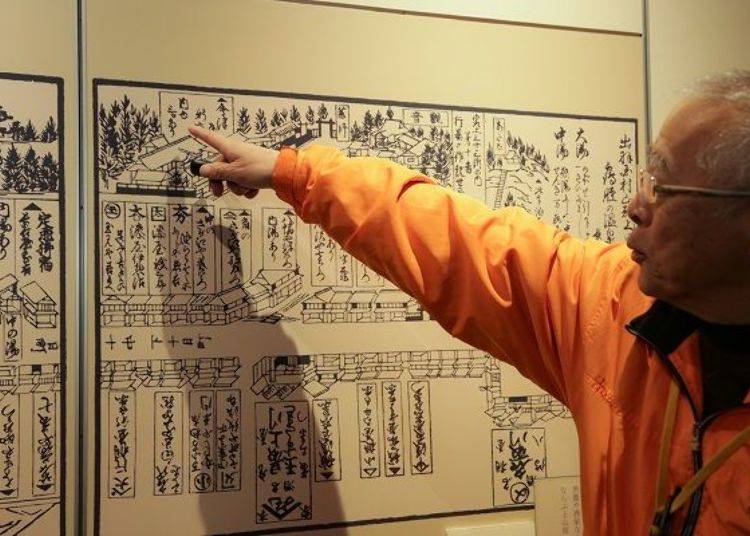 ▲ Our guide, Mr. Kazuhito Kikuchi, explained important things
"Let's go take a look at the amazing view of Zao." Saying that, Mr. Kikuchi then led us up to the fourth floor. There is also an elevator, making it easier for older people to easily access the fourth floor.

The observation deck affords a magnificent view of the Zao mountain range in front, and looking down, one can see the remnants of the castle town!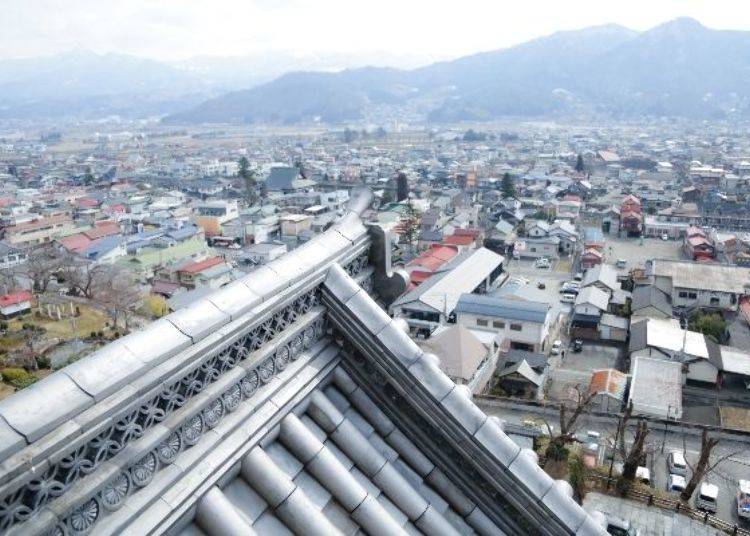 ▲ The castle keep is 32 meters tall. The observation deck here provides a spectacular view!
It takes about one hour to leisurely go around inside the castle while listening to the guide's explanation. There is a small space on the first floor where you can take a rest and purchase museum goods and have something to drink.

Also, there is the Kakashi Tea House in the open space in front of the castle gate, where you can drink tea and buy souvenirs.
▲ There is also a foot bath within the grounds (open from 6:00 a.m. to 10:00 p.m.)
There are foot baths in five locations within the hot springs town, and all of them can be enjoyed at no charge. One of them is on the Kaminoyama Castle grounds, so you can stop by here and rest your feet before going on to your next destination. When strolling about Kaminoyama Onsen, you will need your own towel.
▲ From here you can get a good view of the Zao mountain range as well as that of the castle.
Kaminoyama Castle Local Museum

上山城郷土資料館

Address

3-7 Motojonai, Kaminoyama City, Yamagata Prefecture

Phone Number

023-673-3660

Open: 9:00 a.m. ~ 4:45 p.m.
Admission: Adults 410 yen, high school and university students 360 yen, elementary and jr hi school students 50 yen (all prices include tax)
Closed: 2nd Thursday in odd-numbered months, Monday ~ Friday in the first week of September, December 29 ~ 31
Kaminoyama Onsen's Samurai estates are an intriguing look into the area's past
As I learned more about the history of Kaminoyama City, I asked Mr. Kikuchi to accompany us to see the samurai estates. There is a walking course, with Kaminoyama Castle in the center, that goes around the area.

There are public baths scattered along the course. There are five such public baths, and it only costs 150 yen to enter each (there is an additional 100 yen fee for shampoo; tax included in both prices). So you can enjoy not only the foot baths but also visit each of these public baths as well in Kaminoyama Onsen!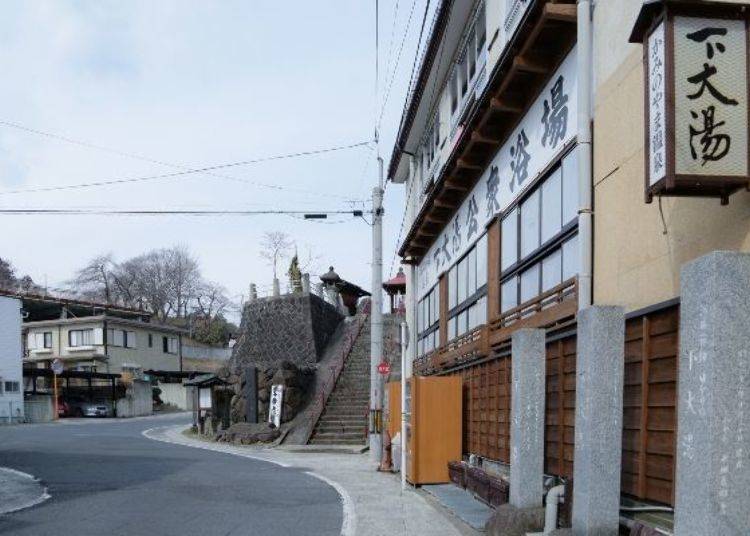 ▲ The Lower Great Bath in which the Zen Master Takuan is said to have bathed after being sent into exile from Kyoto as a result of the Purple Robe Incident in 1629.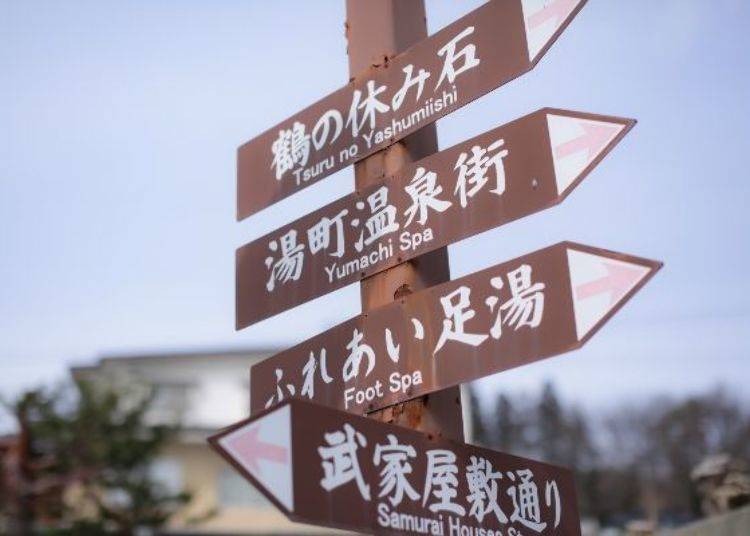 ▲ You can walk without getting lost because there are signposts at important points
There are four samurai residences in this area called Nakacho-dori. All of them were built more than 300 years ago, each having a thatched roof, a storehouse in the kagikata (L-shaped) style, with the houses having been constructed in the samurai-house style of the Kamakura period called Buke Chumon Zukuri.

You can get a taste of what life was like in these intriguing residences; in one, you can view the interior; in another, you can view the garden, and the family's descendants still inhabit a third.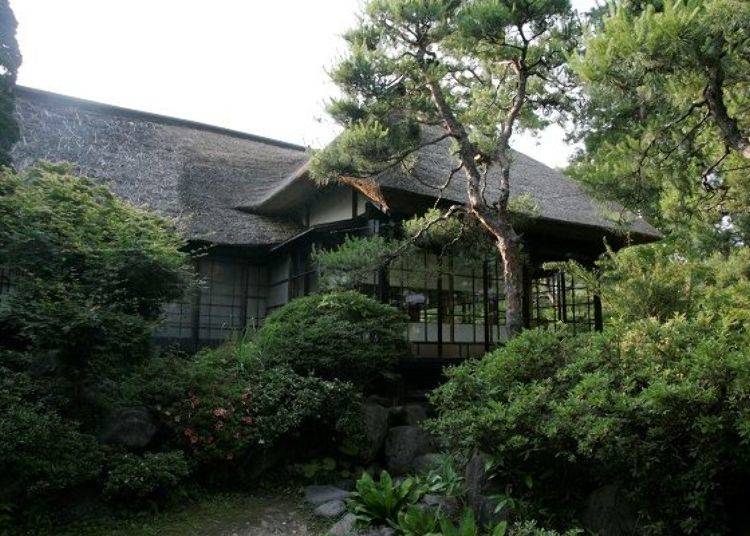 ▲ It is possible to tour the interior of the Miwa House in which samurai who were entrusted with personally attending to the lord of the domain and having an elevated position lived (9:00 a.m. ~ 4:45 p.m.; adults 210 yen, students 160 yen, children 50 yen, all prices include tax; building closed on Wednesdays) (Photo provided by Kaminoyama City Tourism Association)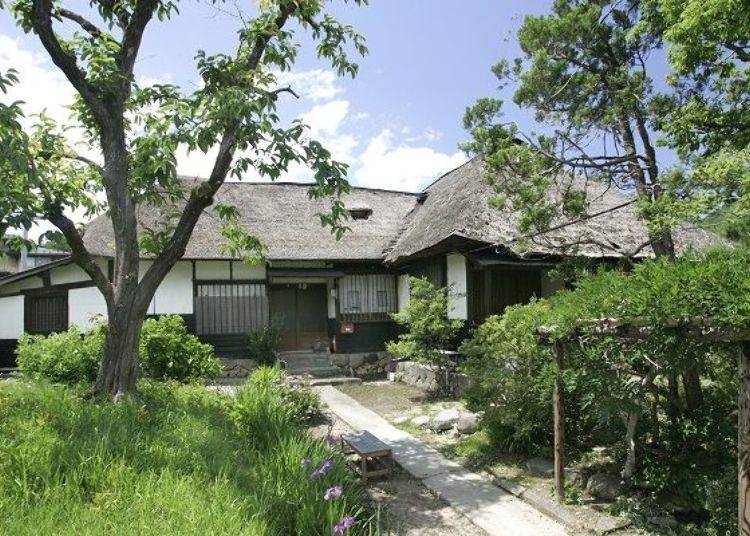 ▲ The former Sogabe House in which the magistrate in charge of religious matters, such as conducting fumie [stepping on a Christian icon] when Christianity was forbidden, can be viewed both inside and also its garden (9:00 a.m. ~ 4:45 p.m.; free admission, closed on Wednesdays (Photo provided by Kaminoyama City Tourism Association)
You get a strong impression of the past while walking along the narrow pathways looking at the black fences encircling the estates. Setting out from the castle, it takes about one hour to complete the walking course. A little tired from all the walking, it was with a sense of satisfaction and fulfillment that we said good-bye to Mr. Kikuchi.
Kaminoyama City Tourism Association

上山市観光ボランティアガイド協会

Address

1-chōme-2-1 Yarai, Kaminoyama City, Yamagata Prefecture

Phone Number

023-672-0839

Open: 9:00 a.m. ~ 5:00 p.m.
Guide fee: Free
* There are separate fees for entering Kaminoyama Castle and the Samurai Estate (Miwa Estate).
* Reservations need to be made five days in advance of the day of the visit
Try the healthy Konjac Hakozen and konjac miso!
If you build up an appetite walking, take a short 15-minute drive into the city and enjoy the local cuisine specialties. This area is famous for its Narageshuku Tanno Konjac cuisine.
▲ The entrance with its imposing gate
The shop was originally established in 1959 as a purveyor of konjac. The Konnyaku Bansho, which consists of a store and a restaurant, and the cafe, Hibikonyaku, have been added, and konjac fans who have heard that they can eat konjac dishes that are not available elsewhere come from all over the country to experience them.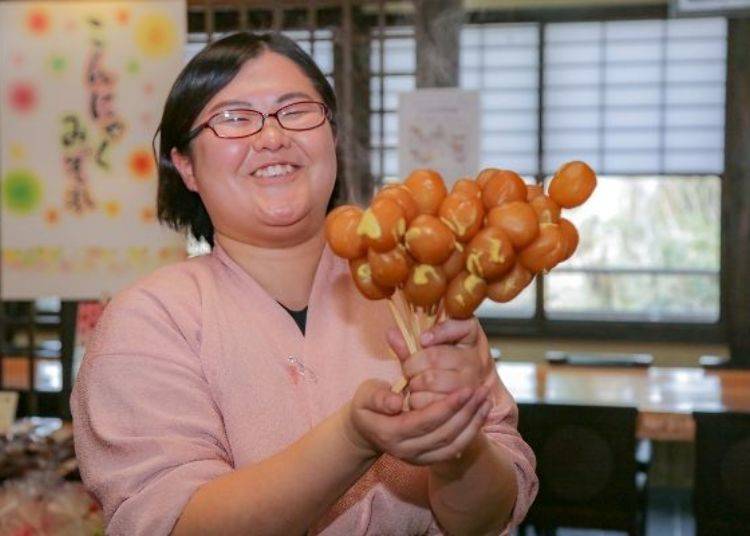 ▲ Groups that have booked reservations are greeted with konjac "bouquets"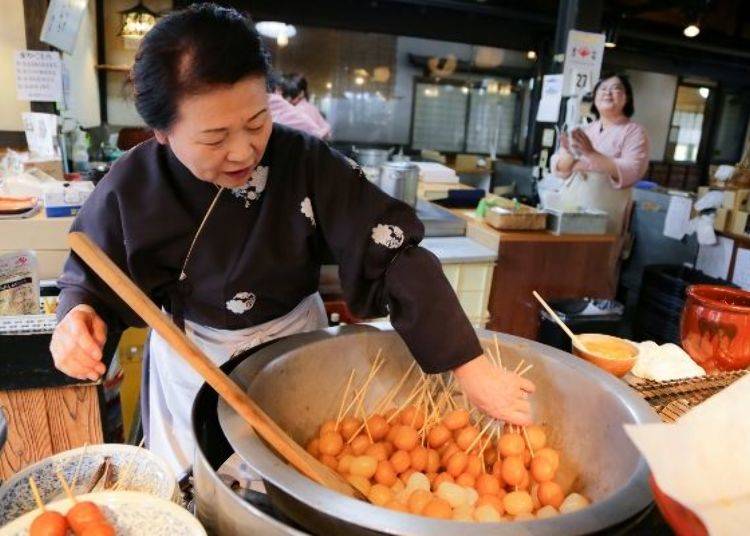 ▲ Delicious konjac balls simmering in a large pot!
We went to the attached restaurant Konnyaku Bansho and ordered the Konnyaku Bakozen from the new menu that has been in effect since March 2019. What followed was an amazing number of various konjac dishes. One of the delights in savoring these dishes is in guessing which ones were made with konjac.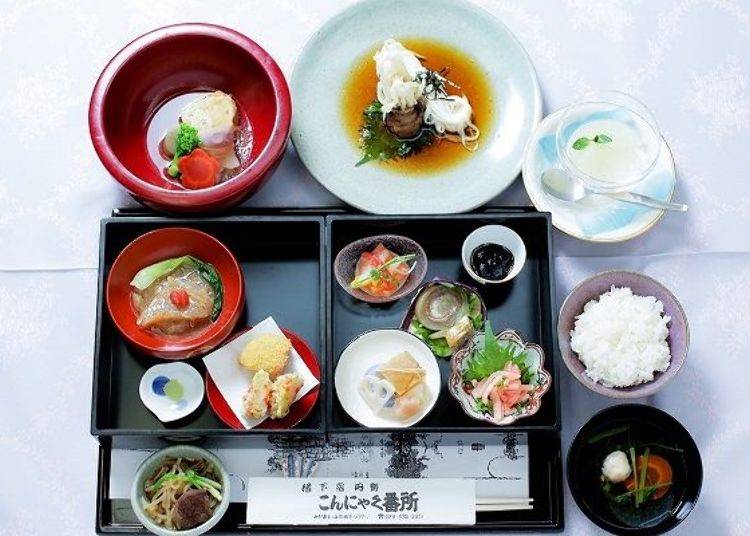 ▲ Is this salmon? Beef? Shark's fin? Not at all! Almost everything in the Konnyaku Bakozen is made entirely with konjac (2,800 yen, tax not included).
Mr. Masahiro Tanno, the president, said, "I hope everyone will delight in savoring these healthy dishes."

Reservations are required at least a day in advance for the Konnyaku Bakozen (available for 2 or more people) It can also be enjoyed in private rooms. There is also the Konnyaku Kaiseki (1,200 ~ 3,200 yen, excluding tax) for which reservations are not required. You can enjoy many konjac dishes to your heart's content without feeling guilty (lol)!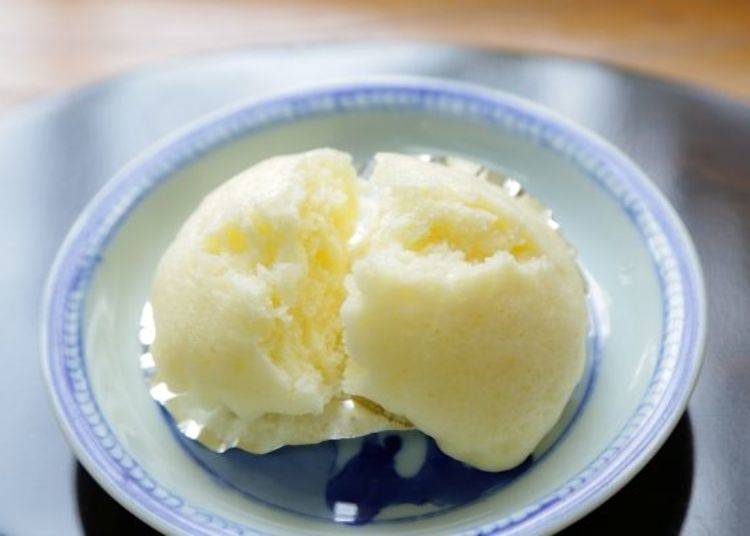 ▲ The Konnyaku Steamed Bun (150 yen, less tax) is a popular gift item.
It is also possible to purchase and eat in the store not only the fluffy steamed konnyaku buns, but also anmitsu [mitsumame topped with bean jam] and miso dengaku [grilled konjac topped with bean paste].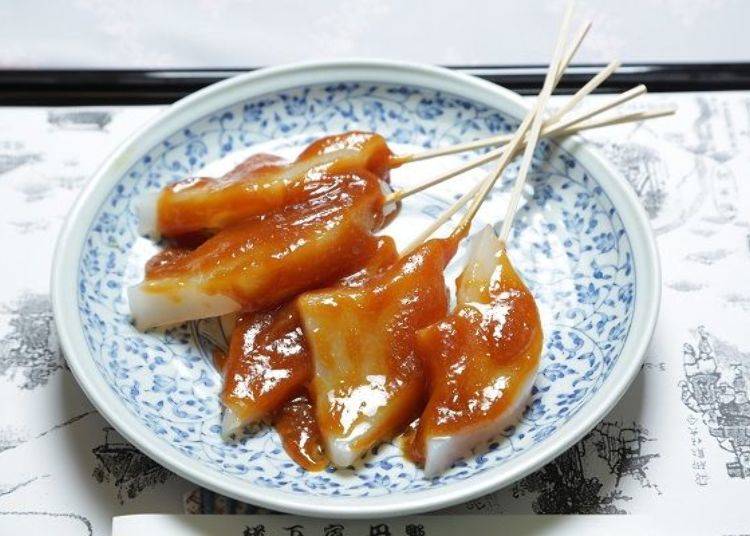 ▲ Miso dengaku 100 yen per stick or 5 sticks for 360 yen (both excluding tax)
After dinner stop by the Hibi Konnyaku cafe for a konjac dessert. It offers an amazing selection of konjac sweets, such as cakes and jellies, so authentic in taste you would doubt they were made with konjac.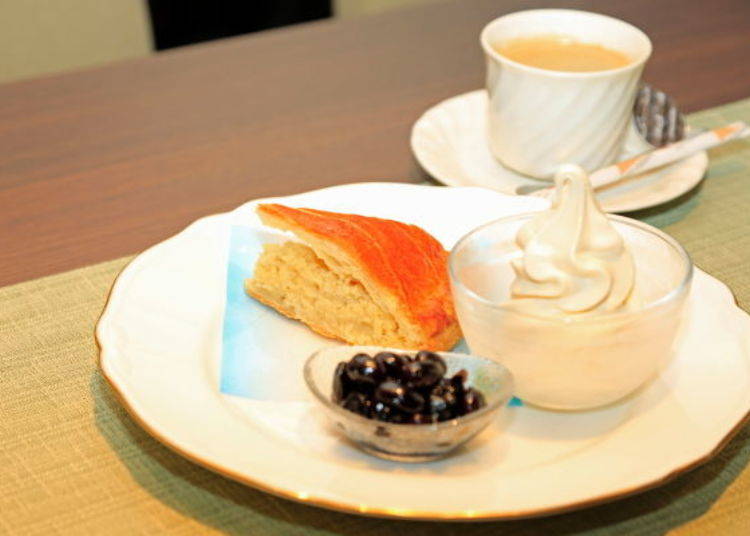 ▲ The delicious Konnyaku Pie Cake is served in a Lady's Set that comes with a drink for 800 yen (excluding tax).
日々蒟蒻

Address

608-1 Minamisawa Suwamae, Kaminoyama City, Yamagata Prefecture

Phone Number

023-674-2351

Open: 9:30 a.m. ~ 4:00 p.m.(L.O.3:30p.m.)
Enjoy the Night Day-trip Course at Tsuki no Ike
The Hanaakari no Yado Tsuki no Ike, founded in 1979, is a ryokan inn especially recommended for women travelers and is located just a 15-minute walk from the Kaminoyama Onsen Station.

It is located in the center of the city with its Showa era atmosphere, and situated across the street is the Tsuru no Yasumu Ishi [Crane's Resting Rock] introduced at the beginning of the article.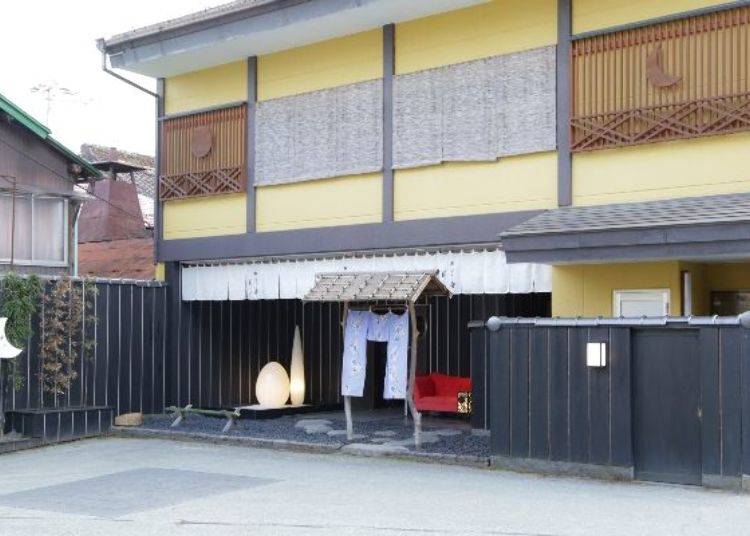 ▲ A relaxing Japanese-style inn
Even if you do not have time to spend the night you can still enjoy a magnificent dinner and afterward a leisurely soak in the hot spring. The special Night Day-trip Course (8,000 yen excluding tax, bath tax separate / check-in 4:00 p.m., check out 9:00 p.m. / for two or more people / also possible on Saturday and Sunday) was created especially for such individuals.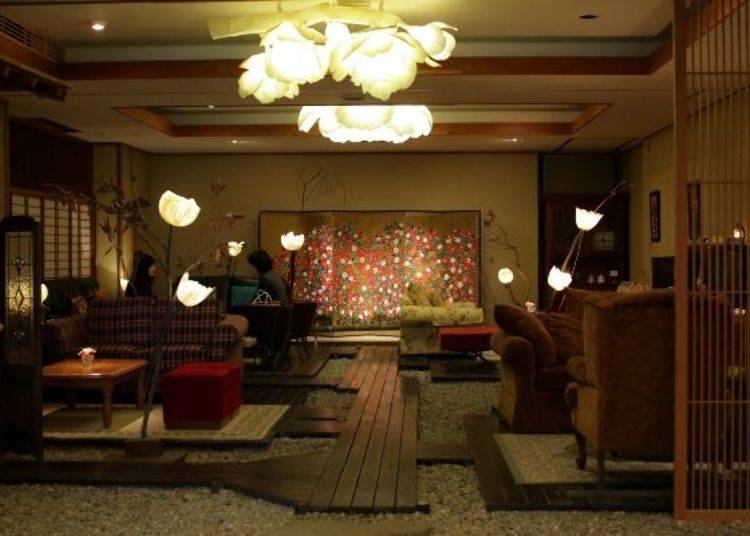 ▲ The impressive lobby adorned with a colorful standing screen.
The ryokan's staff will greet you as you enter the modern Japanese-style lobby by the wooden pathway built over the pebbled ground. The soft lighting and pleasant music are very soothing and relaxing.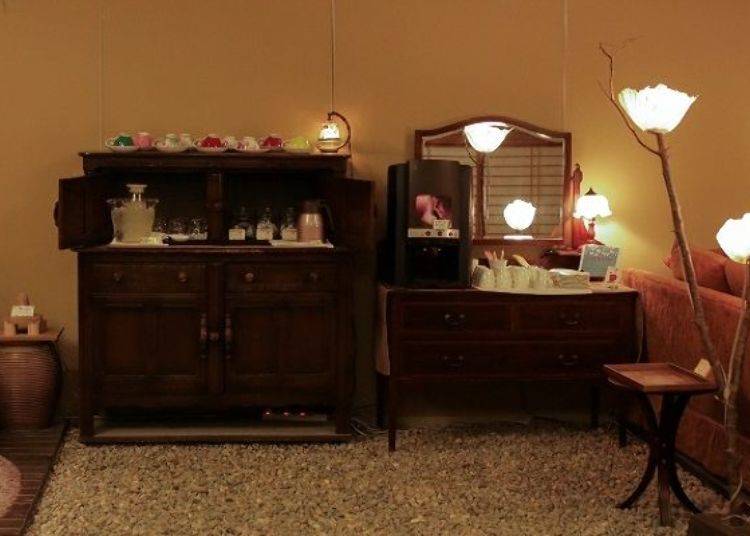 ▲ While checking in you can enjoy seasonal sweets with complimentary coffee and aromatherapy in the Itsudemo Cafe.
As you will not be staying in a guestroom, you will spend time in the lobby when not bathing or dining. * If you make a reservation at least a day in advance, for an additional 5,000 yen (excluding tax), you may stay in a guestroom if one is available.

The interior has been designed to appeal to women's tastes, with its sofas having different patterns and designs and antique furnishings. All lend to an exciting and out-of-the-ordinary experience.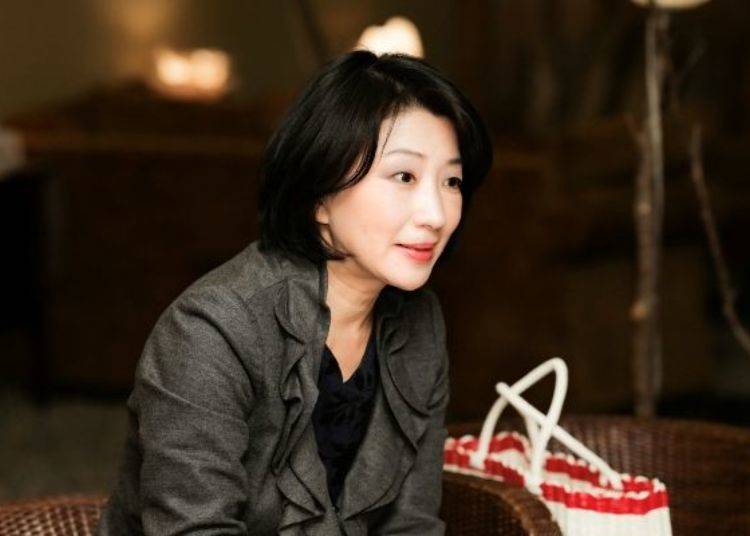 ▲ "Help yourself to some tea and aromatherapy. Complimentary wine made in the prefecture is also served in the cafe between 5:00 and 7:00 p.m," the proprietress Ms. Mari Kudo kindly explained.
A hot spring with character filled with lovely surprises
I relaxed in the hot spring before dinner. The proprietress handed me a Yukago [bath basket]. This basket contains items for use in the bath. It is this sort of thoughtfulness that is a signature of the hospitality offered.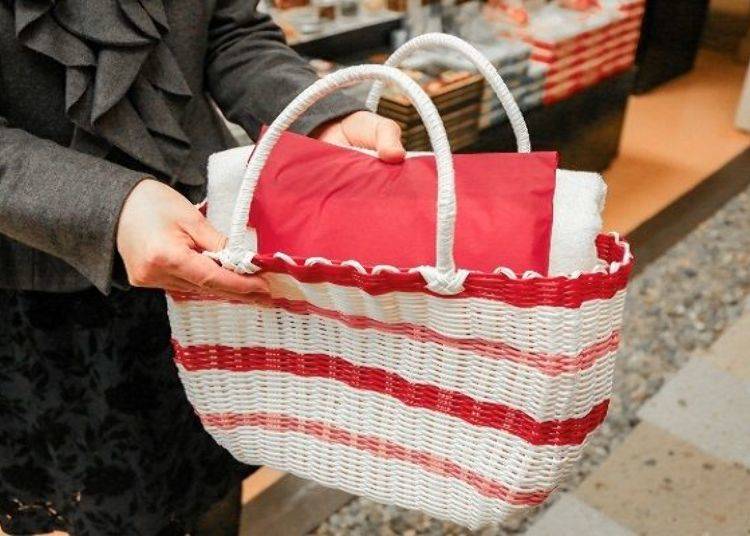 ▲ The basket contains a bath towel and face towel. This means that you do not need to bring anything with you to enjoy the Night Day-trip Course!
"So cute!"

Sliding open the door to the dressing room, one enters an all-white space. The white dressing room accentuated with red trees is impressively stylish! The women's room is coordinated in white while that for men is in black. Though not especially spacious, one nevertheless gets a sense of privacy.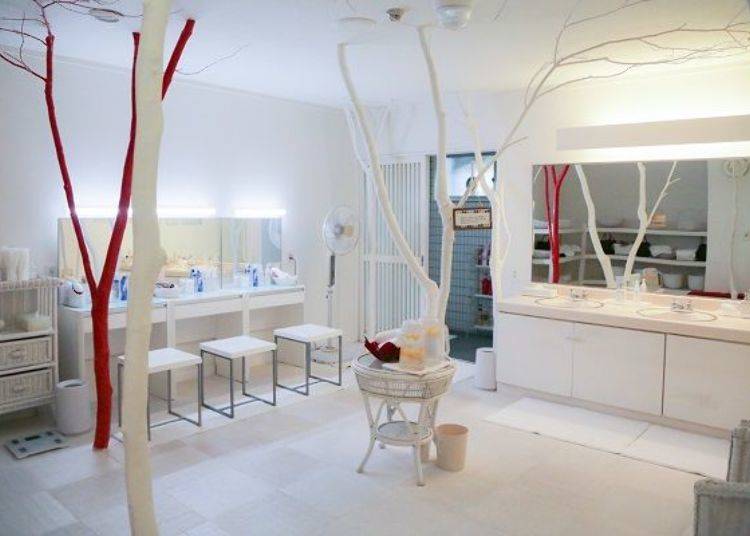 ▲ The bright and clean women's dressing room.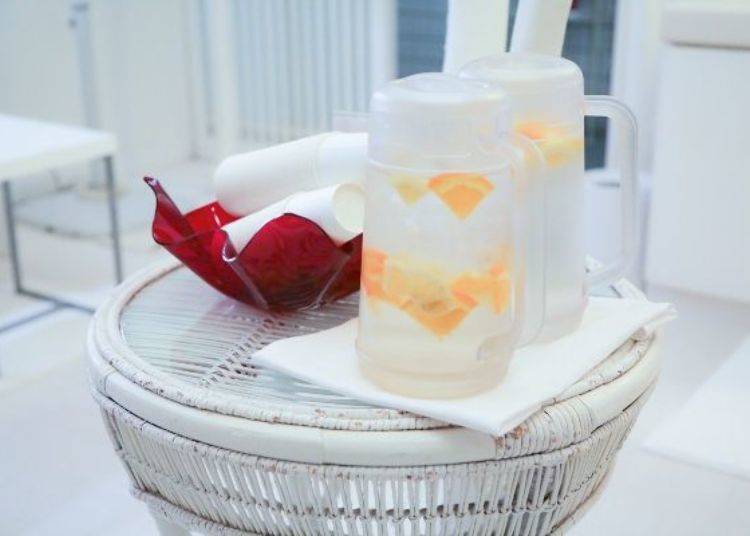 ▲ Citrus-flavored water is available once you get out of the bath. Two types of vitamin water are offered; room temperature and chilled.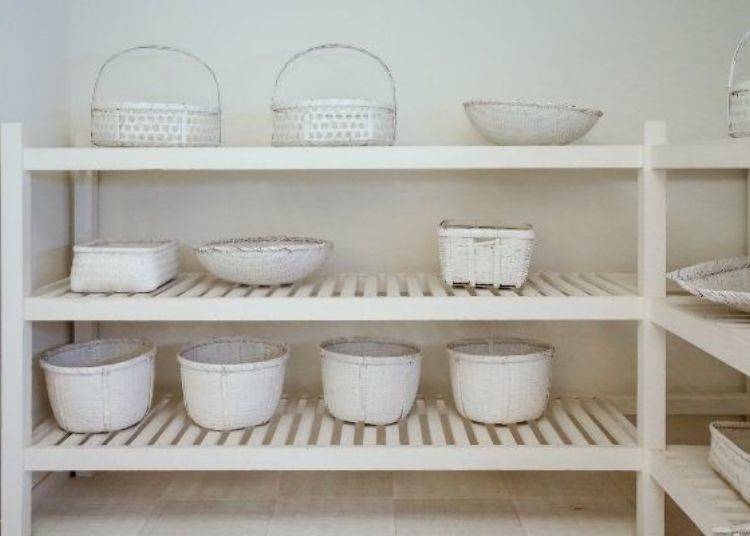 ▲ Baskets of different sizes for holding clothes are aligned along the shelves. There are many different types to choose from.
There is one large bath in each of the men's and women's rooms and also two open-air baths. The spring quality is chloride sulfate, and the temperature at the source is high at 62 to 69 degrees, but the hot spring of the bath is cooled to about 42 degrees.

First, soak in the indoor bath before enjoying the renowned open-air bath. The spring water is clear and smooth to the touch. So gentle is it on the skin that it is easy to luxuriate in the tub for a long time. And there is no odor of sulfur.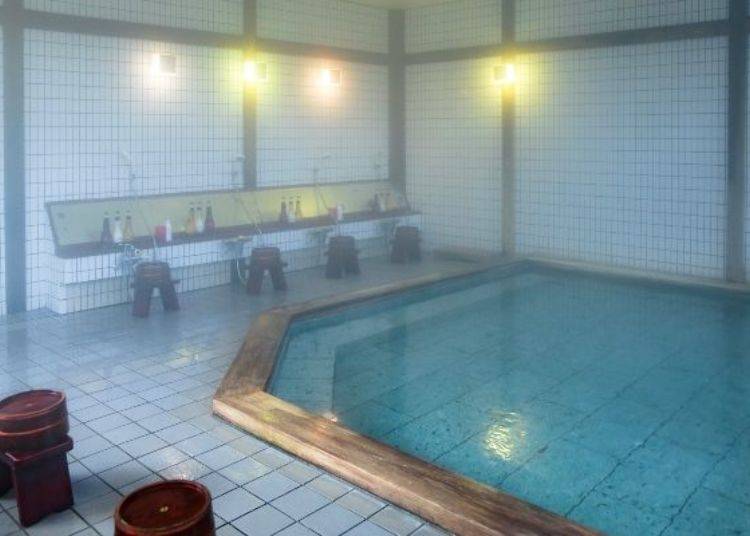 ▲ The large bath with its retro feel.
After soaking here and warming up, next head out to the open-air bath. There are two types of open-air baths: the Hinoki Roten Buro, in which spring water constantly flows, and the Sasa Bune, in which water is added. The quality of the spring water is the same as that of the large baths.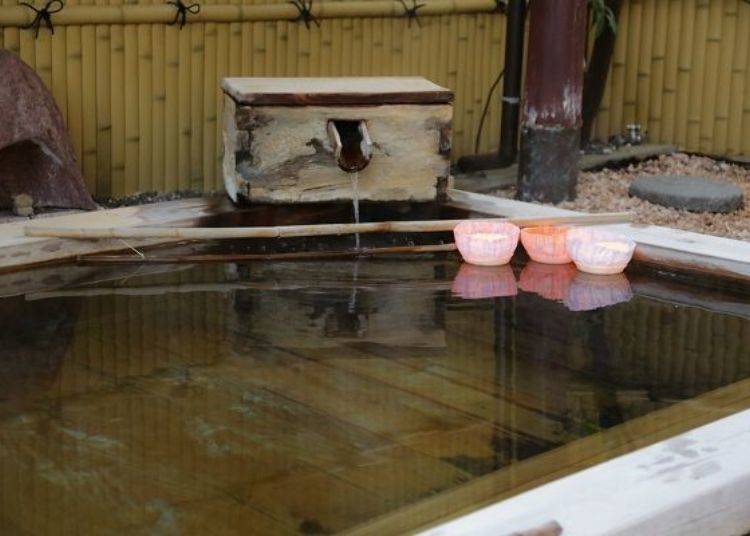 ▲ In the evening flower lanterns are put afloat in the Hinoki Roten Buro.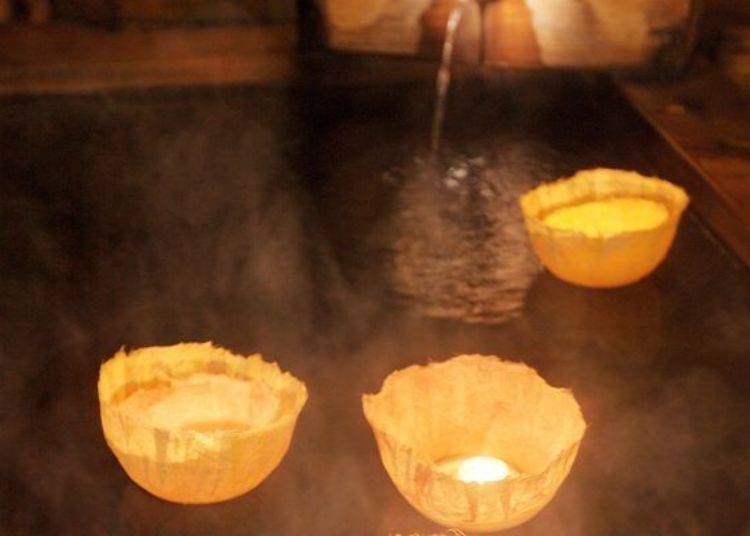 ▲ Seeing them floating on the clear bath water is most soothing. (photo provided by Hanaakari no Yado Tsuki no Ike)
What's more, while in the Hinoki Roten Buro you can enjoy sake served in a cedar box, called masuzake, on a tray that floats in the bath (between the hours of 4:00 and 8:00 p.m. at no extra charge). For sake lovers this is a truly sublime experience.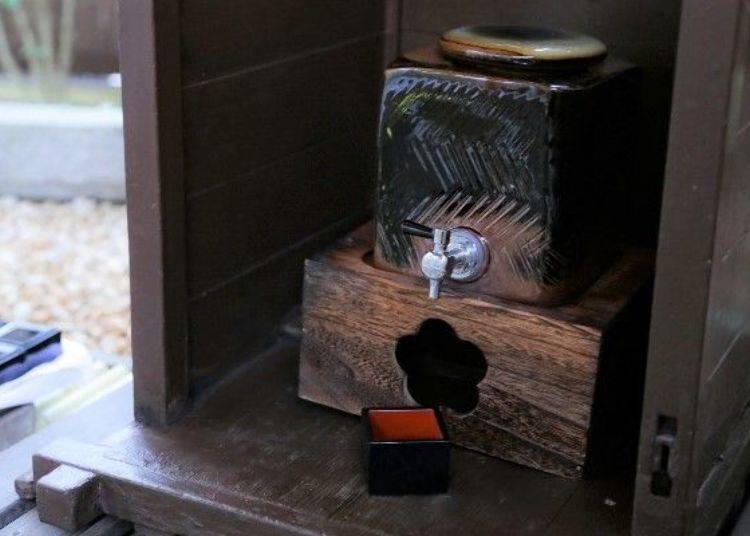 ▲ Just be careful not to drink too much!
Behind the Hinoki Roten Buro are jade-colored tubs. These are the Shigaraki-yaki ware Sasa Buro, in the shape of Sasabune [toy bamboo-leaf boat], and are very popular with women and children. At night, you can enjoy the fantastic atmosphere created by the lighting. There are two Sasabune in the women's bath and one in the men's bath.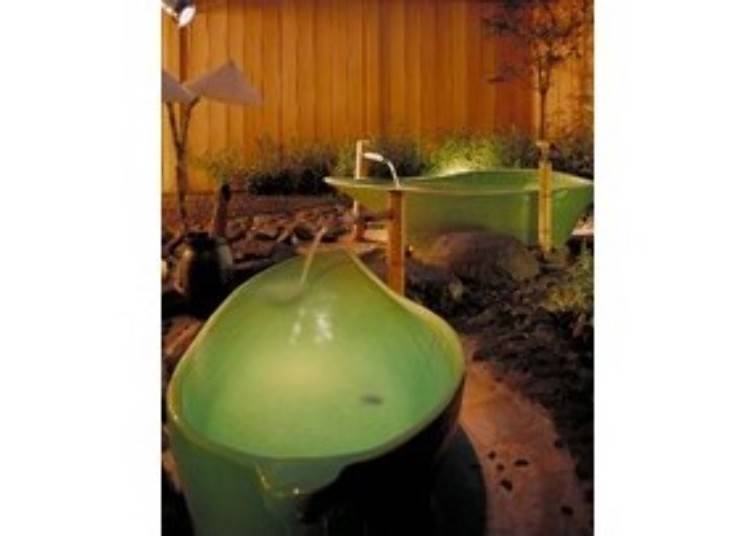 ▲ Their distinct shapes are quite impressive! They are large enough for you to stretch out and enjoy a solitary bath. (photo provided by Hanaakari no Yado Tsuki no Ike)
After your bath, return to the dressing room and enjoy a glass of vitamin water. After the bath your body will feel toasty warm and your skin silky smooth and moist. This relaxing bath with its sophisticated dressing rooms and unique baths is bound to elicit sighs of satisfaction.
Enjoy the imaginative kaiseki course, the same as that served to guests spending the night
After your bath, enjoy dinner at Hana Dining on the second floor. The Night Day-trip Course also offers the same Tsuki no Ike Hana Kaiseki full course offered to overnight guests. It consists of seven courses from appetizer to dessert.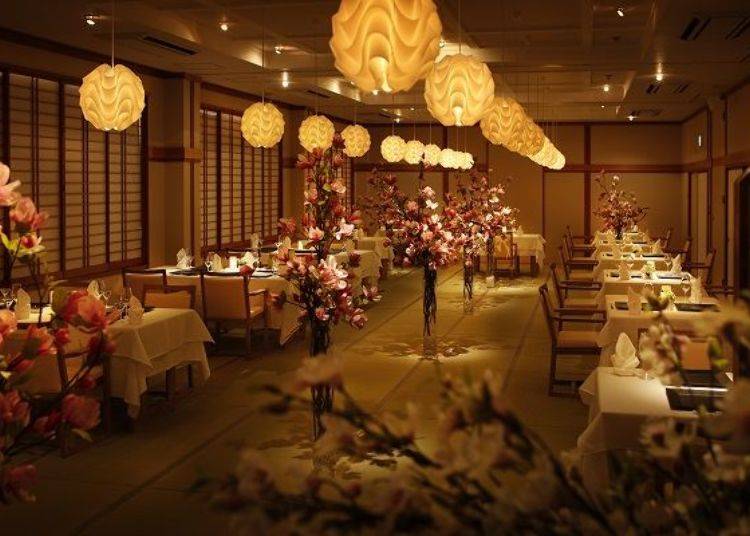 ▲ Savor imaginative kaiseki dishes made using local ingredients in the restaurant adorned with flowers! (Photo provided by Hanaakari no Yado Tsuki no Ike)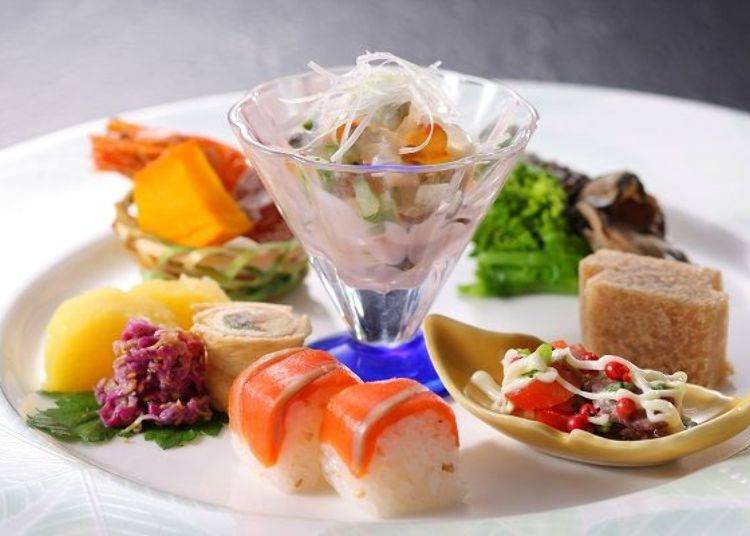 ▲ Lots of fresh local vegetables are used in the creations, each so delightful it is difficult to know from which to begin (photo provided by Hanaakari no Yado Tsuki no Ike)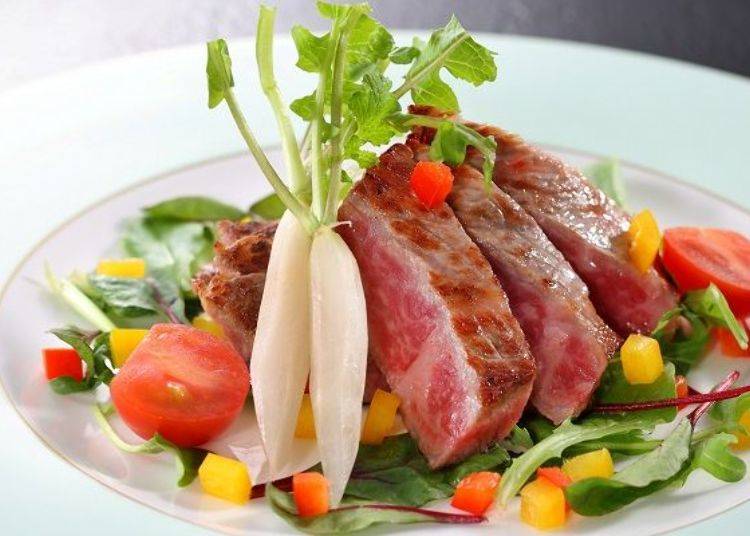 ▲ For the main course you may select either a Yonezawa beef steak or beef simmered in wine. (photo provided by Hanaakari no Yado Tsuki no Ike)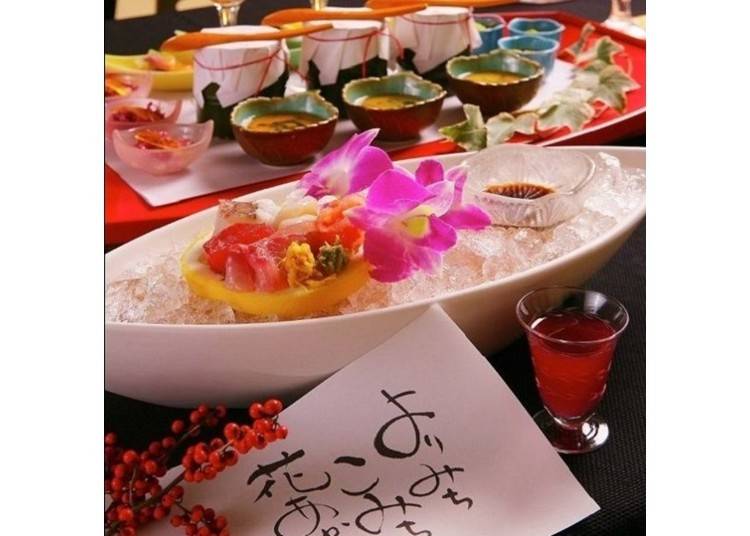 ▲ Each and every course exudes the warm hospitality of the inn. (photo provided by Hanaakari no Yado Tsuki no Ike)
"Please enjoy discovering the delicious flavors from the combined ingredients," suggested the proprietress. I have only introduced a fraction of the many wonderful dishes offered, and I can attest that all of them, from the appetizer to the dessert, were truly delicious.

In this article we introduced a day-trip course, but remember that Tsuki no Ike also has an excellent overnight plan. Three of the 18 guestrooms have their own open-air baths decked out in roses throughout the year.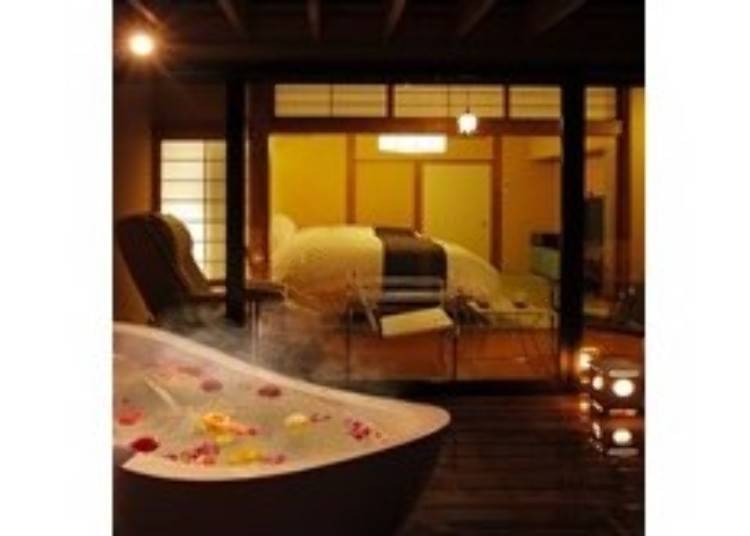 ▲ A producer supplies the inn with roses throughout the year. (photo provided by Hanaakari no Yado Tsuki no Ike)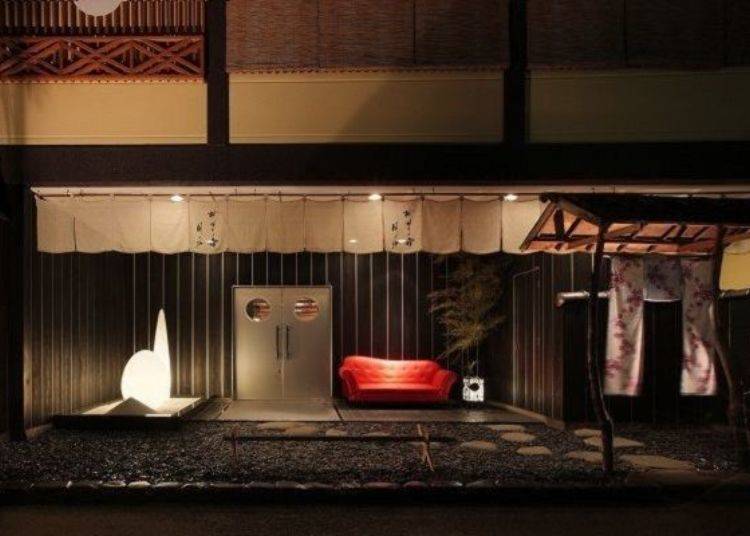 ▲ The red sofa in the entry is very impressive (photo provided by Hanaakari no Yado Tsuki no Ike)
The proprietress is always ready to welcome you for a relaxing and soothing visit. Why not come and spend a uniquely relaxing and magical time in this flower-bedecked ryokan brimming with warmth and hospitality, enjoying a leisurely soak in its hot spring and then delicious kaiseki cuisine afterward?
Hanaakari no Yado Tsuki no Ike

花明りの宿 月の池

Address

3-10 Yumachi, Kaminoyama City, Yamagata Prefecture

Phone Number

023-672-2025

Check in: from 3:00 p.m.; check out: until 10:00 a.m.
Accommodation from 13,000 yen, less tax; (2 meals included in an overnight stay when 3 stay in the same room; hot spring tax is separate)
Night Day-trip Course
Check in is from 4:00 p.m.; check out is by 9:00 p.m.
Course fee: 8,000 yen, less tax; (hot spring tax not included) *Reservations required for parties of 2 or more adults
Closed: always open
Kaminoyama Onsen is a wonderful town full of history and hot spring hospitality evidenced by the kindness of everyone shown everywhere. Why not heal your body and mind on a day-trip to this wonderful place?
Recommended Hotels and Ryokan in Kaminoyama Onsen
Address

Hayama 5-50, Kaminoyama, Yamagata, 999-3242
View Map

Nearest Station

Kaminoyamaonsen Station (Ou Line / Yamagata Line)
31 minutes on foot


Vacancy search, reservation

from

39,600JPY

1room, 2adults

Check with our partner site as the latest rates, rate details, and guest room requirements may vary.
Address

Kawasaki 3-8-34 , Kaminoyama, Yamagata, 999-3145
View Map

Nearest Station

Kaminoyamaonsen Station (Ou Line / Yamagata Line)
27 minutes on foot


Vacancy search, reservation

from

10,890JPY

1room, 2adults

Check with our partner site as the latest rates, rate details, and guest room requirements may vary.
Address

Hayama 9-5, Kaminoyama, Yamagata, 999-3242
View Map

Nearest Station

Kaminoyamaonsen Station (Ou Line / Yamagata Line)
48 minutes on foot


Vacancy search, reservation

from

29,261JPY

1room, 2adults

Check with our partner site as the latest rates, rate details, and guest room requirements may vary.
*This information is from the time of this article's publication.
*Prices and options mentioned are subject to change.
*Unless stated otherwise, all prices include tax.
Limited time offer: 10% discount coupons available now!