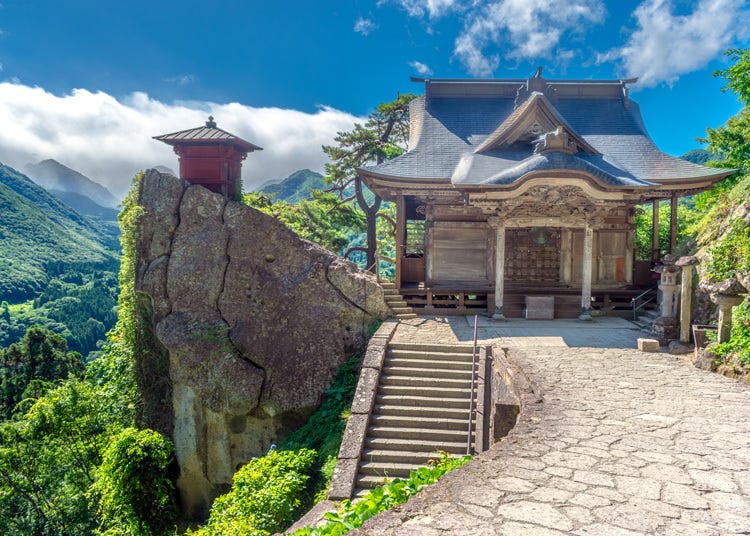 Yamadera (the 'Mountain Temple') is one of the most breathtaking spots in Japan's Yamagata Prefecture. Officially known as Hojusan Risshakuji, this stunning temple, situated on a mountain slope, is found in eastern Yamagata City.

Visitors from all over the world are attracted to this popular destination because of its beautiful scenery and the way the temple looks as if it's floating in the air. Here's our guide to the walking routes, highlights, and superb photo spots of Yamadera.
Risshakuji Temple, built on a precipitous cliff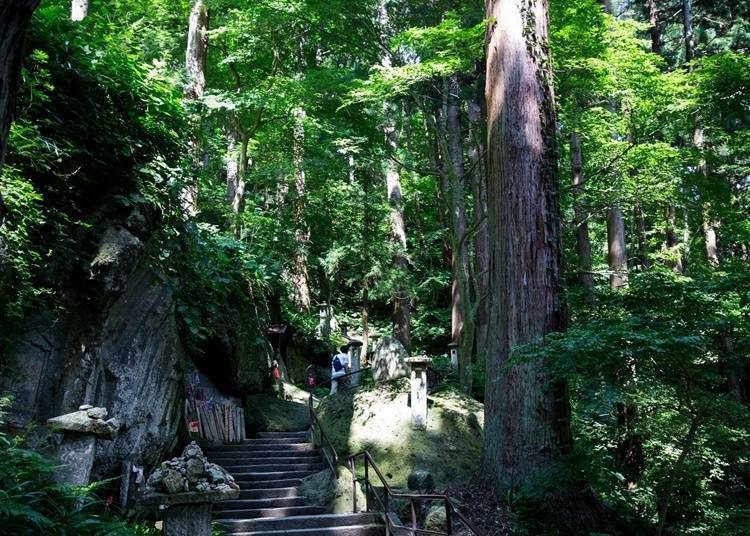 Hojusan Risshakuji, most commonly referred to as "Yamadera," is a temple of the Tendai sect of Buddhism and is reported to have been founded in 860 by the monk Jikaku Daishi (Ennin).

The entire mountain is a place of training and worship, and since ancient times it has been said that worshiping there will help end bad relationships. The approach to the summit is a steep 1,015-step stone staircase passing halls and pagodas of various sizes along the way.
Famously visited by Japanese poet Matsuo Basho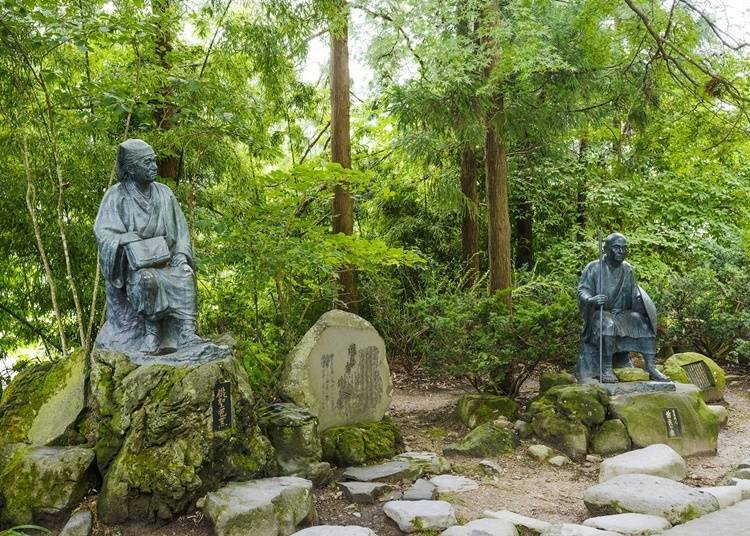 Yamadera is known to have been visited by master poet Matsuo Basho (1644-1694), as he traveled across Japan while writing haiku, in 1689. At that time, he wrote "Silence, sinking into the rocks, cicadas' voices," a famous haiku recorded in his famous book of poetry written during his journey, titled "Oku no Hosomichi."

Within the temple precincts, there's a monument engraved with the phrase and statues of Basho and his student Kawai Sora (1649-1710).
How to get to Yamadera Temple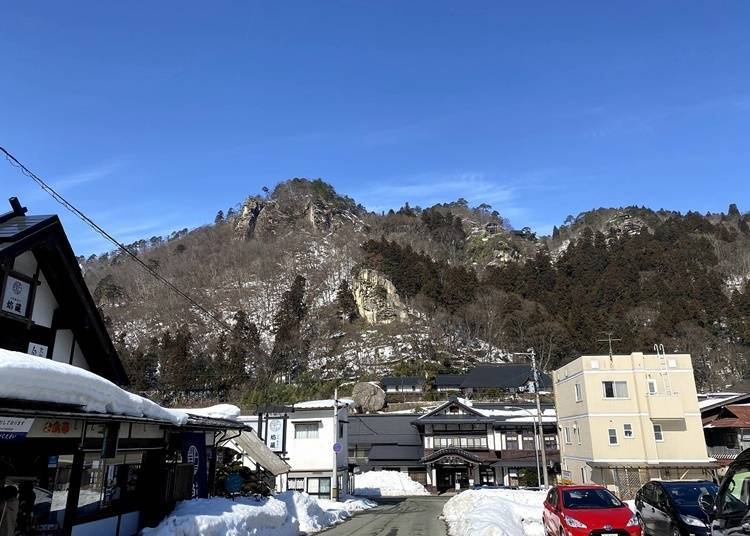 Yamadera Station is about 20 minutes from Yamagata Station, the prefecture's main station, on the JR Senzan Line. The entrance to the temple mount is only about 500 meters from Yamadera Station. The Senzan Line also connects to Sendai Station in Sendai City, Miyagi Prefecture, the largest city in Tohoku, just over 1 hour from Yamadera.
Equipment needs change depending on the season and weather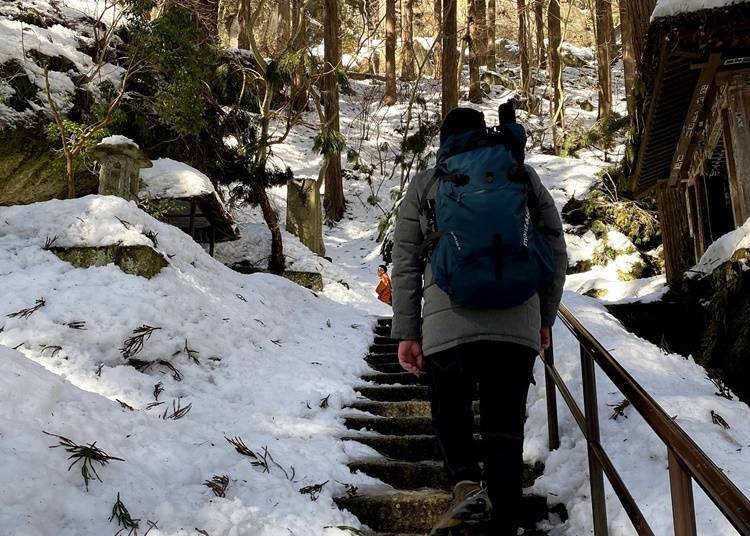 At the foot of the approach, there is a sign that reads "mountain entrance" (登山口). Because the stone steps are steep, some might find the experience more like mountain climbing than "worship."

A round trip journey takes about 90 minutes, or 2 hours if you prefer a more leisurely pace. There are many sights to see even without reaching the summit, so you can still enjoy the area without over-exerting your legs.

Heavy mountaineering equipment is certainly unnecessary, but loose-fitting clothes, athletic shoes, and water for hydration are essential regardless of the season. The sun can be harsh in spring and summer, so be sure to bring a hat, sunglasses, and a face towel to wipe away sweat.

Additional equipment is needed from around November when it begins to snow, and accumulation on the paths can make it difficult to walk. Ice will also form on the stone staircases as well. As a result, non-slip boots or shoes should be worn, as should winter clothes, and you may wish to invest in simple crampons or microspikes that can be strapped on to your shoes.
Recommended walking route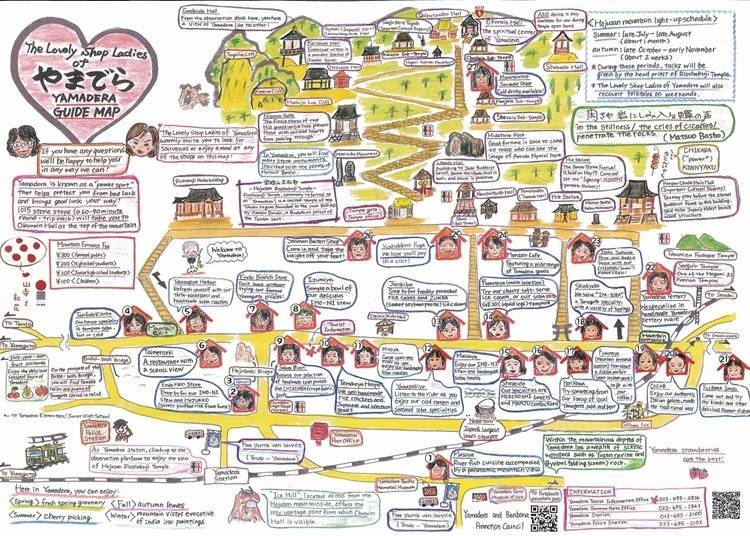 After getting your equipment in order and paying the entrance fee, it is finally time to start the walk. There are about 30 large and small towers and temples throughout Yamadera, and since it would take too much time to appreciate all of them, it's best to focus on the highlights.

Here are the sights recommended by local Tohoku writers. Having a map of the walking routes and sightseeing spots is convenient for making your own itinerary. It can be acquired locally or downloaded from the Yamadera Tourism Association website in Japanese or English:

https://www.yamaderakankou.com/pamphlet/index.html

Recommended sights:
1. Konponchudo Main Hall
2. Basho & Sora Statues
3. Semizuka Monument
4. Niomon Gate
5. Chushoin Temple
6. Okunoin Hall & Great Buddha Hall
7. Kaisando Hall & Nokyodo Hall
8. Godaido Hall
Highlights along the recommended Yamadera walking route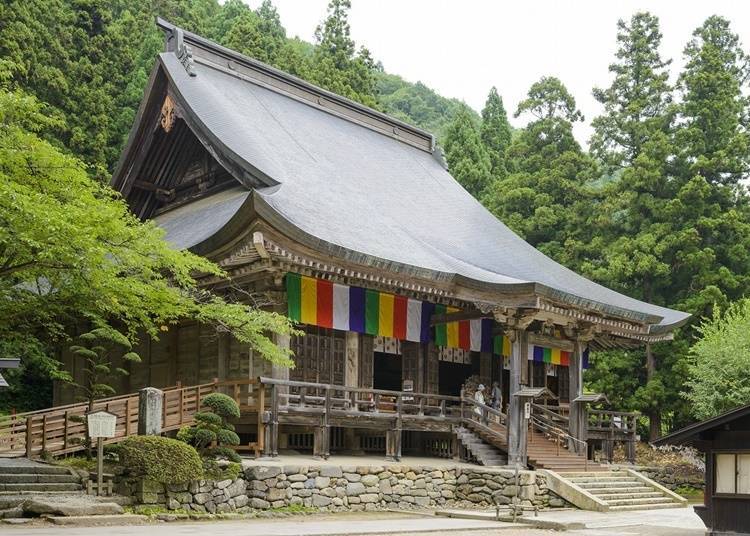 Konponchudo
First, head to the Konponchudo Hall, which is located dozens of steps up from the trailhead. It's the oldest beech wood building in Japan, situated opposite the Homotsuden Treasure Hall with the statues of Basho and Sora nearby.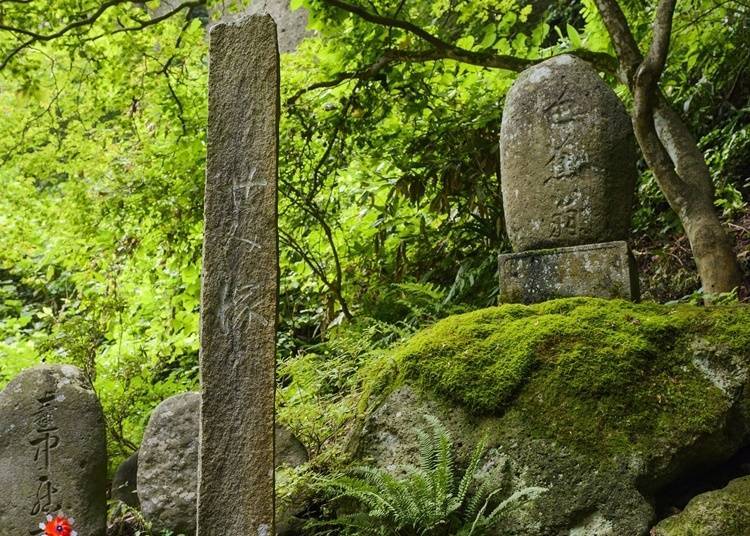 Semizuka
After passing through the main gate built during the Kamakura period (1185-1333), the stone steps become steep. In about 15 minutes, you'll arrive at Semizuka, a stone monument commemorating where, in 1751, a strip of paper with Basho's writing was found buried.

It's speculated that he penned the haiku "Silence, sinking into the rocks, cicadas' voices" when he visited Yamadera with his student.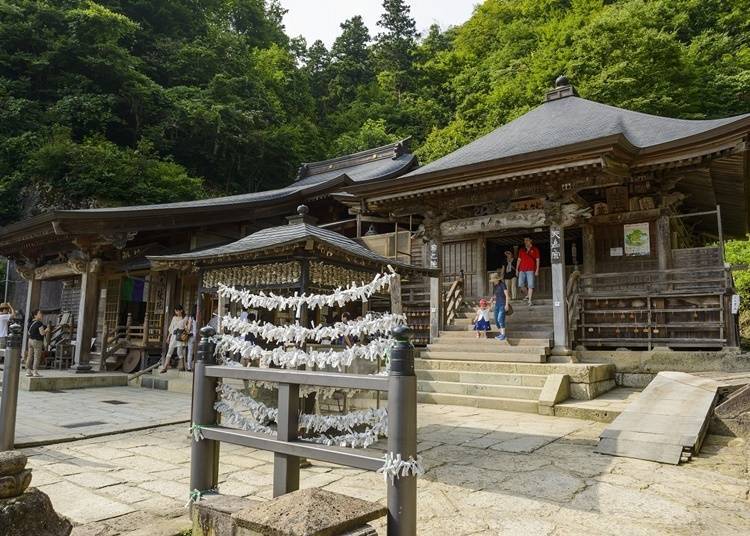 Okunoin & the Great Buddha Hall
About 5 minutes from Semizuka, you'll pass through the graceful Niomon gate and arrive at Chushoin Temple. Here, there is an "Obinzuru-sama" statuette that's said to cure the diseases of those who touch it.

Immediately after Chushoin are Okunoin and Daibutsuden and the end of the ascent. The statues of Shaka Nyorai and Taho Nyorai, which are said to have been brought by Jikaku Daishi from his training in China, are enshrined in Okunoin, whose proper name is "Nyohodo." The Great Buddha Hall to the left of Nyohodo is home to a 5-meter tall golden Amida Nyorai Buddha.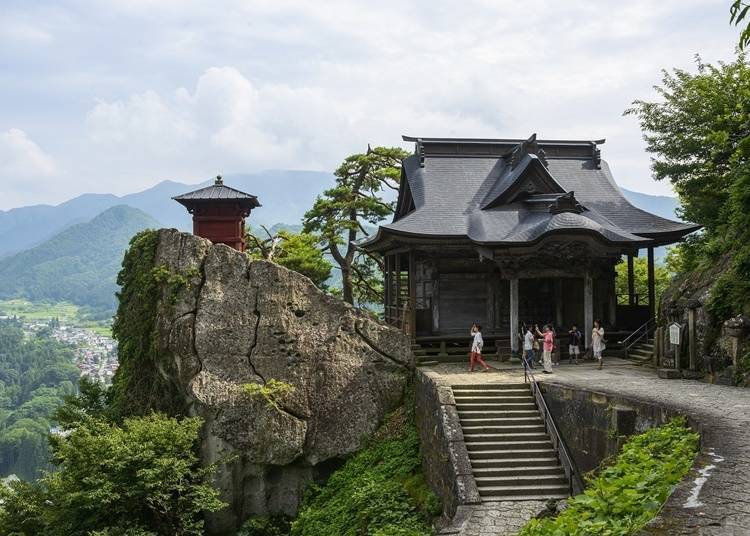 Kaisando & Nokyodo
After visiting Okunoin and Daibutsuden, head to the highlights of Yamadera, Kaisando, Nokyodo, and Godaido.

If you go a little bit down from Okunoin and Daibutsuden and turn right near Konjoin, you'll see Kaisando and Nokyodo. Kaisando enshrines the temple's founder, Jikaku Daishi, while Nokyodo houses sutras.

The sight of these two buildings side by side is the most iconic image of Yamadera. If you want to take a beautiful picture that includes the surrounding scenery, it's best to do so from the promenade a little away from the structures.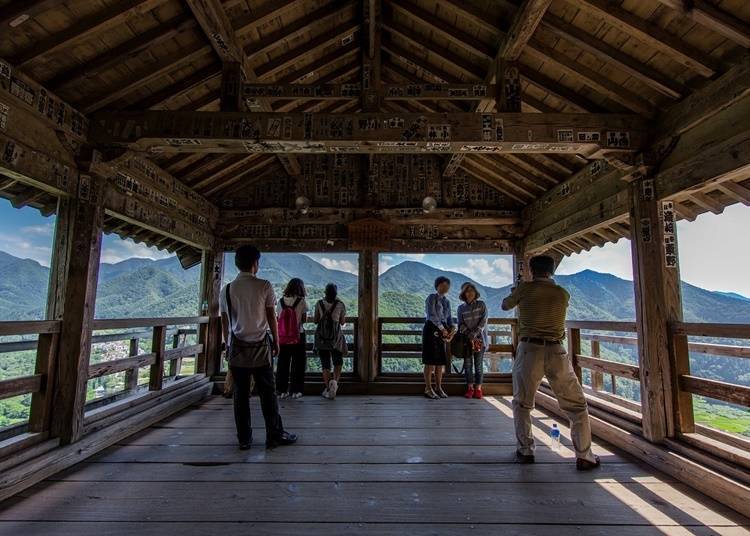 Godaido
To reach Godaido, go up the narrow stairs on the right side of Kaisando. The hall was built as a site to pray for "tenka taihei" – peace across the land.

A breathtaking landscape spreads out in front of the observation deck that protrudes from the cliff. This is considered by many to be the best photo spot in Yamadera, where visitors can take pictures of the town below surrounded by beautiful mountains. With such a superb view, any fatigue from climbing the stone steps will disappear.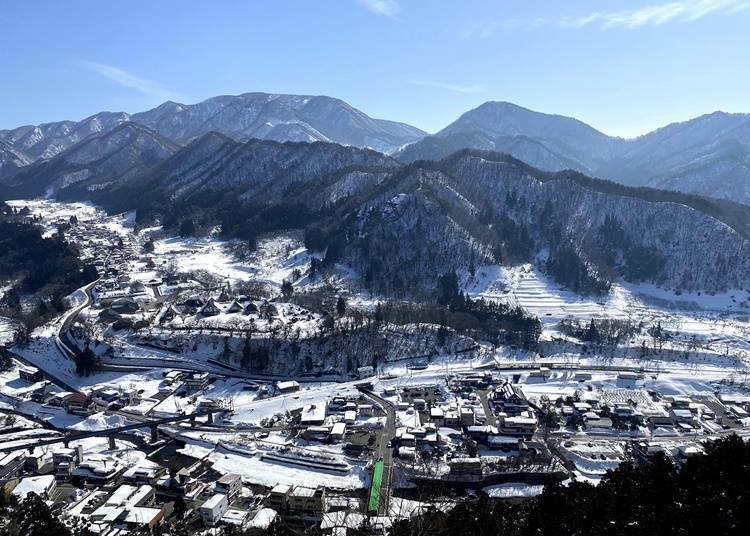 The mountain village of Yamadera as seen from Godaido
The view of the snow-covered mountains, which look like an ink sketch, is a popular sight, attracting visitors even in winter.
Don't forget to buy Goshuin, Omikuji, and Omamori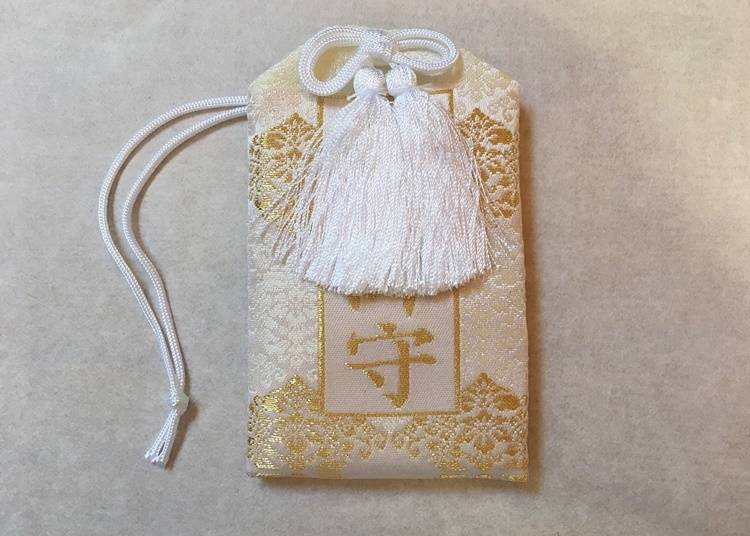 Large Omamori
At Yamadera temples and shrines, you can receive eight different goshuin – red ink stamps given to pilgrims to commemorate their visits to holy sites. Please note that you'll need to bring your own stamp book if you want the seal given at Okunoin.

At Hie Shrine, next to Konponchudo, you can purchase "mizumikuji," in which the written characters become visible when the omikuji fortune is put in water with seasonal flowers. The famous "Large Omamori" amulet, said to be beneficial for health and warding off evil, is also popular. As the name suggests, it is a uniquely large amulet.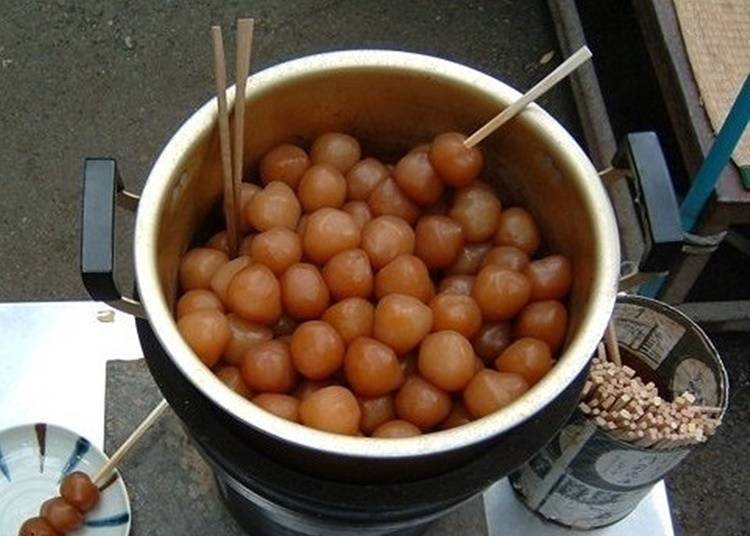 The local culinary specialty served at shops at the foot of the mountain is called "chikara konnyaku" and is customarily eaten to gain strength before climbing the temple steps. The soy sauce-flavored konnyaku (yam cake) balls are boiled in a large pot and skewered, so you can enjoy them while walking too.

There are also handmade soba noodle shops and Japanese sweet shops around Yamadera Station, so be sure to stop by on your way to and from the temple grounds.
A mountain temple in harmony with the natural scenery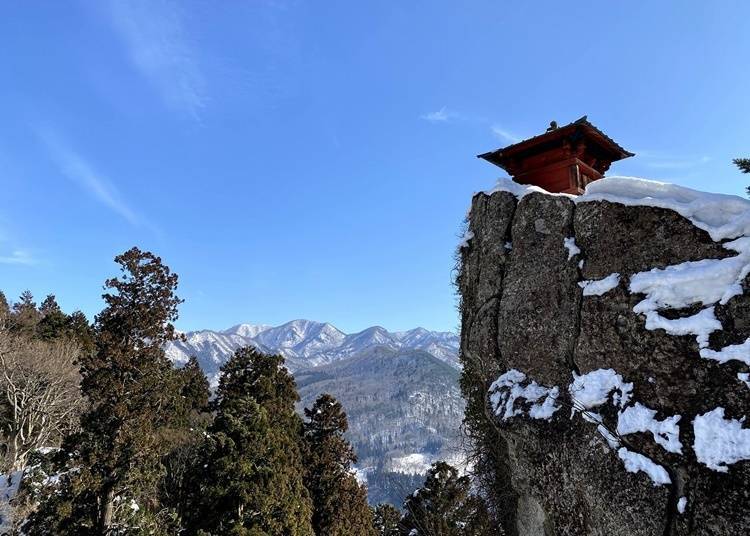 Nokyodo in snow
The main charm of Yamadera is the combined scenery of old temples and towers in harmony with their mountain surroundings. With pink cherry blossoms in spring, lush summer greenery, colorful autumn leaves, and pure white snow in winter, you will be enraptured by the natural beauty all year round.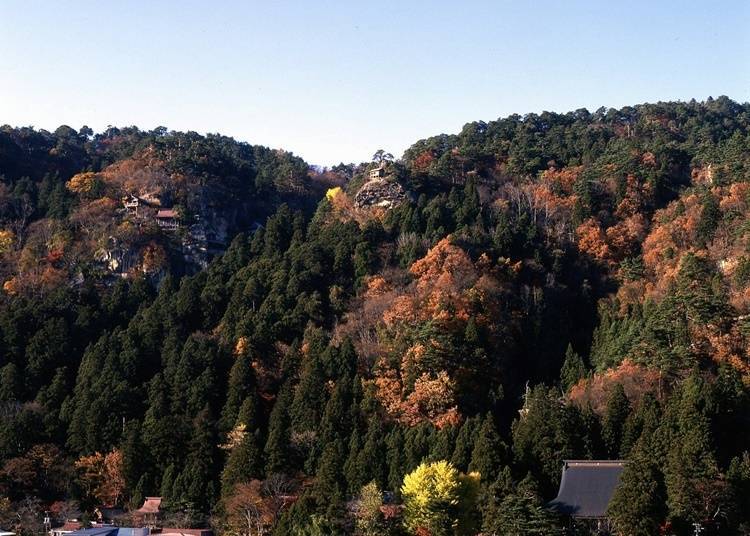 Yamadera's autumn leaves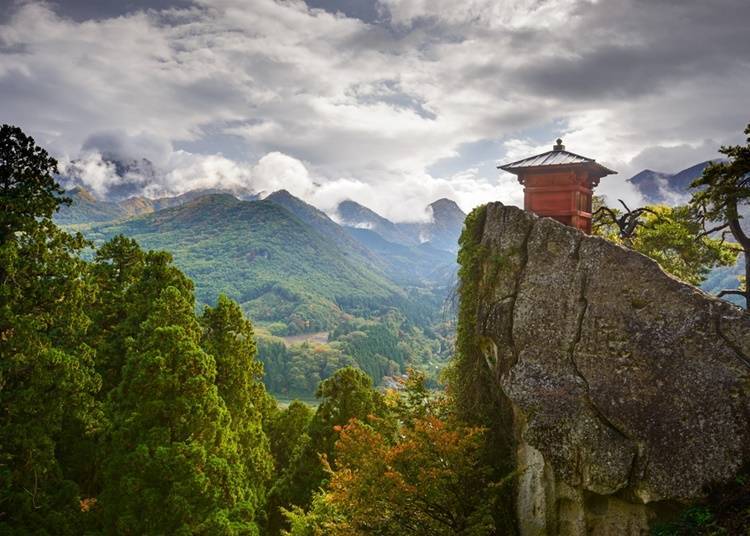 Yamadera Temple with beautiful greenery
Called "an ancient temple in the sky," make sure you visit Yamadera and immerse yourself in the spectacular soul-cleansing scenery!
• Regular cleaning, disinfection, and sterilization of facilities
and equipment
• Hand sanitizer made available
• Proper ventilation
• Use of coin trays
• Staff wear masks, gargle, wash hands regularly, and
monitor temperatures
• Admission restrictions and reservation system
• Entry denied to people who are feeling ill
• Guests requested to wear masks
• Guest temperature checks
Address

4456-1, Yamadera, Yamagata-shi, Yamagata, 999-3301
View Map

Nearest Station

Yamadera Station (Senzan Line)
5 minutes on foot


Phone Number

023-695-2843
Text by: Shoe Press Co., Ltd.
*The information in this article is accurate as of April 2021. Please check official websites for the latest information.

English translation by Gabriel Wilkinson
*This information is from the time of this article's publication.
*Prices and options mentioned are subject to change.
*Unless stated otherwise, all prices include tax.
Limited time offer: 10% discount coupons available now!