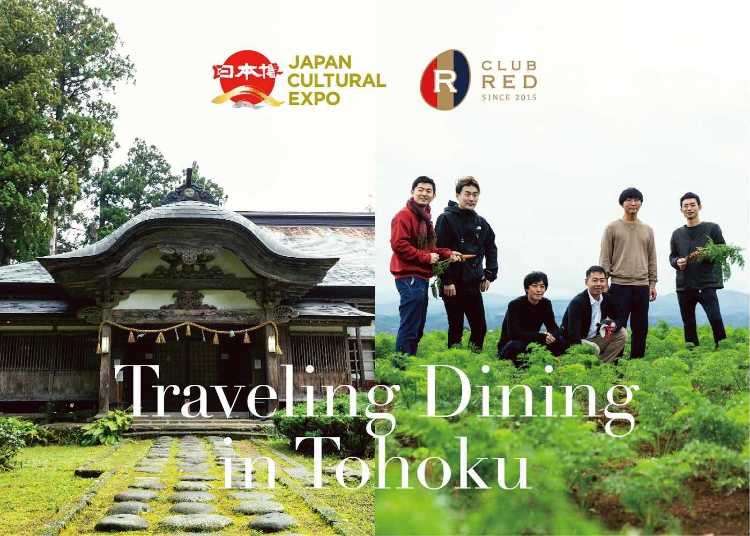 The city of Tsuruoka is found in Yamagata Prefecture, in northeastern Japan. Of all Japan's cities, Tsuruoka is the only UNESCO-designated "City of Gastronomy," a hub for creative cuisine. Bordered by the Sea of Japan and high mountains, this area possesses incredible surf and turf dishes you can only try here.

If you didn't know already, Tsuruoka was one site for the Traveling Dining in Tohoku project put on by Japan Cultural Expo and CLUB RED. The Japan Cultural Expo organization exists to advertise the beauty of Japan around the world and preserve Japan's cultural traditions, while CLUB RED is a community of young chefs who represent the new wave of cuisine.
Their cooperative project includes workshops ("Labo") in which chefs rediscover traditional dishes, rethink Japanese cuisine, and report their findings. In "Labo #2: Explorers," six chefs traveled to Tsuruoka to learn about the area's culinary traditions. Their continuing mission is to learn about the region and passionately pioneer modern takes on traditional cuisine.

What kind of food culture has taken root in Tsuruoka through the inventions of the young chefs? We went out to Tsuruoka to meet the people protecting the area's unique food culture and uncover culinary roots.
Exclusive Cuisine: Tsuruoka, Yamagata is a Foodie's Paradise!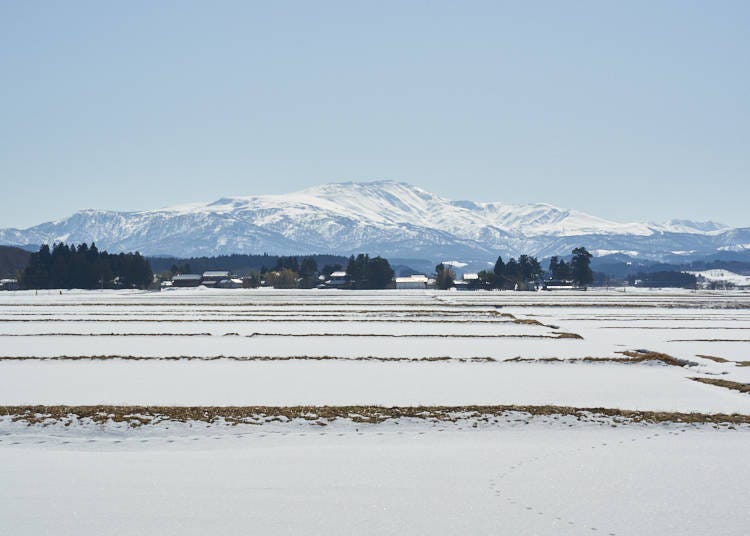 Our journey begins with a one-hour flight from Haneda Airport in Tokyo. Entering the wide-open Shonai Plain, one of Japan's great rice belts, we finally reach Tsuruoka in Yamagata Prefecture. As it turns out, the area's unique food culture comes from its unique natural climate and ancestral knowledge.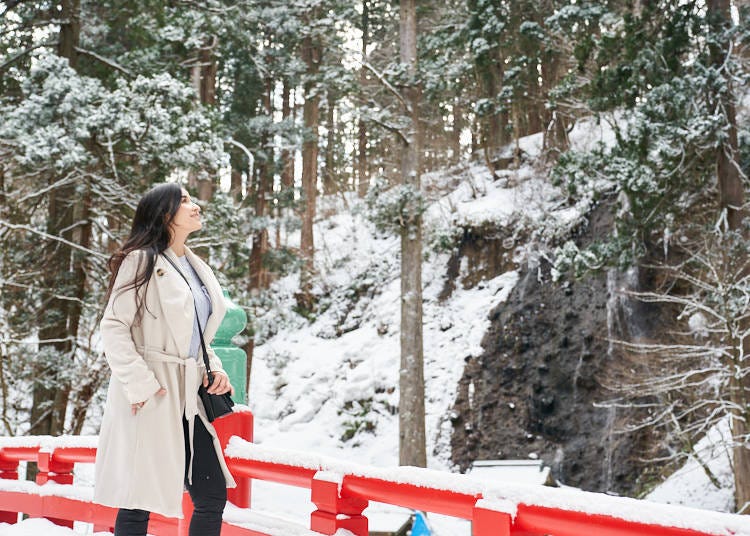 Tsuruoka encompasses an area that goes from sea level all the way up to 2,000 meters in altitude. The contrast between their hot summers and cold winters makes it possible to find and grow a wide variety of vegetables and crops. It's said that people of this area learned to preserve their foods to overcome harsh, snowy winters.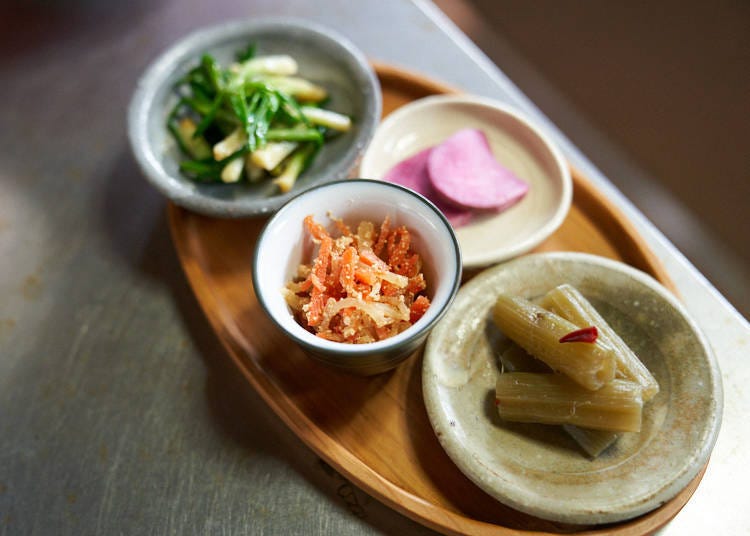 Historically, trade wasn't easy, either: although Tsuruoka faces the water, it is otherwise entirely surrounded by mountains. Some locals even call it an "inland island."
However, the lack of trade helped preserve their unique culture. One well-known facet of that culture is the "native vegetables" found here. Farmers in Tsuruoka have preserved the species and methods of growing of over 60 kinds of vegetables, a "living cultural asset" that impresses experts worldwide.
Tastes of the Mountains: The Buddhist cuisine of Dewa Sanzan and the ancient knowledge behind it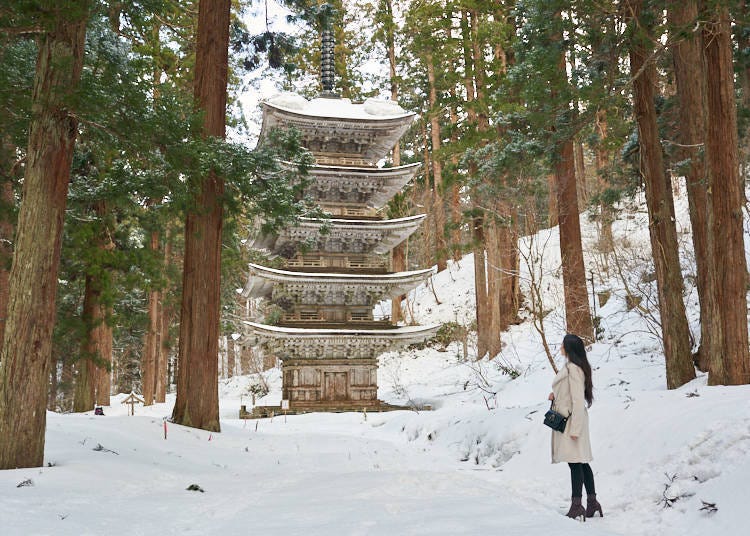 Dewa Sanzan is a mountain group surrounding the Shonai Plain, made up of Mt. Haguro, Mt. Gassan, and Mt. Yudono. These mountains have been worshipped for over 1,400 years as a place where the souls of ancestors rest. The Buddhist cuisine created by mountain ascetics around Dewa Sanzan speaks to their harsh training and is a crucial part of Tsuruoka's food culture.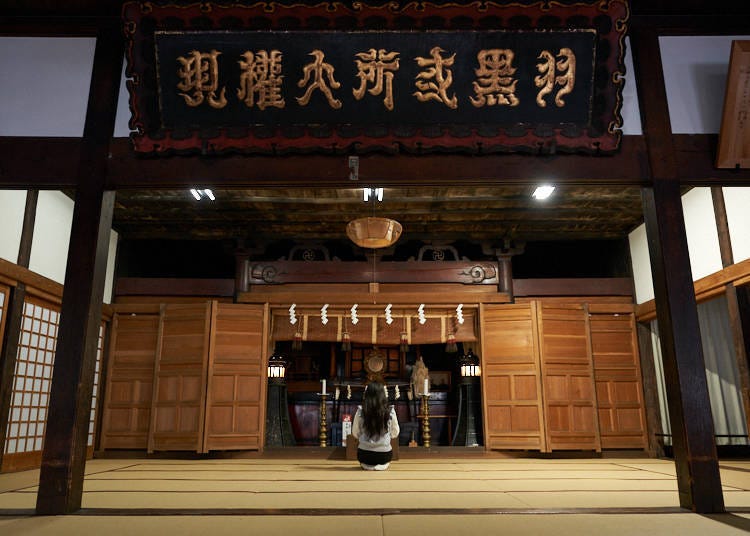 "Saikan," found near the peak of Mt. Haguro, provides temple lodging and Buddhist cuisine. It was originally Kezo-in, a Buddhist temple, and is the only remaining building once lived in by the aforementioned mountain ascetics. Traveling Dining in Tohoku events were also planned for here.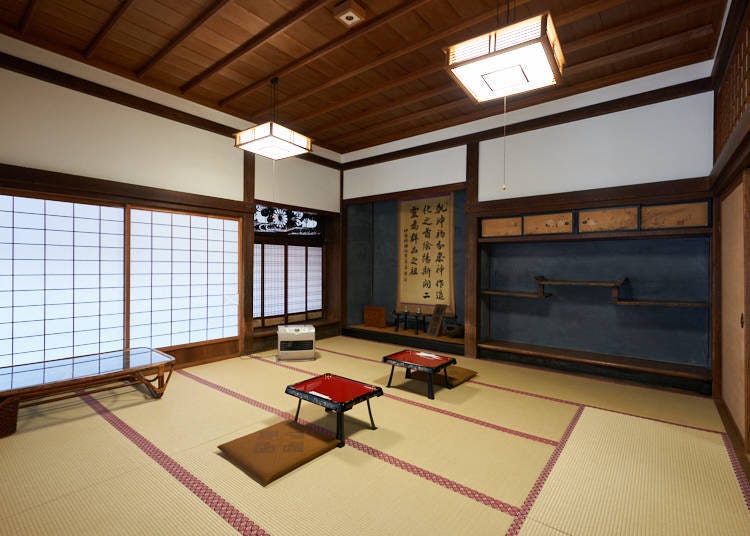 Their "Imperial Envoy Room" is where high-ranking guests from Kyoto were served. Today, anyone can enjoy Buddhist cuisine here.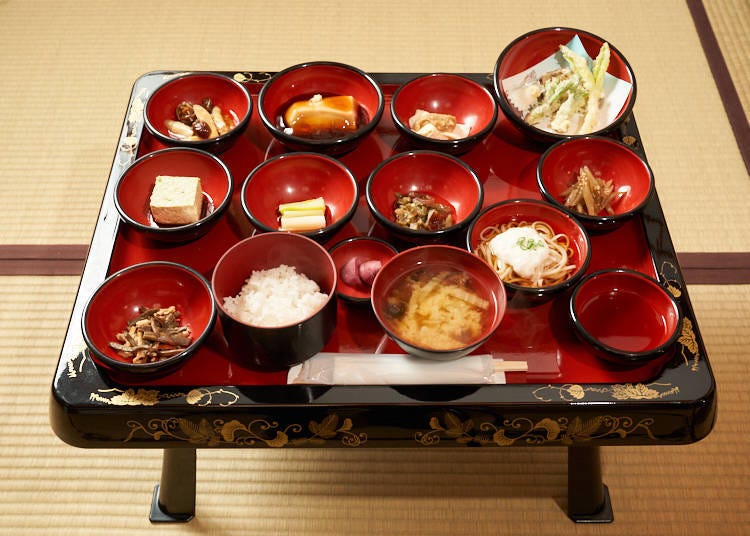 Buddhist cuisine entails the kind of meals served to monks training in Buddhist asceticism, forgoing animal products and ingredients with intense flavor in favor of vegetables and soy products only.

Their "Shojin Gozen" Buddhist 10-item meal (3,300 yen) is made of ingredients found around Dewa Sanzan. Whether it's soft sesame tofu with plenty of sweet and starchy sauce or "itadori," a wild mountain plant also used for treating cuts, you can be sure your meal will be made with seasonal ingredients.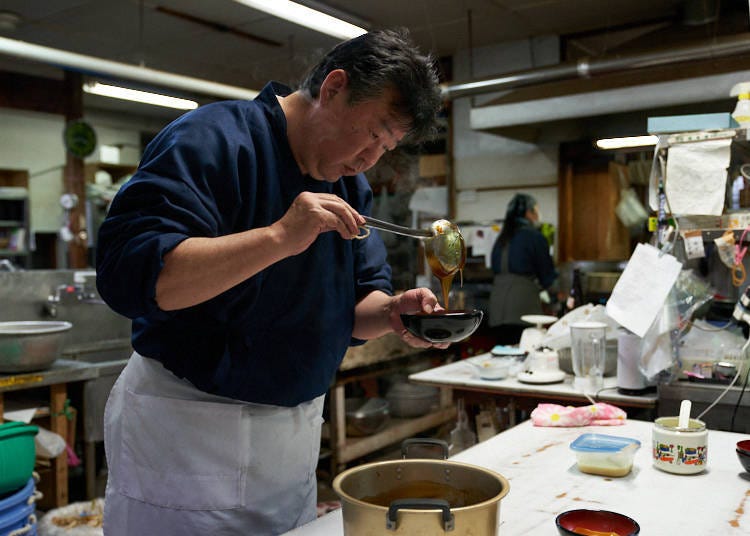 A notable feature of Dewa Sanzan's Buddhist cuisine is how it makes the most of natural flavors found in mountain greens, mushrooms, nuts, and so on. At first, monks ate everything they foraged raw, but Buddhist cooking methods arrived from Kyoto, introducing the use of heat, and brines to preserve foods.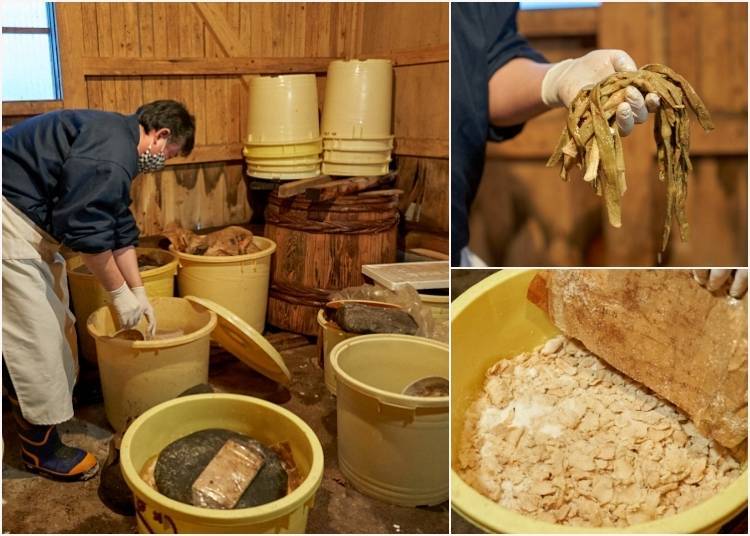 Saikan's head chef Ito is still using such ancient methods of preparing wild ingredients. Fiddlehead ferns are cooked to remove astringency, and bracken and akamizu are stored in brine. Some wild greens require different preservation methods, each carefully iterated upon by Buddhist monks to find a way to make all the mountains' gifts delicious.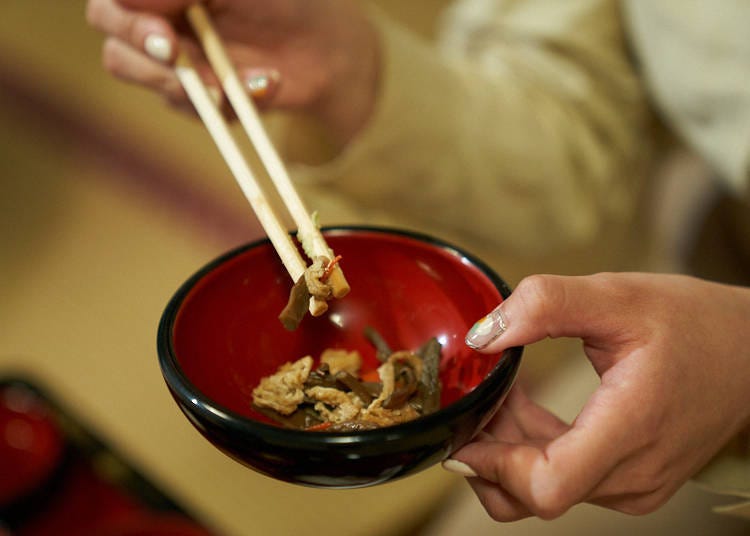 Indeed, partaking of the holy mountains' ingredients is part of a monk's training. The Buddhist cuisine of Dewa Sanzan exists to let none of the life taken for sustenance go to waste.

And as part of the "JCE & CLUB RED Labo #2," three young chefs that operate restaurants in Tsuruoka came to Saikan. They toured Saikan's kitchen and took their time tasting Buddhist cuisine. Seeing their unique methods of preparation, one chef proposed that "conveying the food culture and salting knowledge in Buddhist cuisine could create a more sustainable food culture." It seems like the young chefs gained great inspiration.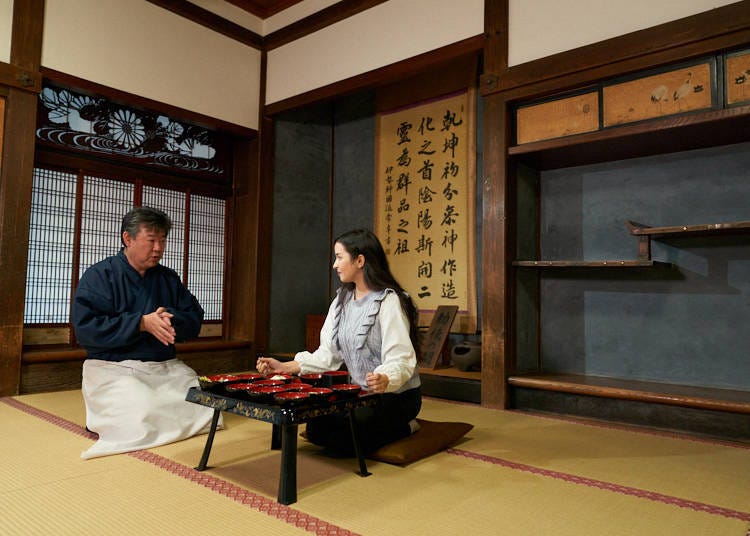 Every flavor stands out thanks to the clever cooking methods generations past have devised for each ingredient. If there was ever a meal that inspired gratefulness to its Buddhist pioneers and to the holy mountains where its ingredients grow, this would be it.
Saikan - Mt. Haguro Temple Lodging

斎館/羽黒山参籠所

Address

33 Toge Haguroyama, Haguromachi, Tsuruoka, Yamagata

Phone Number

0235-62-2357

Hours: Inquire
Closed: Open daily
Tastes of the Countryside: Enjoy chatting with the kindly mother at this restaurant relaying farmhouse food culture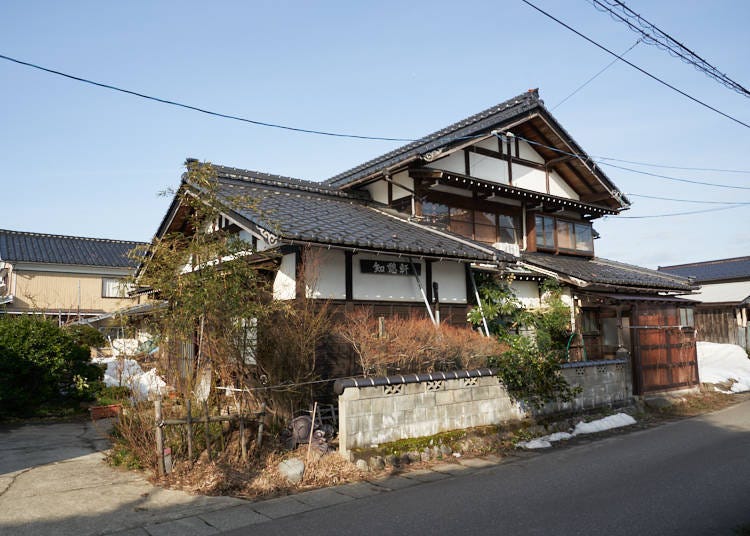 "Chikeiken" is an early instance of "farmhouse restaurants" that serve meals made with Tsuruoka's native vegetables. Young chefs from the JCE & CLUB RED project also came here to study Tsuruoka's countryside tastes.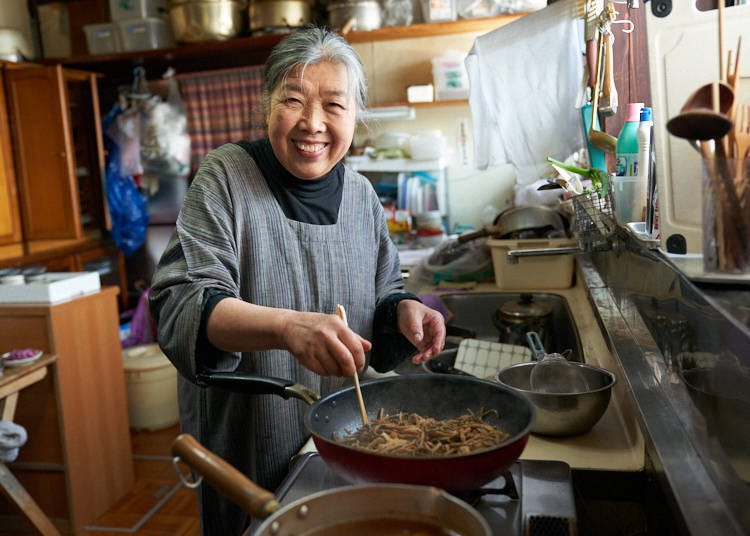 On the first floor is a spacious dining hall; lodgings can be found in a separate building deeper on the property. Working alone, slicing and plating with deft movements, proprietress Mitsu Chonan shyly remarked that, "this is farmhouse food; the ingredients aren't anything fancy."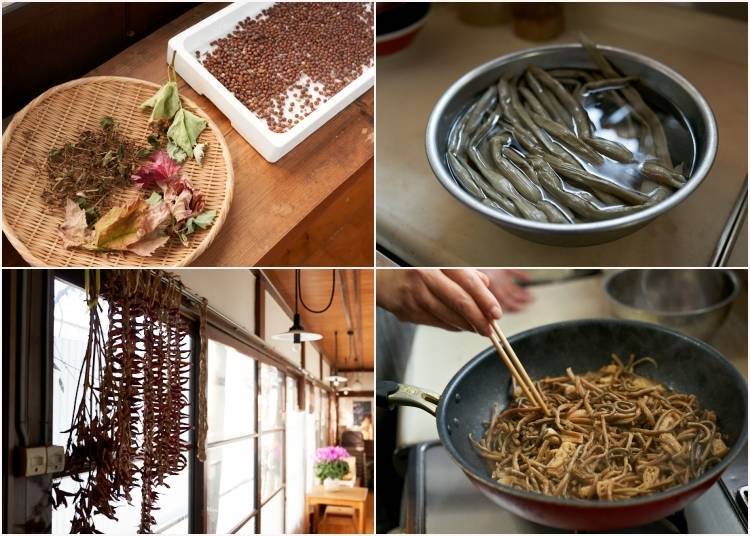 Most of the ingredients used at Chikeiken are harvested by Ms. Chonan personally. From winter to early summer, when the soil is cold, she uses preserved vegetables and greens to make meals. Dried fiddleheads are soaked in water over a week before stir-frying. The oil retained in deep-fried tofu is all she needs for her very healthy cooking.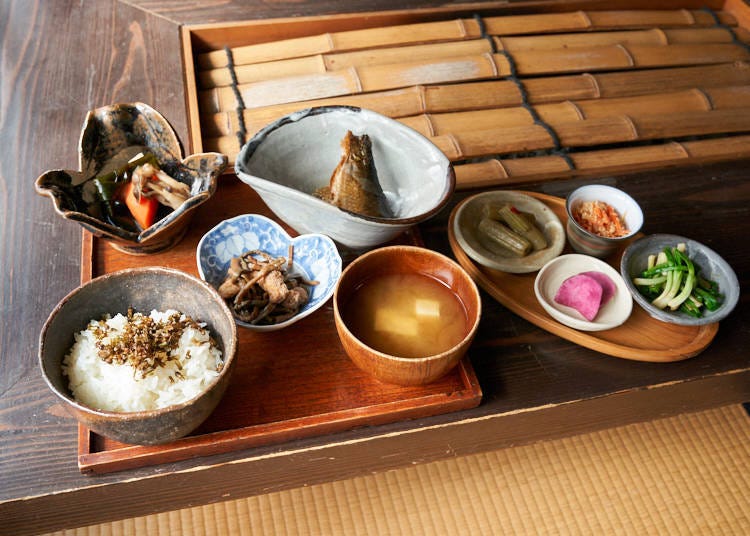 The "Ichijusansai and Preserved Food Lunch" (1,100 yen; ichijusansai refers to the prototypical soup/rice/three side Japanese meal) served on this day included March-harvested chives in a vinegar-miso sauce, previously dried and sliced herring, and bracken miso soup.
For the farmers living in this area, this is the kind of home cooking they've always known. Amongst its simple flavors, one can grasp the true deliciousness of Tsuruoka's native vegetables. One fascinating detail of the restaurant is how one can enjoy different flavors in each season. Summer, for instance, features eggplant, cucumber, and other vegetable-focused meals.

The young chefs taking part in "JCE & CLUB RED Labo #2" knew about the area's "sea, mountains, rivers, and plain" as sources of ingredients, but "actually coming really helped show how wide a variety of ingredients Tsuruoka has."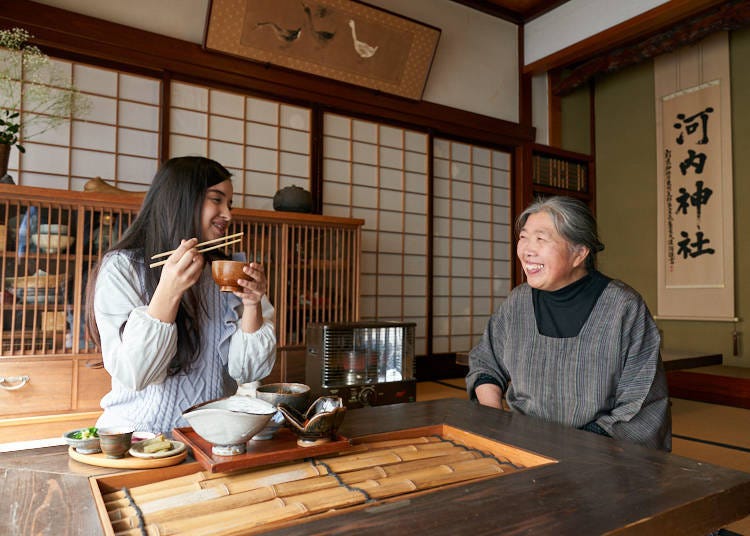 On the topic of serving guests from outside Japan, Ms. Chonan quietly smiled, hoping the "farmhouse flavors would suit [their] palates." In any case, the food lovingly prepared by this "farmhouse mom" is a heartwarming thing to experience.
知憩軒

Address

91 Nishiaraya Miyanone, Tsuruoka, Yamagata

Phone Number

0235-57-2130

Hours: 11:30 a.m. to 2:00 p.m. (Last order at 1:00 p.m.)
Closed: Tue / Wed in March through November,all of December through February
Tastes of the Sea: The spectacle of the Sea of Japan and its fresh fish delight at "Okimizuki"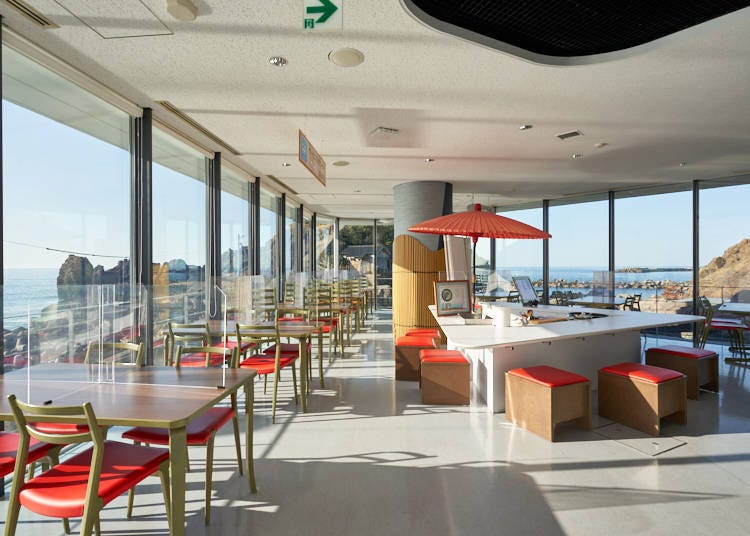 To enjoy everything the Sea of Japan offers, we invite you to Okimizuki. This Japanese restaurant is found inside Kamo Aquarium in Tsuruoka, and they serve freshly caught fish from the Shonai Coast to make seasonal seafood rice bowls and meal sets. Their window looks straight out on the Sea of Japan.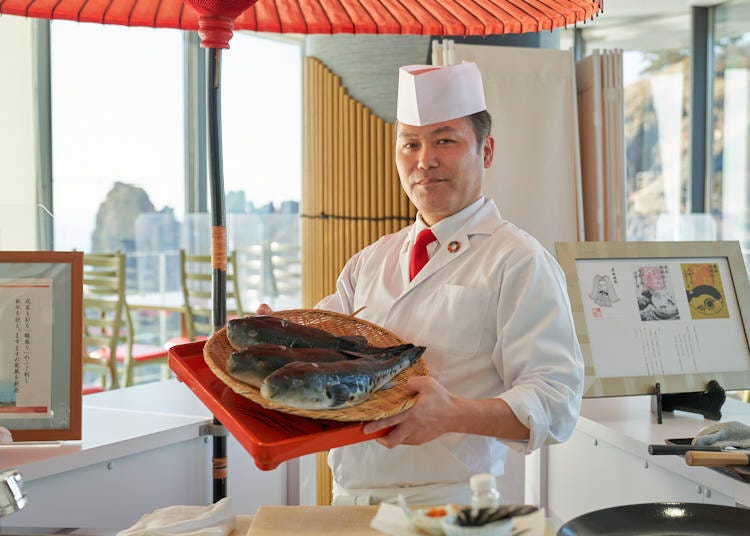 One of Okimizuki's famous dishes is their tiger puffer sashimi. Head Chef Suga has a license to prepare pufferfish, and he'll slice it up in their open kitchen for you. Even in Japan, it's not often you get to see pufferfish being prepared. Many of the tourists dining here come primarily for this feature.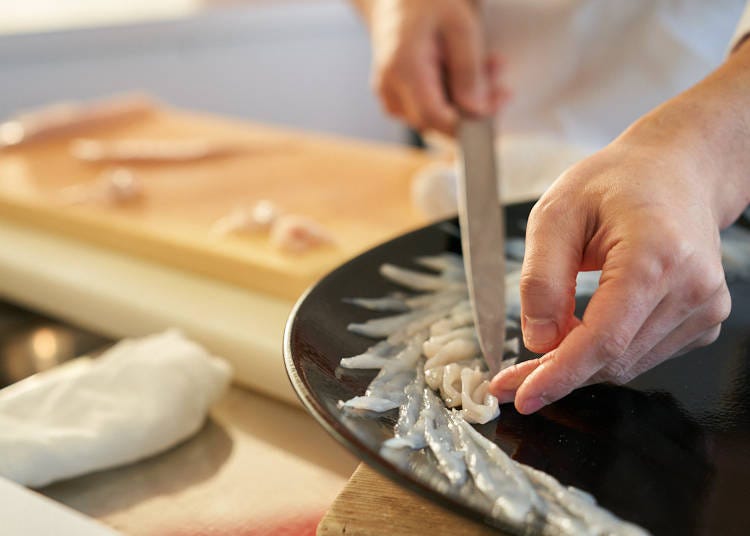 To spread Japan's seafood culture and pufferfish cuisine around, Head Chef Suda works hard to put this restaurant on the map. In addition to giving lectures outside of Japan, he trains chefs from around the world.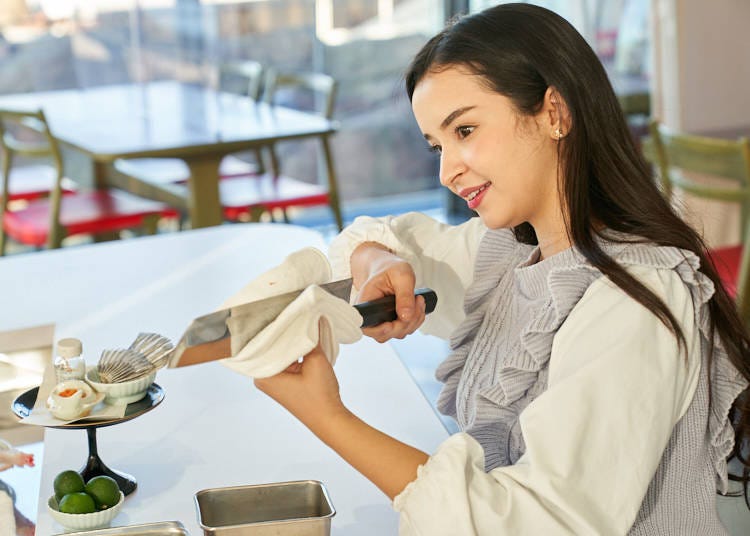 You, too, can hold one of their kitchen knives, each one quite valuable! It's no surprise for a high-end Japanese restaurant, but Okimizuki provides friendly and thorough service to tourists.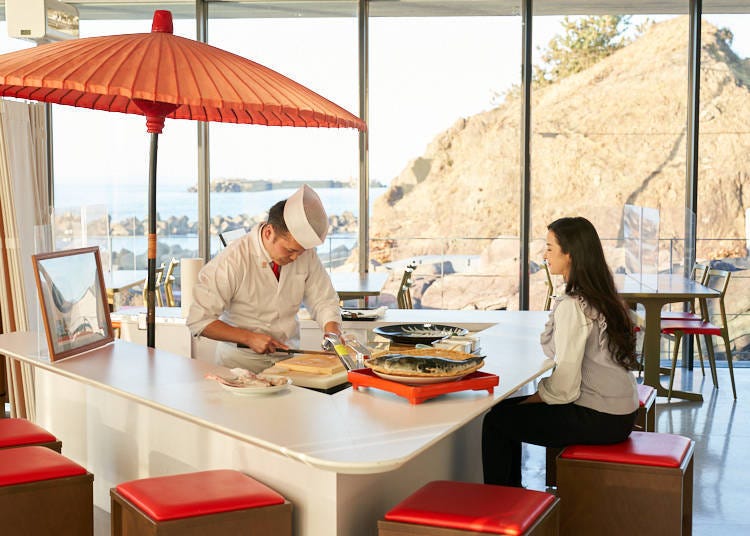 It's easy to lose track of time watching such mesmerizing knife skills.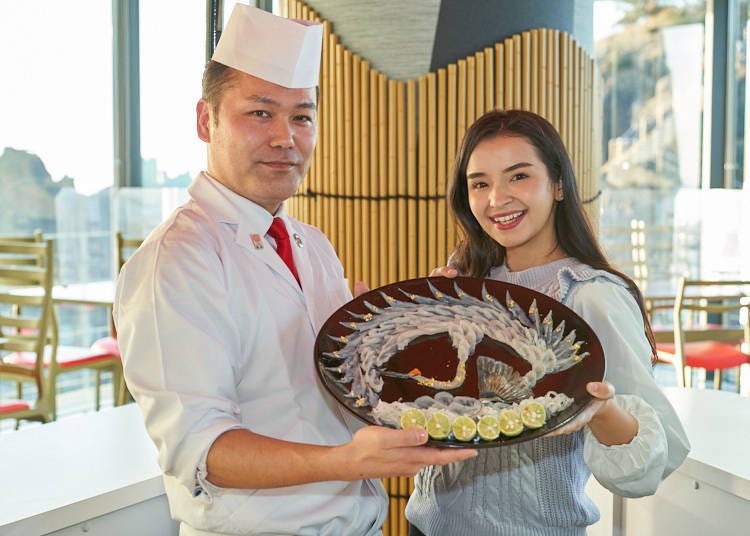 "Tsuru-mori Pufferfish Sashimi" (market price; parties of five or more) is a beloved dish long treated as a source of fortune in Tsuruoka. They'll even take your picture alongside the completed Tsuru-mori pufferfish platter!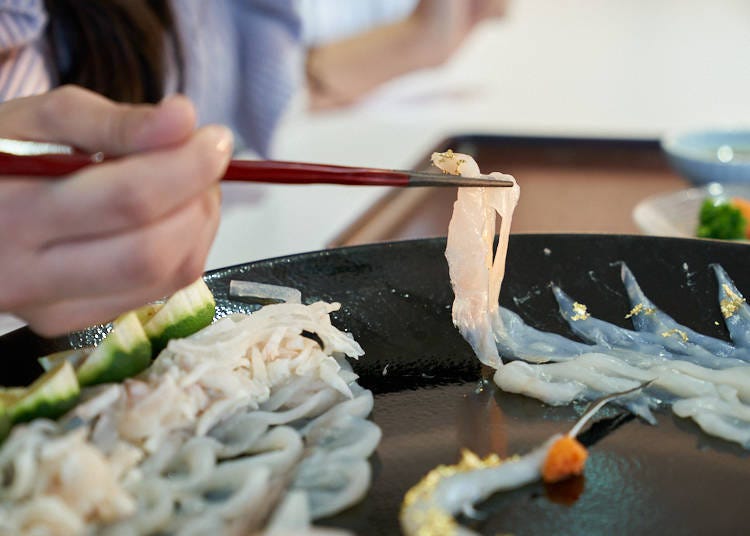 The clear meat of the pufferfish is eaten with ponzu to dip in. With every springy bite of Shonai Coast tiger pufferfish, an elegant sweetness emerges.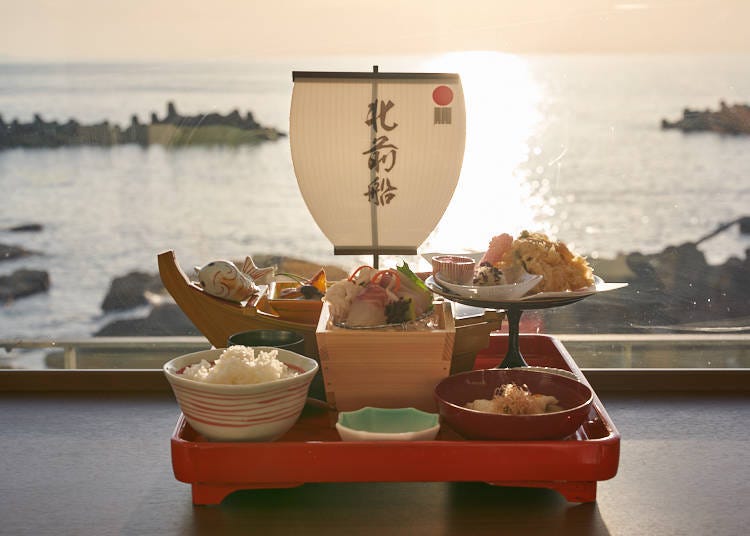 Their "Shonai Kitamae-zen" set (2,130 yen), modeled after the "Kitamaebune" cargo ships that sailed between Osaka and Hokkaido, include conger eel tempura, seasonal sashimi, and other delicacies.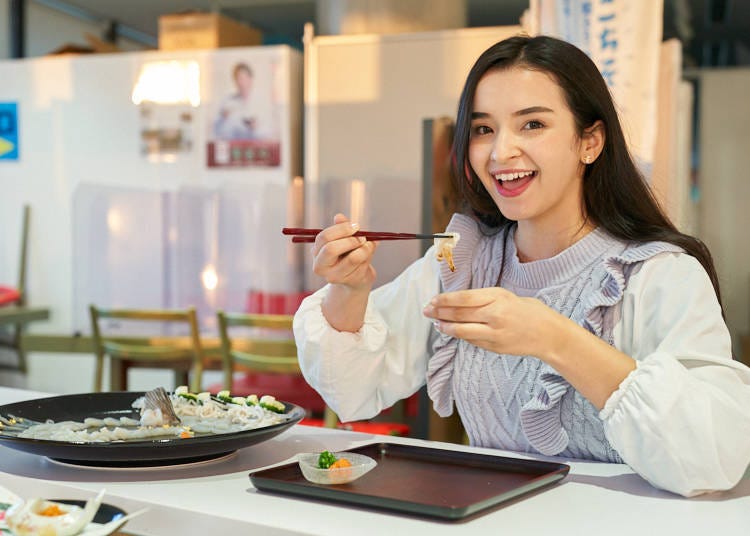 The fresh fish of Tsuruoka and Head Chef Suda's incredible skills will undoubtedly give you a sense of Tsuruoka's rich food culture.
魚匠ダイニング 沖海月

Address

657-1 Imaizumi Okubo, Tsuruoka, Yamagata (Kamo Aquarium Interior)

Phone Number

0235-33-3036

Hours: 11:00 a.m. to 3:00 p.m. (Last order at 2:30 p.m.)
Closed: Open daily
Notes: Eating at the restaurant does not require an aquarium ticket (except during busy season)
Take home some "Honcho" pickled Tsuruoka vegetables for a souvenir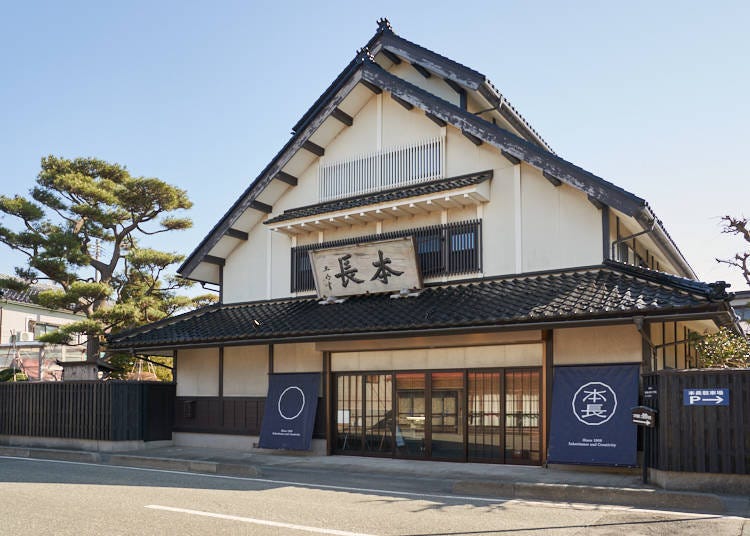 When visiting Tsuruoka to experience its food culture, pickled Tsuruoka vegetables would make a great souvenir. Honcho is a veteran pickled foods store, having been in business for over a century.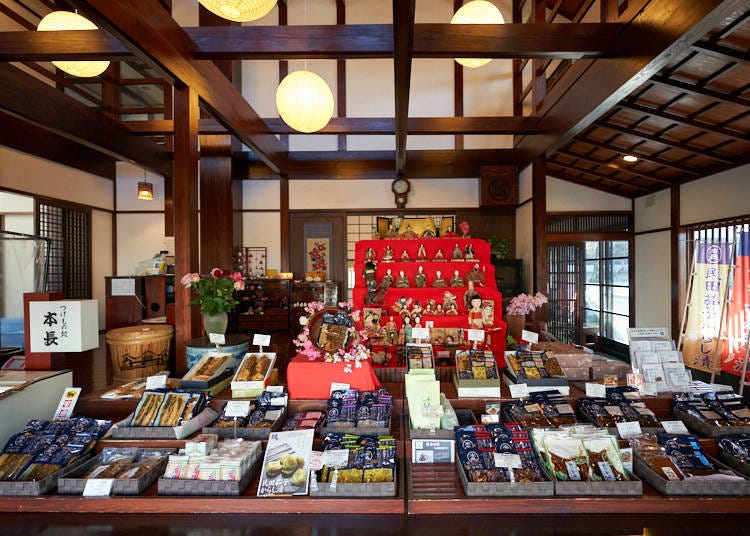 Tsuruoka's Oyama district has a number of sake breweries, which is what Honcho started as. Its founder discovered that pickling food in sake lees made them particularly delicious. Four generations later, its owner still sells carefully pickled native vegetables.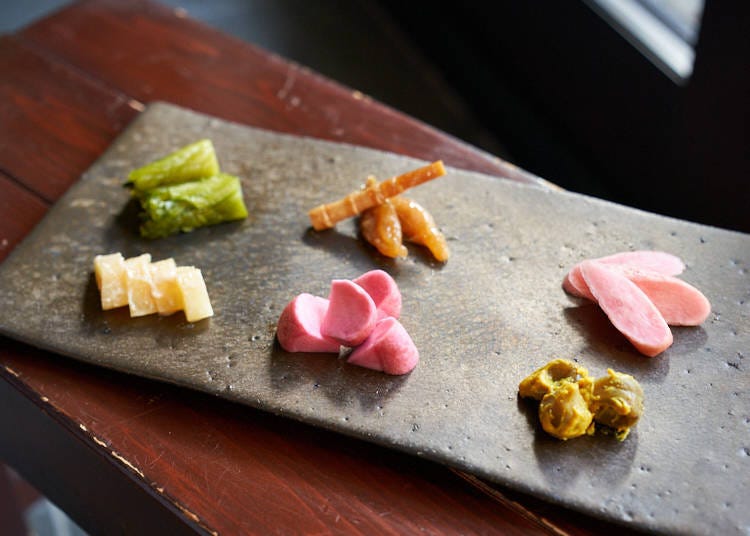 Their most popular item is the "Mustard-pickled Minden Eggplant," seen below to the right. It has an addictive spicy kick you can feel in your nose and makes a great snack when drinking. Their veteran craftsman has worked with sake lees for over 40 years and knows just what to do for each vegetable in each season.
The method of preservation is best matched to each vegetable's flavor. For instance, sweet vinegar works for both Atsumi and Fujisawa turnips, but the Fujisawa variety could also be preserved in miso tamari.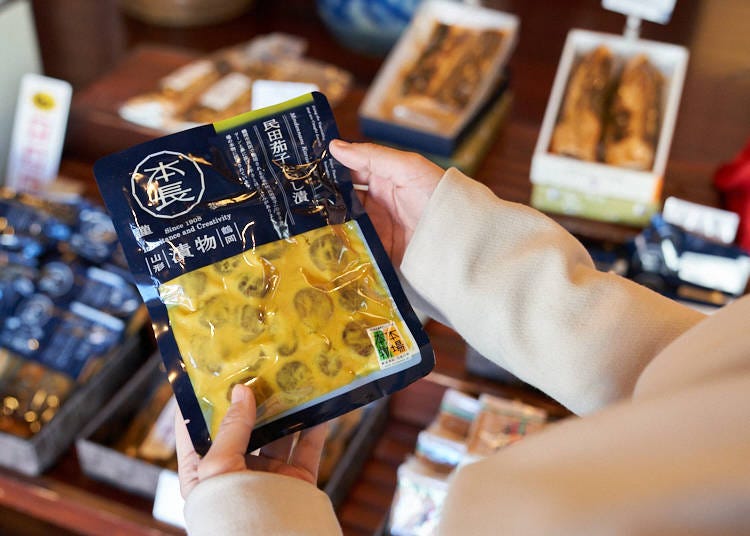 Honcho's pickled foods are a great way to enjoy Tsuruoka flavors in your own home, but the refined packaging makes for great gifts, too. One of their unique, recent creations is "Sake Lees-Pickled Zao Cream Cheese," which won the highest "Minister of Agriculture, Forestry and Fisheries Award" at a pickled food exhibition.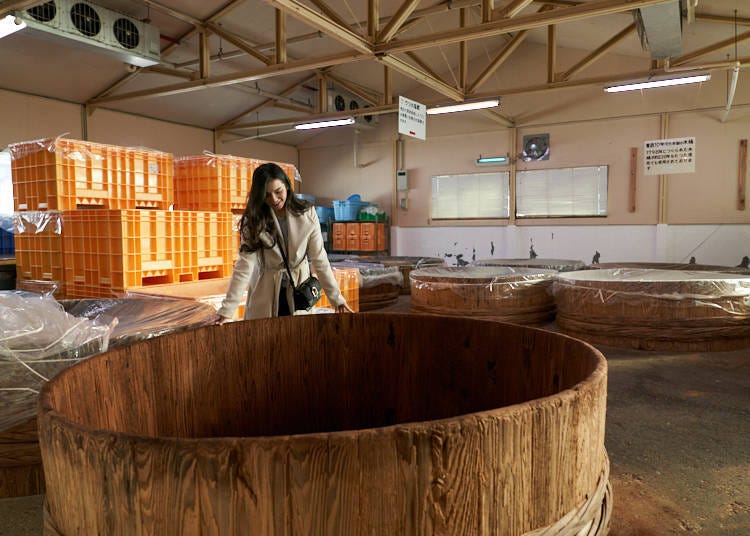 If you reserve ahead of time, you can enjoy a tour of their pickling operations. Around 1.8 meters in height, their massive wooden vats have seen constant use since their construction in 1798. Even as times change, they've been carefully maintained alongside Tsuruoka's food culture.
つけもの処 本長

Address

1-7-7 Oyama, Tsuruoka, Yamagata

Phone Number

0235-33-2023

Hours: 8:30 to 17:00
Days closed: 12/30 to 1/5
Notes: Free pickling storehouse tour (reservation required) takes 30 minutes (includes taste testing and shopping)
Over the course of this trip, we learned that Tsuruoka's unique food culture was the product of both natural gifts, the knowledge of ancestors, and crucially, the willingness of its people to pass down that knowledge.

For this article, we introduced regional cuisine made with native ingredients around Tsuruoka in Yamagata to go along with the "JCE & CLUB RED" project that took place here. Still, anywhere in Japan where you can find rich nature, you'll find regional cuisines to match local variety. Consider going on an excursion in search of Japan's food culture and many regional cuisines!
*This information is from the time of this article's publication.
*Prices and options mentioned are subject to change.
*Unless stated otherwise, all prices include tax.
Limited time offer: 10% discount coupons available now!