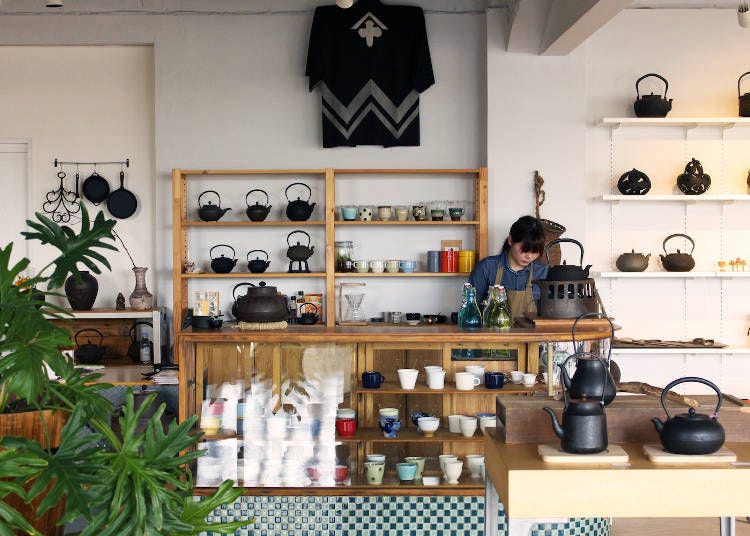 Japan's Tohoku region is full of traditional crafts that have been passed down since ancient times. This is because of the region's development of craftwork as a side job during the snowy winter months when farming cannot be done.

Here, we will share some of these special traditional Tohoku crafts, such as ironware and textiles.
1: Tsugaru Vidro (Aomori Prefecture)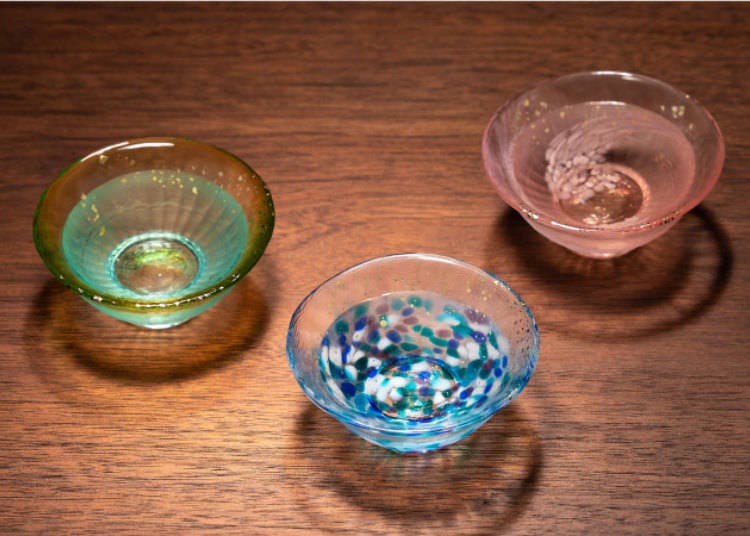 Photo: Hokuyo Glass
Tsugaru Vidro is a traditional Tohoku glass craft from Aomori Prefecture. They are beautifully colored, reminiscent of the four seasons of Japan. These come in a wide variety of items including glassware, vases, and other miscellaneous objects.

Tsugaru Vidro crafts are made by artisans without molds or machines. The melted glass is wrapped around the end of a pipe-like rod. The artisan then blows into the pipe while rotating and shaping the glass. This process called "free blowing," and requires a lot of special skill and experience. The shape of the object is determined by the speed of blowing and turning. Despite this, you will notice almost no difference in size between objects. This is a special technique that can only be accomplished by skilled craftspersons.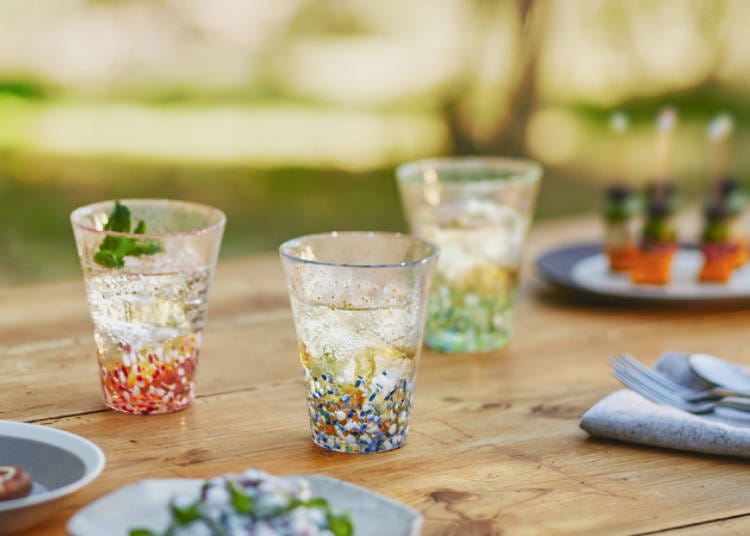 The manufacturer, Hokuyo Glass, sells Tsugaru Vidro crafts, as well as allows tours of the factory. This is a must-see, where you can watch craftspersons melt the glass in high-temperature furnaces of about 1,500˚C, and skillfully maneuver the rod. You can get there in about 10 minutes by car from the Aomori Station West Exit. Make sure to call for reservations in advance.
北洋硝子

Address

4-29-13 Tomita, Aomori City, Aomori Prefecture, 038-0004

Phone Number

017-782-5183

Hours: 9:00AM-4:30PM (Tours from 10:00AM-12:00PM, 1:00PM-4:00PM)
Fee: Free to tour
Closed: See HP for details
2: Nambu Tekki Ironware (Iwate Prefecture)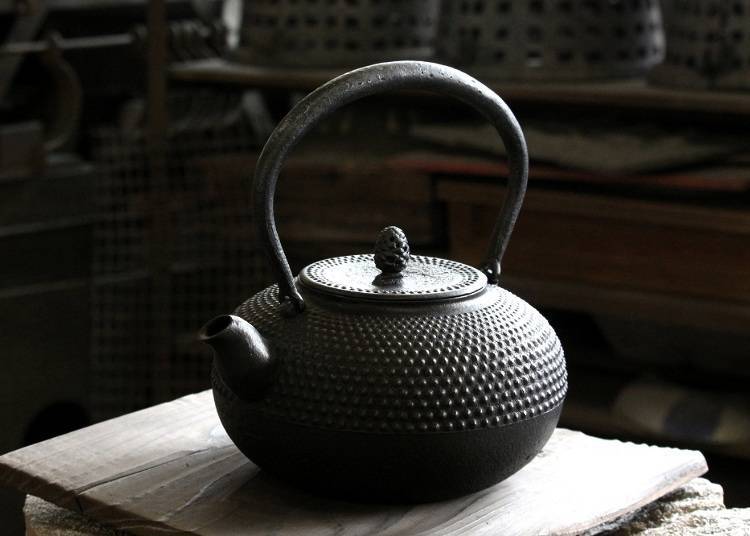 Photo: Oigen Factory
Nambu Tekki is a type of iron casting in which molten metal is poured into a mold. In addition to standard iron kettles, frying pans, and teapots, they have recently begun selling colorful red and green Nambu Tekki wares as well.

The production process of Nambu Tekki begins with design and mold making. The iron is then heated to 1,500 degrees and poured into the mold (a process called ikomi). The surface is then painted with lacquer. The dotted "arare pattern" is one of the most frequently used patterns in making Nambu Tekki. However, the process to press the arare pattern into the mold takes at least two hours for a single kettle. As you can see, creating high-quality Nanbu Tekki ironware requires not only many years of practiced skill, but plenty of patience.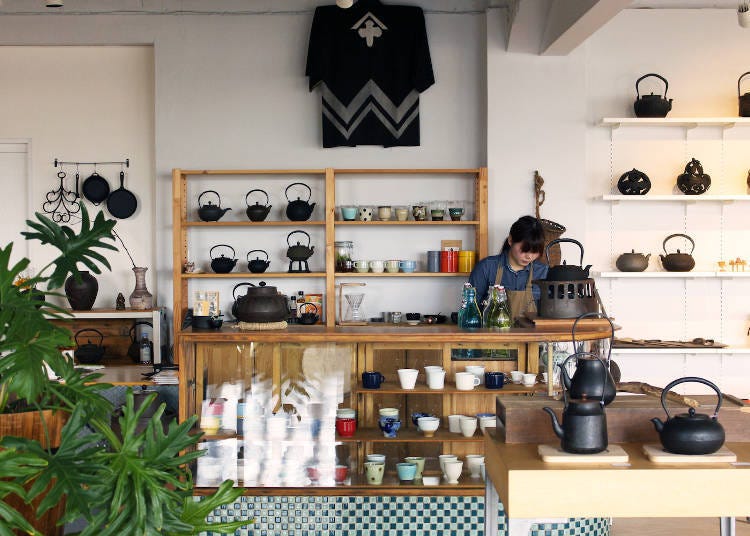 Photo: Oigen Factory
If you want to purchase Nambu Tekki products, we recommend OIGEN FACTORY SHOP. They are a direct sales shop of Oigen Factory, a long-established Nambu Tekki iron-casting factory located in Oshu City, Iwate Prefecture. Not only are there a wide range of products, but you can also sample coffee and tea brewed using their iron kettles. You will notice that one of the features of using Nambu Tekki is that the taste of the water becomes mellow. It is easily accessible, only 10 minutes on foot from Mizusawa-Esashi Station.
OIGEN FACTORY SHOP

Address

45 Horinouchi, Mizusawa Haneda-cho, Oshu City, Iwate Prefecture, 023-0132

Phone Number

0197-24-2411

Hours: 9:00AM-5:00PM
Closed: Wednesdays
3: Magewappa (Akita Prefecture)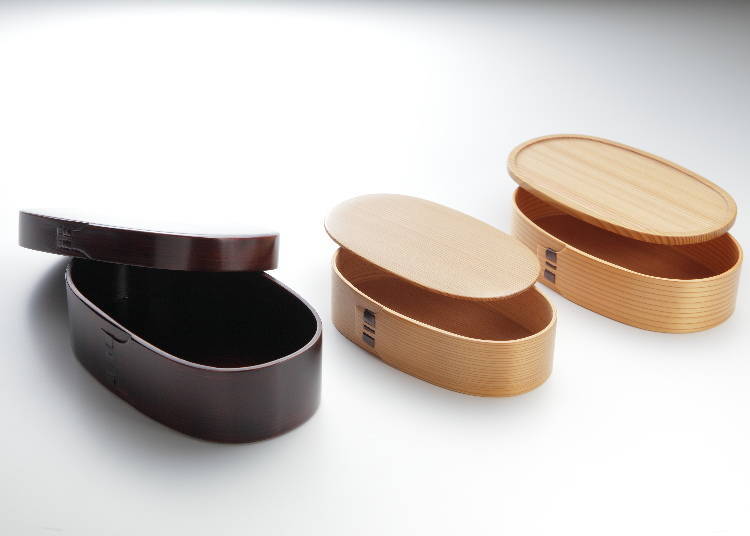 Magewappa is a type of rounded container made by bending thin strips of wood, such as Akita cedar, into an elliptical shape. Because they are made from natural wood, these containers are very lightweight. Cedar also boasts high moisture absorption and antibacterial effects, so it can hold food for a long time without affecting its flavor. They are popular as lunch boxes in Japan.

The parts of the magewappa boxes are all made with beautiful wooden pieces that show the rings of the tree. The cedar wood is sawed and peeled into thin strips. It is then put into boiling water which softens it. Then, it is quickly bent and dried. Finally, it is fastened with cherry tree bark, inserted into the bottom piece, and sanded down to perfection. There are no gaps in the pieces of a completed magewappa, proof of the the detail and precision that each artisan puts into their work.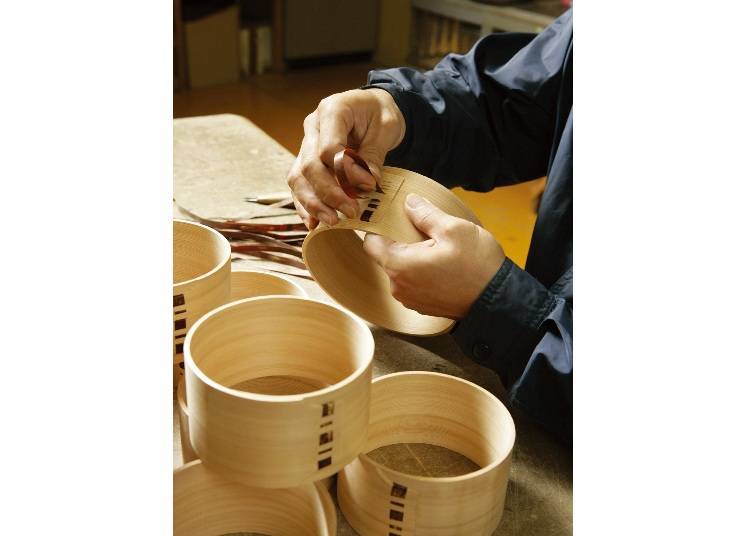 You can buy magewappa products at Odate Kogeisha in Odate City, Akita Prefecture, as well as make reservations to tour the manufacturing plant and make your own magewappa. It is about 10 minutes by car from Odate Station. Prices for the magewappa-making experience start at 3,000 yen. It can take from 1 hour 30 minutes to 2 hours, so when visiting, plan accordingly and allot enough time.
大館工芸社

Address

29-15 Ieushiro, Shakanai, Odate City, Akita Prefecture, 017-0012

Phone Number

0186-48-7700

Hours: 9:00AM-5:00PM
Fee: Magewappa-making Experience: From 3,000 yen
Closed: Saturdays, Sundays, holidays
4: Naruko Kokeshi (Miyagi Prefecture)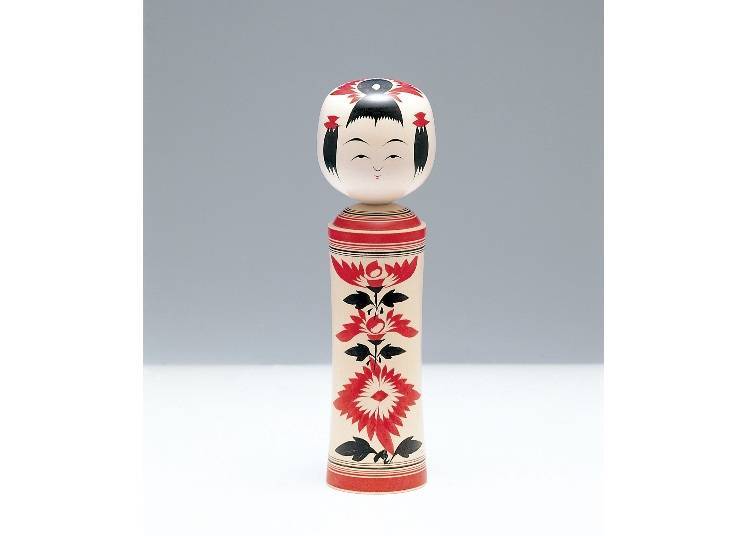 Naruko Kokeshi is a traditional craft from Naruko Onsen in Osaki City, Miyagi Prefecture. They are characterized by little squeaking sounds when their heads are turned, gentle facial expressions, and a pattern of layered chrysanthemums drawn on their sides. Kokeshi were originally designed as children's toys, but are now popular as displays and Japanese souvenirs.

Kokeshi-making begins with cutting the wood to be used as the main material. To remove water from the trunk, the bark is peeled immediately after cutting, and left to dry naturally for periods of about six months and up to one year. Depending on the condition of the tree, it may even be dried for an extra year or two.

After an extensive drying period, the design for the kokeshi is finally made and painted. Even most of the tools used to make kokeshi are forged by the craftspersons themselves, showing the true commitment and dedication of each to their craft.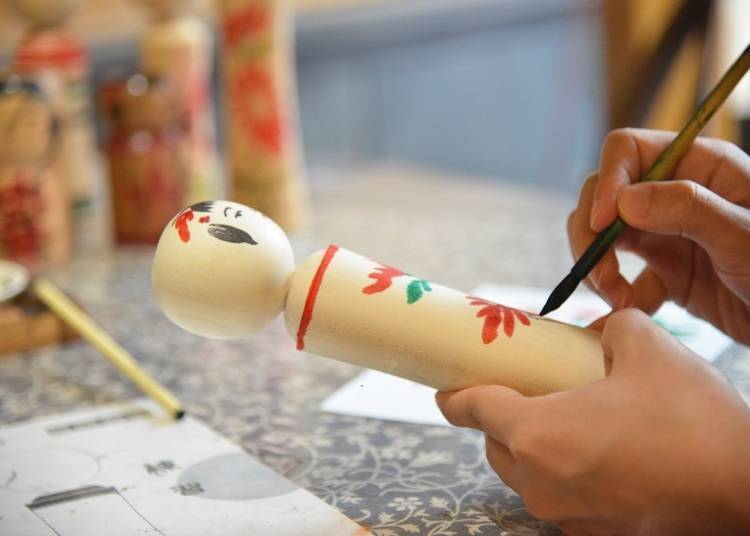 Kokeshi workshops are scattered throughout the hot spring town located right near Naruko Onsen Station. You can find a variety of kokeshi for sale at workshops and station-front souvenir shops. There are even workshops where you can experience painting your own Kokeshi, such as Sakurai Kokeshi, located about a 5 minutes away from the station.
桜井こけし店

Address

26 Yumoto, Naruko Onsen, Osaki City, Miyagi Prefecture, 989-6823

Phone Number

0229-87-3575

Hours: 8:00AM-7:00PM
Fee: Painting Experience: 1,650 yen
Closed: Irregular days
5: Yonezawa Ori (Yamagata Prefecture)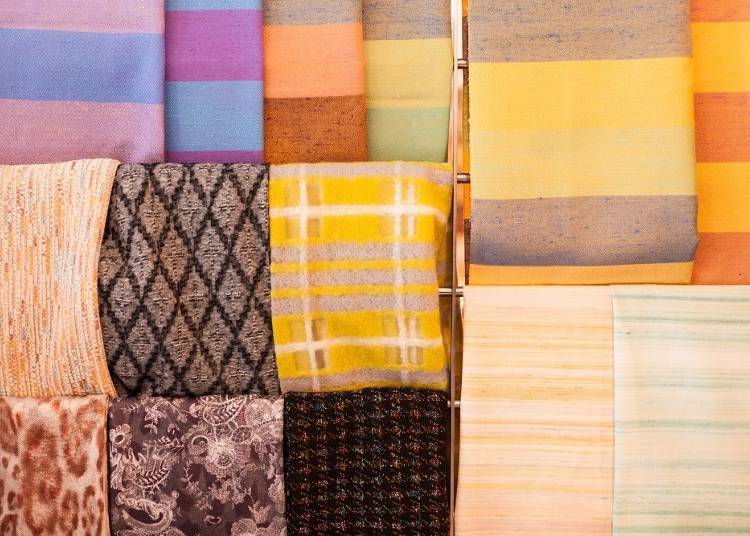 Yonezawa Ori crafts are completely made by hand, from the thread-making to the dyeing and weaving. They are colored with natural dyes, such as safflower and indigo, and feature rich textures that synthetic dyes just cannot provide. The fabrics are tightly woven with fine threads, which gives them their amazingly soft texture.

Yonezawa Ori uses a thread-dyeing technique called "saki-zome" before they are woven. By dying them, letting them dry, and repeating as necessary, the artisans are able to achieve whatever color they envision.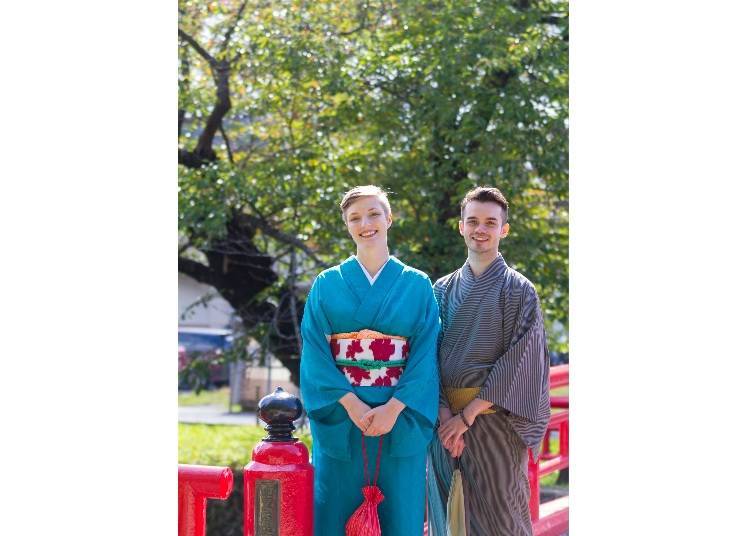 Yonezawa Ori fabrics are used not only for kimono but for scarves and accessories as well. There is even a cafe in Yonezawa City, Yamagata Prefecture, where you can wear Yonezawa Ori kimono called Nagomitei. It is about a 10-minute drive from Yonezawa Station and about 2 minutes on foot from the popular attraction, Uesugi Shrine. You can even visit the shrine while wearing your Yonezawa Ori Kimono. Reservations are not required for this experience, so feel free to visit during your sightseeing trip.
和庭

Address

1-3-60 Marunochi, Yonezawa City, Yamagata Prefecture, 992-0052

Phone: 0238-21-5121
Hours: April to November, 10:00AM to 4:00PM
Price: Dressing experience (includes 1 drink): 3,800 yen with reservation/4,000 yen walk-ins
Closed: 2nd and 4th Wednesdays; December through March
6: Aizu Shikki Lacquerware (Fukushima Prefecture)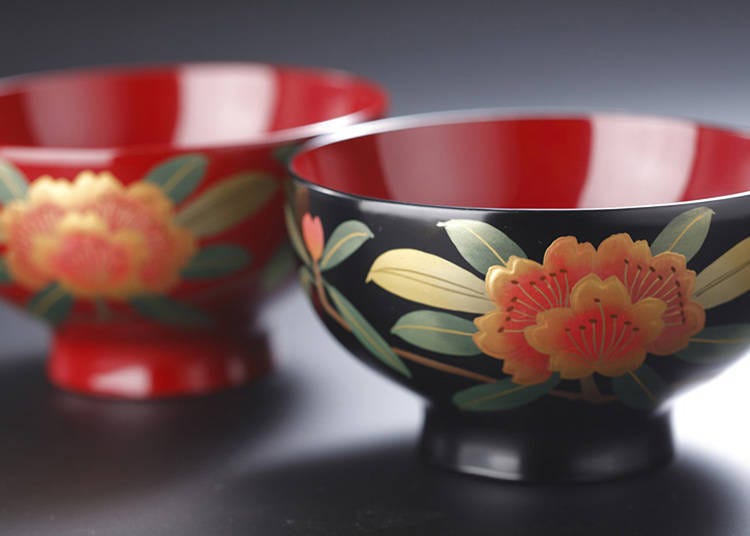 Aizu shikki are traditional lacquerware crafts from Aizuwakamatsu, Fukushima Prefecture. These traditional Tohoku crafts have a reputation for their vivid colors, painted with lacquer and decorated with gold leaves and patterns.

The process of creating Aizu lacquerware is roughly divided into four parts. The first step is called "kiji-zukuri," in which the items is shaped and rounded, followed by "shitaji-zukiri," in which the base coat is applied. The finals steps are "nuri" and "kashoku," or painting and decorating, respectively.

Even though they are all painted together, there are a variety of styles, including the elegantly refined "tetsu-sabi-nuri" (iron-rust coating), and "kijiro-nuri," which exposes the beautiful grain of the wood. Because each process requires the specific skill of a dedicated artisan, the combined skills of many talented artisans are unified in a single bowl.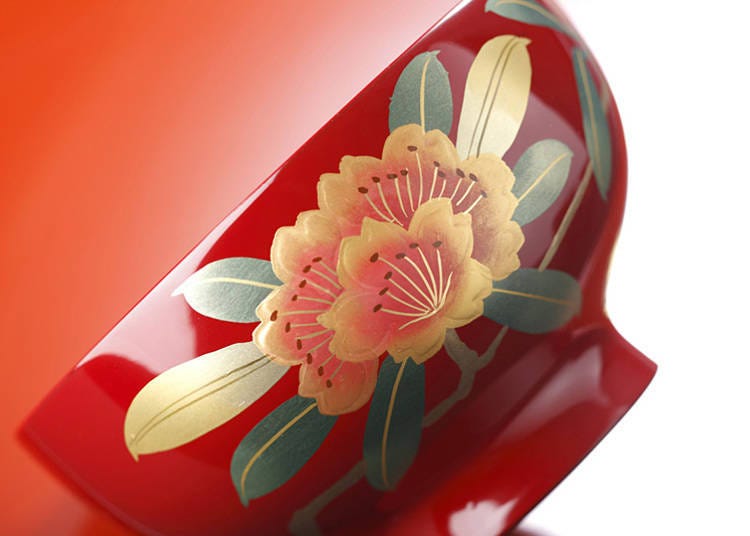 At Shikkibo Suzutake in Aizuwakamatsu City, you can tour the workshop, and try a hands-on painting experience (reservations required). Of course, you can buy Aizu lacquerware as well. As a factory-direct seller, prices are more affordable than typical Japanese souvenir shops throughout the city. It is located about 5 minutes on foot from Minami-Wakamatsu Station.
漆器工房 鈴武

Address

1943-4 Dotesoto, Mondenmachi Oaza Ichinoseki, Aizuwakamatsu City, Fukushima Prefecture, 965-0844

Phone Number

0242-27-9426

Hours: 8:30AM-4:00PM
Fee: Experience fee from 1,100 yen
Closed: N/A
With so many amazing traditional Tohoku crafts, there are bound to be some that spark your interest. Being able to see the crafts firsthand and learn about their production only adds to their charm.

When you visit the Tohoku Region, be sure to check out these traditional crafts, and feel the skill and dedication poured into them for yourself.

Text by: SHOE PRESs
*This information is from the time of this article's publication.
*Prices and options mentioned are subject to change.
*Unless stated otherwise, all prices include tax.
Limited time offer: 10% discount coupons available now!