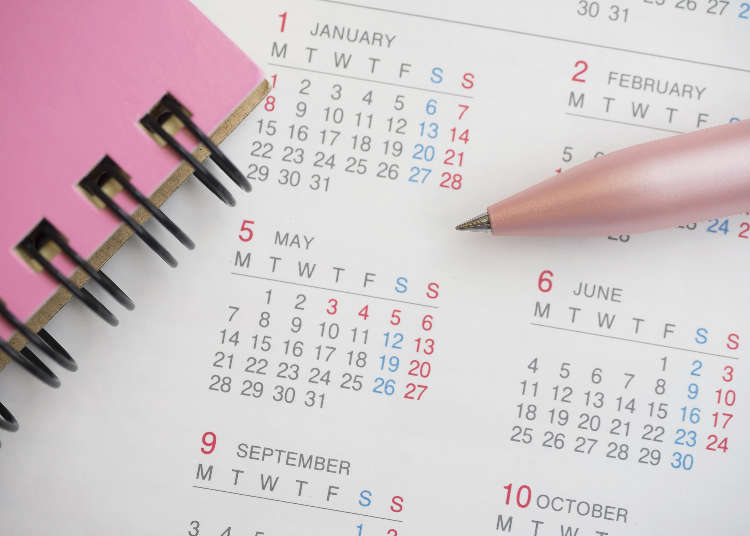 How is a year spent in Japan? Let's take a look at the general calendar of one year in Japan, including not only national holidays, but also the four distinctive seasons, and the best times for traveling!
National Holidays and Vacations in Japan
Japan has a total of sixteen different national holidays, and in addition to those, the majority of companies also take Obon holidays in mid-summer, as well as New Year's holidays. Big retail stores, however, tend to be open all year round, except for a brief period around New Year's. The shops that are reliably open 24 hours a day, every day of the year, are convenience stores.

As for schools, the long summer holidays start from the end of July and last the entirety of August, while winter vacation is a week around New Year's. There is also a period of spring vacation between March and April.
Japan does have a very peculiar New Year's celebration in April – unlike the majority of Western countries, the Japanese fiscal year begins in April, at the same time when cherry trees start to blossom.

As this affects schools and companies, you'll find as many Japanese calendars and schedule books that start from April as you'll find those starting from January.
The peak season for local events lasts about two months, from July to August. As schools are on summer vacation during this time, the many summer festivals and fireworks that are being held are as fun as they are crowded.

All in all, there are three peak seasons for travel and leisure within one year: Golden Week, an accumulation of several consecutive national holidays in May, the aforementioned Obon holidays in mid-August, and the New Year's holidays. During these times, you will have to be prepared for higher charges for most hotels, as well as very crowded trains, highways, and tourist attractions.
Visiting Japan and traveling around during the off-season, however, offers a calm and relaxed opportunity to experience the country – much less crowded. Golden Week in May, Marine Day in mid-July, and right after Coming-of-Age Day in January are especially great times to travel, unless you're looking to go to a ski resort.
National Holidays in Spring
Apart from the Vernal Equinox on March 21, spring is the time of Golden Week.

In 2021, Golden Week starts from April 19, with most people getting time off work right through to May 5. This is seriously busy time across the whole of Japan, meaning shinkansen and other forms of transport are likely to be packed.

■Showa Day: Formerly known as Greenery Day, this holiday on the 29th of April serves to celebrate the deceased Showa Emperor Hirohito's birthday.

■Constitution Memorial Day: This holiday celebrates the constitution of Japan that came into effect in the year 1947 on the 3rd of May, after the Second World War.

■Greenery Day: May 4th is a holiday to reflect upon the link between nature and humanity, to be grateful for nature's gifts and to be aware about the environment.

■Children's Day: May 5th is the day on which carp-shaped flags, called koinobori, are raised by families to celebrate each child in the household. They symbolize strength, health, and success.
National Holidays in Summer
■Marine Day: The 3rd Monday of July is Marine Day. Marine Day is a day for celebrating and expressing thanks for the blessings of the sea, praising the ocean's significance, and praying for the growth and success of Japan, an island country closely tied with the ocean.

Summer has another holiday to offer, however: Mountain Day (August 11). Just like people are encouraged to honor the ocean on Marine Day, Mountain Day fulfills a rather similar purpose. Everyone knows the term fruits of the land, as opposed to fruits of the sea, and since Japan's view is mainly either sea or mountain, it is only fitting that the Japanese version of this expression literally translates to "fruits of the mountains".
National Holidays in Autumn
Autumn has quite a lot of holidays to offer, providing many opportunities to enjoy the fantastically clear autumn skies. Apart from the Autumnal Equinox, there are certain commemorative and culture related holidays.

■Respect for the Aged Day: Every 3rd Monday in September is the day to honor Japan's elderly citizens. A lot of grandparents receive small and big presents from their children and grandchildren (and there's even a government program to show special respect to people over 100 years old by gifting them a silver sake cup.)

■Health and Sports Day: The 2nd Monday in October doesn't only promote sports, activity, and a healthy lifestyle but also commemorates the opening of the 1964 Summer Olympics in Tokyo. Many of schools and communities host sport festivals on this day.

■Culture Day: The 3rd of November is Culture Day – the artsy sibling of Sports Day, in terms of purpose. Instead of physical activity, culture and arts are honored and highlighted on this day, featuring a lot of parades and exhibitions.

■Labor Thanksgiving Day: Once an ancient harvest festival centuries ago, this holiday has evolved to commemorate not only labor and production, but also the advancement of human and workers' rights of Japan after the devastating Second World War. Held toward the end of November.
National Holidays in Winter
Continuing autumn's trend of numerous national holidays, winter has its very own set of vacation days – off to the hot spring!

■New Year's Day: The Japanese New Year follows the Gregorian calendar and thus, New Year's Day is the 1st of January. The cultural New Year's celebrations, however, span for several days to weeks before and after this day.

■Coming of Age Day: This holiday, celebrated on the 2nd Monday of January, celebrates every young adult that has turned 20 years old over the past year – the age of majority. Ceremonies are held all over Japan and many a youth in suit or kimono can be seen on this particular Monday.

■National Foundation Day: February 11th marks the foundation of Japan, dating back to Emperor Jimmu (660 BC). It actually coincides with the traditional New Year's Day of the lunisolar calendar, as the emperor is said to have ascended the throne during New Year's.

■The Emperor's Birthday: The Emperor's Birthday celebrates, as the name suggests, the birthday of the currently reigning emperor. As of right now, the regent is Emperor Naruhito and his birthday is on February 23.
Top image credit: f11photo / Shutterstock.com
*This information is from the time of this article's publication.
*Prices and options mentioned are subject to change.
*Unless stated otherwise, all prices include tax.