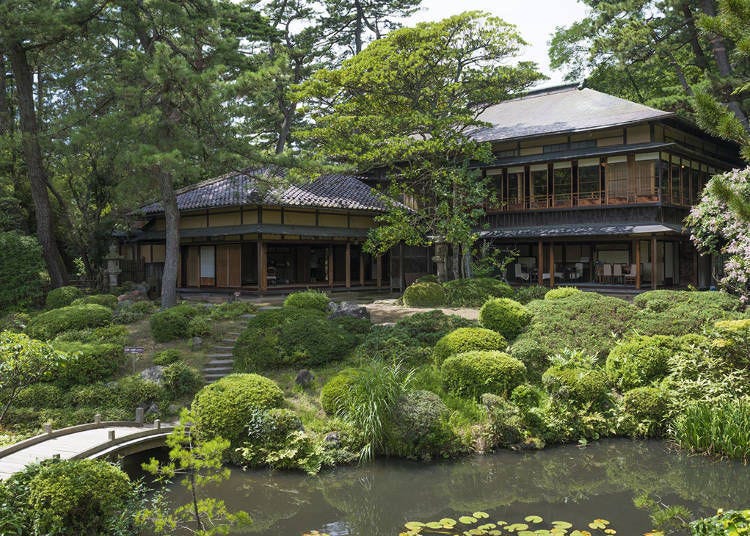 Yamagata's name means "mountain shape" and is certainly an apt name for this prefecture: there are lots of mountains here to satisfy your outdoor ambitions.

You can make a pilgrimage to the top of the three sacred mountains of Dewa or ski and snowboard between Mount Zao's "snow monsters."

But Yamagata is not all mountains and has its fair share of historical and artistic points of interest as well, including the Dewa Sanzan five-tiered pagoda, Japanese garden Kakubu-en, and the Domon Ken Museum of Photography.
1. Akagawa Fireworks Display (Late August)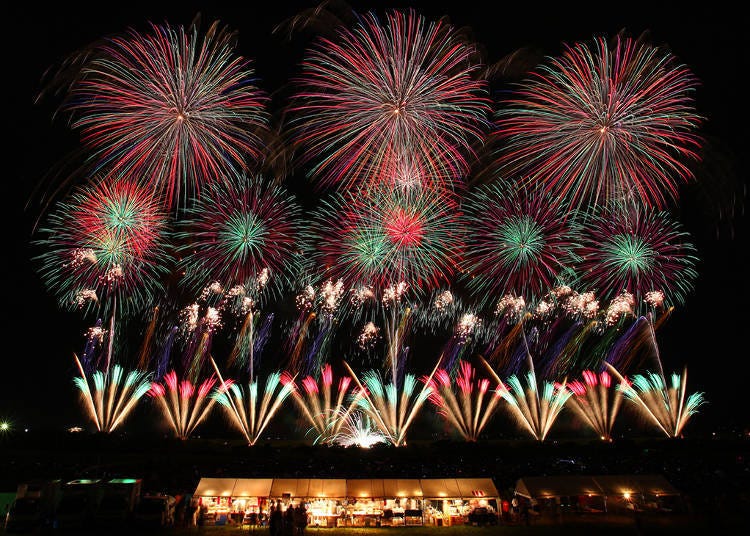 Held on the third Saturday of August each year, the Akagawa Fireworks Display is considered by many to be one of the top fireworks events in Japan.
The Akagawa Fireworks Display takes place along the banks and riverbed of Tsuruoka's Aka River, for which the event is named. Pyrotechnicians chosen for the All-Japan Designer Fireworks Competition also participate, contributing to the total of around 12,000 fireworks that light up the night sky.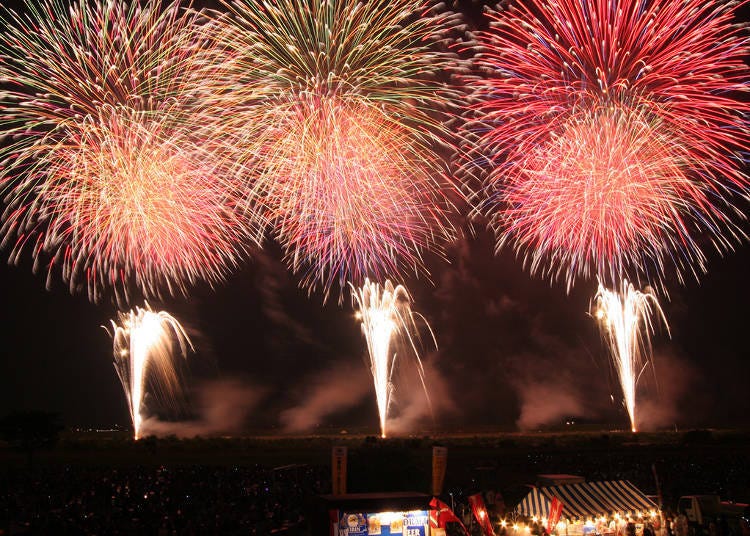 2. Yamagata Hanagasa Festival (August 5-7)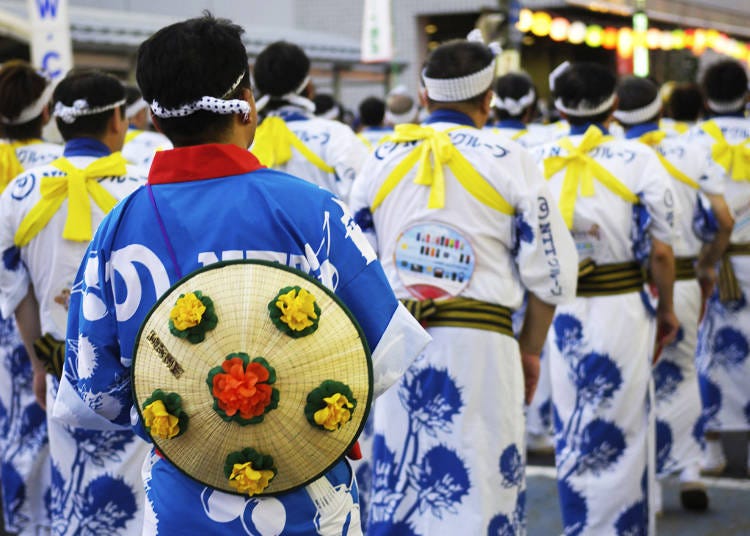 Although modern in origin, the Yamagata Hanagasa ("flower hat") Festival is now one of four major festivals of the Tohoku region, featuring some 10,000 people dancing along the streets of Yamagata City in a huge parade.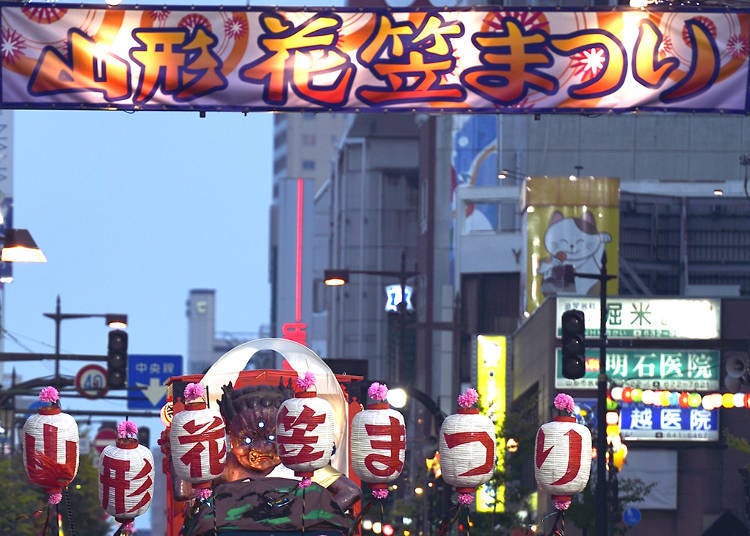 Taking place August 5–7, this matsuri (festival) celebrates the traditional music and dance of the region. Dancers wear straw hats decorated with artificial safflowers, the flower of Yamagata, and these days the hats are often used to enliven the performances.
3. Iwagaki (Japanese Rock Oysters)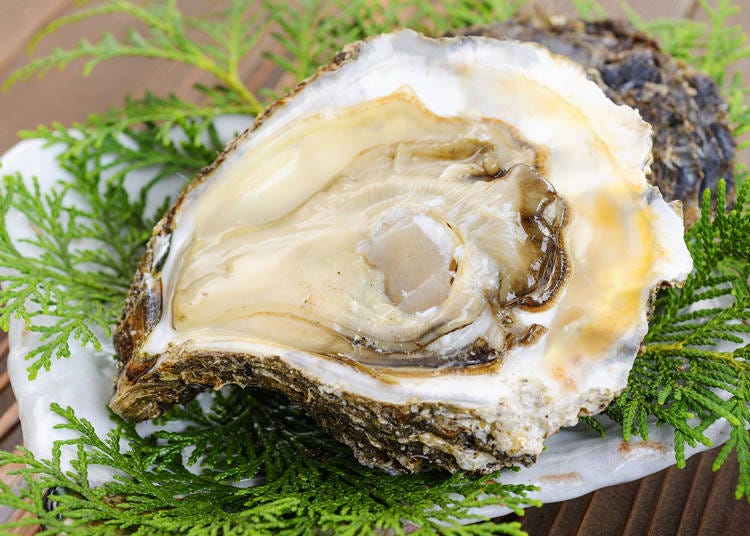 Known as "summer oysters," iwagaki are in season from June to August. They are wild, not farmed, and because they take several years to reach the proper size, strict harvest limits are observed.

Iwagaki are said to retain lots of flavor even after growing large and are usually eaten raw, optionally with lemon juice or a mixture of soy sauce and vinegar. Iwagaki can be enjoyed at the Sakata Fish Market, Shonai Tourist Souvenir Center, and Roadside Station Chokai Furatto.
Although less famous than Kobe beef outside Japan, Yonezawa beef is nonetheless considered a top Japanese beef brand. Its popularity is said to have gotten its start in the early Meiji Period, when Charles Henry Dallas, a British teacher posted to the Yonezawa area, was so impressed by the beef's flavor that he brought a calf back to Yokohama with him at the end of his teaching appointment.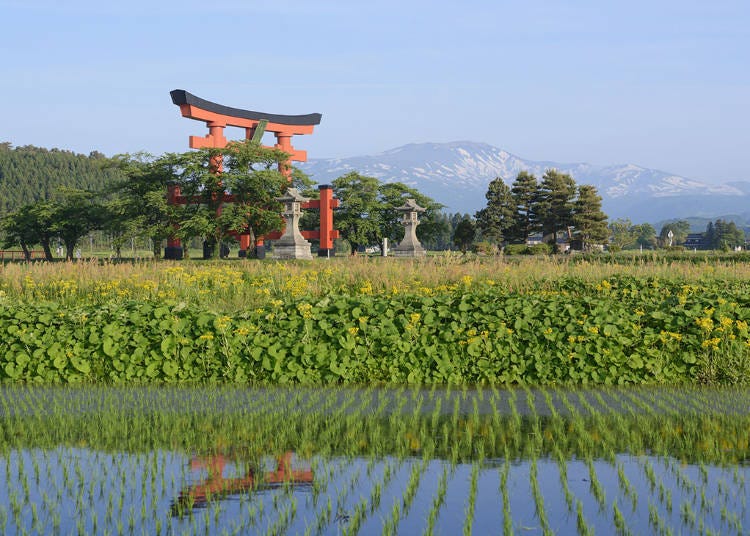 The three sacred mountains of Dewa, known as the Dewa Sanzan, are Mt. Haguro, Mt. Gassan, and Mt. Yudono.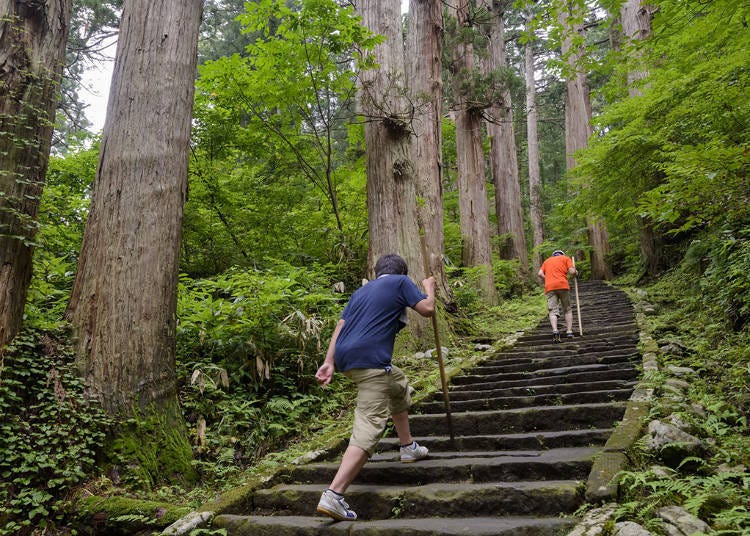 Representing birth, death, and rebirth, they have been visited by pilgrims for over a thousand years. Each mountain has its own shrine, but deities of all three mountains are also enshrined at Sanjin Gosaiden, or "Hall of the Three," on Mt. Haguro.

Legend has it that 1,400 years ago, Prince Hachiko, son of the 32nd emperor Sushun, was guided by a divine three-legged crow to found this shrine.

At the Mt. Haguro Saikan temple lodge, visitors can enjoy a meal of shojin ryori, the monks' ascetic vegetarian cuisine, and can even stay the night (reservations required).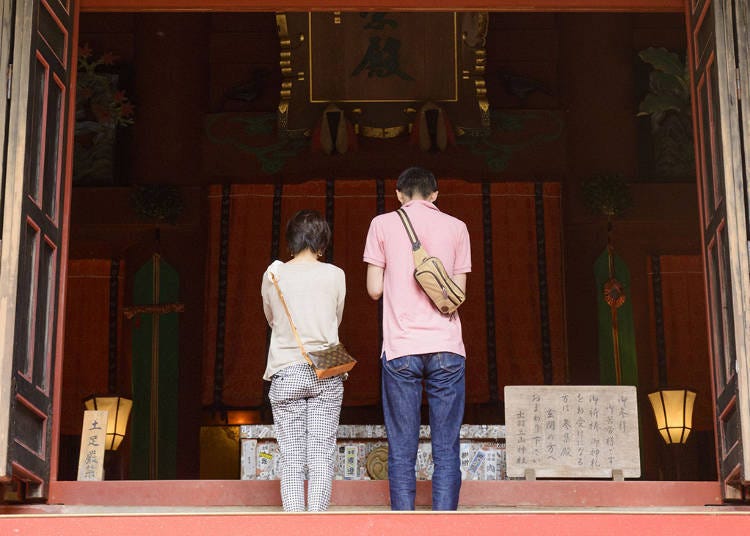 Address

7, Haguromachitouge, Tsuruoka-shi, Yamagata, 997-0292
View Map

Nearest Station

Tsuruoka Station (Uetsu Line)
55 minutes by bus


Phone Number

0235-62-2356
6. Domon Ken Museum of Photography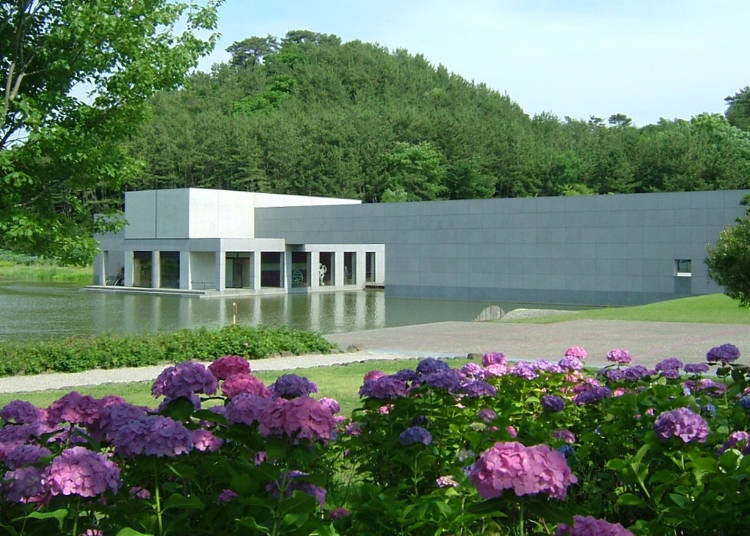 Ken Domon was one of the photographers that best represented postwar Japan: a master in the field who established the concept of realism in photography. This commemorative museum, Japan's first museum of photography, is home to his entire body of work: over 70,000 photographs.

With the beautiful scenery of Mt. Chokai and the hydrangeas lining Lake Ken nearby, the visual harmony between the building and nature gives the museum itself an artistic feel.
Address

2-13, Iimoriyama, Sakata-shi, Yamagata, 998-0055
View Map

Nearest Station

Sakata Station (Uetsu Line)
21 minutes by bus


Phone Number

0234-31-0028
7. Honma Museum of Art & Kakubu-en Garden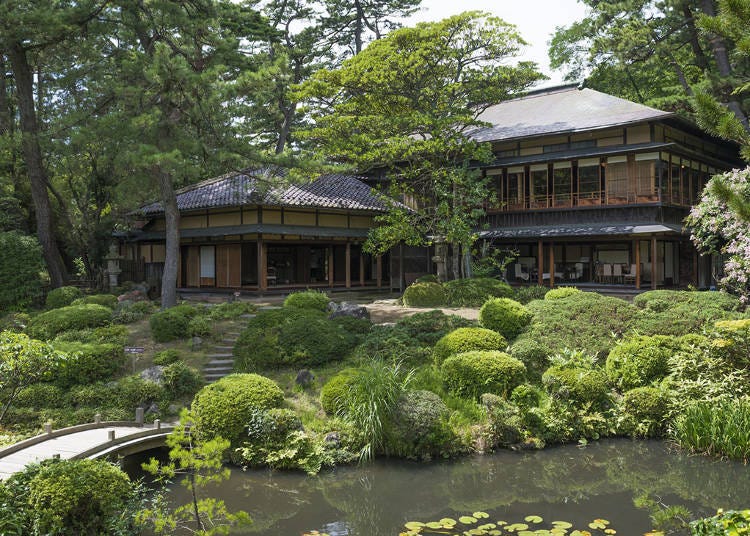 This art museum was opened by the Honma merchant family in 1947, making it Japan's first private art gallery to be established in the postwar period.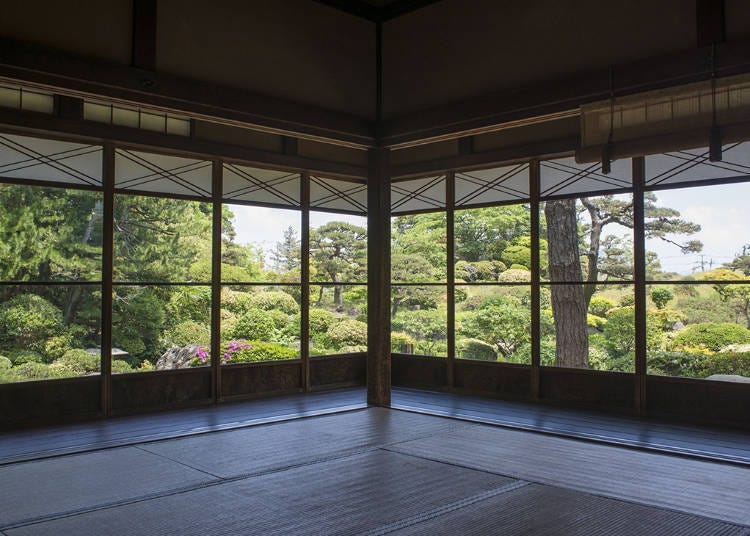 The museum's main building, called Seienkaku, is the family's former villa, built in the traditional shoin-zukuri architectural style over 200 years ago.

Dating to the same period is the attached Kakubu-en, a strolling garden that is elegantly laid out around a path circling a central pond, framing the backdrop of Mt. Chokai in the distance.
8. Chido Museum & Japanese Garden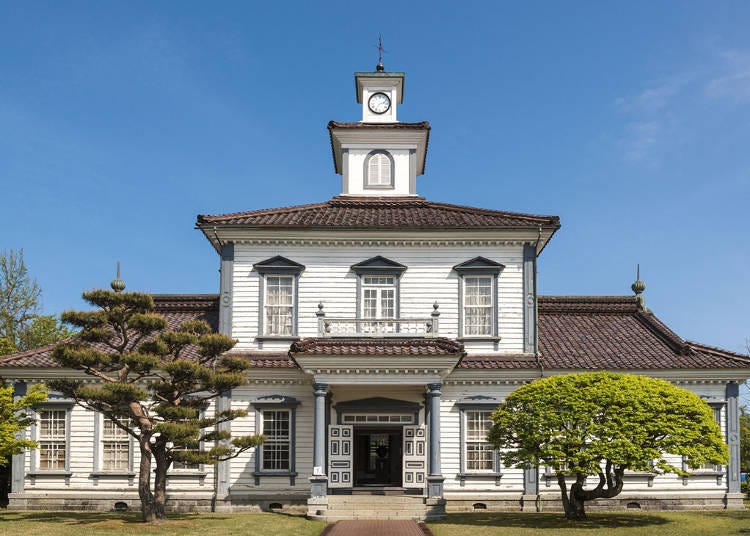 Located in what was once the outer courtyard of Tsuruoka (Sakai) Castle, the Chido Museum is a collection of historical buildings from the late Edo, Meiji, and later periods that have been relocated here and now illustrate the history and culture of the area.
Important buildings include the former Nishitagawa District Office, the old Tsuruoka Police Station, and a traditional rural farmhouse.

Visitors can enjoy matcha green tea and Japanese confections while gazing upon the old-fashioned Japanese garden, designed in the rare shoin style.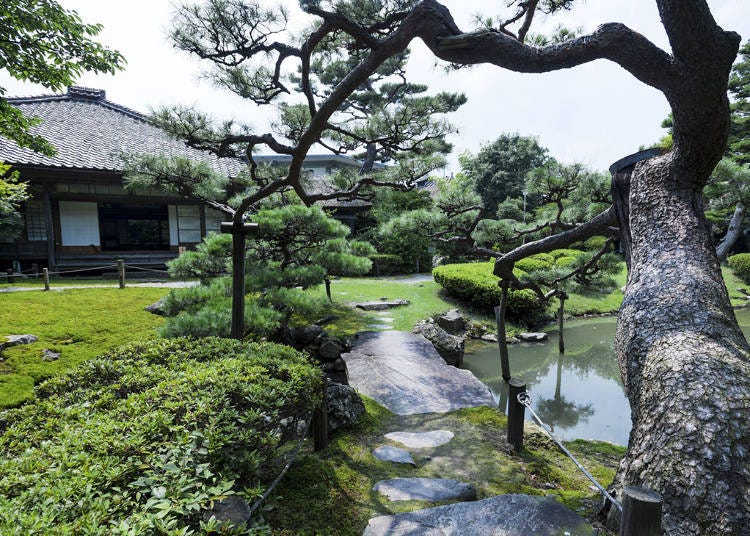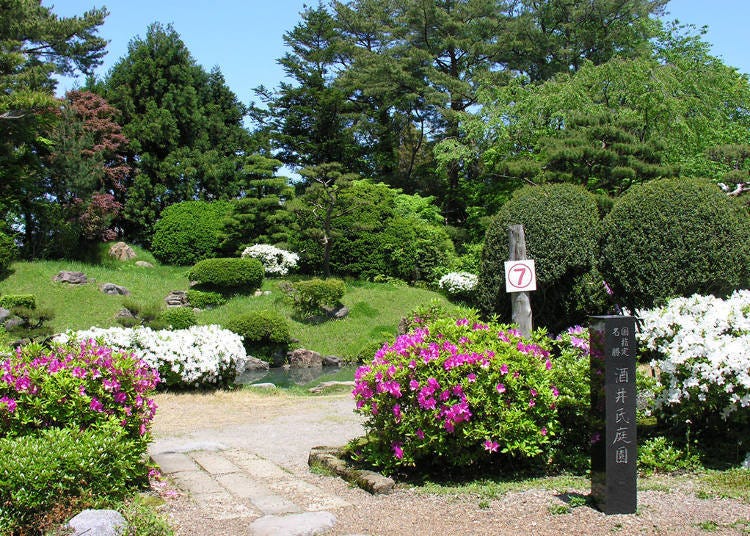 9. Mt. Chokai & Tobishima Island Geopark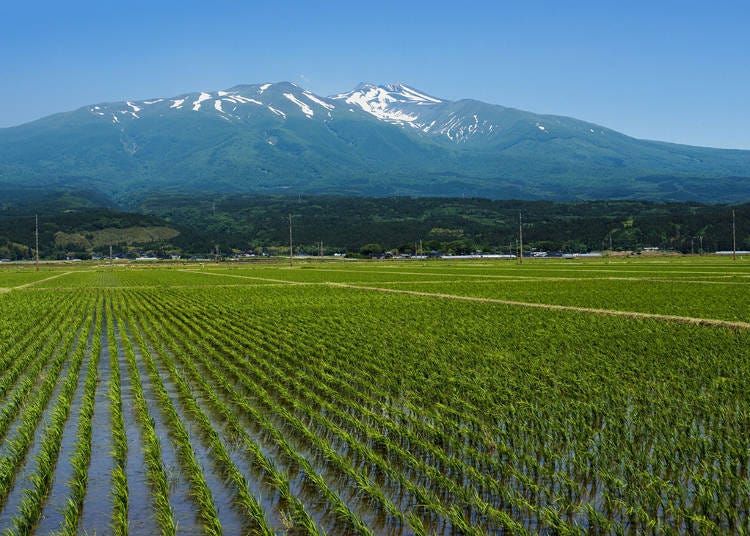 With a peak elevation of 2,236 meters and its foot dipping into the sea, Mount Chokai is a beautiful free-standing mountain sometimes called the "Fuji of Dewa."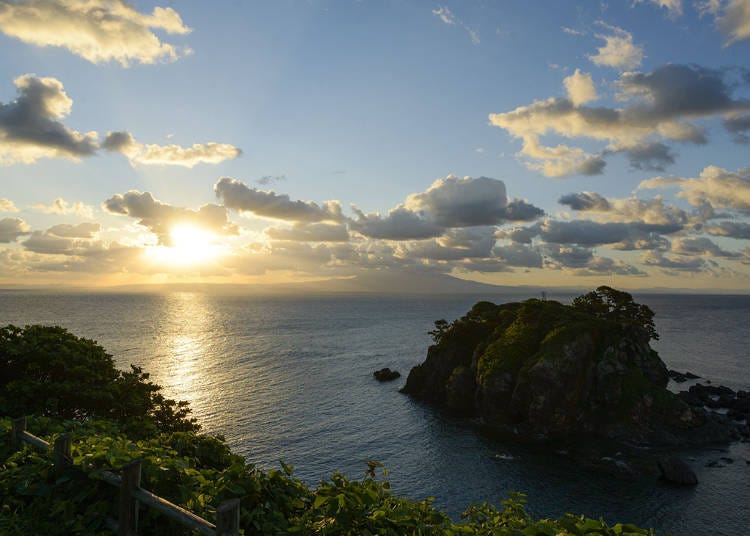 It has long been revered as the guardian of the surrounding area's inhabitants. The island of Tobishima is located about 39km (24 mi) to the northwest of the city of Sakata and can be reached by ferry in about 75 minutes. As a stopover for migratory birds, it's a top-rated destination in spring and autumn for birdwatchers.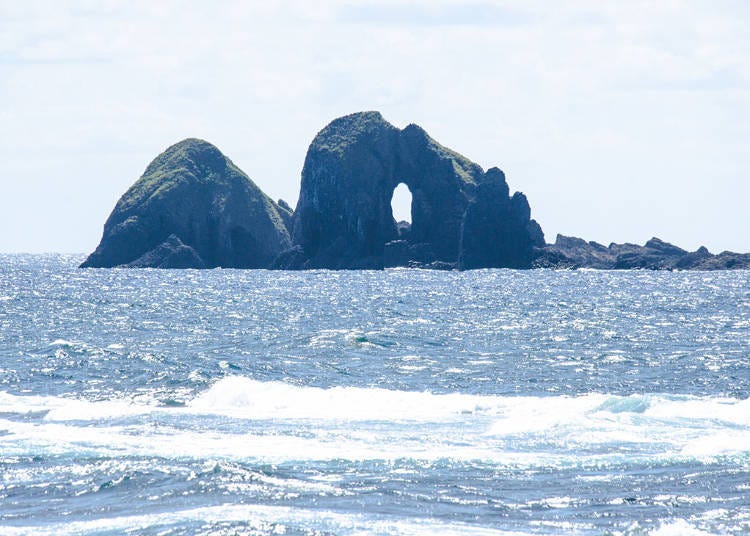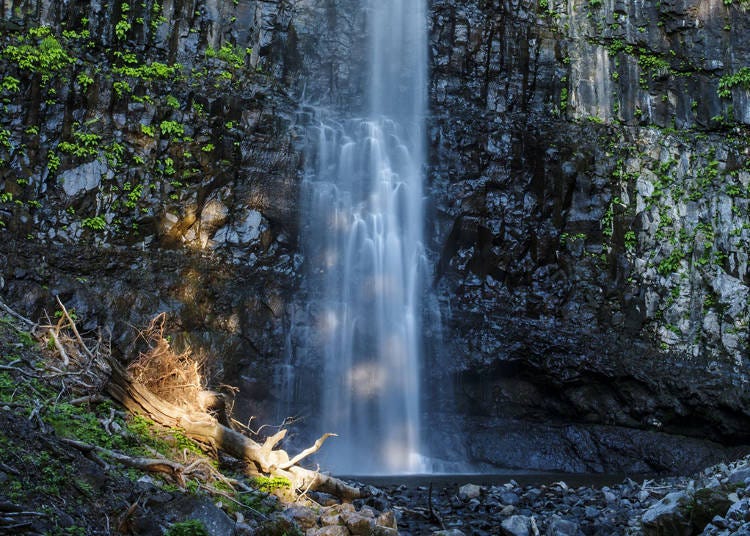 At the base of Mt. Chokai is Tamasudare Falls, one of the tallest waterfalls in the Tohoku region. It is said to have been named by Kobo Daishi, founder of Shingon Buddhism, and is popular as a "power spot" because of the negative ions generated by the rushing water.
11. Mogami River Boat Ride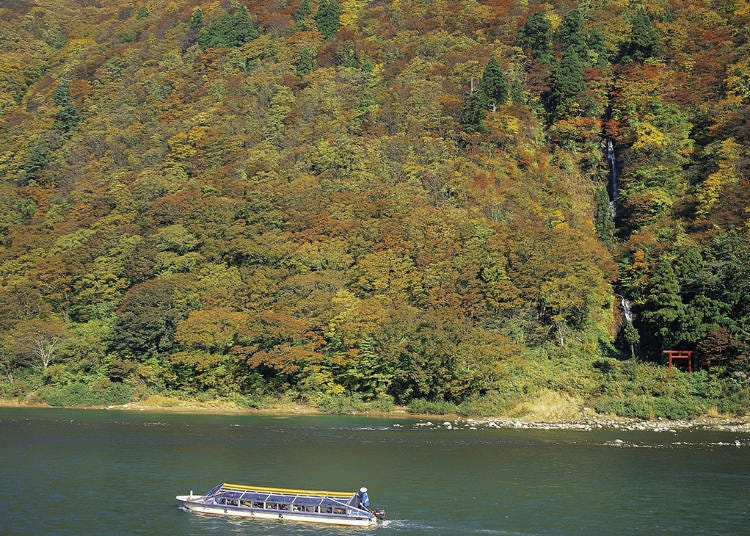 Let the river carry you away to experience the spectacular Mogami Gorge on this scenic boat ride! Along the way, you will get to stop at 120m Shiraito Falls, considered one of the top 100 waterfalls in Japan.
Listening to the ferry captain's renditions of sailing songs is also a highlight of the experience. In winter, kotatsu boats equipped with heated table seating keep passengers warm so that the cruise can be enjoyed year-round.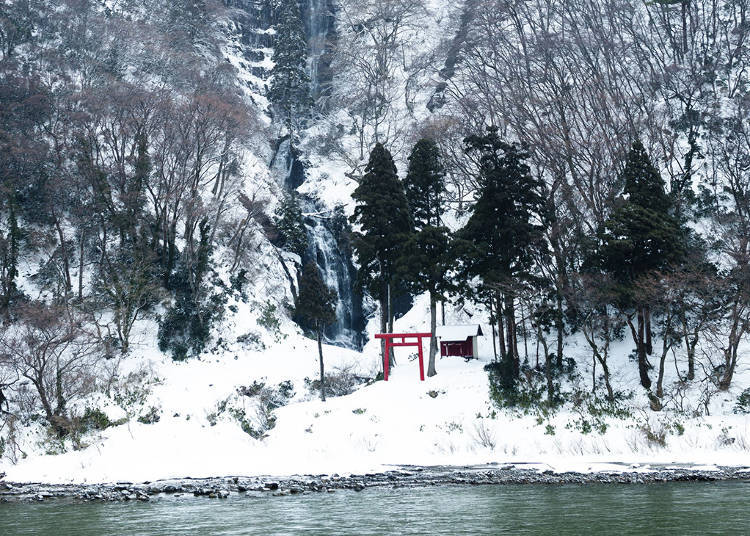 12. Stone Statues of the Sixteen Arhats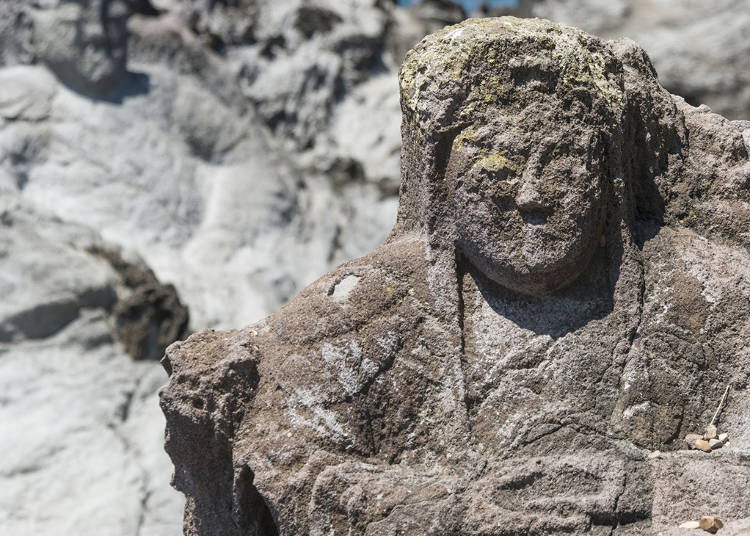 These images were carved from andesite volcanic rock deposited in the Sea of Japan by an eruption of Mt. Chokai.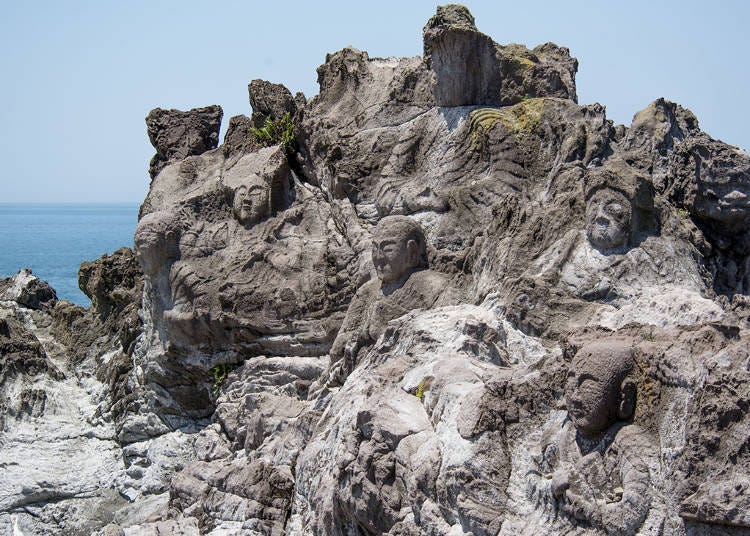 In 1864, wishing for the proliferation of Buddhism and the people's salvation through enlightenment, Priest Kankai, the 21st head of Kaizen-ji Temple of Fukura in Yuza, called for the creation of these holy images. He directed the efforts of local masons for the five years' time it took to complete the 22 sculptures. From mid-July to mid-August, the monument is lit up to sublime effect.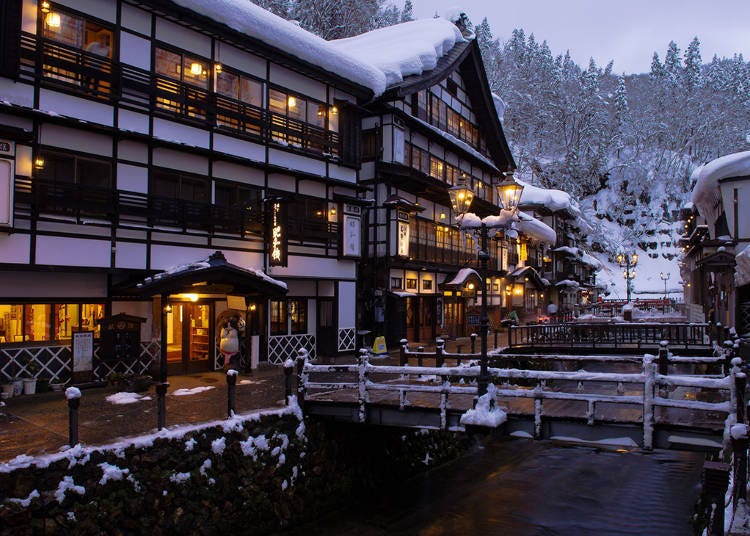 This hot spring town in the mountains of Yamagata was named for its large silver mine (ginzan means "silver mountain") discovered in the early Edo period.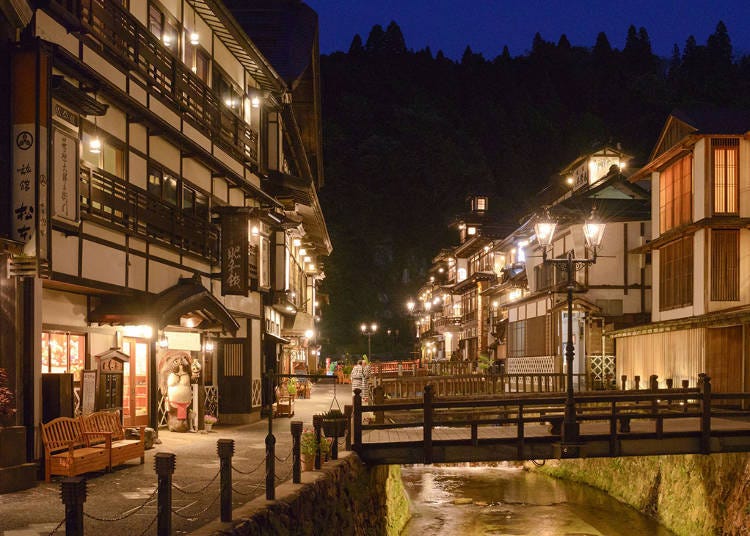 Today most visitors come for its revitalizing hot springs, whose waters are a milky-white, and its romantic atmosphere, with wooden ryokan (Japanese inns) and shops lining both sides of the river, lit by the soft glow of gas lamps at night. Two onsen baths and a footbath are open to day-trippers, but consider staying the night for the full Ginzan Onsen experience.

Also notable are Fujiya Ryokan, designed by Kuma Kengo, and the 22m Shirogane Falls, a few minutes walk outside of town.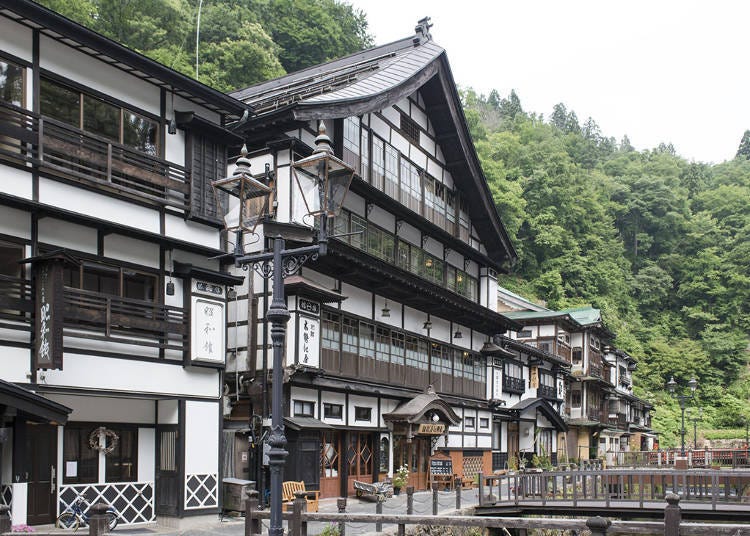 Address

Yamagata Prefecture Obanazawa City Yamagata Large Ginzan Shinhata, 999-4333
View Map

Nearest Station

Oishida Station (Ou Line / Yamagata Shinkansen)


Phone Number

0237-28-3933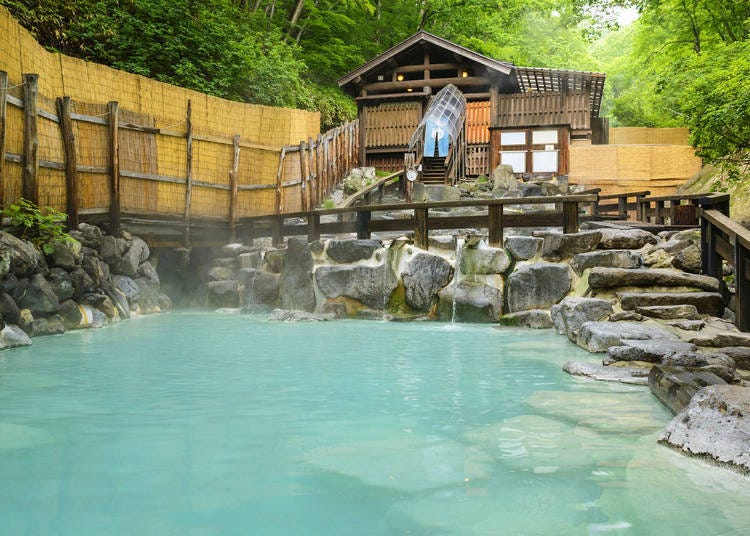 These hot springs have a long history: they are said to have been discovered in the second century CE.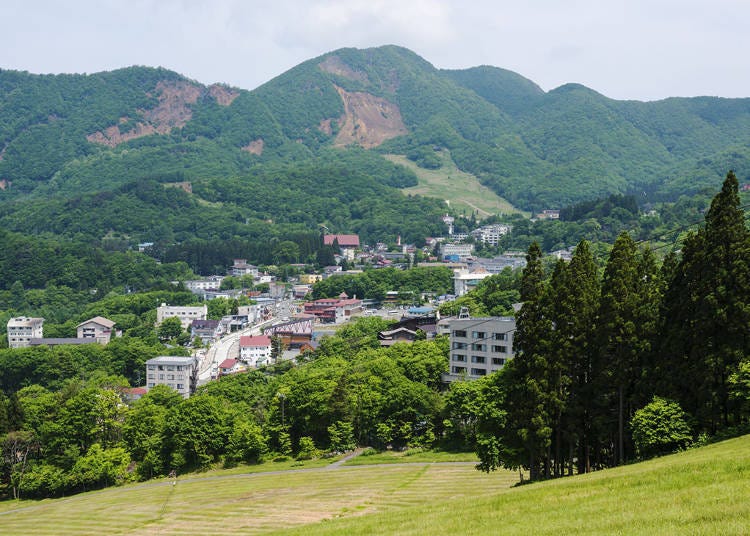 In winter, Zao Onsen Ski Resort is immensely popular with skiers and snowboarders alike from both inside and outside Japan. Of particular fame is the phenomenon of snow and ice completely covering the trees, creating what are affectionately known as "snow monsters."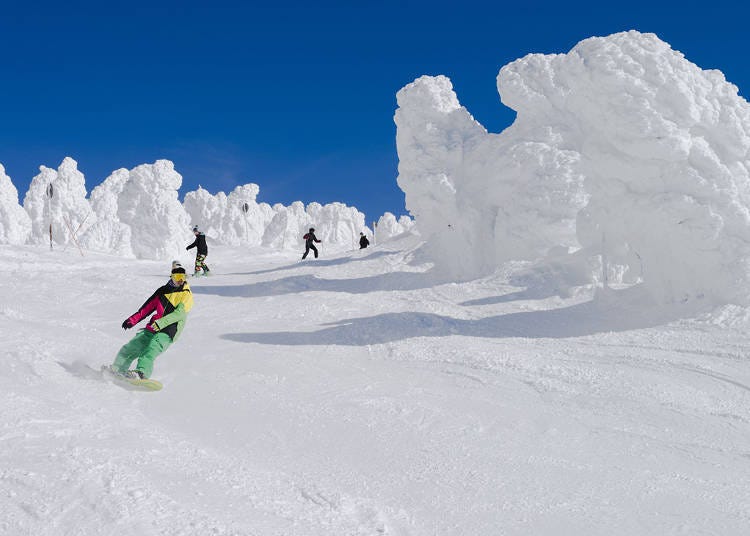 15. Risshaku-ji Temple (Yamadera)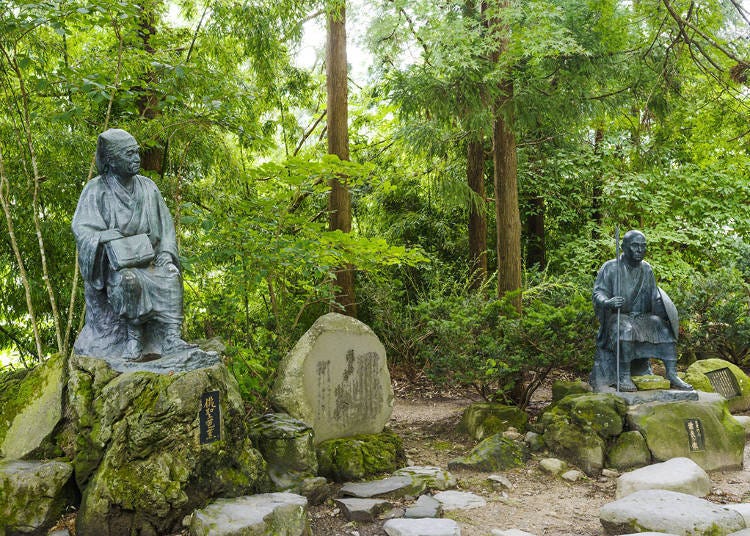 Popularly known as Yamadera ("mountain temple"), this ancient temple was founded in 860 CE by Ennin, a monk of the Tendai sect of Buddhism.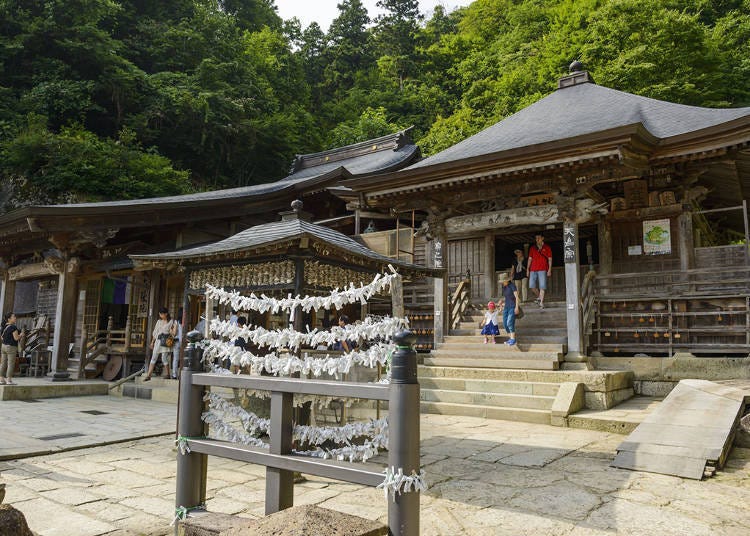 It is said that earthly desires blocking you from enlightenment begin to fade away with each step you take up the 1,015 stone stairs on the trek from the foot of the mountain to the temple itself.

At the top of the stone stairs is the Godai-dou, known to have the best view of the valley. Yamadera is also famous as the subject of a haiku by the renowned poet Matsuo Basho.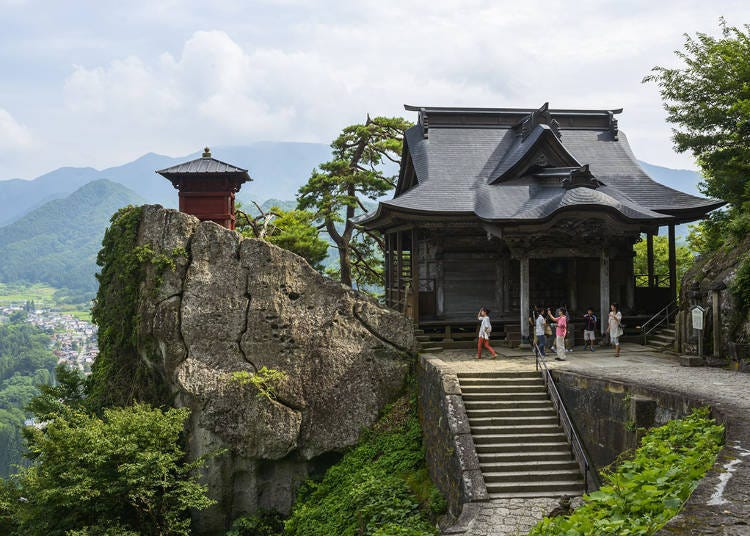 Address

4456-1, Yamadera, Yamagata-shi, Yamagata, 999-3301
View Map

Nearest Station

Yamadera Station (Senzan Line)
5 minutes on foot


Phone Number

023-695-2843
16. Somaro Maiko Teahouse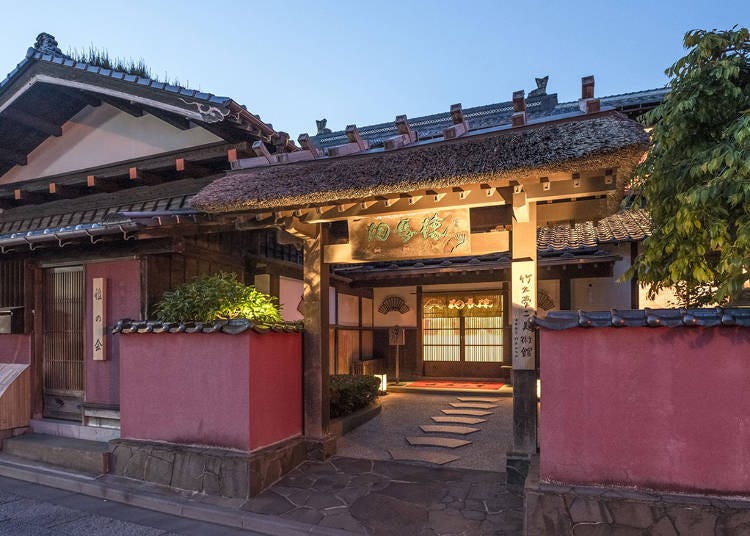 With a history that dates back to the 17th century, this teahouse in Sakata offers classical Japanese entertainment by maiko (apprentice geisha) in a luxurious setting with gorgeous artwork and Kyoto-influenced architecture.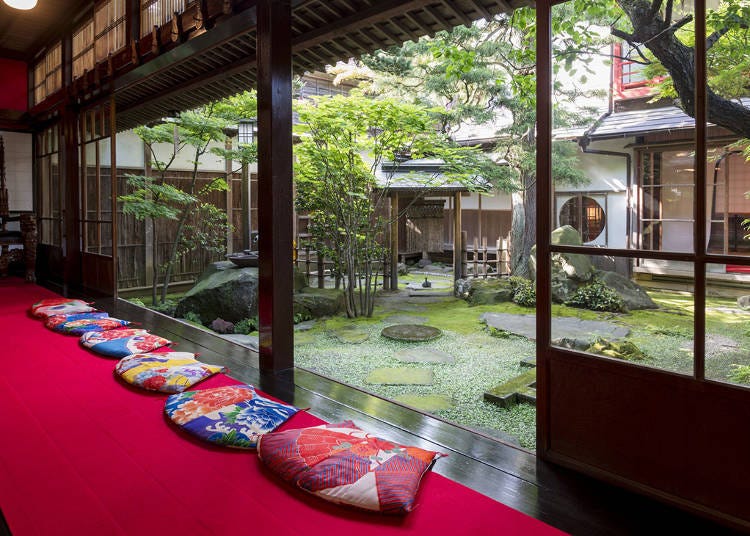 Exclusive establishments by tradition, teahouses (ochaya) can still sometimes be expensive for the budget traveler, but at Somaro, guests can see a maiko dance, held daily, for a very reasonable cost. Those who would like to enjoy a more private viewing can make reservations for a lunch performance, which includes a special bento lunch.
17. Sankyo Soko Rice Storehouses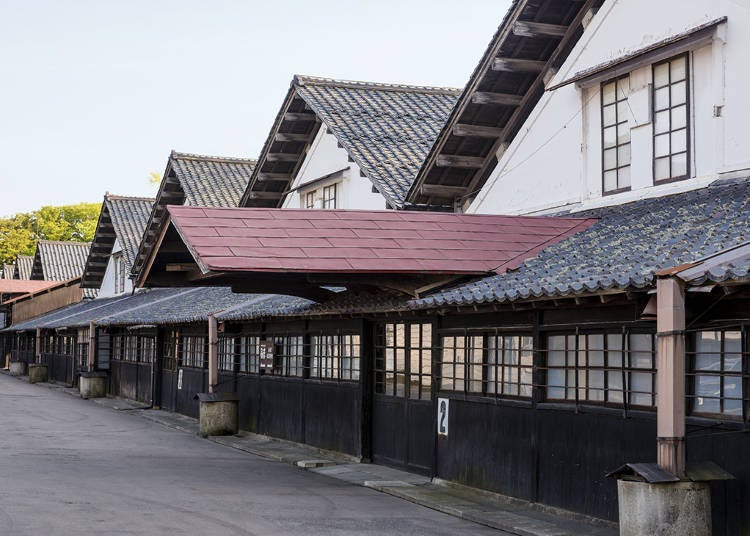 Constructed in 1893, the Sankyo Soko rice storehouses in Sakata were used exclusively to store rice.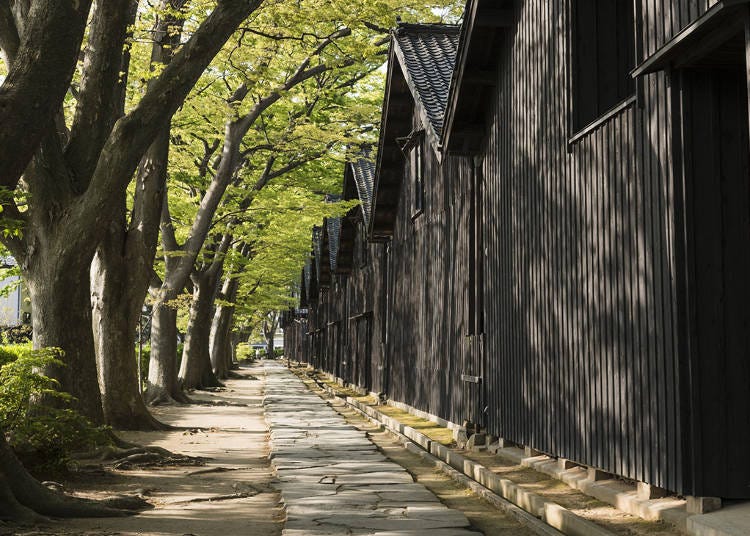 Of the twelve original storehouses, nine are still in use today. The others have been renovated into the Shonai Rice Museum and Sakata Yume no Kura.

The museum presents information about Shonai rice, including the history of rice cultivation, and shows farm tools and other everyday items used long ago.

Protected from the sun and seasonal winds by a row of majestic zelkova trees, the storehouses have become a symbol of the city of Sakata.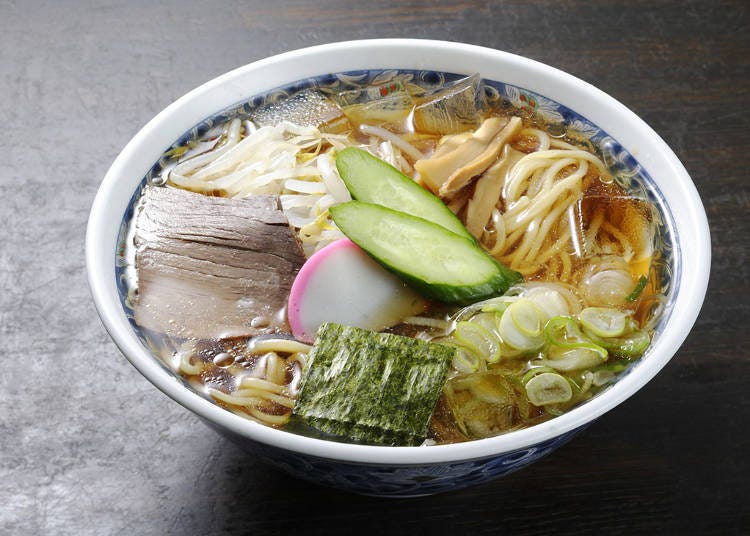 Hiyashi means "chilled," and unlike the steaming hot bowls of its common cousin, hiyashi ramen consists of chilled noodles in a cold soup. Sometimes you'll even find ice cubes together with the other ingredients.

Hiyashi ramen was invented in Yamagata City in 1952 by a ramen chef whose customers wanted a cold ramen dish to enjoy during Yamagata's hot summers, much in the same way that soba noodles can be enjoyed hot or chilled. Hiyashi ramen is usually made with a shoyu (soy sauce) based soup.
19. Dewa Sanzan Five-tiered Pagoda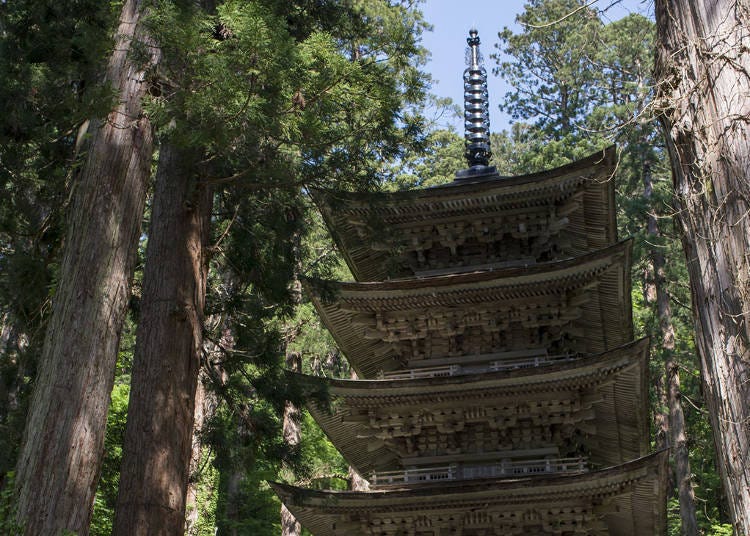 The five-tiered pagoda of Dewa Sanzan is thought to be the oldest tower in the Tohoku region, with the current structure having likely been built approximately 600 years ago, and the pagoda's history going back even further than that.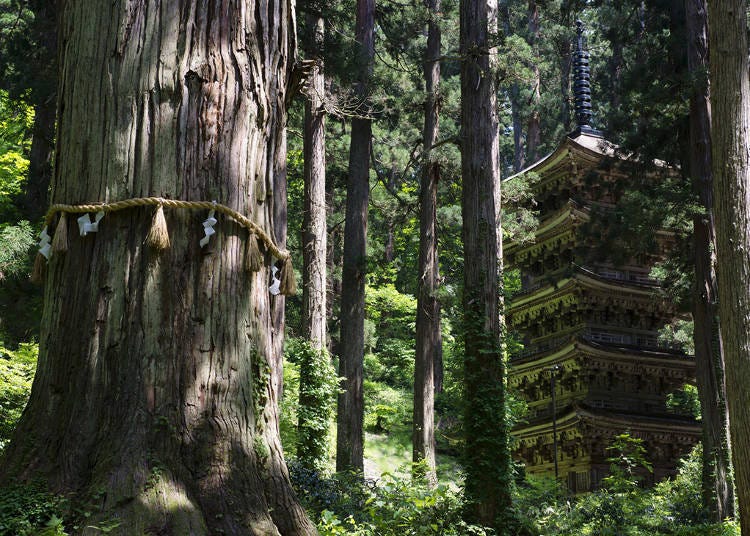 The 29-meter-tall wood pagoda has been designated a National Treasure.

In 2019, a Buddhist image in the pagoda normally hidden from view will be open for the public to see (through November 30).

Nearby grows an ancient Japanese cedar tree, 10m in circumference and approximately 1,000 years old.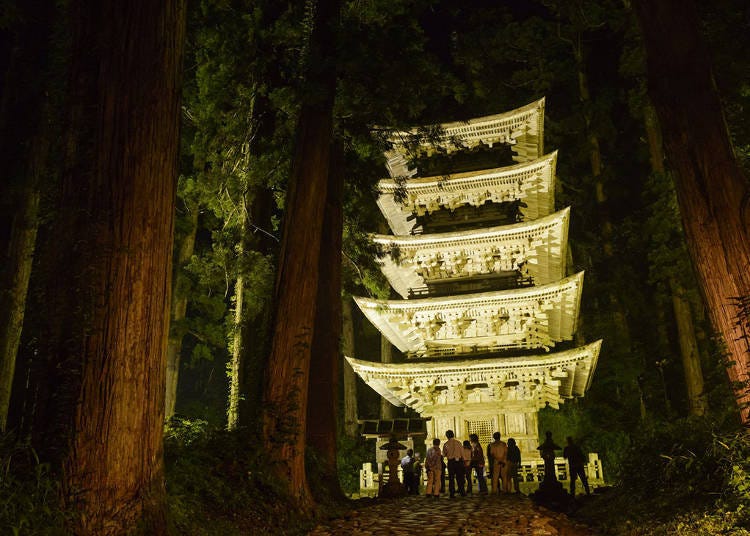 Address

7, Haguromachitouge, Tsuruoka-shi, Yamagata, 997-0292
View Map

Nearest Station

Tsuruoka Station (Uetsu Line)
40 minutes by bus


Phone Number

0235-62-2355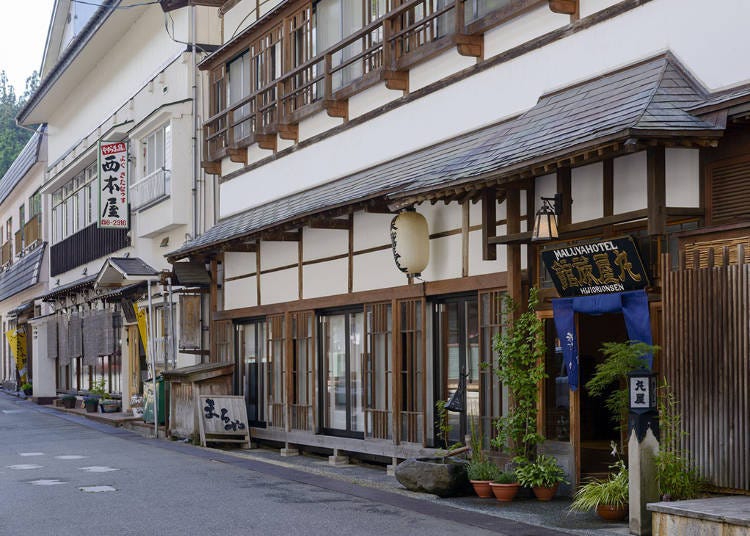 Hijiori Onsen is a small, quiet hot spring town nestled at the foot of Mt. Gassen, one of the three sacred mountains of Dewa.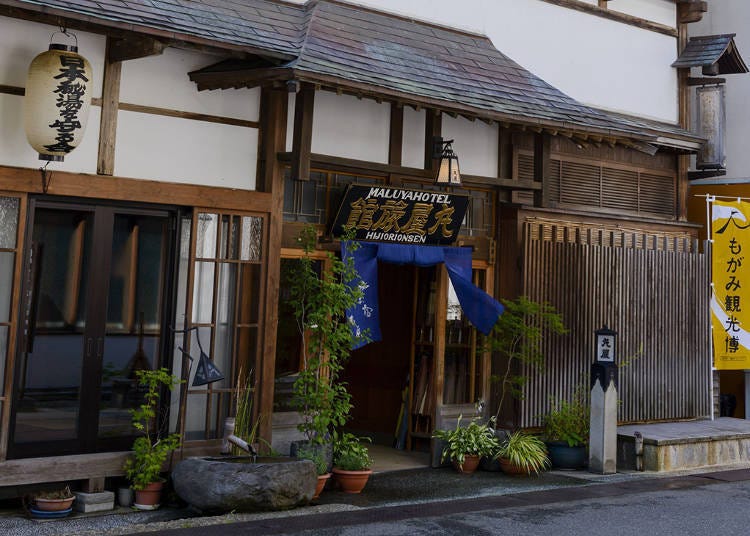 It's said that the hot springs here were discovered by a monk in the year 807 CE, over 1,200 years ago. The town is notable for being one of the few remaining destinations in Japan for long-term hot-spring therapy, called toji, popular with those recuperating from physical ailments.

The twenty Japanese inns (ryokan) of Hijiori Onsen each have free-flowing hot spring baths, and there are also five footbaths in town, each unique.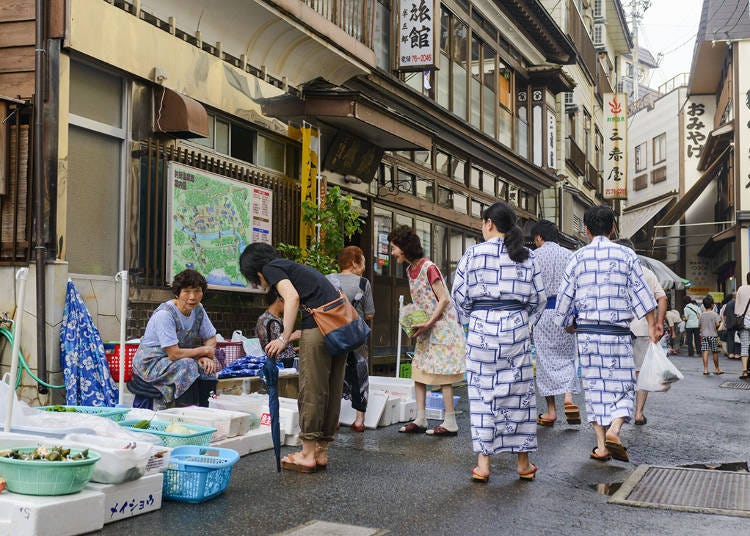 *This information is from the time of this article's publication.
*Prices and options mentioned are subject to change.
*Unless stated otherwise, all prices include tax.
Limited time offer: 10% discount coupons available now!