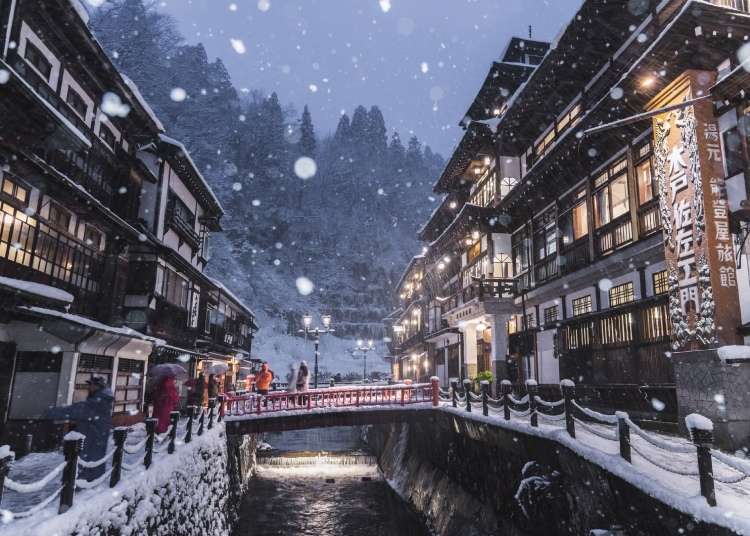 Ginzan Onsen is one of Japan's most popular onsen towns, nestled among the scenic mountains of Yamagata's Obanazawa City. One of the go-to hot springs towns for the people of the Tohoku region, it's a trendy destination for visitors from abroad as well.

Here we'll take you around this incredible area, where you can experience a magical atmosphere unique to Japan!
Ginzan Onsen: One of Yamagata's Best Hot Springs Villages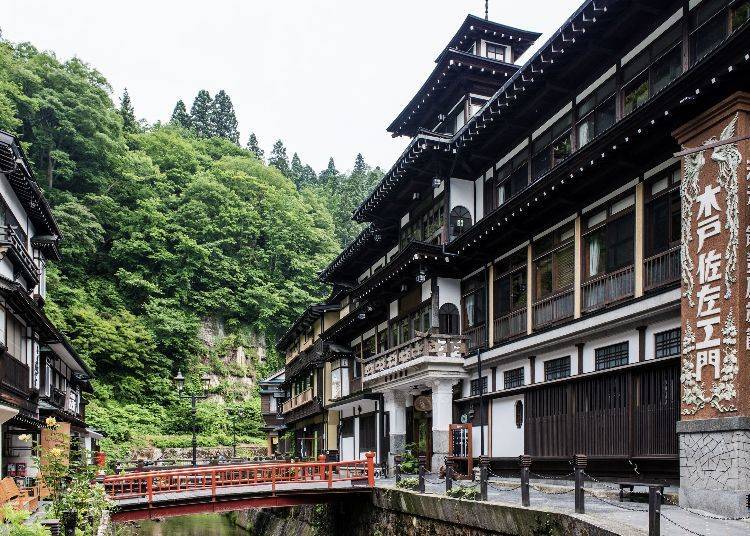 Ginzan Onsen is filled with quaint ryokan inns and other buildings that will spirit you away to a magical world
Located in the northern part of Japan, Ginzan Onsen is in Yamagata Prefecture in the Tohoku area, facing the Sea of Japan.

Yamagata itself is dotted with hot springs, with pretty much every town and village having at least one.

Amongst these, Ginzan Onsen in Obanazawa City is especially famous. Built between the 1920s and 1930s, the numerous wooden structures of the ryokan constructed there were joined up, forming the onsen town it is today, with countless visitors from far and wide across Japan.

One of the main draws of Ginzan Onsen is its structure and atmosphere; walking through it makes you feel as though you've walked through a time slip and gone back in time.

The "town" of Ginzan Onsen is very compact, taking only around 5 minutes to walk from end to end. Built along the crystal-clear Ginzan-gawa River, the traditional Japanese ryokan inns here are over a hundred years old, and the rows of wooden buildings give the place a charming atmosphere.

Between the gas lamp-lit street at twilight and the snow along the tiles lining the pavement, this is a view that you can't tear your eyes away from. Its stark contrast with the modern buildings and structures of today is where the beauty of this place lies.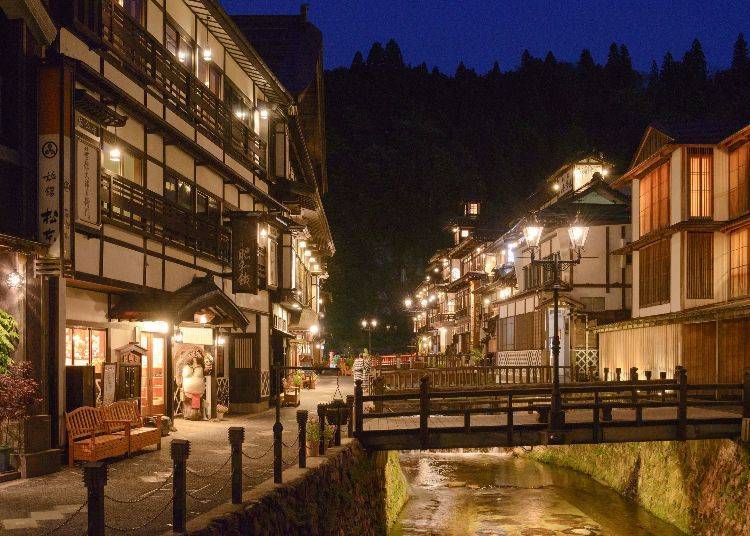 Ginzan Onsen is easy to get to from Tokyo!
From Tokyo to Ginzan Onsen
・Bullet Train (Shinkansen):
The journey by shinkansen will take around 3 hours and 30 minutes via the JR Yamagata Shinkansen (Tsubasa). After getting off at JR Oishida Station, an additional 40-minute bus ride will take you into Ginzan Onsen. The bus only runs 5 times a day, so check the timetable in advance!

・Highway Bus:
From the Yaesu Exit at Tokyo Station are various highway busses heading to Sendai Station. The trip will generally take between 5 to 6 hours. Once at Sendai Station, take the 'Yamako' bus (Tokkyu 48 Liner) heading to Shinjo, which will take an extra 1 hour and 45-minutes. Disembark at Obanazawa Machiaijo and board the Obanazawa City Bus heading to Ginzan Onsen. This will take another 35-45 minutes. While a rather long trip, the bus is ideal for those on a budget!

Some ryokan in Ginzan also provide free pick-up and drop-off services from JR Oishida Station (reservations necessary), so check in advance! The following ryokan will definitely provide this service:
- Senkyo no Yado – Ginzan-so
- Kosekiya Bekkan
- Waterfall and Soba Takimi-kan
- Ryokan Nagasawa Heihachi
- Kozankaku
Winter is the Best Season to Visit Ginzan Onsen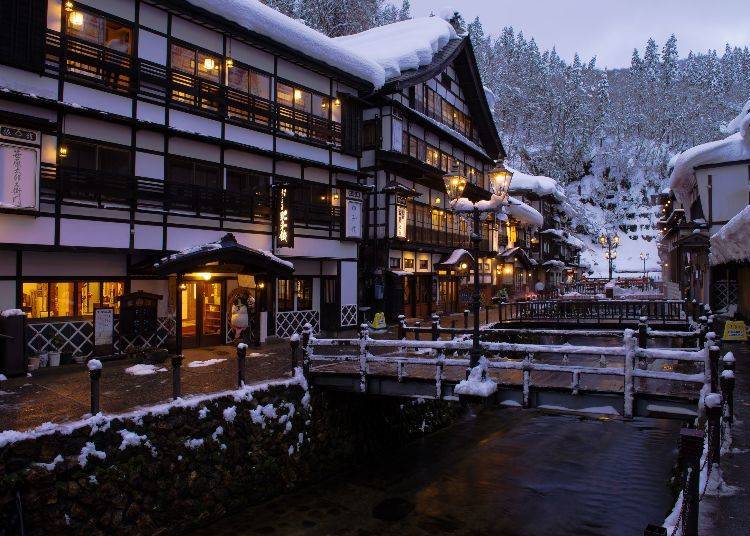 In winter, the streets of Ginzan Onsen are filled with wisps of steam, making for a dreamy cityscape
Ginzan Onsen is especially beautiful in winter. During the winter nights, you can walk the streets of the onsen town along pavements lined in the whitest snow, and with the gentle lighting of the gas lamps, the view is stunning and dramatic. There are many people who plan their trips there during the peak travel season to see snow.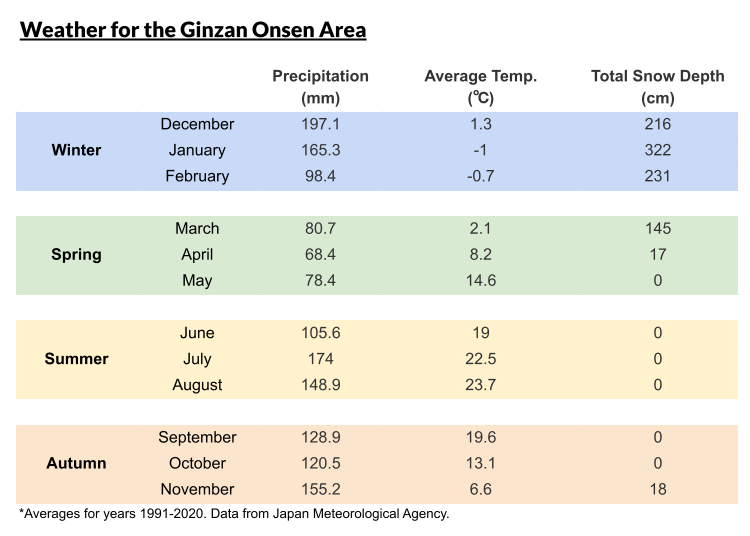 Weather for the Ginzan Onsen area
Ginzan Onsen Weather
Winter is chilly, with temperatures dipping below freezing. For that reason, you'll want to pack warm clothes, including a jacket, hat, and gloves. The streets can be slippery, so appropriate footwear is also advised.

Meanwhile, amidst the intense heat of Japan's summer, since Ginzan Onsen is located deep in the mountains, it's comparatively cooler and very suitable for exploring.
Top 10 things to do in Ginzan Onsen
Obanazawa City Commerce and Tourism Association
The most enjoyable activity, by far, is exploring Ginzan Onsen town itself. Taking pictures along the street with snowfall is another excellent activity as well. As Ginzan Onsen is situated in the mountain range, it gets pretty dark by 6:00 p.m., and the best time to take pictures there is at sunset.

Besides this, "yukimi furo," an outdoor hot spring that allows you to enjoy the snow while taking a soak, is a must-try of Japanese culture. It's not easy to get reservations for a "rotenburo," an outdoor hot spring, so when you do, be sure to make good use of the opportunity to take a relaxing soak and enjoy the beautiful winter atmosphere.

There is another draw for tourists to the Ginzan Onsen in winter, and that is the snow. The onsen is situated in a place known for heavy snowfall, and it starts snowing at the beginning of December. However, the heaviest snowfall occurs in January and February and continues till mid-March. As snowfall exceeding one meter is common, be sure to dress warmly and wear anti-slip shoes.

In onsen towns, it's not just the ryokan that are famous, but the eateries and restaurants too. With a thriving cuisine culture and boundless sightseeing, Ginzan has more to offer than just its ryokan and onsen! Let's take a look!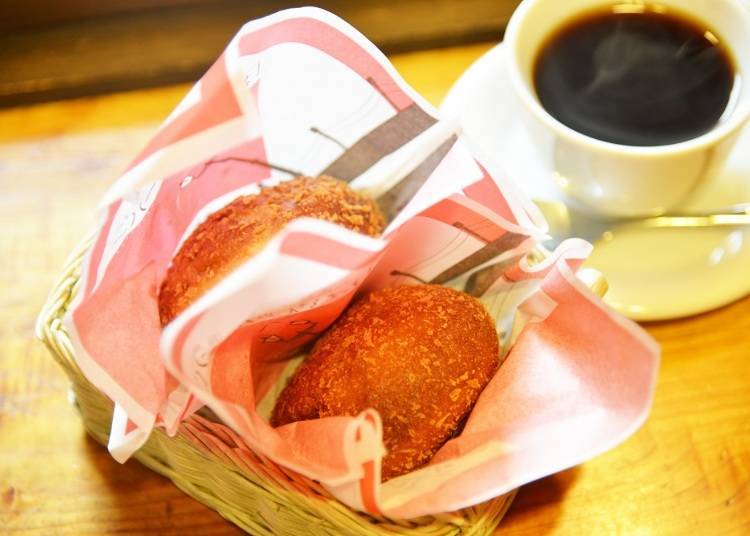 Of course, Ginzan Onsen has plenty of old shops with great foods to eat!
1. Haikara-san Street
Famous even amongst these shops is the curry bread, at 210 yen, from Haikarasan-dōri Street.

The bread is made using "Nebarigoshi" wheat produced in Yamagata prefecture, which is filled with curry, then fried. The outside is crispy and crunchy, while the inside is soft with a mochi-like consistency.

The bread is filled well with curry, and the spicy aftertaste is delicious. It often gets sold out by evening, so be sure to reach the store early for a bite of this tasty snack.
はいからさん通り

Address

451, Ginzanshinhata, Obanazawa Shi, Yamagata Ken, 999-4333, Japan

Phone Number

0237-28-3888

Hours: 8:00am - 6:00pm (subject to change in winter)
Price: Curry bread 210 yen
Closed: Open daily
2. Nogawa Tofu Shop
Besides curry bread, there's another old shop with over a hundred years of history, the tofu shop "Nogawa Tofuya", famous for their "Tachi-kui Tofu" at 170 yen.

The tofu is freshly handmade every morning, and the rich flavor and soft texture of the tofu are highly praised by customers. This shop only provides takeout, but you can enjoy the tofu at the rest point "Warashiyu" just next door.
野川とうふや

Address

427, Ginzanshinhata, Obanazawa Shi, Yamagata Ken, 999-4333, Japan

Phone Number

0237-28-2494

Hours: 7:00am-Ends when sold out
Price: Standing tofu 170 yen
Closed: Irregular holidays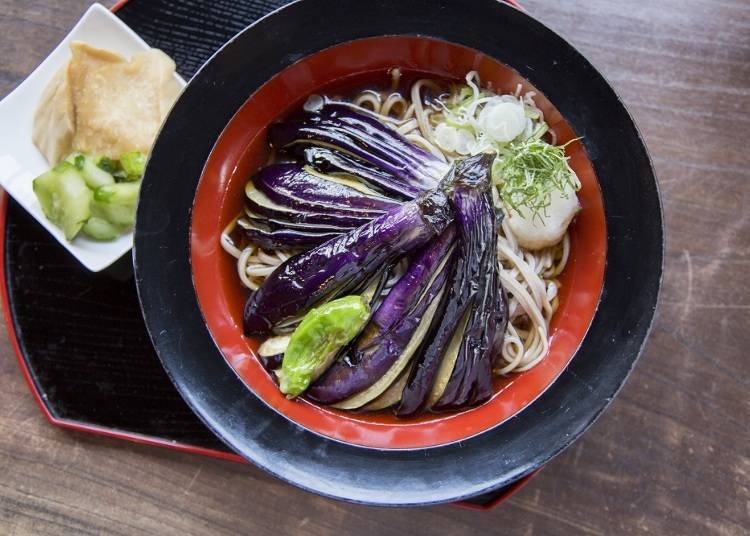 Soba at Izu-no-Hanza, a famous restaurant in Ginzan Onsen
3. Izu-no-Hana
For lunchtime, head down to the restaurant "Izu-no-Hana" for some soba. You can have some "Agenasu Oroshisoba", soba with a generous helping of fried eggplant on top, for 1200 yen (without tax), or an extra-large serving of Yamagata Prefecture's famous dish, "Itasoba", for 1500 yen (without tax) for 1.5 times larger serving, or the "Tenzaru Soba", soba with fried prawns and vegetables, for 1950 yen (without tax). You can also try the regionally exclusive "Soba Soft Cream" for 380 yen (without tax), making it the perfect place for tea time too.

The menu also includes ramen, rice bowls, and tempura, on top of the soba items we recommended. You can also try some alcohol from Yamagata prefecture too.
伊豆の華

Address

440, Ginzanshinhata, Obanazawa Shi, Yamagata Ken, 999-4333, Japan

Phone Number

0237-28-2036

Hours: 11:00am-10:00pm (Lunch is up to 2:30pm, Cafe is from 2:30pm to 6:00pm, Dinner is from 6:00pm)
Fee: Fried eggplant grated soba 1200 yen
Regular holiday: Wednesday (there is a temporary holiday)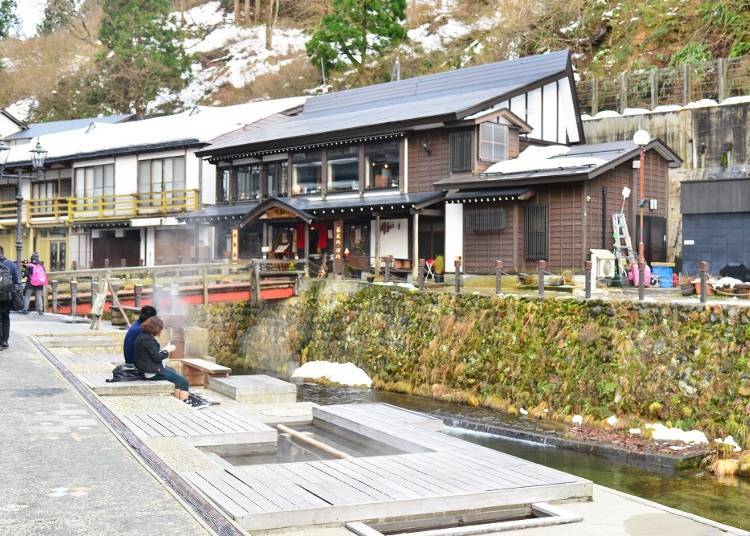 4. Warashiyu
Five minutes away from Ginzan Onsen bus stop by foot, right at the entrance to the onsen town, is Shirogane-bashi Bridge, and right next to it is "Warashiyu", a free foot spa and popular tourist attraction.

The waters used in this foot spa come from the same source that is used at all the onsens there, allowing you to enjoy the same waters.

As the foot spa is located outdoors, the temperature of the spa can vary wildly with the weather. Particularly in hot summers, the temperature of the foot spa can rise considerably, so it's best to test it out with your hand before taking a full soak with your feet.
和楽足湯

Address

Ginzanshinhata, Obanazawa Shi, Yamagata Ken, 999-4333, Japan

Phone number: 0237-28-3933 (Ginzan Onsen Tourist Information Center)
Hours: Free bathing
Price: Free
Closed: Open daily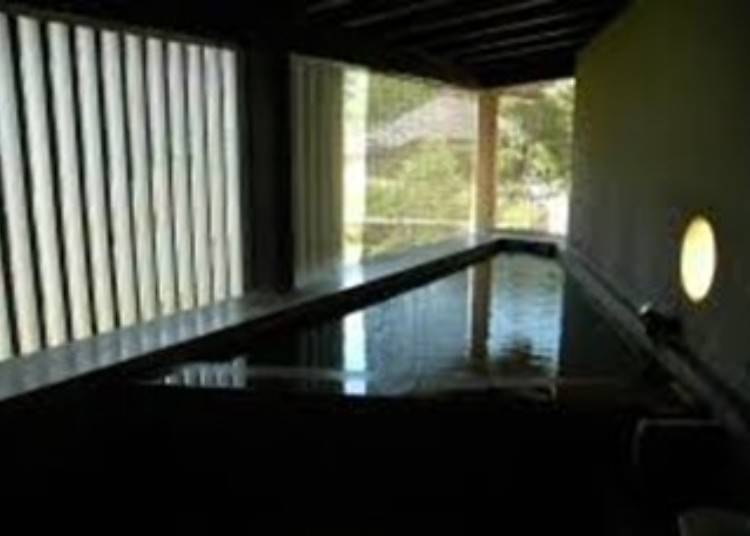 5. Public Bath Shirogane-yu
For those who prefer a full hot spring experience, "Public Bath Shirogane-yu" is the place to go. The unique triangular shape of the building is designed by the famed architect Kuma Kengo.

The bath itself is large, allowing four to five people to enter at the same time. The waters used here come directly from the source of the hot springs. Even though there aren't services in other languages, the place is still regularly frequented by foreign visitors.

Though shampoo and body soap are provided, towels aren't available, so you should either bring your own, or buy one from one of the souvenir shops along the street.
共同浴場しろがね湯

Address

433, Ginzanshinhata, Obanazawa Shi, Yamagata Ken, 999-4333, Japan

Phone number: 0237-28-3933 (Ginzan Onsen Tourist Information Center)
Hours: 8:00am - 5:00pm (last reception is 16:30)
Fee: 500 yen, elementary school students 200 yen
Closed: Irregular holidays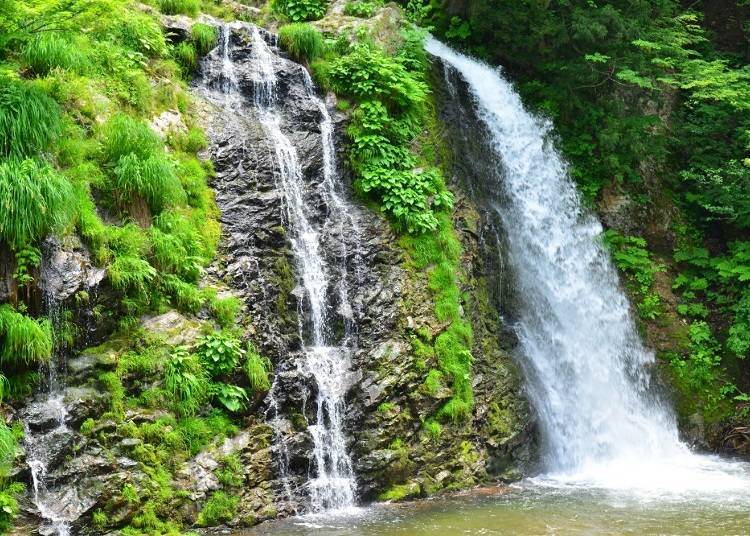 Shirogane-no-Taki Falls
6. Shirogane-no-Taki Falls
In the innermost part of this town is Shirogane-koen Park, which features a 22-meter-tall waterfall, Shirogane-no-Taki Falls, a popular tourist attraction.

About halfway down the falls, the stream splits into two, with a rapid, bubbling waterfall splashing down on one side, and a gentle stream flowing down on the other.

There is an observation deck along the shore facing the waterfall, and if you follow the designated walking path, it feels like you're getting closer and closer to the waterfall.

With trees and other plants surrounding the falls, their leaves are bright green in spring and summer, come ablaze in red in autumn, and melt into a scene right out of a traditional Japanese painting in winter. With changing views that you can enjoy all year round, no matter when you go, it'll definitely be a breathtaking sight to behold.
白銀の滝

Address

Ginzanshinhata, Obanazawa Shi, Yamagata Ken, 999-4333, Japan

Hours: Free to enter
Price: Free
Closed: Open daily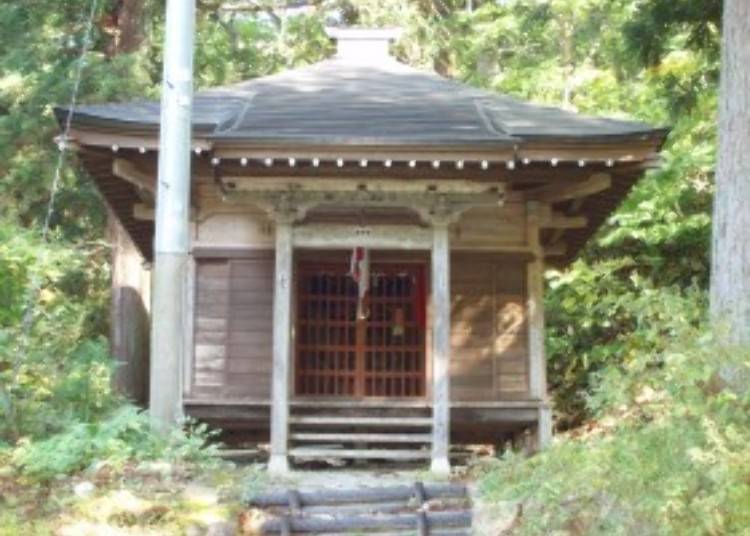 7. Taki-no-Fudoson
Venture deeper into Shirogane Park to find 'Taki-no-Fudoson,' the quaint home of the guardian deity of Shirogane Falls. While there is a track running through the park, steep slopes and uneven ground necessitate the use of good outdoor shoes when visiting!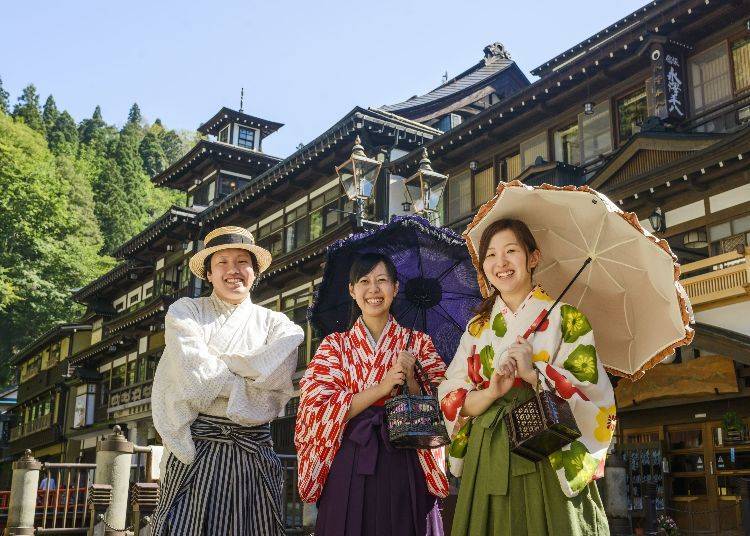 Cafe I'rasgayna is a great place where you can rent a kimono in Ginzan Onsen
8. Cafe I'rasgayna
Popular not just amongst the Japanese, but foreign visitors as well, is the kimono and hakama rental shop, Cafe I'rasgayna.

Despite the lack of foreign language services, there are many foreign visitors on tour groups who patronize the shop. There are kimono and hakama, traditional Japanese pants, with a wide variety of colors and prints available, and you'll be absolutely spoilt for choice.

Picking the matching pieces is great fun too, and you can rent bags, umbrellas, and other accessories. Kimono for males are available as well, making this a great experience for couples.

Though wearing kimono is often seen as a difficult and arduous task, there are services to help you put on the kimono as well, so you can rest easy on that. Deck yourself in one of Japan's representative outfits, and take pictures as you stroll down this onsen town for memories of an unforgettable journey.
あいらすげーな

Address

438, Ginzanshinhata, Obanazawa Shi, Yamagata Ken, 999-4333, Japan

Phone Number

0237-28-2811

Hours: 9:00am-4:00pm
Price: 2000 yen for transformation course (60 minutes), 500 yen added for every 30 minutes extension
Closed: Irregular holidays (closed in winter)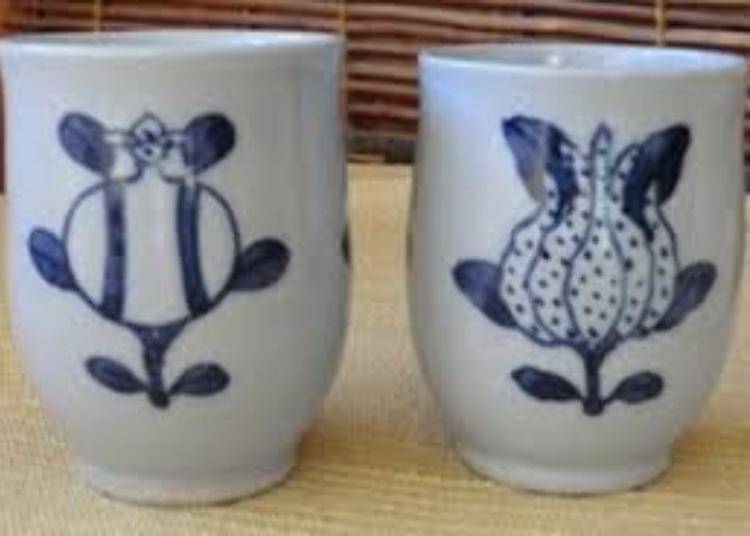 9. Kaminohata-yaki Ware Pottery Center
Across Japan, the town of Obanazawa is arguably most well-known through the works of ceramics producer Kaminohata-yaki Ware. Using Ginzan ore, these ceramics are easily distinguished by the indigo blue dye skillfully painted into the white base.
In addition to purchasing some of these handcrafted treasures for yourself, Kami Hatayaki also offers beginner ceramics painting classes, making for an extra special personalized memento of your Yamagata adventure! (Reservations necessary).

To get to the center, take the municipal bus from Oishida Station heading to Ginzan Onsen. After approximately 30 minutes, get off at the Ginzan Onsen Tougei Center Mae bus stop. Kaminohata-yaki Ware Pottery Center is right nearby!
Kaminohata-yaki Ware Pottery Center

上の畑焼陶芸センター

Address

162-1, Ginzanshinhata, Obanazawa, Yamagata, 999-4333, Japan

Phone Number

0237-28-2159

Hours: 8:30am - 5:00pm
Price: From 1,000 yen per person
Closed: Wednesdays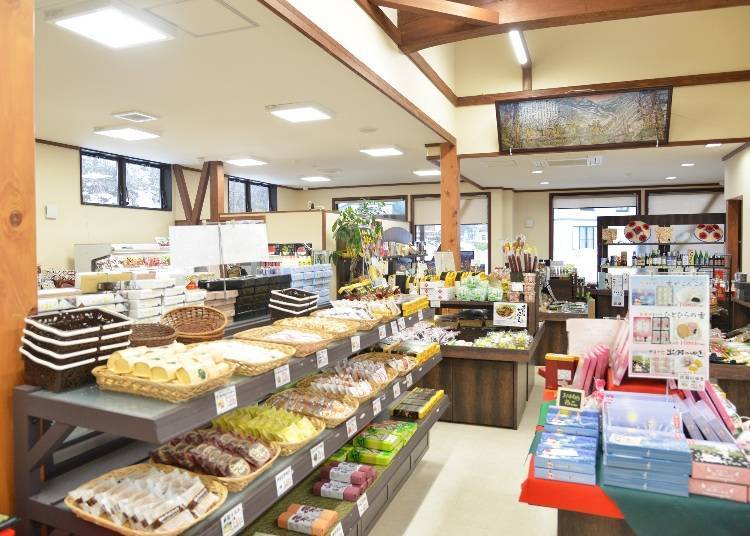 10. Taishoroman-kan
If you're on the hunt for the perfect souvenir to encapsulate your Yamagata journey, Taishoroman-kan has got you covered! Just a 5-minute walk from the Ginzan Onsen Tougei Center Mae bus stop, it's easy to drop in and pick up some local goods, including sweets, sake, and more! If you're a little hungry, their local breads, including scrumptious sweet bean jam-flavored anpan and their original 'age-pan' fried jam bread (230 yen), should satisfy! If you're after something bigger, they also boast an attached restaurant with a broad menu, making it a good stop for lunch!
大正ろまん館

Address

99-4332 Yamagata, Obanazawa, Kamiyanagiwatarido

Phone Number

0237-53-6727

Hours:
- Store: 9:00am - 5:00pm
- Restaurant: 10:00am - 5:00pm (last order 4:00pm)
Where to Stay: 5 Ryokan Hotels in Ginzan Onsen
Unwinding in a warm outdoor onsen deep in the alps – that's the real Japan dream! Those longing for this kind of adventure will likely have Yamagata's celebrated Ginzan Onsen at the top of their itineraries!

This retro town offers the ultimate escape from hectic city life with dozens of scenic hot springs and idyllic Japanese ryokan hotels. Here are some of our most recommended places to stay in Ginzan Onsen. Note that some are bookable online, while others will require reservations via phone or their own websites.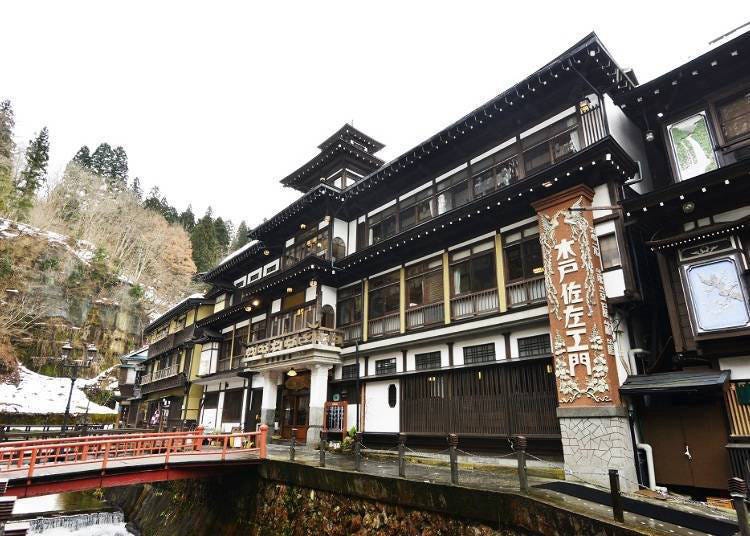 Don't just make Ginzan Onsen a day trip - stay overnight to really maximize the magic!
1. Notoya Ryokan
One of Ginzan's most famous ryokan, Notoya Ryokan is like something from a Ghibli film! A registered cultural property of Japan, the building is full of tantalizing details and hidden gems that never seem to end!

This includes the intricate plaster relief carving on the side of the building's front, along with the 100-year-old central lookout tower. Don't miss out on taking a dip in their outdoor bath, which overlooks the renowned 'Shirogane Falls.'
Address

446, Ginzanshinhata, Obanazawa-shi, Yamagata, 999-4333
View Map

Nearest Station

Oishida Station (Ou Line / Yamagata Shinkansen)
40 minutes by bus


Phone Number

0237-28-2327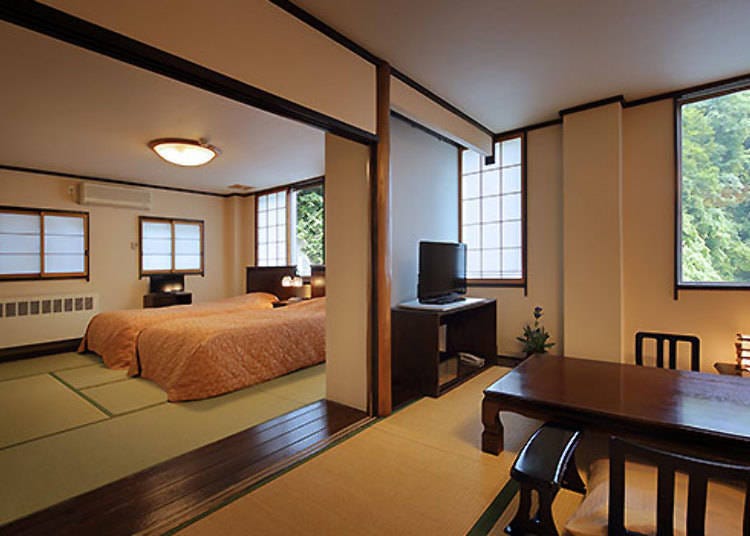 2. Kosekiya Bekkan
With a nostalgic aura and refined design, Kosekiya Bekkan, in the heart of Ginzan, is a top pick for Yamagata locals! Lodgers can choose between rooms by the river or the mountains, with river-siders getting to enjoy the tranquil sounds of the river flow, while those overlooking the mountains can bask in the region's jaw-dropping natural grandeur.

Inside Kosekiya are two free-flowing thermal onsen baths to enjoy. If that's not enough, overnight customers can also use the baths of sister ryokan 'Ginzan-so' for free! Ginzan-so boasts an outdoor rotenburo style onsen with majestic mountain views, so definitely don't pass on this opportunity!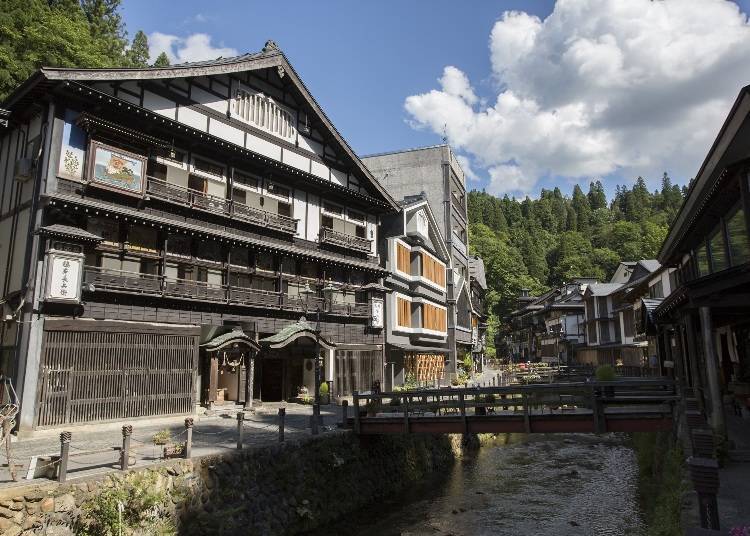 3. Kozankaku
For a more casual onsen experience, the fittingly named 'Legendary Ryokan: Kozankaku,' offers guests two private onsen rooms, making it perfect for families, friends, or those who just want some time alone!

The ryokan is split between the original building and the new building, with the new building boasting swanky western-style rooms complete with proper beds and toilets. The windows offer a view of the entire town, which is made even more romantic at night when the gas lanterns are lit up!
伝統の宿 古山閣

Address

423, Ginzanshinhata, Obanazawa Shi, Yamagata Ken, 999-4333, Japan

Phone Number

0237-28-2039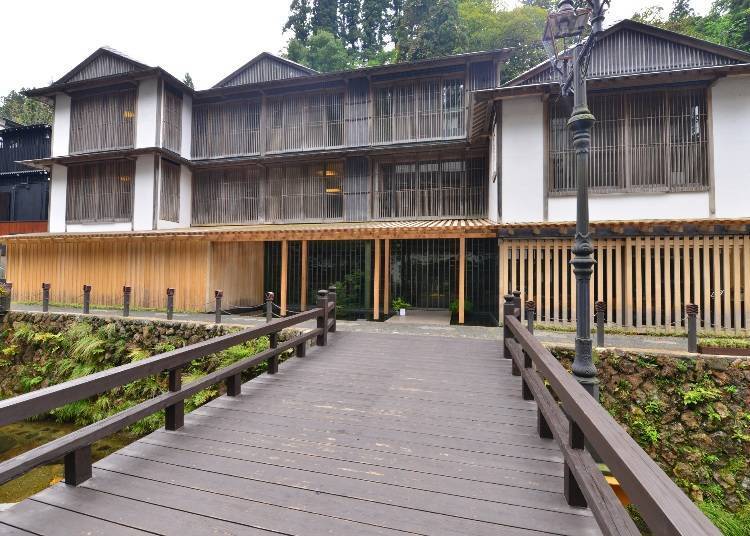 4. Ryokan Fujiya
One of the most stylish ryokans in Ginzan, the eye-catching wooden lattices of Fujiya are unmissable! Renovated in 2006 by legendary Japanese architect Kengo Kuma, each room is fitted with carefully designed indirect lighting, creating an entrancing atmosphere. For those wanting an escape from the plain and everyday, this ryokan will transport you to another world!
Fujiya boasts 5 indoor onsen, all of which are private! While the semi-outdoor rotenburo bath needs to be reserved in advance, the others can be used freely, as long as no one else is already inside! For a truly unique ryokan experience, there's nowhere more suitable than Fujiya!
Address

443, Ginzanshinhata, Obanazawa-shi, Yamagata, 999-4333
View Map

Nearest Station

Oishida Station (Ou Line / Yamagata Shinkansen)
40 minutes by bus


Phone Number

0237-28-2141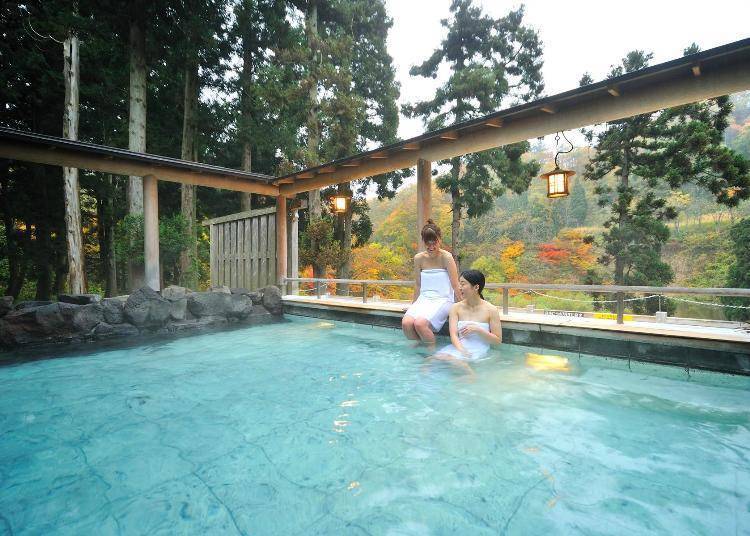 5. Senkyonoyado Ginzan-so
Loved for the spectacular mountain and lake views from its outdoor onsen, Ginzan-so is the choice place in Ginzan to fully relish the beauty of each season. Even when the view disappears at night, the delicately-crafted lighting arrangement creates an enchanting atmosphere, making night-bathing an equal treat for the senses!

The rooms are all traditional Japanese tatami rooms, so you're getting a 100% authentic experience! If you don't want to step out from the privacy of your room, rooms with semi-outdoor baths are available, so you'll never have to leave! For breakfast and dinner, mouthwatering Obanazawa wagyu along with seasonal homemade dishes are on the menu.
Current anti-Coronavirus Measures:
All 5 of the ryokan introduced have thorough measures in place to stop the spread of coronavirus. This includes: cleaning, sanitization, disinfection of all rooms and facilities, placement of alcohol spray, thorough sanitization after each customer, constant ventilation, staff wear masks, wash hands, disinfect, gargle, and check temperatures regularly, customers feeling unwell are refused entry, customers are asked to wear masks and undergo temperature checks, room service is limited, check-in is largely automated, face-to-face contact is limited.
No matter the season, Ginzan Onsen is worth the trip!
On Saturday nights from May to October, you can hear voices calling out "yassho, massho" as dancers keep to the rhythm of the "Hanagasa Odori", a traditional dance in Yamagata. The performance starts at 8:30 p.m., and lasts for approximately 20 minutes. For those who would like to see a cultural experience that is only available in Yamagata, be sure not to miss this!

There are three areas in the onsen town with free Wi-Fi, allowing you to connect for up to 60 minutes at a time, three times a day. Several of the ryokan are completely outfitted with Wi-Fi as well.

Though few of the shops provide services in foreign languages, the "Ginza Onsen Sightseeing Map" available at the entrance to the onsen town can be found in foreign languages. The portable voice and audio translation device "ili" is available for rental too, so feel free to borrow one for your visit.
Address

Yamagata Prefecture Obanazawa City Yamagata Large Ginzan Shinhata, 999-4333
View Map

Nearest Station

Oishida Station (Ou Line / Yamagata Shinkansen)


Phone Number

0237-28-3933
Text by: SHOE PRESs
*This information is from the time of this article's publication.
*Prices and options mentioned are subject to change.
*Unless stated otherwise, all prices include tax.