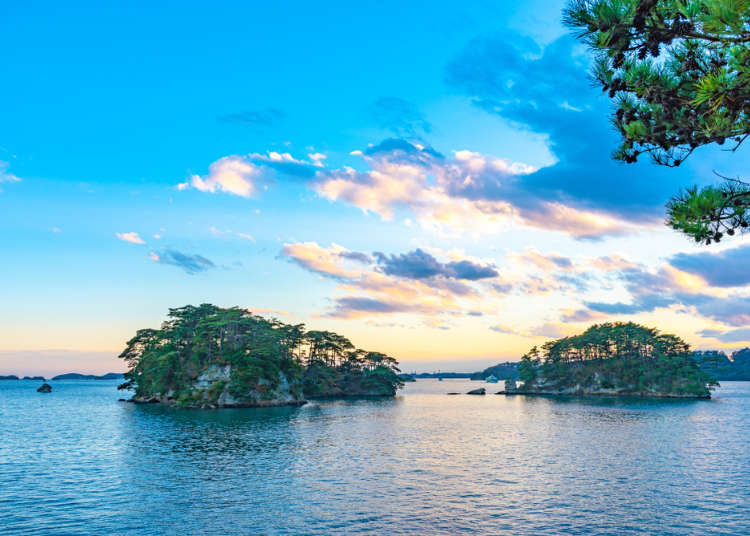 Miyagi Prefecture is home to many travel destinations, including Sendai, which was established by Sengoku War General Date Masamune, and Matsushima, a spot designated as one of the "Three Most Scenic Views of Japan."

Surrounded by sea and mountains, Miyagi is also known for its abundance in high quality, delicious foods. Sendai, the largest city of the Tohoku Region, has plenty of restaurants that offer gourmet dishes from all over the prefecture. Additionally, despite being a northeast region known for its cold winters, Miyagi Prefecture receives a relatively small amount of snowfall, making it an easy-to-see location that you can visit throughout the year.
What Kind of Places are Miyagi & Sendai?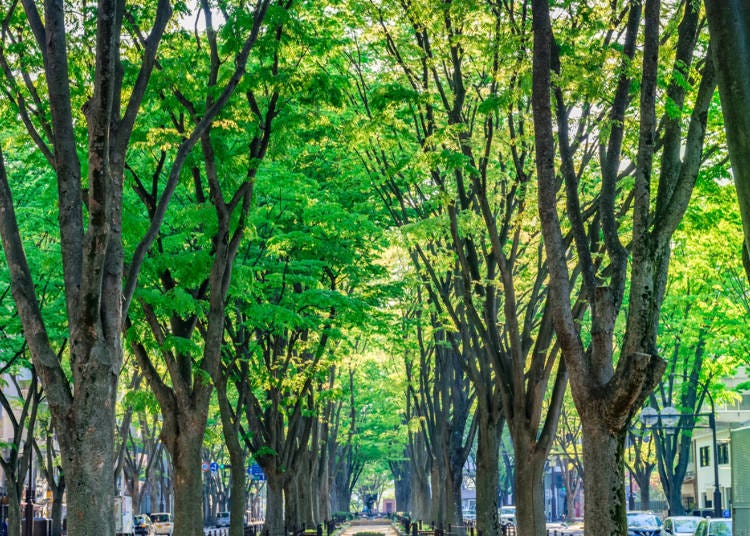 Miyagi Prefecture is located on the Pacific side of the Tohoku Region of northern Japan. There are many great sightseeing spots in addition to the gourmet town of Sendai, including the beautiful scenery of Matsushima, Japan's most popular hot springs resort, Naruko Onsen, and Zao, with its emerald green sparkling Crater Lake Okama.

Many tourists visit these spots from both domestically and abroad. Sendai is the gateway to sightseeing in Miyagi, with a population of over one million, and is the largest city in Tohoku.

Though it is a large city of high-rise buildings and commercial facilities, it is also known as "Mori no Miyako," or the "City of Trees," thanks to the rich nature that surrounds it.

Additionally, there are popular tourist attractions and historical sites related to Date Masamune, such as Sendai Castle Ruins and Zuihoden. There are also two hot springs located about 30 minutes by car from the center of the city.
Sightseeing in Miyagi & Sendai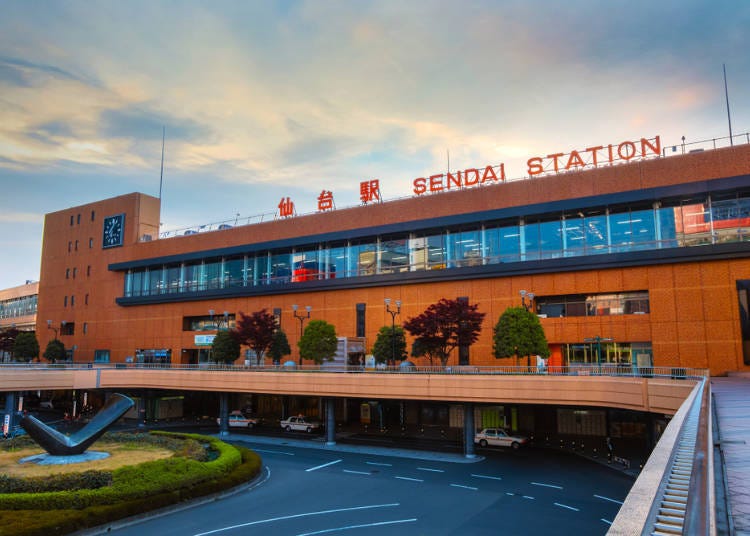 It takes about 1 hour 30 minutes from Tokyo Station to Sendai Station via the Tohoku Shinkansen Hayabusa and Hayate.

It takes about 25 minutes from the Sendai Airport Station connected to the Terminal Building of Sendai International Airport via regular train service, and about 17 minutes via express.

Some of the main tourist attractions in Sendai are a bit of a distance away from Sendai Station, so it is recommended to use the subway, bus, or taxi from there. However there are also many restaurants around Sendai Station known for their famous gourmet dishes such as beef tongue and zunda-mochi, so you may want to go by foot and walk around.

To get to the various tourist attractions of Miyagi Prefecture from Sendai, such as Matsushima and Lake Okama, you may find it most convenient to use the railway. There are also buses and trains available that travel to the other areas, however, they may have limited availability so be sure to check the schedule ahead of time.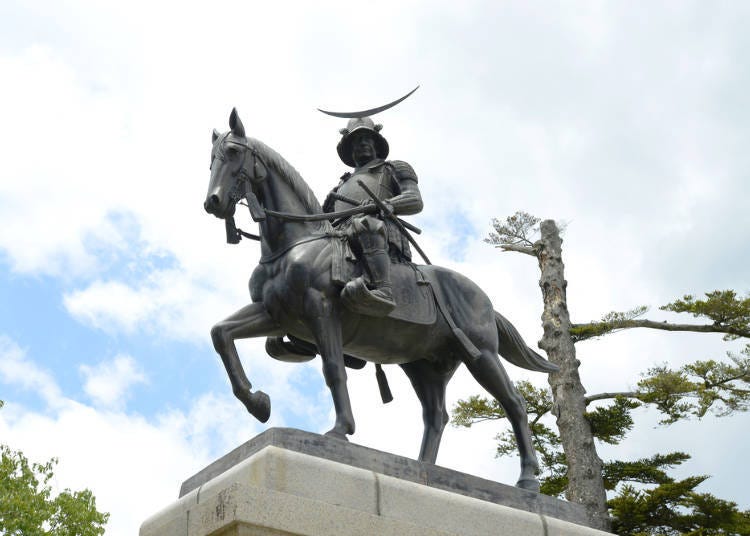 Sendai Castle, one of the most famous attractions of Sendai, was built by the first feudal lord, Date Masamune, in 1602. Tenshudai, where the Equestrian Statue of Date Masamune is located, is a well-known scenic view point that overlooks the city of Sendai.

The castle was destroyed in an air raid during World War II. Currently, Ishigaki and Wakiro, which were restored, are all that remains. Signboards installed around the area tell the history of each of these historic sites in both English and Japanese.

To learn more about this period in time, visit the Aoba Castle Museum, where you can watch a CG reproduction of the inside of Sendai Castle, as well as a VR tour where you can experience what as it was Sendai Castle during that time period.
仙台城跡

Address

1, Kawauchi, Sendai Shi Aoba Ku, Miyagi Ken, 980-0862, Japan

Phone: 022-214-8259 (Sendai City Tourism Division)
Business Hours: Free to view
Admission: Free entry
Regular Holidays: None
This tamaya, or mausoleum, was built in 1637, and dedicated to Date Masamune. Destroyed by the air raids, it was rebuilt in 1979, and restored in 2001 to its original, delicate and colorfully decorated state.

One of the highlights of this spot is its seasonally-changing scenery, surrounded by cherry blossoms groves in the spring, hydrangea during the rainy season, beautiful foliage in the fall, and a snowy landscape in the winter.

You can also see Kansenden, the mausoleum of second-generation feudal lord Date Tadamune, and Zennouden, mausoleum of third-generation lord Date Tsunamune, on the majestic site that is Zuihoden. There is also an on-site tour offered by the museum where you can see valuable materials such as burial tools and accessories.
瑞鳳殿

Address

23-2, Otamayashita, Sendai Shi Aoba Ku, Miyagi Ken, 980-0814, Japan

Phone Number

022-262-6250

Business Hours: 9:00AM~4:50PM (Entry until 4:30PM); Dec~Jan open until 4:20 (Entry until 4:00PM)
Admission: 550 yen
Regular Holidays: None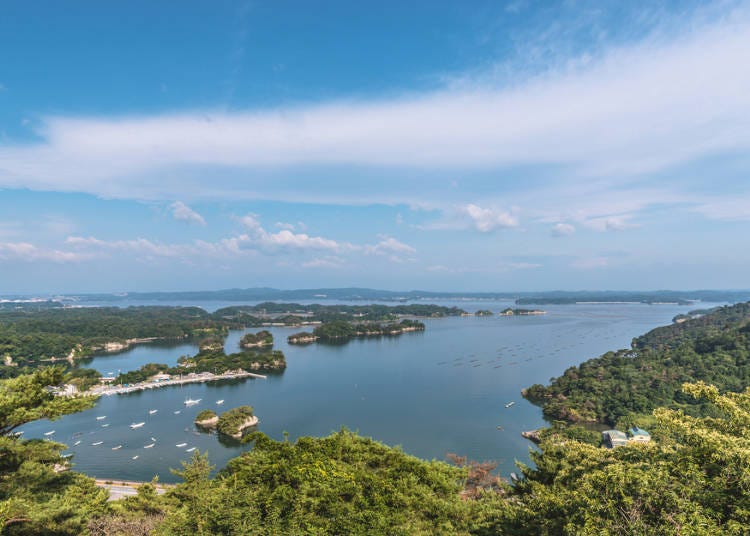 Matsushima Bay is a scenic spot with about 260 islands in its calm waters, and is one of the top 3 most scenic spots in Japan, along with Miyajima of Hiroshima Prefecture, and Amanohashidate of Kyoto Prefecture.

You can take in the scenery as you walk along the coast, or enjoy one of the many other view spots that overlook the beautiful landscape that dot the suburbs, such as Mount Otakamori and Mount Tamonzan. There is also a boat dock from which you can get a closer look at the islands, located only a seven-minute walk away from Matsushima-Kaigan Station.

There are many other attractions around the station as well, including the national treasure Zuiganji Temple and important cultural assets Entsu-in Temple and Godaido Temple. Along the coast lie various eateries that specialize in local seafood such as oysters, and are also popular with tourists.
Local Gourmet of Miyagi Prefecture and Sendai
If you want to enjoy the local cuisine of Sendai, head to Ichibancho or Kokubuncho, where you will find plenty of restaurants. There are many popular specialty shops that serve beef tongue, sushi, and zunda dishes around Sendai Station. Matsushima oysters and Okama sushi are other popular dishes. Both areas are lined with restaurants that are conveniently located within 10 minutes walking distance from the station.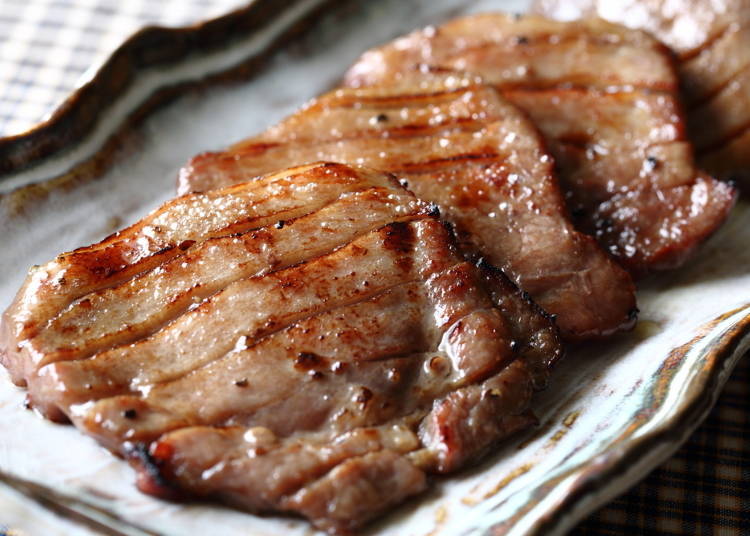 Beef tongue is the main specialty of Sendai. Each shop offers thickly cut beef tongue seasoned with their own original flavors. Gyutan-yaki is a grilled beef tongue dish, soaked with flavoring before being fully cooked over a charcoal fire. Gyutan-yaki is well-known for its soft, tender texture and delicious flavor in each bite.

Sendai beef tongue is generally served as a set meal that includes pickled vegetables, ox tail soup, and rice. Two of the most famous spots are Umami Tasuke, the shop established by the "father of gyutan-yaki," Keishiro Sano, as well the popular, nation-wide shop Gyutan Sumiyaki Rikyu.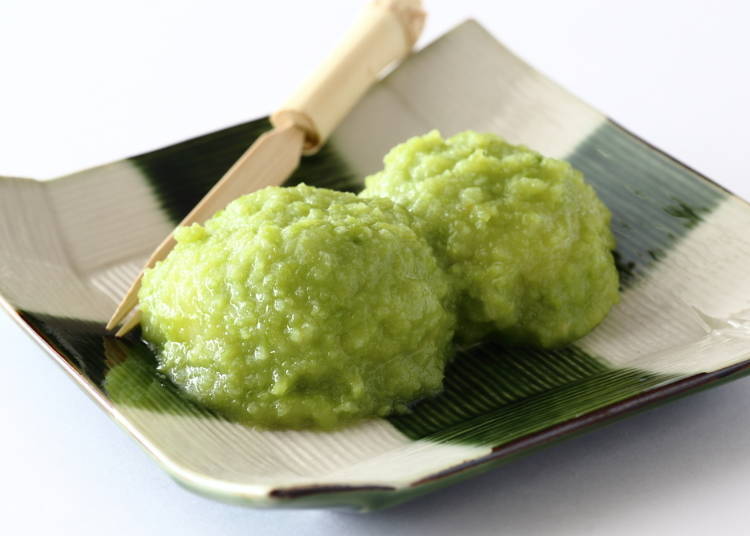 Zunda is a local dish of Miyagi, made from boiled and crushed soybeans formed into a paste. You can try it at Murakamiya Mochiten, a long-standing shop in Sendai, or at specialty sweets shop, Hikoichi. Zunda Shake EXPRESS is a specialty zunda shop located in Sendai Station, well known for generating long lines.

They have a menu of popular arrangement dishes that combine zunda and Western sweets, and even Zunda Shakes! Zunda is also a popular souvenir, and can be purchased at Sendai Station, as well as at the S-PAL Sendai Shopping Center connected to the station.
Souvenir Shopping in Miyagi & Sendai
You can find all kinds of souvenirs from various parts of Miyagi Prefecture in Sendai alone. The wide variety of food items are particularly popular choices, including Japanese confectionaries and "kamaboko," a food made with minced fish. Traditional handcrafted goods, such as kokeshi dolls, are can be bought in traditional patterns, as well as unique patterns such as pastel colors and border prints.
1. High-Quality Whitefish Kamaboko
This kamaboko has a chewy texture and is lightly sweet, with the delicate taste of the sea. They are individually wrapped, and easy to eat. This item must be refrigerated.
2. Kasho Sanzen "Hagi no Tsuki"
Hagi no Tsuki is a signature souvenir of Sendai, a fluffy sponge cake dough filled with a mellow, custard cream. Its round shape is made to resemble the full moon in the sky. Can be stored at room temperature.
3. Sakurai Kokeshi Shop "Hagoromo"
These kokeshi dolls were created by a kokeshi craftsman of Naruko Onsen, and said to be kokeshi to "suit the modern lifestyle." These are more slender in comparison to traditional kokeshi, with the torso painted in pastel color gradations and in border prints. You can purchase them in the workshop at the hot springs area, as well as at the Sendai Parco 2 Shopping Center in front of Sendai Station.
Shopping in Senday & Miyagi Prefecture
For Miyagi Prefecture and Sendai souvenirs, it is recommended to do your shopping in Sendai. There are large-scale shopping centers around Sendai Station, as well as the arcade area that runs from the station West Exit to Jozenji-dori, another must-see shopping spot. S-PAL Sendai is a particularly popular shopping center connected to Sendai Station, and offers a wide variety of goods such as clothes, sundries, and of course, souvenirs.
S-PAL仙台

Address

1-1-1, Chuo , Sendai Shi Aoba Ku, Miyagi Ken, 980-0021, Japan

Phone Number

022-267-2111

Business Hours: 10:00AM~9:00PM (may vary by shop)
Admission:
Regular Holidays: None
1. Sendai Station Area: Great for Home Appliances
Near the Sendai Station East Exit are Yodobashi Camera Multimedia Sendai and Yamada Denki LAVI Sendai, which offer a variety of goods. Additionally, the Sofmap Sendai Ekimae Branch near the West Exit has a number of used games and video software for sale, and is a great spot to find some rare items. Some shopping centers around the station also offer duty-free shopping, another great deal.
2. Sendai Asaichi Market: Great for Fresh Food Ingredients
About 5 minutes on foot from Sendai Station lies Sendai Asaichi Market, a marketplace with a wide range of shops that sell locally grown vegetables and seafoods. There are about 70 shops in total, including gourmet shops and restaurants where you can try seafood bowls, salads, and even order take-out at a reasonable price.
仙台朝市

Address

3-8-5 Chuo, Aoba-ku, Sendai-shi, Miyagi-ken

Phone Number

022-262-7173

Business Hours: Varies by shop
Admission:
Regular Holidays: Varies by shop
Text by: SHOE PRESs
*This information is from the time of this article's publication.
*Prices and options mentioned are subject to change.
*Unless stated otherwise, all prices include tax.